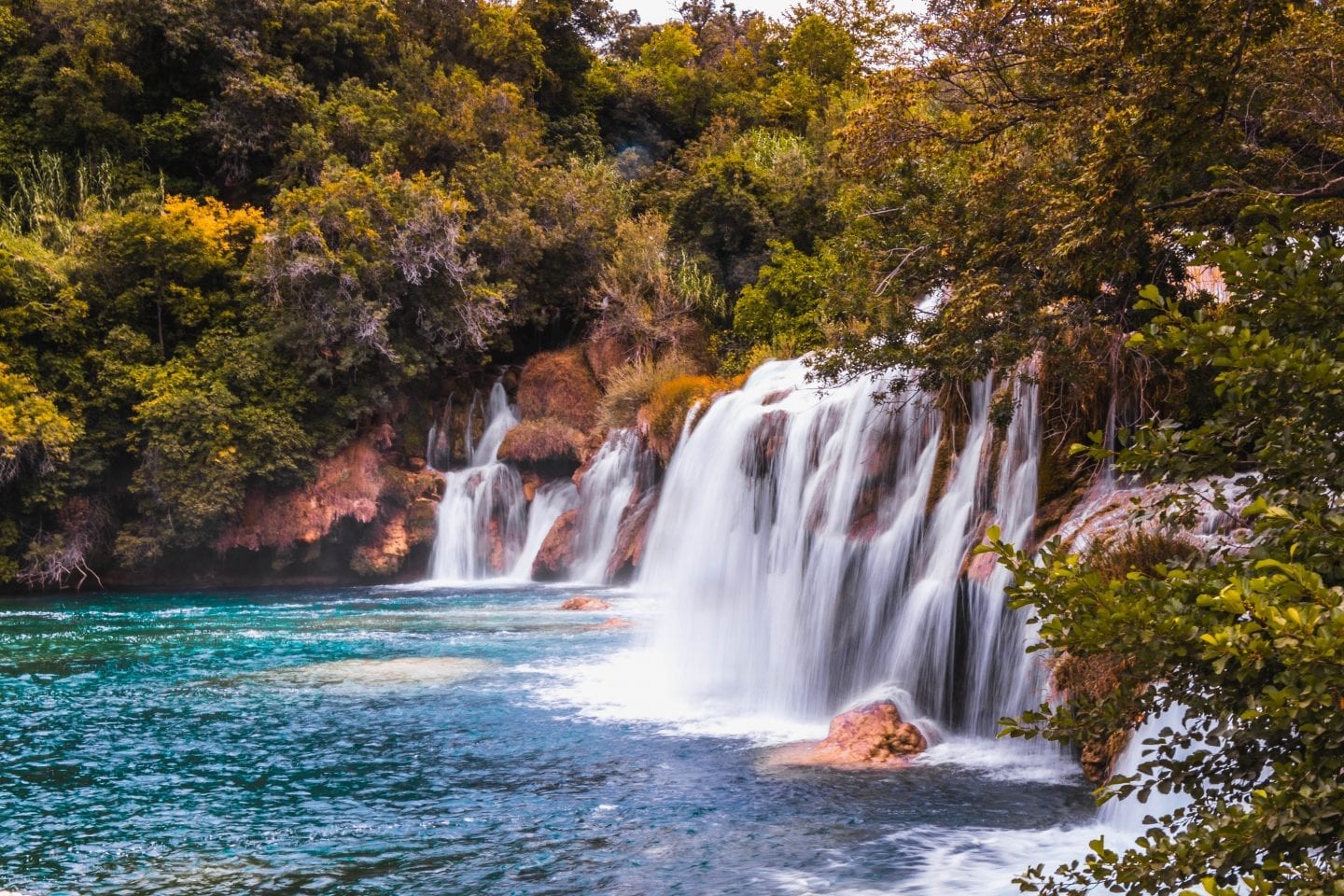 Last Updated on February 18, 2023
Krka National Park is one of Croatia's most famous reserves for its stunning waterfalls and natural scenery. This incredible destination can fit into your Croatia itinerary easier than you think by making it a day trip from Split! In this guide, you'll discover the many options there are to reach Krka National Park from Split and insider tips to having an amazing visit, from photographing the waterfalls to navigating the swimming area.
Krka National Park includes the Krka River nestled among the Dinara Mountains, famously known for its many cascading waterfalls. Unlike other similar national parks like Plitvice Lakes, you can swim in the Krka River as a visitor, making it a unique adventure travel experience.
Krka is also more popular than other national parks in Croatia because of its vicinity to the Dalmatian Coast. It's closer and easier to reach than Plitvice Lakes and can be seamlessly incorporated into a traditional Croatia travel itinerary.
Let's jump into everything you need to know about visiting Krka National Park from Split!
Some of these links are affiliate links. This means if you make a purchase through that link, I receive a small commission at no extra cost to you. Read my full disclosure!
---
The Best Time to Visit Split and Krka National Park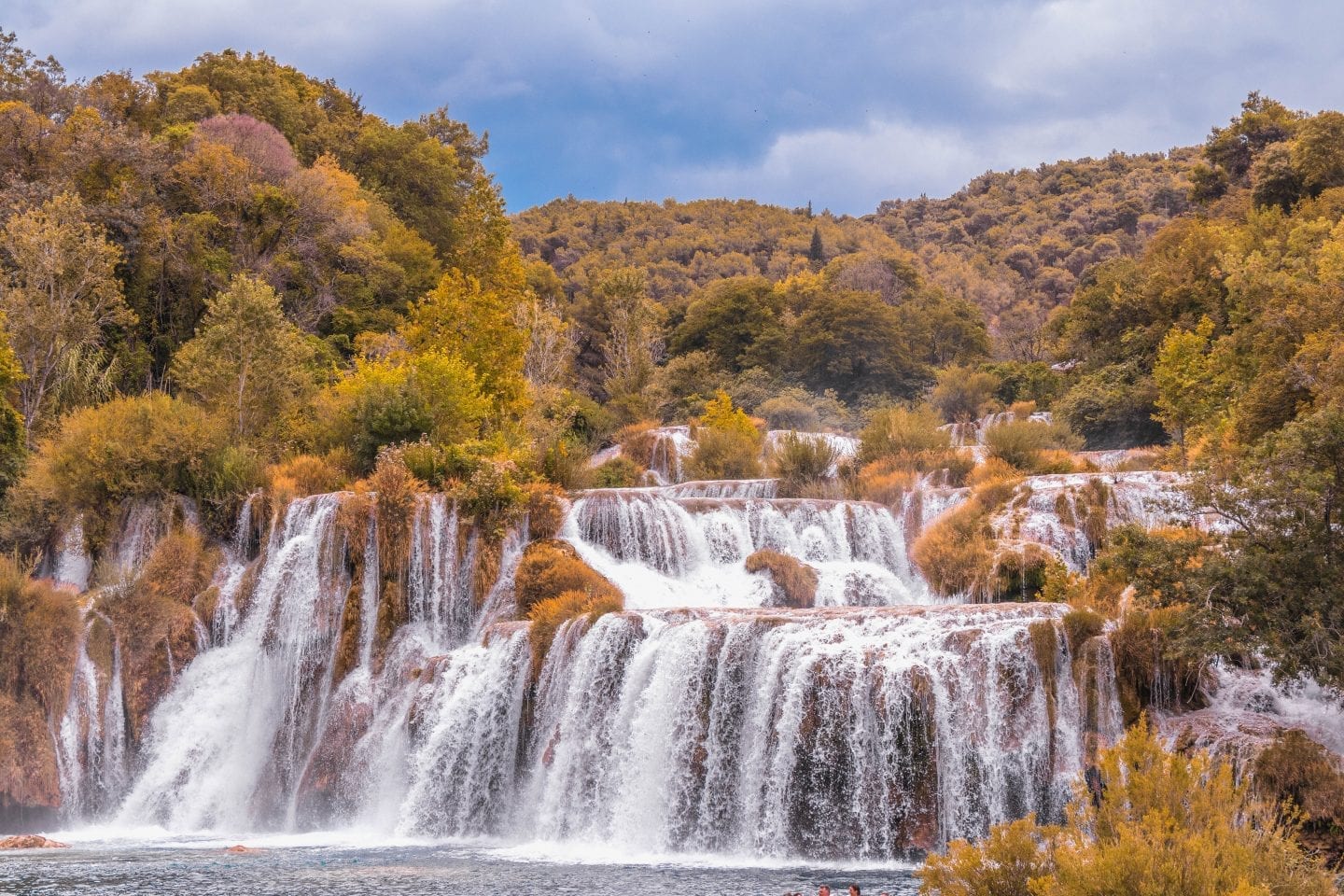 Croatia is a desirable getaway any time of year, but the best months to visit Split and Krka National Park are either April-May or October because of the significantly lower prices.
Plus, your experience will be better with fewer crowds!
June and September are also ideal months to visit Krka for weather, but entrance fees are high because of the peak tourist season.
In the summer months of July and August, it is very hot in the city of Split and at Krka National Park. These months also make up the busiest tourist season for Croatia, so that means prices are higher and crowds are bigger.
---
Honest Story Time: I visited Krka National Park in August and I have to be honest that it was not the most pleasant experience. In comparison to Plitvice Lakes, Krka National Park is much smaller, so the crowds have more of an effect on your experience. The park was still beautiful, but it was more difficult to photograph and take your time to enjoy the surroundings. You'll have to wait for views and the area near the swimming hole is full of people picnicking and running around. It is still worth seeing if you are traveling in summer, but if you can, I would highly recommend going during the off-season to have a calmer and more enjoyable experience!
---
How to Reach Krka National Park from Split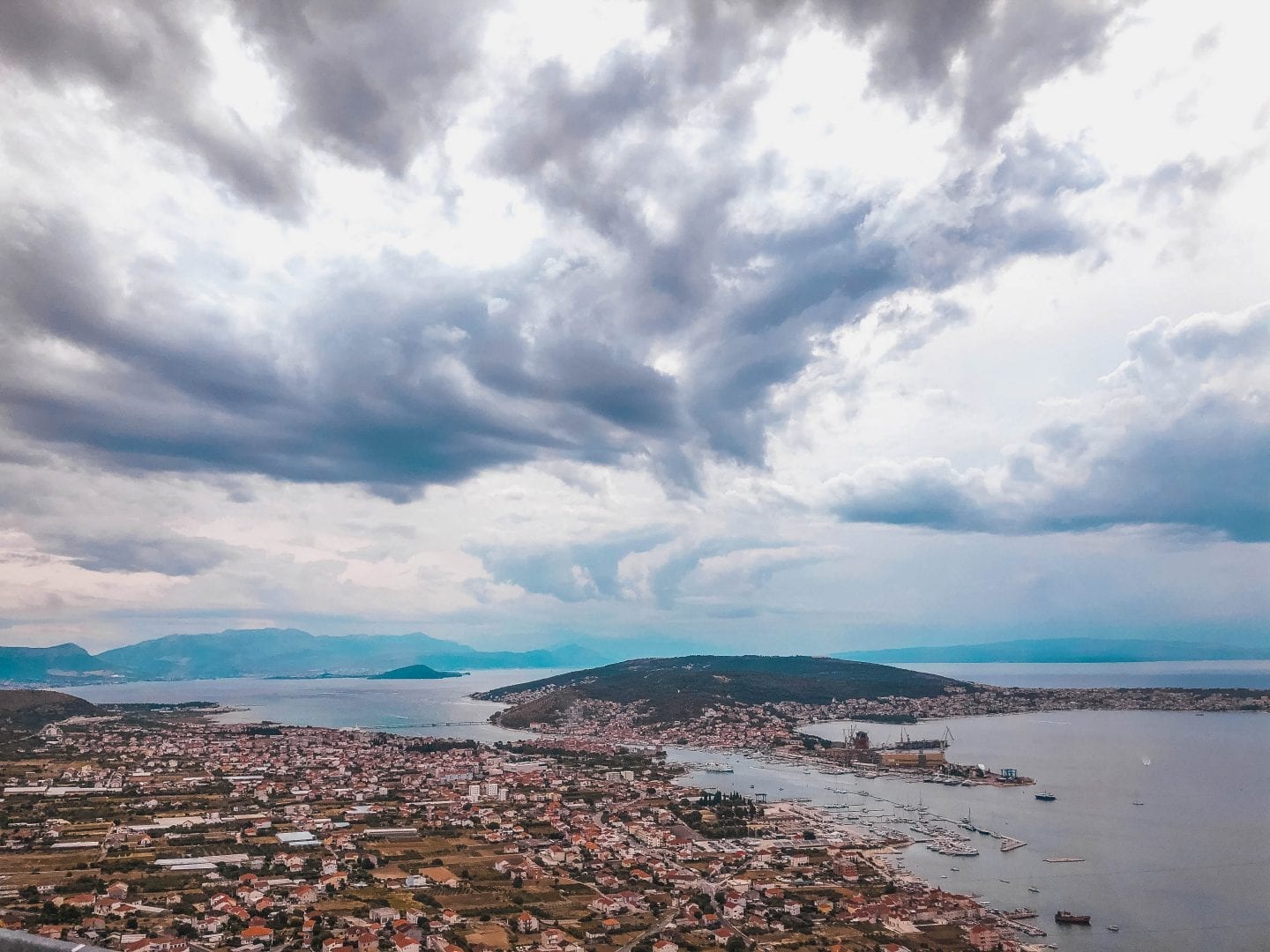 To reach Krka from Split, you have several transportation options. The two destinations are 87 km apart, making the journey just over an hour.
By Car
The easiest way to go from Split to Krka is by having your own car. Renting a car is the best way to travel in Croatia hands down, so I highly recommend it if you want to have the most flexibility with your itinerary.
The drive is fairly easy and straightforward until you get closer to Krka. There's not a lot around Krka National Park, so you have to pay attention to your Google Maps or the road signs to make sure you are going the right way. There will be signs for Krka National Park, so this shouldn't be a problem.
Pro Tip: If you rely solely on n Wifi and have no data in Croatia, start your Google Maps route while you still have Wifi. Don't turn it off – your maps will continue to show directions even when you lose internet!
From Split, you'll take the E65 (which has tolls) up to Sibenik and then take D33 to Krka National Park. There are several entrances to the park, but the one with the most parking is Lozovac, so I recommend inputting that as your destination on your GPS.
Parking at Krka National Park is free!
By Bus
If you aren't renting a car in Croatia, you can reach Krka National Park by bus for as little as 9 euros.
During the summer, a bus goes directly from Split Bus Station to Skradin, another one of the entrances to Krka National Park. This bus doesn't run in the off-season – so you'll have to travel from Split to Sibenik and then change buses from Sibenik to Skradin from September to May.
More information can be found on BusCroatia.
The good thing is, in the off-season car rentals will be much cheaper – so maybe you won't have to worry about the bus change!
From Skradin, you'll take a short boat ride to the national park entrance.
By Tour
If you want to be hands-off and avoid all the stressful planning, then booking a day tour is the way to go.
Multiple companies offer day trip excursions from Split to Krka at a reasonable price. All include transportation, while most also include a tour guide and scenic boat tour.
There are also tours that include wine tasting or aperitif!
What's typically not included are gratuities, park entrance fee, and extra food and drink.
Pro Tip: Pay attention to the tour policy on the entrance fee. Some will have guides collect your money to buy the tickets when you arrive, meaning you will have to have enough cash to cover your entrance fee!
These are my top three suggestions for Split to Krka tours:
---
Costs of Krka National Park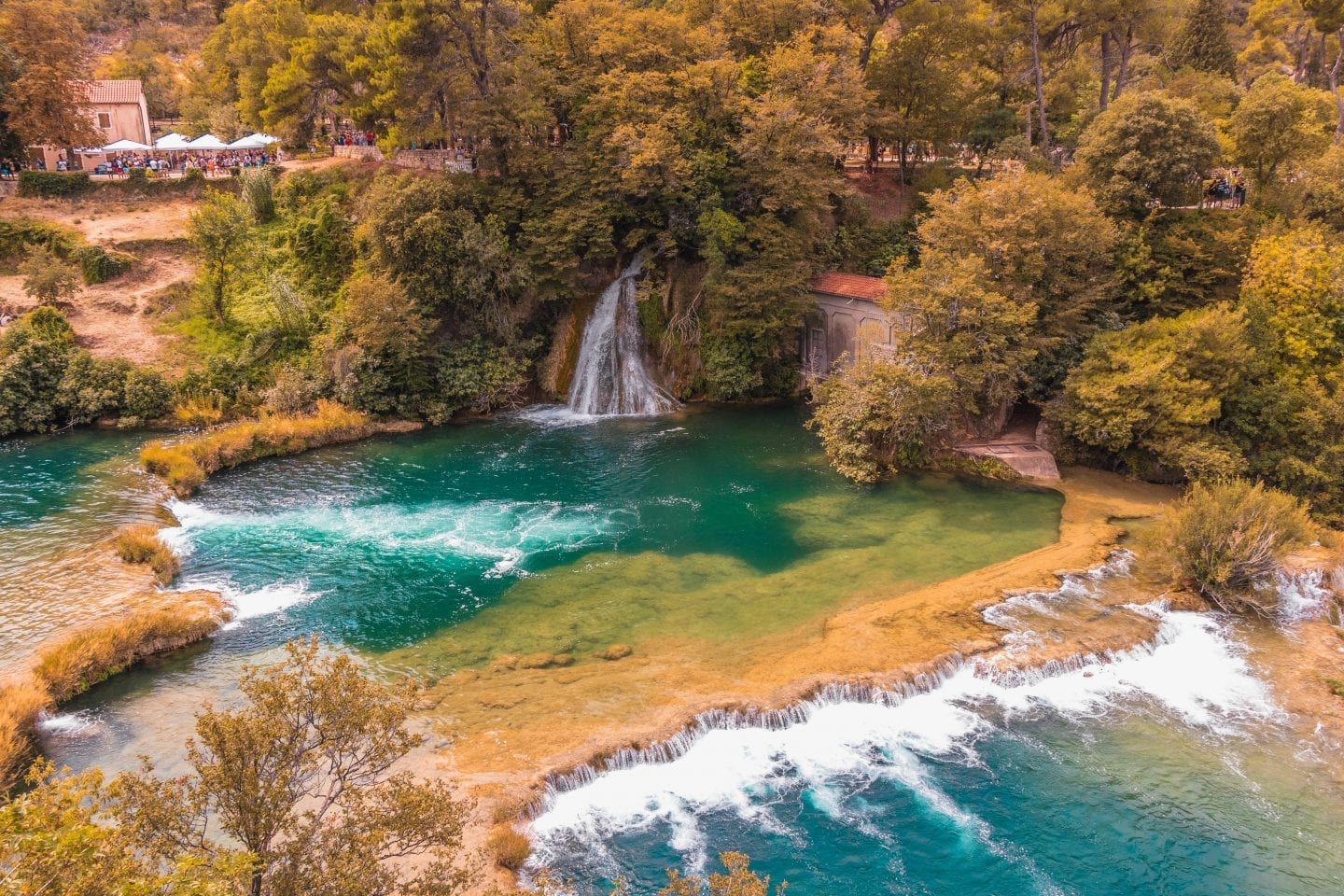 Entrance Fee
The entrance fee to Krka National Park includes access to the entire park, visitor insurance, tax, and boat transport from Skradin or shuttle transport from Lozovac entrance (except in the off-season months.) For more detailed pricing, take a look at Krka National Park's pricing guide.
During the off-season months, the ticket price to Krka is only 30 kunas. During the busy tourist season, it skyrockets to 200 kunas! Being flexible with your dates and traveling in the off-season are some of the best ways to save money traveling from Split to Krka National Park.
There are also separate prices for the boat cruise down the Krka River or for hiring a tour guide, which can be added to your entrance fee, detailed in the pricing guide.
Food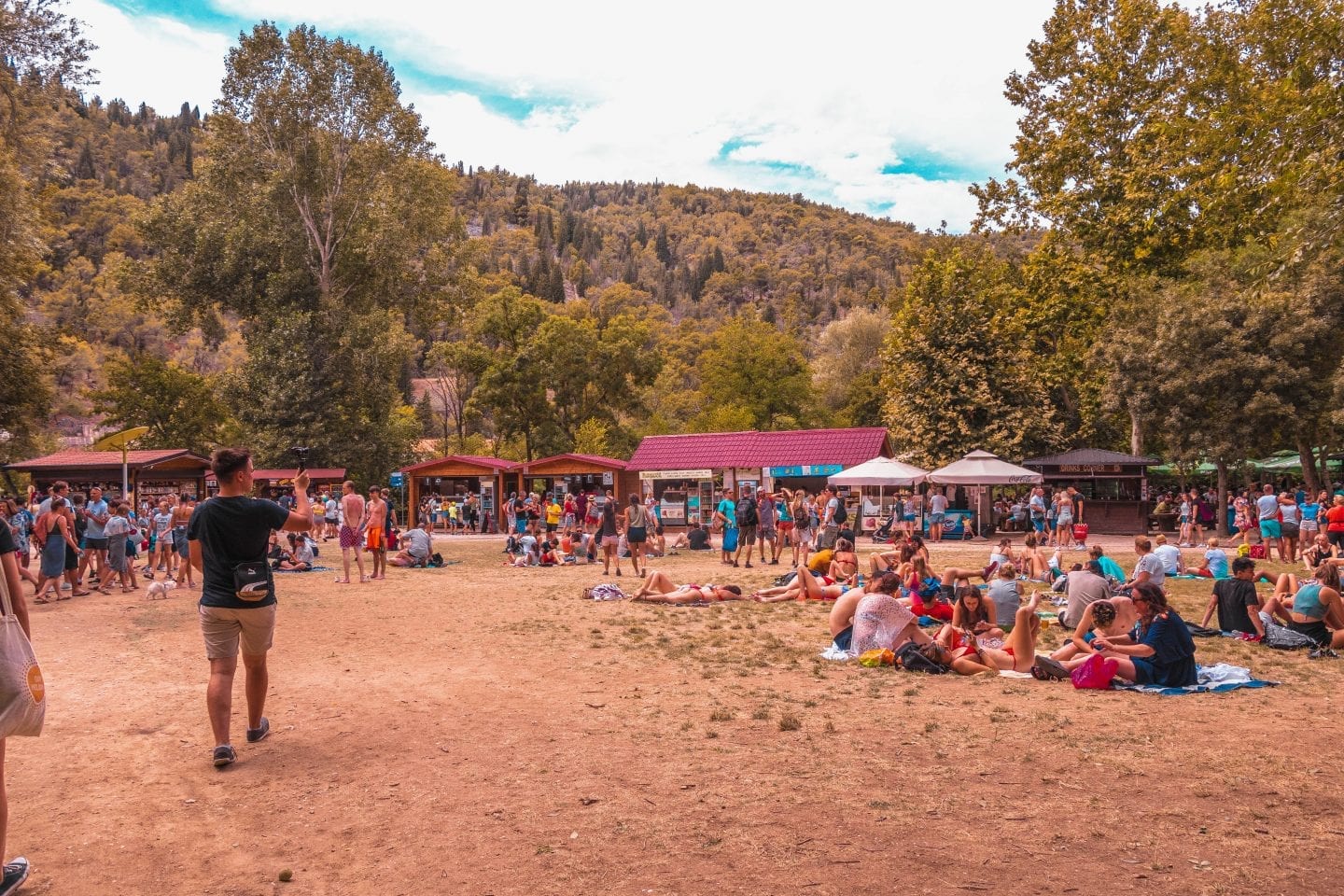 You can buy food at certain areas in the park, but it's easier and cheaper to pack your own lunch and snacks.
The picture above is the resting area near the swimming hole with food options for purchase. There are also tables throughout to have a picnic!
---
What To Bring to Krka National Park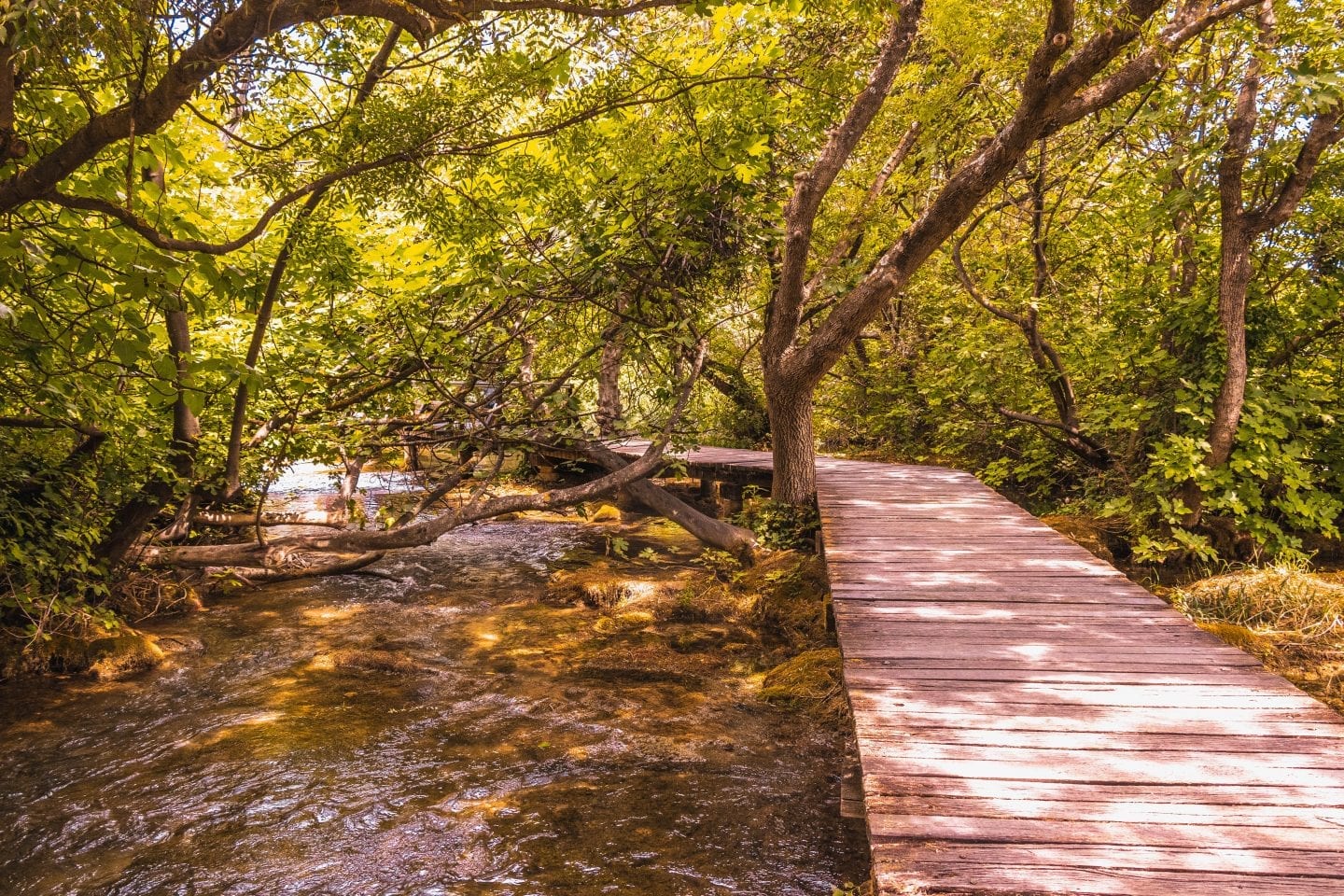 Krka National Park is not too bad of a hike. The main trail is less than 2 hours walking and you'll see some of the best viewpoints in Krka without having to drive around and plan a convoluted itinerary.
The things you should absolutely have are:
Anti-Theft/Hiking Backpack – I always use my WANDRD Camera Bag for this but there are cheaper options without the photography element like PacSafe or XD Design.
Travel Water Bottle – There are not a lot of places to grab water along the trails!
Snacks/Lunch – A day trip to Krka from Split will take at a minimum of half a day, so make sure to bring food along even if you plan to find a restaurant.
Comfortable Walking Shoes – You can get away with athletic sneakers for walking the trails!
Light Comfortable Clothing
Foldable Rain Jacket – Even in August when I visited, it poured rain in the afternoon!
Portable Charger – Nope, there are no outlets on the trails.
Photography Gear – More on this in the next section!
---
Photographing Krka National Park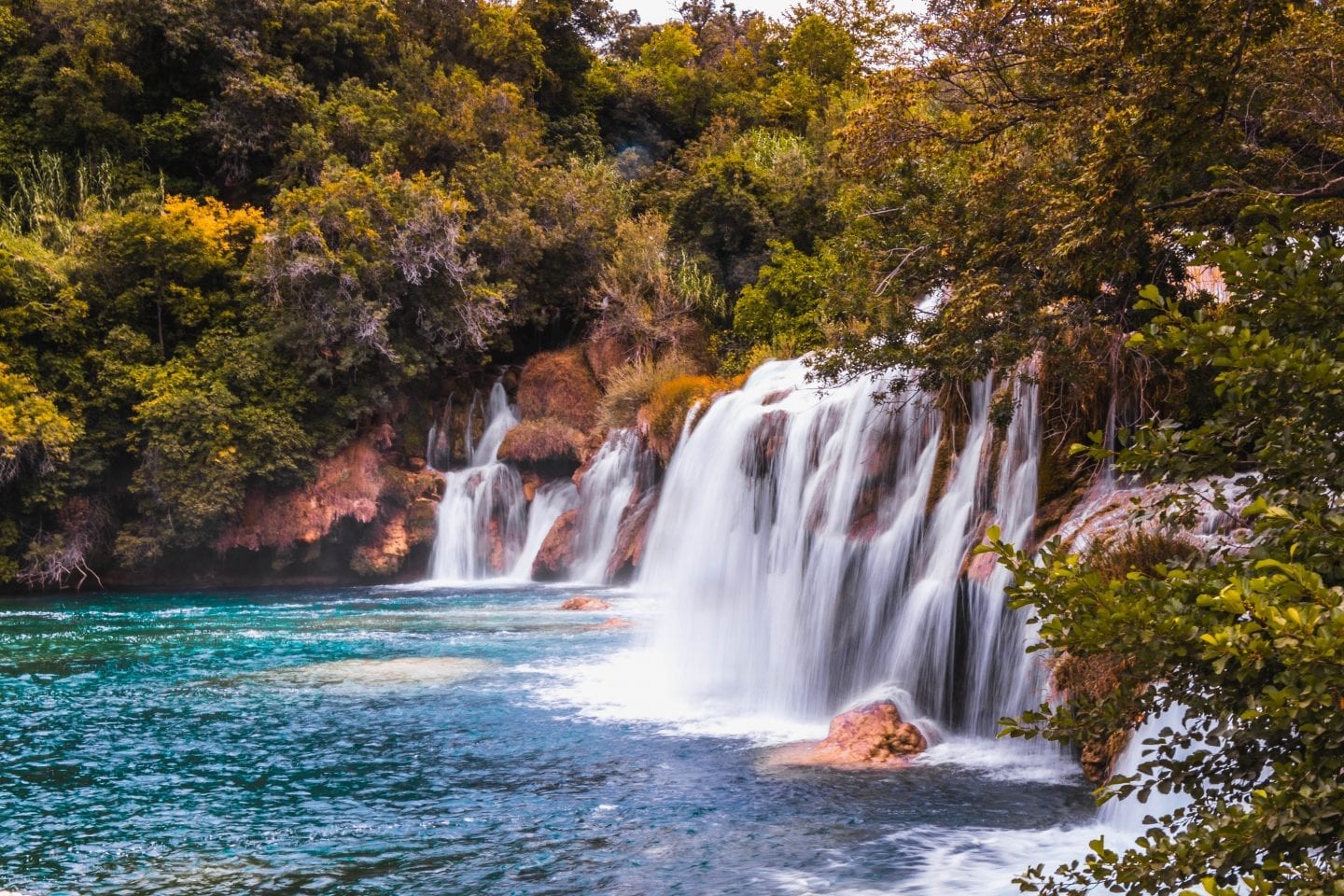 In case you don't want the in-depth explanation of my photography tips for shooting the Krka waterfalls, here's a very brief overview of must-haves:
Shoot in Manual Mode at a Low Shutter Speed
Neutral Density Filter
Stable Tripod
Now for those who love to take photography like me or want more of an explanation, To achieve amazing photos of Krka's many waterfalls, I recommend shooting in manual mode. Lower your shutter speed to achieve a beautiful smooth effect of the water pouring into the pristine blue lakes.
To make this long exposure photography even better, consider bringing a Neutral Density Filter with you to shoot. This type of filter allows you to shoot at slower shutter speeds without letting in as much light into the lens.
This way, if it's really sunny when you are visiting the park, your photos won't be super bright and overexposed when shooting at a low shutter speed.
To also help achieve this effect, bring a stable tripod with you. I always shoot with my MeFoto Globetrotter S Carbon Fiber Tripod because it's so durable. It's especially necessary for terrain like Krka National Park where the ground is rocky and uneven in places.
Keeping the camera on a tripod will reduce camera shake and make sure the only blur in your photo is of the cascading water.
Last but not least, drones are not allowed at Krka National Park, so respect park rules!
---
Swimming at Krka National Park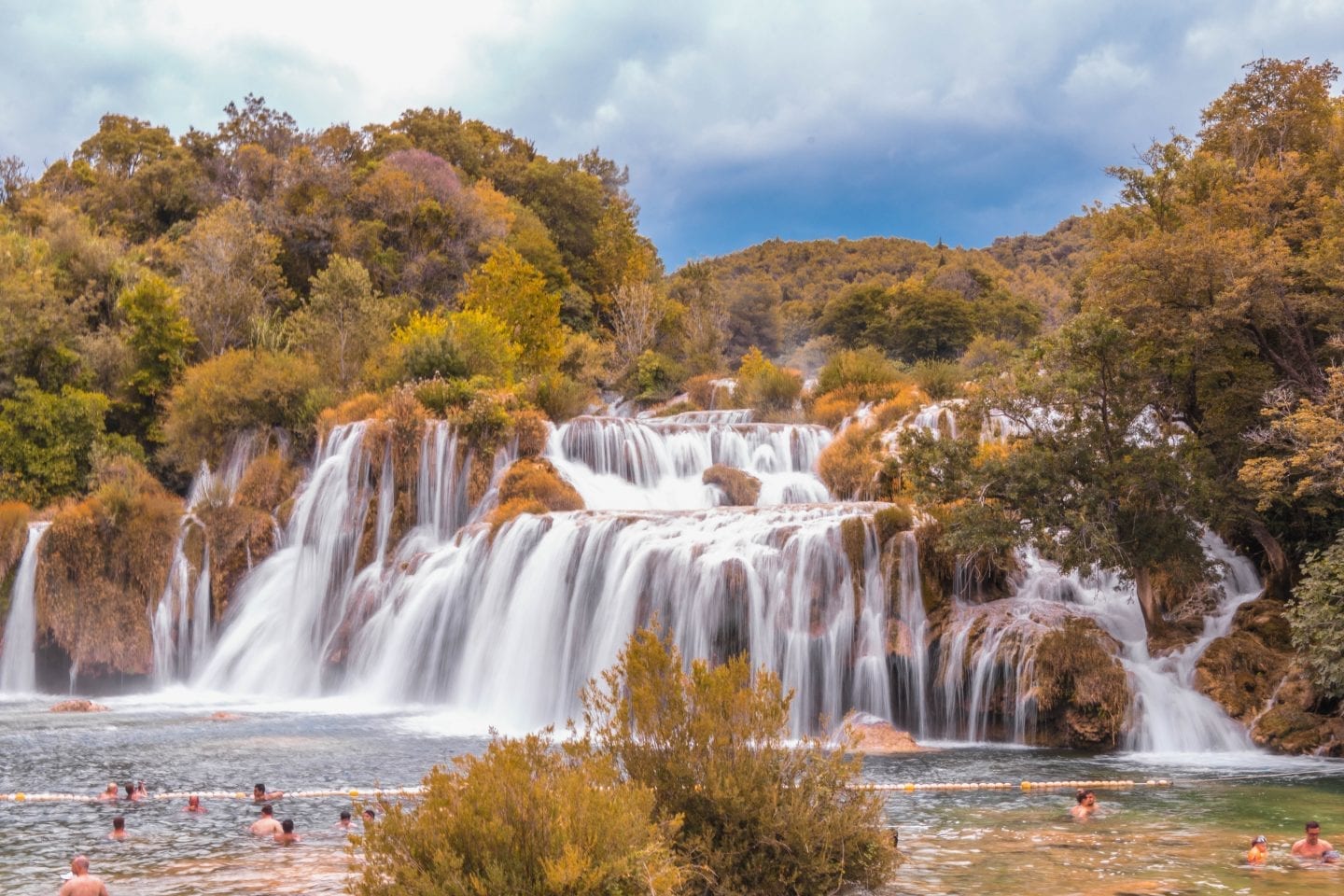 One of the unique aspects of visiting Krka National Park is that you are permitted to swim in designated areas beneath its biggest waterfall, Skradinski Buk Falls!
Now, you can't get right up under the waterfall (unfortunately!) There is a buoy barrier about 50 feet away from the falls that designates the end of the swimming area.
I have a few tips for those of you who want to swim at Krka National Park:
Wear your swimsuit under your clothes.
Bring a beach towel.
Bring swim shoes if you have them.
If you are traveling in two, one person should swim at a time and another should watch your belongings.
The swimming area is at the end of the main trail through Krka National Park. The trail opens up to a wider field where, in the busy season, there are tons of people laying out on beach towels, picnicking, and going for a swim.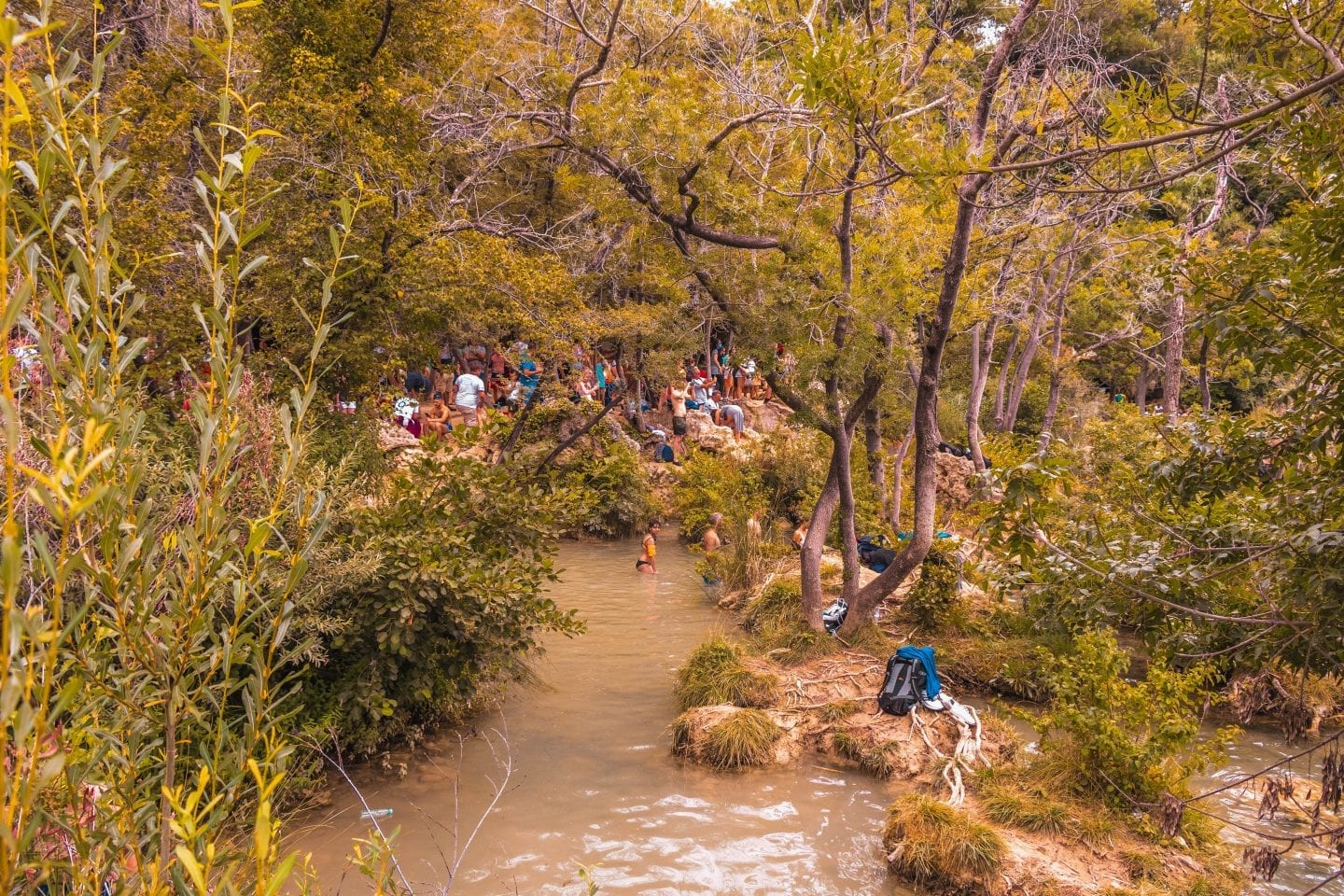 Advice for solo travelers & couples: Only go swimming if you can keep an eye on your belongings. The swimming area is not easily accessible – you have to go down some rocks and through trees, so you can't see your stuff from where you are swimming. In this case, I would skip swimming altogether unless it's not very busy and you can get a spot to put your stuff very close to the water. When there's so many people, it's just not safe to leave all of your belongings out of sight!
---
Where to Stay in Split or Krka National Park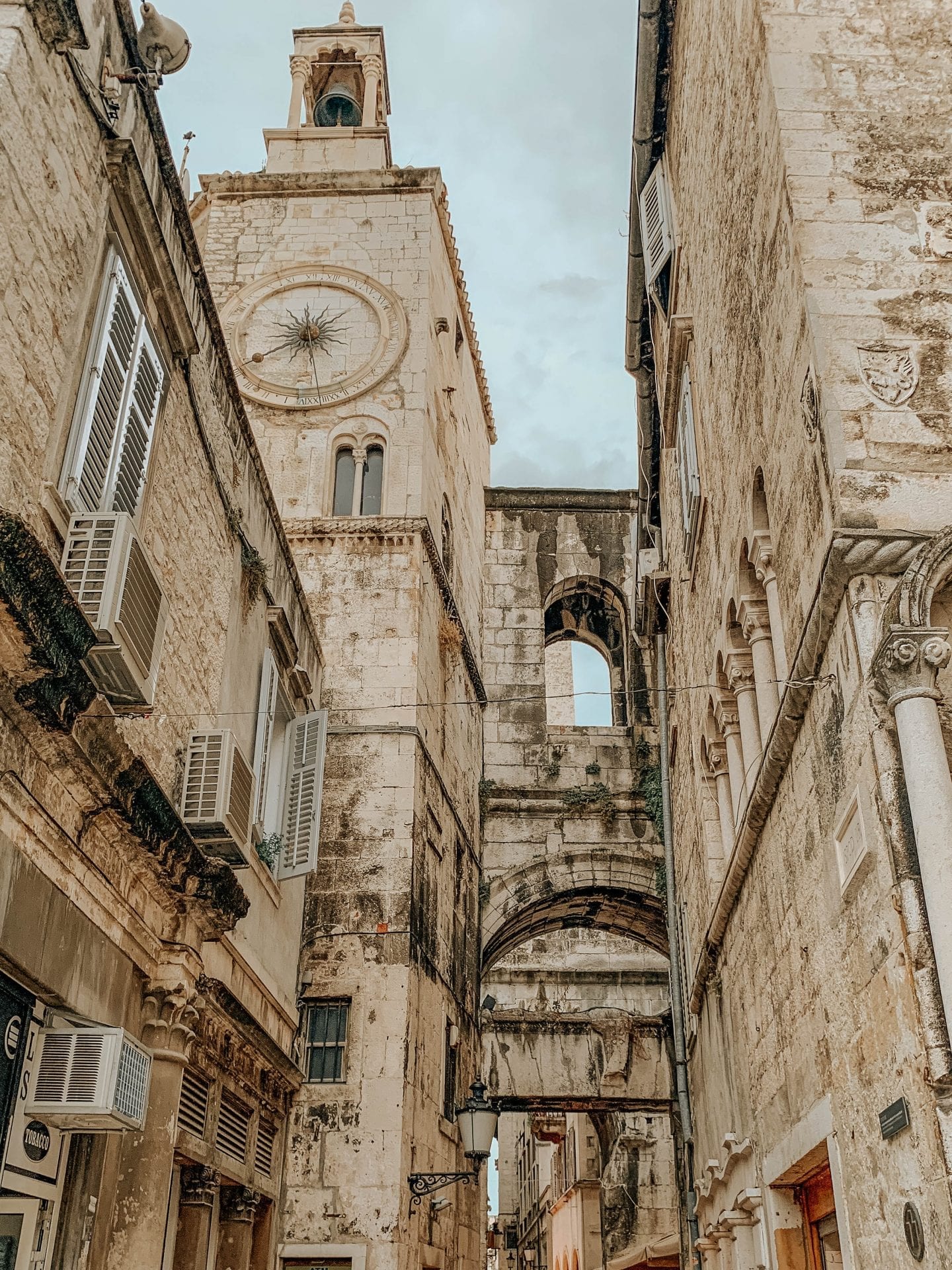 Split is one of the best cities in Croatia to make your home base and go on day trips. It has many accommodation options from budget to luxury and is within an hour of many of Croatia's most beautiful and popular sites.
When determining where to stay in Split, there are two major factors for me that I think you should keep in mind: parking and budget.
If you are renting a car, there is no way to stay in Split without accommodation that includes parking (unless you want to have a giant headache at the end of every day coming back to your Airbnb or hotel.) Parking is just too crazy and hard to find on Split streets!
If you are not renting a car, then opt for accommodation that is walkable to the bus station to take day trips from the city.
Secondly, it's significantly cheaper to stay outside of the city center. Split is a pretty walkable city and also has great public transportation by bus.
Where to Stay in Split
I think staying near Krka National Park is unnecessary as Krka is a very doable day trip from Split. But, if you really want to spend the night, just know that there is not much to do around Krka besides the national park.
Which also means less options for accommodation. However, staying in this more remote part of Croatia could result in an authentic cultural experience.
Where to Stay in Krka National Park
---
Final Thoughts
Getting from Split to Krka National Park is super easy with the right planning! It can be one of the best day trips from Split to round out your Croatia itinerary.
Although it can be crowded during peak times, this beautiful natural landscape is worth a visit whenever you get the chance to travel to Croatia.
For more resources, use the Krka National Park website in addition to this guide to help plan your trip!
What are you most excited about for visiting Krka National Park? Let me know in the comments!
Save this guide on Pinterest for later reference!
I hope you have an amazing trip to Krka National Park!
XOXO
Michela