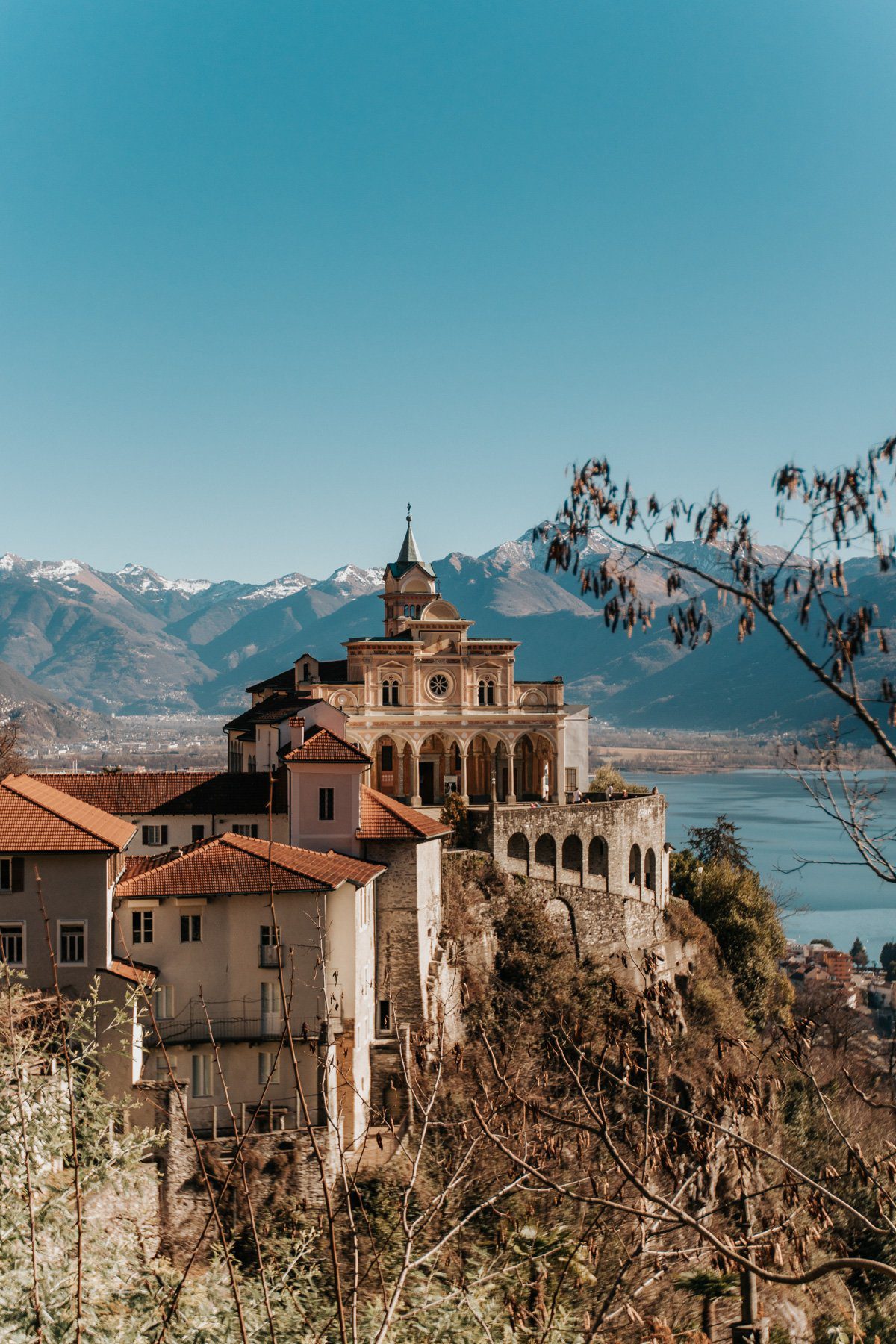 Last Updated on February 18, 2023
The gem of southern Switzerland lies on the northern shores of Lake Maggiore. Between storied squares and churches and modern luxury hotels and parks, the city of Locarno offers up the perfect balance of history and resort-like leisure to want to stay forever. To spend a perfect day or two (or happily more) in Locarno, Switzerland, here's everything you absolutely need to know.
Some of these links are affiliate links. This means if you make a purchase through that link, I receive a small commission at no extra cost to you. Read my full disclosure!
Intro to Locarno, Switzerland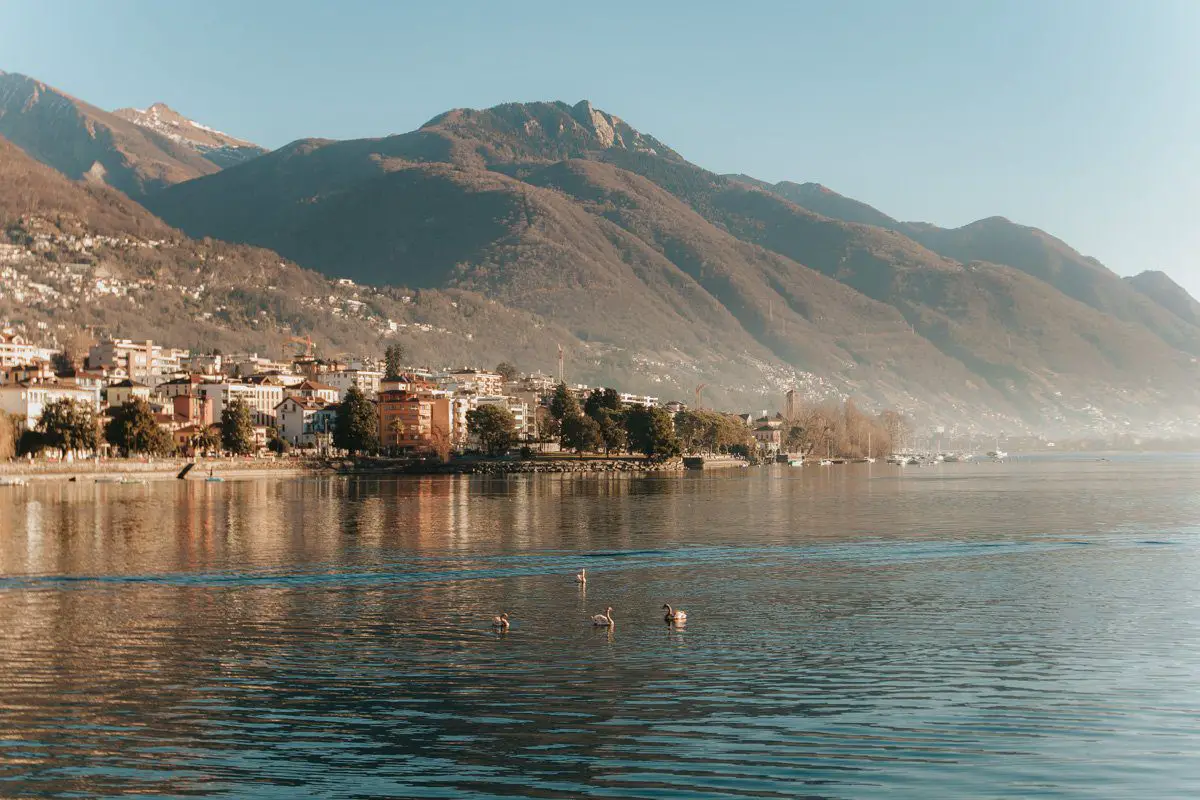 Locarno is perched at the very top of Lago Maggiore, one of Italy's largest lakes (the largest lake in southern Switzerland.) The city enjoys the sunniest days per year in Switzerland, which helps to explain why the vibe is so relaxed and happy.
The Locarno locals speak Italian, nestled on the edge of the Italian-speaking region of Ticino, Switzerland (and just a stone's throw away from Italy itself.)
Locarno is surrounded by many other small and cozy towns, all with a view over Lago Maggiore: Ascona to the west, Minusio and Muralto to the east, and Orselina and Brione Sopra Minusio perched above Locarno. It is also 45 minutes from Lugano, the largest city in the Ticino canton.
---
Things to Do in Locarno, Switzerland
Piazza Grande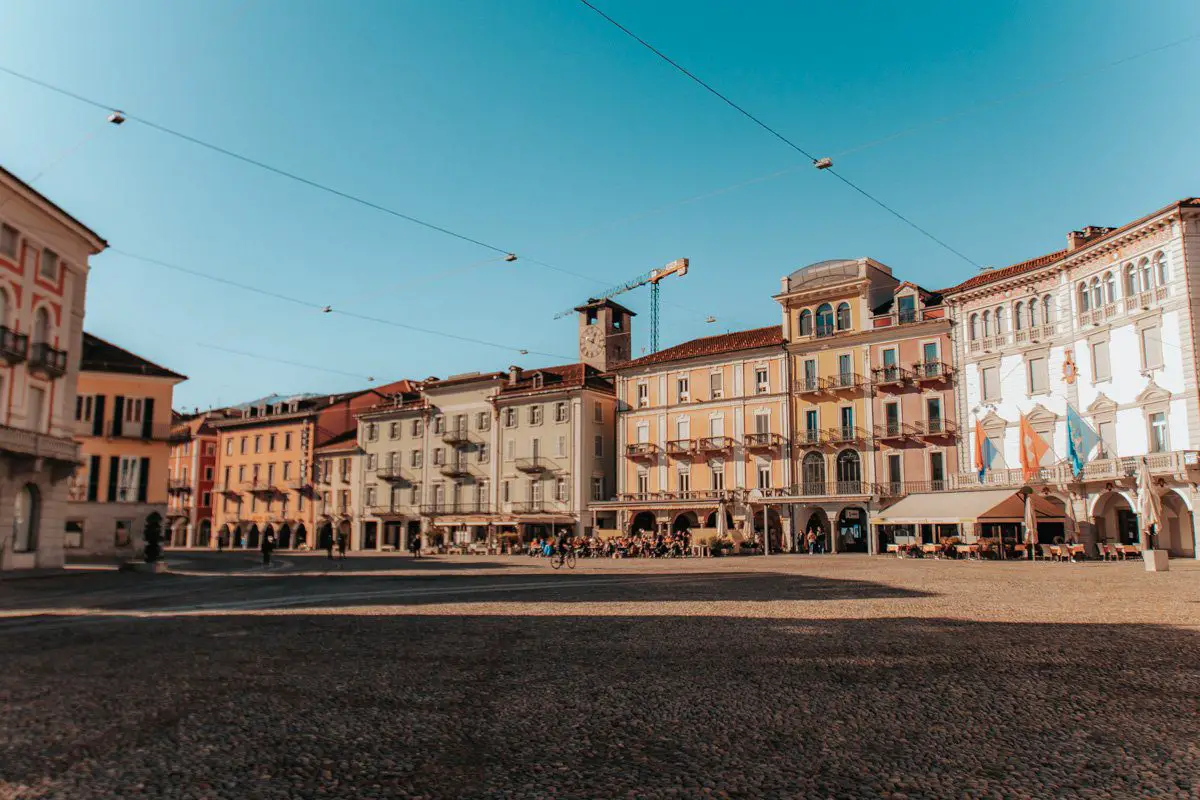 Piazza Grande is the hub of Locarno and its coolest characteristic is in the name – it is grande. The huge main square is lined with restaurants and shops at the foot of classic, luxury pastel buildings.
Madonna del Sasso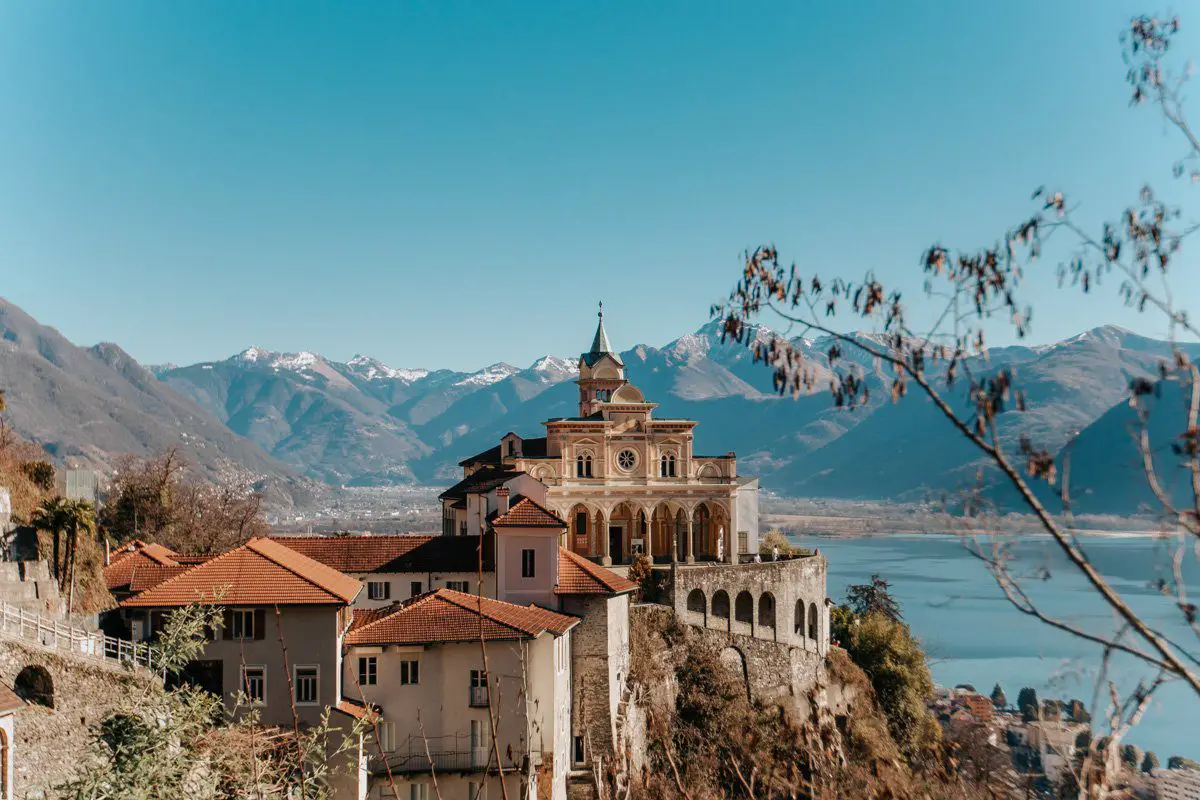 I'll just say it – Madonna del Sasso is the most beautiful spot in Locarno and the one you can't miss. Everything about the scene takes your breath away – including the hundreds of steps it takes to reach it.
Push through the pain because the views, the church's elaborate interior, and the history of this being a notable pilgrimage site are all overwhelmingly powerful and beautiful to experience.
You can read all about the church's interesting history here.
By the way, if you're not a stairs person, you can also take the cable car up to the church. But now, in early 2022, it is closed for renovations.
Get the Best View: Madonna del Sasso is, no doubt, breathtaking up close, but the best view of the church is with the entire landscape of Lago Maggiore and the southern Swiss Alps framing it like a painting. You can get this view by walking up just a few more stairs (push through, it's worth it!) and crossing to the Cappella, a red and yellow chapel perfectly perched on the mountainside facing Locarno's religious jewel.
Take a ride up the mountains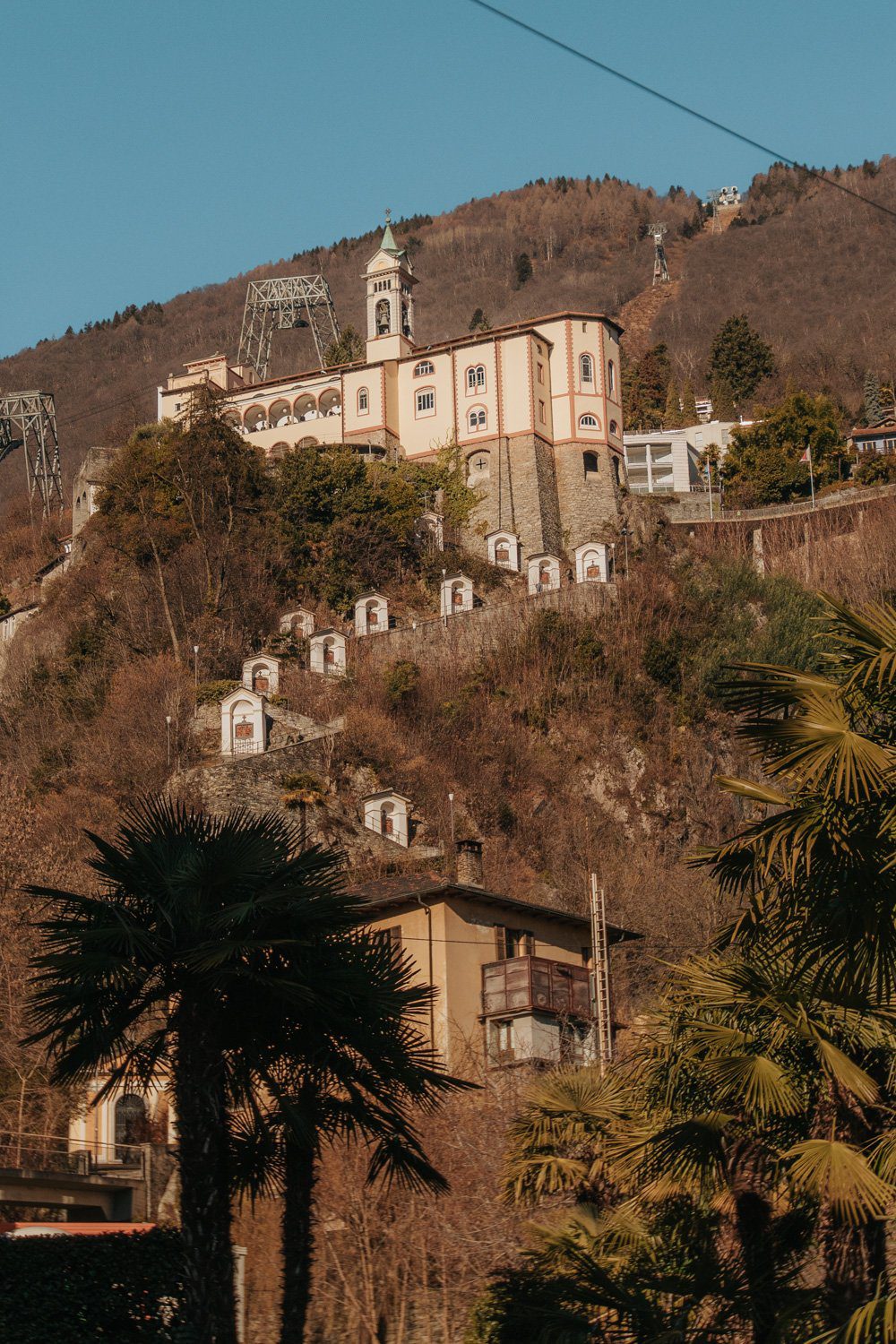 Locarno lies at the base of the Cardada and Cime mountain peaks. From the photo, you can see one of three cable cars you have to take along the way to reach the top of the sacred mountain (which ties into the story of the Madonna del Sasso church and pilgrimage.)
This area is perfect for hiking and mountain biking, and because Locarno is one of the sunniest places in Switzerland, you can engage in these activities nearly year-round.
And of course the views get even more incredible the higher you go!
Lungolago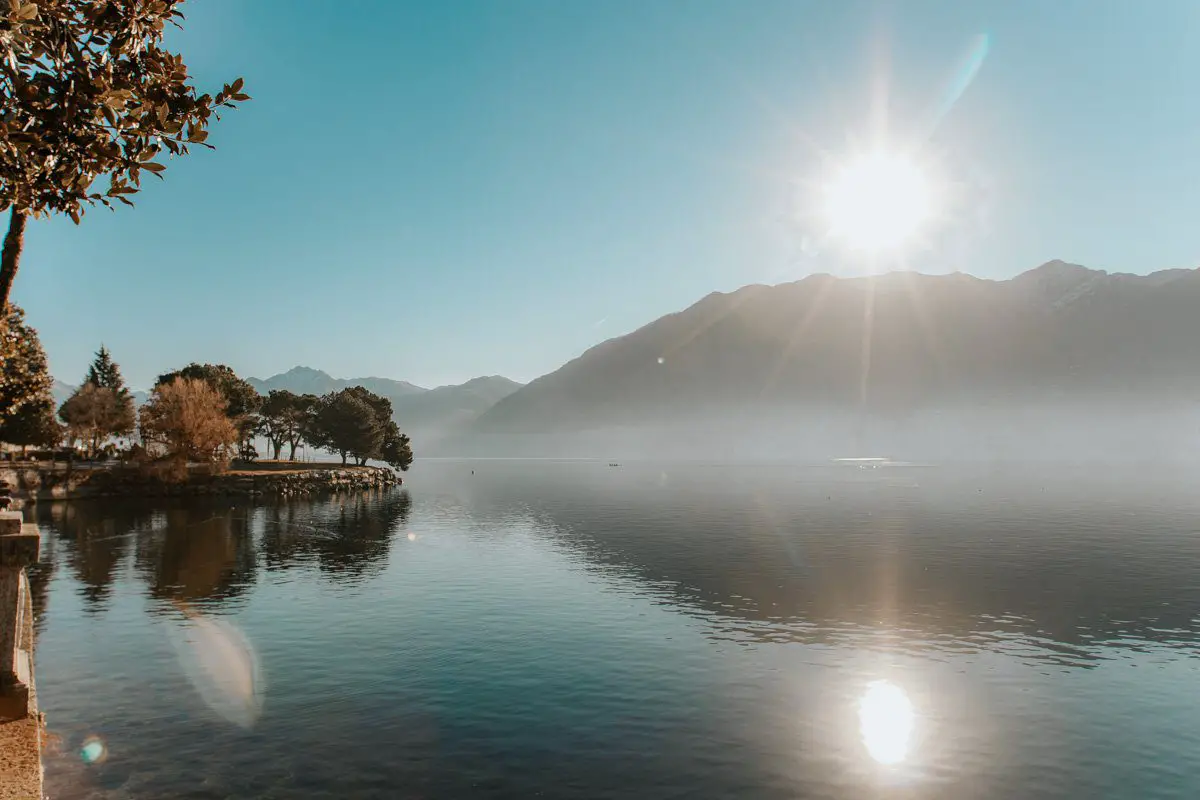 One of the nicest things to do in Locarno is simply walking along the manicured boardwalk that stretches all across the upper-western shore of Lago Maggiore.
The various parks and benches make it a perfect place to picnic, or at least pause throughout your active day, and also explore the smaller surrounding towns of Locarno, like Muralto.
Church of San Quirico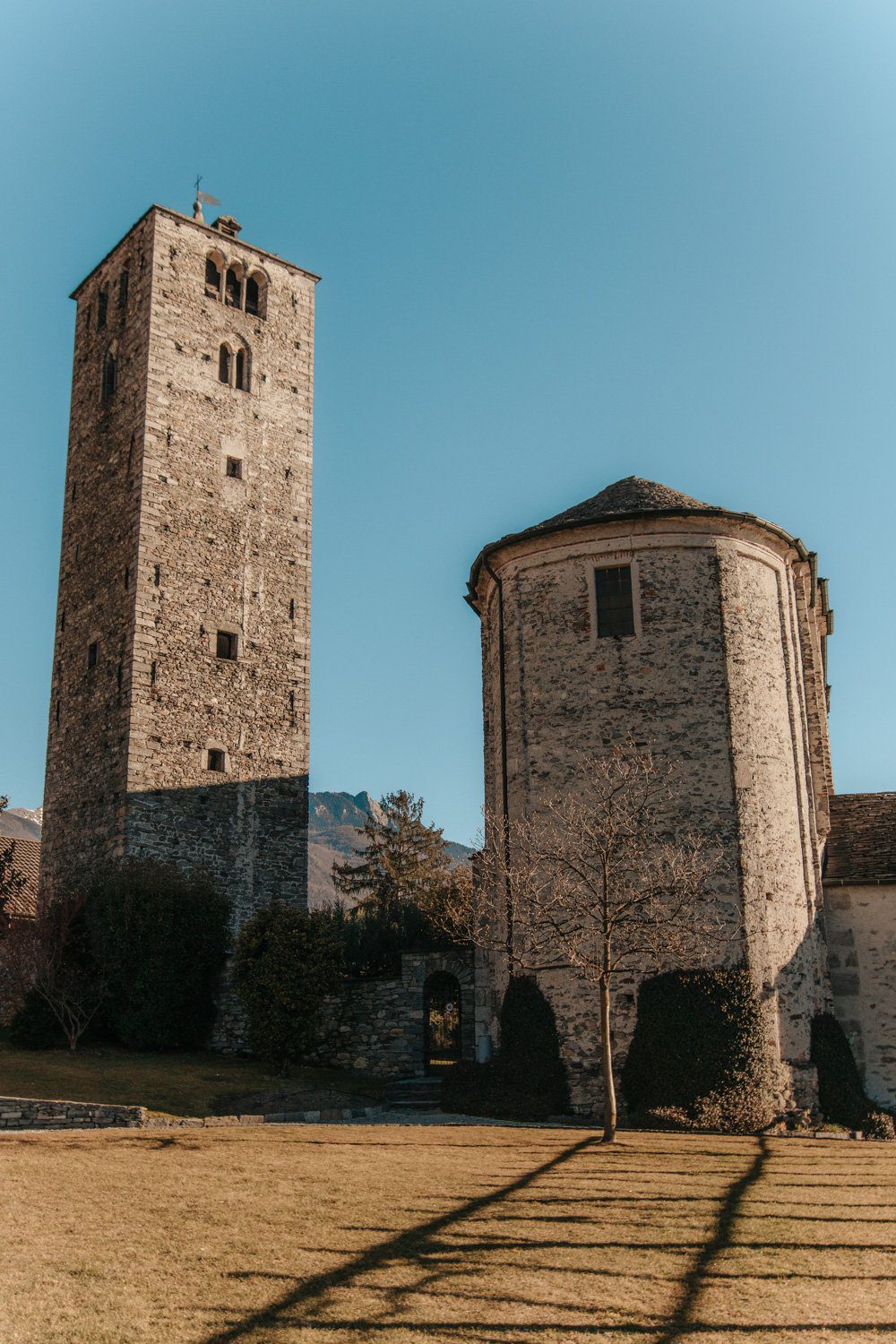 As you venture up along the boardwalk and through quaint, chic neighborhoods, you'll soon come across characteristic stone structures standing tall above the Lungolago. This is the Church of San Quirico, which dates back to the 14th century.
You can enter the small, humble church and sit in its pergola-covered courtyard, which has an amazing view over the lake. (Head up the stairs of the caretaker's quarters to see the view unobstructed by fence.)
Walk a little past the church and to the left is the Villa San Quirico, a small pristine park that capitalizes on its real estate at the edge of the lake.
Castello Visconteo
At the edge of the Piazza Grande is the Castello Visconteo, dating back to at least the 13th century and now a museum and a Swiss Cultural Property of National Significance.
The castle is closed during the winter season, so keep this in mind when planning your trip to Locarno. It operates from March/April to October. At 10 CHF, it's one of the cheapest activities to do in Locarno! You can buy tickets for your visit here.
Valle Verzasca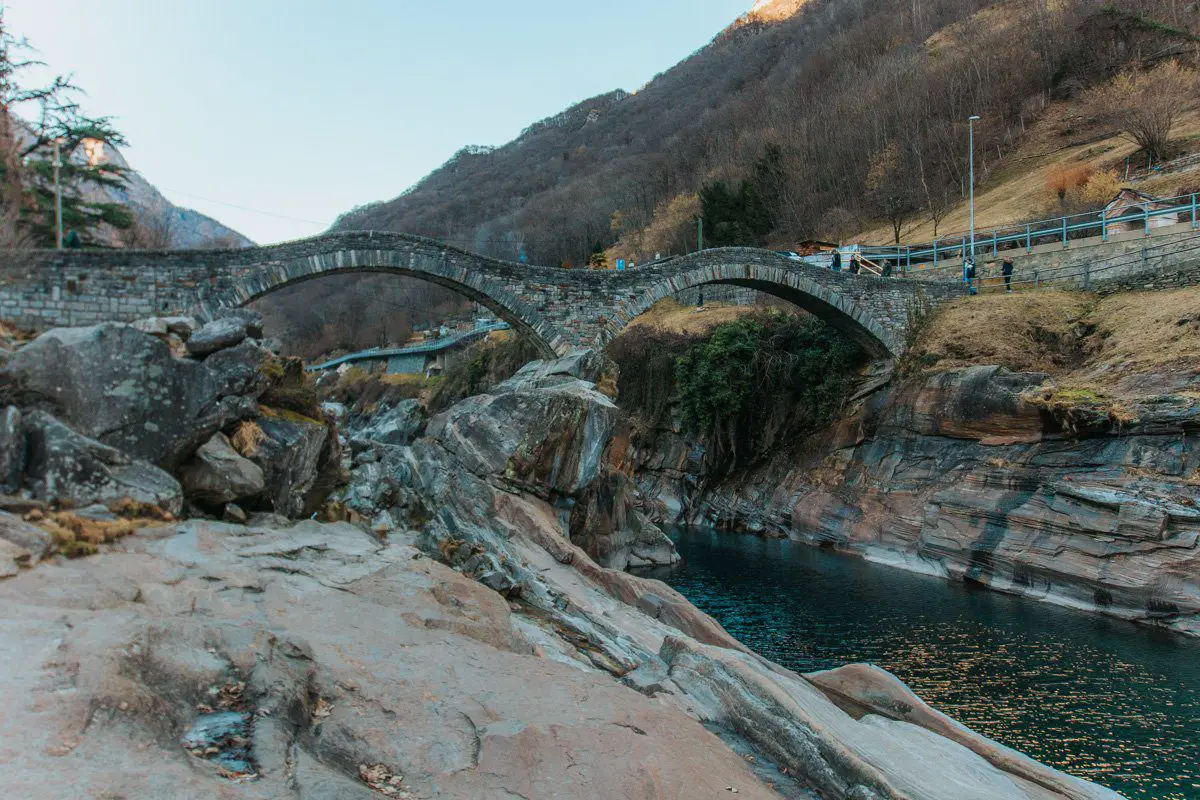 A detour to the Valle Verzasca is well-worth adding to your Locarno itinerary! Just a scenic and windy 30-minute drive away are spectacular valley landscapes.
There's only one road and the seclusion of the area shows. The tiny villages are mostly made up of archaeic stone houses – a feast for the traveler's eye.
One of the first things you'll see when traveling deeper into the valley is the Contra Dam (better known as the Verzasca Dam.
It is a humongous dam that creates the Lago di Vigorno (of which there wasn't much of when I visited in winter 2022.) If you're an adrenaline junkie, you may want to check this place out: it's a famous spot for bungee jumping.
Adrenaline junkies keep listening! Valle Verzasca is a perfect place to go canyoning.
And one of the most popular spots is the Ponte dei Salti, where a perfect summer day entices many to jump into the river off of the characteristic bridge. (Many do it but – do this at your own risk – it is not actually recommended to jump in!) It's not a monitored swimming area, so you must be cautious.
While the bridge is beautiful, the most incredible part is the unique boulder and rock formations all along the Verzasca River.
Other Attractions
Locarno Film Festival
Who knew the small characteristic city of southern Switzerland was home to one of the most prestigious film festivals in Europe?
The event is larger-than-life: enthusiastic filmgoers nab tickets to be one of up to 8,000 seated in the Piazza Grande to watch the newest and best in cinema unfold before them.
This year, 2022, is the festival's 75th anniversary, taking place from August 3rd to the 13th. Find out more details at the festival website!
Falconeria Locarno
Random or awesome? Why not both! Locarno is home to the Falconeria Locarno, a show/animal park dedicated to birds of prey. It's a particular activity and not the cheapest, but would be perfect for travelers with children, staying for a longer time in Locarno, or animal lovers!
You can check out prices here.
Lido Locarno
During summer, the Lido Locarno comes alive. This isn't just any old swimming pool – it's a water park. Thermal baths. And beach access to Lago Maggiore's shores.
The complex is huge and has prime real estate on the lake, so consider making it a stop on your itinerary during the summer months (especially if you are visiting Locarno for more than one day.)
Up for more? Another interesting thing to do in Locarno is walk the Planet Way, a 6 km long hike that follows a scaled model of the solar system. You can read more about it here.
---
Where to Eat in Locarno, Switzerland
Al Porto Café Lago Locarno
The cutest spot for breakfast or afternoon coffee is Al Porto Café Lago Locarno, across from the lakeside boardwalk. The location resembles Parisian café culture, with a long bench with little tables facing outwards on the sidewalk, so you can enjoy people-watching as much as sipping on your cappuccino.
The brand also has other chic bakeries and café locations throughout the Ticino region, which you can see on their website linked above.
INKA Bistrot Bar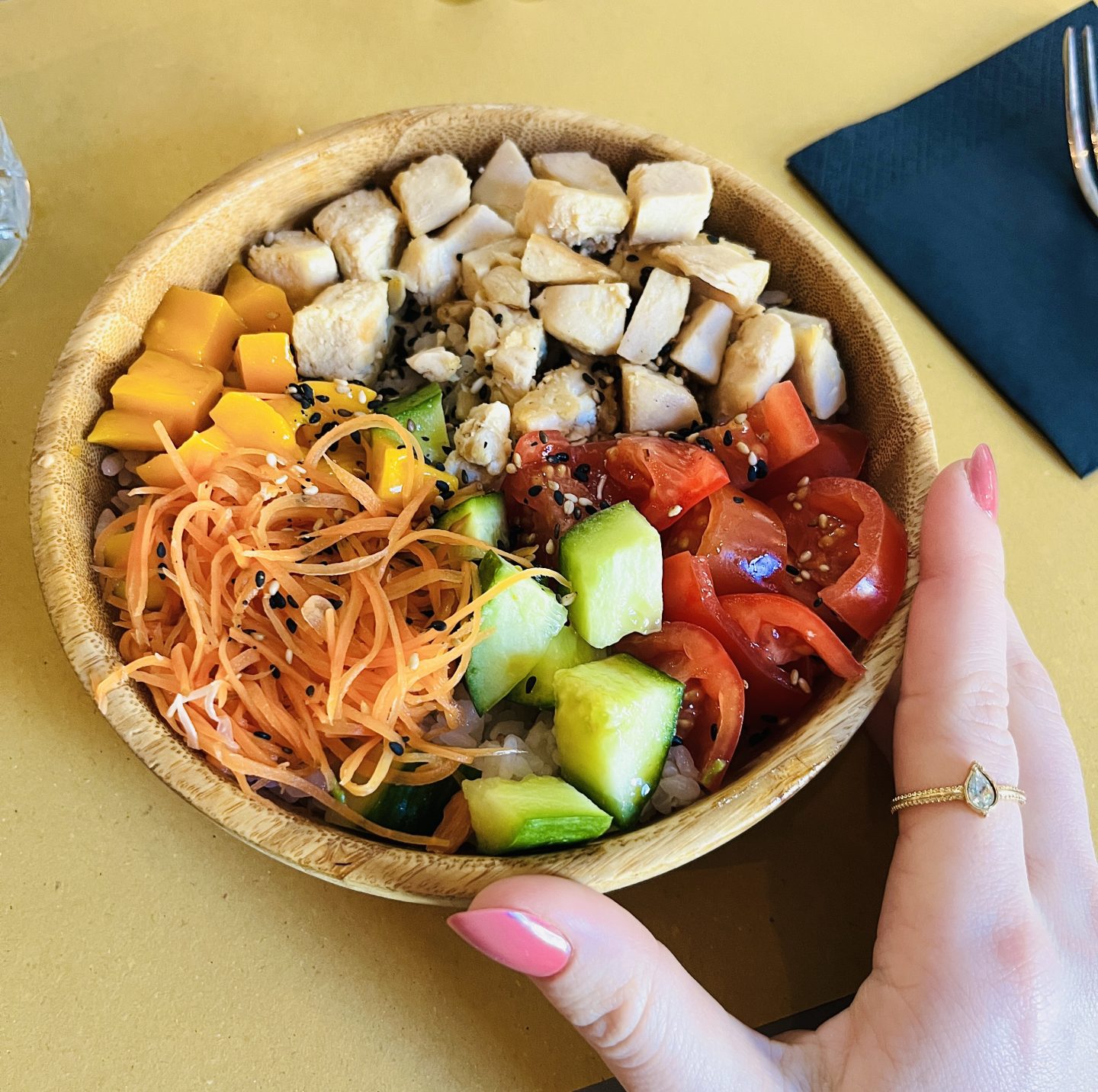 Traditional Swiss… Poke Bowl? Inka may not be the most characteristic place to eat in Locarno but it's good food and moreover, good vibes. The place is modern and slightly hipster and the menu is on the cheaper side for Switzerland (still expensive for any other country) and most importantly, the food is quality and plentiful.
While most of the main dishes hover around 20-25 CHF (about $22-27), they offer sizable poke bowls for 17 CHF. I'm not saying it's the cheapest meal I've ever eaten as a traveler, but it was decent for a Swiss restaurant!
I enjoyed my lunch here and recommend it if you're looking for healthy and fresh food options!
---
Where to Stay in Locarno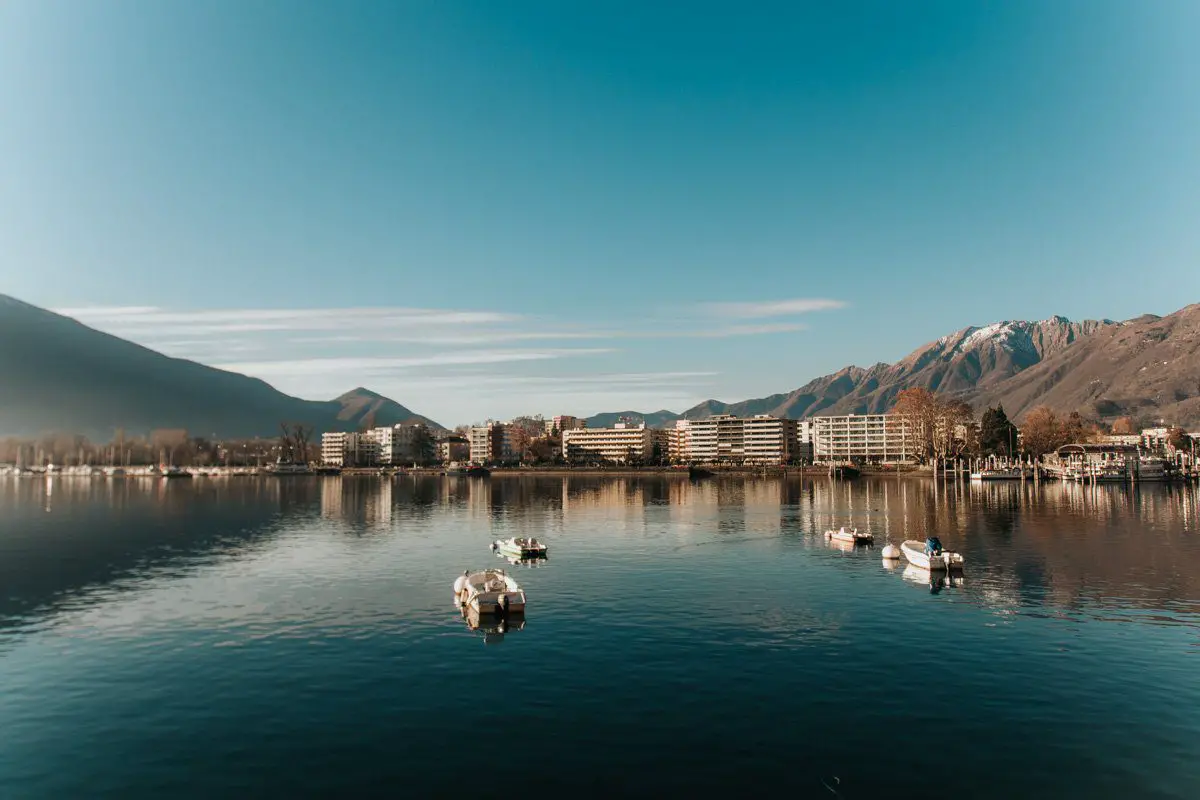 Budget
Hotel dell'Angelo – You won't find many places in Locarno to stay in for under $100 per night. Luckily Hotel dell'Angelo not only caters to budget travelers but is also perfectly located in Piazza Grande
Mid-Range
Hotel Garni Rio – Hotel Garni Rio is conveniently situated by the Locarno train station. Even better, the hotel is housed in a 19th-century pearl white, elegant villa. It's not much more than the $100 mark, but still falls in the mid-range budget for accommodation in the area.
Casa Colmanicchio – Casa Colmanicchio is the most unique hotel on this list and definitely boasts the most incredible panorama. High above Lago Maggiore in Cardada, this hotel has a restaurant with a terrace and a limited number of rooms, perfect for nature-lovers and those who love to feel small in the presence of incredible views.
Luxury
Hotel la Palma Au lac – The more expensive hotels are along the shores of the Lungolago, but if you use discount sites like HotelTonight, you may be able to score empty rooms for cheaper. The price per night hovers around just over $200, but the luxe atmosphere and prime location are what you pay for.
Hotel Lago Maggiore – The Hotel Lago Maggiore follows suit. Another mid-century modern resort-style hotel exudes posh vibes and high-end amenities, all while taking advantage of their up-close view of Lago Maggiore. It's a bit cheaper, just under $200 per night.
---
Travel Tips for Visiting Locarno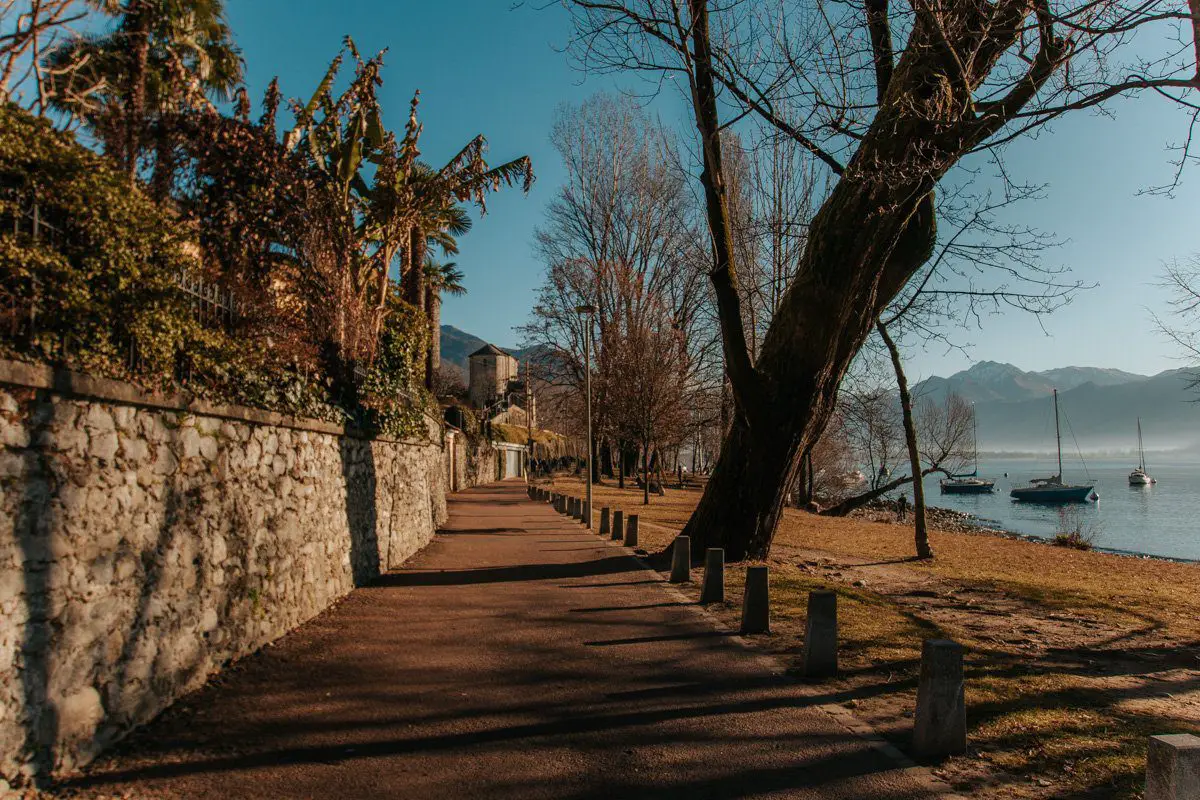 How to Reach Locarno
By Car
To reach Lugano by car, you will have to wind through the Alps until you get to the sprawling valley at Lago Maggiore's northern shore.
Before arriving in the city, you'll travel through the Mappo-Morettina tunnel which is 5.5 km long, a medium length tunnel, but nonetheless impressive (and something to be aware of.)
Locarno's streets are well-manicured, but quite narrow, and you'll find many traffic lights.
I've already dived into all of the details about what it's like traveling by car, so read all about driving in Switzerland before you go.
By Train
Train transportation in Switzerland is robust. Locarno is well-connected to all other major cities via train.
The Locarno train station is located in Muralto, just a ten minute walk from the Locarno center.
You can find out more information about the station and timetables here.
Ticino Ticket
The Ticino Ticket is a way of traveling within the Ticino region. It's free, but the only way to get it is by staying at a hotel, hostel, or campsite for at least one night.
The Ticino Ticket allows you to use public transport in the region of Ticino for free! And you can also take advantage of discounts from its partners.
Read more about it on this page.
Good to know: Locarno's nearest airports are Lugano (LUG) 42 km away, Milan Malpensa (MXP) 117 km away, and Milan Linate (LIN) 133 km away.
Parking
While my boyfriend and I are on a road trip, my passenger seat duty is to scour the Internet for parking lot reviews and websites seeking the ultimate budget traveler's treasure: free parking.
Unfortunately, I failed to find free parking in Locarno. But there is plenty of paid parking that at least costs much less than in other Swiss cities.
The perfect (and cheapest I found) place to park was Parking Centro Arco, smack right in the center of town.
Good to know: The pay machine did not accept credit cards, but it accepted both euros and Swiss francs. However, of euros, it only accepted bills, not coins. Don't rely on your card to pay for parking nor euro coins!
If you are spending the night in Locarno, try to book accommodation that offers a parking spot included (or at least parking that won't break the bank.)
Currency & Budget
Switzerland's currency is the Swiss franc (CHF), but in Locarno (and many other places in Switzerland) euros are accepted. With that in mind, I would still convert some cash into Swiss francs while traveling through Switzerland for small bills, like parking, for example.
Locarno is expensive; not as expensive as Zurich or Lucerne, but more expensive than most places in Europe. While lodging is always a huge chunk of a travel budget, what kills your wallet in Switzerland is the cost of food.
Locarno is not a huge city, so I would recommend taking a day trip or passing through for a night or two on your Switzerland itinerary.
When you add up just parking (or transportation) and food (based on all three meals), the minimum daily budget for one traveler is around 85 USD – and that's if you stick to cheap/average menus. Of course, it's just an estimate, so you can always look to cut costs by packing food, eating to-go sandwiches from delis, or using some of my favorite budget travel secrets.
Locarno vs. Lugano
The two cities of the Ticino canton get mixed up a lot! And you may be wondering which is more worth it to see, especially if you have a limited amount of time.
Locarno is smaller, quainter, more nature-oriented, and feels more like a laidback resort-town.
Lugano is the biggest city in Ticino, has a lovely boardwalk, and also has its fair share of nature activities.
Personally, I liked exploring Locarno more. I crave visiting more underrated destinations and being surprised by the beauty they have to offer.
If hidden gems are what you like to include on your travel itineraries, then visit Locarno.
If you're after a more bucket-list experience, then visit Lugano.
---
Final Thoughts
Is Locarno worth visiting? Yes!
You may have other areas of Switzerland high up on your list: cities like Lucerne and Zurich, villages like Lauterbrunnen. Locarno tourism isn't quite at the level of those locations, but that's what also makes it special: you get to uncover its beauty like you're the first one to do so.
I would say visit Locarno if the amount of time in Switzerland you have allows it. It's a resort destination, so life moves slower than the faster-paced cities that are typical highlights of a Switzerland itinerary.
The best part about Locarno was the atmosphere: calm, sunny, happy. You can't ask for much more out of travel destinations!
What questions do you have about visiting Locarno?
I'll answer you in the comments!
Save this travel guide to Pinterest!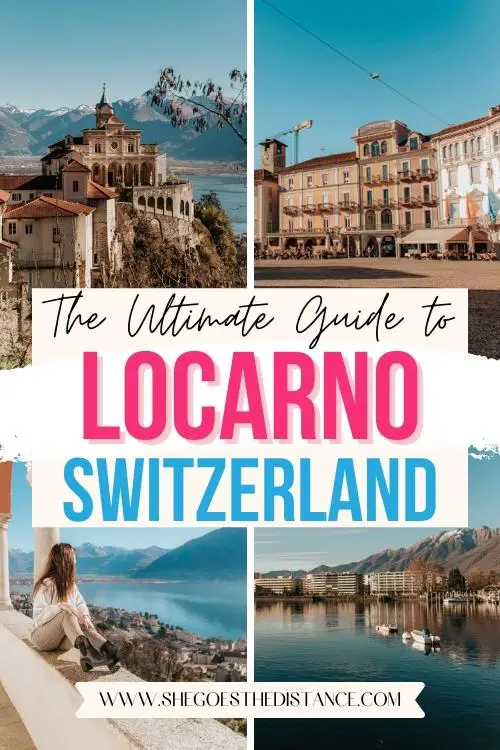 I hope you've found this guide to Locarno, Switzerland helpful!
XOXO
Michela