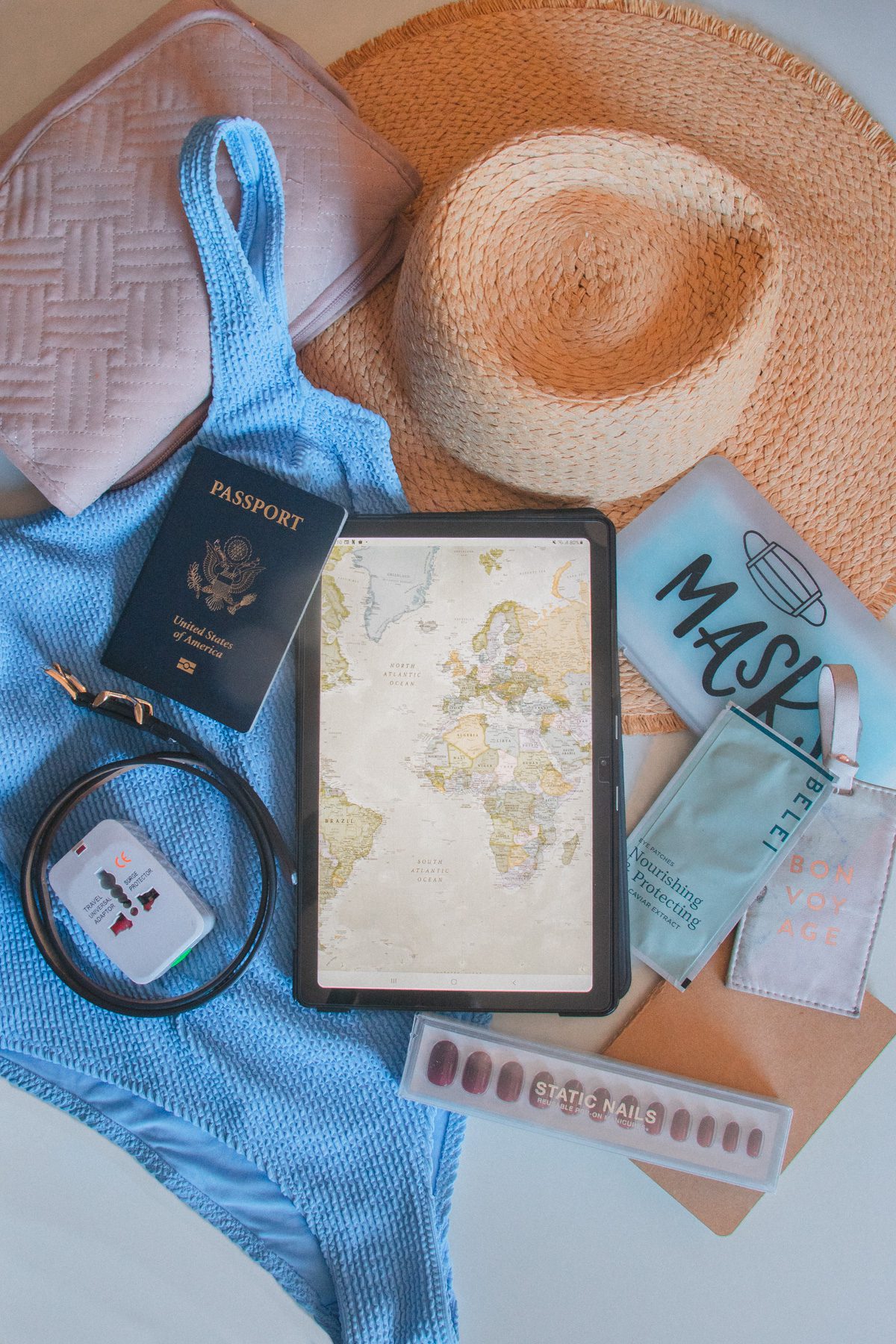 Last Updated on April 10, 2022
There are gadgets and gizmos aplenty out there to make travel better and easier. But how do you spot the nice-to-haves and the so-so's from the must-haves and the absolutely amazing? I and my 5 years of experience traveling (and making tons of mistakes) are sharing the best of the best of travel products and what you actually need. World-wandering ladies, rejoice: This is the ultimate list of travel essentials for women.
From handy gadgets to pocket-sized personal items and so much more, every female traveler needs what's on this list!
Some of these links are affiliate links. This means if you make a purchase through that link, I receive a small commission at no extra cost to you. Read my full disclosure!
Check out my free printable packing checklist every girl boss needs, as well as others specially-curated for destinations like Italy and activities like photography, all exclusively available in The Travel Library when you sign up for my newsletter.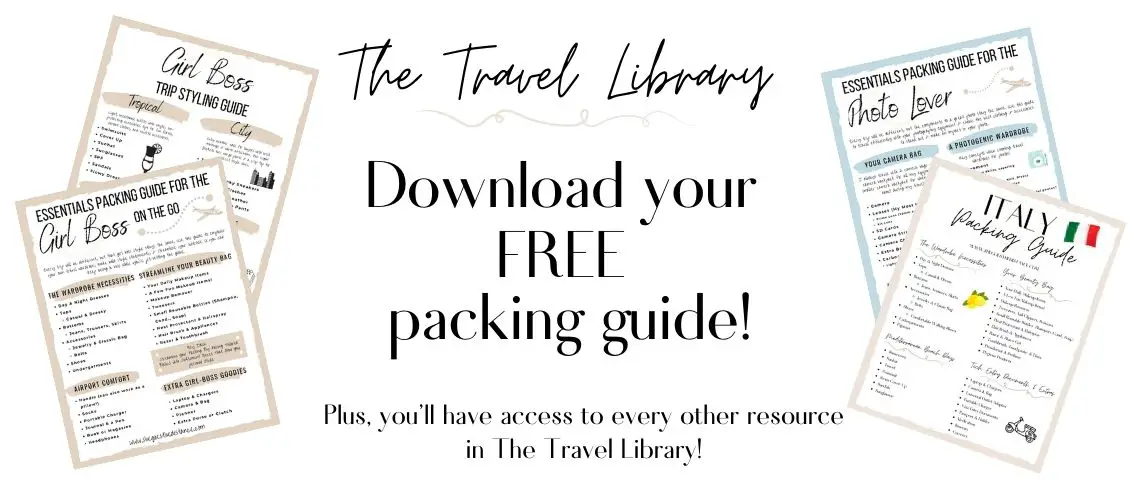 For Organizing Your Suitcase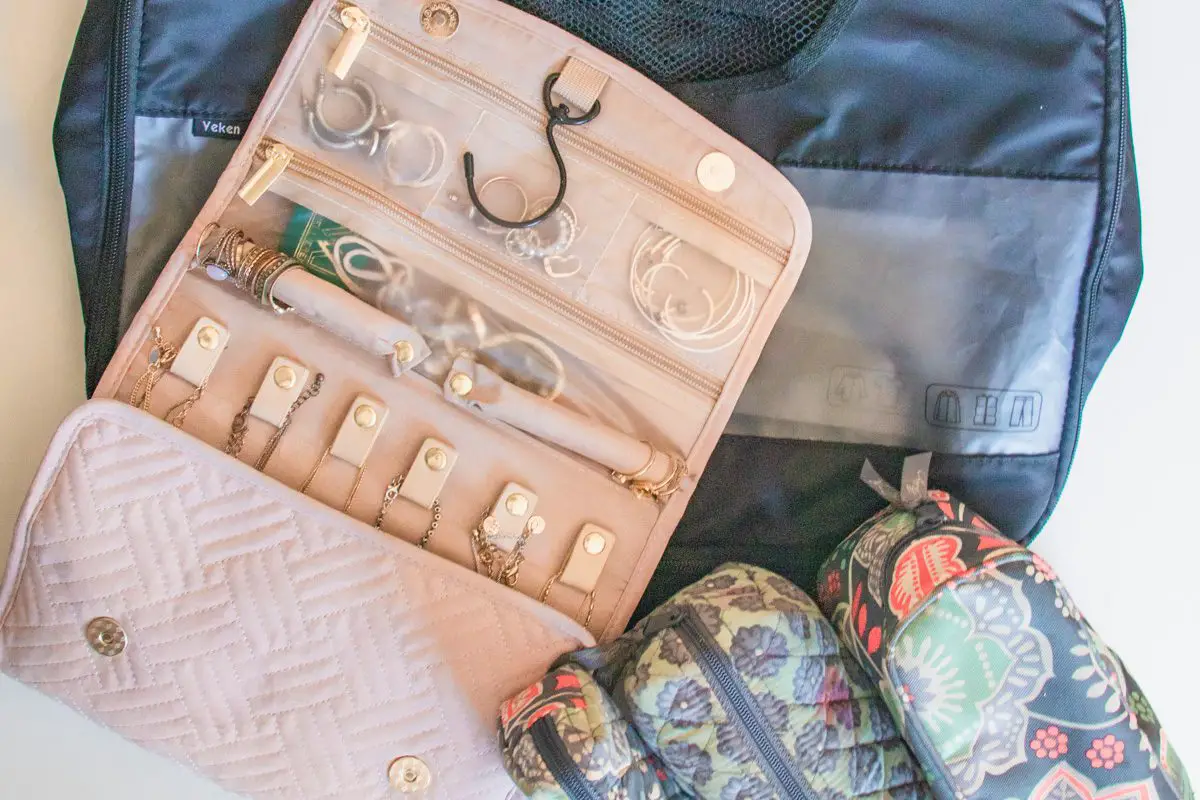 A travel packing list is a good start to organized, mess-free packing. But these tools take your suitcase to another level!
Keep everything neat and easy to find with these organizational goodies – aka your new best travel companions!
1. Veken Packing Cubes
Number one on my list and in my traveling heart is Veken packing cubes. I rave all about them when it comes to packing a suitcase to maximize space!
Available on Amazon and only $23, they are a packing lifesaver: fit more stuff with the stretchable fabric that then compresses the clothes, easily organize and take the cubes around with the handle, and know where everything is with the clear panel. I've had these for nearly 2 years now and have had no problems: no broken zippers, rips, nothing!
Plus the set comes with a shoe bag, made of the same flexible material, and a laundry bag, super handy for keeping worn clothes separate from clean clothes.
2. Vera Bradley Makeup Bag Tote Set
Another perfectly portable organizer I never leave for a trip without is this Vera Bradley Makeup Bag Set in a clear, compact tote.
The makeup bags themselves have a plastic lining on the inside to make any spillage easy to clean – something that always happens after my luggage has been thrown around an airplane cabin.
And if you're only taking a carry-on or packing light makeup and toiletry products, you can use the bags separately!
3. Bagsmart Foldable Jewelry Holder
Save space, check. Hold everything, check. Look cute and is functional? Check, check, check!
The Bagsmart Foldable Jewelry Holder is one of my favorite budget-friendly travel essentials for women. Versatile, protective, compact, and with lots of storage, it's everything you need in a travel jewelry holder and the perfect alternative to bulky jewelry boxes.
4. Bagsmart Electronics Organizer
Last but not least of the organization category is an organizer for all things electronics.
One of the most annoying things to happen on the day of travel is reaching into your bag to get one cord and out come all the others while you're in the middle of the airport or plane.
A cord organizer is a cheap fix to this and the Bagsmart Electronic Organizer takes cord organizing to another level for just $17.
The slim carrying case has places for all the tiny things usually floating in your backpack until they are lost and never to be seen again – your phone, outlet plugs, cords, headphones, hard drives, and SD Cards.
Say goodbye to tangled cords and losing small electronics with this travel essential!
For Your Travel Capsule Wardrobe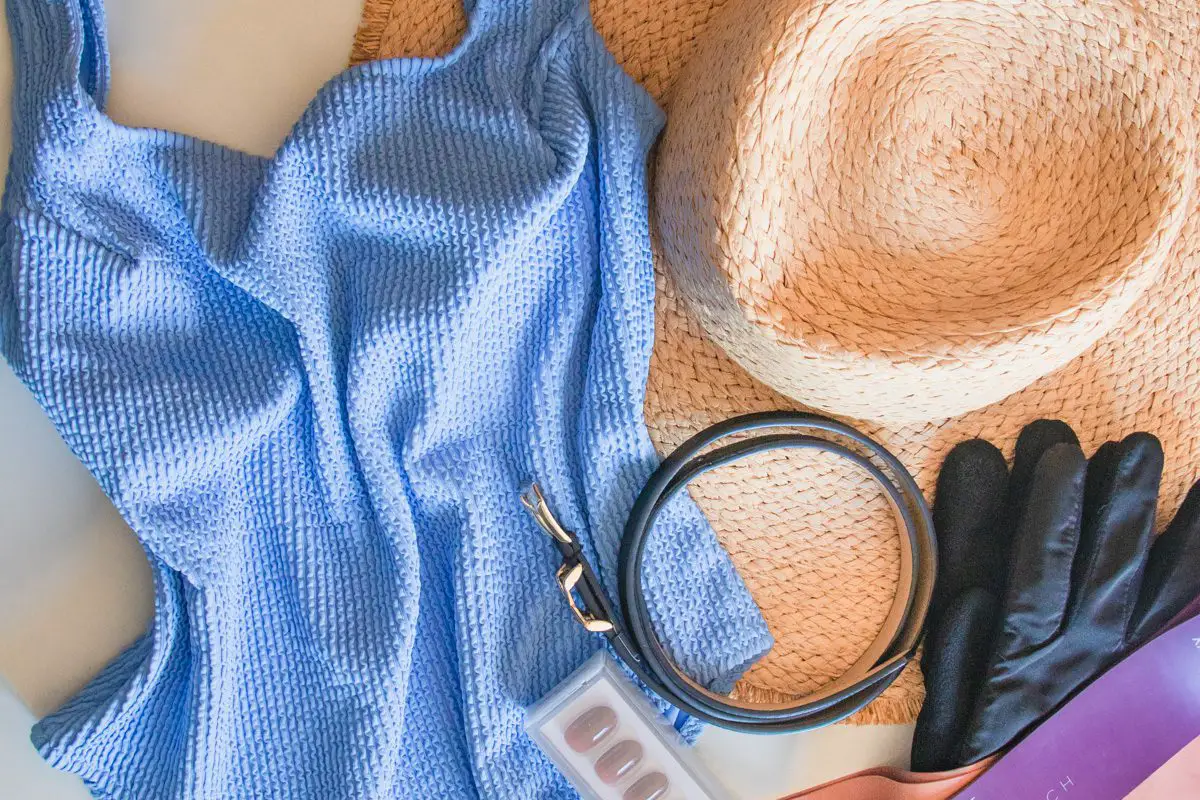 Building a travel capsule wardrobe will enable you to pack smart and light for any trip length. These are essentials (some often overlooked) to versatile outfits on vacay, plus essentials for any travel fashion emergency.
5. Basic Black Belt
No matter what you think you may or may not need on your trip, you will regret not bringing a basic belt!
It's one of those things you forget while packing, so I suggest adding it to your favorite female packing list.
6. One-piece Swimsuit
I'm not trying to tell you what to wear to the beach, I'm just suggesting you keep a basic, versatile one-piece swimsuit at all times on summer vacay!
Sometimes you're heading to the pool after you've just eaten a buffet meal or you're in a situation where you want more coverage. I know I reach for my one-piece at those times!
One-piece swimsuits are simply more comfortable and versatile, especially on active days of exploring.
7. Sunhat
Sunhat… is it really essentia- absolutely! It may be an obnoxious item to pack or carry around, but a sunhat will be one of your favorite travel accessories for summer trips.
Sunhats provide way more shade from the sun than sunglasses do – it's like having your own little umbrella on your head. They also help you stay cool on super sunny days.
And it doesn't have to be hard to pack. Simply turn it upside-down, having the brim facing up when you place it in your suitcase. Fill the inside of the hat with soft items like socks and underwear and then pack your other soft clothing (or packing cubes, which is what I do!) around the head of the hat underneath the brim!
This helps it take up as minimal space as possible and keep its shape.
8. Comfy, Slip-on Walking Shoes
Every traveling woman needs a pair. My boyfriend can attest to this, as every time I choose fashion over comfort while we're out exploring, he has to listen to me complain about my aching feet.
Back when I studied abroad in Florence, there was one pair of shoes that got me through months of walking on cobblestones every day: Vionic slip-ons.
I couldn't find the exact style (it's been a few years since I bought them), but these are the most similar from the same brand.
They're on the more expensive side, so as a budget traveler it makes me cringe – but, they are a worthy investment. They're durable, comfortable, and versatile, which is what makes them perfect for a capsule wardrobe!
9. Foldable Flats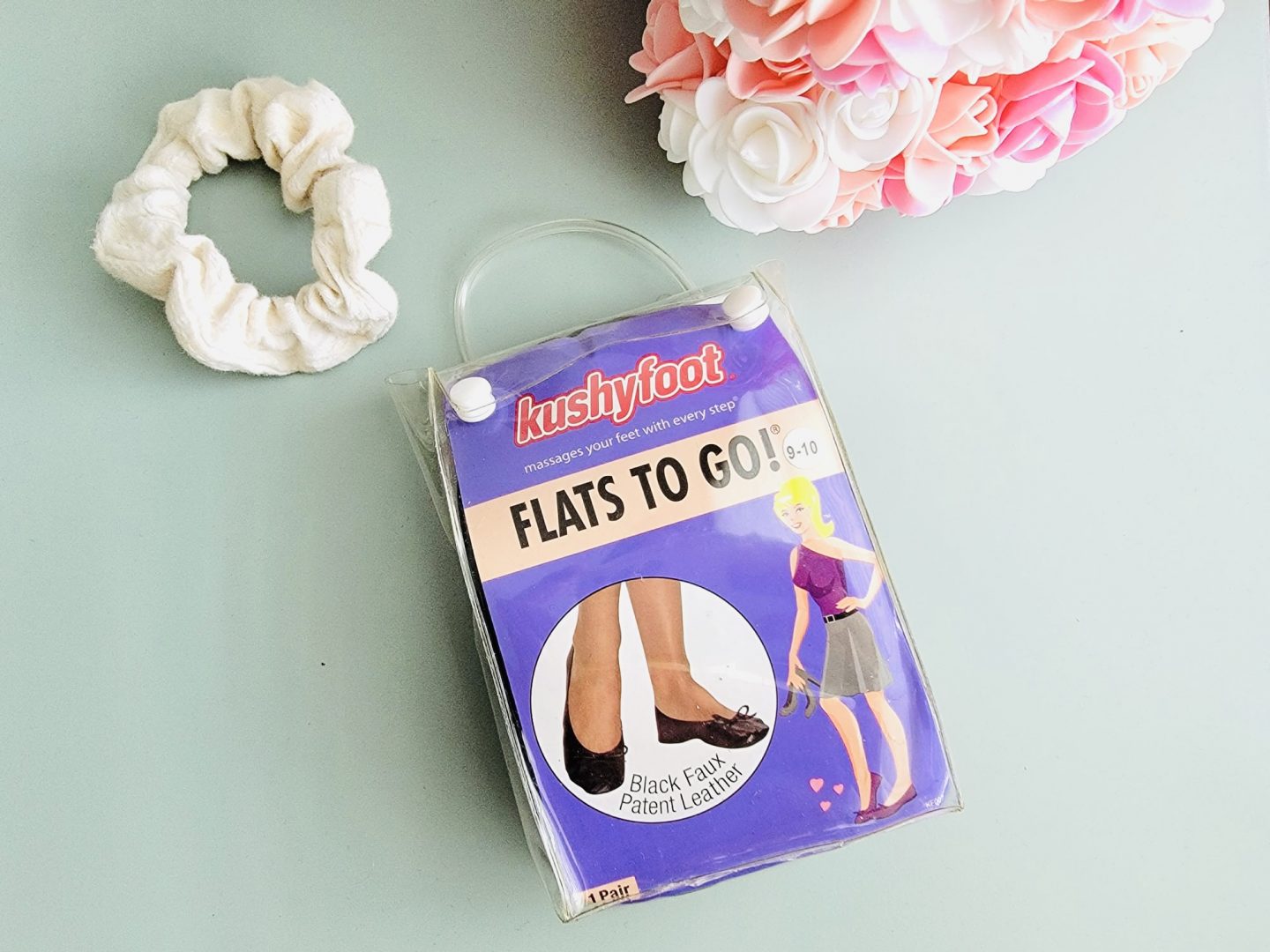 And for exactly those days I mentioned where you choose fashion over comfort and come to regret it, there are foldable flats.
These foldable flats are by no means a great shoe – it's more like a plastic sock. But they are an incredible relief if you've worn anything heeled (or even sandals that cut into your feet after walking a long time.)
Plus, they fit in your purse so they are no pain to pack or take around with you on the go!
10. Touchscreen Compatible Gloves
I've been focusing on a very summer-themed wardrobe, but a girl's gotta travel in winter too!
And one of the essentials women must-have for winter travel is a pair of warm, touchscreen-compatible gloves. I don't think I have to elaborate much! They're just the most convenient version of what's already a must-pack winter essential.
11. Safety Pins
Enter the fashion emergency problem-solver: safety pins. Yes, you likely won't need to use them. But in the case a strap breaks or a quick hem is needed, you're covered!
Good To Know: Another one of my secret weapons for solving a fashion emergency while I'm traveling is dress tape! You can use these to tape bra straps, off-the-shoulder tops, or deep v-necks in place.
12. Static Nails
My last fashion-related must is one of my latest discoveries: Static Nails. This company creates reusable pop-on manicures, which I have found absolutely perfect for having quick, gorgeous nails in little time and on the go while I'm traveling!
It takes a bit of practice to apply the glue right, but once you do it a few times, the process gets quicker and quicker. It usually takes me just 10-15 minutes to do my nails and these, unlock polish, actually last! I always hated doing my nails because polish would chip and look terrible after just a few days. With Static Nails, I have a beautiful manicure for a week and a half!
For Your Toiletry Bag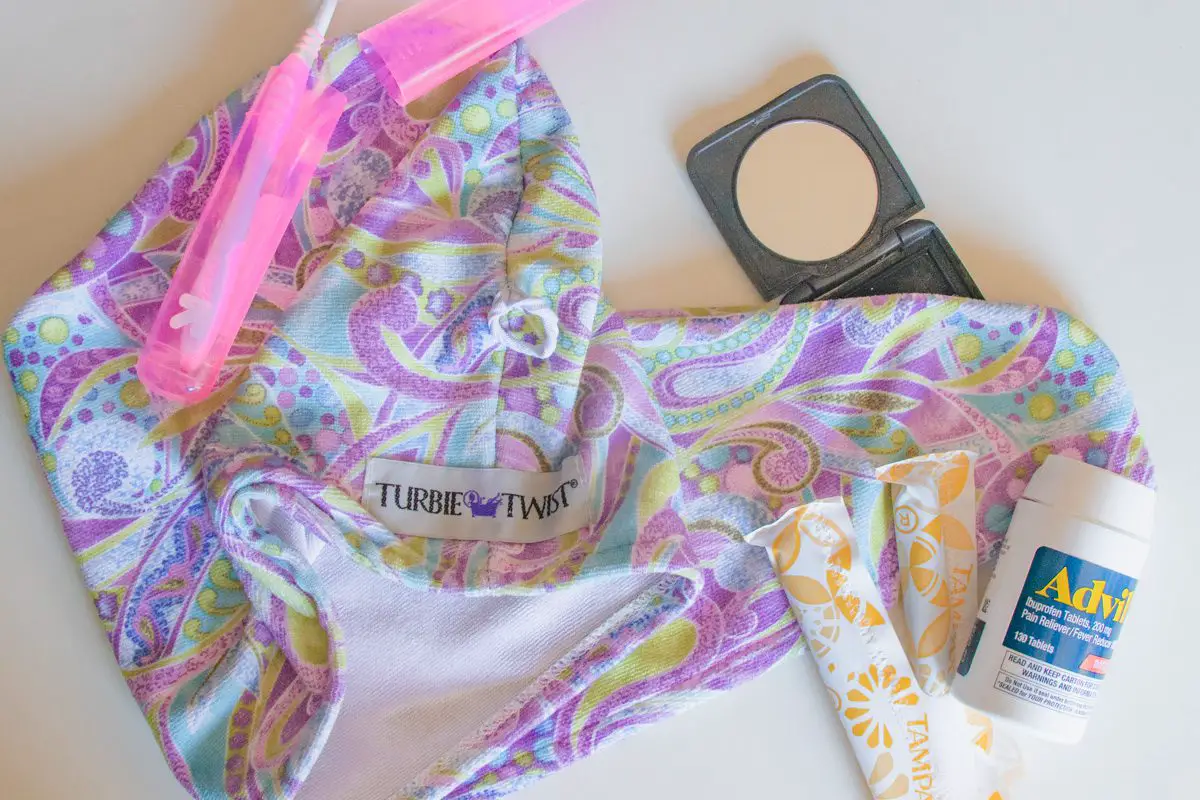 Check out my thorough toiletries packing list to make sure you don't forget any of the small things for your trip!
13. Toothbrush and Razor Travel Case
Packing small items related to personal hygiene always freaks me out a bit – do I just put it in a plastic bag? Let it float around in a pocket? Well, I found out the answer is no.
Get yourself an inexpensive plastic toothbrush and razor case. The ones I love and have used. before (and will be picking up again when I visit the US in March) are from The Container Store: here's the razor case and here's the toothbrush case.
I've seen toothbrush cases in many stores, but I have yet to see the same, inexpensive razor case that they sell!
14. Turbie Twist Hair Towel
My bathroom sidekick is the Turbie Twist. It's a hair towel that allows you go to go hands-free and keep your wet hair off your back and out of your face while it begins to dry!
No more heavy towels on your head that don't actually stay up or soaking wet hair on your clothes before you go out.
You just bend over, put the Turbie Twist behind your head, twist your hair in the towel, lift up and pull it back, and loop it into the hole on the back of the towel.
It's so simple but so handy that I don't go anywhere without it. It's truly something every woman, traveler or not, should have!
15. Travel Mirror
You never know what kind of lighting situation you'll have to do your makeup on the go. A lightweight, LED mirror is the perfect solution. They make them so slim these days it practically adds nothing to your suitcase and you have a backup mirror for wherever and whenever you need to get ready!
16. Period/Medicine Kit
Of the travel essentials for women I'm sharing today, this is the most DIY. The idea is to create your own personal care kit with items for things like your period, prescriptions you need to take, over-the-counter medicine like Advil, first aid items, etc.
It's not any specific product because, obviously, it's personal! It's just a reminder to add this to your travel packing list because these items can often be overlooked or forgotten about when preparing for a trip!
17. Perfume Atomizers
One of the niftiest little travel essentials for women is perfume atomizers. They're tiny little spray cans that you can put your favorite scent to take with you on the go.
They're perfect for travel because one, they're small, and two, most perfumes come in glass or fragile packaging, so an atomizer solves the problem of traveling with breakable items.
18. Travel Size Reusable Plastic Bottles
Every traveler needs a set of them. They may be a pain to constantly refill, but reusable travel bottles are a simple way to travel lighter!
It's actually one of my favorite hacks for avoiding overweight baggage fees. Regular-sized bottles of shampoo, conditioner, soap, shaving cream, lotion, etc. all add a significant amount of weight to your suitcase. Instead, use the reusable bottles to get through the first few days of travel and at your destination and then locate the nearest store to purchase those toiletries (which is especially worth it if you're traveling for a longer period of time, like more than 2 weeks).
For A Stress-Free Day of Travel
The secrets to stress-free travel are preparation and being outfitted with all types of comforts. These women's travel essentials ensure a smooth journey, so you can enjoy your destination.
19. Travel Pillow
Whatever works for you as a travel pillow, be sure to bring it on the day of travel. I always wear/bring a jacket or sweatshirt that can double as a pillow or blanket.
Plus, I just got a fancy travel pillow that neatly rolls up into a carrying case. You can attach it to the headrest of your seat, but I find it works better for me to be able to move it around and scrunch it up into the right position.
They're also cute travel pillow and blanket sets like this one that slide right onto your carry-on handle that would make bringing a pillow convenient!
20. Headphones (Two Kinds!)
I'm all about my AirPods for moving through the airport or listening to music hands-free. But don't forget that if you only have wireless headphones with you, you won't be able to use the entertainment provided on a plane!
That's why I always suggest packing both kinds of headphones (or just the wired ones) to have all options available to you for entertainment.
Block out the noise and live your main character moment – but always stay attentive when using headphones.
Good to know: One of my more unique solo female travel tips is to only ever use one headphone at a time, so you can stay aware of your surroundings. This is helpful especially in big cities when you may be getting lost in the music and not notice things like bikers, cars, or potential pickpockets.
21. Hand Sanitizer
In this day and age, traveling with hand sanitizer is more of a comfort than ever.
I suggest keeping a small one in an easy-to-reach pocket in your personal item or carry-on. But keep in mind that TSA now allows bottles of hand sanitizer of up to 12 ounces in your carry-on!
22. Sleeping Gear: Eye Mask, Ear Plugs, & Slippers
I suck at sleeping on planes, but I can't believe I didn't start packing a sleeping mask with me sooner.
Pack one that is soft and lightweight, both so that it's more comfortable to carry around.
Use a sleeping mask in combination with ear plugs for the ultimate tune-out!
Good to know: If I'm on a long flight, I try to wait it out after the meal service to use the sleeping mask and ear plugs – you don't want to miss the only opportunity you get for food!
This may sound silly, but slippers are actually one of my secrets to surviving long flights in economy class. I always wear socks on planes and have a blanket for long flights, so once I'm ready to try to snooze, I slip off my sneakers and slip on some plush, foldable slippers to feel more comfortable.
But slippers are nice to have while traveling in general and soft, plush ones are perfect for light, versatile packing!
23. Luggage Lock
If you don't already have a suitcase with one included, buy a luggage lock separately! A TSA-approved luggage lock gives you peace of mind, ensuring the safety of your things while you travel. But it doesn't stop there.
I actually use luggage locks like a safe sometimes, locking up my suitcase in the hotel or Airbnb if there are any valuables or documents inside. Would it stop someone from just taking the suitcase? I guess not. But it does make me feel better not just anyone can get to my important papers and things!
24. Pens & Notebook
Not just travel essentials for women – travel essentials for everyone!
Make sure to always have a pen on you during your travel day in case you need to fill out any documents, which is usually necessary when traveling internationally.
And a notebook is a wonderful travel companion, whether you use it as a travel journal, a to-do list hub, or to pass the time on a plane, train, or in a car.
25. Passport Cover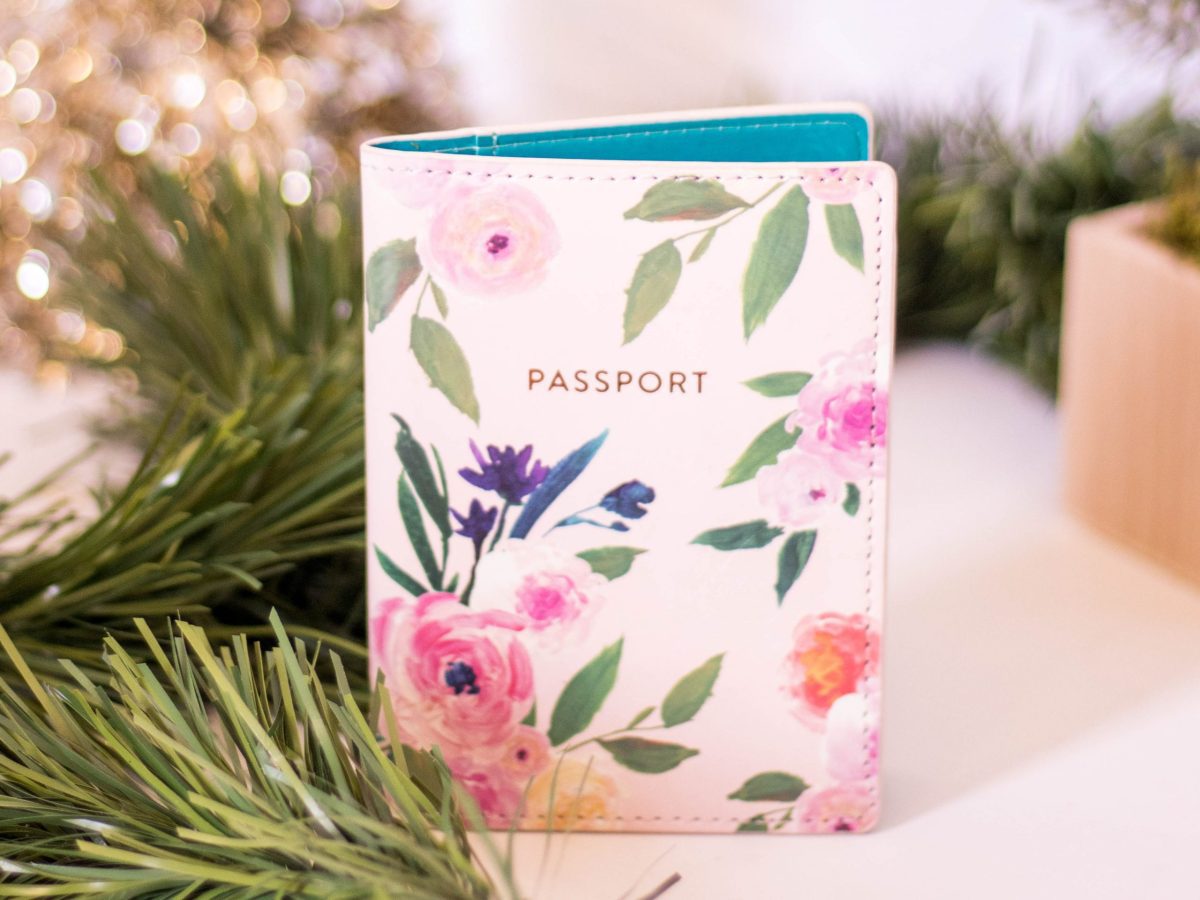 Next gift you'll be asking for? A cute passport cover.
A passport cover doesn't have to be expensive to do its job: hold the passport, make it easy to find in your bag, and have a few pockets for boarding passes or other IDs.
The best inexpensive passport covers are from the Eccolo brand (mine's the floral print!)
For Your Travel Tech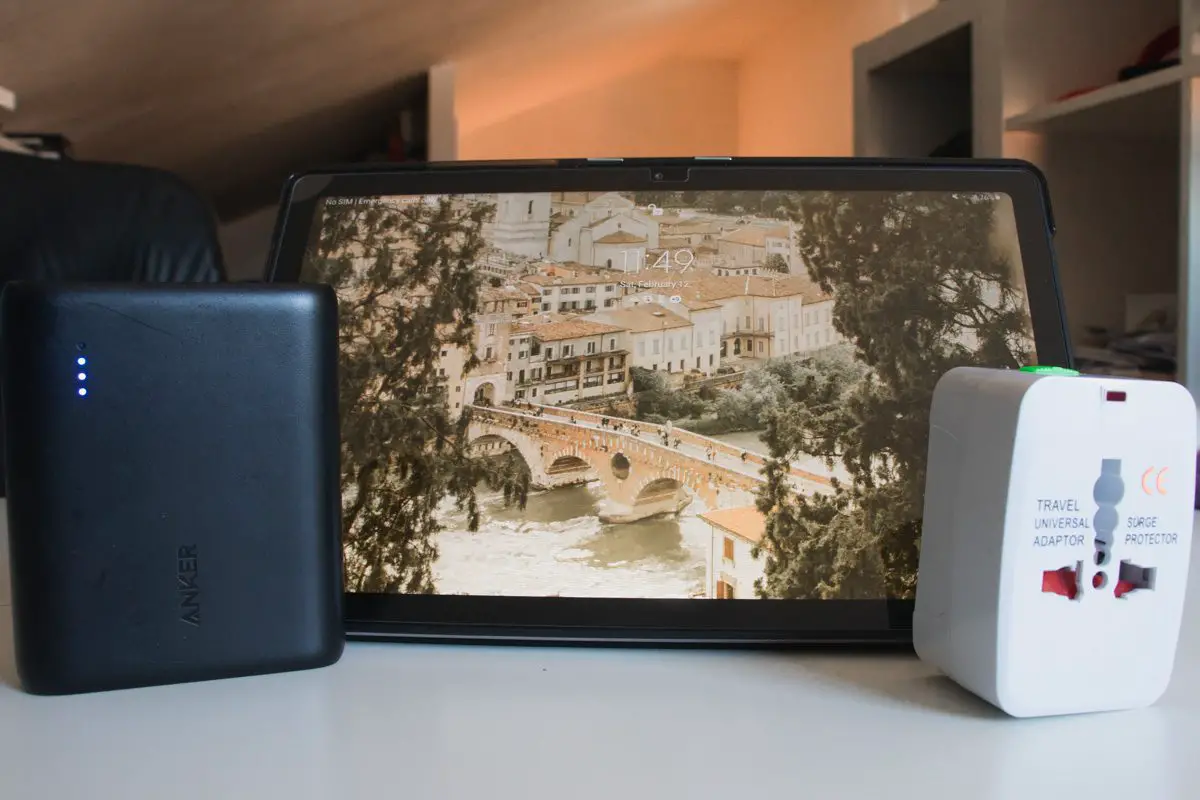 Besides a laptop and phone, I wouldn't suggest many other travel essentials for women in the tech category that are truly essential – expect for these three items!
26. Tablet
This past Christmas I got a tablet as a present and it's become my new favorite travel companion!
And it doesn't have to be jaw-droppingly expensive. I use the Samsung Galaxy Tab A7, which is a little over $200. I'm not saying that's cheap by any means, but there are lots of tablets way more expensive than that and for travel, I've found I don't need fancy functions out of a tablet to use it how I want.
It provides a smaller medium for consuming entertainment and getting work done, which are the two main things I do during my day of travel, whether by plane or train.
If a tablet isn't your forte, consider an e-reader. It again is another lightweight way to have wide access to entertainment while you're passing the time on transportation.
27. Anker Portable Charger
If there is one product on this list that I never, ever go anywhere without, it is the Anker Portable Charger.
Every woman needs to travel with a portable power bank. Not only is it convenient, it's so much safer for you (especially if you're traveling solo) to ensure you always have a way of contacting someone.
This charger is amazing and lasts days of use without needing a recharge. The brand has various ranges of power available, so you can find the best one to suit your budget!
28. Universal Adapter
Any ladies going abroad, listen up! Don't leave without a good universal adapter.
I will say, most I've tried throughout my years of troublesome European plugs are not that great of quality. Don't see it as an investment, but a necessary evil.
The best have USB ports and all the attachments already within the body structure, that way it is easy to switch from one plug to the next and you don't have loose parts to worry about!
This one is the same one I use, just a different color, and this one has a few more USB ports in case you're looking for a more robust option.
For Exploring Your Destination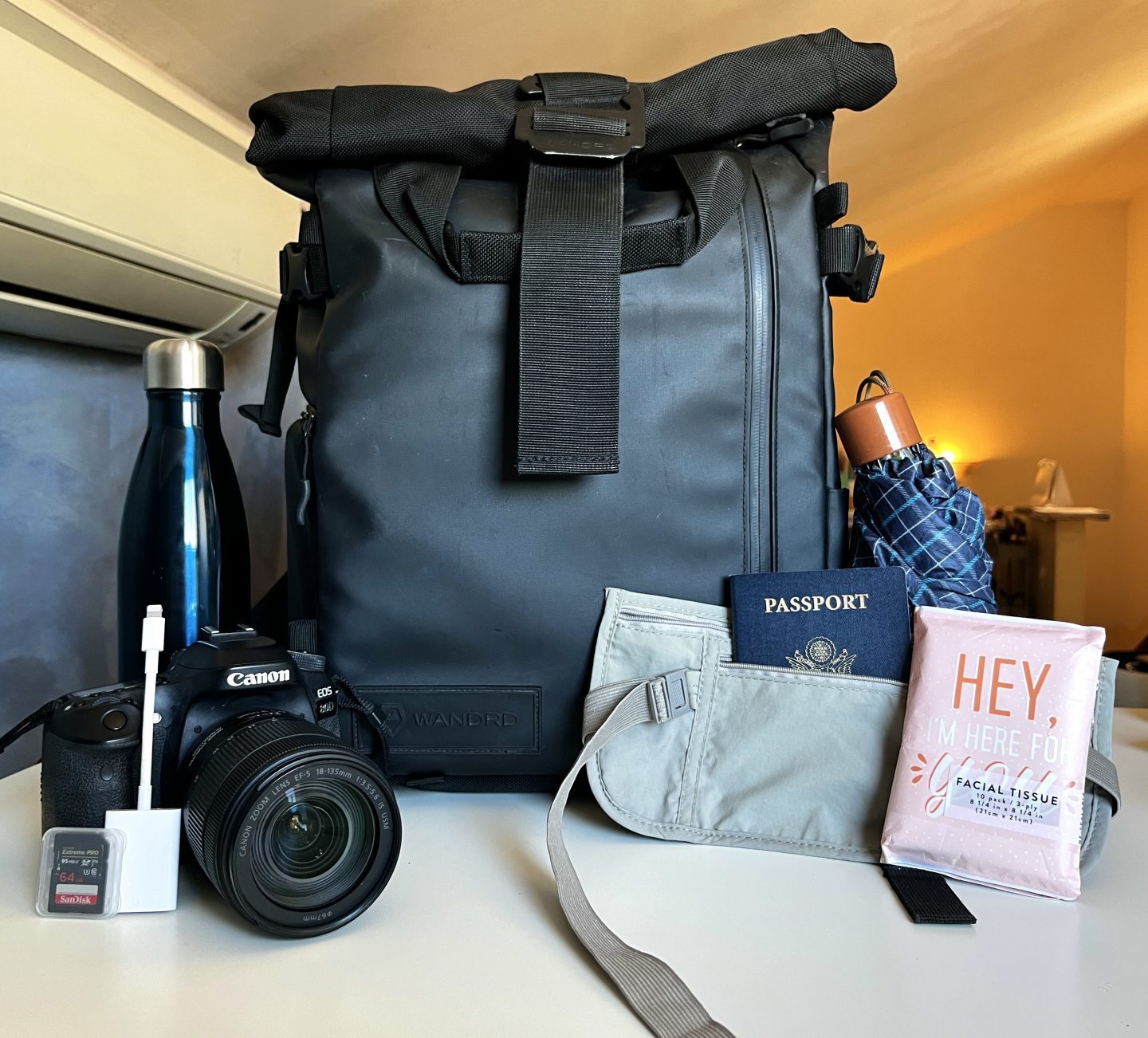 While you're out and about, these are essential travel goodies you should keep on hand!
29. Anti-Theft Backpack
An anti-theft backpack is one of the most important and well-worth investments of all the travel essentials for women. Personally, I never travel without my WANDRD PRVKE Series Backpack (you can find out why here).
My version of the backpack is specifically the photography pack, but it's also available as a general travel backpack and well worth the investment.
In an anti-theft backpack, you must look for incredibly durable zippers, hard-to-reach access points, and hidden pockets. Others I always recommend for female travelers are the PacSafe backpack and the XD Design anti-theft backpack, which are both slightly cheaper options than WANDRD (but not quite as high as quality).
30. Water Bottle
Bringing your own water bottle with you on your travels is not only a way to travel more sustainably, but it ultimately is a budget travel power move for saving money.
The best for no-spillage incidents out on the town are vacuum-insulated. But another one of my essentials I like to recommend are the filtered Brita water bottles. They have a filter inside them, so you can get and drink water from anywhere.
31. Camera Gear
Everyone's camera will look different, but I am a Canon addict! DSLRs are some of the highest quality travel cameras, but can be quite heavy. Mirrorless cameras are lightweight and also some of the highest quality, but they tend to cost the most!
You can read all about my favorite travel photography gear so that I don't get carried away on this one topic in this post.
But two things I want to point out that are lifesavers while out exploring are having an extra SD card and the SD card to iPhone adapter that allows me to upload and edit photos on the go!
32. Foldable Rain Jacket
You never know what Mother Nature has in mind when you're out exploring. My rainy-weather travel insurance is the Colombia Arcadia Rain Jacket.
It folds up to almost nothing and is easy to take around on any activity, which is what I love about it. Plus the quality of the fabric is top: lightweight but completely protective and with intuitive features like adjustable wrist sizing and hood.
Extra tip: When rain jacket alone doesn't cut it, that's when this super compact umbrella comes in handy.
33. Tissues
It may seem too simple to make it on the ultimate list of travel essentials for women. But carrying around a pack of tissues is truly essential, for practical reasons like to:
Substitute for a napkin
Clean the window of your rented car that won't stop fogging up
Hold extra food you didn't eat at the restaurant
Wipe away your tears when you're returning home from your trip
In all seriousness, it's good to keep a small to-go pack of tissues because you just never know when you'll wish you had one.
For Female Travel Safety
These are some travel essentials women need to stay safe, especially when traveling solo!
34. Door Lock
I have to thank social media for this one. This portable door lock attaches to your hotel room or apartment stay door for under $15.
I would definitely recommend this to all solo female travelers, as it adds an extra layer of protection to where you're staying and gives you peace of mind.
35. Money Belt
A money belt is an essential travel item for all to have in their back pocket – except not actually in your pocket, because the whole point of it is to prevent pickpocketing!
In destinations known for pickpocketing, like Europe, if I don't have a zip-closed purse or I'm going out without my anti-theft backpack, I wear a money belt under my shirt.
It can hold any important item – ID cards, credit cards, currency, keys, hotel room key, and even your passport if you are taking it around with you.
Final Thoughts
There are lots of products out there for traveling, it's overwhelming to know what you actually need and what's worth the money.
I hope hearing from my personal experience and sharing brands I use and love has helped you to discover something you were missing and get inspired to try new things that could make your travel prep and experience that much better!
Any other travel essentials for women you would add to the list? Let's help each other out in the comments!
Save this list to Pinterest if you found it helpful!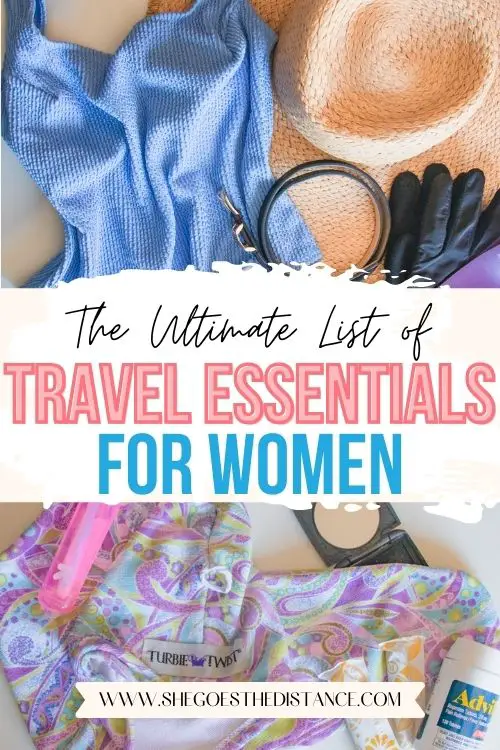 I hope from this list of travel essentials for women that you have discovered something new that can help you conquer your next trip!
XOXO
Michela