Last Updated on February 22, 2022
When you think of the Italian Riviera, the world-famous Cinque Terre come immediately to mind. It's not a bad thing – the five colorful villages definitely deserve a spot on your bucket list. However, the region of Liguria has been keeping a sixth town a secret, where you'll discover fewer tourists, crazy beautiful landscapes, and live the epitome of "la dolce vita." All of this and more is why Portovenere, Italy should be your next Mediterranean destination.
Portovenere is located on the Golfo dei Poeti, or Bay of Poets, 25 minutes from La Spezia and Cinque Terre. It's less trafficked because of its remote location. You can't reach this colorful fishing village by train, unlike many other destinations in Italy, so it can be easily overlooked.
But I have to tell you now – do not make the mistake of missing out on Portovenere! It's truly one of the most magical and most romantic places in Italy. I even surprise myself, having traveled up and down the peninsula, making this statement!
Hopefully if you've made it to this post you've already got your eye on visiting Portovenere. If you've stumbled here for inspiration, trust me, it won't take long for you to be convinced to add this seaside town to your itinerary!
Some of these links are affiliate links. This means if you make a purchase through that link, I receive a small commission at no extra cost to you. Read my full disclosure!
---
Portovenere: History & Location
Portovenere is a colorful fishing village at the edge of the Bay of Poets along the Ligurian coast. It is an UNESCO World Heritage Site and the territory, as well as three nearby islands, make up the Porto Venere Regional Natural Park, known for trekking and rugged landscapes.
Portovenere dates back to the Roman period as an active place for commercialism.
It's location on the peninsula also made it a strategic military fortification in the 16th century in Genoa's effort to maintain control of the town from Pisa.
The medieval structures and dramatic landscapes that exist throughout the town give you a sense of the historical significance this port town had throughout history – and that's one of the best parts of visiting Portovenere, Italy!
---
How to Get to Portovenere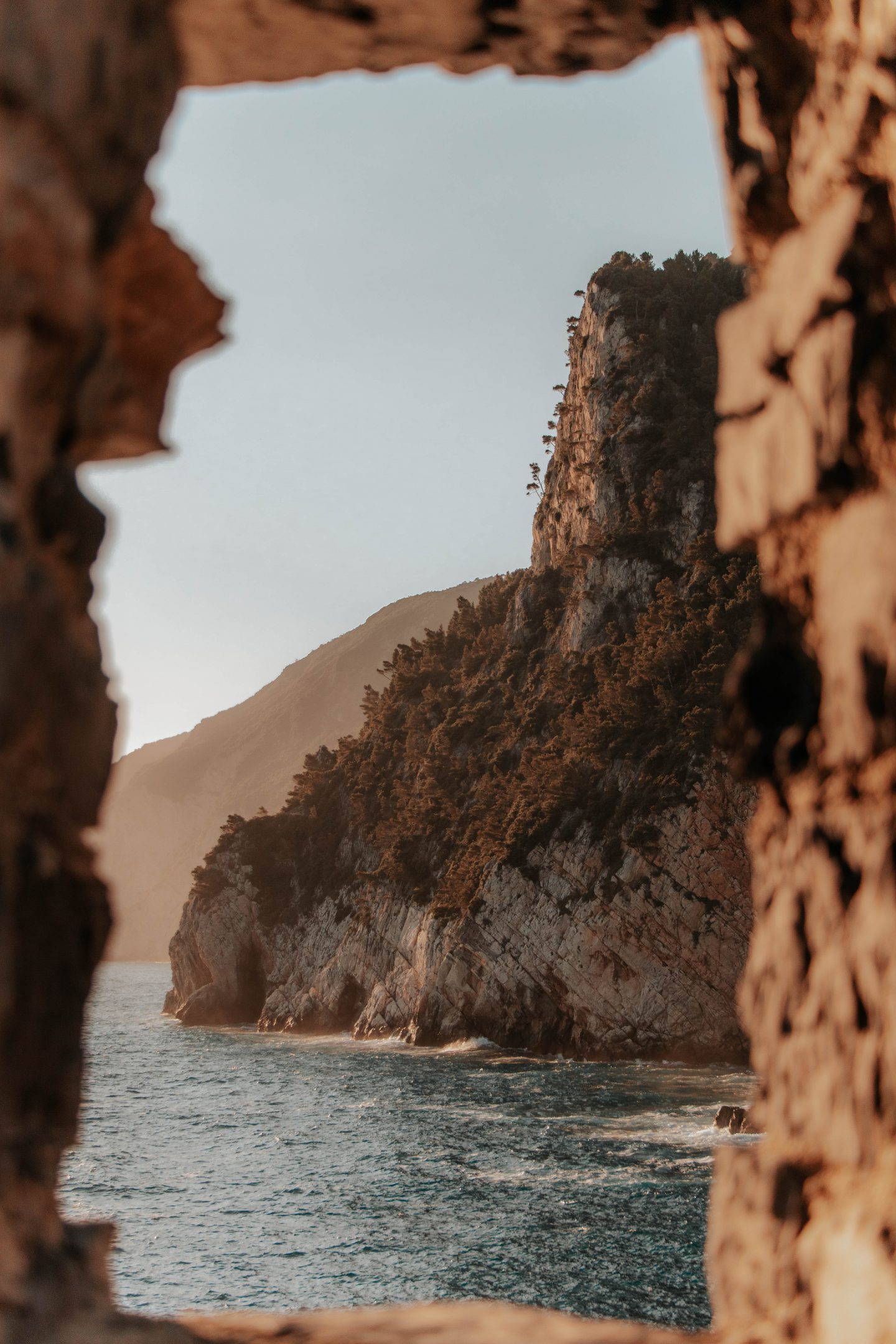 By Car
The most convenient way to reach Portovenere is by car. Well, that is if you're comfortable driving on narrow and curvy streets!
Traveling from La Spezia to Portovenere, you'll follow the same road, the SP530, all the way to the town center.
The best place to park for convenience and price is along Via Olivo, just a few minutes walk from the harbor. The card reader wasn't working at the meter, so I suggest using the Easy Park app to pay for parking. It's more convenient anyways because you can adjust the amount of time you're parked while on the go – so you don't have to run to the meter if you want to stay longer.
I suggest reading my guide to driving in Italy before you hit the road!
By Bus
In my opinion, the scariest way to reach Portovenere is by bus! No joke, the professionals who drive those buses along the narrow streets and curves around the cliffside are incredibly impressive.
If you're staying in La Spezia, which is typically the most convenient and budget friendly place to stay near Cinque Terre, you can take the public bus route 11P. Tickets cost 3 euros, so it's a cheaper way to reach Portovenere than by ferry.
By Ferry
The Bay of Poets has a robust ferry schedule for getting to Portovenere from La Spezia, Lerici, and even the Cinque Terre running from April to November.
Check out the timetable before you go to see if this works for you!
---
The Best Things to Do in Portovenere
Being a small village, you may think Portovenere is one of those towns you can have a walk-through and feel like you've experienced everything. But what's so charming about Portovenere is that this tiny village has so much to see and do!
1. Bird's Eye Viewpoint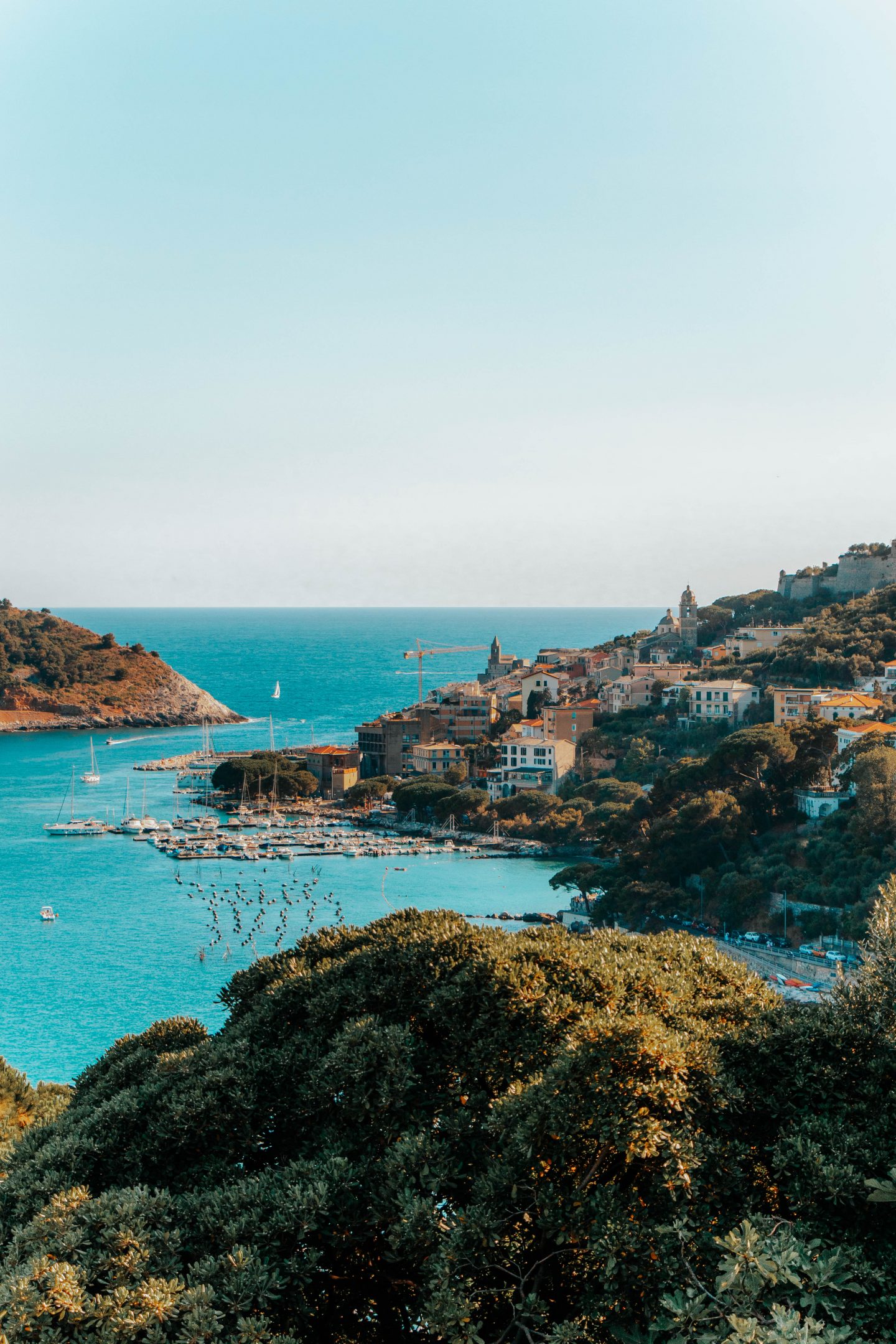 The first thing to do in Portovenere is take in the scenery from above. This is most easily accomplished if you're arriving by car, as you can pull over on the side of the road and exit when you want. However, you could simply walk up the road to make it to the viewing terrace if you're not afraid of the burn!
As you make your way to Portovenere, by car or bus, you'll take a winding scenic road along the Bay of Poets. You'll eventually follow a right curve and be exposed to the dramatic landscape that is Portovenere and is harbor full of boats of all sizes.
There is a quiet terrace (marked on the map at the end of this section) where you can take in the peaceful views and feel the sea breeze before descending into the town.
It's an amazing first impression!
2. Stroll Portovenere Harbor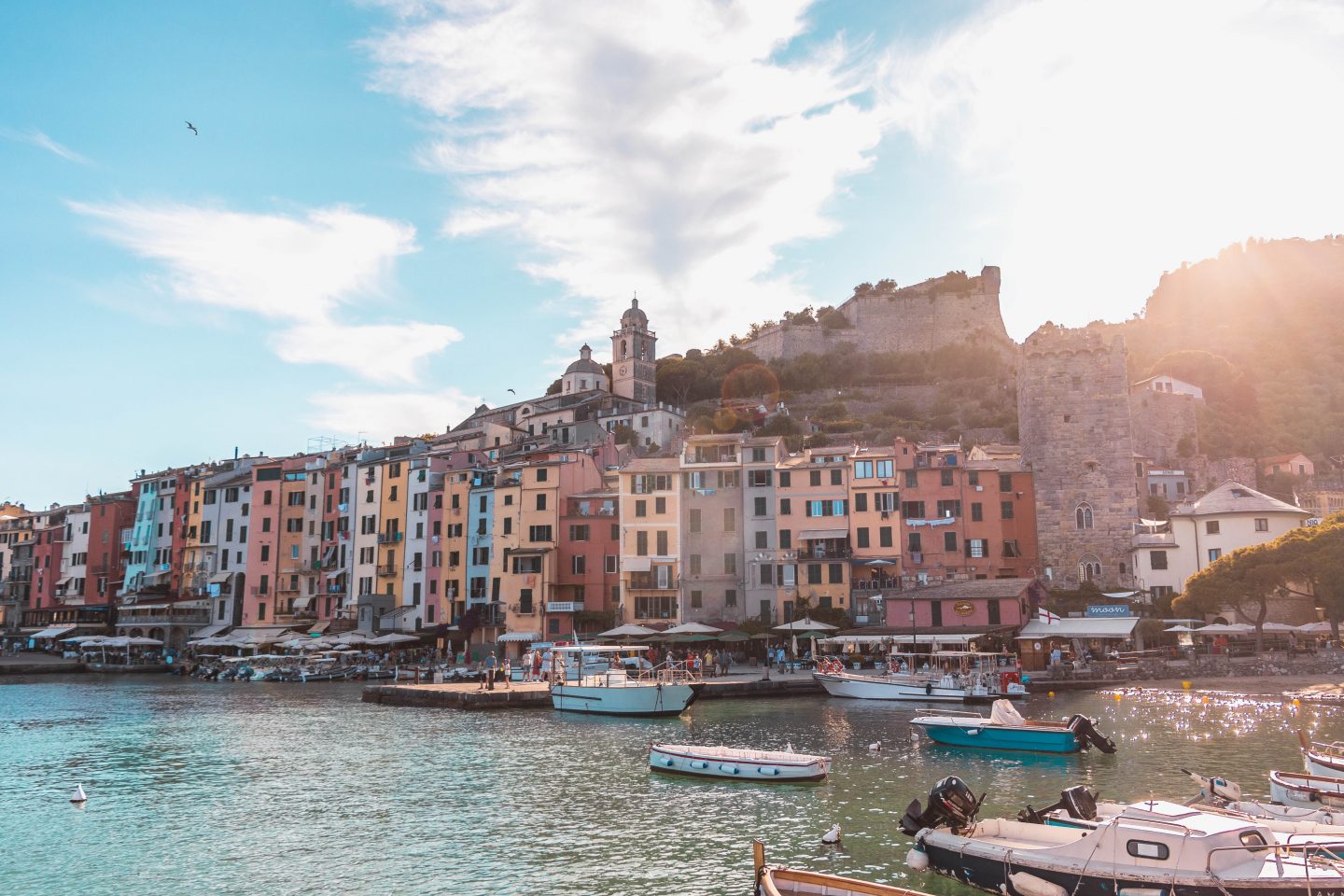 The charming colorful buildings paired with its lengthy harbor and location where the enclosed bay meets the sprawling Mediterranean Sea makes for the idyllic combination that is the Portovenere waterfront.
There are many places to sit and enjoy the harbor before heading off to see the sites.
3. Climb to Doria Castle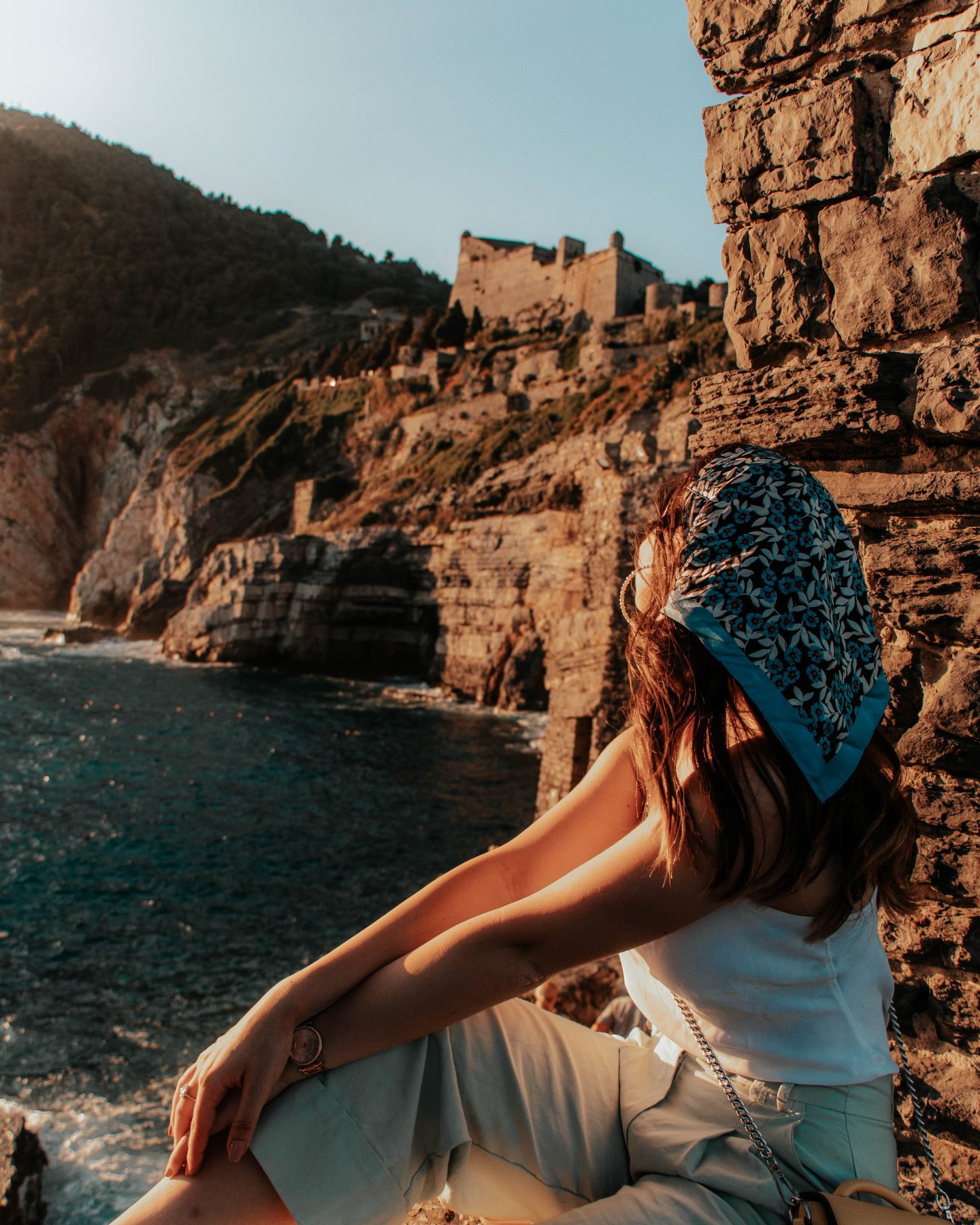 The first of the most picturesque places that make up Portovenere is the Castello Doria that is positioned above the cliffs at the top of the village's hill.
Make your way to the castle by starting in the main square fountain. Head to the left up a steep and lengthy path of stairs. You can climb up here without any special shoes, but it does help if they are closed-toed and have some grip because the stones can be smooth and slippery.
Before taking any side paths, walk straight up and you'll come to a landing right beside the castle walls with a view of the breathtaking Chiesa di San Pietro and Lord Byron's Grotto below.
You can explore inside the castle for an entrance fee of 5 euros until 6 pm daily. However, it's also gorgeous to visit later at sunset!
While you're up the hill, detour to visit the beautiful Chiesa di San Lorenzo, a church with panoramic views near Doria Castle!
4. Enter Porta del Borgo & The Charming Town Center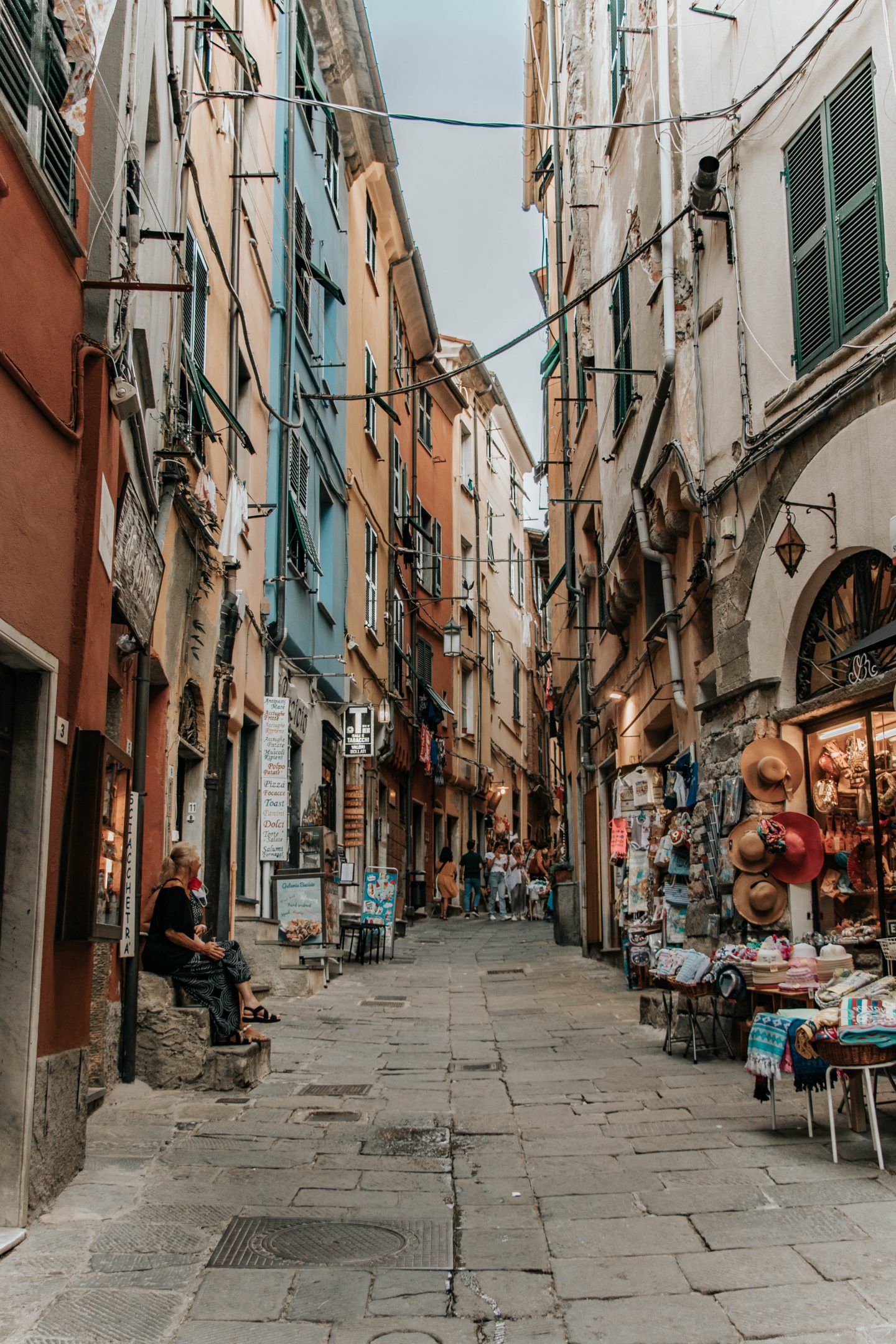 Descend back down the stairs (carefully) and head right under the medieval stone structure of the Porta del Borgo. This inviting stone arch is the doorway to the narrow main street of Portovenere's Old Town.
Next to the Porta del Borgo, you'll see another medieval structure, which is a stone tower part of the historic fortifications of the city.
Once you pass under the Porta del Borgo, you are transported into the local and authentic Italy you dream about! One narrow street, Via Capellini with shuttered windows and balconies dawning the building, scattered with local artisan shops, gelaterias, and cozy eateries.
This one little street is the epicenter of the village and leads you to the absolute highlights of Portovenere.
5. Swim in Lord Byron's Grotto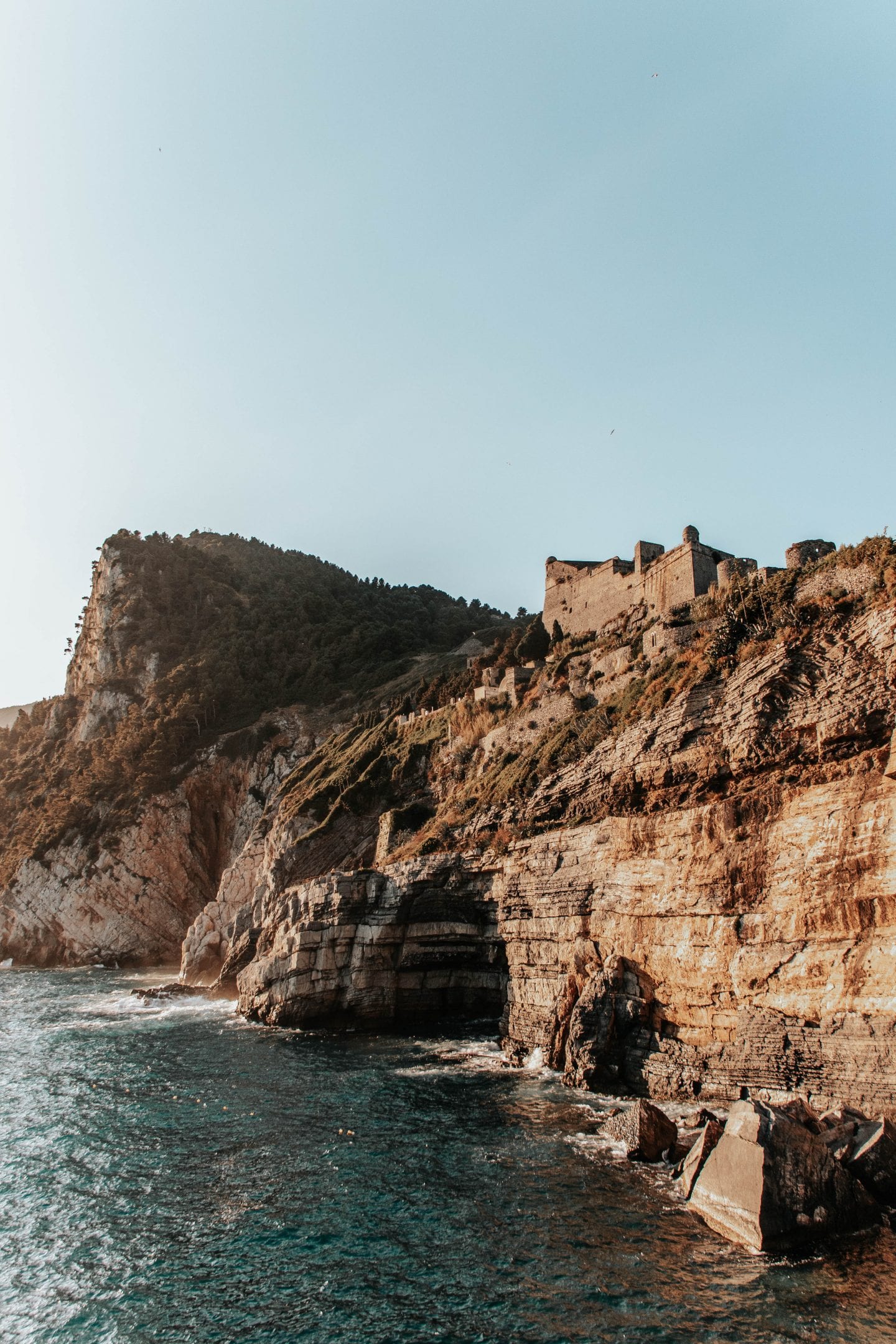 You've seen Byron's Grotto from above but it's an even more magical experience to be surrounded by it.
The dramatic imagery of the cliffs, crashing waves, and hilltop castle are inspiring to see in person, especially beneath a golden sunset. This landscape even inspired the works of the famous English poet Lord Byron for which it was named.
Better yet, you can even swim in this picturesque cove. However, the swells can be intense, so its best only experienced swimmers take a dip.
6. Sit in The Windows of Chiesa di San Pietro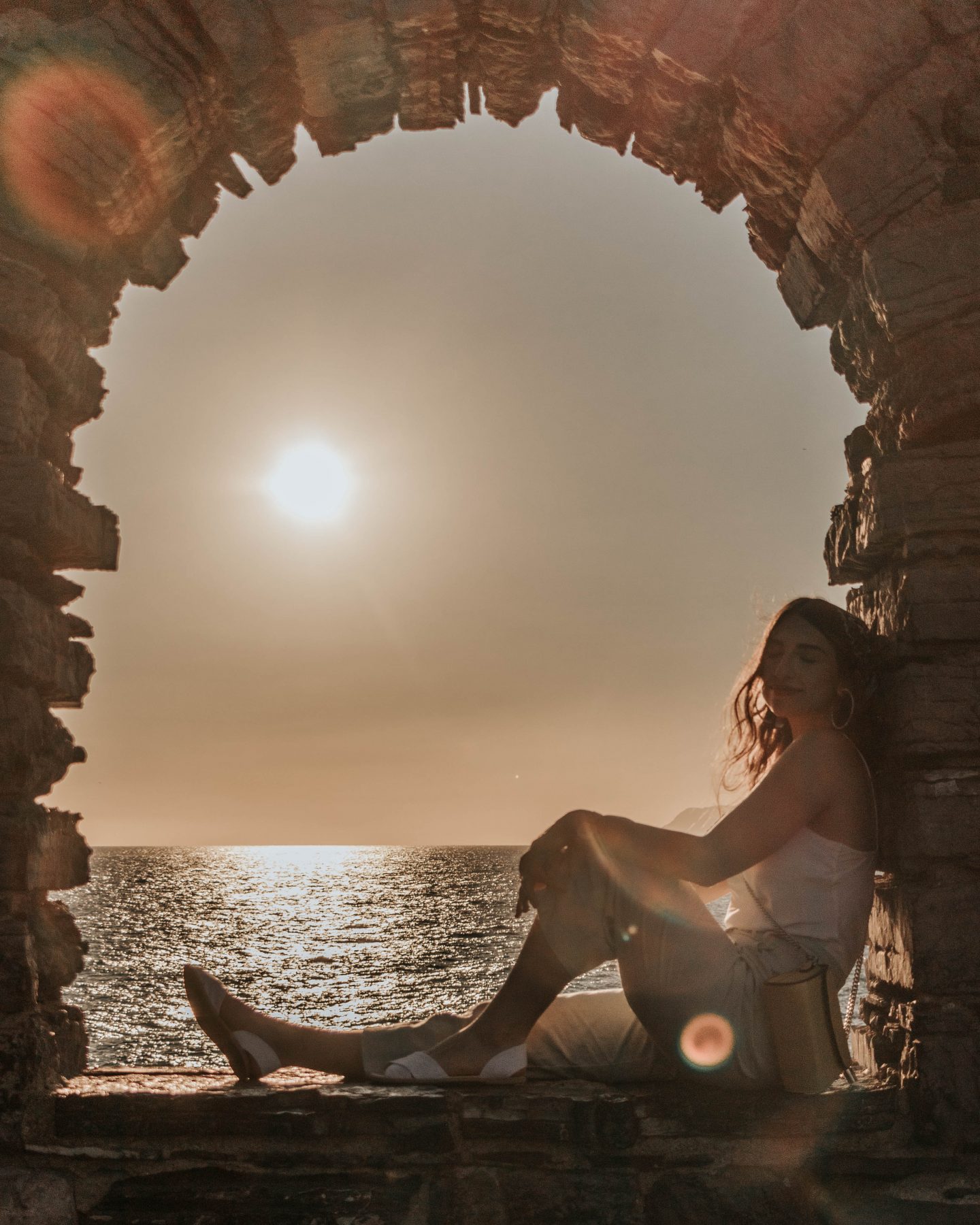 As you make your way to visit the church, along Byron's Grotto, there are disheveled stone walls with arched windows that make for perfect picture or sunset-viewing spots.
Many people want to take pictures, so you probably won't be able to cozy up into one of these archways and watch the entire sunset, but there are many rocks to sit on and watch the sunset going down towards the bay.
7. Visit Chiesa di San Pietro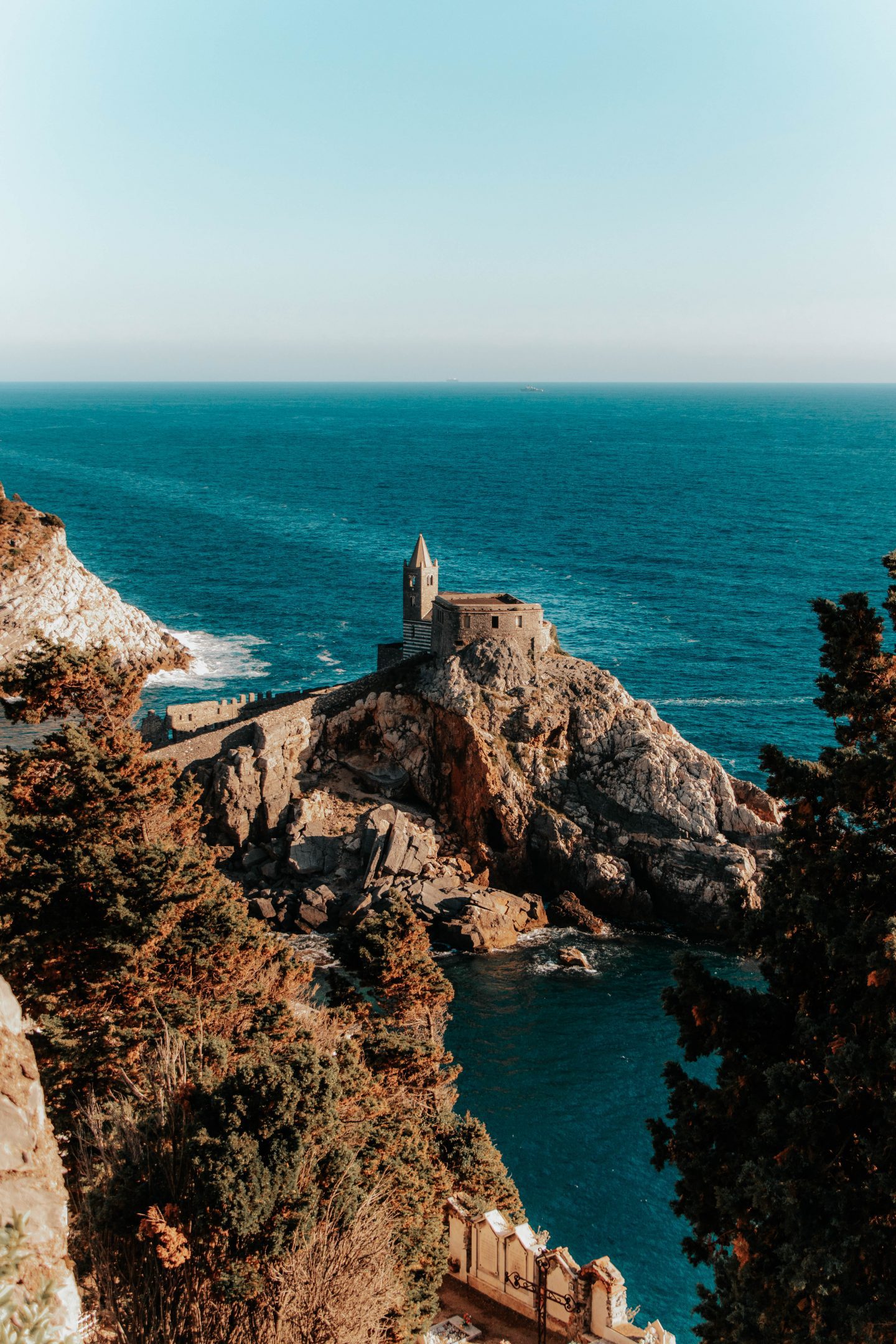 The small size of the St. Peter's Church is made up for by it's incredibly dramatic landscape, at the tip of a rocky peninsula stretching out of the bay.
Better yet, that's not even the most unique part of this place of worship. You can climb narrow stairs to a viewing terrace beside the church bell tower. Next to the foot of the stairs is a picturesque viewing spot with open, arched windows perfectly framing the setting sun.
The design of the church features a unique striped exterior and is made of humble stone – no flashy ornate details in comparison to other historic Italian churches. It feels like something right out of Game of Thrones!
8. Swoon Under the Evening Lights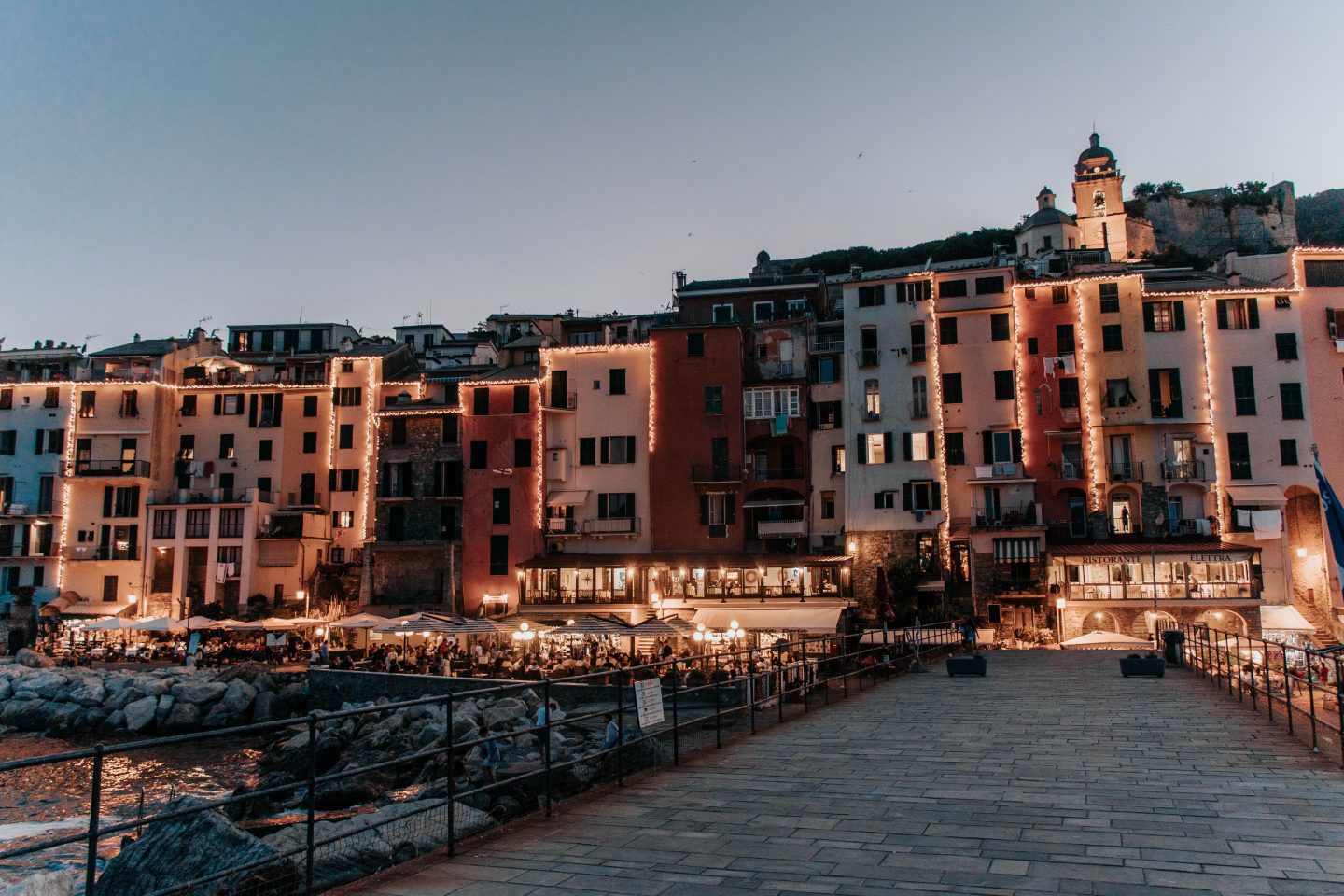 When you thought Portovenere couldn't get any better, arrives nighttime. As soon as the sun dips below the horizon, thousands of string lights draped along the colorful harbor-side buildings illuminate the waterfront.
It's a truly romantic atmosphere, perfect for traveling couples. The harbor stays bustling with people enjoying each other's company as the lights appear and it's the perfect time to extend dinner or grab a before-bed gelato.
9. Head to the Beach
If you spare more than one day to stay in Portovenere, then these next few things are what I recommend to fill your time with! Firstly, you're on the Mediterranean, so why not soak up some sun and swim in the sea!
Portovenere has several comfortable beaches along its stretch of coast, including Spiaggia di Arenella and Spiaggia dell'Olivo, which are public beaches.
If you plan to stay all day at the beach, then consider paying extra for a lido, like Le Terazze or Sporting Beach where you can have sun chairs and more space to enjoy your day.
For an even more secluded experience, try venturing by ferry to Palmaria Island to Gabbiano Beach, which is the easiest to access straight across from Portovenere, or more untouched beaches like Pozzale Beach or Spiaggia dei Gabbiani.
10. Explore the Nearby Islands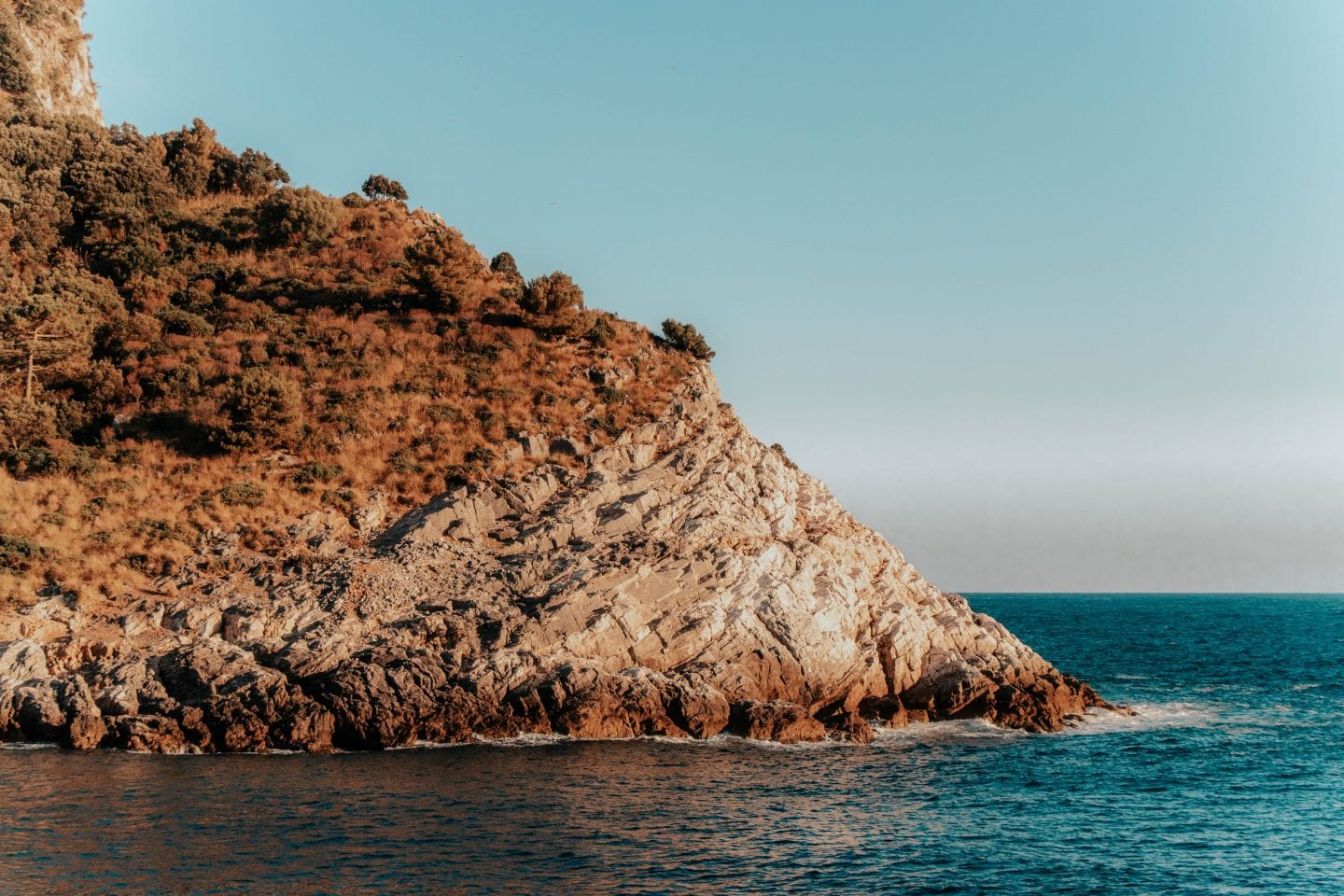 There are three major islands off the Bay of Poets: Palmaria, Tino, and Tinetto. These islands are known for their natural, rugged, and untouched beauty, as well as hosting the ruins of ancient monasteries.
You can take a ferry to Palmaria Island directly, however, Tino and Tinetto are not as easy to reach. There is a public ferry service that provides solely a boat tour around the three islands, but if you want to explore, it's better to rent your own boat or book an excursion.
11. Go Sailing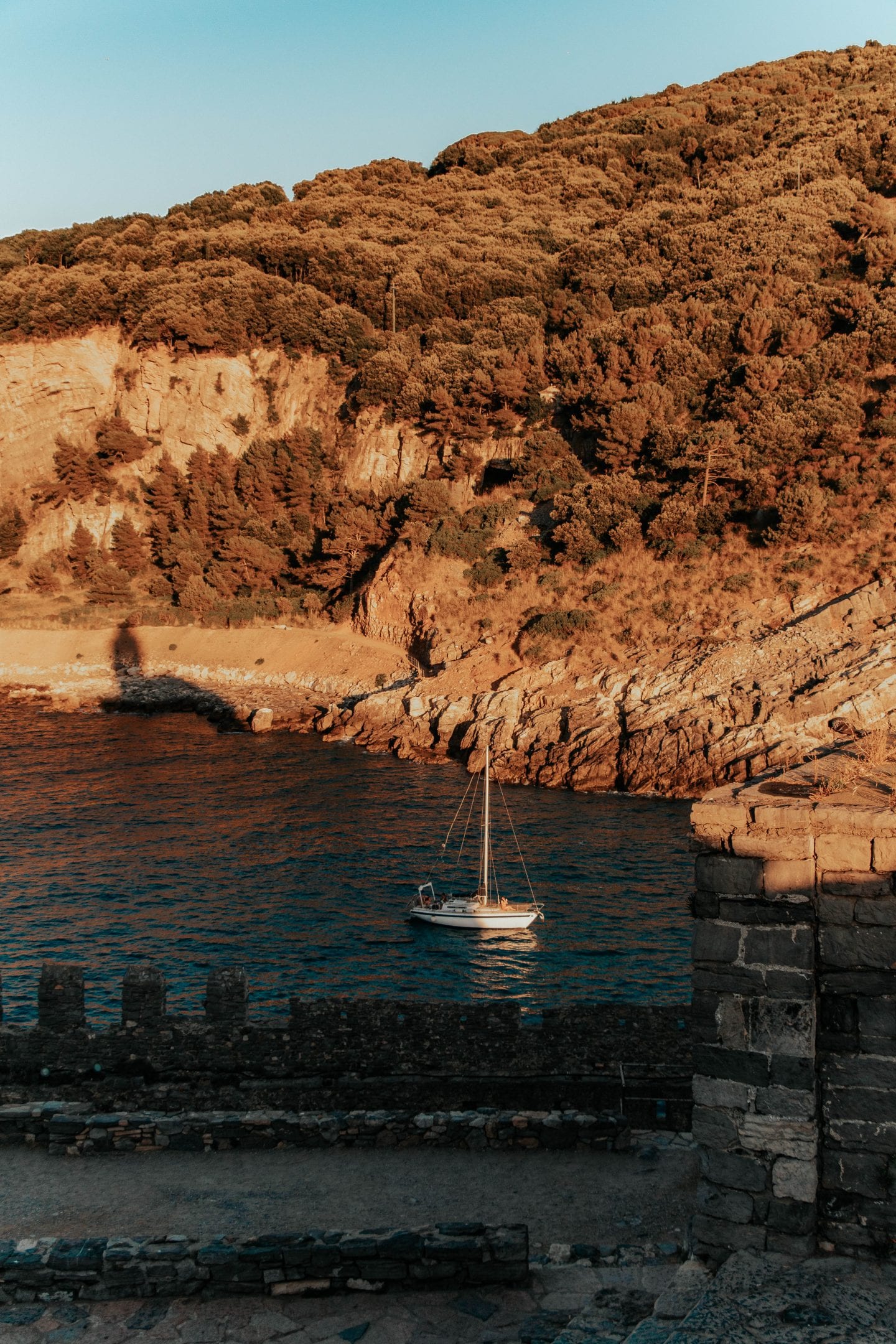 Renting your own boat or booking a sailing excursion may be an expensive trip cost, but the experience in Portovenere is completely worth it. Not only can you also swing by the nearby Cinque Terre, but you can discover remote places along the Ligurian coastline and visit the nearby three islands on your own time.
You can either charter a boat or rent a small boat that you can drive yourself without a license.
---
Where to Eat in Portovenere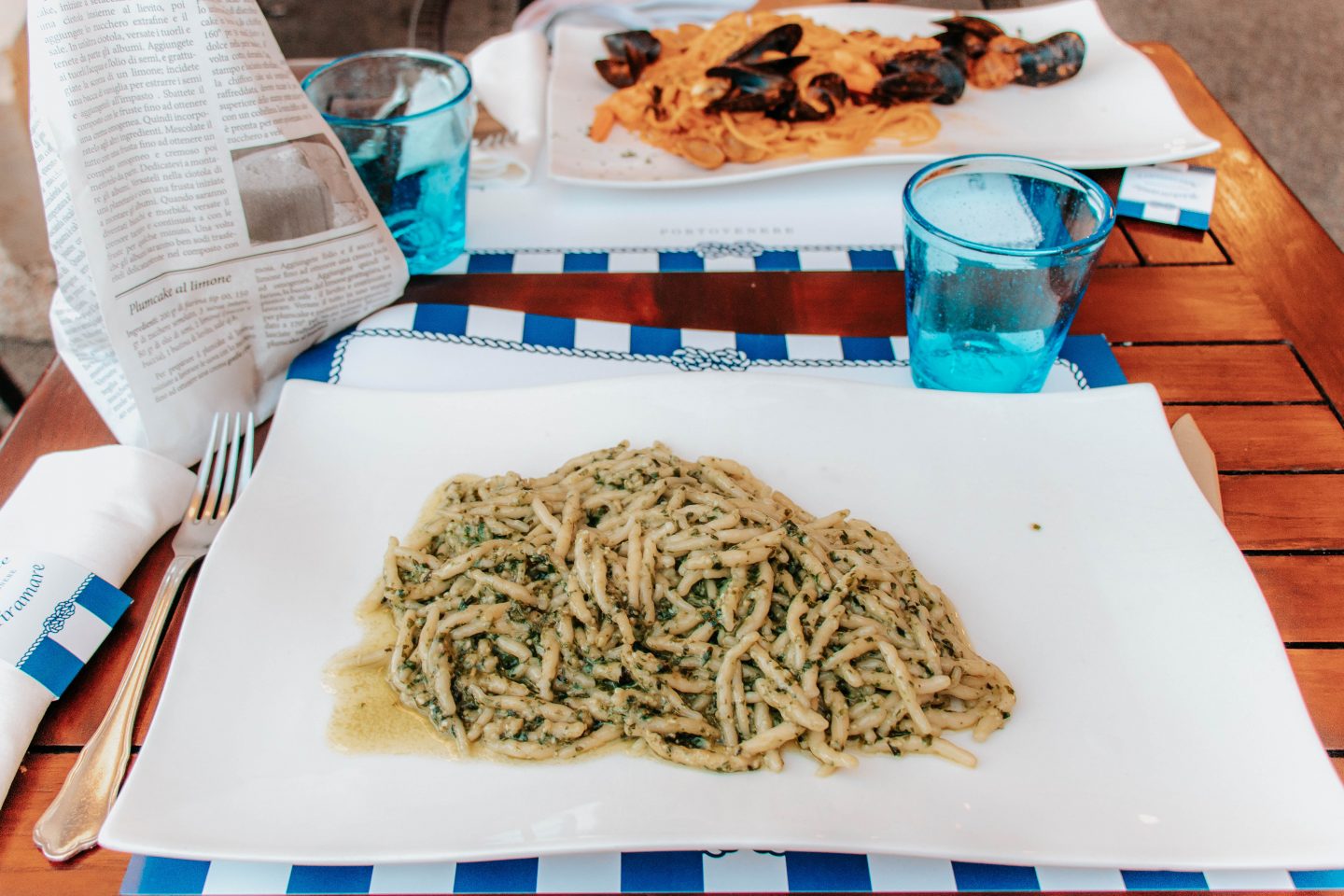 Liguria is known for several popular Italian foods: pesto, foccaccia, and amazing seafood!
Portovenere has some beautiful and unique restaurants so I'll highlight the best of each recommendation.
| | | |
| --- | --- | --- |
| Restaurant | Price Range | Highlights |
| Ristorante Miramare | Budget to Mid-Range | Value for Money (20 Euros for Touristic Menu of two courses & dessert), Waterfront View, Large Portions |
| Ristorante Portivene | Mid-Range | Traditional Ligurian Dishes, Waterfront or Indoor Seating |
| Torre di Venere | Mid-Range to Expensive | Location next to Chiesa di San Pietro, Views of Palmaria Island, Cocktails |
| Bar Doria | Mid-Range | Best for Aperitivo, Location Directly on the Water |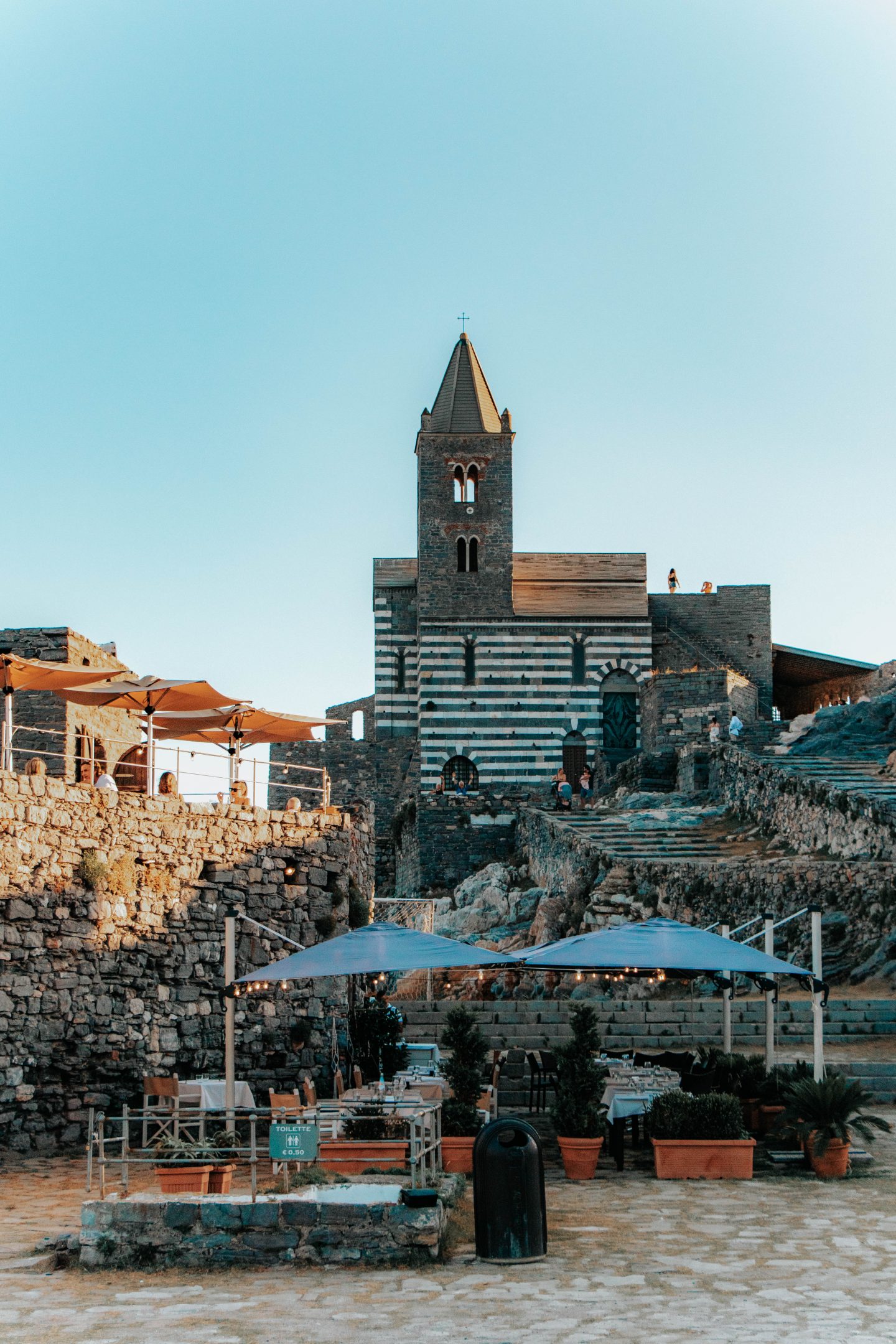 ---
Where to Stay in Portovenere
There are so many beautiful places to stay in Portovenere, Italy, despite it being a small town. These accommodations all have features to appeal to the practical side of travel, as well as the aspects that create special moments, from scenic views to stays unique to the waterfront location!
---
Extra Tips for Visiting Portovenere, Italy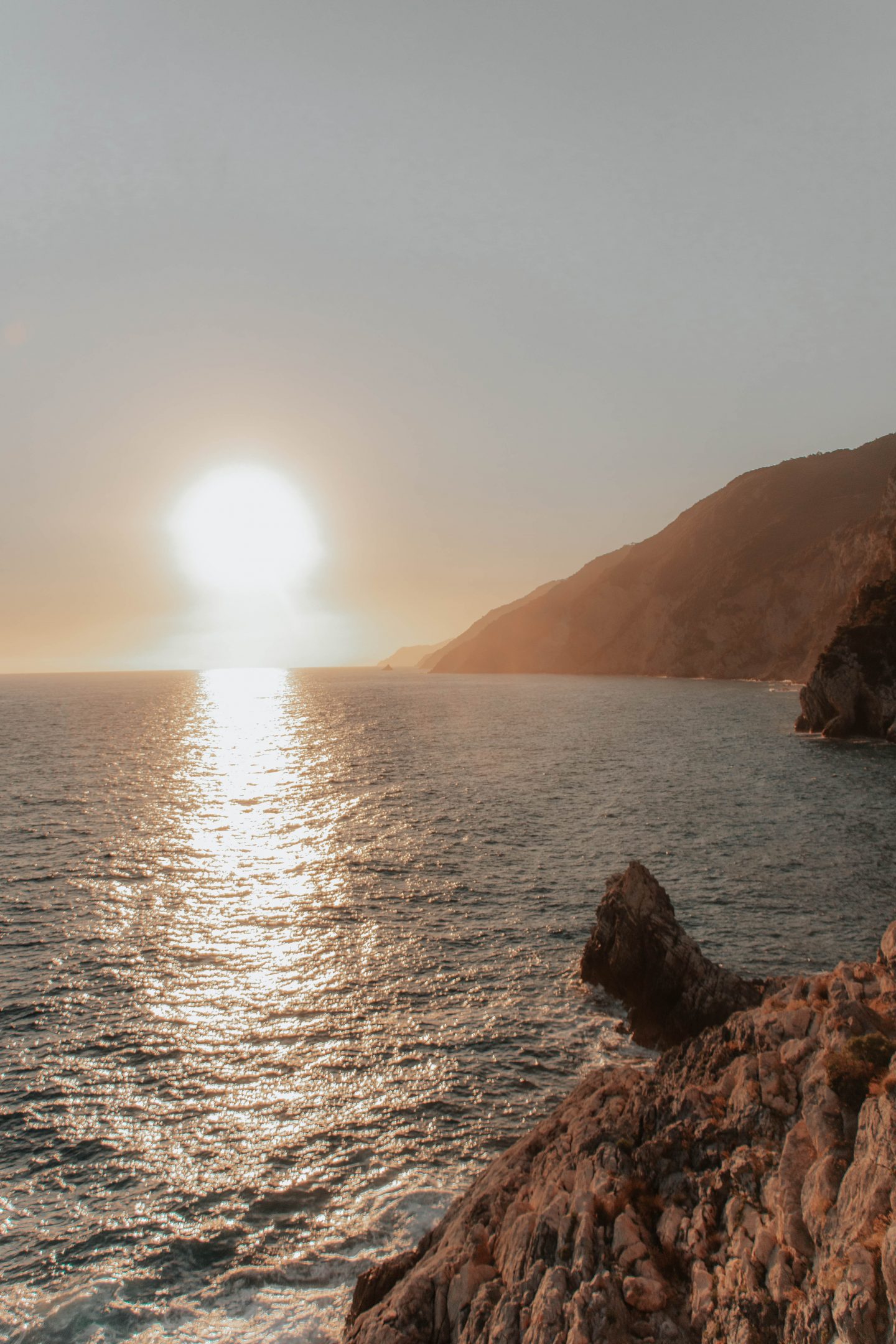 Have the best time in Portovenere by keeping this tips in mind!
The best time to visit Portovenere is the early summer months like June. The weather is warm but not hot and you avoid the chance of crowds. Portovenere is not a place that gets uncomfortable crowded, compared to the Cinque Terre – at least while it stays a hidden gem!
You can visit Portovenere, Italy in as little as an evening if you have a busy itinerary, but I would ideally spend at least one day and night in the town so you can enjoy attractions like the Doria Castle while they are open or swim in Byron's Grotto.
The most magical time of day in Portovenere is sunset! The town faces east, so be sure to walk to Chiesa di San Pietro to see the sun setting in the west.
---
Map of Things To Do in Portovenere, Italy
To make navigating the town easier, here's a roundup map of the locations I've mentioned, from things to do to beaches to restaurants!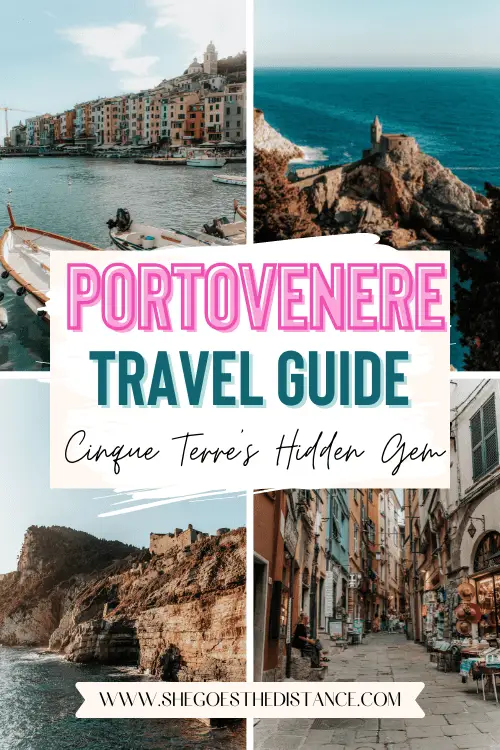 Portovenere, Italy is a true hidden gem in a country that is very well-traveled. That's why you shouldn't overlook this charming town for your Italian getaway!
XOXO
Michela