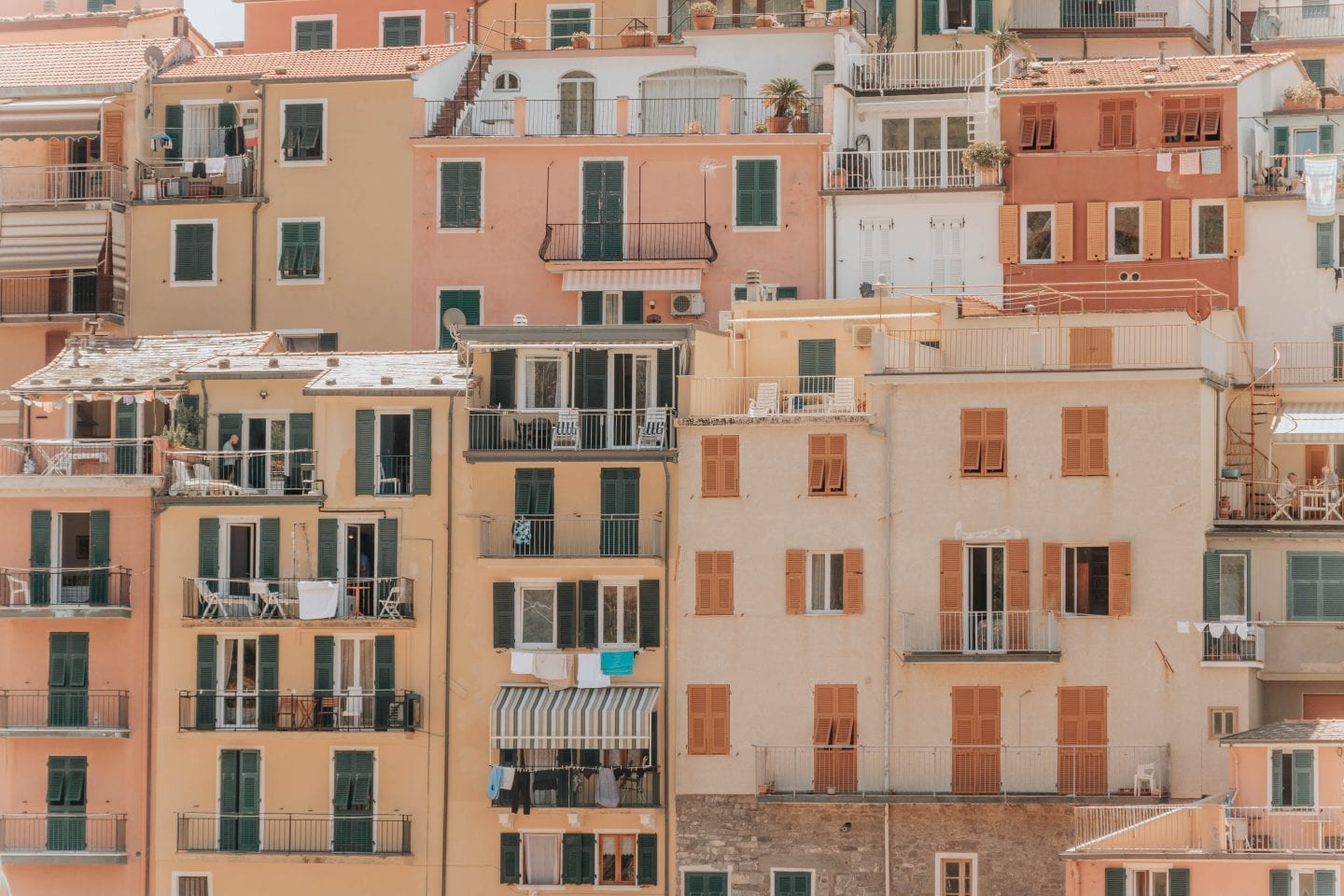 Last Updated on February 22, 2022
Deciding where to stay in Cinque Terre is no easy task. There are so many factors to consider that are unique to this destination due to its geography and popularity.
From how you're going to get around to finding comfortable and beautiful accommodation without breaking the bank, this budget travel guide is going to cover it all!
While Cinque Terre is a beautiful destination, with so many things to do, its popularity can present a challenge for finding budget places to stay. That's why I felt the need to compile a guide full of helpful and unique tips when it comes to searching for accommodation in this area, as well as a guide to the actual best places to stay in each of the five villages, as well as surrounding areas.
Don't stress any longer about planning this part of your trip – after taking note of these travel tips, you'll know exactly where you want to stay in Cinque Terre from my suggestions or exactly how to find your perfect accommodation on your own!
Some of these links are affiliate links. This means if you make a purchase through that link, I receive a small commission at no extra cost to you. Read my full disclosure!
Know before you go! My Italy packing list is cute and curated to prepare you for your trip!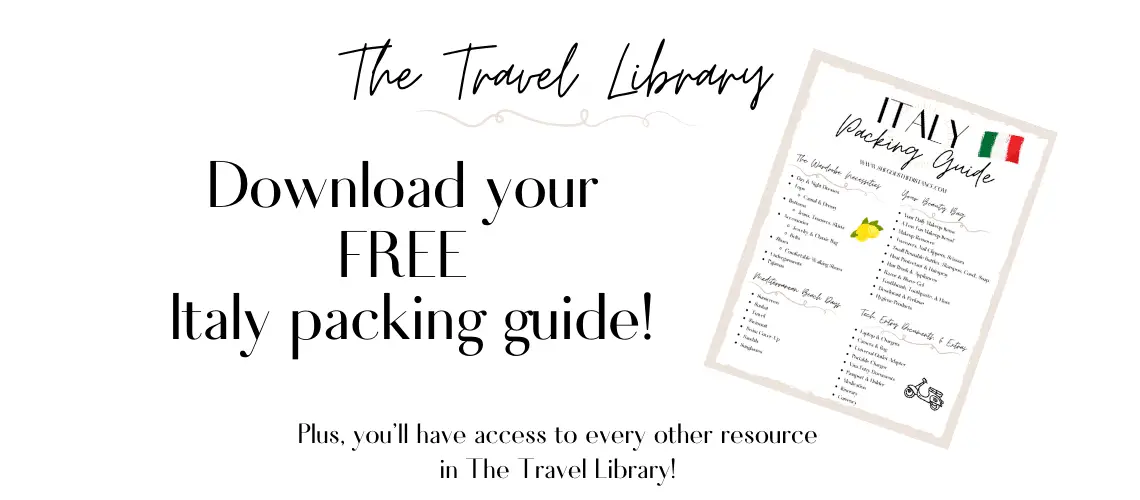 ---
What To Keep In Mind When Choosing Where to Stay in Cinque Terre
There are a lot of different factors to consider besides the location you're staying in when it comes to choosing accommodation in Cinque Terre.
It's a unique geographical area, which both helps and hurts the options for accommodation. On the one hand, to experience staying in the villages themselves is like an Italian dream. On the other, it comes with a lot more pains in terms of a comfortable and budget-friendly travel experience.
The pains can absolutely be worth the trouble if your dream is a seaside view from one of the Cinque Terre's pastel houses.
Personally for me, I choose to spend more on experiences like eating out or cultural tours than on accommodation. I tend to be out exploring all day, so even though I'm tempted to splurge on water views, I have to remind myself that I'm really just paying for a bed to sleep in.
If what I just said resonates with you and comfort and budget matter more to you as a traveler, you'll really love this guide.
Here are some of the factors that you'll want to keep in mind when you start searching for accommodation that you may not think of from the start.
Parking
If you're arriving to Cinque Terre by car, I highly recommend staying outside of the national park area. Driving in Italy is one thing, but parking can be a completely different battle.
Every town within the Cinque Terre has limited zones where cars can be. In fact, you won't see any cars at all in the town centers besides the small garbage trucks doing their job.
Consider parking fees. If you're traveling by car, the first thing you should do is filter your accommodation search to show only properties that include parking. If you can try to avoid the extra expense (which can add up quickly) then this is a good place to start.
Even when listings say they have parking included, make sure you scroll to the details. For example, in La Spezia, I found lots of accommodation that offered parking and then found out that it cost as much as 25 euros per day.
Air Conditioning
Cinque Terre is a perfect destination for summer in Italy. But just know that the Mediterranean sun is going to scorch you!
It's not uncommon to still find accommodation (usually apartment stays) that don't have air conditioning. And if you're relying on just opening the windows in your apartment, keep in mind bugs (especially mosquitoes) are on the offense during this season.
I again recommend adding a filter to your accommodation search to include A/C if you don't think you'll be able to take the heat.
Vicinity to Train & Public Transportation
I go in-depth on getting around Cinque Terre in my one-day itinerary, but you'll discover quickly that the geography of this area presents challenges to movement.
Taking the train is the easiest and simple way to get around, so you'll want to be conscious of where your accommodation is located in reference to the train station or the ferry transport, if that's the public transportation of your choice.
After a day of exploring, you're not going to want a 30 minute hike back to your accommodation and ride-sharing is not yet a popular service in Italy.
Budget
This factor is usually the first thing people consider when searching for accommodation, but I want to get you to start thinking about budget more in-depth, beyond just the price per night.
Does your accommodation have budget-friendly facilities like a kitchen to cook your own meal? If you're departing much later than your check-out time, can you leave your luggage all-day at the accommodation or do you have to pay for a luggage holding service?
By thinking all the way through your itinerary, you can prepare for costly mistakes and try to avoid them by choosing accommodation that best fits into your travel plans.
---
Tips for Booking Affordable Accommodation in Cinque Terre
Book Ahead ASAP
Cinque Terre is extremely popular so accommodation goes quickly. Even after I had booked my stay, I checked Booking.com and Airbnb up until my last day to cancel my reservation just to see if anything cheaper would pop up.
No luck! If anything, every accommodation just got more expensive, which was not a surprise, but it just goes to show you that getting a last minute deal while visiting the Cinque Terre is likely not going to happen.
Book accommodation in Cinque Terre as soon as you have decided your travel plans.
Watch Out for Extra Fees
I run into this problem frequently while searching for accommodation on Airbnb. Listings may appear as in your budget, let's say max $100 per night, but then the total price of the accommodation includes outrageous amounts of service and cleaning fees.
Unfortunately, I haven't found a way to crack the code on organizing the Airbnb search results to show me exactly what I want – which is the total price for a stay rather than just per night. The per night amount can be completely misleading when some properties add in a lot of extra fees.
---
Where to Stay in Cinque Terre
Disclaimer: The price per night of the accommodations may differ depending on the dates you are choosing to stay and how far ahead you book.
The Cinque Terre Villages
Ideally, staying in one of the five villages is on everyone's Cinque Terre agenda. I absolutely recommend this option for the unique experience if you fall into this category of traveler: you're not arriving with a car, you have a few days to spend at Cinque Terre, and/or you don't mind spending more on accommodation.
Because Cinque Terre is a sought-after destination by many, it tends to cost more to stay within the towns. However, for the same reason, there are now tons of accommodation options (mostly Airbnbs/apartment stays) so there's always a chance to find one around the budget-friendly $100 per night mark for this area.
Here are some of the best places to stay in the five villages.
Riomaggiore
Sottocoperta
5 Terre Discovering
Villino Caterina House
Il Mare di Ada
Manarola
Giovanni Rooms
Ca de Gianchi
Cà du Nilo
Corniglia
Cecio 5 Terre Rooms
Belvedere Affittacamere
Affittacamere Le Terrazze
Vernazza
Locanda Valeria
Casa Vacanze Zia Maria
Oliveto Apartment
Monterosso al Mare
Monterosso al Mare is a good place to stay if hitting the beach is at the top of your to-do list when visiting Cinque Terre. (Don't leave for your trip without adding these Cinque Terre beaches to your bucket list!)
Here are some of the best places to stay in Monterosso on a budget.
I Lecci di Soviore
Affittacamere Al Frantoio
Zia Letizia Bed & Wine
La Spezia
La Spezia is a small but important city on the "Golfo dei Poeti" or Bay of Poets. It is a significant harbor for cruise ships, large cargo ships, as well as a base for the Italian navy.
It's not the prettiest town I've ever stayed in, but there are definitely a few advantages to staying in La Spezia.
It has a main train station that connects to other major cities, so it's easy-to-reach for those traveling Italy by train. The same train station is also connected to the Cinque Terre National Park.
Accommodation is cheaper and you'll likely have more space.
There are more facilities around. If you need a full pharmacy or a large grocery store, they will be within blocks, where as the Cinque Terre villages have mostly small shops for groceries and other essentials.
Easier access to other areas in Liguria. If you're not limiting yourself to just the Cinque Terre, then you'll find it's easier to move to other towns like Portovenere or Lerici by staying in La Spezia.
Parking! If you're coming with a car to the Cinque Terre then you'll want accommodation that includes parking. There are neighborhoods with lots of free parking, however, it can still be really full especially on weekends when tourists come to the area. But, at least it's free, so you have to look on the bright side!
Where to Stay
Levanto
Levanto is smaller, but similar to La Spezia in that it's on the opposite side of the Cinque Terre and easily connected by train.
It's definitely prettier than La Spezia, with a long stretch of beach and a colorful town .
Because it's smaller, accommodation options run out more quickly in this town than they do in La Spezia. But most of the reasons to stay in La Spezia also apply to Levanto.
Where to Stay
Affittacamere Creuza de Ma'
Via Sant'Anna
Agriturismo Eos
Sestri Levante
Sestri Levante is further west from Cinque Terre, past Levanto. However, it is still connected to Cinque Terre by train which is why I think it's still a good base for visiting the five villages. But keep in mind, the trains run more frequently to Levanto and La Spezia than they do to Sestri Levante.
It could also be a great spot to stay for those who have Portofino or Genoa on their itinerary, as Sestri Levante is halfway between La Spezia and Genoa.
The town is small but lively with many beaches to enjoy.
Where to Stay
Villa Pozzi
Ristorante Hotel Mare
Calma di Vento
---
Final Thoughts
Choosing where to stay in Cinque Terre can be an intimidating task. I understand that when visiting such a beautiful destination, you just want everything about the experience to be perfect!
Hopefully my insight has helped you decide what you would like to prioritize in your accommodation search. Of course something is unclear or you have even more specific questions, leave me a comment and I am happy to help!
Which of these accommodations or tips did you like the most?
Save this accommodation guide on Pinterest!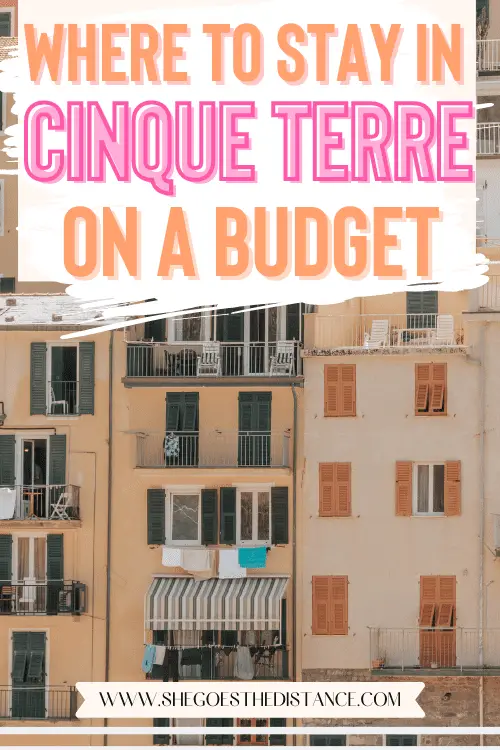 Now that you have the resources for finding the perfect place to stay in Cinque Terre, I hope you have the best time visiting this area of Italy – it's one of my favorites!
XOXO
Michela