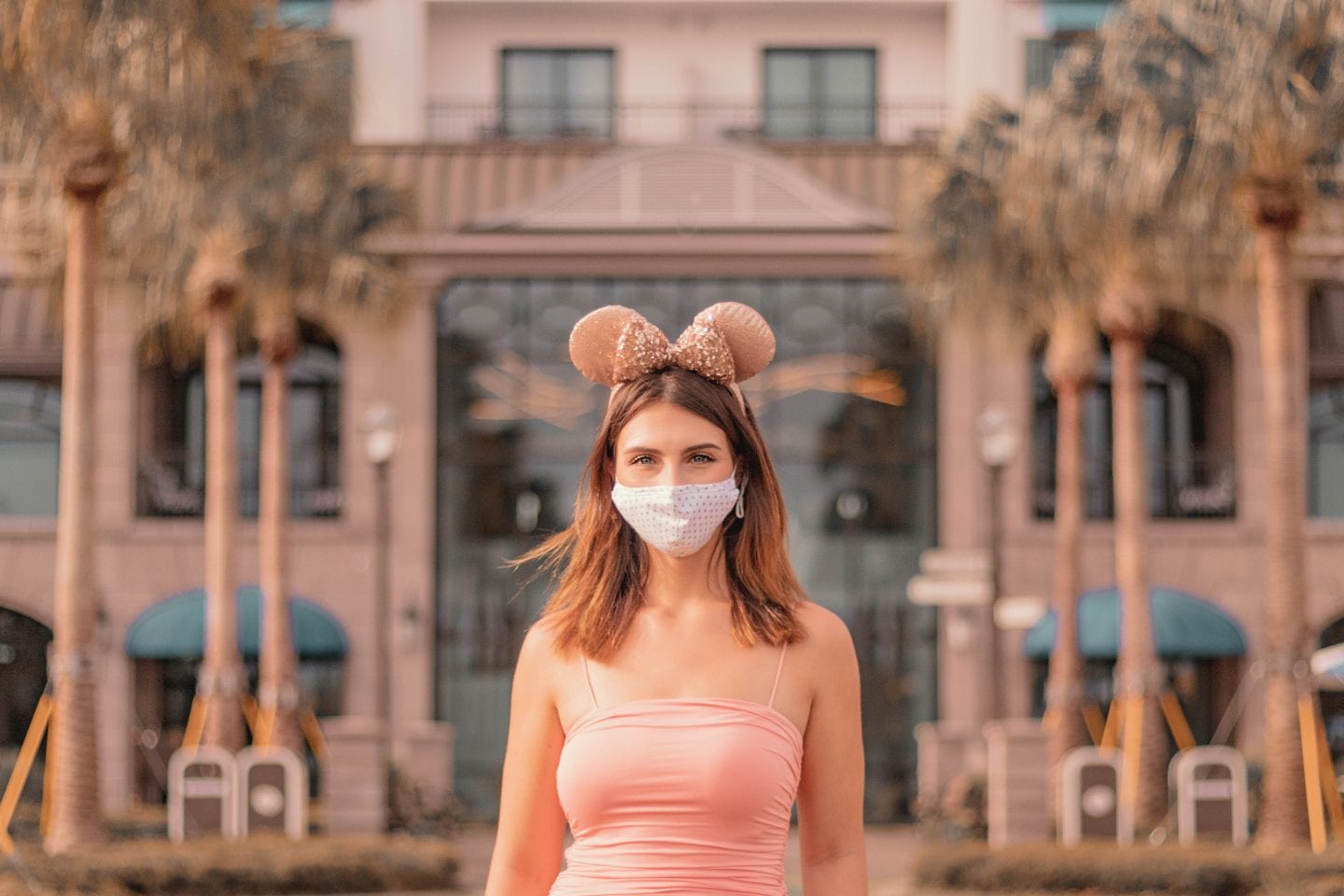 Last Updated on February 24, 2022
The world is responding to COVID-19 in a multitude of ways and many eyes are one of the biggest tourism hotspots, Walt Disney World. Everyone's wondering how Disney is going to handle reopening and what it will be like. Luckily, as a Florida girl & Disney lover (not to mention former cast member), I can tell you exactly what staying at a Walt Disney World Resort during COVID-19 is like so you can make the right choice for you and your family!
The Walt Disney World parks in Orlando, FL will be reopening in less than two weeks, Magic Kingdom and Animal Kingdom on July 11th and Hollywood Studios and Epcot on July 15th.
However, select Disney Vacation Club resorts at Walt Disney World have already opened (starting June 22nd.) The Disney Vacation Club is similar to a timeshare in which you buy points to use to book Disney resorts. (Check out the Disney Vacation Club if you want to know more.)
Besides news sources releasing information as it comes available about the changes at Walt Disney World, these DVC resorts are the first, tangible look at what a Walt Disney World vacation is going to look like! So, I'm going to breakdown exactly what it was like staying at a Walt Disney World resort during COVID-19.
Walt Disney World Resources
First, I just want to briefly include some helpful links and news resources to help keep you updated on what's going on with Walt Disney World Resort (as information is being updated and released constantly.) Plus, I'll be including links throughout.
---
Things You Will Need To Stay at Walt Disney World Resorts
I stayed at the newest resort at Walt Disney World that only opened about 6 months ago, Disney's Riviera Resort, for 4 nights and 3 days.
It was definitely odd staying at Walt Disney World resort during COVID-19 – there were not many people at all.
That was expected and I believe it contributed to my feelings about how safe it truly felt. Since we weren't around many people ever (besides Disney Springs) and so many safety measures were in place, I didn't feel very worried. But, I think that feeling of security could change if the reopening of the parks brings a lot more people (which I'm expecting it will.)
Cast members were just as helpful and excited, if not even more since they want to be interacting with guests! With so few guests, they were extra eager to interact and help.
Nonetheless, that's my general overview of the stay, but I'll go into all the details!
First, I wanted to share quickly what you're definitely going to need to stay at the WDW Resorts.
Face Masks
I know you guys saw this one coming! In order to enter and walk around anywhere on Walt Disney World property ( the resorts, parks, and Disney Springs), you will need to be wearing a mask. There are certain exceptions, which I will dive into later!
Disney has their own masks that they are selling at shopDisney.com or at the resorts/Disney Springs if you want to keep with the Disney theme!
My Disney Experience App
I'm sure the most avid Disney-goers already know about and have this app, but I just need to reinforce it because you literally cannot do ANYTHING without it. You're going to need it to access your room, order your food, manage your park passes and more. That being said, make sure you have a charged phone as well!
Wondering what other safety items you need to pack on your trip? Make sure to check my ultimate list of travel items to keep you safe.
QR Code Scanner
In order to access menus at restaurants, dining check-in, and mobile orders, you'll need a QR Code Scanner. If you have an iPhone, I know it works if you just use your camera to focus on the code. A link will pop up for you to follow to what you're looking for!
I'd also suggest bringing a reusable water bottle, as cups of water are pretty much done away with, so you have to pay for bottles of water at the quick-service locations.
---
Overall Safety
Disney has definitely implemented a ton of measures to contribute to a safe environment in the resorts.
I personally felt super safe in the resorts, but I feel like part of that was also because there were so few people.
Because there was barely anybody staying at the resorts at this point, it was effortless to avoid contact with other families and stay far apart from each other.
At Disney Springs, however, with bigger crowds especially at night, I was definitely more anxious and cautious being around so many people.
So, while there are tons of new safety measures, I'm interested to see how well they will hold up if and when more people decide to visit Walt Disney World.
These are the overall safety implementations the Disney Resorts have added.
Room Cleanliness
The Disney resorts have stepped up their cleaning measures. You'll notice once you enter the room that individual items have been wrapped and tagged with a "Cleaned" sticker.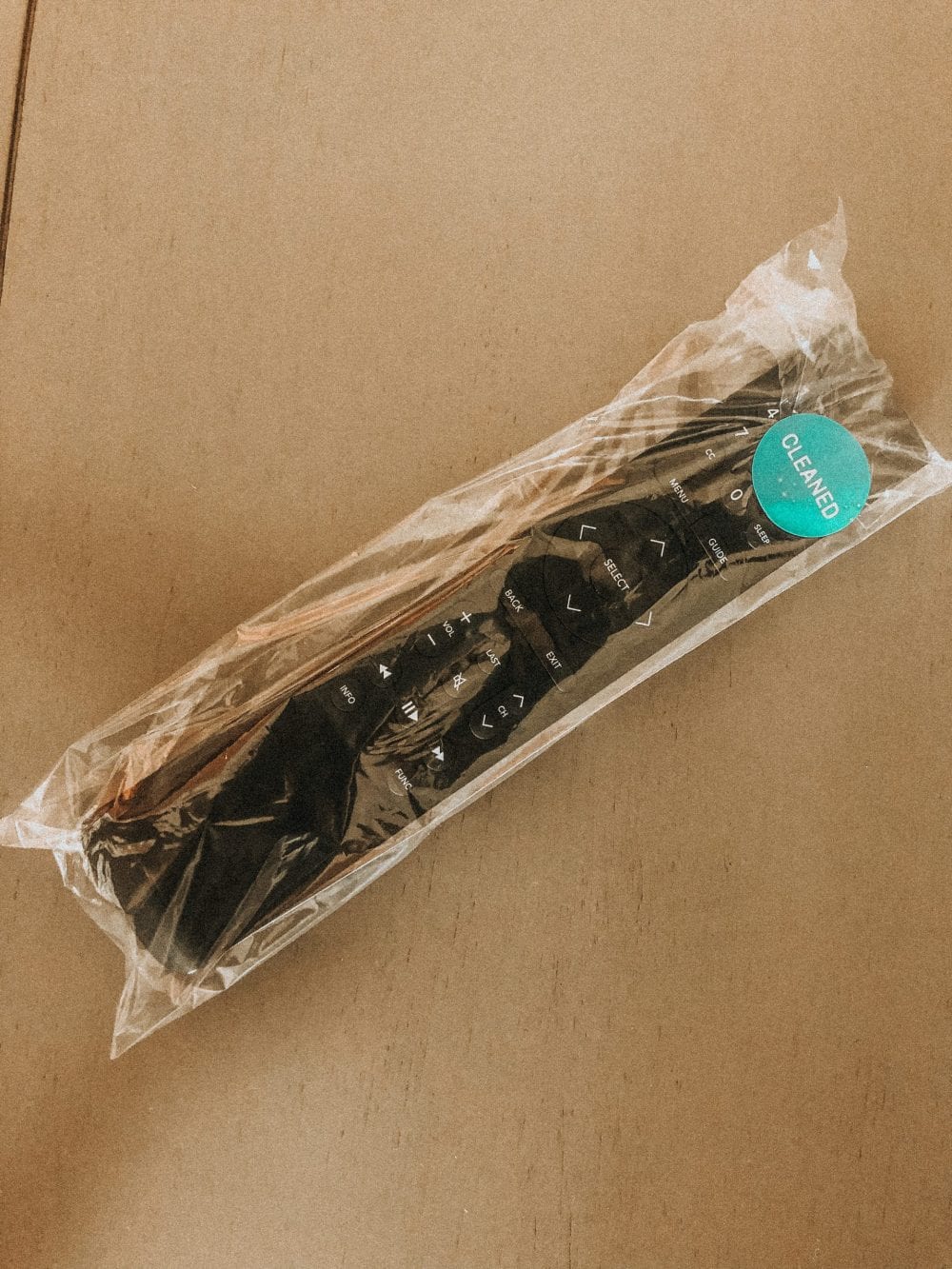 There's also new signage in the rooms for more reminder.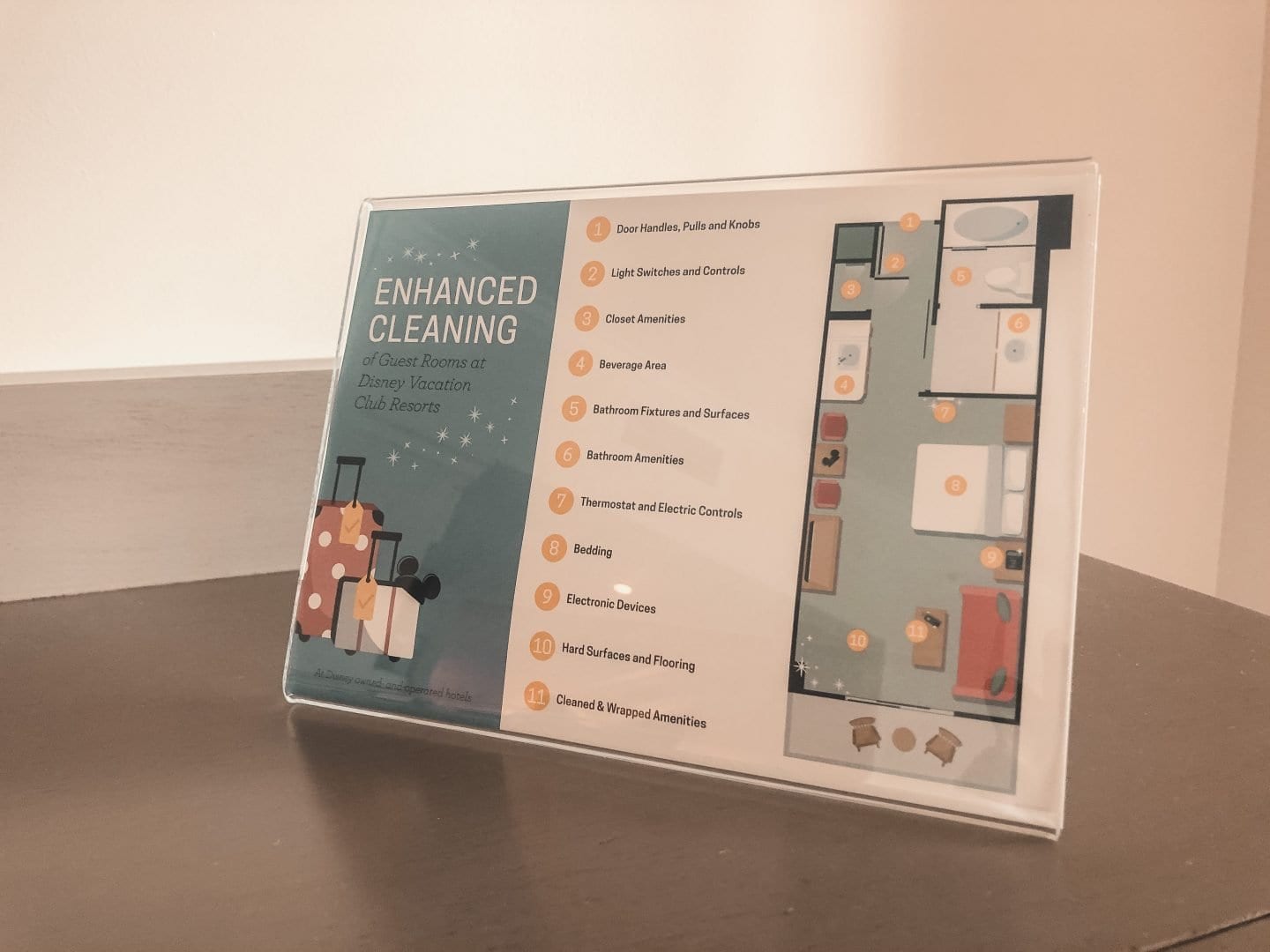 Rooms are also getting cleaned more frequently. Everything in the kitchenette area was individually wrapped.
The only odd change in my opinion was that there were no garbage bags at all. I don't know why that was removed but I assume they had a reason for it!
Masks 24/7
This is probably the most obvious safety measure implemented into staying at a Walt Disney Resort during COVID-19 – face masks. So, face masks are going to be required to enter the property, walk around the resort outside of your room, enter and walk around Disney Springs.
There's been quite a lot of fear, especially from cast members, about dealing with guests who don't want to wear face masks or take them off when they shouldn't. From what I saw, pretty much everyone followed the face mask rule.
Now, I'm not going to lie, being with a face mask in the Florida summer heat is uncomfortable. But to keep everyone safe, it's totally understandable. If you don't think you could last in a mask while it's hot outside, I wouldn't recommend trying to head to Disney World for at least this summer into early Fall where our temperatures are at their highest.
Signage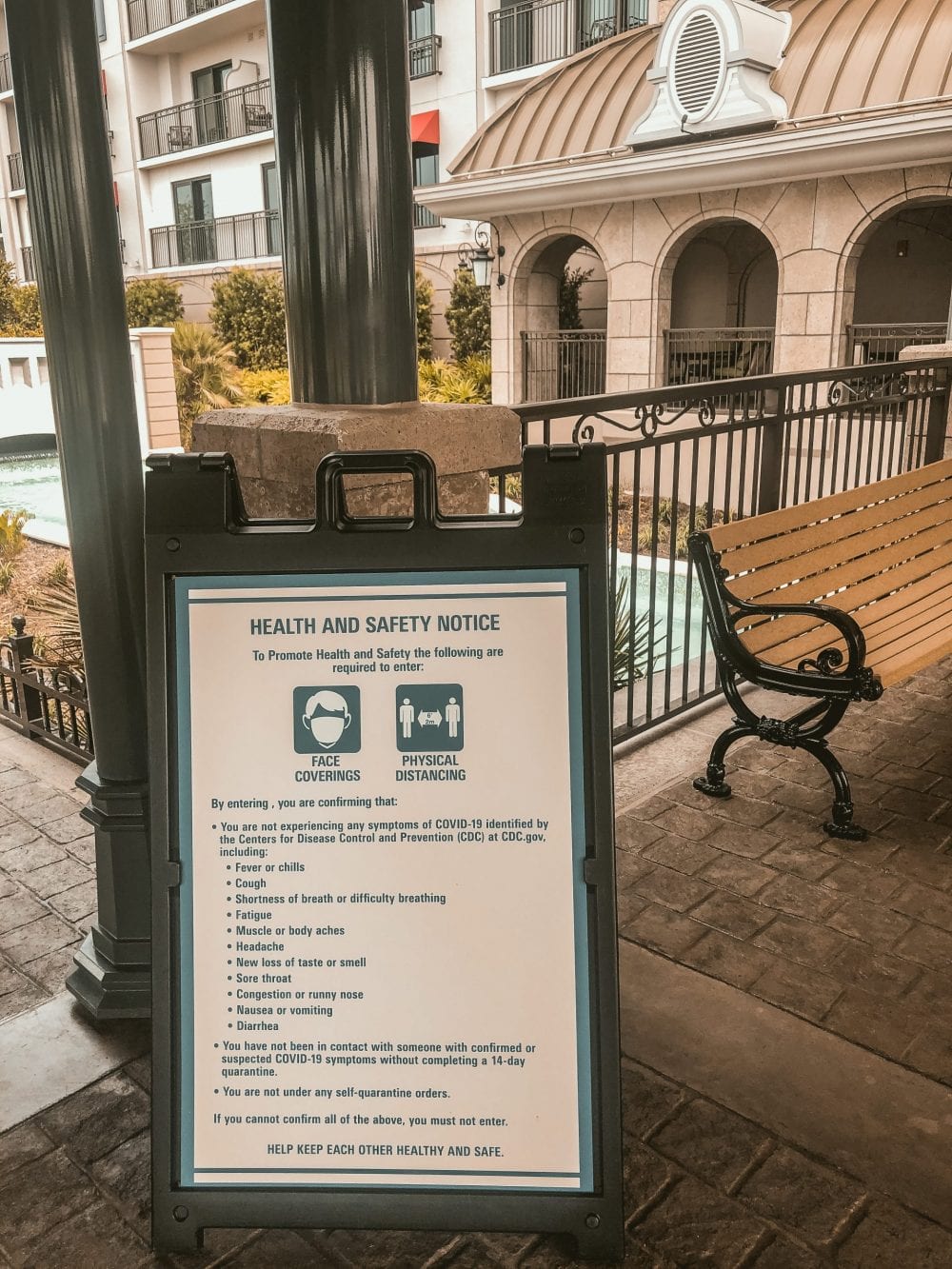 I don't know where Disney does the printing but oh boy have they outdone themselves with the signage! There were signs literally everywhere.
Reminders of safety measures, social distancing signs on tables, informative signs of new policies and safety risks, etc. I've got some photo examples to share so you can see just how seriously Disney is making sure you have information.
Hand Sanitizer
You'll also notice everywhere that there are convenient automatic hand sanitizing stands (that you don't have to touch.)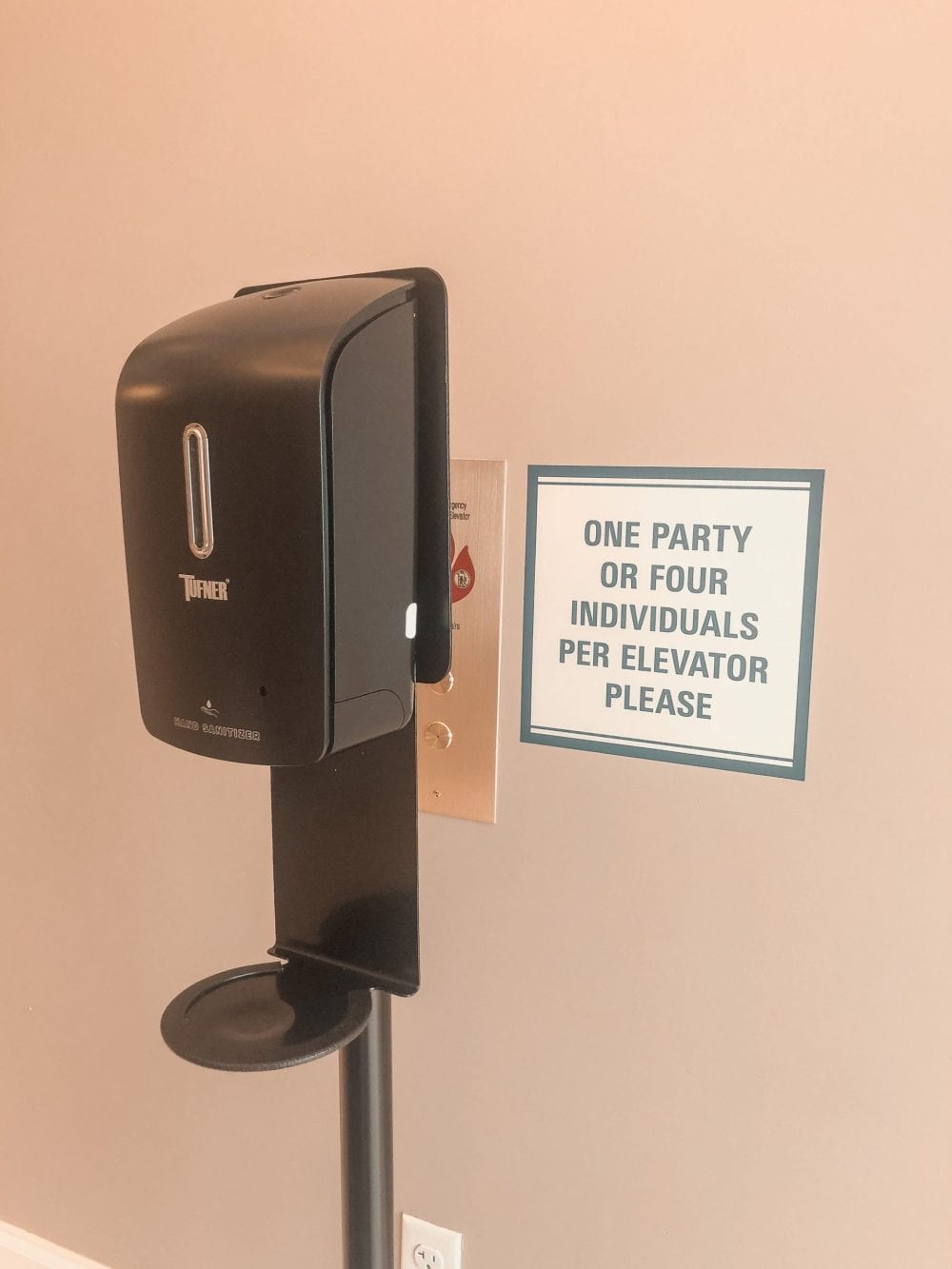 ---
Check In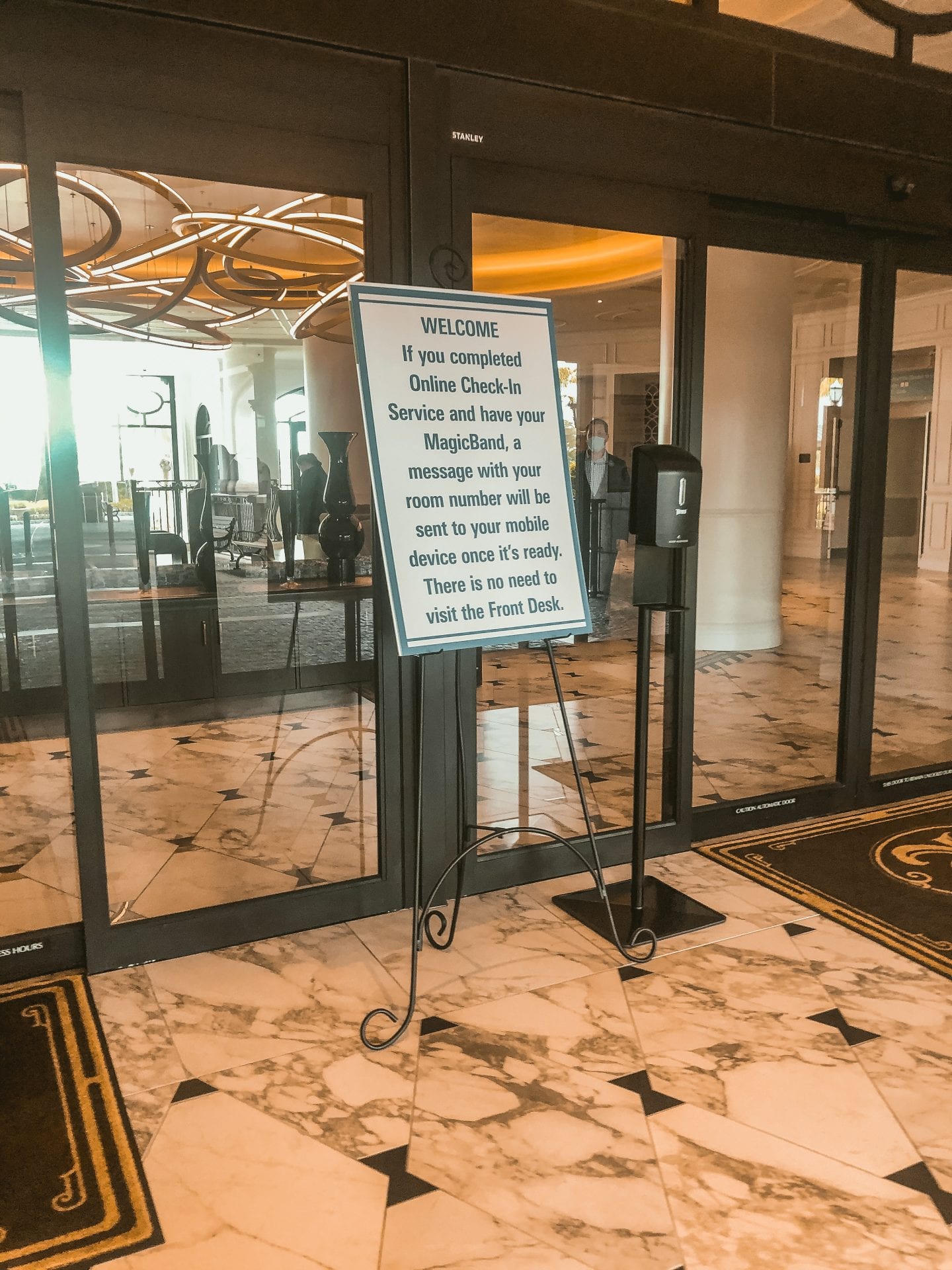 Mobile Check-In
The check-in process for your room is actually all handled through the My Disney Experience App. Arrival for your room is still at 4 pm and once you complete the mobile check-in on your phone, your room number should pop up when the room is ready. (Our room number popped up about a half-hour before at 3:30.)
So you'll see this sign when walking into the resort and you can go immediately to your room. Your phone will be able to unlock the door to your room the first time and your magic bands, as usual, continues to be your way to opening the door.
---
Amenities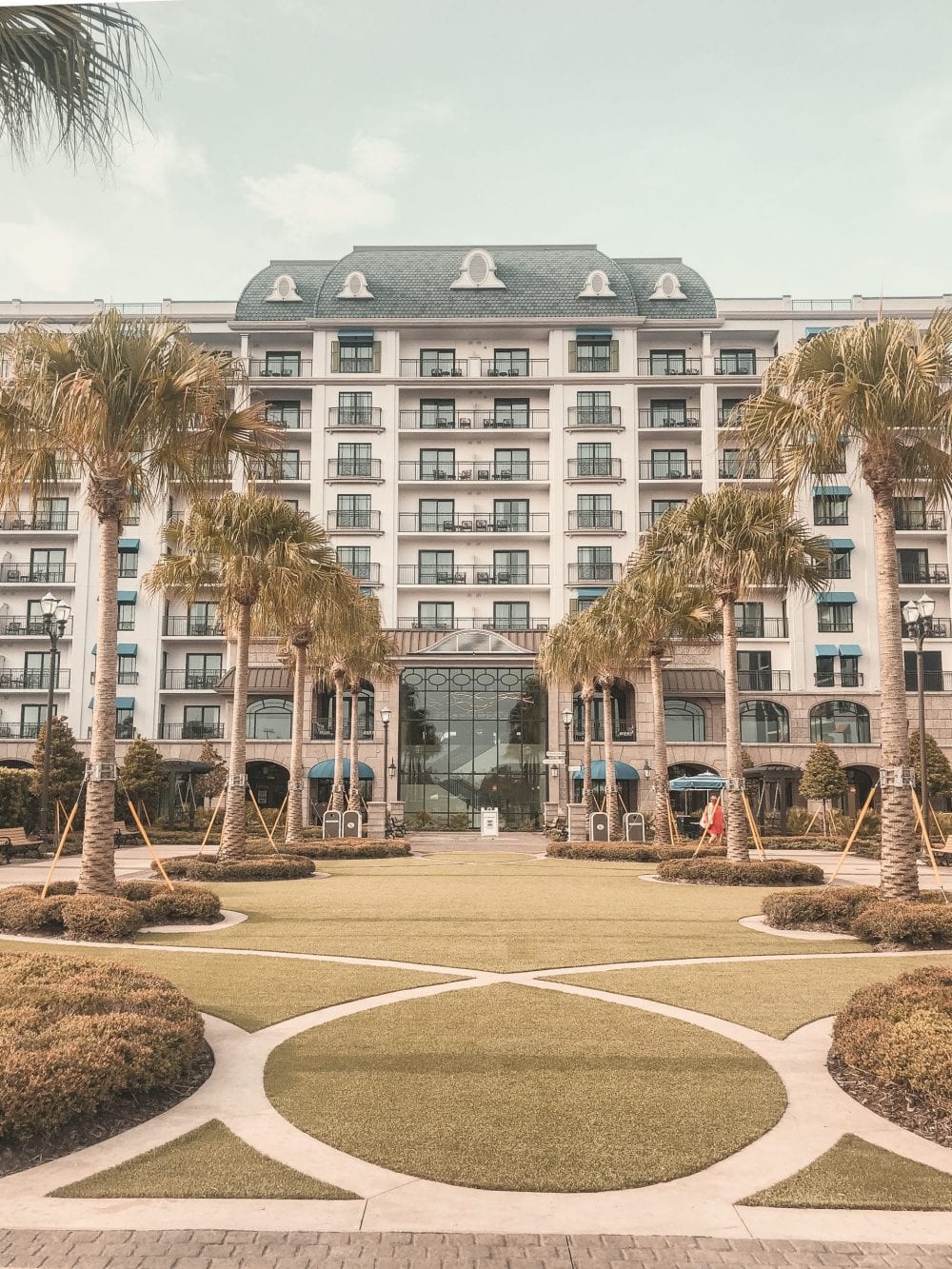 Some people are probably thinking, well, what's actually going on at Walt Disney World if there are no parks at the moment? Or if you weren't able to reserve park passes? Luckily, there are actually quite a few amenities available if you will be staying at a Walt Disney World resort during COVID-19.
Overall – expect your stay to be centered around these amenities
Pool
Most pools at the DVC resorts are open! And who doesn't love a relaxing pool day? You have to wear your mask to the pool but you don't have to wear while you are laying out or in the pool.
Gym
Gyms are also open and pretty much empty. The same rules apply here – you have to wear your mask down to the gym but you actually don't need to wear it while you work out!
There are signs on equipment that is not usable (for social distancing purposes) and it's highly encouraged to wipe down your equipment.
There are also individually wrapped plastic cups you can use for water, which is a nice touch.
Children's Activities
There are actually also activities as well! Movies Under The Stars were playing at resorts like the Beach Club.
And at the Riviera and the Wildnerness Lodge, there were poolside activities (socially-distanced).
---
Food
Just like everything else, restaurants at Walt Disney World are experiencing a lot of changes. For a list of all dining locations that are open at the Resorts, see the Walt Disney World website.
You'll have to wear your face mask everywhere in a restaurant besides when you are sitting at your table and eating.
I definitely saw more intense cleaning measures at restaurants as well as social-distanced seating arrangements. At Frontera Cocina in Disney Springs, we saw the staff wipe down the entire table and seating after every party.
Mobile Order
At quick-service restaurants at resorts, absolutely everything is mobile order. Again, you'll need the My Disney Experience App to order food and you'll choose a window of time to arrive for your food.
Make sure once you place your order to scroll down the page and hit "I'm here, prepare my order" (because yes my dad didn't scroll and he thought for half an hour they were making his food, but he never pressed the prepare my order button – oops!)
Unfortunately, there's not a lot of customization ability for meals. We did have a special order once and were able to pay for it at the register since it was unable to be customized in the app. That's good to note if you need special accommodation for your food.
Limited Menus
The other main thing to expect from pretty much all restaurants, whether quick-service or dine-in is limited menus. Not everything unfortunately is going to be available right off the bat with any of the reopenings. However, my family and I didn't find it to be too limiting.
Also, note that the menus themselves are mostly virtual. You will need your iPhone to use your camera on a QR code that will pop up with a link.
If you have an Android or another type of phone, I believe you will need a QR Code scanner app.
You'll use this as well to check-in for your dine-in reservations.
Contactless Payments
Most restaurants have also switched to contactless payments. Mobile order already covers that because you pay when you submit your order through the app. Otherwise, dine-in restaurants are using single-use checkbook covers for your receipt and card.
I definitely recommend going cashless if possible because of what Disney has implemented and obviously also for your safety.
---
What Is Open To You (Besides the Resort You are Staying At)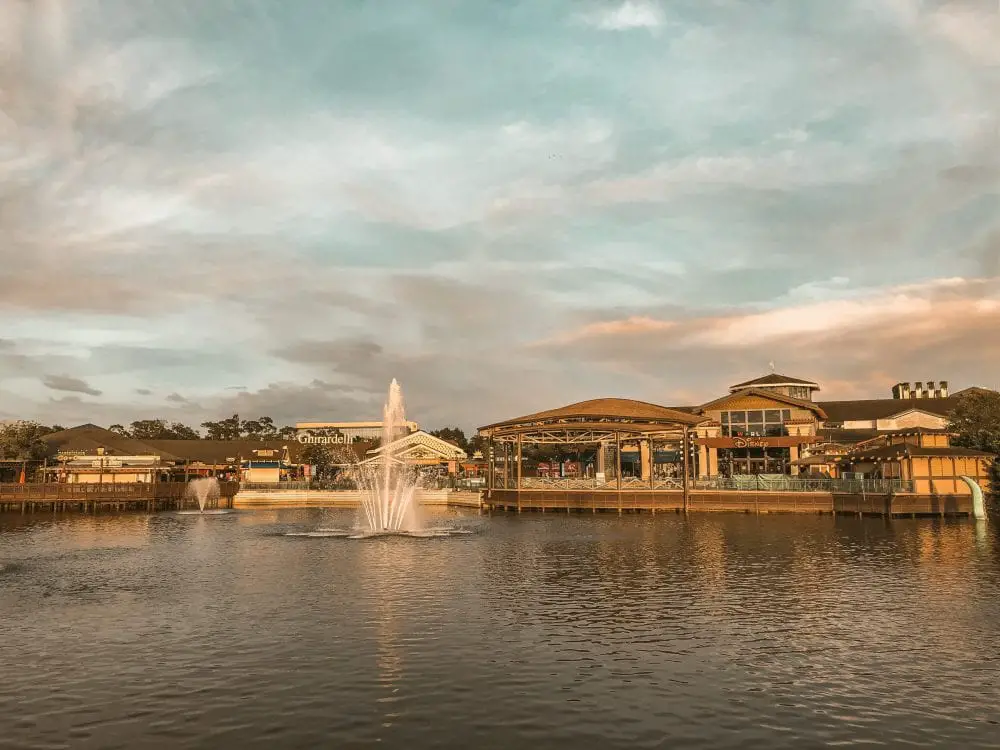 Disney Springs
The only other major Walt Disney World property open right now is Disney Springs. I was actually very surprised at the number of people there! It told a whole different story from the resorts.
At Disney Springs you'll get your temperature checked before you enter from the parking garages and you'll have to wear your mask!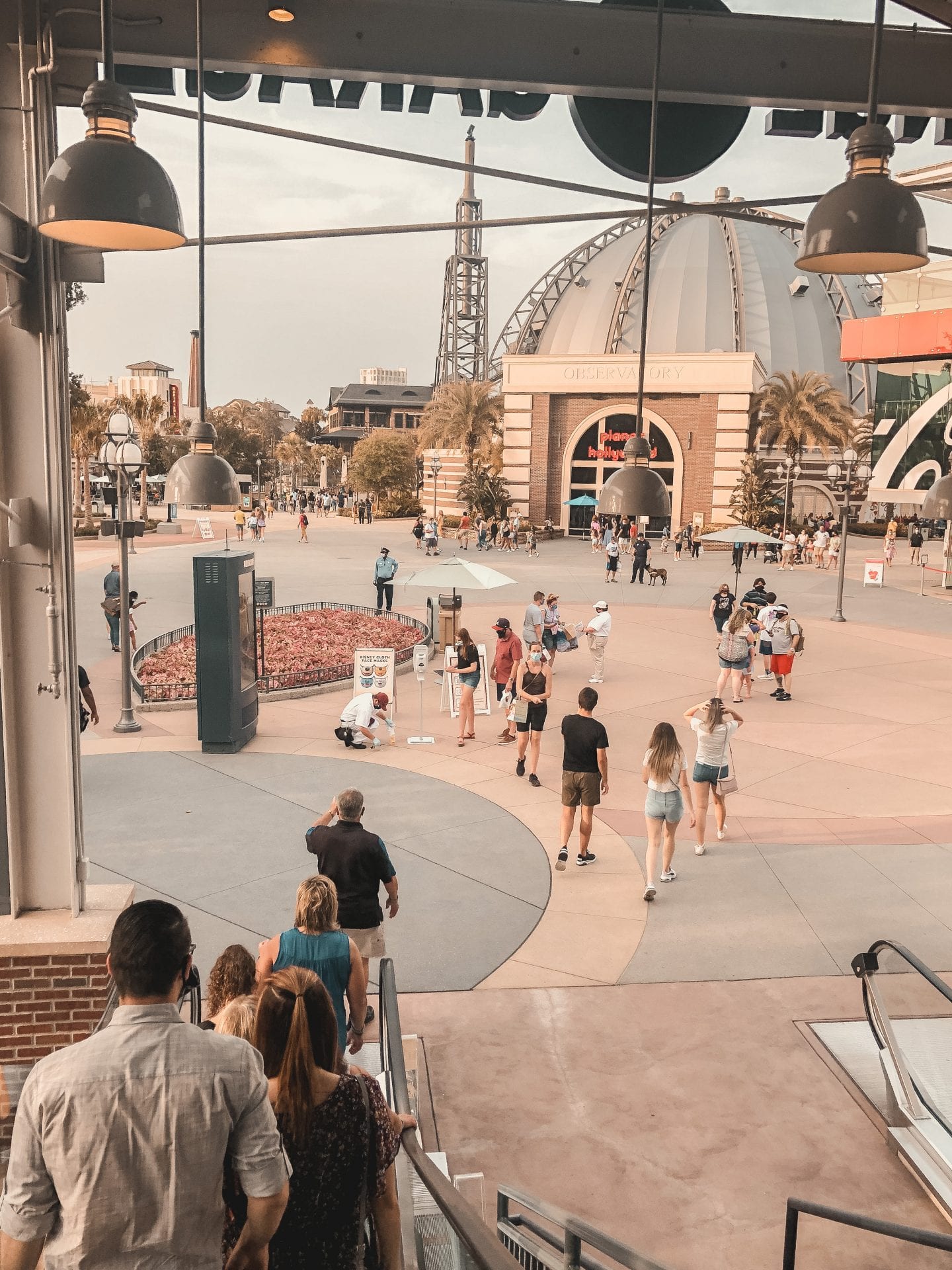 Many of the restaurants are open with social-distancing measures in place, arrows on the ground to direct traffic, and about half the stores were open and operating. Also, basically everyone was wearing their mask as instructed, so it was good to see rules being followed.
Other Resorts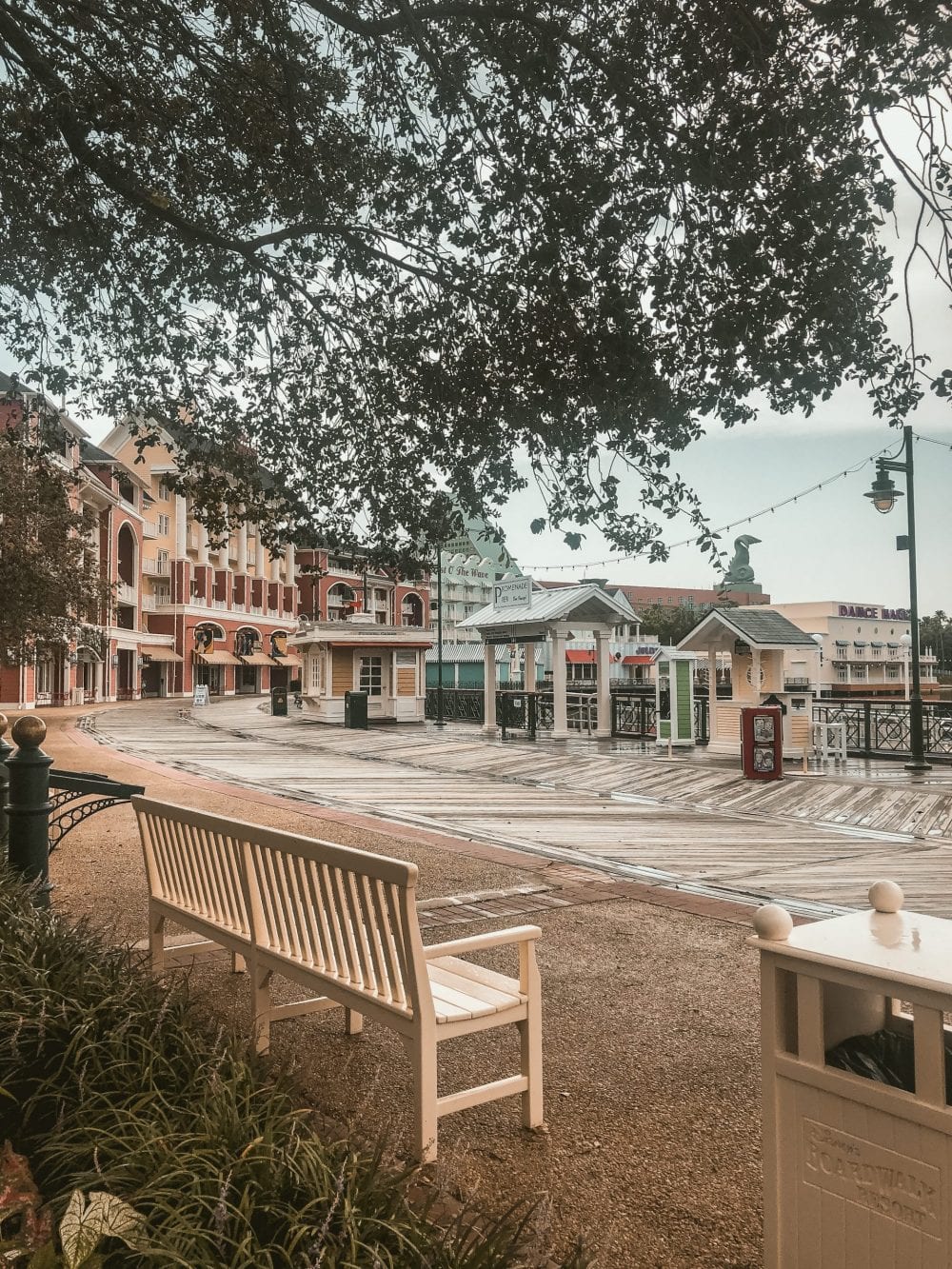 So, based on the information I was hearing, I wasn't sure if you were allowed to "resort hop" if you didn't have a dining reservation. We were able to go to other resorts whether we had a dining reservation or not (still telling security that we were staying at a different Disney resort.)
I'm not sure once there are more guests as the parks reopen if Disney security will crackdown on allowing people to visit other resorts. So, it may be the case that you absolutely need a dining reservation or be staying at that resort to enter it.
We ate at resort quick-service locations as well as walked around at places like the Boardwalk. The Boardwalk was basically deserted! As well as the Wilderness Lodge, pictured above.
---
IS IT WORTH IT?: Staying at a Walt Disney World Resort COVID-19
The question everyone wants to know the answer to!
I want to preface my final thoughts by saying it's a very personal choice if you feel comfortable traveling during this period of time. It's also understandable if you don't necessarily agree with my choice to go to Walt Disney World at this time.
I reside in Florida, so I could travel by car which definitely made me feel safer than if I had to fly (at least since it was my first trip since the beginning of the pandemic.)
Overall, if you're taking all the measures to stay safe while traveling and you don't mind your stay being very relaxed and not necessarily with a ton to do, then I'd say it is still worth it.
Staying at a Walt Disney World Resort during COVID-19, you get to experience a Walt Disney World with absolutely no crowds. The pools are probably going to be the main event of your vacation, so if you like lounging, a Disney trip right now could be for you.
My family and I have been to Walt Disney World so many times at this point that we really enjoy the resorts even more than the parks, so it made sense that we enjoyed a resort-focused stay. However, if you're traveling from afar or you don't like "lazy" vacationing per se, then I'd hold off on a Disney visit.
Now, that suggestion could change once the parks open, but with the uncertainty of reserving park passes and how much time you'll actually be spending on the parks, I'd still expect a Walt Disney World stay to be pretty resort-heavy.
At this moment, as I've mentioned, it's not very crowded at all. I could see how some of the new implementations could not function as smoothly as more and more people begin to visit Walt Disney World at this time. For example, the mobile order is both convenient and inconvenient in my opinion at this point. We were the only ones ordering most of the time, but the food still took 15-30 minutes to be ready.
Once you gather a crowd of people all mobile ordering at the same time, wait times could be a lot longer. Sometimes we even experienced mistakes in the mobile order even if we were the only people there, so when there are many orders coming in, I could foresee some service issues.
But, as I said, overall it depends on who you are as a vacationer and a Disney-goer, as well as how comfortable you feel traveling. For me and my family, it was worth it to visit our favorite place and have a change of scenery for a few days. We kept to ourselves the entire time and it felt very safe to us.
Will you be traveling to Walt Disney World any time soon? I'd love to answer any questions you have in the comments and continue the conversation with your thoughts!
Share on Pinterest if this post was helpful!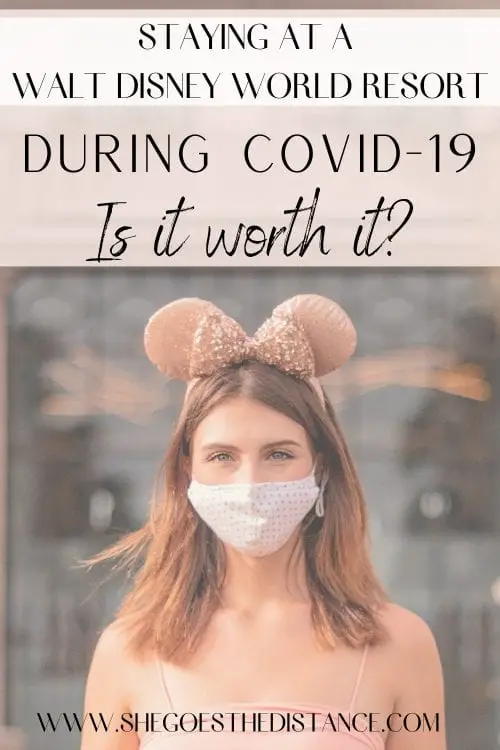 I know eventually that Walt Disney World will be just as magical as it was before and we will all be back to making Disney memories!
XOXO
Michela