Last Updated on February 23, 2022
A trip to Northern Italy is not complete without visiting the Alps. This magical landscape is home to a blending of cultures and languages – it is not the Italy you might picture in your head. It is rugged yet dainty, intimidating yet refreshing. It is truly a unique experience to visit this Italy. A trip through the region of Trentino Alto-Adige will not only take you to unbelievable geographical vistas but also to some of the most quaint and quiet mountain towns begging you to slow down and enjoy the local life. That's exactly what Bressanone calls you to do. While on your adventure navigating across Italian Alps, take a break and enjoy some of the best things to do in Bressanone!
Bressanone is a small town to the northwest of Bolzano, between famous stops in the Dolomites like Val di Funes and Lago di Braies. It is the perfect stopping point on a Dolomites road trip to refresh and grab a bite to eat.
It is nestled in a valley of towering mountains. The laidback attitude of Bressanone's people indicates they don't feel threatened by these huge pieces of Earth architected by nature; rather, it's as if the mountains are a warm blanket keeping Bressanone cozy and protected.
No matter what you may feel about these imposing mountains, I can guarantee your neck will hurt from looking up and taking in 360-degree views of alpine heaven.
You may find on your way to Bressanone that it goes by another name, Brixen. This is a perfect example of how unique this region of Italy is, being a blend of germanic influence and Italian culture. Brixen is its german name and the assimilation comes from this northern region being so close to Austria.
Bressanone's unique location is not the only reason to visit! Keep reading for all the sweet things to do in Bressanone.
Some of these links are affiliate links. This means if you make a purchase through that link, I receive a small commission at no extra cost to you. Read my full disclosure!
How to Reach Bressanone
The easiest and most flexible way to reach Bressanone is by car. You will take the Chiusa/ Val Gardena exit coming off the A22 highway. As I mentioned, Bressanone also goes by its German name Brixen. Well, many other towns in this region also take on this unique trait.
Therefore, pay attention to exit signs, as it can be confusing to decipher the town you are looking for when both the Italian and German names are present on highway directional signs.
Bressanone also has its own train station that is only a ten minute walk from the center. Trains are fewer and far between in this region because of the terrain, but it is still possible to reach main towns by regional train.
---
Where to Stay in Bressanone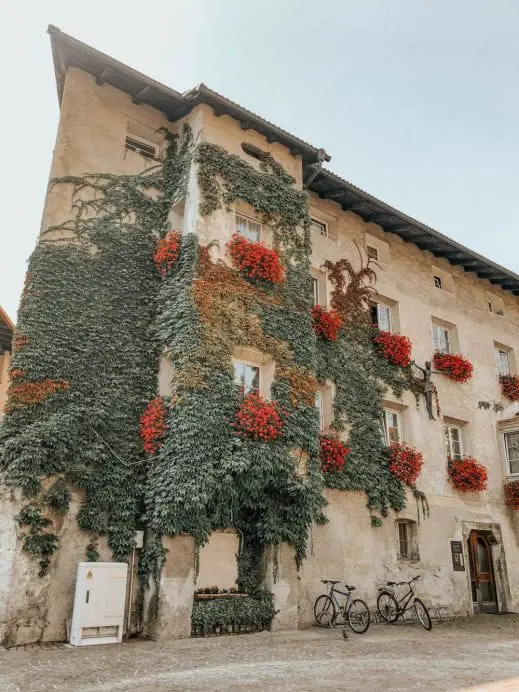 Bressanone is not a small town, so it is possible to experience a good amount of its offerings in only one day. You can even spend as little as an afternoon to grab a bite to eat and make it a worthy stop on your road trip!
If you want to stay longer in Bressanone, you can stay right in the town center for only about $100 dollars a night at Residence Chiavi d'Oro. I especially recommend staying longer if you are traveling during the winter (scroll a bit further to see why!)
If you're craving a luxury experience, you can stay a bit outside of the town center in the mountains at Forestis Dolomites. Only 3 km from the town center, this hotel is a luxury retreat near the skiing center of Mount Plose.
Earthy wood tones and walls made up of windows in your hotel room truly make you feel as if you are one with your mountain surroundings (but with the luxury of a fireplace & spa amenities when you're trying to escape the cold.)
---
Cathedral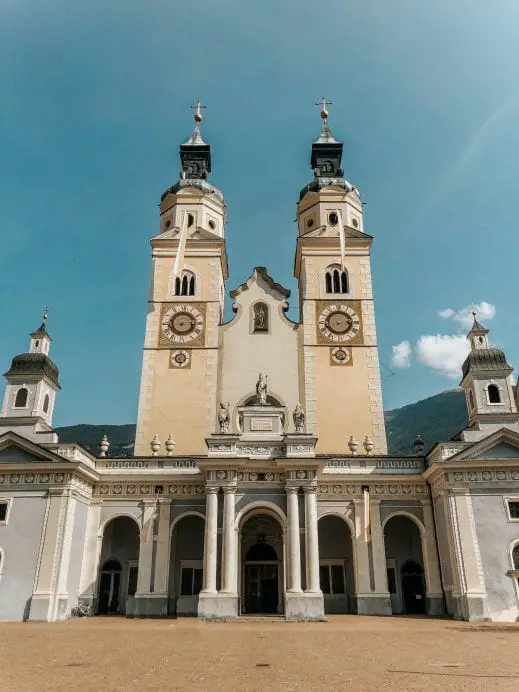 You find the unique blend of Austria and Italy in the architecture of this region, especially in its churches. Bressanone Cathedral is mid-18th century perfection and its double spires are a reflection of the alpine atmosphere.
Visiting a town's cathedral in Italy is essential. It's always the centerpiece to not only the geography but the people of the town. There's no doubt it's one of the best things to do in Bressanone.
The Bressanone Cathedral's outward appearance is not lavish, in comparison to Florence or Milan's Duomo. Instead, it's inside the church that the details come alive in fresco paintings, striking patterned floors, and an organ that takes up the entire wall of the front entrance.
---
Christmas Market
There's nothing quite more picturesque than wintertime in the Alps, right? Well, you're almost right. Try wintertime in the Alps and add a fantastical Christmas market in an idyllic town at the foot of soaring mountains. Now that's picturesque.
If you can visit Bressanone in the winter, then you'll be one of the lucky ones to experience their homely and cozy "Mercatino di Natale." With local, artisan products on display and dreamy lights illuminating the cobblestone walkways, you'll be begging for it to be Christmas all year round.
I believe this is the best time to stay for an extended period in Bressanone with all the extra things to see and do during the festive season. Just make sure you pack your warmest coat!
---
Farmer's Market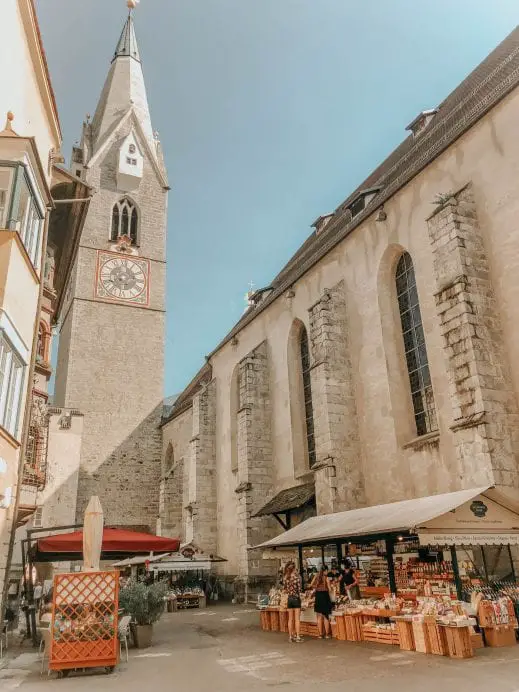 Even if you can't visit in winter, there are still things to do in Bressanone to support the local producers. You can often find booths and smaller markets around the main square selling local products, like these adorable stores pictured above.
Some of the delicacies of this region include speck, which is a dried meat similar to prosciutto. There's everything from honey to wine to pasta to meats and they're completely authentic (which translates to completely delicious!) You'll also find store nearby in this area that specialize in local produce, like speck.
---
Torre Bianco
The market stands are near the church and below the Torre Bianco, a historical monument of Bressanone. It is a bell tower with 43 bells and 200 steps to the top!
It's now a museum, available for exploring. According to Sentres, the tower was used not only for religious reasons but as a lookout point over the town for a night watchman.
You only pay a small fee to visit the Torre Bianco, so it's a great budget activity that doesn't break the bank.
Isarco River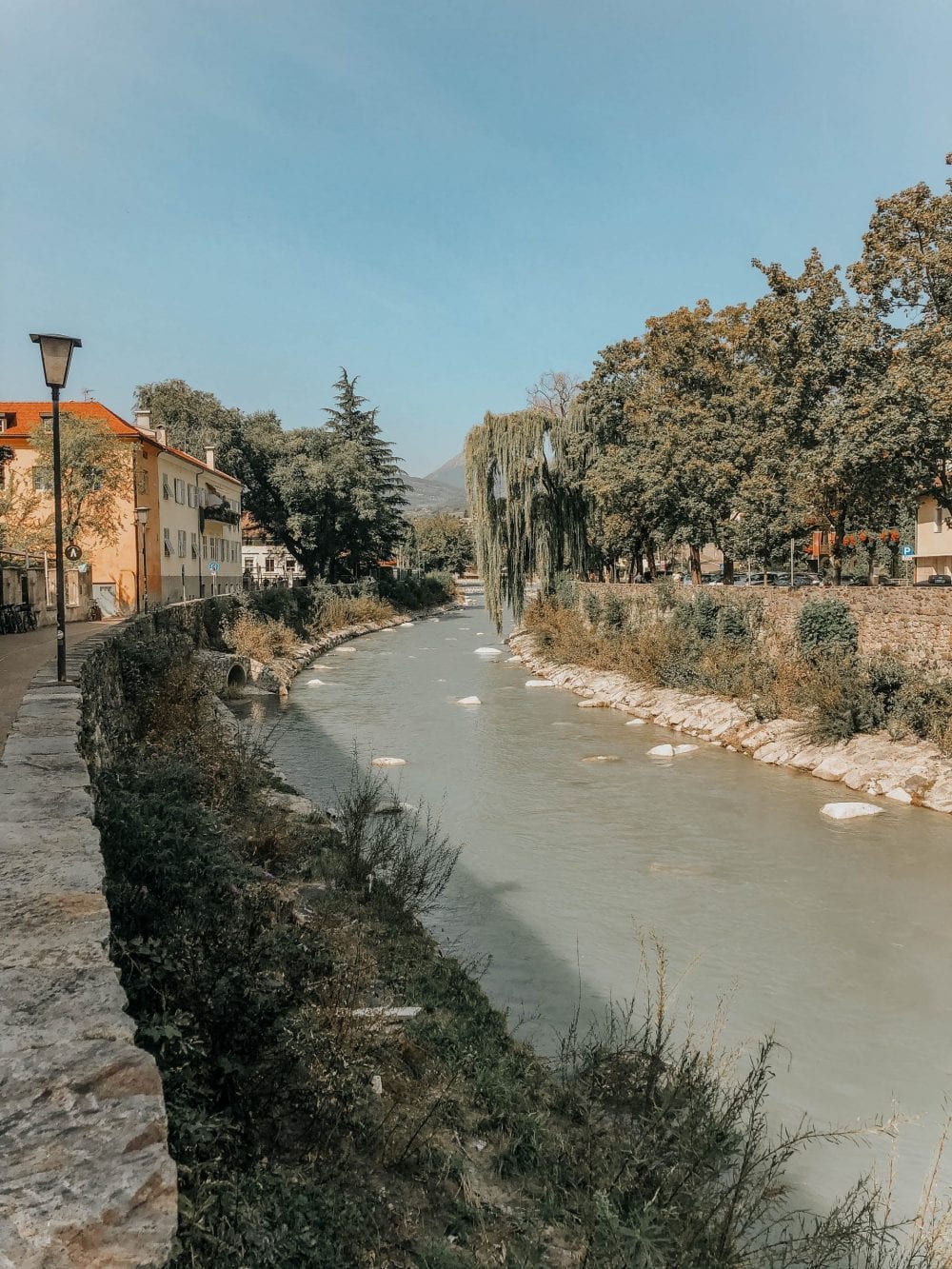 You may come across one river running through the central part of Bressanone, but it is actually two rivers coming together to form the Isarco River. You can cross the bridge from the main square and it's only a five-minute walk to the second river. Walk along the river to the south to see it join together.
I suggest spending time along either river, where you get the best-unobstructed views of the surrounding valley, including Mount Plose, which is a famous peak for skiing. The weeping willows also echo the same beauty as the flowers draped along the houses in the town.
---
Between the Two Rivers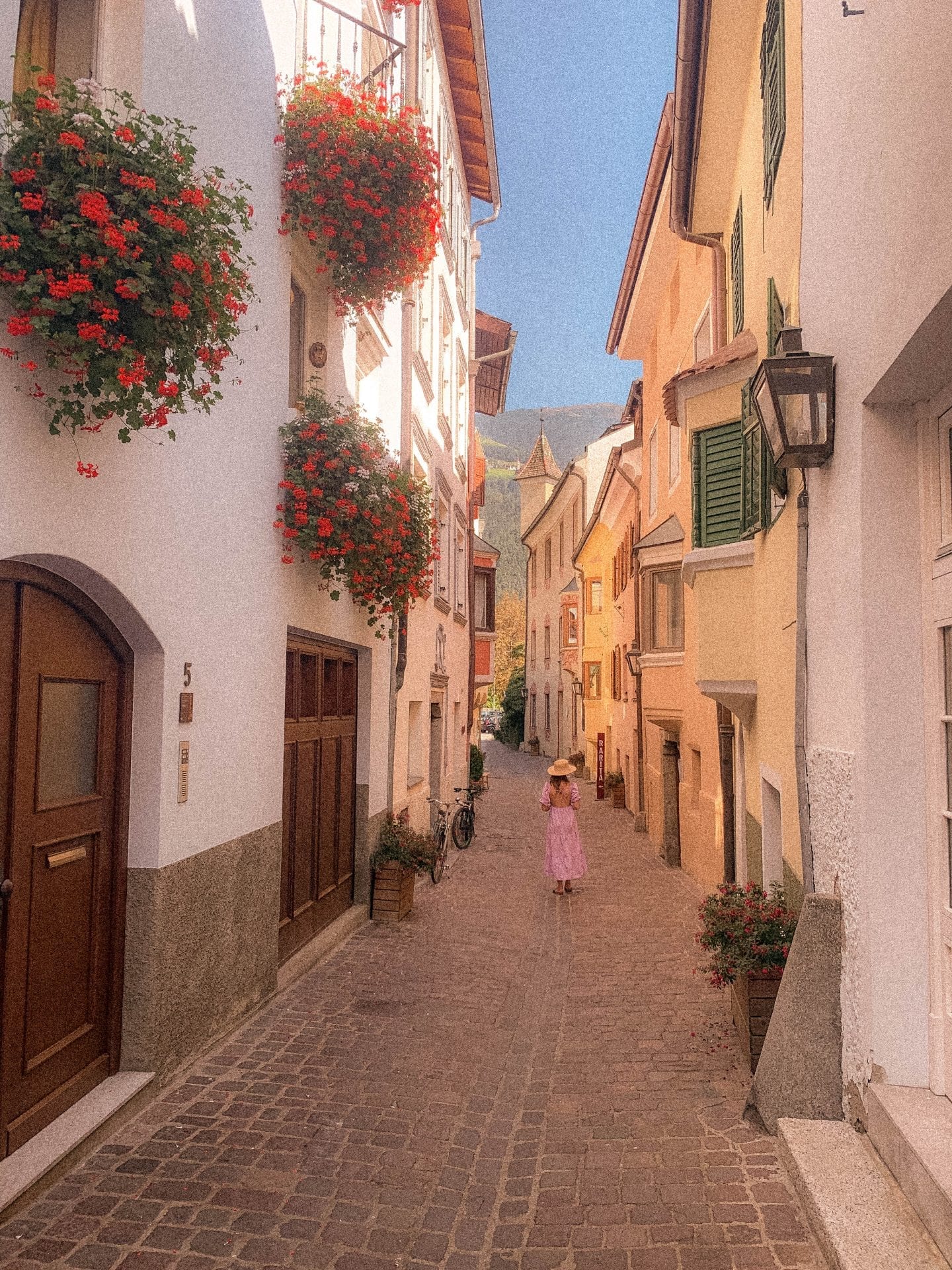 You may be tempted to stay in the main square and streets of Bressanone but between the two rivers is the quiet and equally as beautiful side of town.
Admire historic buildings like this one pictured below. Some of the houses look as if they came out of a fairytale, with their ornate external details.
The plaque notes the age of this residence, dating from at least 1320. It was a residence of noble families and was restored in 1901.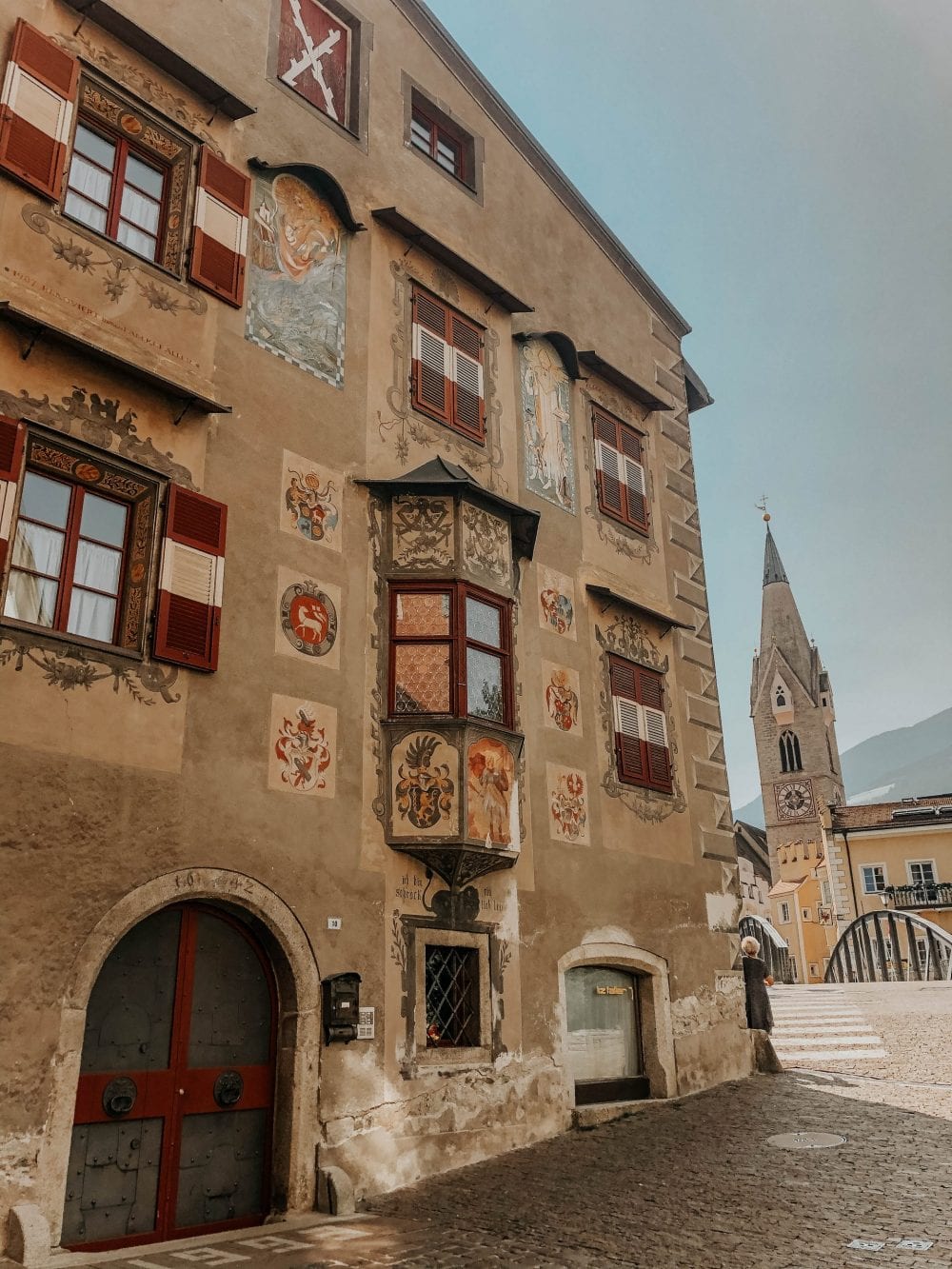 ---
Hofburg & Diocesan Museum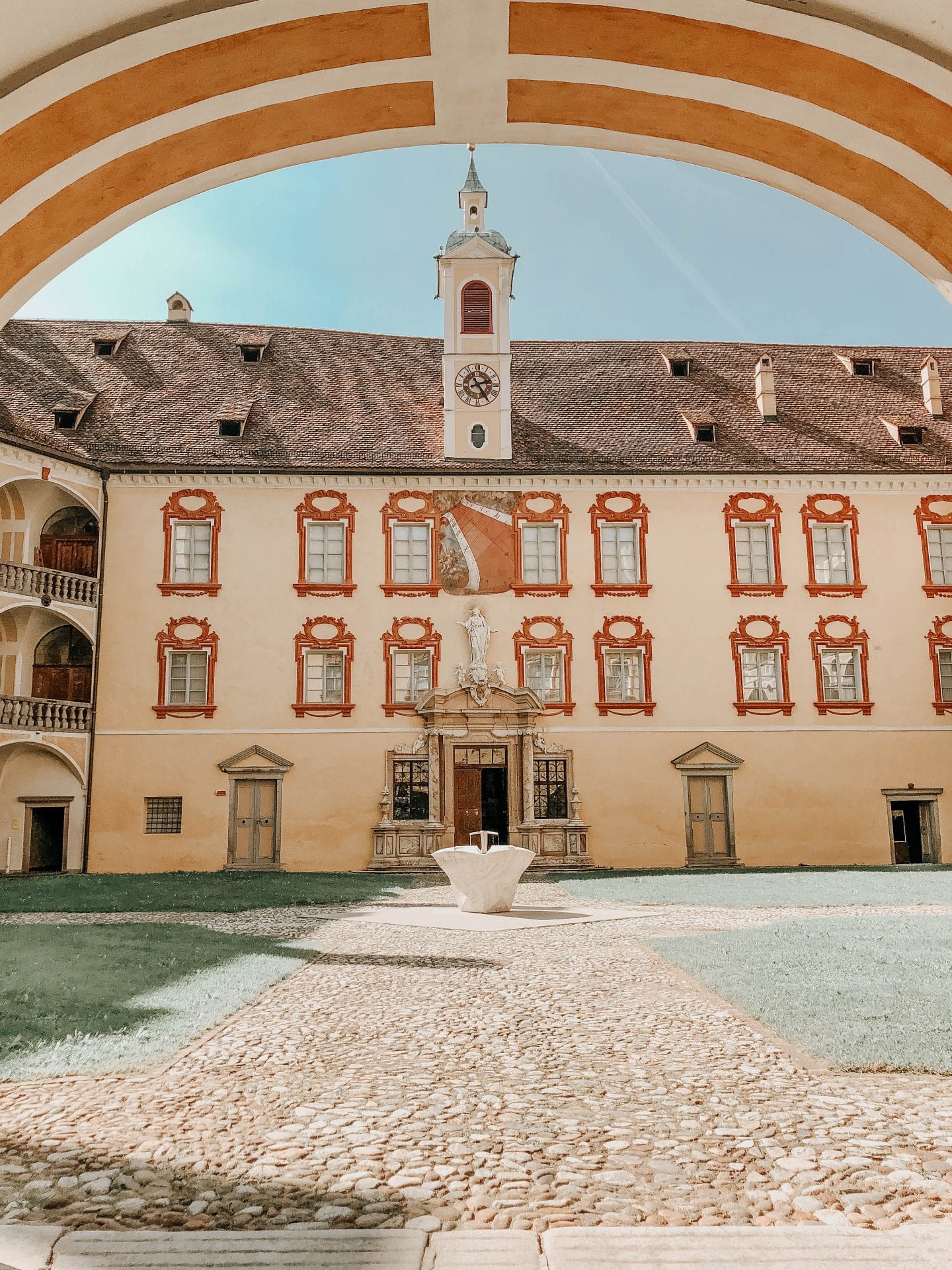 One of the most distinct buildings in Bressanone besides the Cathedral is across the piazza. Hofburg is a grand palace, ordered by the Prince Bishops of Brixen in the 13th century. Now the Hofburg palace is used to display works of several eras of history from medieval to Renaissance to baroque and more.
This Diocesan Museum houses sculptures, paintings, and more. The palace itself is a striking yellow and red, another reflection of the unique architecture and color palette of this region of Italy.
You can make plans to visit the Hofburg and its museum and find more information on their website.
---
Afternoon "Sosta" in Hofgarten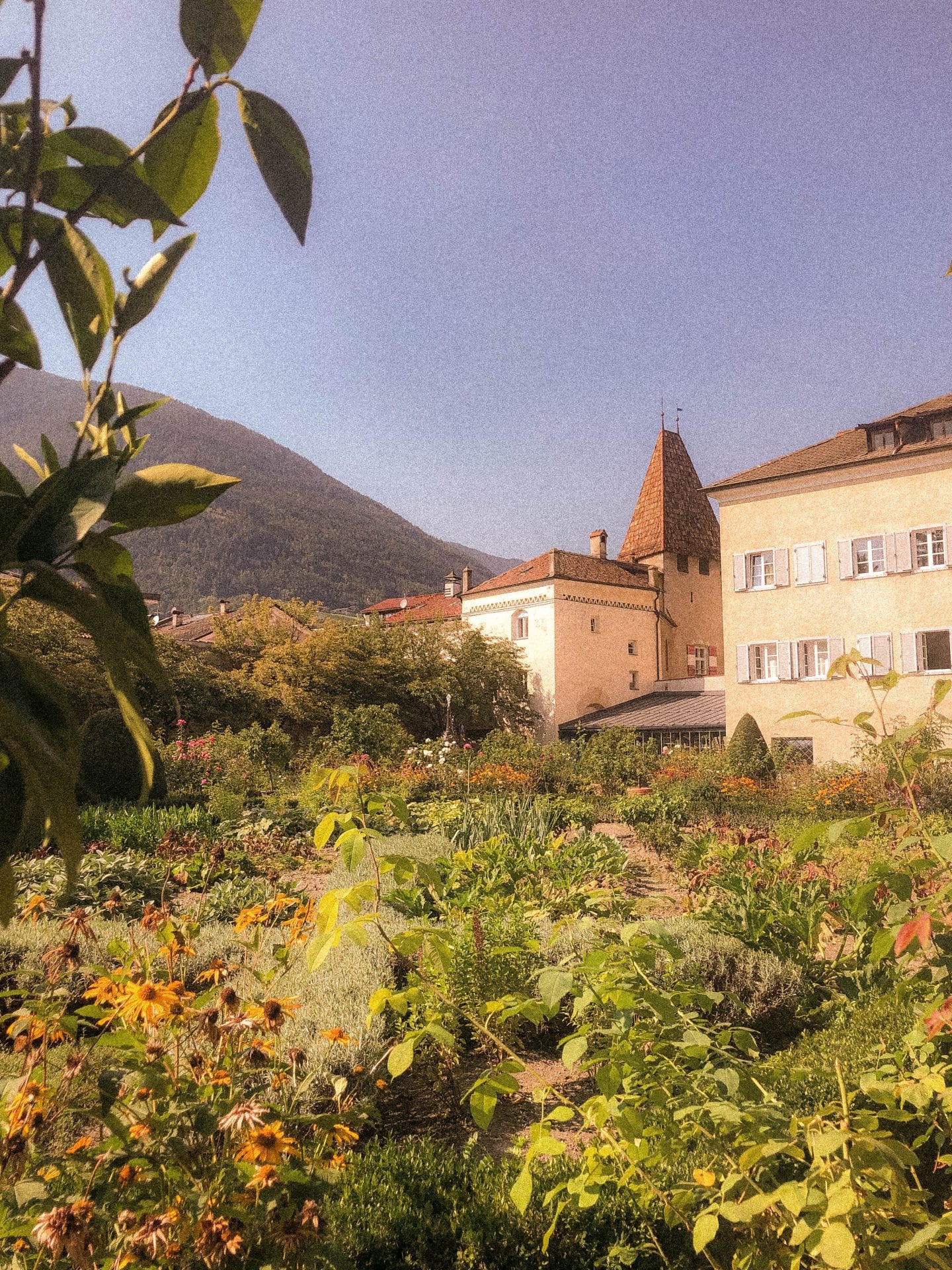 On the opposite side of the Diocesan Museum, accessible from Via Bastioni Minori, is an unassuming archway that transports you to a beautiful, open flower garden.
Hofgarten is the perfect place to take an afternoon pause. Because this is quite a rural and small town in Italy, it is common for shops to close in the afternoon and reopen in the evening. Hofgarten is a great place to spend your "sosta."
Stroll the gardens or sit put at one of the many benches. From fountains to flowers, this hidden oasis is one of my favorite finds for things to do in Bressanone.
Explore Little Alleys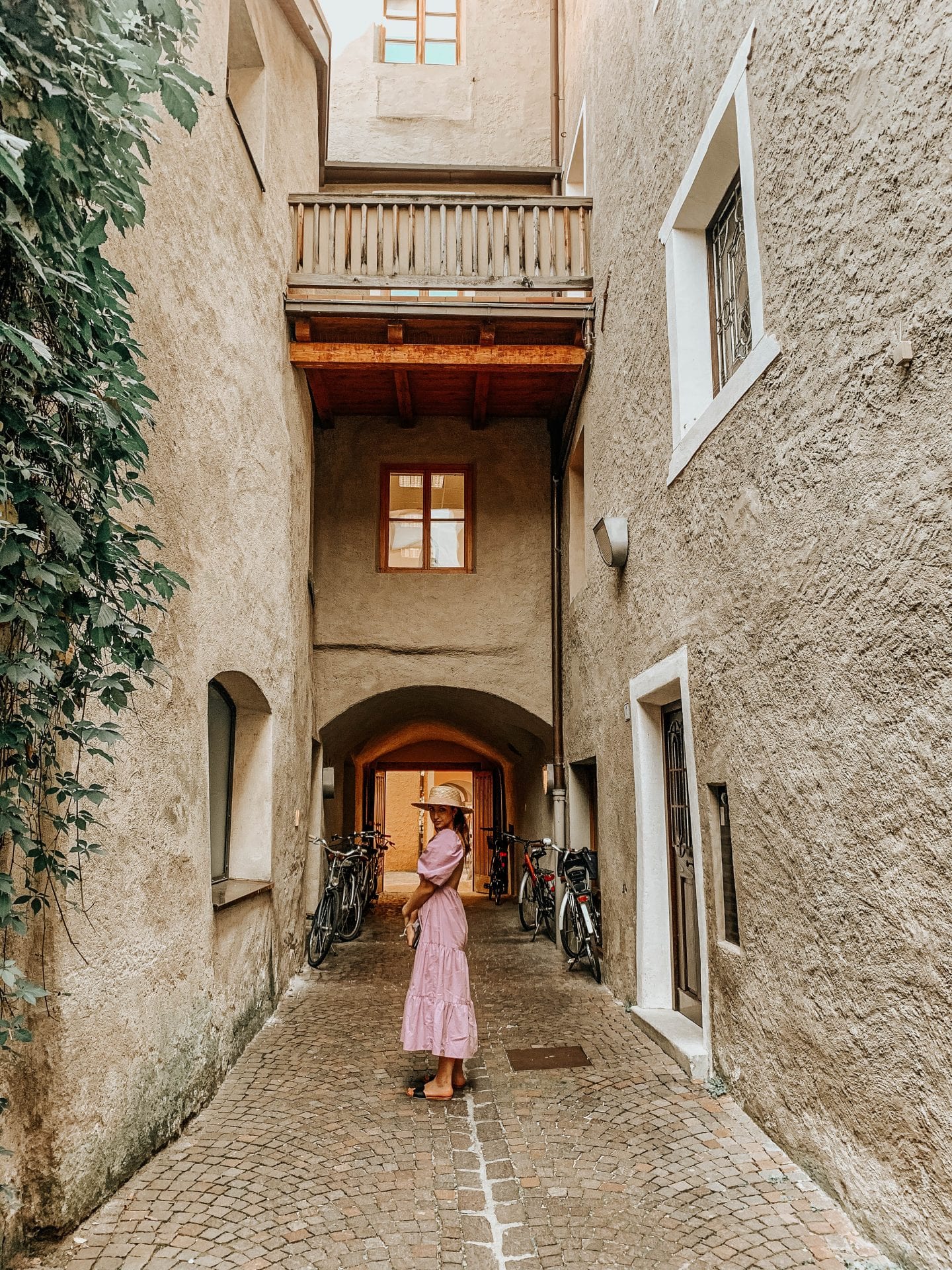 The center of Bressanone is not large, but it is a labyrinth of connecting passageways and alleys. It's incredibly fun to see where each of these alleys leads and find all the secret ways to return to the main square. It's one of the reasons this town feels so incredibly quaint and cozy.
Not to mention, these lonely passageways make the perfect spot for a photoshoot.
---
Shop on Portici Street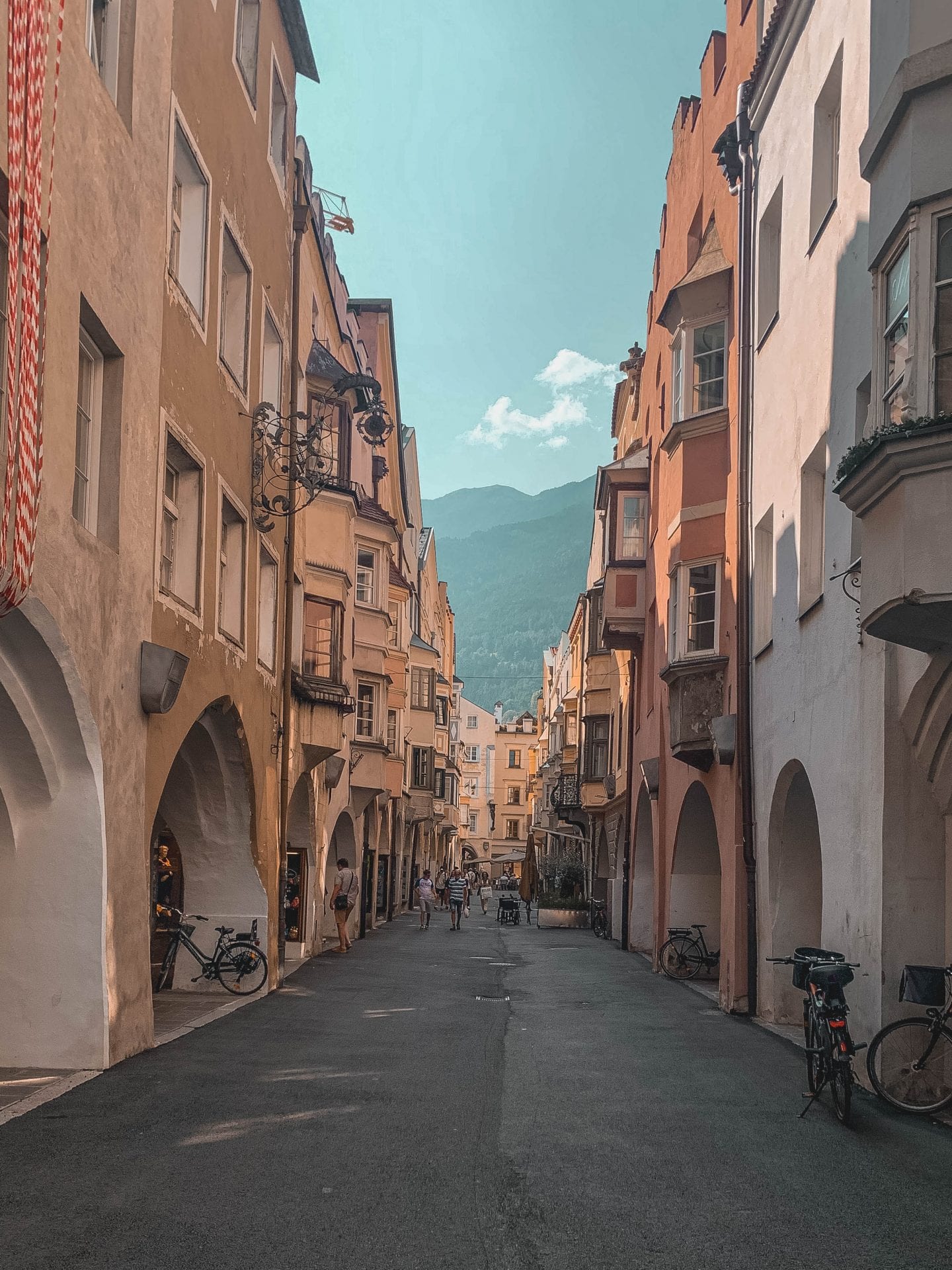 I don't know about you, but I can't go anywhere without doing a little bit of shopping. There are several boulevards in Bressanone and they are all within a few minutes walkin distance from each other.
The wonderful part about these shops is that a lot of them are unique boutiques that you won't find anywhere else. Because Bressanone is so north in Italy, quality winter goods are almost always available. Skiing in the area is also popular, so you'll find a lot of great sporting goods shops with specialty items.
---
Final Thoughts
Bressanone is a hidden gem town, so if it wasn't already on your radar, I hope it is now! Add it to your existing itinerary or make it a day trip – there are so many ways to enjoy Bressanone!
Share these beautiful spots on Pinterest!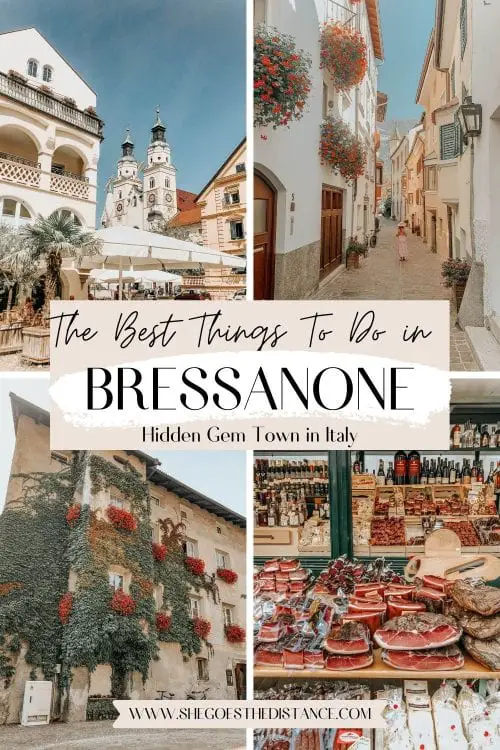 The pictures speak for themselves this quaint fairytale town is worth a visit! Leave a comment and let me know if you have ever heard of Bressanone (or if you're adding it to your Italy bucket list now!)
XOXO
Michela