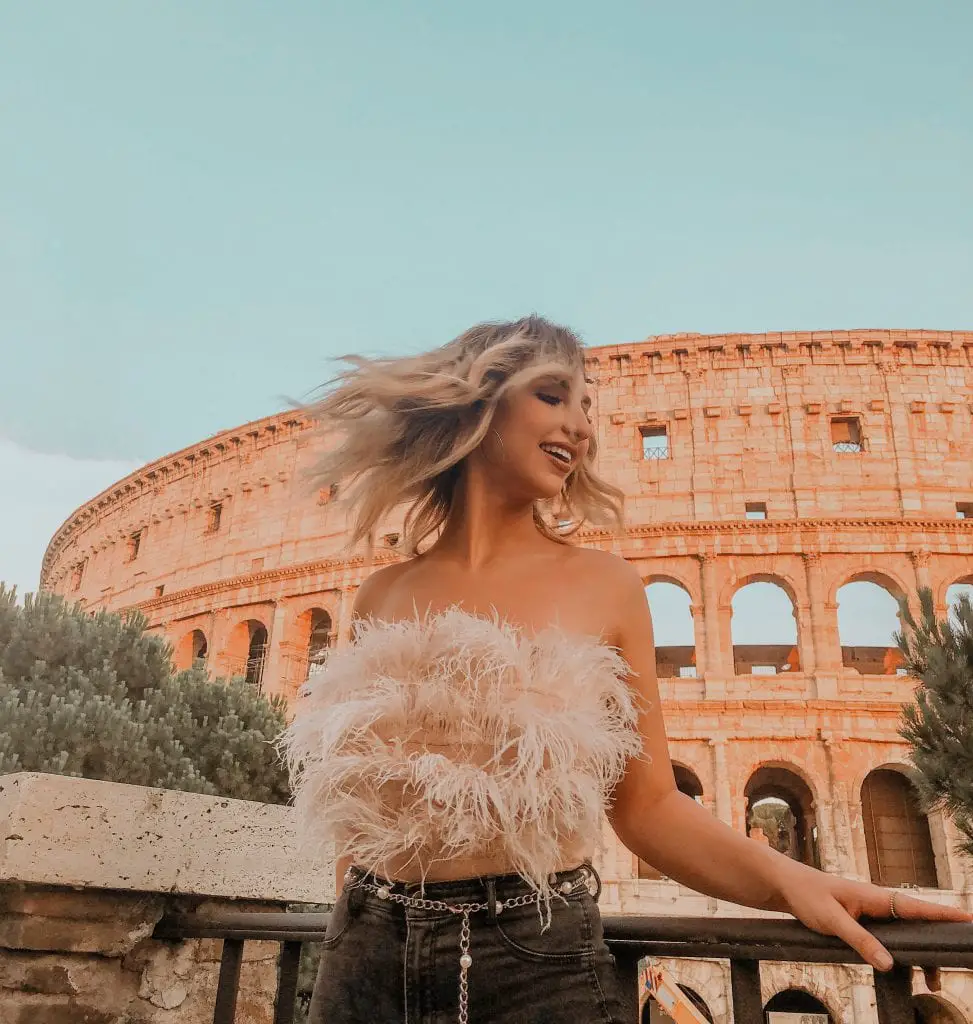 Last Updated on September 18, 2022
You've narrowed down your ideas for a girls trip and Italy is calling out to you! Now the big question is, where do you and your besties go for the best time? Thankfully, I've traveled up and down the peninsula to tell you the perfect places to host a girls trip that has the vibe you're going for. Discover the ultimate Italy girls trip destinations and plan your ideal getaway with ease using my top tips and location guide!
The beauty of Italy is in its variety of landscapes and blended cultures from the North to the South.
You can be skiing in the Alps one day and dipping your toes in Mediterranean waters on the Amalfi Coast the next!
It's the perfect place to plan a girls trip because it can cater to so many different groups of girlfriends.
Don't stop at just this guide to get the most out of planning your future trip to Italy!
I've created several posts dedicated to the logistics of traveling this beautiful country so you can see and do everything your heart desires. Jump over to my Ultimate Guide to Planning a Trip to Italy and read over my favorite Italy Train Travel Tips when considering your transportation.
And make sure you've packed everything for your getaway! This cute and helpful Italy packing list is a fun way for you & your girlfriends to get excited about your trip!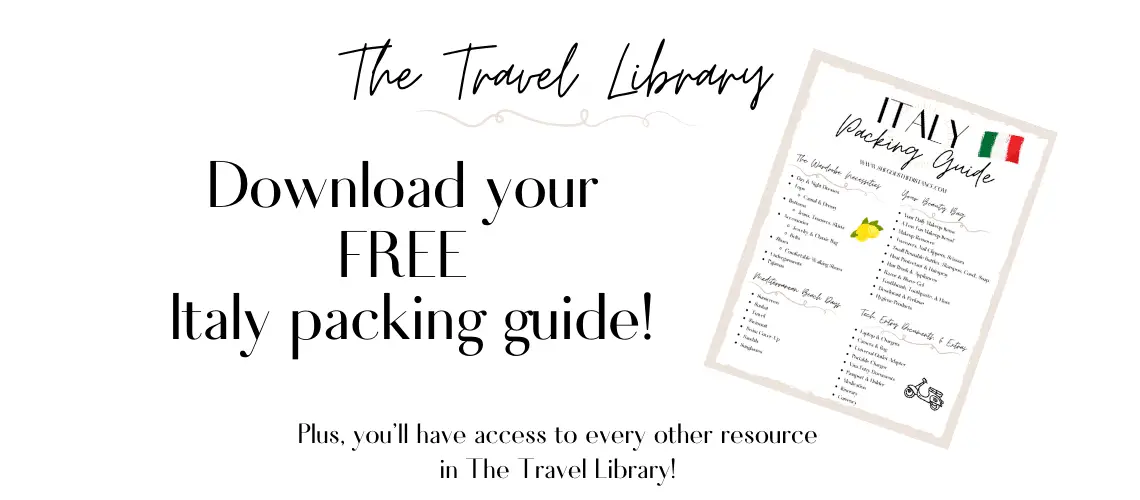 The Best Italy Girls Trip Destinations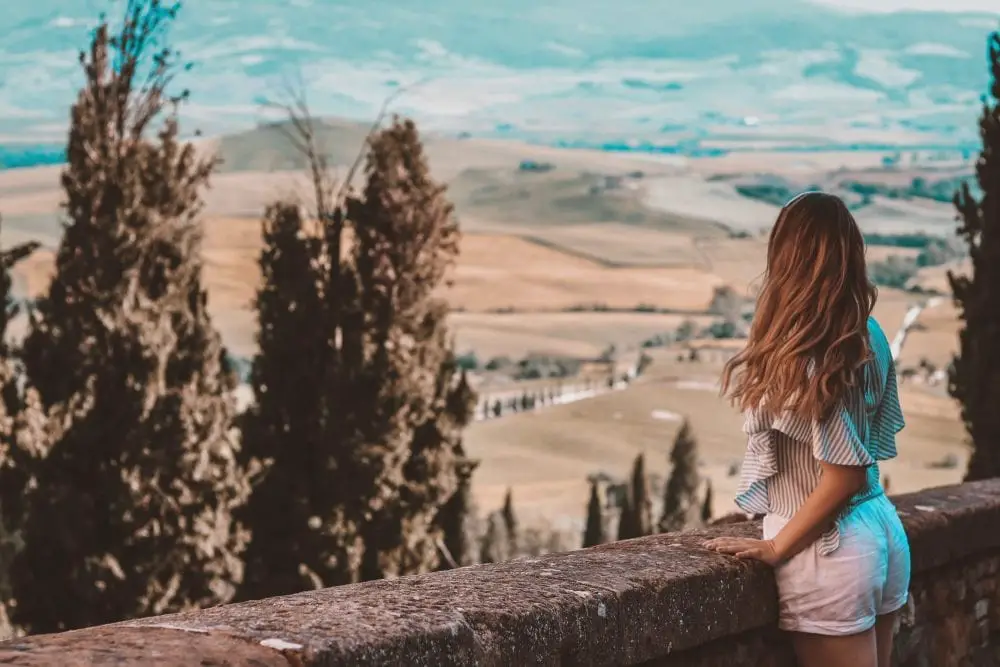 Wellness & Outdoors: The Dolomites
If you're after the most relaxing, energy-renewing retreat for you and your girlfriends, the Dolomites are where you need to be. One breath of the alpine air is an instant refresh and the beauty of the outdoors is oh-so-good for the soul.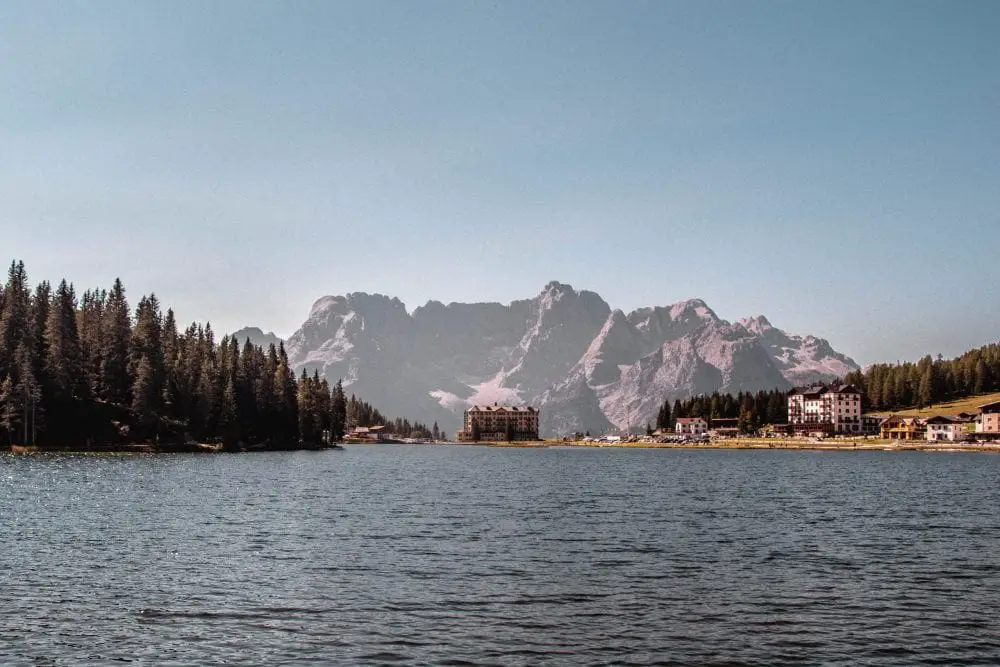 Where to Stay
The Dolomites offer lodging from small mountain-top cottages for hikers to the most luxurious five-star ski and wellness resorts in the world. Your budget and your priorities will help narrow down which is perfect for you.
I have a complete guide on where to stay in the Dolomites, but here are some of my top suggestions.
For hikers, consider Rifugio Auronzo near Tre Cime di Lavaredo, famous peaks to hike any time of year. For wellness lovers, consider something more luxurious like Hotel Hubertus or the new Forestis Dolomites that place emphasis on their spas and relaxation.
Girls who want to enjoy the outdoors but also take time to kick back and relax, consider resorts like Hotel Scherer that are mid-range in price, offer amenities and meals inclusive, plus dedicated relaxation space like a sauna and swimming pool.
What to Do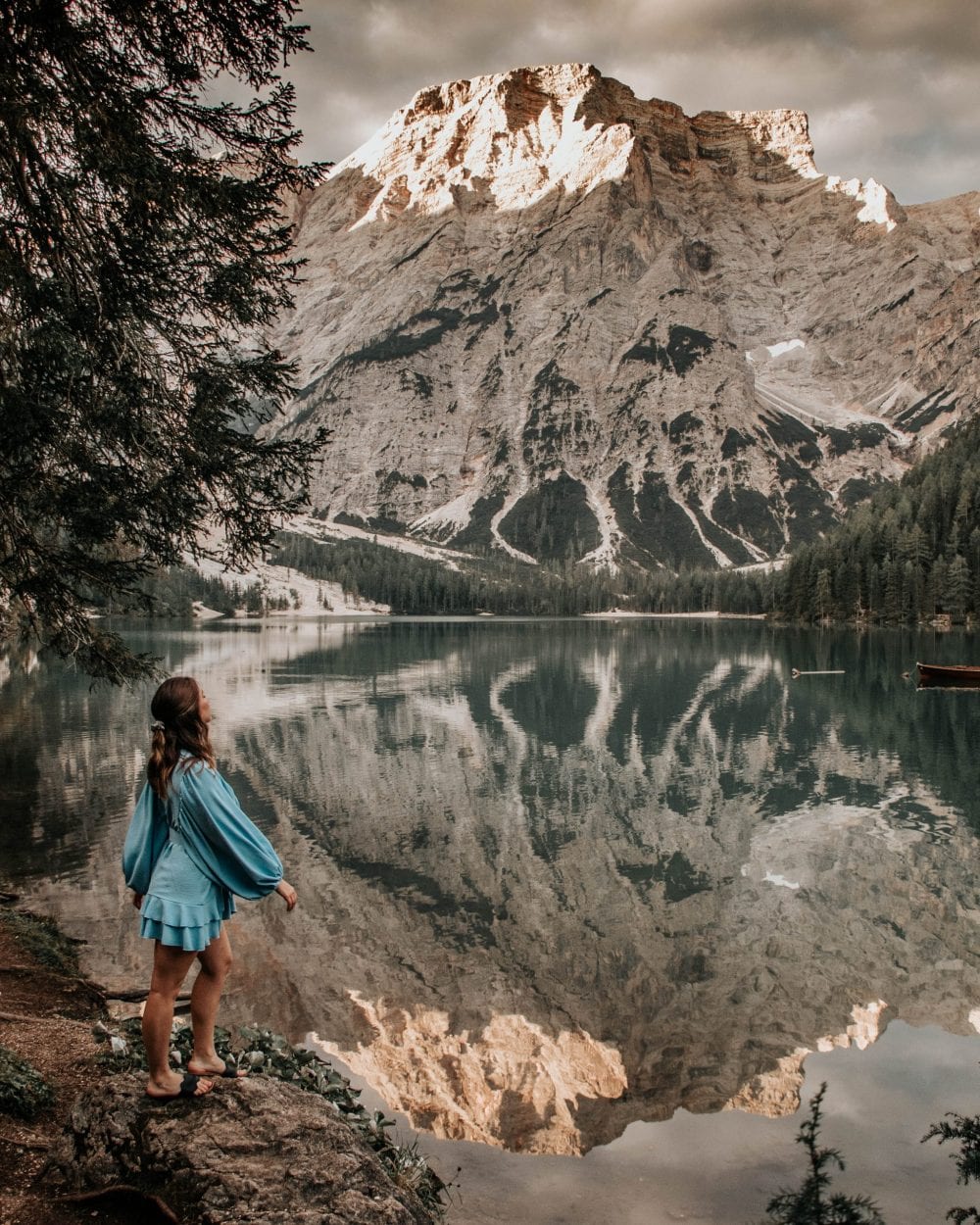 The Dolomites are full of stunning locations, perfect for your next Instagram pic or to make use of that polaroid you got for Christmas years ago and capture memories with your friends.
The most adventurous of your girlfriends can enjoy skiing, hiking, and adventure sports in the area (Cortina D'Ampezzo is a famous town for its ski resorts.) The laidback nature-lovers will enjoy lake strolls and tiny alpine towns like Val di Funes, Bressanone, or San Candido.
Read my other posts to get more details on what to do in the Dolomites if this sounds like the perfect spot for you and your girlfriends to get away:
---
Dreamy & Picturesque: Venice
If you girls are dying to tick the boxes of must-see Italy, then you have to go to Venice. Not only do you have endless options for your next Instagram post, but you'll also be experiencing one of the most unique cities in the world. While Venice's fate is in slippery hands, the liveliness and beauty of this geographical labyrinth of a city is more apparent than ever.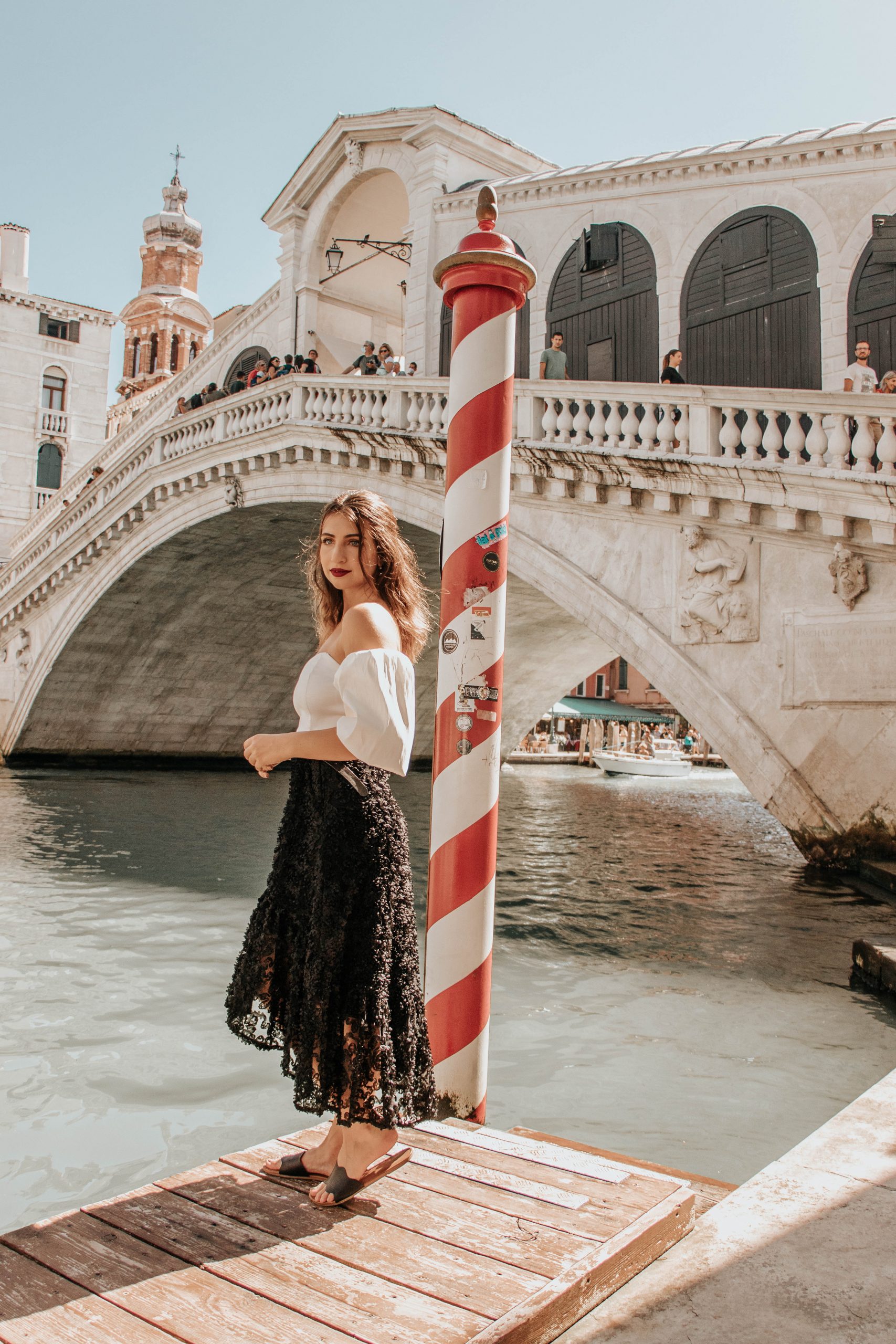 Where to Stay
The islands of Venice are fit very tightly, so a large group of girls may struggle to find an Airbnb or apartment large enough for the whole group to stay in. It may be better to opt for a hotel or stay on one of the outer islands, like Giudecca, to have more space for yourself.
It will also favor your budget to stay outside the center of San Marco, which is walking distance from any of the other nearby neighborhoods like Dorsoduro or Cannareggio.
What to Do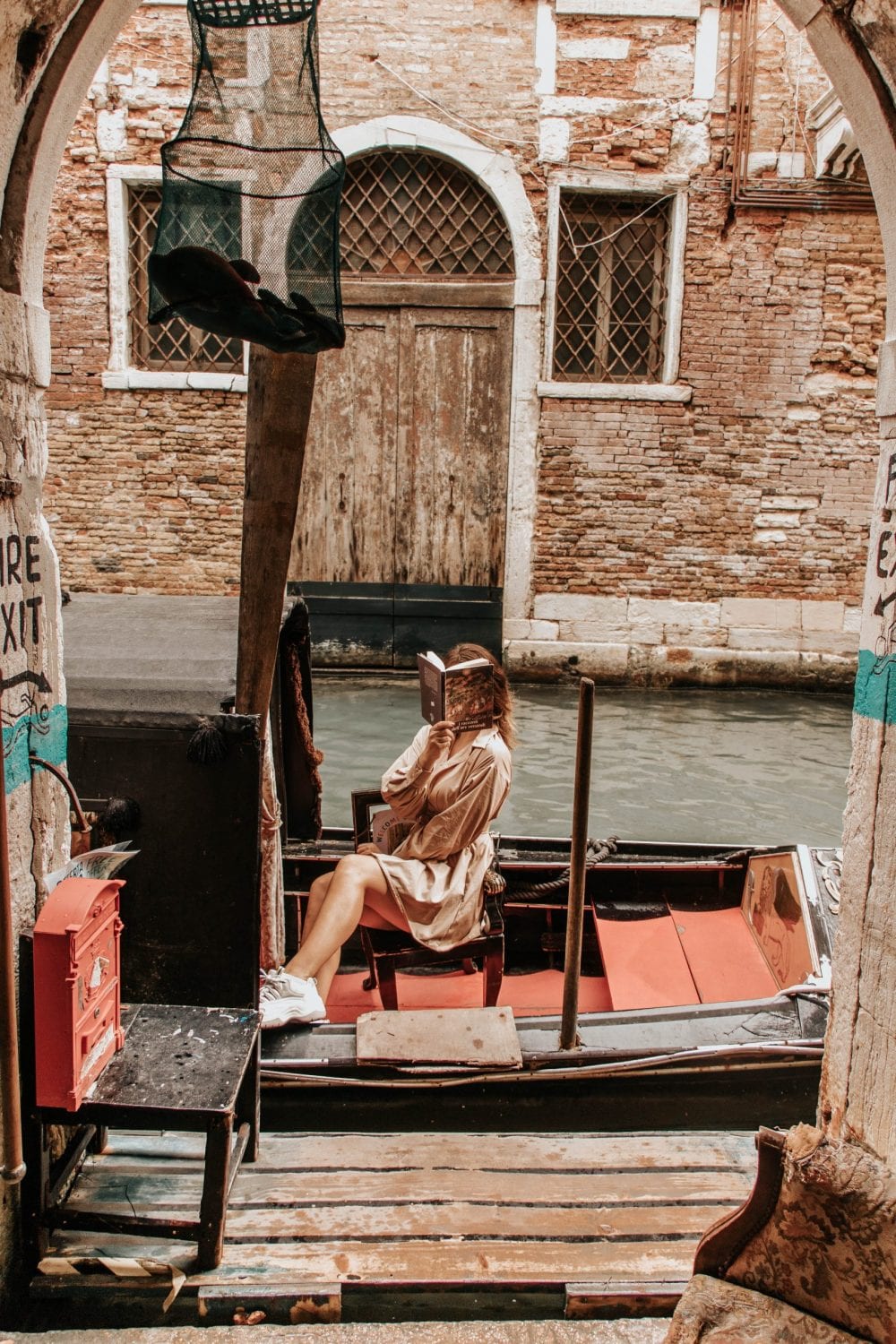 Besides your cliché (but worthy) gondola ride, Venice has much more to offer underneath its surface attractions. I have an entire post dedicated to unique things to do in Venice that will spice up any future girl's trip.
Some of my favorites from that list are a rooftop terrace, visiting the outer islands of Burano and Murano, and the royal gardens.
---
Rustic Charm & Wine Indulgence: Tuscany & Umbria
Girlfriends looking for a relaxing retreat but are not the mountain types should skip the Dolomites and head to the idyllic region of Tuscany. Almost every hillside town comes with picturesque views of the seemingly never-ending valleys. To top that, everyone knows Tuscany is world-famous in wine-making, so cheers to this being one of the best Italy girls trip destinations.
Nearby, the region of Umbria echoes some of Tuscany's beauty with its peaceful hills and charming villas. Make it your countryside escape and enjoy the quiet luxury.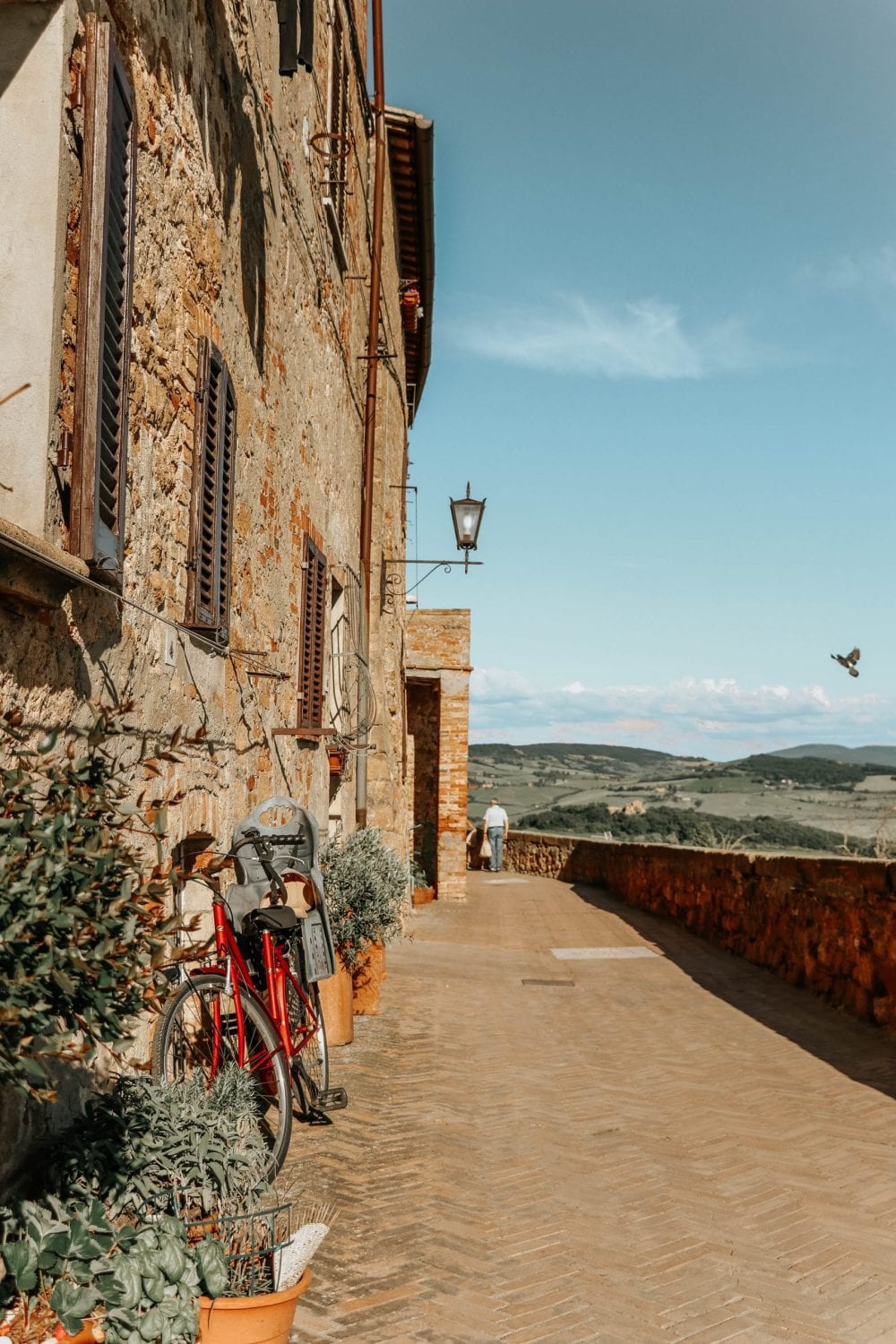 Where to Stay
Choosing where to stay in Tuscany and Umbria can be overwhelming – we are talking about two entire regions after all. However, it's overwhelming more so because of all the incredible retreats and agriturismo stays on offer. The babes that vacation here are looking to live the slow life and enjoy a relaxing, quiet escape.
Agriturismo is what Italians call farm stays. They are charming locales where you can experience local life and an authentic take on Italian culture. (Don't worry, you won't actually be working on the farm.) Some are more expensive than others, but if split between your girlfriends, you can even get away with the pricier agriturismo like stunning Villa Cozzano.
If you are all seeking a bit more refinement, luxe villas are on offer in the countryside. You may have seen their photos popping up on Instagram, but these villas offer quiet luxury and are refreshing for the soul. Villa Chiara is one of these stunning luxury stays and comes with a smaller price tag than you may assume. If your friends' happiness is priceless, then Villa Bordeaux is the ultimate five-star villa stay.
What to Do
Creating a litany of things to do in these regions seems hypocritical, as the entire atmosphere begs you to relish in its natural beauty and peacefulness.
But for those who can't sit still, even on a relaxing retreat, there is plenty to see and explore. From any part of the regions, you are not far from Florence, so a day trip there is a must. In the same breath, you are also near countless gorgeous hillside towns with ancient Etruscan history to appreciate, like Pienza, Lucca, and Siena.
If you're making Florence your home base, discover my guide to 2 days in Florence and the best Tuscan towns to visit as a day trip.
Being one of the most famous regions of Italian wine, visiting a vineyard is a must. I've personally visited Castello di Verrazzano, however, these fattorie are almost everywhere you turn.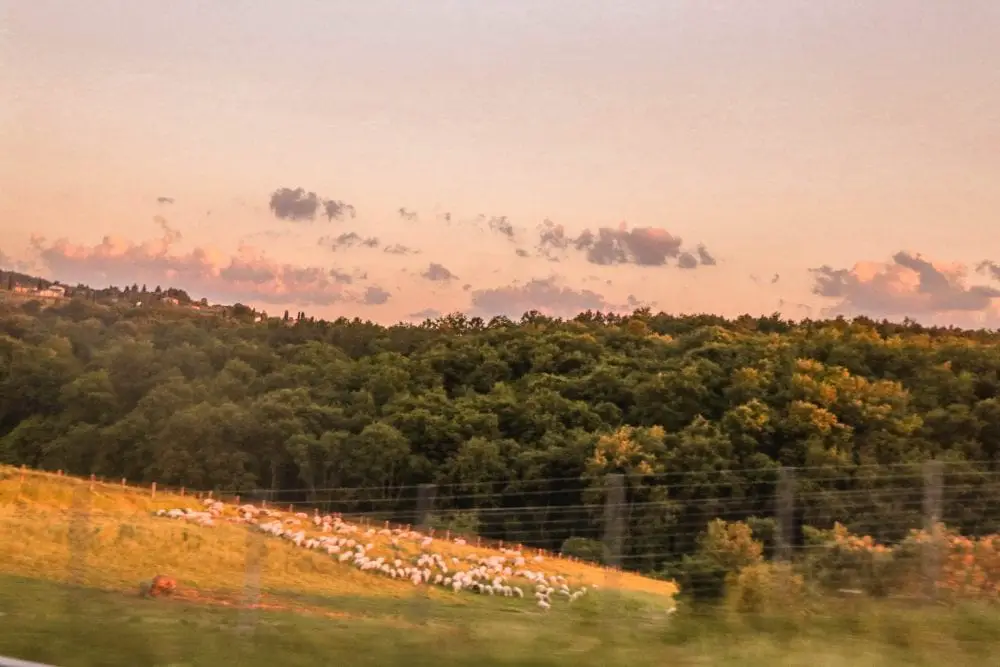 ---
Fast-Paced La Dolce Vita: Rome
I can't skip Rome if I'm talking about Italy girls trip destinations. The city has been immortalized in countless classic and romantic movies, marking it a city where you and all of your girlfriends can live out your own "la dolce vita."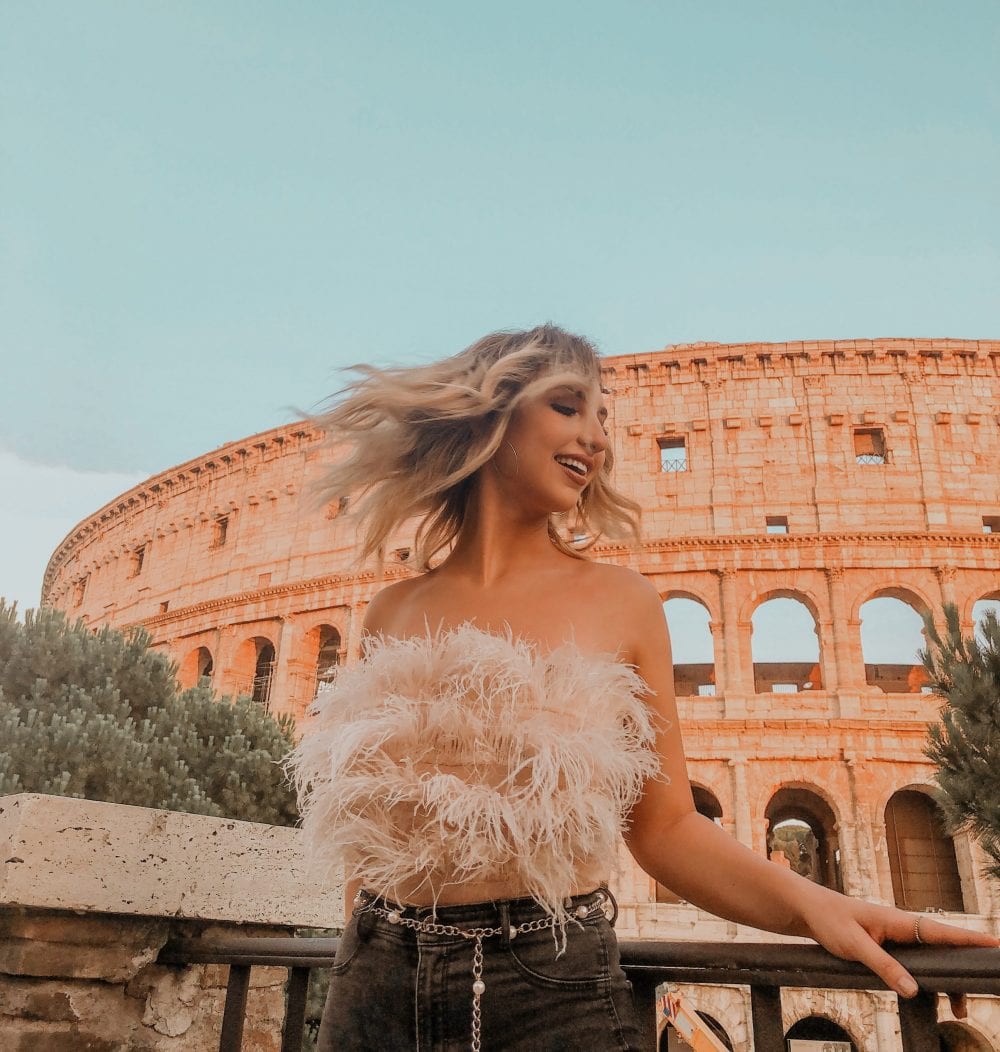 Where to Stay
Rome can be the most flexible city of all to stay in. Because it is the largest, there are infinite options. Some neighborhoods are nicer than others, but you can be picky if your budget allows.
If you're opting for an apartment rental or mid-range hotel, opt for the historic and charming neighborhood of Trastevere. It is a favorite of visitors and locals alike.
What to Do
Rome is the grandest city in all of Italy. There are many areas to explore from the eclectic neighborhood of Trastevere to the centuries-old Vatican City. Must-dos on my list are the traditional tourist boxes to tick – the Coliseum, the Trevi Fountain, the Spanish Steps.
From there, I suggest roaming the center freely and diving into the heart of Italy!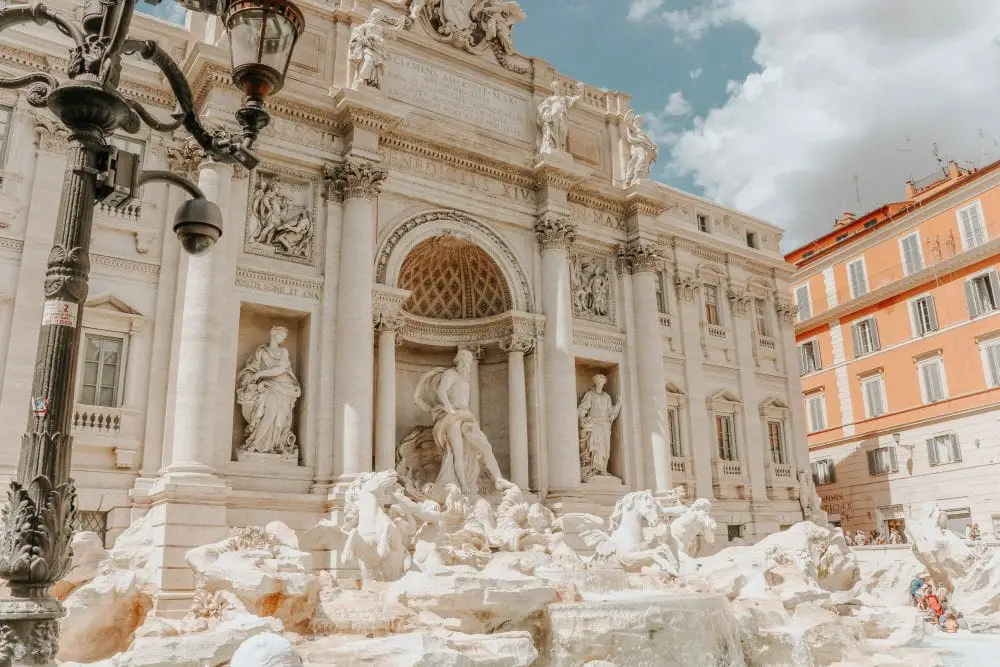 ---
Beach Babes: Amalfi Coast
The Amalfi Coast is no doubt on everyone's bucket list. Picturesque villages delicately stack their houses atop grand, imposing cliffs looking over the endless Mediterranean sea.
How beautiful does that sound? It's the ultimate Italy girls trip for those who love the beach and want to live in a bit of luxury.
If you are planning a getaway to Italy in summer, the Amalfi Coast is the place to go!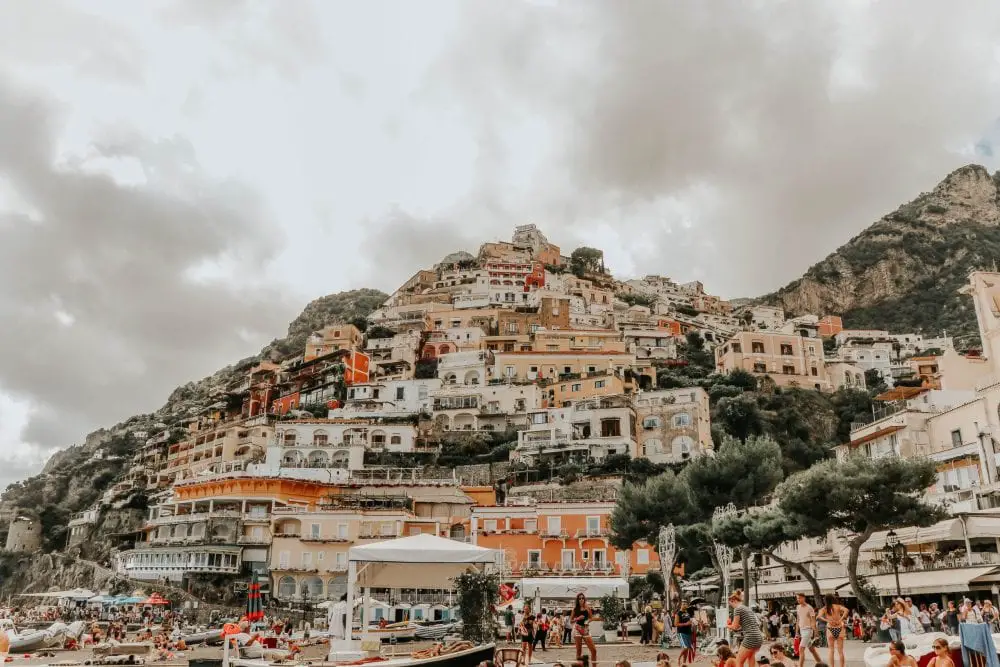 Where to Stay
I mention luxury, but that doesn't mean you have to break the bank to stay on the Amalfi Coast.
Discover nearby towns and have an incredible experience taking a boat to the famous towns of Positano and Amalfi. Villaggio Nettuno's colorful bungalows are hugged by mountains overlooking a sea inlet marina, and come with a much cheaper price tag than stays in the famous cities.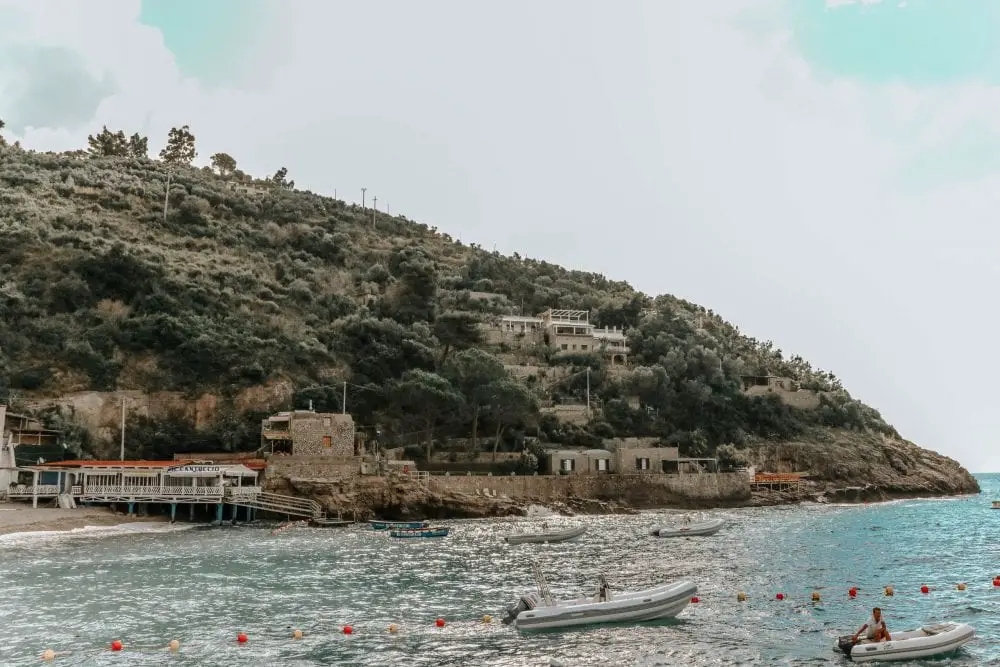 But if you're thinking of going all-out on luxury for this trip of a lifetime, I don't blame you. The coast is littered with five-star resorts with incredible views. Consider Caruso, A Belmond Hotel in Ravello, Hotel Covo dei Saraceni in Positano or Santa Caterina Hotel in Amalfi. These are high-end and promise stunning views and upscale services.
If you're skipping resorts and want a more private stay, villas like this Conca dei Marini in Amalfi are truly incredible (and sleeps up to 12!)
For middle-ground budget stays, I would suggest searching Airbnbs. You're more likely to find a space with a nice view or great location for much less money than a stay at one of those premier resorts.
What to Do
There are so many things to do at this Italy girls trip destination that within itself can appeal to so many different types of friends.
Some cool examples of what you could (and must!) do on the Amalfi Coast are:
Swim on the Beach in Positano – Rent beach chairs so you can avoid the small and crowded public beach!
Visit the Blue Grotto & Island of Capri
Taste famous Amalfi Lemons & Shop in the Amalfi town center
Party at Africana – A famous club made from a cave in the town of Praiano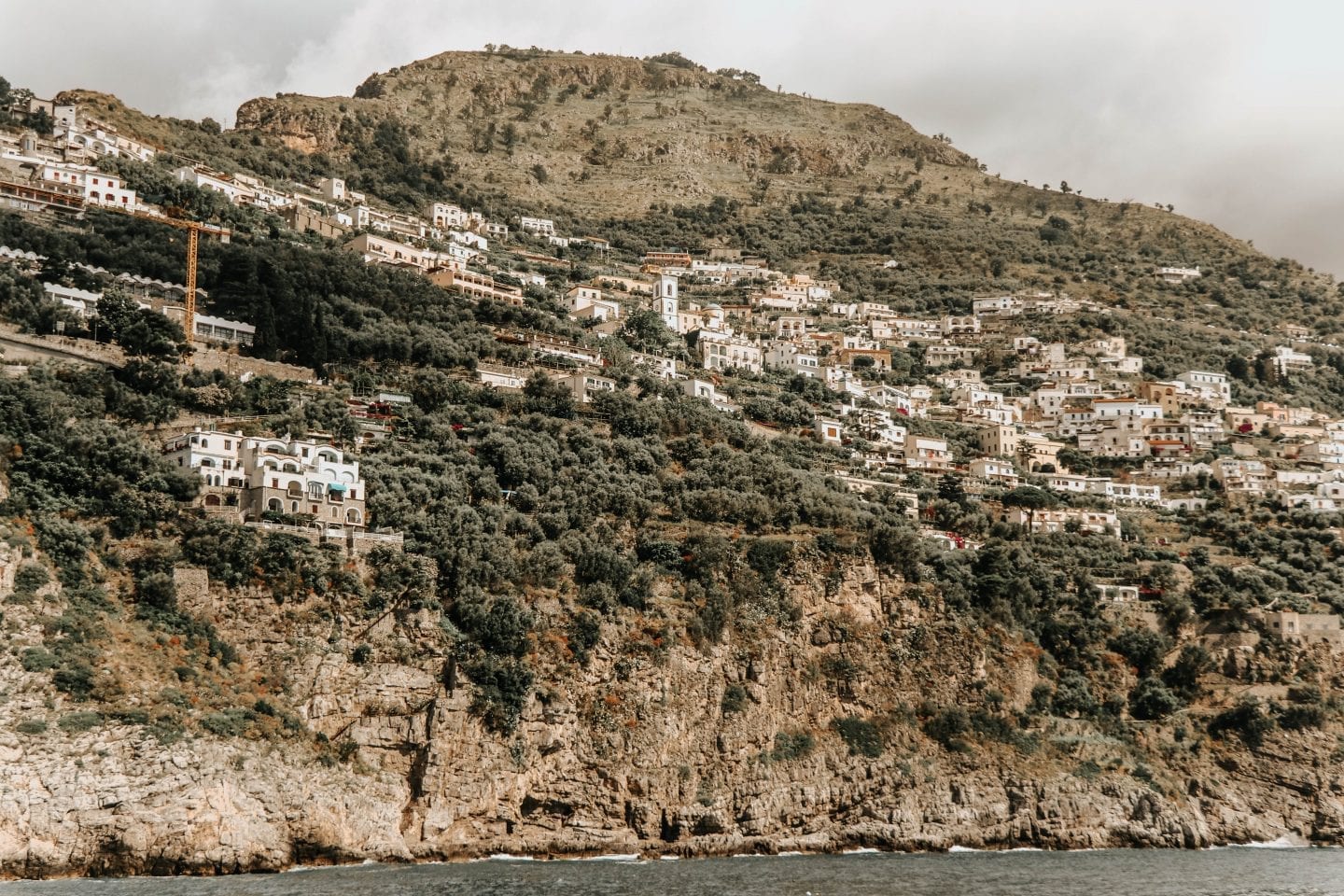 ---
Island Life: Sicily
When you're beginning to think of potential Italy girls trip destinations for you and your gals, I'm sure Sicily doesn't come to the top of your mind. That's because to foreigners, it's not the most famous or attractive place to see in Italy. Or, so you thought.
The reality is, Europeans from all over the continent flock to this southern gem for summer break. The island is homely and peaceful while offering some of the most stunning beaches and coves in the Med.
Discover more reasons to visit Sicily in my in-depth guide.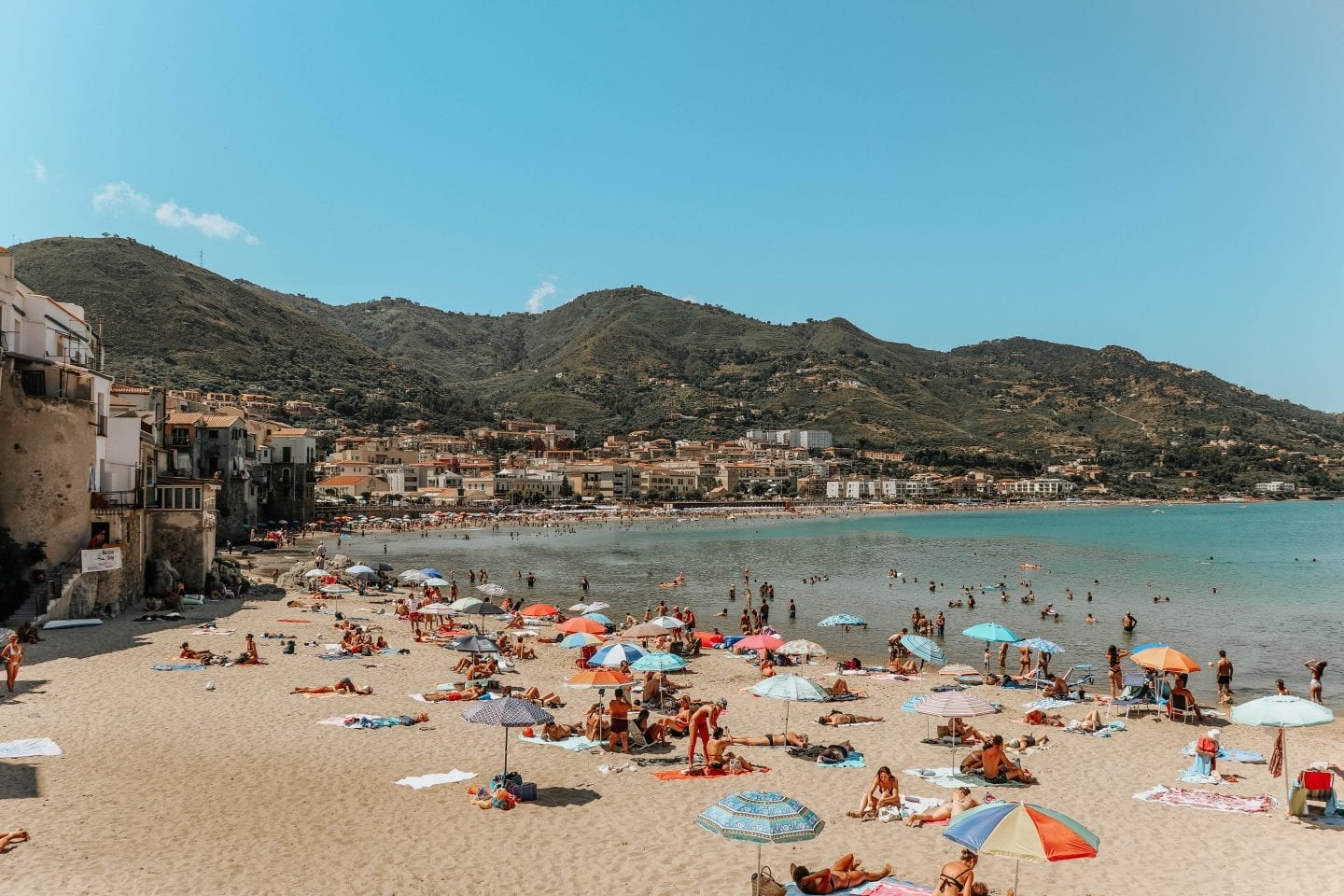 Where to Stay
Sicily is small enough of an island that you can tour around the whole thing in less than a week. Where you stay will depend most on what you want to see. For me, Sicily's highlights are its beaches, small towns, and geographical wonder, Mt. Etna.
Ideal vacation spots are Taormina, tucked in the shadow of Mt. Etna and perched upon the striking blue water of the Med. On the west side of the island, Trapani is an attractive city that's not far from Palermo if you're seeking a cultural day trip and desire to be right on the beautiful water.
To the north, Cefalu is my favorite seaside town to explore – narrow pathways below the cliffs lead to grand vistas of the sea. To the south, characteristic towns like Noto and Siracusa are idyllic and, again, not far from the sea.
What to Do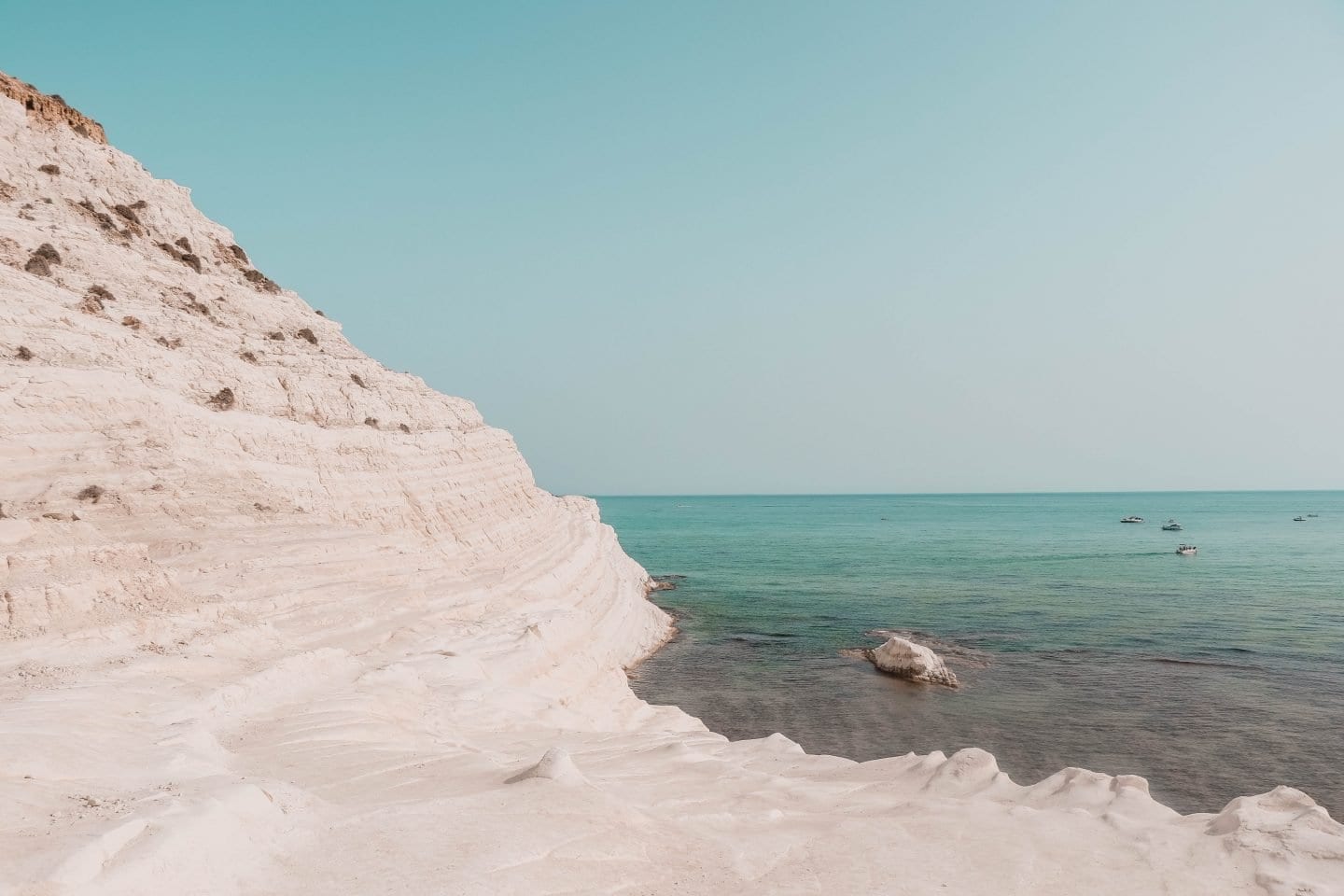 Besides the beach, Sicily has some of the most interesting spots to see due to its significant location throughout history.
Sicily is an island of conquest – it has passed through the hands of many territorial groups and has been under the thumb of several foreign reigns. From the Normans to the Muslims to the Greek, this is reflected in much of its blended architecture.
Agrigento is notable for the Valle Dei Templi, the best-preserved site of ancient Greek Temples. It is also near to La Scala Dei Turchi or "Stair of the Turks," a natural wonder of cascading sedimentary rock symbolizing the encroachment of the Turks entering the island from its southern coast centuries ago.
Check out my pocket guide to visiting La Scala dei Turchi if those dreamy white cliffs are calling out to you!
As I mentioned, Mt. Etna is also a significant site in Sicily as it's the highest volcano in Europe and one of the world's most active. You can hike the volcano for a truly unique experience.
---
Final Thoughts
In the end, you can't go wrong by picking any of these Italy girls trip destinations over the other. If you have the budget and time, you can even pick and choose a few!
It's what makes Italy a great country for a girls trip – the transportation and geographical diversity allows you to see so much and can be customized to your group of friends' individual desires of the perfect getaway.
Italy Trip Planning Resources
Share these Italy girls trip ideas on Pinterest!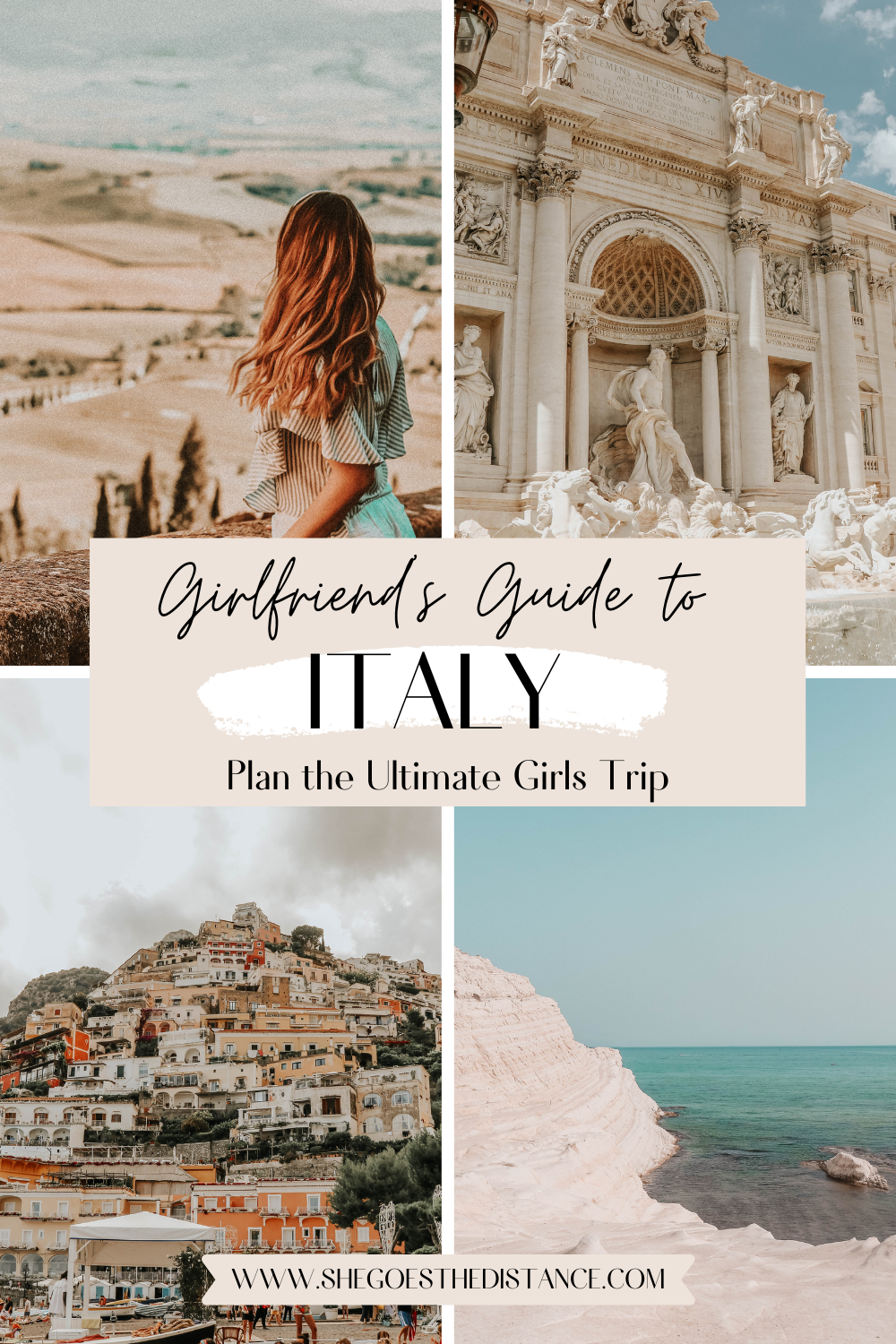 A girls trip is a bucket list item – why not cross two off by doing it in dreamy Italy? Don't wait any longer and get your girls together to start planning!
XOXO
Michela