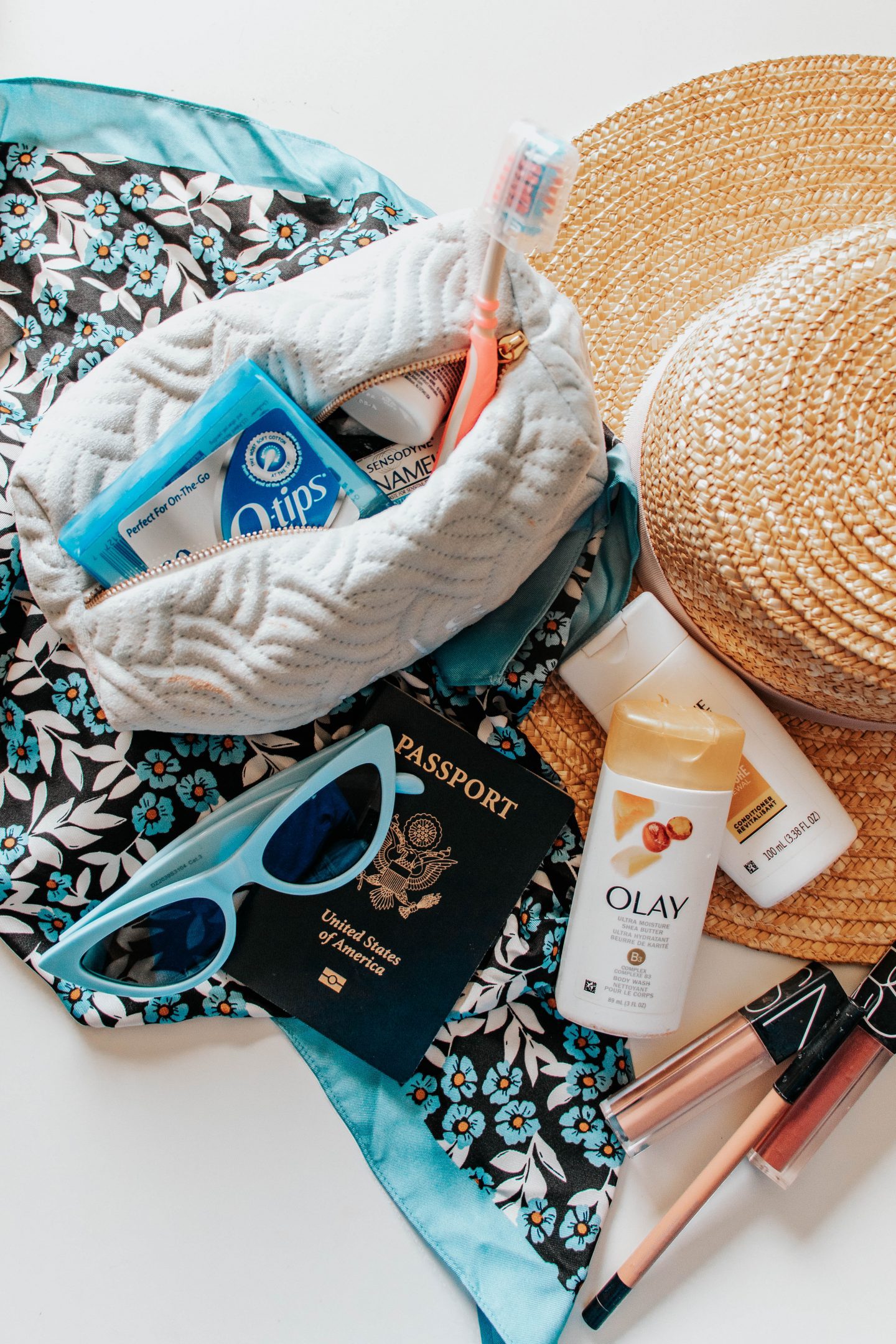 Last Updated on February 22, 2022
Packing toiletries is usually left to the last minute, meaning it's often one of the packing categories where we can easily forget to grab something before we head out the door and on our adventure. A thorough toiletries packing list is one of the most important packing lists you'll need when preparing for a trip!
Toiletries can be anything from body soap to makeup to tweezers. It can be a struggle balancing the toiletries you must bring and not taking up too much valuable space in your suitcase!
This toiletry packing list covers a bunch of travel essentials for women, so you're not left looking for that one thing you forgot to pack. Plus, I'm sharing my favorite packing tips and accessories to make organizing so many tiny, liquid items a streamlined, easy task!
Some of these links are affiliate links. This means if you make a purchase through that link, I receive a small commission at no extra cost to you. Read my full disclosure!
Make your life easier by downloading the printable travel toiletries checklist version of this post! Simply check off your toiletry packing to-dos so you don't miss a thing.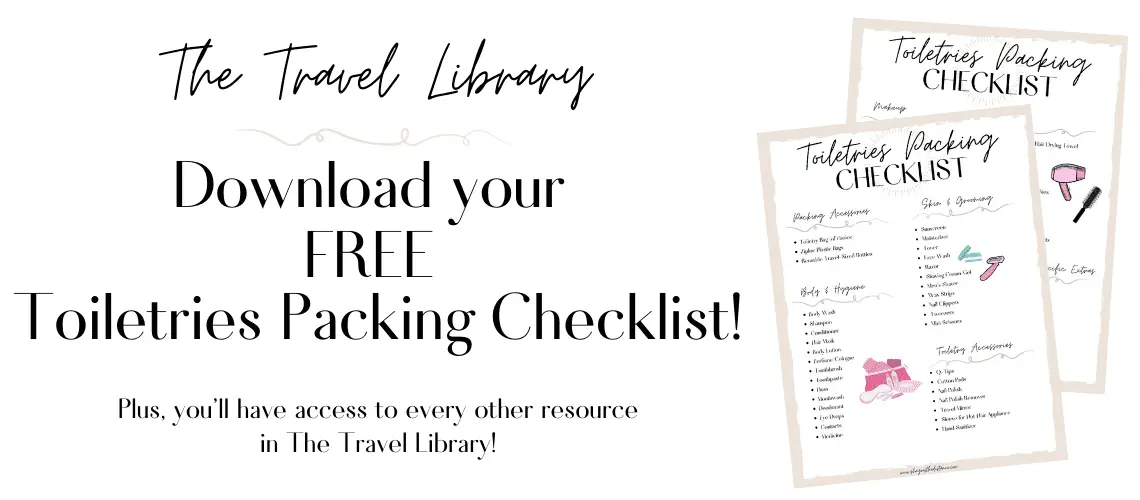 ---
Travel Tips for Packing Toiletries
Stick to travel size toiletries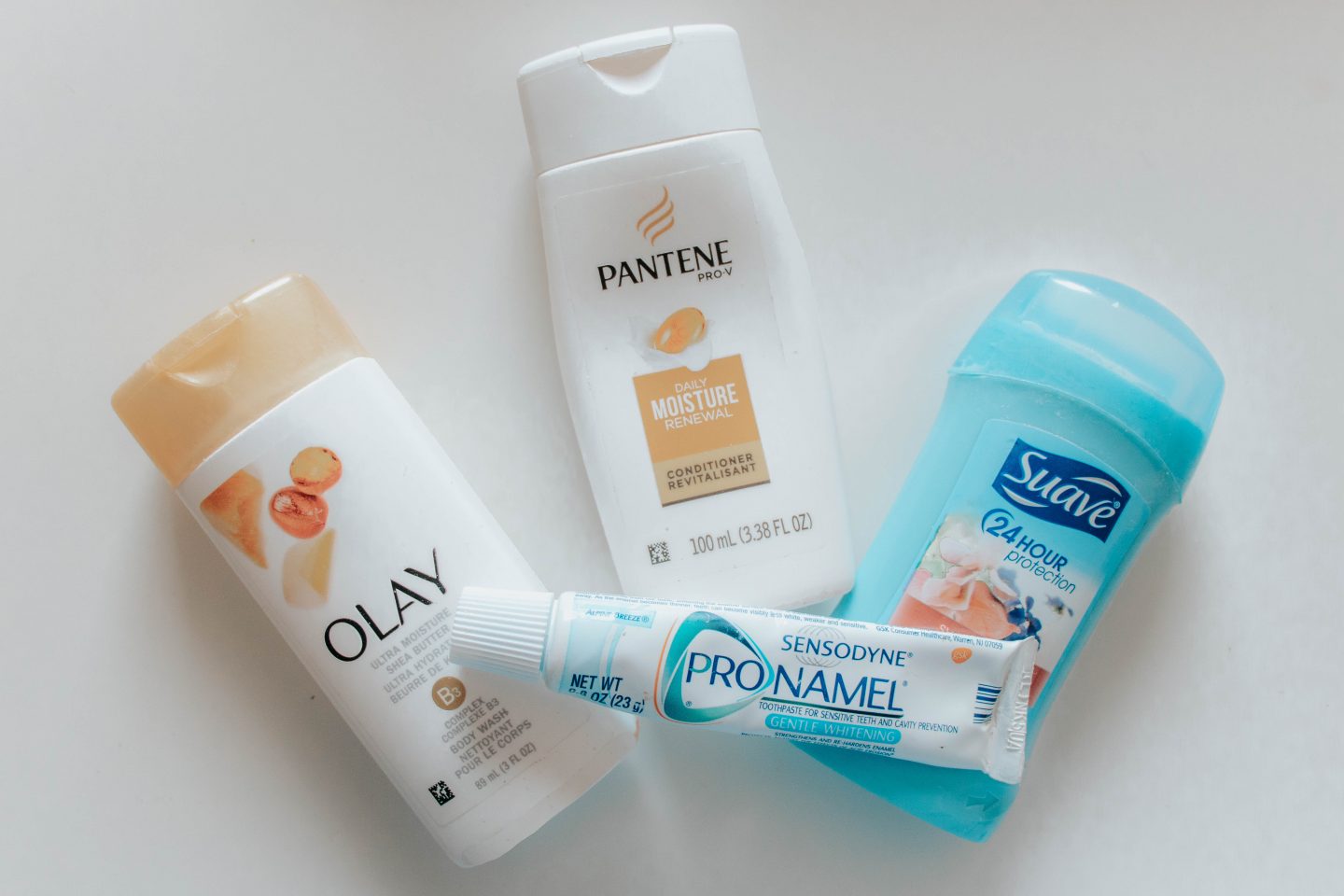 Even if you will be traveling for an extended period of time, the extra weight in your suitcase is not worth adding on. You risk paying expensive baggage fees when you could be using the space more effectively in your suitcase.
Pack enough of your essential toiletries to get you through at least a few days to a week of travel and make plans to visit a local grocery store or pharmacy to buy full-size bottles if necessary.
Utilize baggies that can be zipped tight and layer with towels
Save the plastic grocery bag to wrap around your shoes, but not your toiletry products. There can be tiny holes you don't see and if one of your bottles decides to pop, you'll have a complete mess left in your suitcase.
Opt for zip-tight toiletry bags and wrap them in a light towel just in case you have a messy emergency.
Fill up reusable bottles
One way to save money and be a sustainable traveler is to purchase inexpensive, reusable toiletry bottles. You can portion your shampoo, body wash, and any other liquids for your upcoming trip and keep reusing them for future travels.
Don't fill your bottles to the very top to avoid leakage!
Keep toiletries in your carry-on accessible to take out for security
You can take liquid toiletries in your carry-on bag as long as they are the TSA approved amount of less than 3.4 fl oz and they are kept in a plastic bag.
Keep this bag near the top of your packed carry-on so you can easily reach it when going through security.
Only pack what you need
Travel with multi-use products and check with your accommodation beforehand if they have items like soap, shampoo, and conditioner to avoid adding extra weight and risk of spill to your suitcase!
More tips are sprinkled throughout this toiletries list, plus my top picks for toiletry accessories to make packing those tiny items an organizational breeze!
---
Toiletries Packing List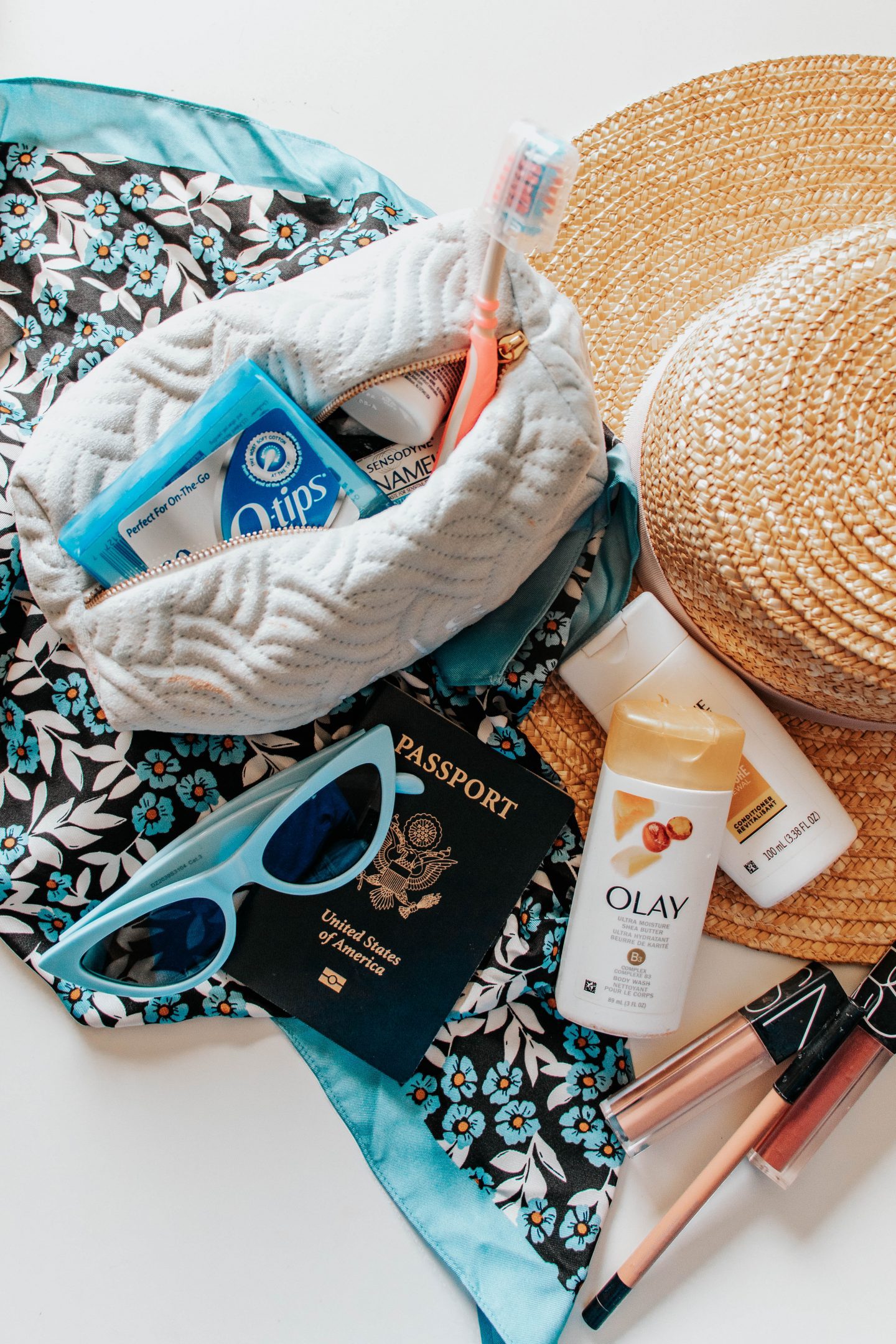 Having a toiletries list for packing is essential – they are one of the easiest categories where we forget to pack something.
Not everyone's toiletry needs for a trip will be the same, so use this packing list as a universal tool and customize it where possible to your trip needs.
In addition to this list, I always recommend checking out the app PackPoint that can curate packing lists specific to your destination.
To be even more helpful, I'll be linking specific items where I have a useful and worthy recommendation of a product that I myself use on every trip!
Body & Hygiene
Body Wash
Shampoo
Conditioner
Hair Mask
Body Lotion
Perfume/Cologne
Toothbrush
Toothpaste
Floss
Mouthwash
Deodorant
Eye Drops
Contacts
Medicine
Pro Tip: Always pack prescriptions with you in your carry-on!
Skin & Grooming
Sunscreen
Moisturizer
Toner
Face Wash
Razor
Shaving Cream/Gel
Men's Shaver
Wax Strips
Nail Clippers
Tweezers
Mini Scissors
Hair
Turbie Twist Hair Drying Towel – I can't live without this product – both when I travel and in daily life!
Curling Iron
Straightener
Hairbrush
Comb
Hair Ties/Scrunchies
Bobby Pins
Hair Gel
Hairspray
Dry Shampoo
Other Styling Products
Pro Tip: Always make sure you have a universal outlet adapter for your hair appliances. Also, check your destination's power voltage in advance. For example, US hair appliances have a higher voltage than outlet plugs in Italy, meaning plugging in your curling iron could knock out the power of your room!
Makeup
Powder
Foundation
Concealer
Bronzer/Contour
Blush
Highlighter
Eyebrow Pencil/Gel
Eyeshadow
Mascara
Eyeliner
Lip Liner
Lipgloss
Lipstick
Lip Balm
Setting Spray
Primer
Makeup Removal
Pro Tip: Leave messy makeup products behind. Loose powders and eyeshadow pigments, for example, are going to leave you with a mess to clean up and will only frustrate you in the end while you travel. The name of the game when traveling with makeup is convenience – not necessarily beauty!
Toiletries Accessories
Q-Tips
Cotton Pads
Nail Polish
Nail Polish Remover
Hand Sanitizer
Feminine Hygiene
Tampons
Pads
Liners
Carrying Pouch
Nice-To-Haves & Destination Specific Items
Bug Spray
Bug Bite Anti-Itch
Aloe/After-Sun
First Aid Kit

Band-Aids
Ibuprofen
Neosporin
---
Best Toiletry Bags & Dopp Kits
A toiletries packing list is only as effective as what you pack your toiletries in. Here are my top recommendations for various toiletry packing solutions.
Most of these items are available on Amazon, making them affordable and able to be quickly delivered if you're packing last minute!
Best Makeup Travel Organizer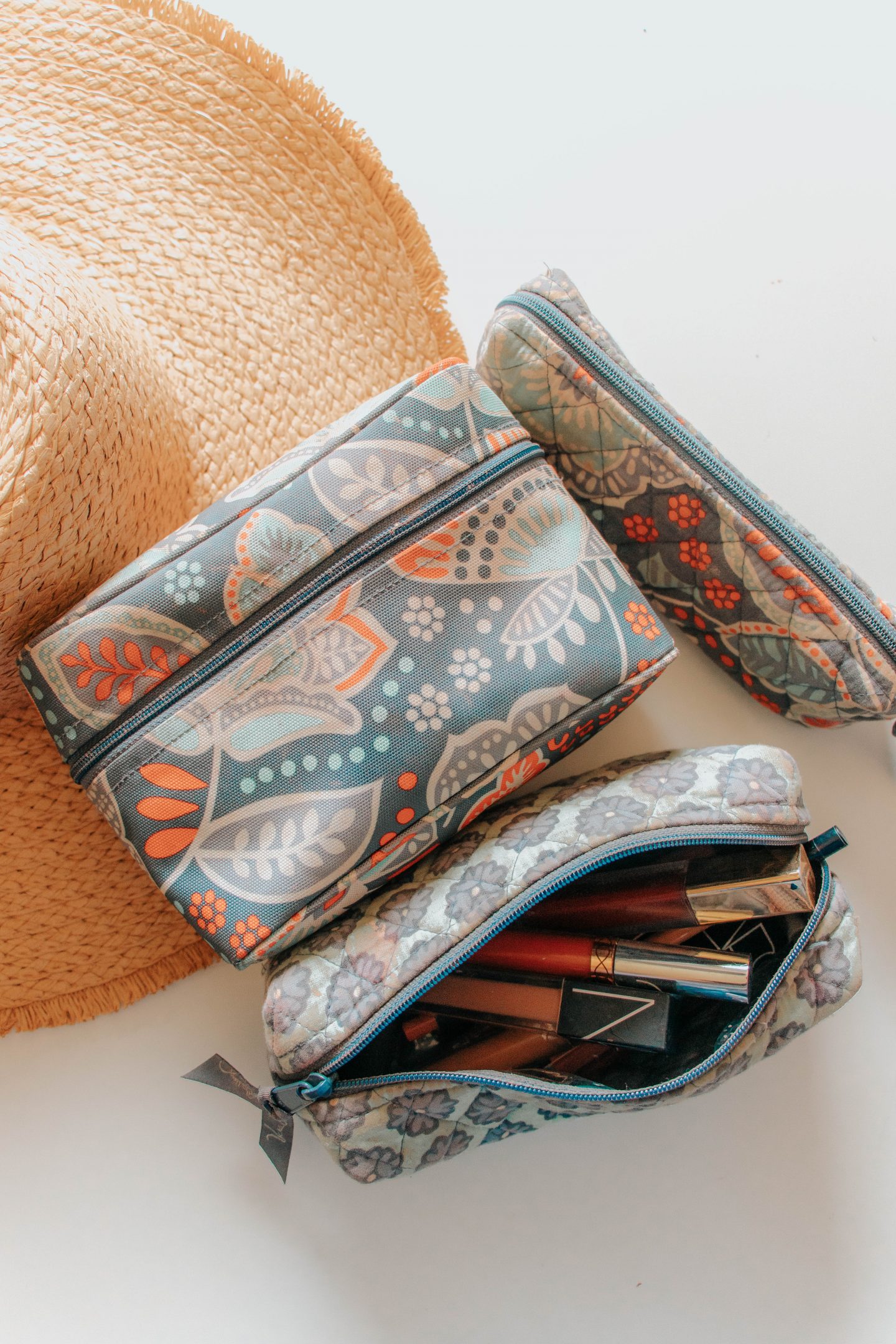 I have one makeup travel set that I have used over and over again for years and will continue to use until the fabric literally falls apart! The Vera Bradley 4 Piece Cosmetic Organizer Bag Set is a dream for traveling with makeup products.
The product has already lasted me years with its well-built quality, plus the inside of the bags have a plastic lining that makes them easy to clean and continue to reuse.
You can use them in all types of ways, even if makeup isn't what you're traveling with. They are a key part of keeping my packing organized and streamlined!
Best Men's Dopp Kit
One of my go-to travel-related gifts for men is a classic, sleek dopp kit. It gives them a place to organize their things, rather than casually chucking them in their suitcase, and provides a small element of pampering they love, whether they admit it or not.
The Elviros Dopp Kit is my men's toiletry bag of choice for being budget-friendly, a classic leather design, and for having tons of organizational pockets.
Best Women's Dopp Kit
One of my favorite brands for women's travel accessories is Bagsmart because there products are cute, affordable, and of durable quality.
This includes their women's toiletry bag, which is a catch-all organizer for your toiletry products. You can use it for all or your products including makeup, however, I believe it works best for body, skincare, and hygiene products, as you can stand it up and have all of your bottle within easy reach and it has a waterproof pocket to keep wet items from touching your dry items.
If you're looking for a larger option, I recommend the hanging organizer.
---
Final Thoughts
Toiletry packing can be a boring and tedious process, but a cute packing checklist and some beautiful, useful accessories can make it one of your favorite parts of trip planning!
If you're in need of more packing tips, check out how to pack a duffel bag like a pro.
I hope you find this thorough toiletries list helpful as you start packing for your next adventure!
What's your favorite toiletry packing tip on this list?
Save this packing guide on Pinterest if you found it helpful!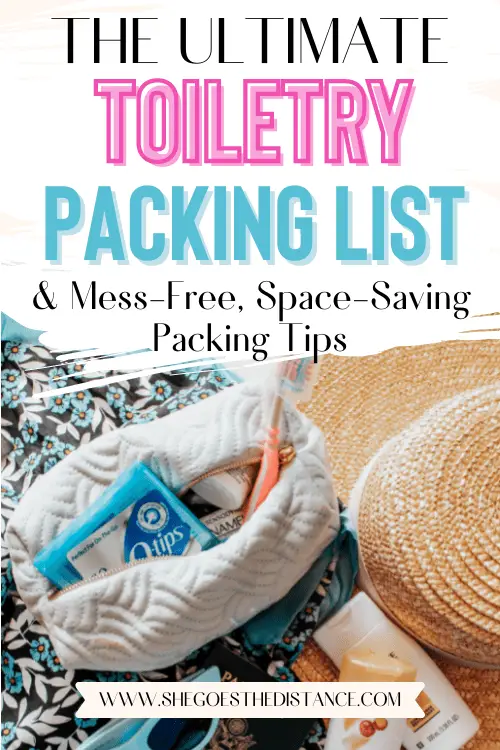 XOXO
Michela