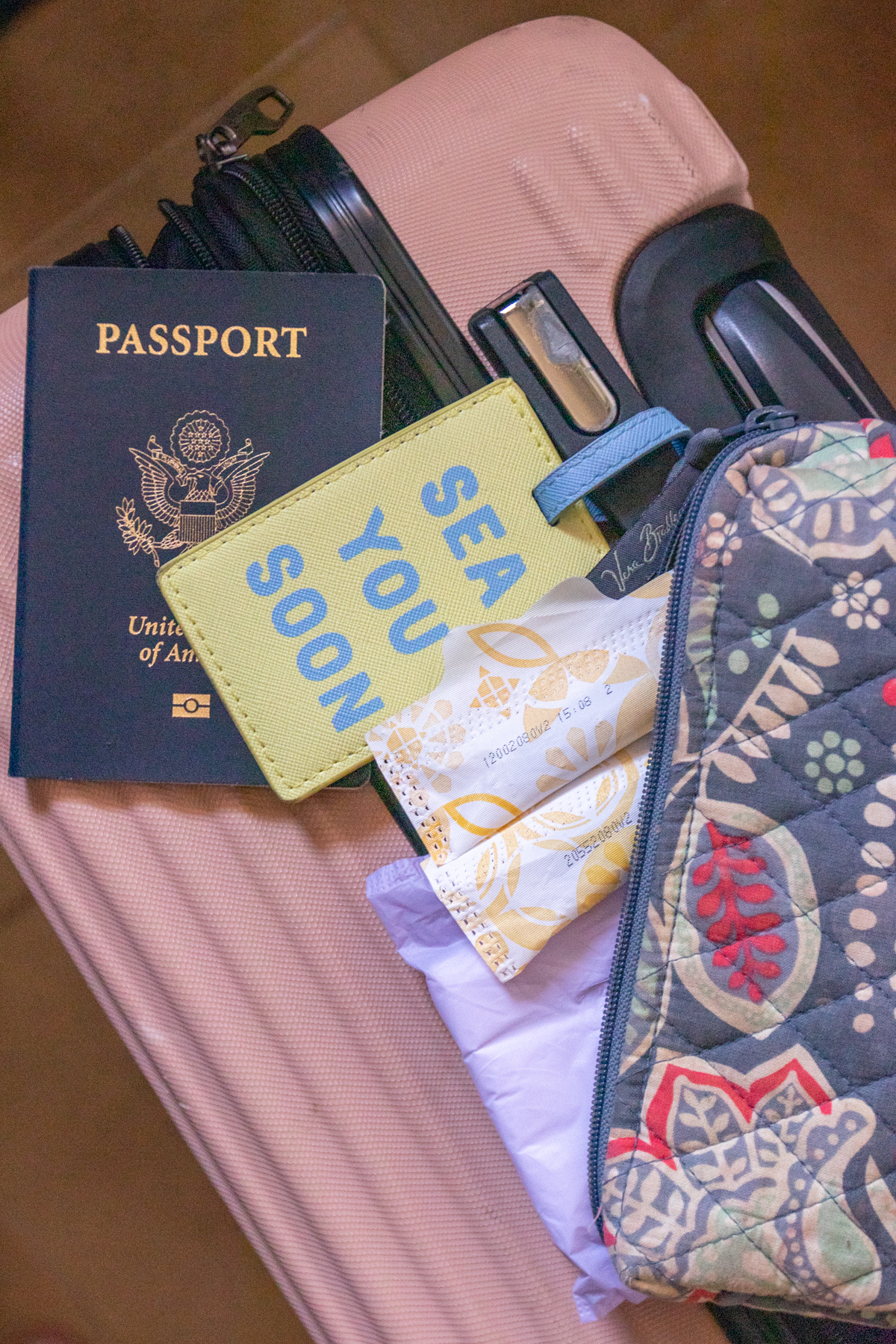 Last Updated on September 29, 2023
UGHHHHH. The big trip is finally here and it slowly dawns on you that it coincides with the week that mother nature wreaks havoc on your hormones. But hear me out – traveling on your period doesn't have to be so bad.
You just have to prepare well enough to win the battle between your period vs. your vacay. In this ultimate guide, I'm sharing the tips I've learned firsthand as a frequent female traveler to having your period on vacation. They are going to be the armor that shields you from that bucket list trip being ruined!
Some of these links are affiliate links. This means if you make a purchase through that link, I receive a small commission at no extra cost to you. Read my full disclosure!
1. Pack Plenty Of Your Go-To Period Product (& Then Some)
No matter what sanitary products are your go-to – pads, tampons, menstrual cups, etc. – remember to pack them and pack extra. Even if you know your cycle down to a tee, travel introduces a lot of factors that could throw off your menstrual cycles, like changes in diet, sleep (thanks jet lag), and stress levels.
You also never know what's going to be available and accessible at your destination in terms of period products. This is why it's best to pack more than less.
You can even figure out some sneaky ways to pack more in less space in my guide to maximizing space in your suitcase. For example, stuff pads in a shoe or purse so they don't take up extra room.
Pro Tip: It's also smart if you pack some of your menstrual products in an individual cosmetic bag. This way if you need to change bags, like go from a suitcase at the airport to a purse at your destination, you can easily move a handful of products from one place to another.
2. Put Your Feminine Hygiene Products In Multiple Places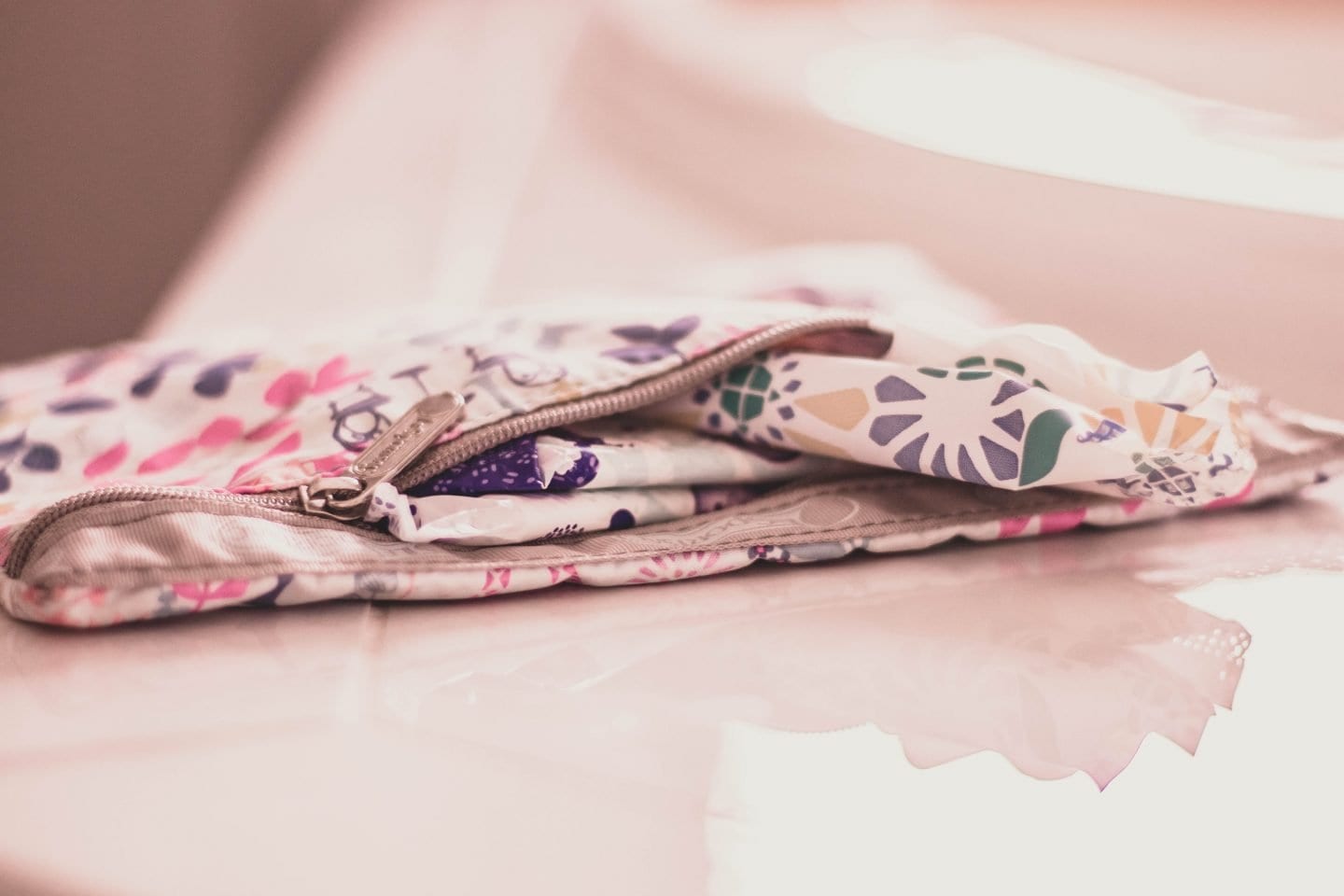 That pro tip brings me to my next word of advice: start from the beginning by packing your products in multiple places. Slip a few in your purse, another few in your backpack, and the bulk in your luggage.
This will help ensure you're covered no matter what bag you end up entering the restroom with.
3. Adjust Your Packing List
Now that you know you're getting your period on vacation, think thoroughly about your packing list.
Depending on how hard your period cycle hits you and when, you want to make sure you have a balance of your favorite outfits and comfortable clothes to change into if you end up not feeling good.
You should also think about what undergarments are going to make you feel most comfortable. Cotton materials are the most breathable and easiest on your skin.
You may also want to consider period panties. They're known to absorb a lot more, stay drier, and feel overall more comfortable than pads.
Good to know: Get access to my FREE packing lists from The Travel Library, including a girl's packing list and styling guide with tips for making the most of your limited luggage space.
4. Pack Pain Relievers
Your period affects you in your own unique way and you know your body best. When it comes to traveling on your period, you'll want to be extra prepared to deal with headaches, cramps, and any other body pains so that your vacation goes unspoiled.
If you are traveling internationally, you can't be sure you'll have access to a pharmacy or that a pharmacy has the products that help relieve your pain.
Some staples in your bag should be pain-relief medication like ibuprofen or acetaminophen and menstrual heating pads to help with period cramps. The heating pads are discreet and can be worn for up to 8 hours, so you can get on with your day of exploring pain-free!
Pro Tip: When packing medication, like pain relievers and birth control, always make sure you travel with it in your carry-on or personal item. Don't leave it in your checked luggage – and ensure it is in its original packaging to avoid problems with airport security.
5. Avoid Trying Something New
Don't make your long-awaited vacation the time where you try something new with your period.
For example, many suggest opting for a reusable menstrual cup when traveling with your period for the convenience. But if you've never used it, don't make your upcoming trip the first occasion! You don't know how your body will react and the newness will probably only create confusion instead of ease of use.
This also goes with switching brands of your sanitary products: give everything a test run before you set off on your travels. The last thing you want is some unexpected period emergency while far from home!
6. Review Your Itinerary
Plan ahead as best as possible by keeping track of your cycle. The Clue app is perfect for this, as it predicts when your period will arrive and what the flow will be like. But it builds these predictions based on data, so, if you can, start tracking your cycle for several months to start getting the most accurate forecasts.
And because you know your cycle best, you should also plan ahead when it comes to the details of your itinerary. If the first day of your period always has you sick, try to make that a chill day instead of an intense day of exploring.
But you can't plan how you'll feel in the future. So, it is also best to have plan Bs set for your itinerary in case you're not feeling your top self.
7. Carry A Mini-Emergency Kit
Traveling on your period like a pro is all about preparation. Bring purse and backpack options that are suitable for your sanitary products as well as extras that can be helpful on the go.
Your period kit can include wet wipes, an extra pair of underwear, extra sanitary products, and pain relief medication, but the best part is that you can personalize it to your
8. Set Reminders
It may be simple but it can be the difference of staying healthy and getting sick: set reminders when you need to change your period product.
I once had a scare after a long day of travel, 10+ hours. I was so tired when I got home that I fell asleep with a tampon in. Needless to say, the fatigue of travel, especially in cases of long flights and changing time zones, can truly affect your period and your health.
You can also set reminders for when to prepare yourself for your period's arrival. If you know it's coming on Tuesday, you may want to start wearing a pad on Monday or Monday night to avoid leakage and dirtied clothes you'll have to repack in your suitcase.
9. Bring Laundry And Stain Removal Products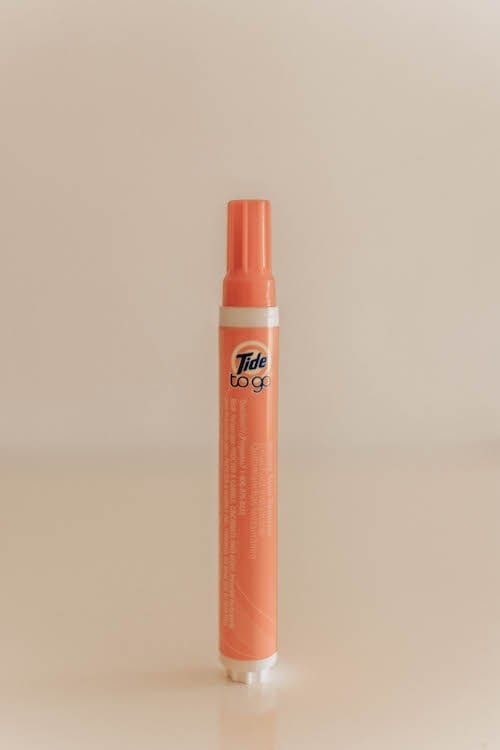 We know that sometimes our period products aren't perfect. Especially on days with a heavier flow, you may run into leakage on your clothes.
For small messes, consider bringing a Tide To Go pen so that you can remove stains while you're out and about. If you have access to doing laundry while abroad, you could bring a liquidless detergent to save space and avoid messes in your suitcase.
And if you're doing something like camping, consider packing a Scrubba wash bag to clean clothes and stains without any electricity needed!
Pro Tip: Bring a laundry bag that you can fold in your suitcase. You can use this to separate dirty and clean clothes in your suitcase. Then when you get home or to a location where you can do laundry, everything is already separated!
10. Stay Fresh
Having your period can make you feel sluggish inside and out. While you're traveling, you may be out exploring all day long and you can start to feel not-so-fresh.
You may want to jam-pack your itinerary with things to do but it is important to schedule time for breaks to give your body a rest and refresh.
Summer in particular can create circumstances that make traveling with your period more uncomfortable. Avoid sitting in a wet bathing suit for hours on end, which can increase the chance of unwanted bacteria growing. And take midday showers in the summer heat to regain that fresh feeling and feel comfortable continuing the rest of your day exploring.
11. Stay Stress-Free
Traveling is stressful. Anytime something doesn't go to plan or is lesser than your expectations, your whole mood can be thrown off, which doesn't help when your body is already going through hormonal changes!
The core concept of making traveling with your period not so bad is preparation. The same goes for traveling stress-free.
If you struggle to keep your cool when things go wrong (and something always will while traveling), check out my tips for stress-free travel.
12. Eat Healthy and Stay Active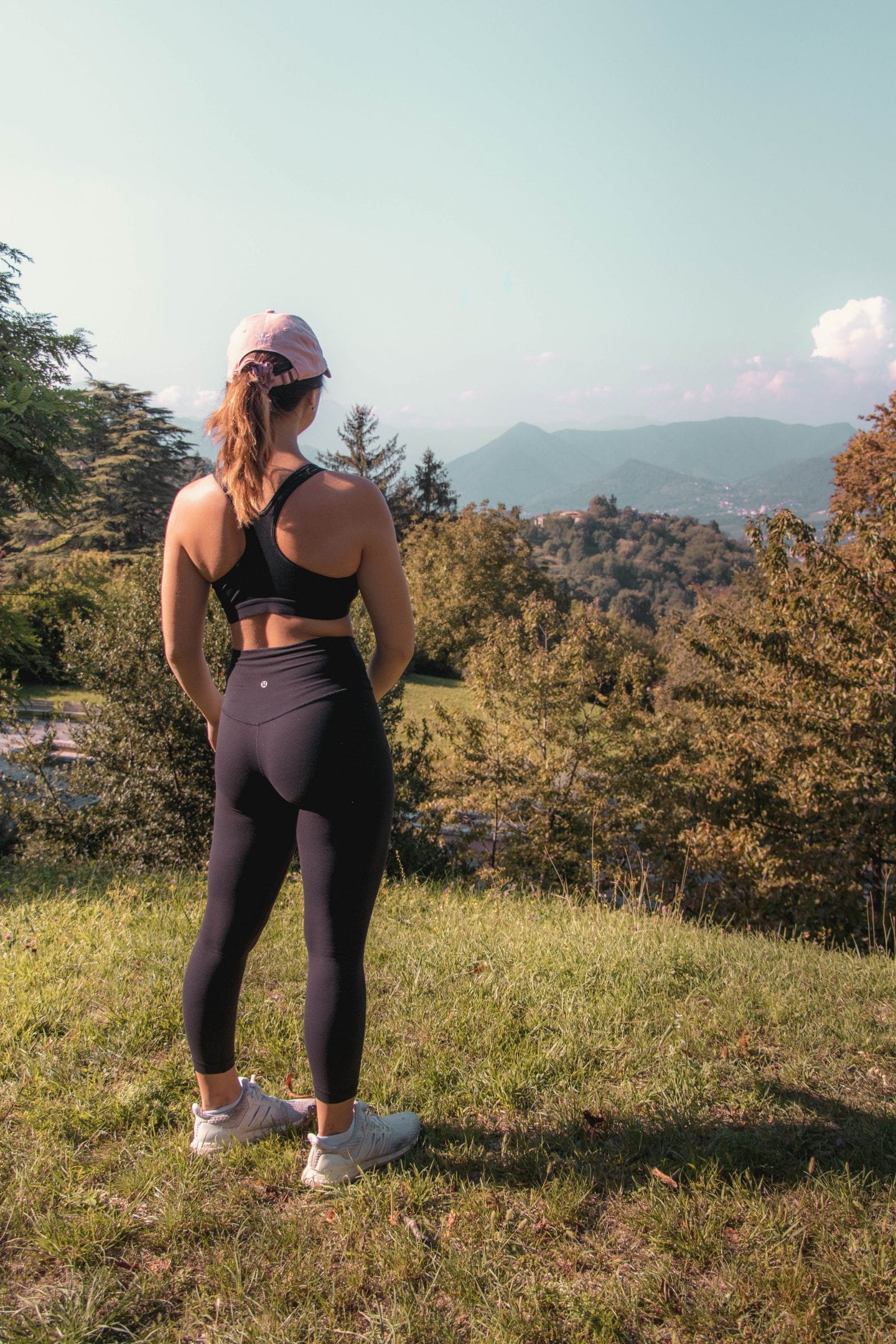 Just like taking care of your body can ease period discomfort at home, the same goes for when you travel.
This doesn't mean going too hard working out on vacation or not allowing yourself to enjoy the local cuisine. But it is important to stay hydrated, keep moving and try to find balance in your diet. The better you take care of yourself while traveling, the better you will feel and the more you can do to enjoy your vacation!
13. Download The Flush App
The last but certainly not least (definitely funniest) tip for traveling on your period is to download the Flush app.
Flush is a free app that helps you locate public bathrooms in the areas you are traveling to. Just input a location and the database will get you to the nearest toilet in no time!
It may seem silly, but once you are in the conundrum of needing a restroom, especially necessary on your period, it actually makes it one of the most helpful female travel apps.
---
Final Thoughts
When you first figure out your period is coinciding with your travel dates, it can be a bummer! But nothing like a little preparation and some minor adjustments to your travel plans can't fix.
These tips for traveling on your period will help you travel confidently and guarantee an amazing trip!
Do you have worries about traveling during your period? Let me know if you have questions by commenting!
Save these tips for reference on Pinterest!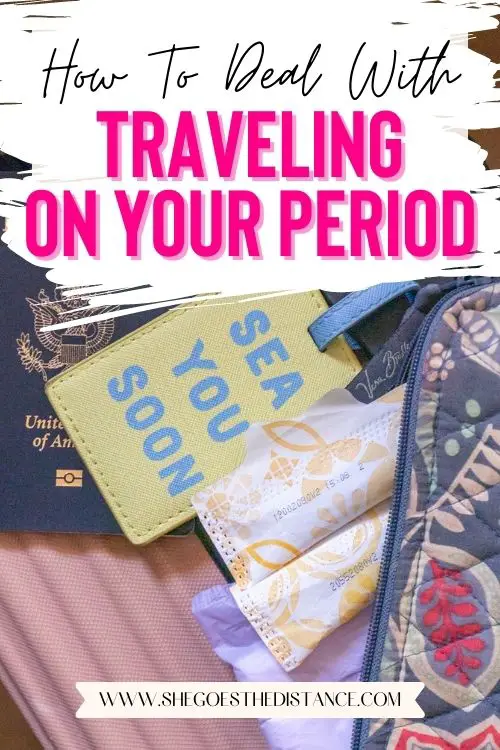 XOXO
Michela