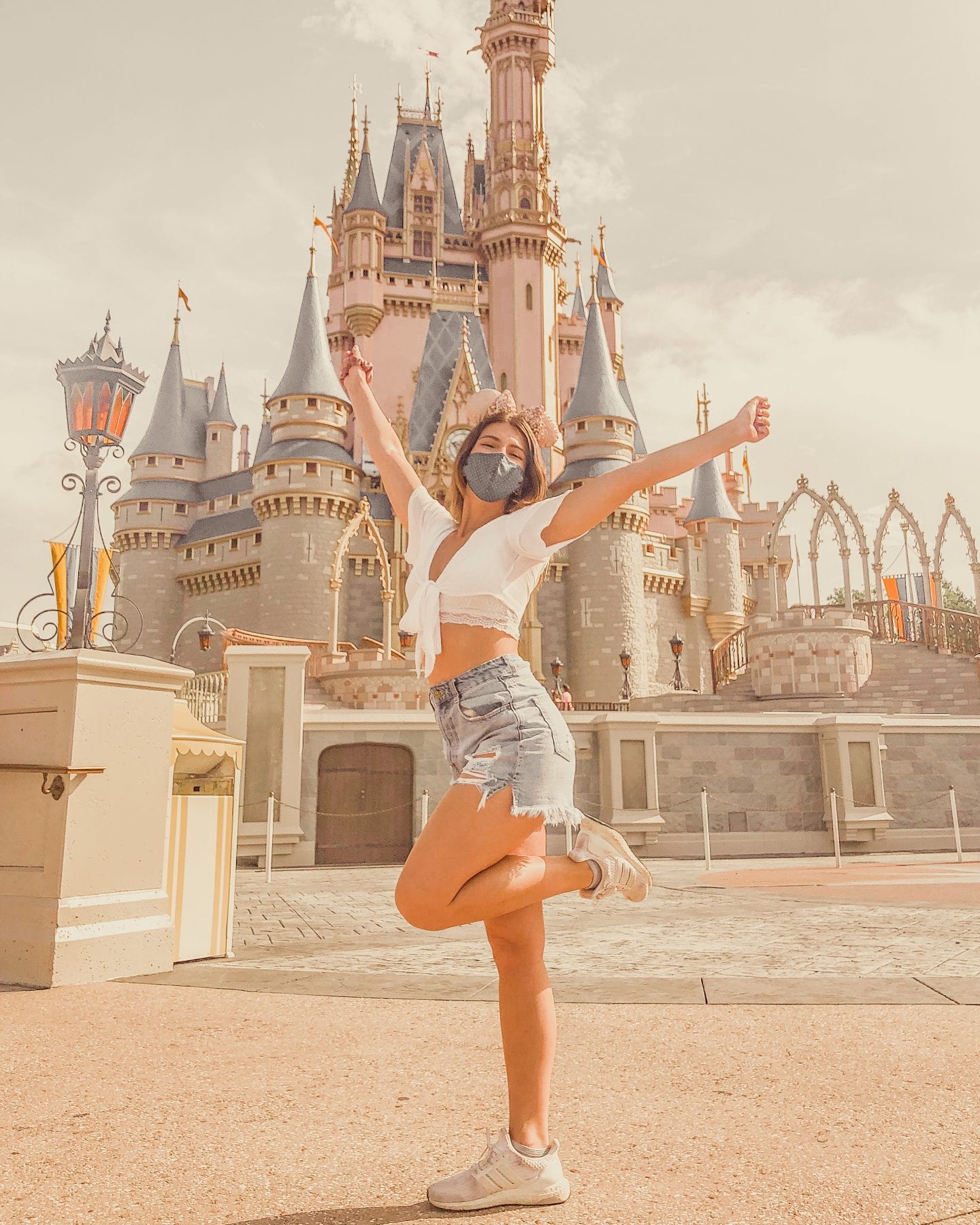 Last Updated on February 24, 2022
The time is here! Walt Disney World parks are reopening and it's time to see how tourism and the pandemic could coexist with safety measures in place. I spent a day at the Walt Disney World parks reopening and can tell you exactly what to expect with all the new changes!
I was lucky enough to go with a friend to the cast member preview at Magic Kingdom on June 8th. From that, we got to experience what a day at the Walt Disney Parks will now be like for the time being.
I hope to give you thorough information to help you decide if a visit to the Walt Disney World Parks is the correct choice for you any time soon! (Skip to the end for my overall thoughts!)
If you would like to know about staying at a Walt Disney World resort during COVID-19, you can read my experience here!
Some of the links in this post are affiliate links. If you make a purchase through the link, I receive a small commission at no extra cost to you to help my blog! Read my full disclosure!
---
Walt Disney World Parks Reopening: What to Bring
I'm going to start with what to bring to the parks and then within the rest of the post I'll explain more and you'll see why certain things are important to bring.
The ultimate thing I'm going to suggest you bring – not a lot!
I definitely think with the new entry system, the extra hot and tiring days with Florida weather, and wearing a face mask, that you should pack as light as possible for the parks.
I also suggest you wear as breathable clothing as possible to help keep you cool.
What you should definitely bring at minimum is:
Face Mask (One that's as breathable and comfortable as possible)
Water Bottle (Reusable or not – just make sure you're drinking water!)
Sunglasses or Hat (Especially for Florida in the Summer)
Sunscreen (You don't want that mask tan line!)
---
Parking and Magic Kingdom Entry
From the get-go, Disney has thought about social distancing. You'll find that cars are parked back to back first, then skip a space, and another pair of cars park back to back.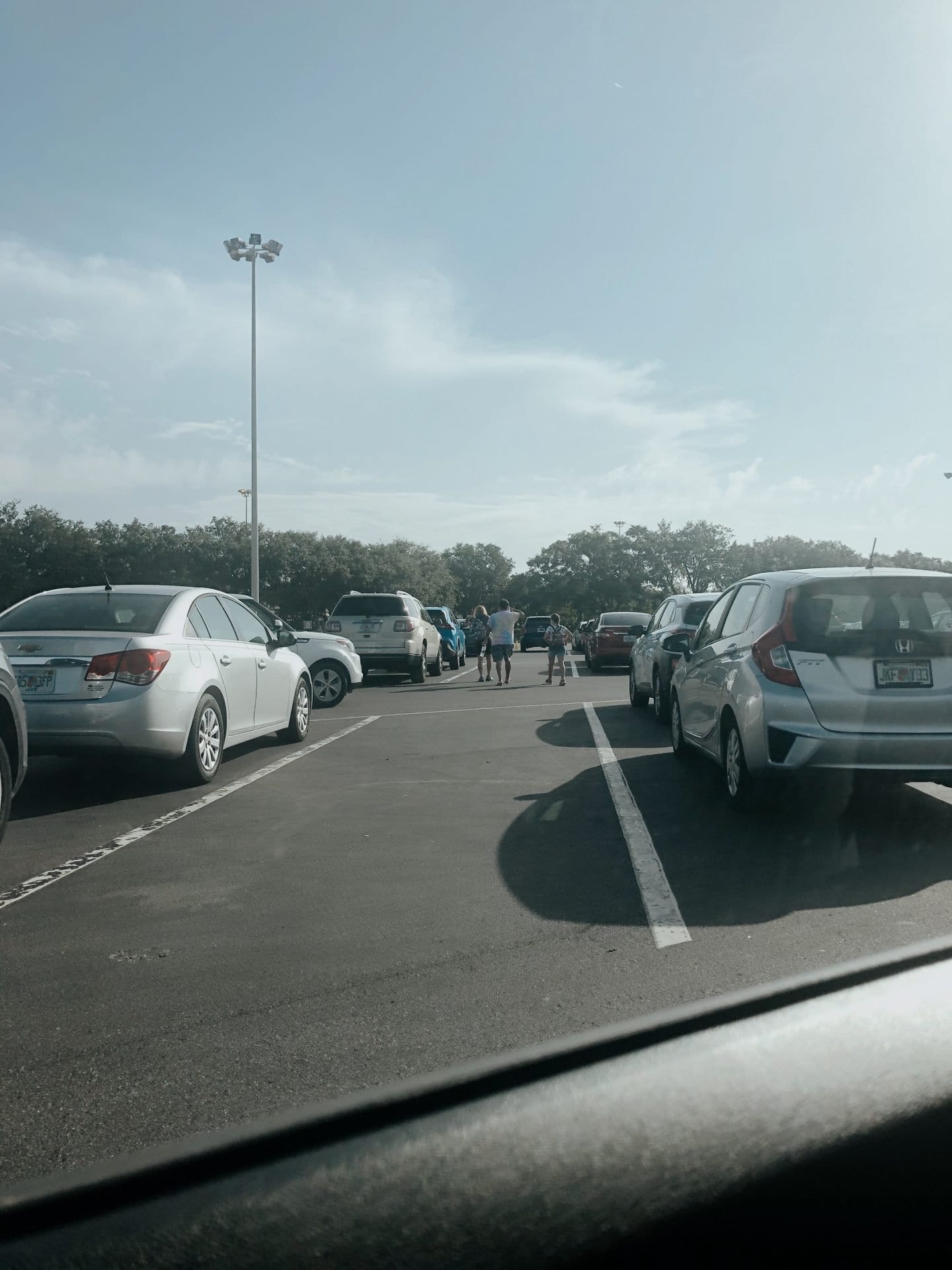 When the row is finished, other cars are parked in the in-between spaces left over. This way, you're never directly next to another car with people in it when you are exiting your own vehicle.
On the preview day, no trams were operating and I have heard that they won't be operating for the opening to the public either just yet.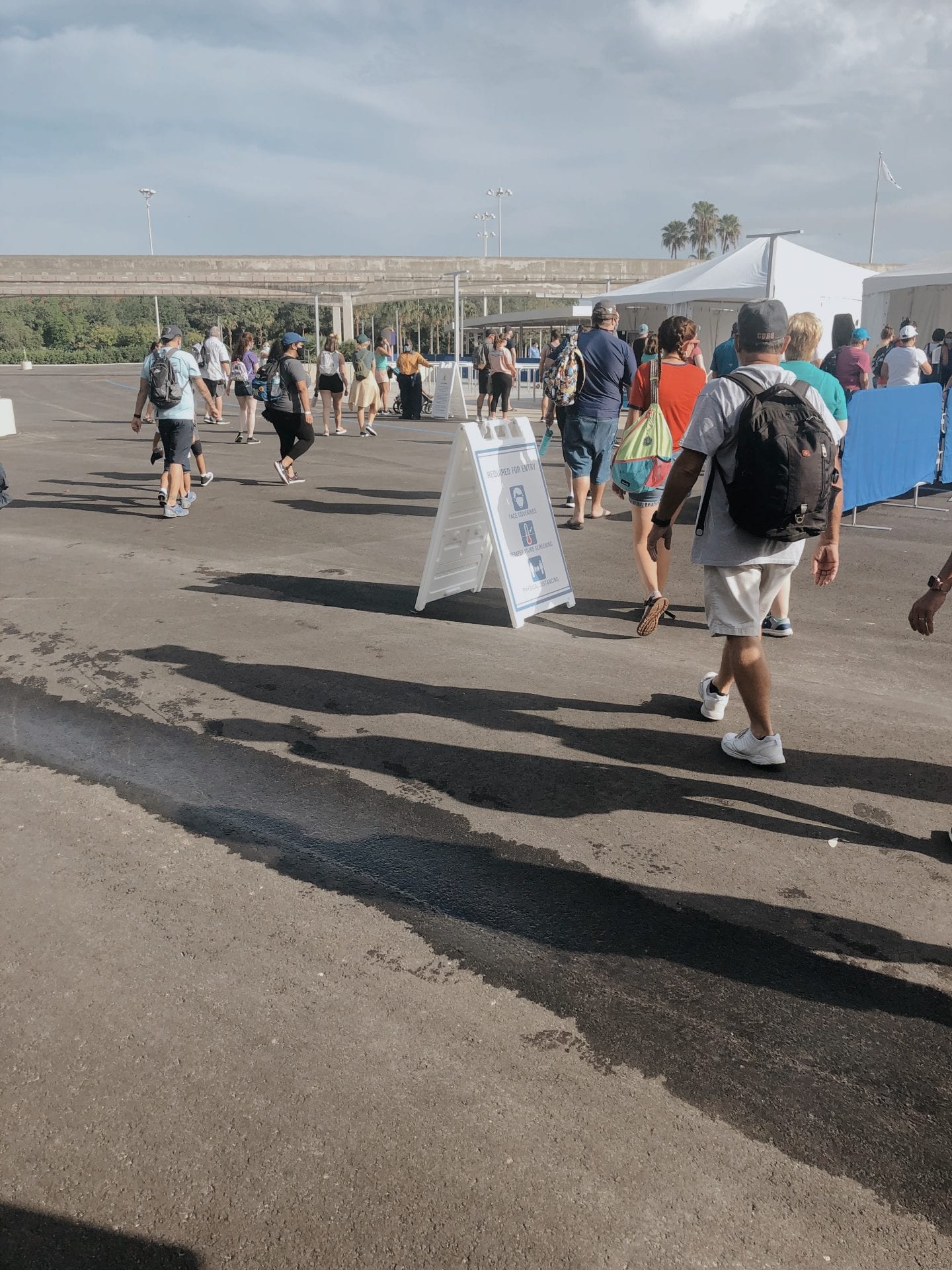 When walking up to the ticket and transportation center (TTC), the first thing you'll notice is new white tents. Your temperature screen happens first, right under these tents.
Face masks are required as soon as you exit your car. And if you don't have one, Disney has a mask vending machine under these tents as well!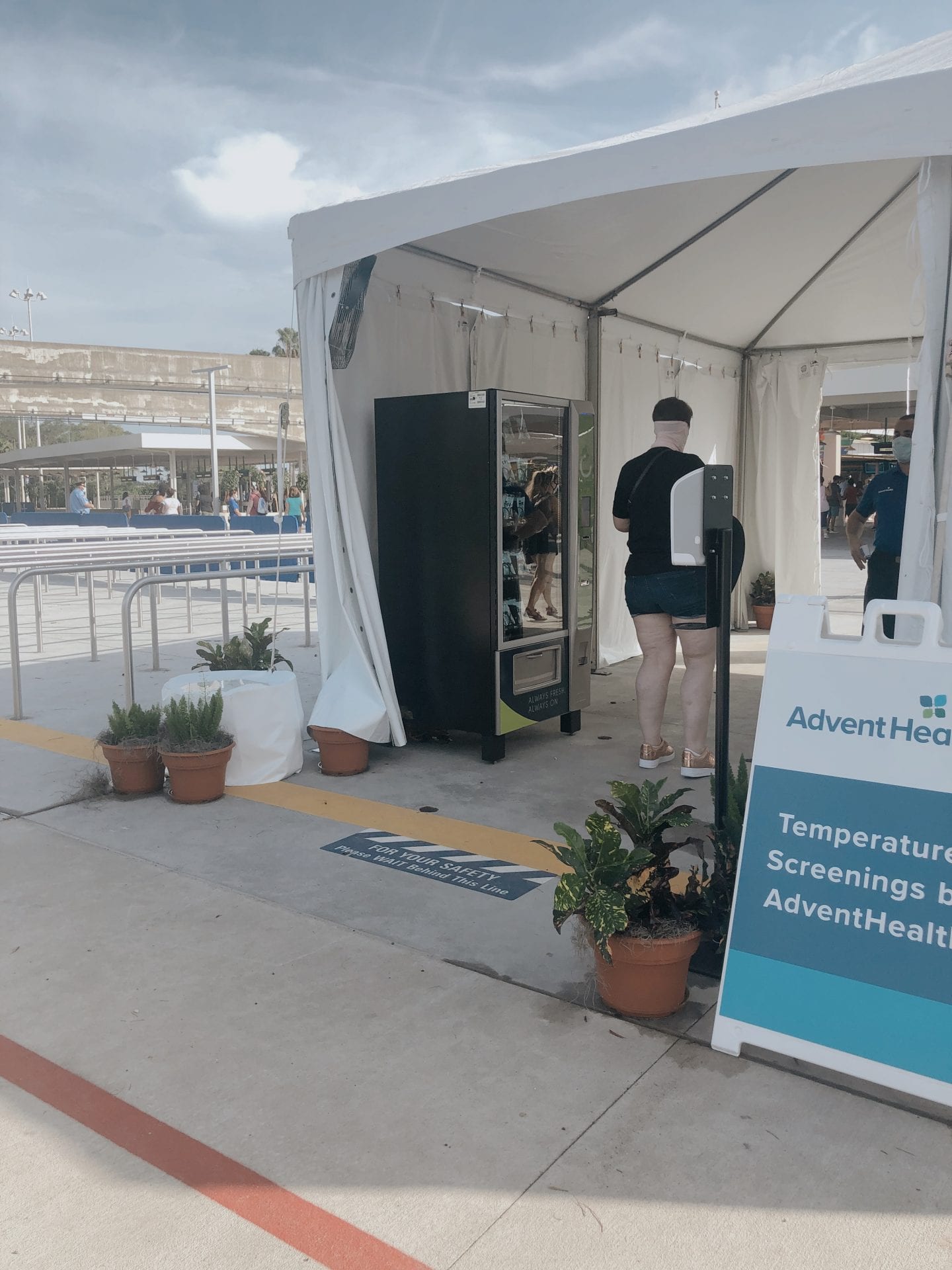 Right after that, you'll grab a clear bag provided by Disney in which you'll place all your metal objects. This is so that security doesn't touch your belongings.
You'll take the clear bag to the metal detector scanners, hand the bag to security at the table, and walk through the scanners with whatever else you have.
Despite being a bit of a hectic process since it was so new, everything moved super quickly. Of course, large crowds may pose a challenge, however, that will depend on the capacity the park will allow.
I do believe the system works as well as it can at the moment and I was very happy and surprised at how fast it moved!
---
Monorail and Ferry Boat Changes
As you may know, to get to the Magic Kingdom, your current two options are the Ferry Boat and the Monorail. The resort monorail was not available yet.
At the ferry boat, there are tons of circles posted on the ground as placeholders while you wait to board the boat. You stand on your circle while you wait and once you get on the ferry, you again find a circle to stand at in order to stay an appropriate amount of distance away from other parties.
There isn't too much control walking on to or off the ferry in terms of distancing but I believe you just have to try to keep to yourself as much as possible.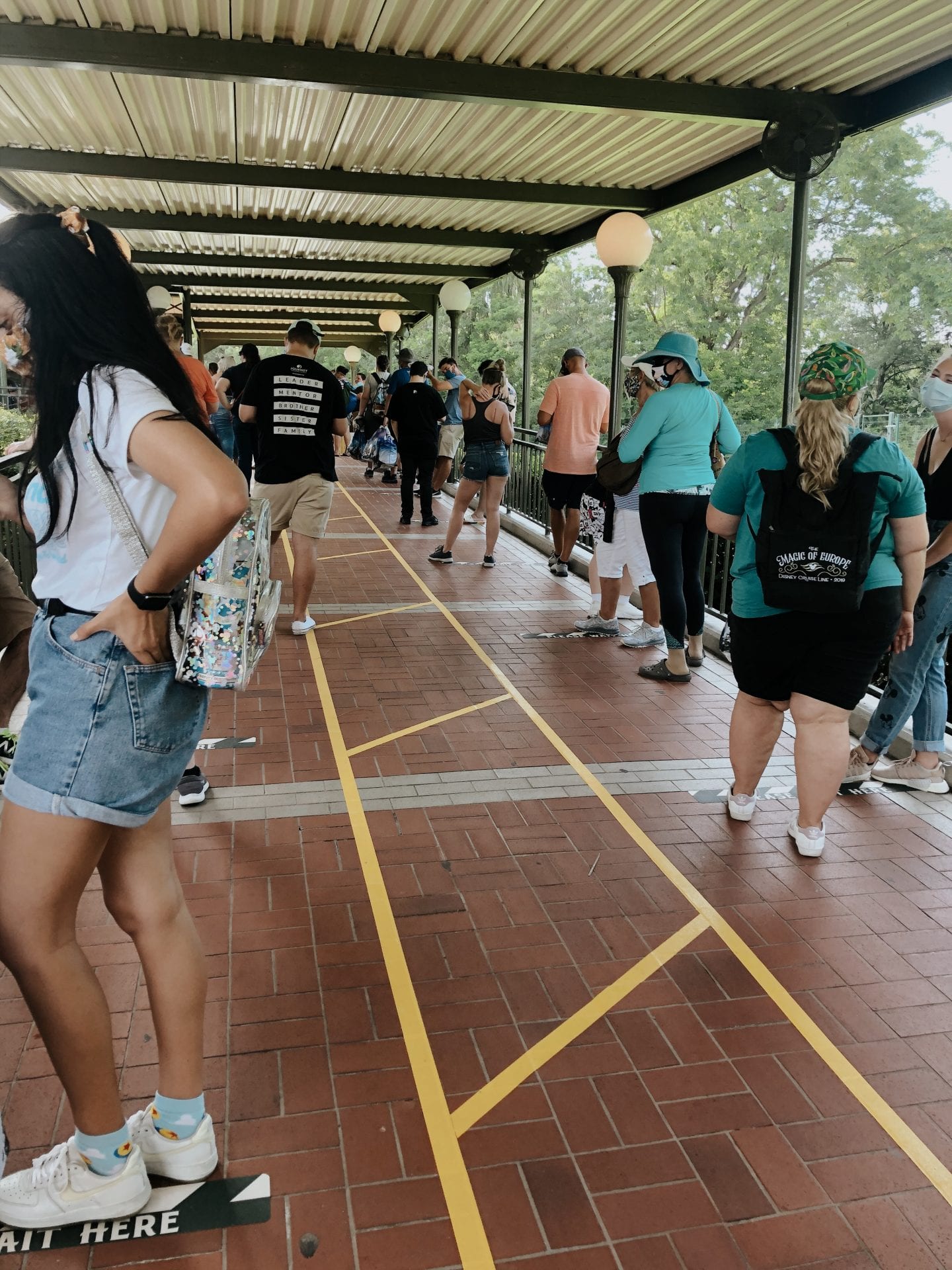 At the monorail, there are placeholders on the ground as well (which you'll see all over in the park.) Now, everyone knows how crowded the monorail gets, so again I'm surprised at how quickly it moved.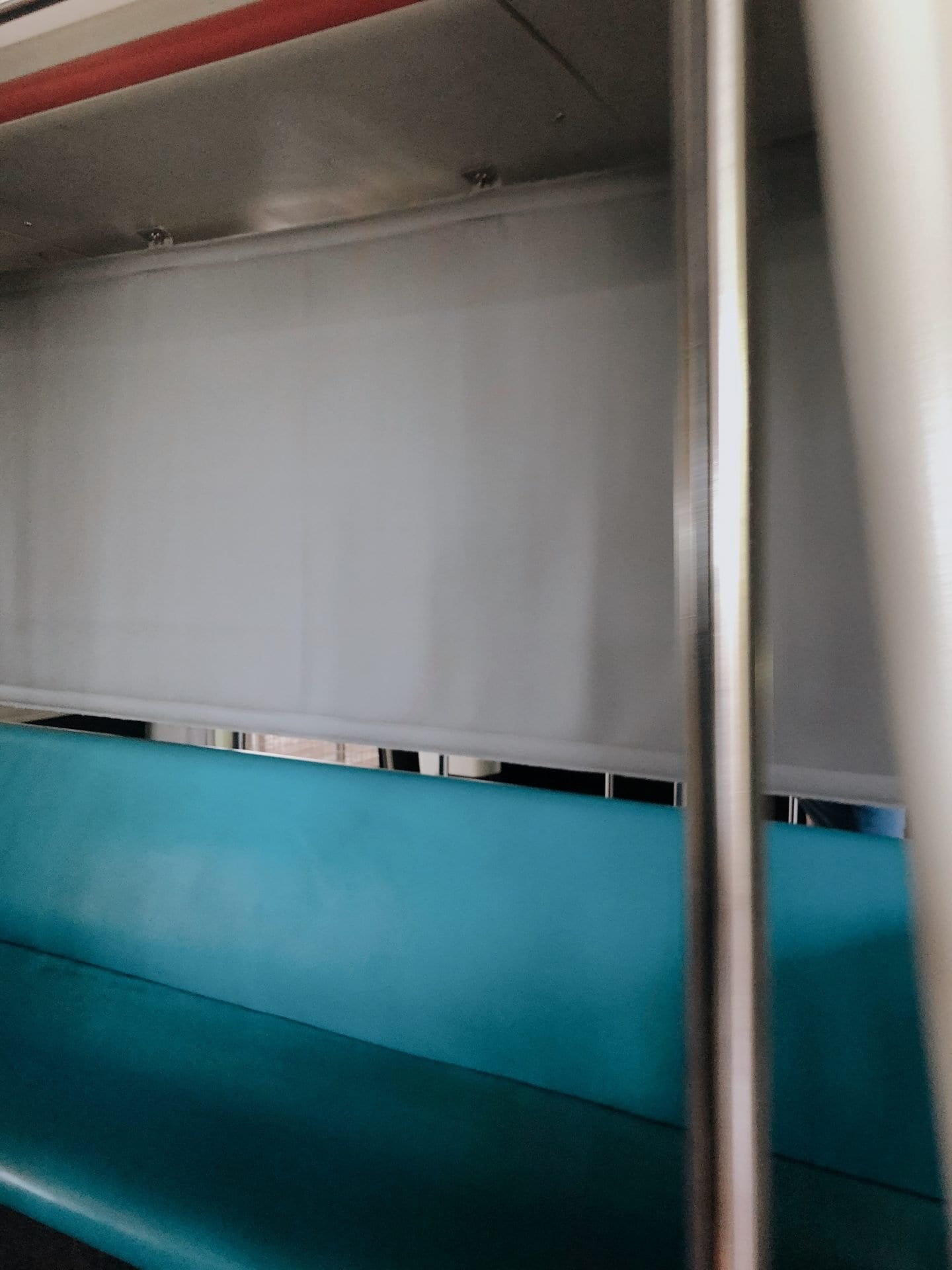 There are new vinyl panels that close the open space between monorail sections. We as one party sat on one side and were joined by only one other party that sat on the opposite side.
---
Safety
Obviously, the major updates to Walt Disney World Parks reopening are every way in which Disney is trying to keep you safe! This is an overview of some of the general new policies.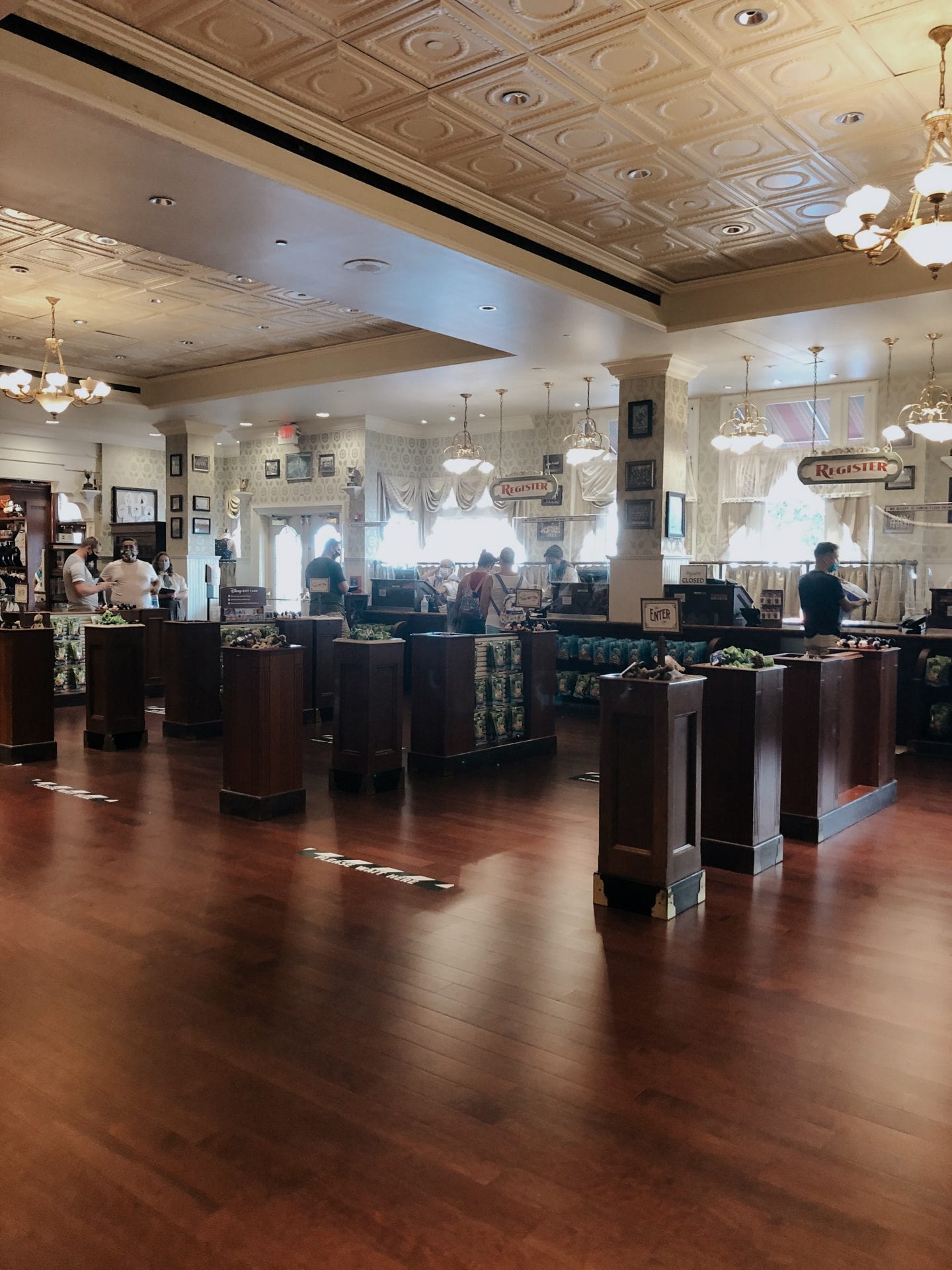 When it comes to the Walt Disney World Parks reopening after COVID-19, I think they've done just about everything they can do to keep guests as safe as possible.
The fact of the matter is, you are still going to be around people and touching a lot of surfaces, so it's up to you if you are willing to go to the parks.
That being said, I really did feel safe in the parks. Crowd level was pretty low, so it was easy to be spaced apart from other parties. We will have to see what kind of capacity Walt Disney World will reopen with!
While walking through the parks, every once and a while there is an announcement throughout the park of health and safety reminders.
There are also many more precautions and policies that I'll detail below.
Masks
Masks have to be worn 24/7. The only times you can take them off are to eat and drink, as well as in the relaxation zones.
The Magic Kingdom park has three relaxation zones – Golden Oak Outpost in Frontierland, Tomorrowland Terrace, and Pete's Silly Sideshow at Storybook Circus.
At these zones, you can take a break from wearing your mask, which is definitely nice because walking around the Florida heat for hours and hours straight with a mask on is very uncomfortable.
I definitely recommend you stay as hydrated as possible and take breaks when you can. After a while, I got more used to the mask, but I was definitely extra hot and sweaty from it.
Also, all cast members wore masks, and a majority of them were also wearing face shields.
Signs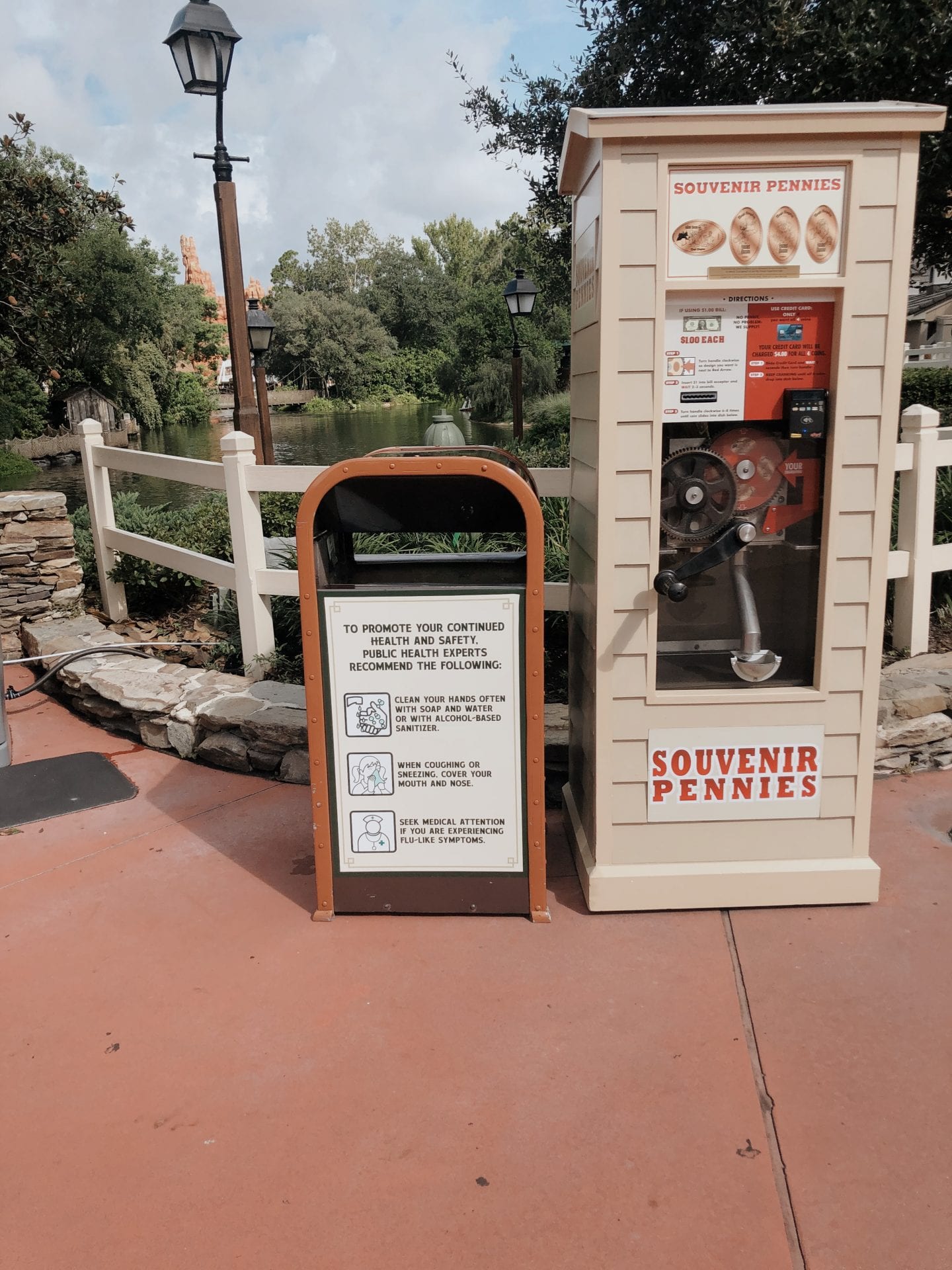 Like I mentioned in my last Walt Disney World/COVID-19 related post, Disney has gone all out with signage.
You'll find signs on trash cans, on the ground, even in the bathroom!
There are also new electronic tv monitors around the park with park updates and health and safety information.
Sanitizers & Cleaning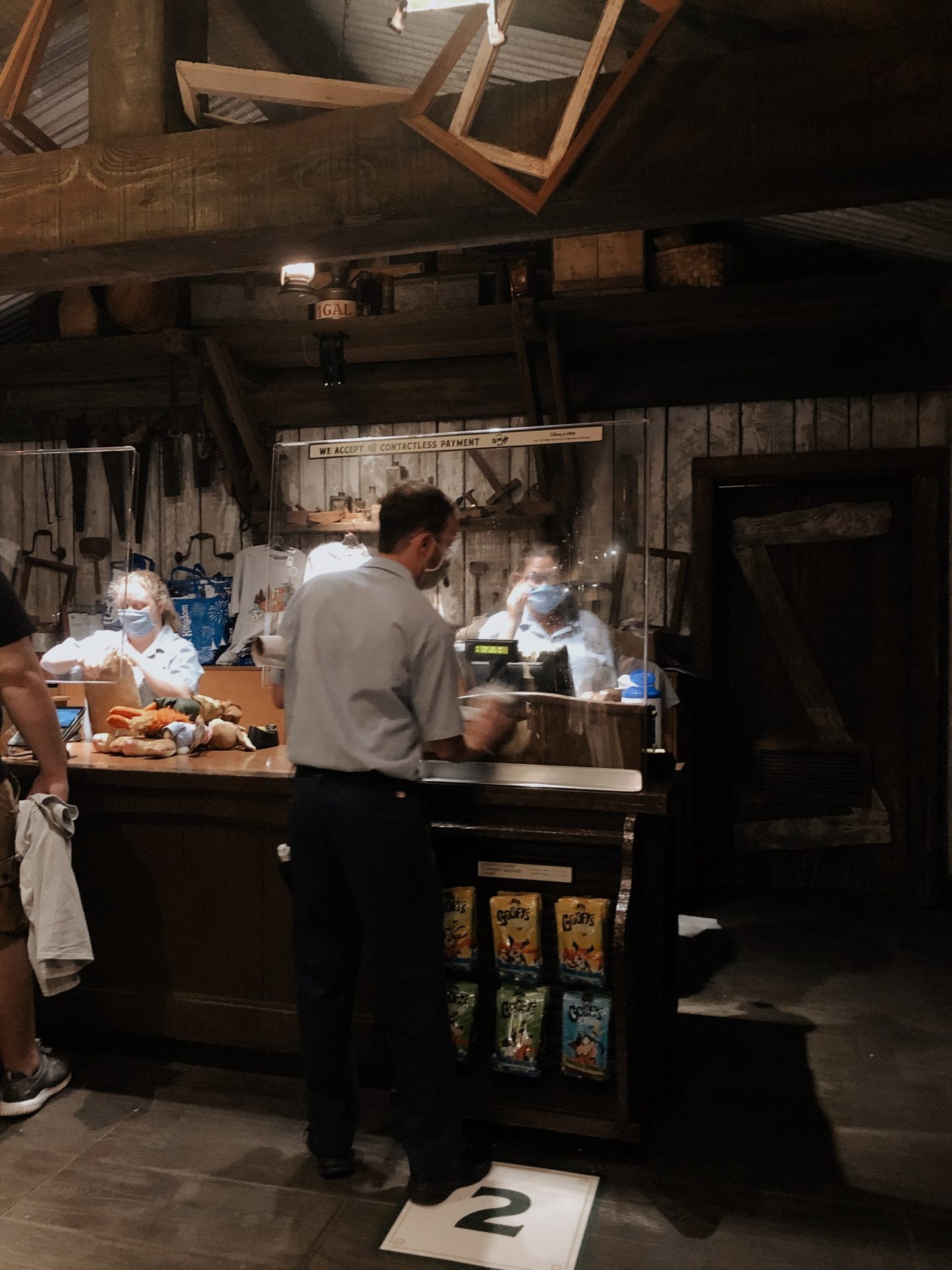 One of the most convenient things was all of the hand sanitizing stations around the park. They were at the entrance and exit to absolutely everything and were definitely useful.
We also witnessed the extra cleaning procedures in place. Plexiglass was cleaned at stores. There was also an announcement made while standing in line at Seven Dwarfs Mine Train that there would be a momentary break for a cleaning and the ride would resume once it was completed.
Rides
There are quite a few changes to rides at WDW that again surprisingly didn't take away too much from the overall experience.
In line, you'll again wait on a placeholder before moving to the next one to stay far from other parties. Plexiglass has also been installed in ride queues where you could be standing next to other parties.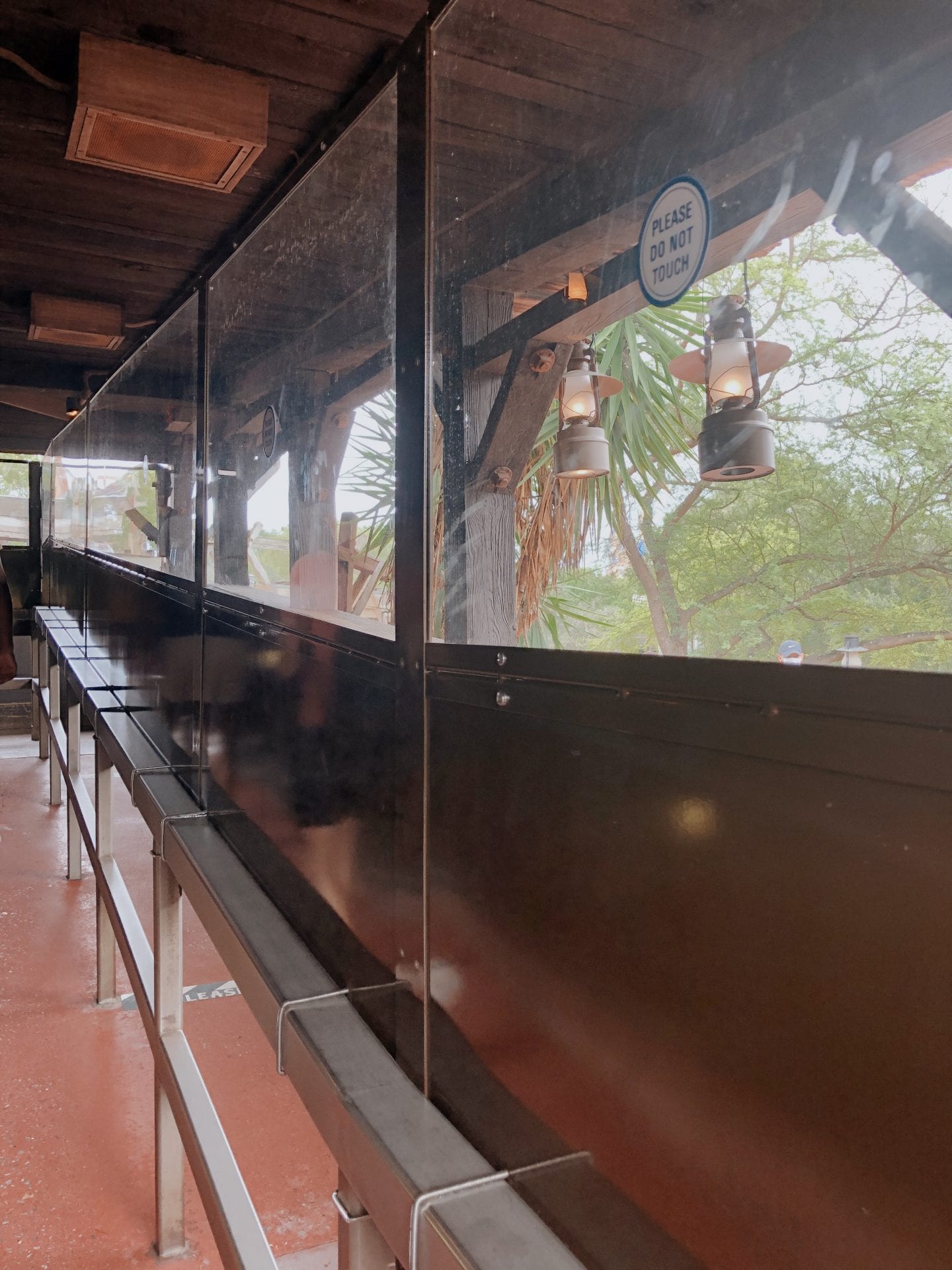 The rides themselves are also socially distanced. You will either be seated with just your party or spaced apart from other parties.
I could see rides and foods being the toughest place for problems if there are to be more crowds than there were. The wait time was not necessarily long for any of the rides. At one time at Big Thunder Mountain, I saw the wait time was about 30 minutes and the line was extended way far back outside of the entrance. This was because there wasn't space in the queue with the new distancing measures.
---
Food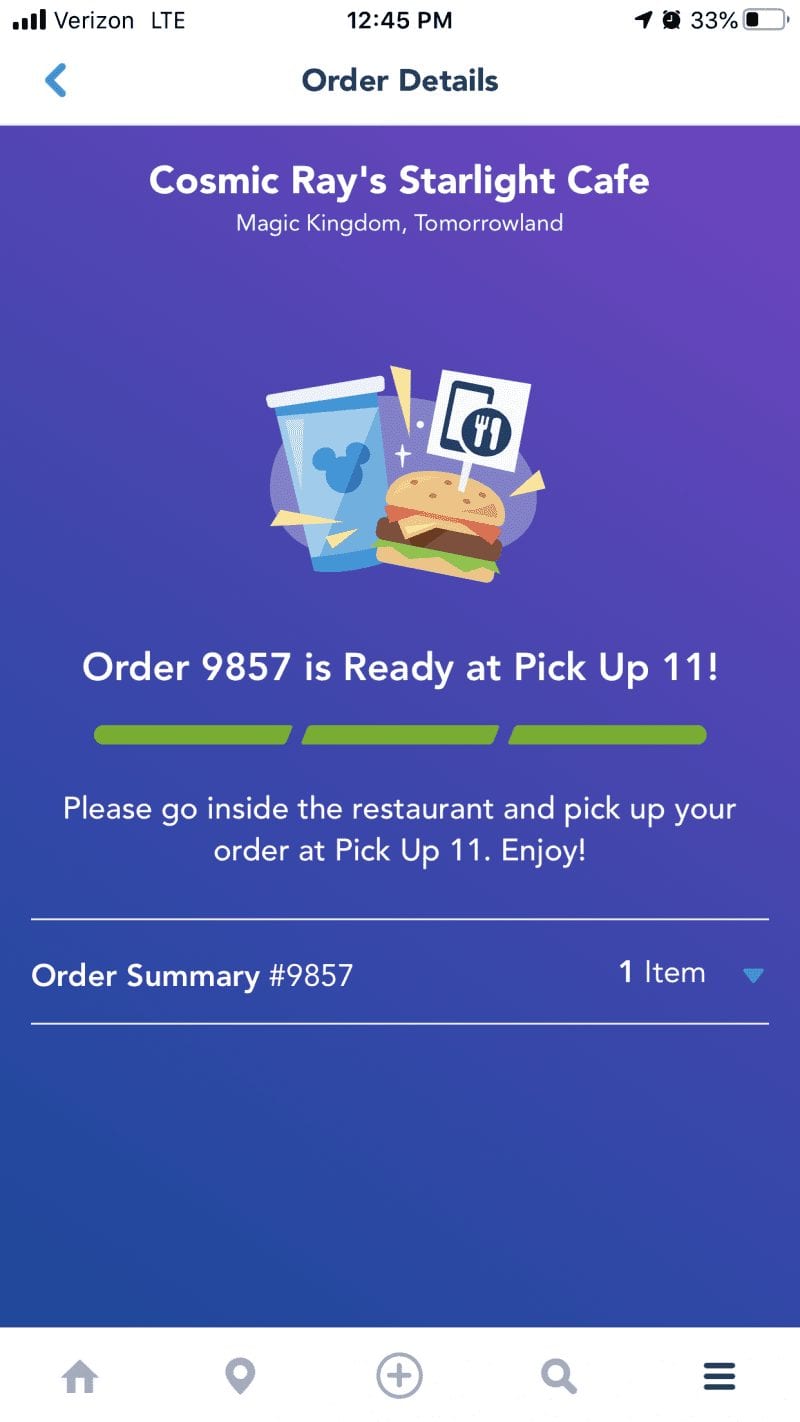 I only used the quick-service option at Magic Kingdom for the reopening so that's what I'll talk about here. Like at the resorts, pretty much everything has transferred to mobile order.
Where you would have stood in line to order food are now numbered "mobile order stations." Eating at the parks will now take a bit more planning, as you will have to wait longer for a mobile order.
You aren't able to enter the quick-service restaurant until you've received the notification that your food is ready. Once I entered, I went to the station that it told me to go to on my phone and received my food quickly.
I can see however with larger crowds how this process could have some kinks, whether it's quite long wait times or large amounts of people gathered at one time.
It's also significant to mention that a lot of locations were not open just yet. Casey's Corner, the Plaza Ice Cream Parlor, Columbia Harbour House, and several more are closed.
---
Ambiance & Experiences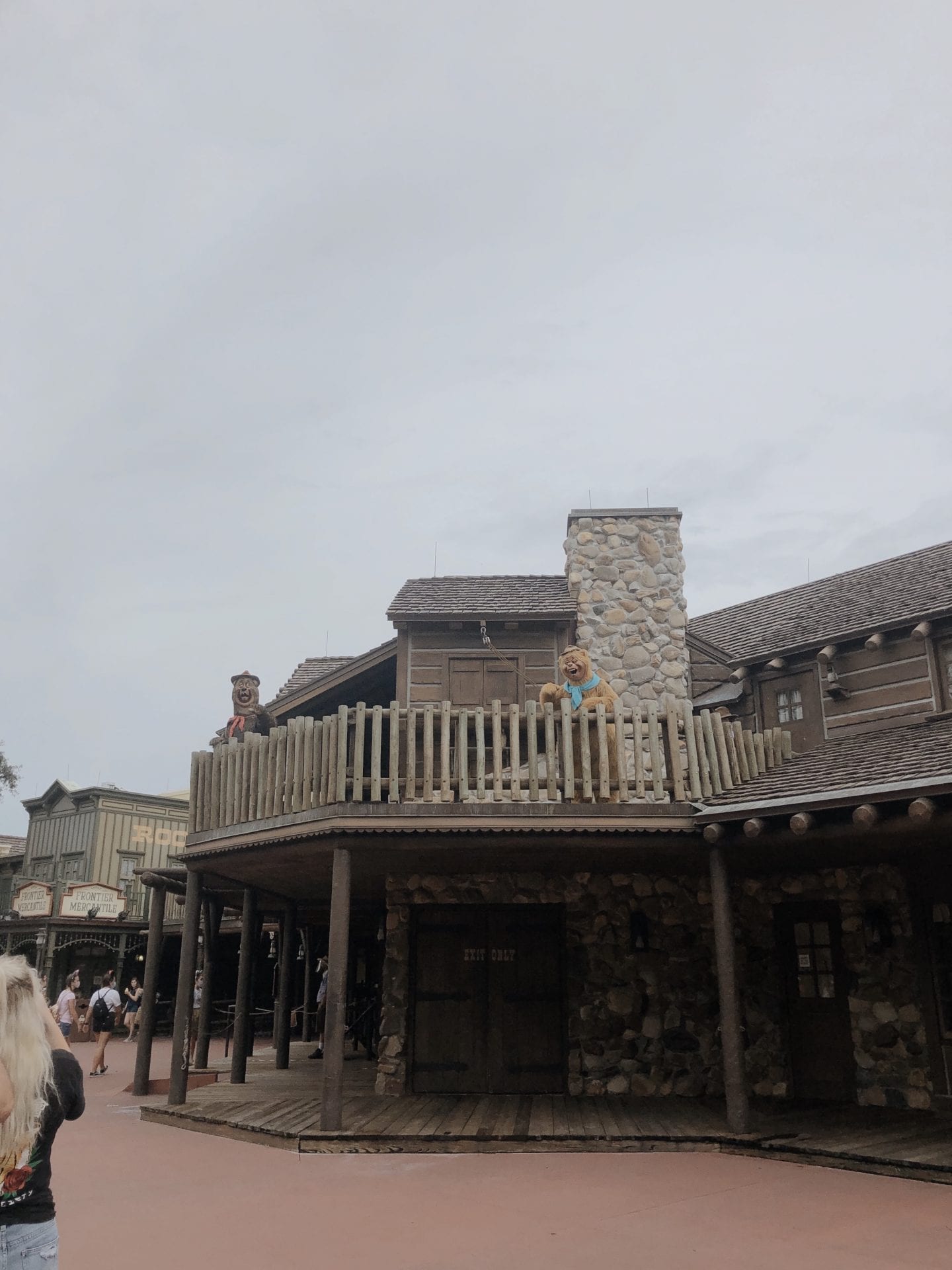 Without parades, shows, and fireworks, you notice just how quiet the park really is!
Since there were not too many people, the atmosphere was very calm compared to a normal park day.
Depending on what the official reopening capacity is, a normal park day may be a bit more crowded.
To continue to make magic, the famous Disney characters are out sparingly throughout the day. Instead of parades, "cavalcades" take place, which are basically very stripped-down versions of the parades.
You can see in the video that Mickey & Friends follow the usual Festival of Fantasy Parade route. There's also a cavalcade of Fantasyland Friends, Princesses, etc. to make up for no character meet and greets.
Besides the cavalcades, you can also interact with characters in some areas a few times a day. The Evil Stepsisters come out on a balcony on the backside of the castle. Or you can see the Country Bears above the jamboree and interact with them as you walk by.
Overall, you definitely feel the quietness and sadness of not getting to see the characters like we used to. But at the same time, it's definitely better than nothing! Plus, it was a good surprise seeing the characters once again in the new ways!
---
Should you go to the Walt Disney World Parks after reopening?
Like I said in my last Disney World post, choosing to go to WDW at this time is a super personal decision!
The safety measures and low crowd levels really make me feel safe at the parks. There are constant cleaning routines occurring, all that hand sanitizer, and, most important of all, everyone obeys the mask rule.
There are often times when walking around the parks that it's more difficult to keep a distance from other parties.
In that case, I think the first threat to the effectiveness of Walt Disney World Parks reopening measures is going to be the number of guests allowed.
The other main threat could be the guests' willingness to comply with the rules. At cast member previews, I was surrounded by guests who also worked for the company pretty much ensured they wouldn't break the rules.
I would hope people who love Disney World would willingly comply and care about the new rules!
The other obstacle is obviously the park pass reservation system. You have to make reservations to be able to access the parks in the first place. Plus, there's no park hopping.
So ,some people may not find a vacation at this time worth it because of the limited experiences.
If you are going to go to Walt Disney World aware that it won't be the same as usual, I think you will still have a wonderful time!
And hopefully the information I relayed prior will help you make that decision.
Even with the new changes, I am just so happy to see the magic returning!
Let me know how you feel about Walt Disney World Parks reopening now in the comments!
Don't forget to pin this post so you have all this info for your next trip!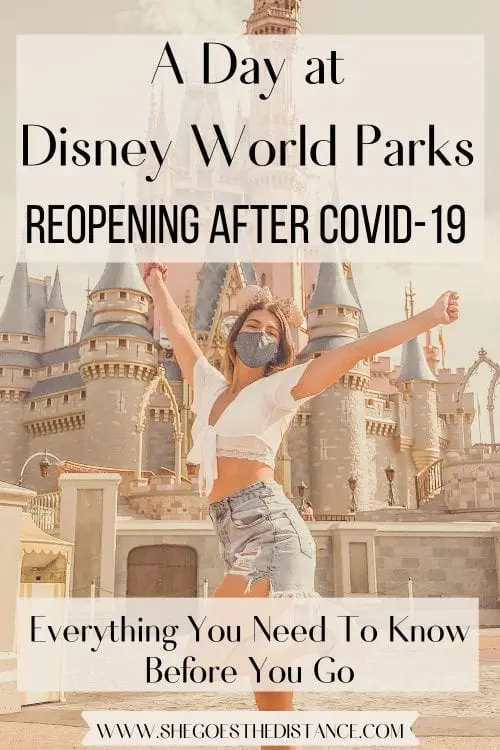 Are you thinking of coming to Walt Disney World now that the parks and some of the resorts are reopening! I'd love to hear your thoughts!
XOXO
Michela