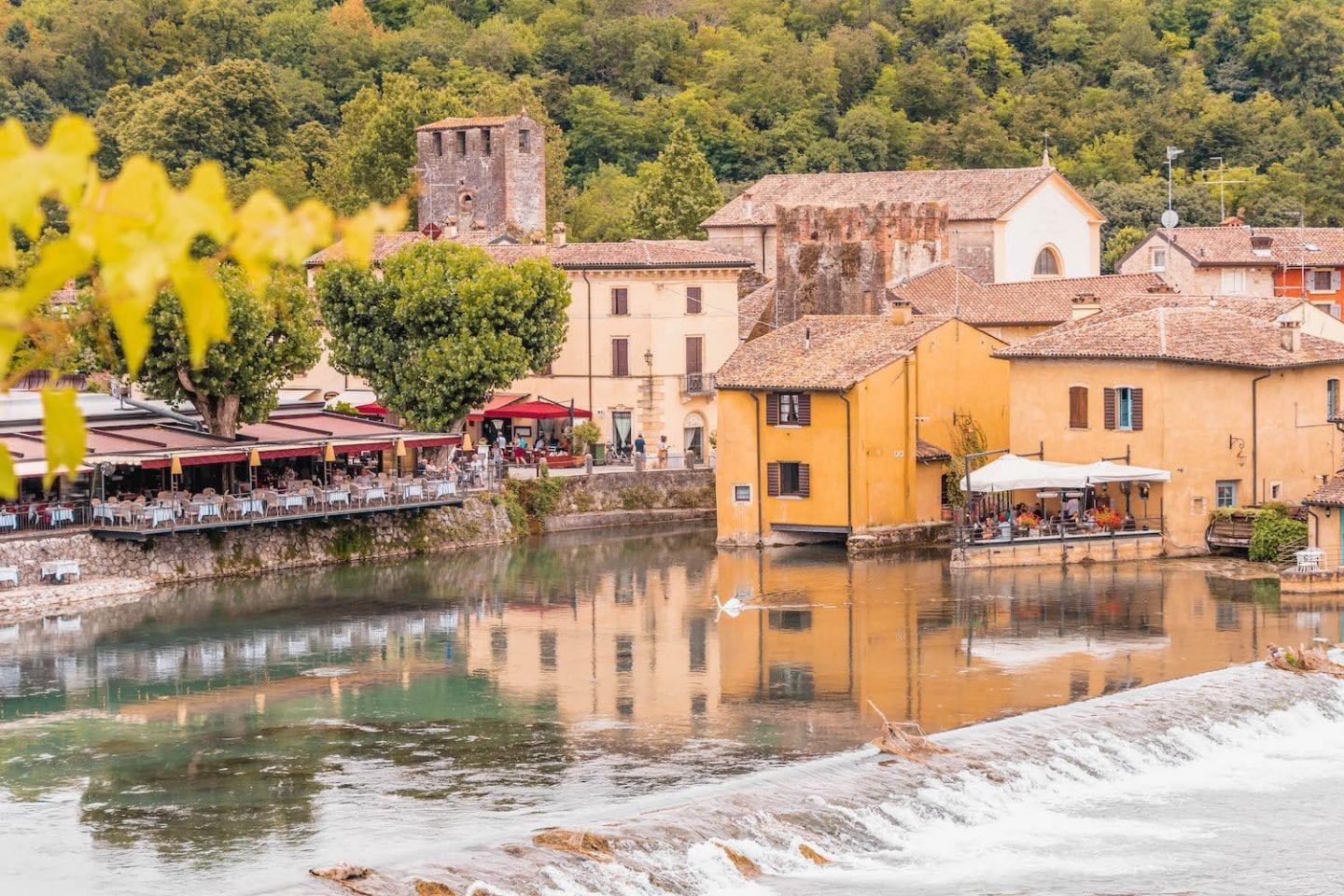 Last Updated on February 22, 2022
Nearly every village in Italy oozes historical charm, but not all can make you feel as though you stepped into a storybook. Borghetto sul Mincio is a tiny Italian village of only 400 inhabitants. From the Castello Scaligero on the hilltop to the arches of the Ponte Visconteo to the charming restaurants adorned with bright flowers along the Mincio River, Borghetto sul Mincio is a fairytale town in Italy you just can't miss.
On the edge of the Veneto region, Borghetto is a small municipality within the town of Valeggio sul Mincio. It's a perfect day trip from Milan or Venice if you have a car and if you like to go off-the-beaten-path. It's also one of the Borghi Più Belli d'Italia, one of the most beautiful villages in Italy.
The village is incredibly small, so you'll find your way around easily, but I wanted to put together a simple walking itinerary so you don't miss any special sites. Pair a trip to Borghetto sul Mincio with some of the other beautiful destinations nearby, which you'll find at the end of the post.
Some of these links are affiliate links. This means if you make a purchase through that link, I receive a small commission at no extra cost to you. Read my full disclosure!
First, get everything in order for your trip! As a local, I've learned exactly what you should bring along with you to Italy – and it's all in my packing guide!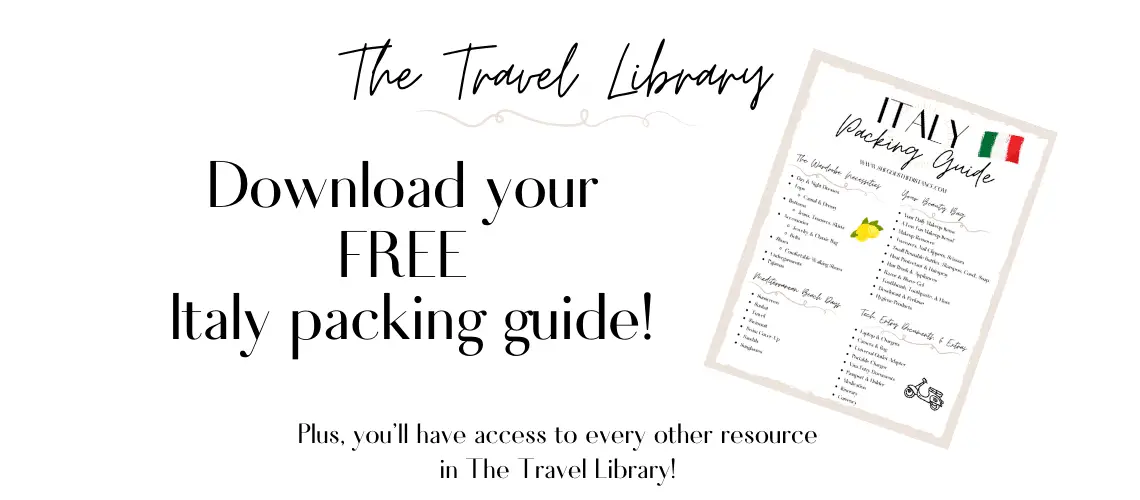 History & Special Things to Know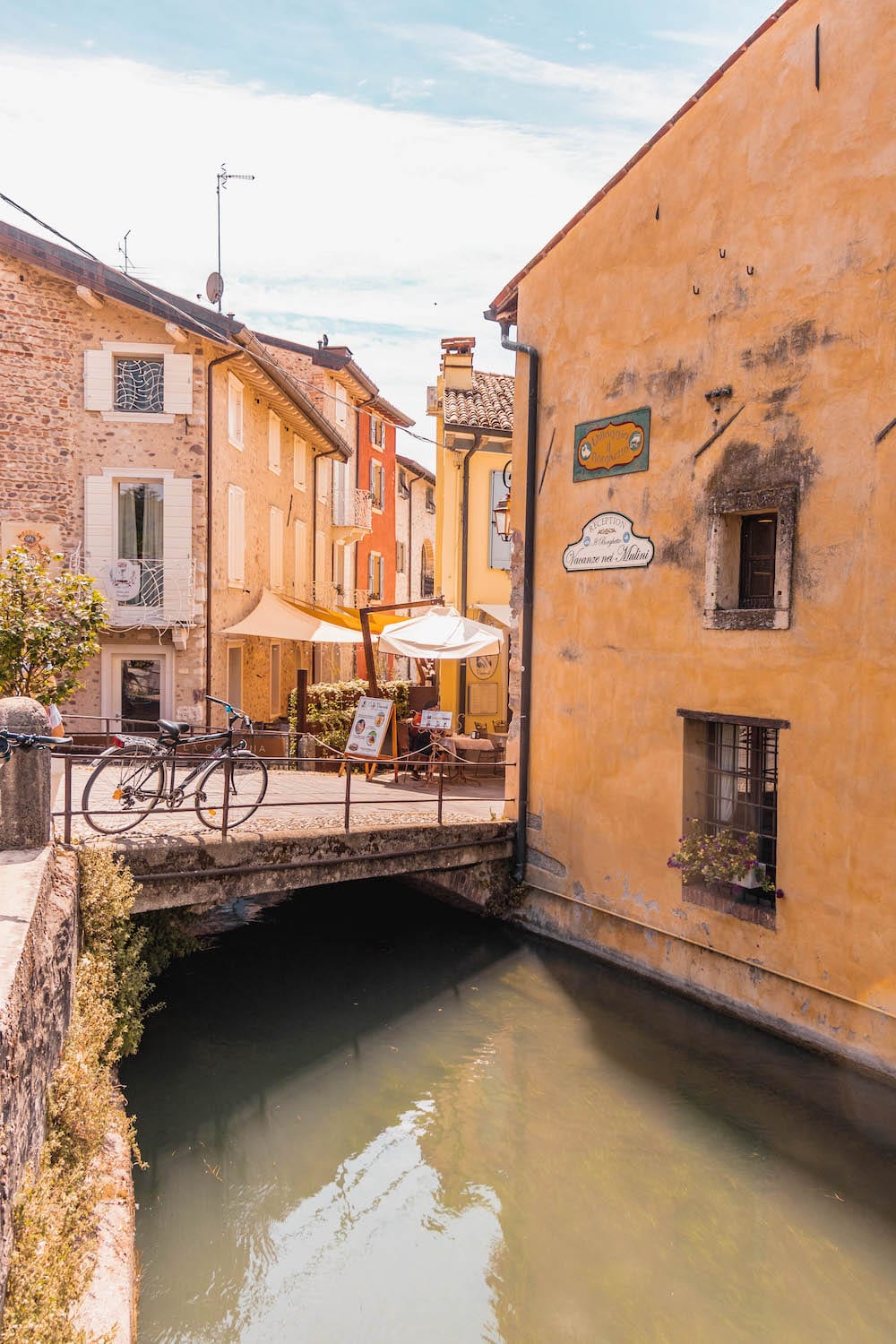 The area of Borghetto sul Mincio dates back to Etruscan times but was mainly shaped by the reign of the Scaligeri in the 1200s and later, the Republic of Venice from 1400-1800s. It was in the latter reign that agriculture significantly developed and watermills, which you still see around the town today, were constructed to grind rice and wheat and irrigate fields.
This area along the Mincio has long been militarily significant, as opposing armies wanted to be in the strategic position of controlling the river. Luckily, since the Risorgimento and the unification of Italy, the village remains quiet and quaint without regional republics battling for dominance.
If you are an active traveler, you'll love the many walking paths and activities along the Mincio River.
Cycling is a particularly popular reason to visit this area of Italy. There is a cycling path winding along the deep teal river and many picturesque vineyards to explore by bike.
If you choose to have lunch in Borghetto, try the tortellini. This stuffed pasta is a specialty in this region!
How to Arrive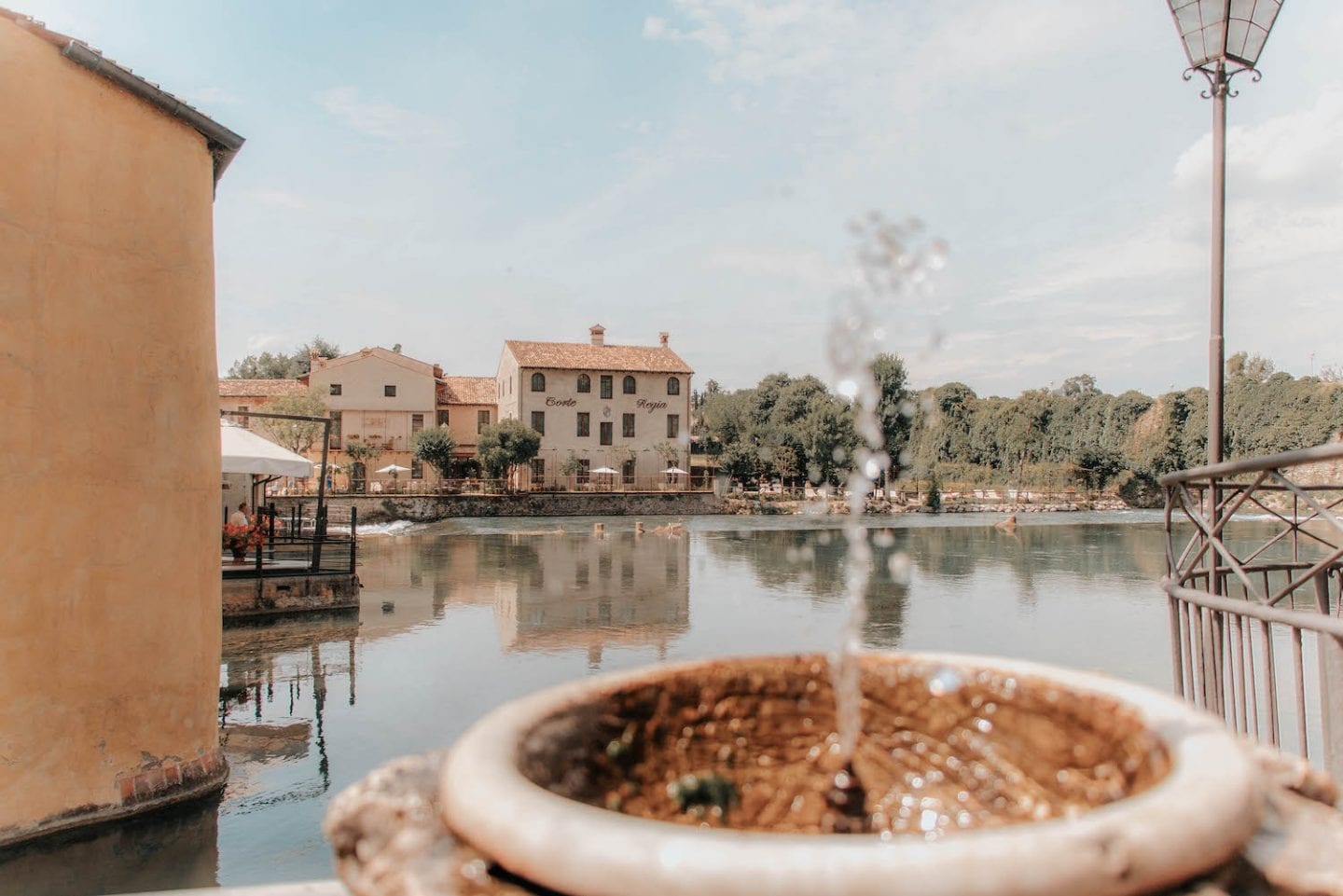 Borghetto sul Mincio is most easily reached by car. You'll likely exit the A4 Highway and then head south through some rural roads.
It is relatively easy to find parking around Borghetto. The nearest parking is a gravel lot with some shady areas and is 1.50 euro per hour. You can only pay with cash so keep this in mind before your visit!
The exact address to this lot is: Via Andrea Mantegna, 37067 Borghetto VR. Just put that in your Maps and you're ready to go!
There is also free public parking in Valeggio sul Mincio, but some are only for a specified amount of time, for example, one hour. If you're traveling to this part of Italy in the summer, I'd recommend just spending the extra money on parking because the days are so hot and humid and you have to walk up a hill to reach your car in Valeggio sul Mincio from Borghetto.
If you don't have a car, reaching Borghetto will be a bit more convoluted. The nearest train station is in Peschiera del Garda. If you travel by train, you can then take the Line 46 bus to Valeggio sul Mincio.
Valeggio sul Mincio is the main town and Borghetto is a small municipality within the town. It is about a ten to fifteen-minute walk from the center of Valeggio sul Mincio to Borghetto.
---
Walking Itinerary of Borghetto sul Mincio
I encourage you to explore Borghetto sul Mincio without a definite itinerary in mind – ironic, as I'm writing a walking itinerary, right?
The village is so small that you can get lost in its streets without actually getting lost. So, just to wander and explore is one of the best reasons to visit.
However, there are always things that you just shouldn't miss when traveling to a new place, and I hope I can provide you with helpful information and inspiration before you arrive in Borghetto sul Mincio.
I know I'm a traveler who needs a plan – so this mini itinerary is for those like me, who want to do their research and make sure they don't miss a thing.
Side note: This itinerary starts off by walking from the parking I noted in the section above. You can easily pick it up if you parked elsewhere, but that's just to let you know so you can get your footing.
Take In Your First View Near Cafe San Marco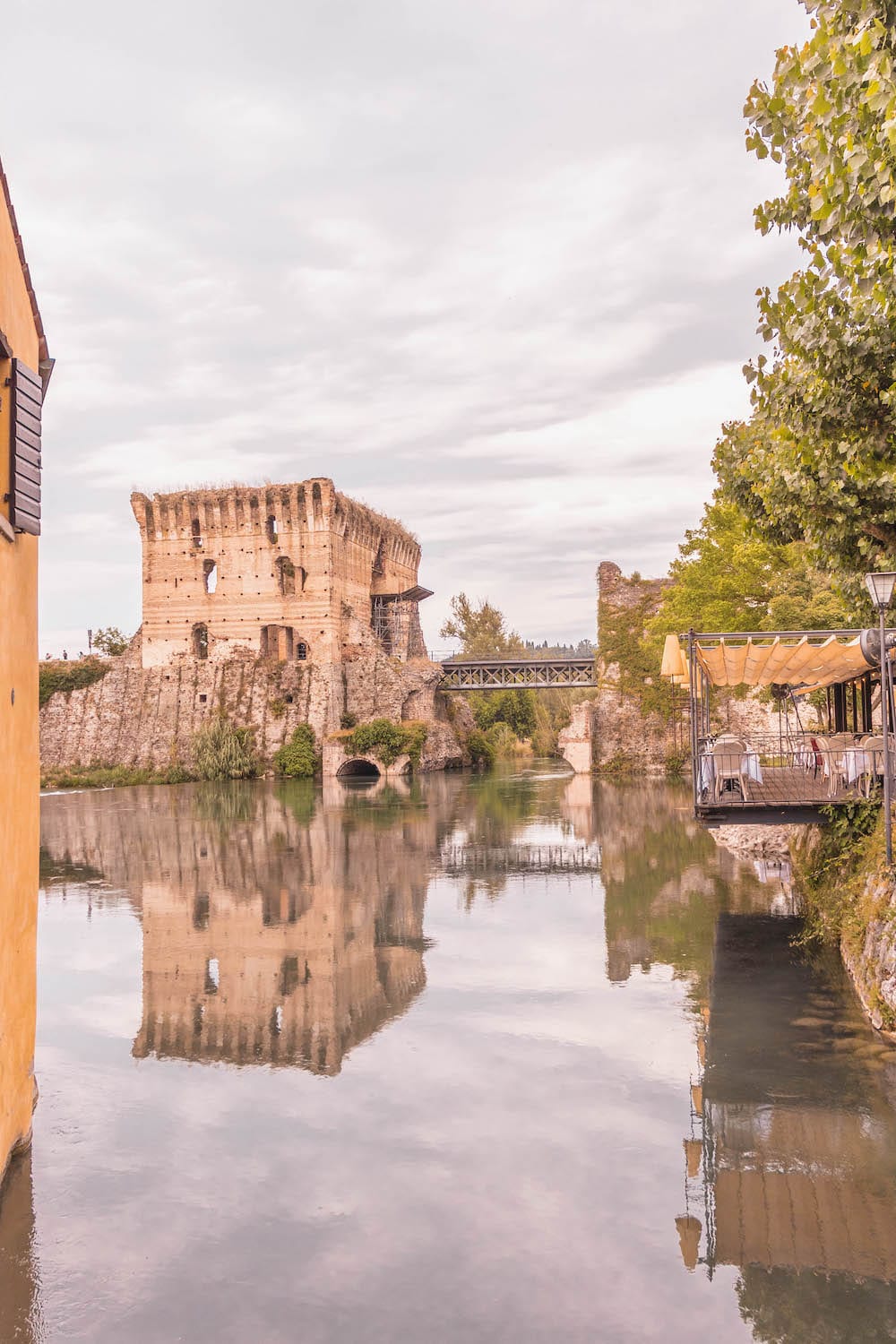 As you enter Borghetto, you'll hear the calming sound of rushing water. Luckily, the view isn't far away!
Once you reach the end of the boardwalk, you'll see the picturesque dining setting of Cafe San Marco and one of the best views of the Ponte Visconteo, Visconti Bridge, named after Gian Galeazzo Visconti, the first Duke of Milan.
Keep an eye out for swans swimming in the water below! And bookmark Cafe San Marco as one of your options for a riverside lunch or dinner.
Turn Right Towards a Dead End Path for Another Spectacular View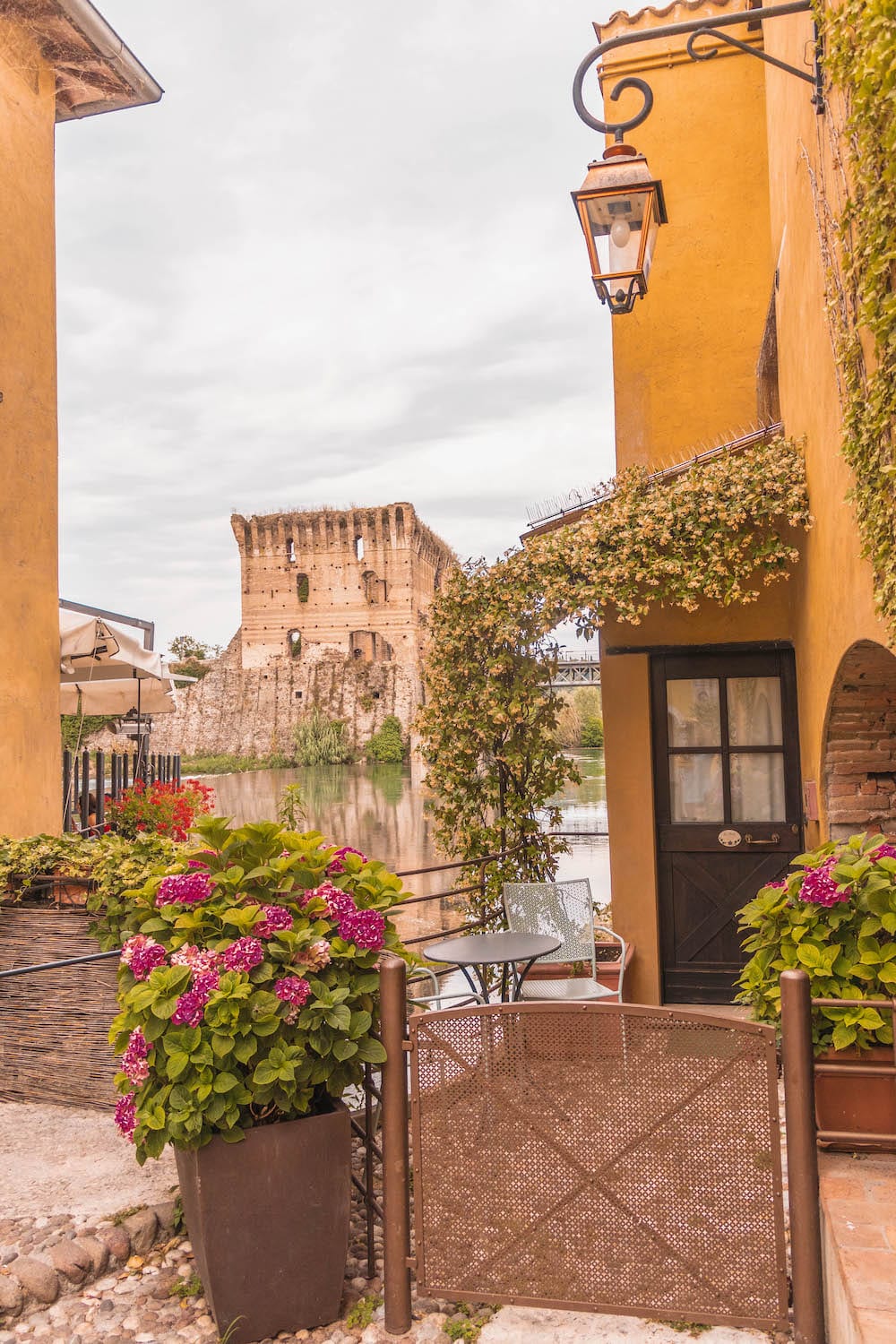 You may be tempted to go under the archway first, but make a quick right after taking in your view. You'll find hidden gem spots across from the entrances of two other bookmarkable riverside cafes.
These hidden gem alcoves are perfect viewing spots, as well as reflect some of the historical charms of Borghetto. You'll find watermills and iron gates full of locks left by couples in love with their initials.
The entire mood is incredibly romantic, so it's a perfect getaway with your significant other.
Turn Back to the Archway & Follow the Street to the Ponte di Legno Bridge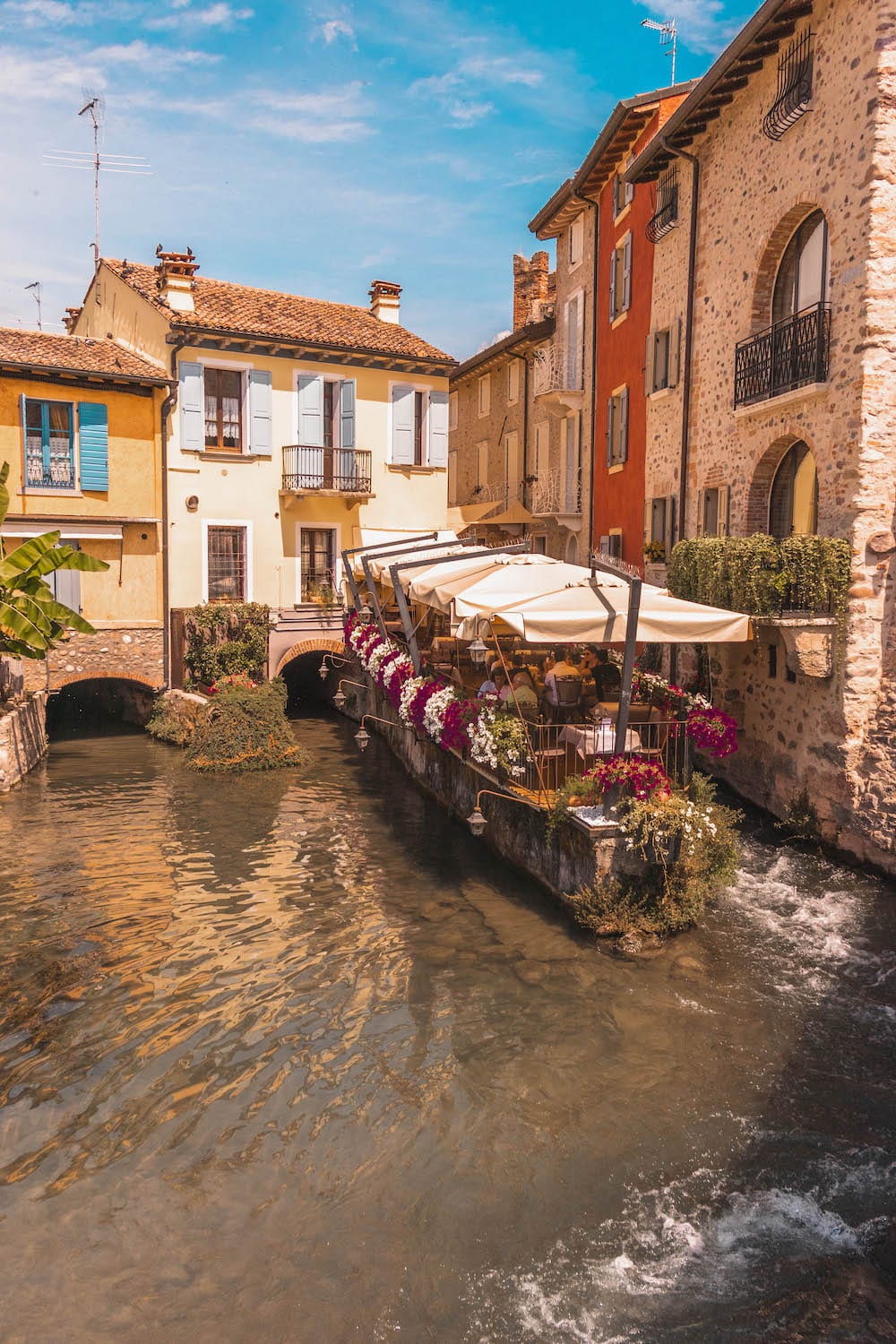 If you've been curious about Borghetto, maybe a few viral social media videos sparked your initial interest. Those charming spots on video are now in front of you in real life! The Ponte di Legno Bridge connects both sides of Borghetto along the Mincio River.
From the bridge, you can see the two restaurants with prime real estate in the coziest, most picturesque nook of the Mincio in Borghetto.
The cutest is the Caffè Visconti, adorned with flowers and next to a dip in the river's height, so there's a mini waterfall right next to where you're sitting!
Walk Along the Mincio River Through the Public Park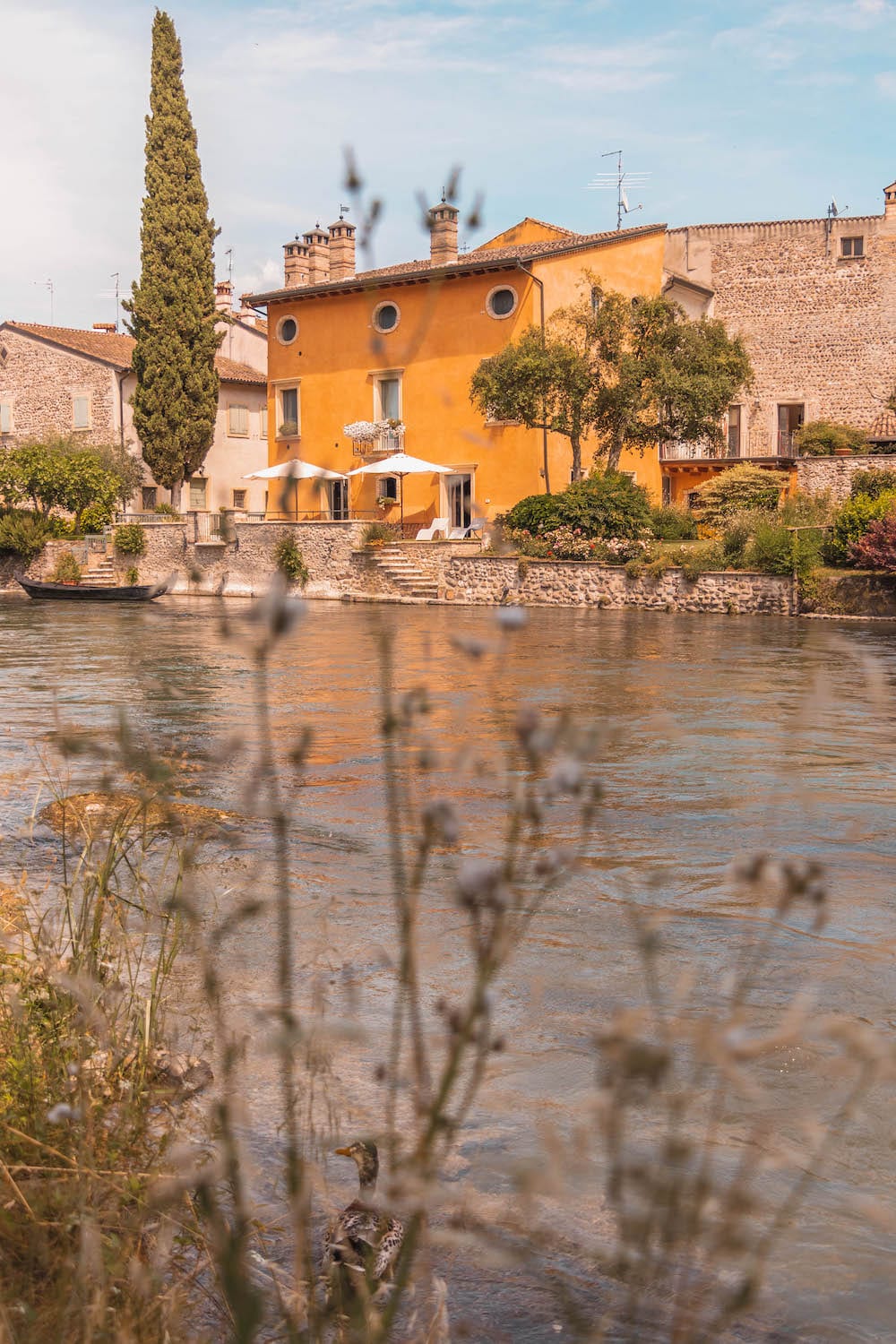 After you cross the bridge, turn left past the restaurants and buildings and you'll discover a waterfront sitting area. Venture even further in this direction and you'll be enjoying a shaded walk with the lulling sound of the river flowing next to you.
This is the perfect place to take a break in Borghetto if you're visiting on a hot day. Grab some gelato and relax on one of the many riverside benches!
Dine at One of the Riverside Restaurants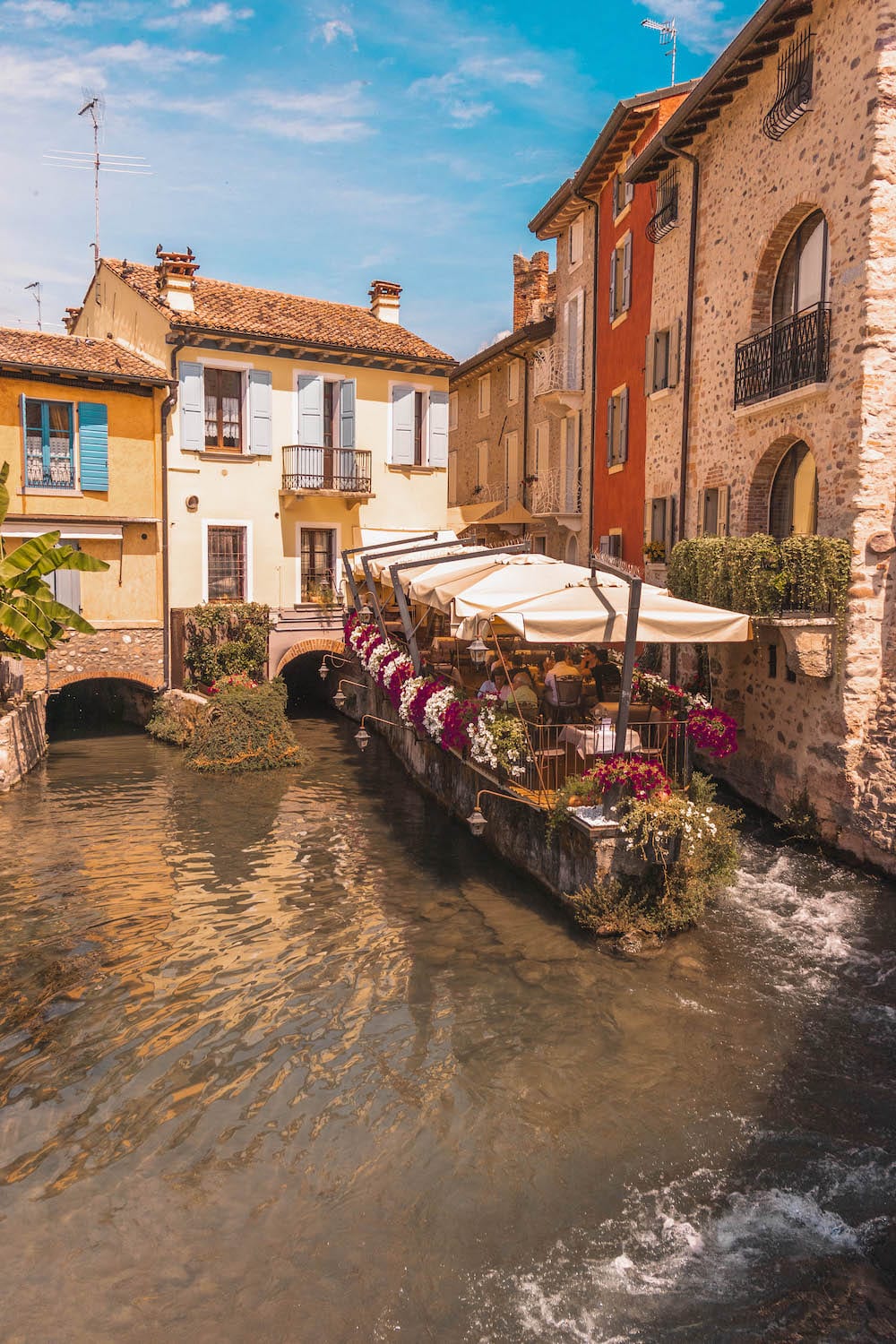 By midday or evening, you may start to get a bit hungry. Head back to the town center and choose from one of the many riverside restaurants that offer both traditional plates and a pinch-yourself ambiance.
Here are some I recommend:
For an afternoon gelato to cool off from the summer sun, visit Gelateria Borgo Antico!
Dip Your Toes In by the Corte Regia & View the Cascate del Mincio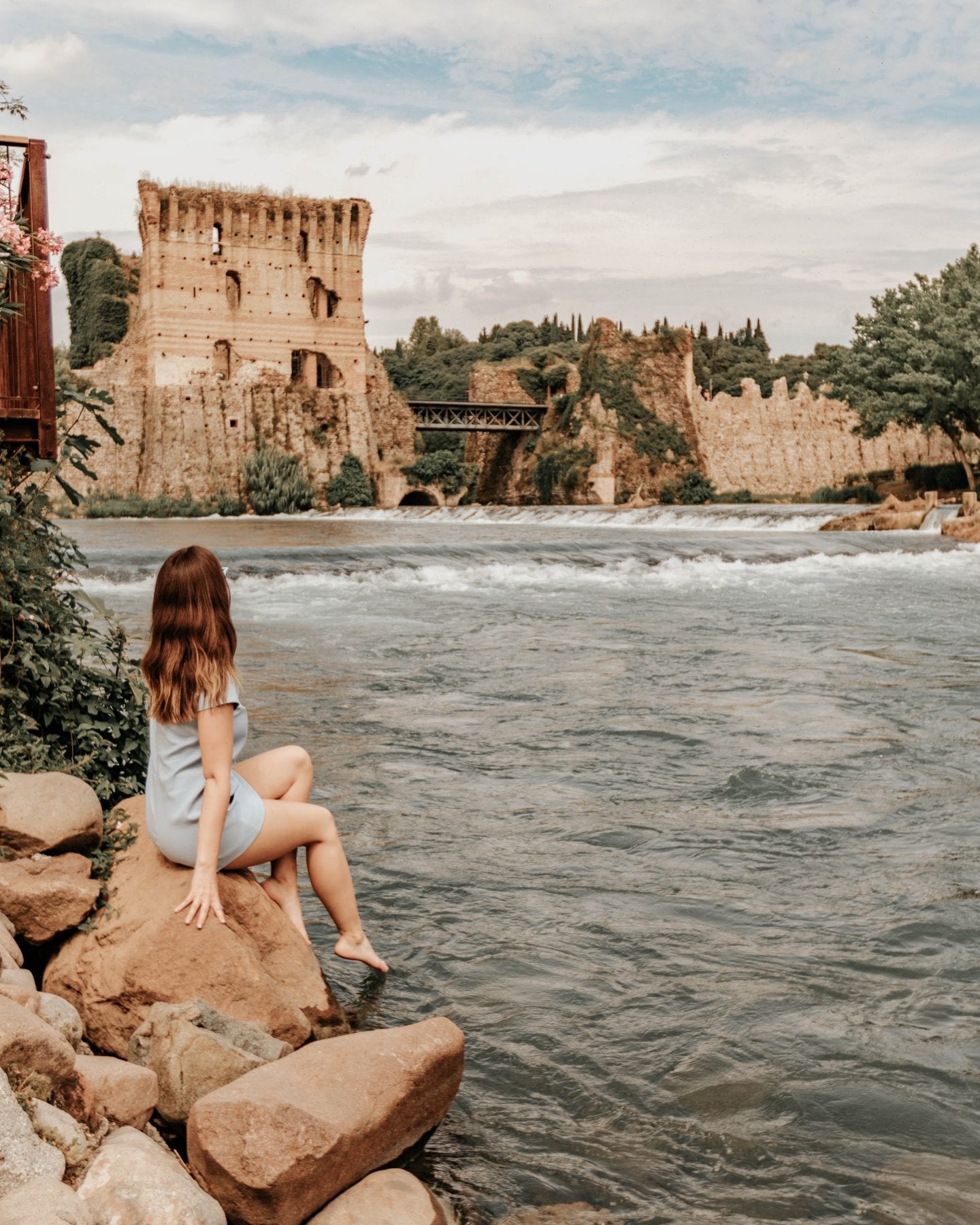 After you've filled up on pasta and wine, cross the Ponte di Legno again, but this time turn right. You'll find a few steps leading down to the river, the perfect spot to dip your feet in.
Across the way, you'll see the Cascate del Mincio, a small ridge where the water flows from a higher height back down into the river. It creates the effect of little waterfalls, which is why they are called "cascate."
Venture Towards the Outskirts of Town for a Private View of Castello Scaligero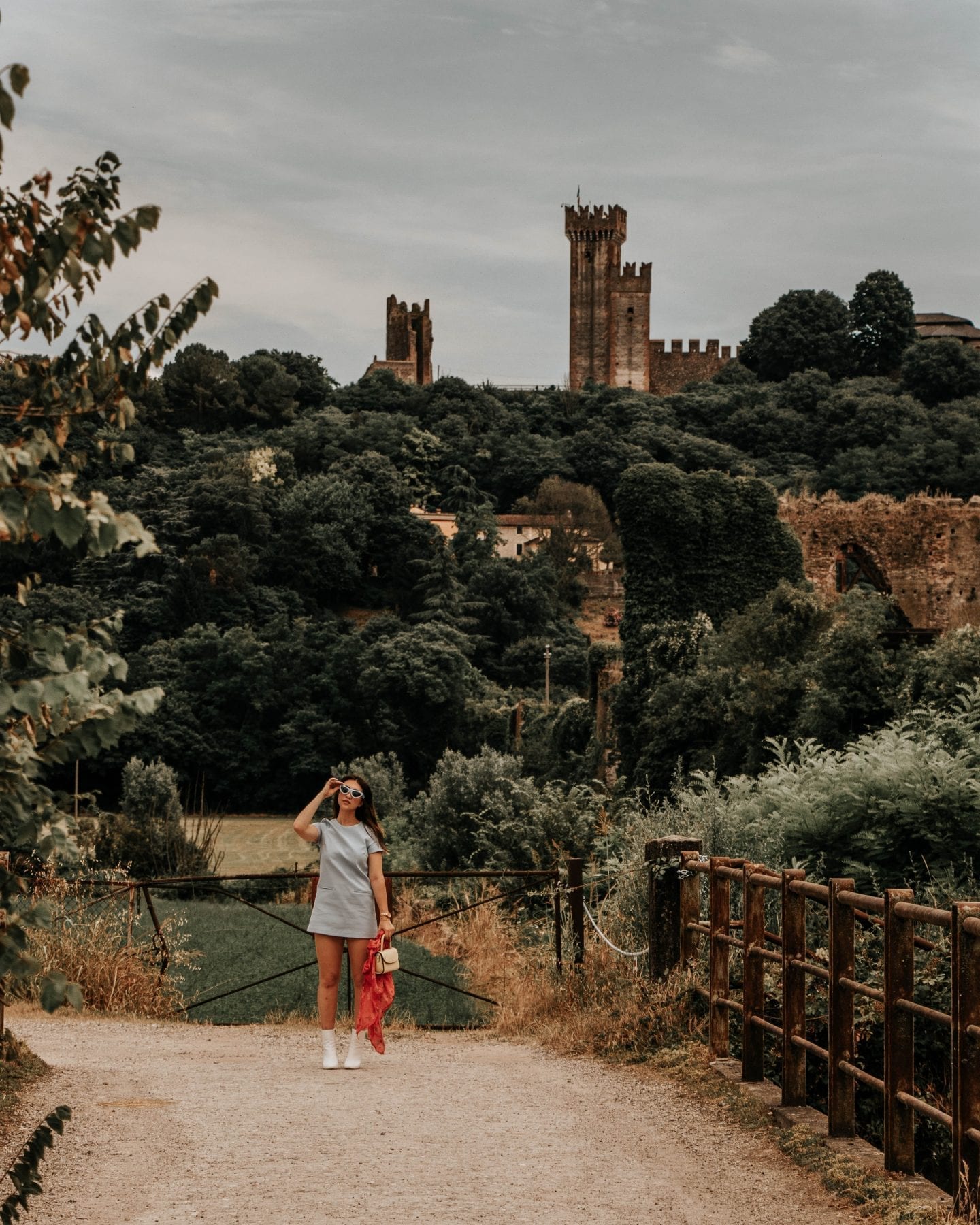 From that small inlet, start venturing out of town and walking down the street behind you. You'll pass some cute houses and hotels before getting up close and personal with the Ponte Visconteo.
But before you climb up, go under the bridge along the wide gravel path. On the other side, you'll come across an incredible private spot with a gorgeous view of Castello Scaligero in the background.
I opted to have a bit of a photoshoot here – I couldn't help myself!
Ascend the Stairs Up to Via Ponte Visconteo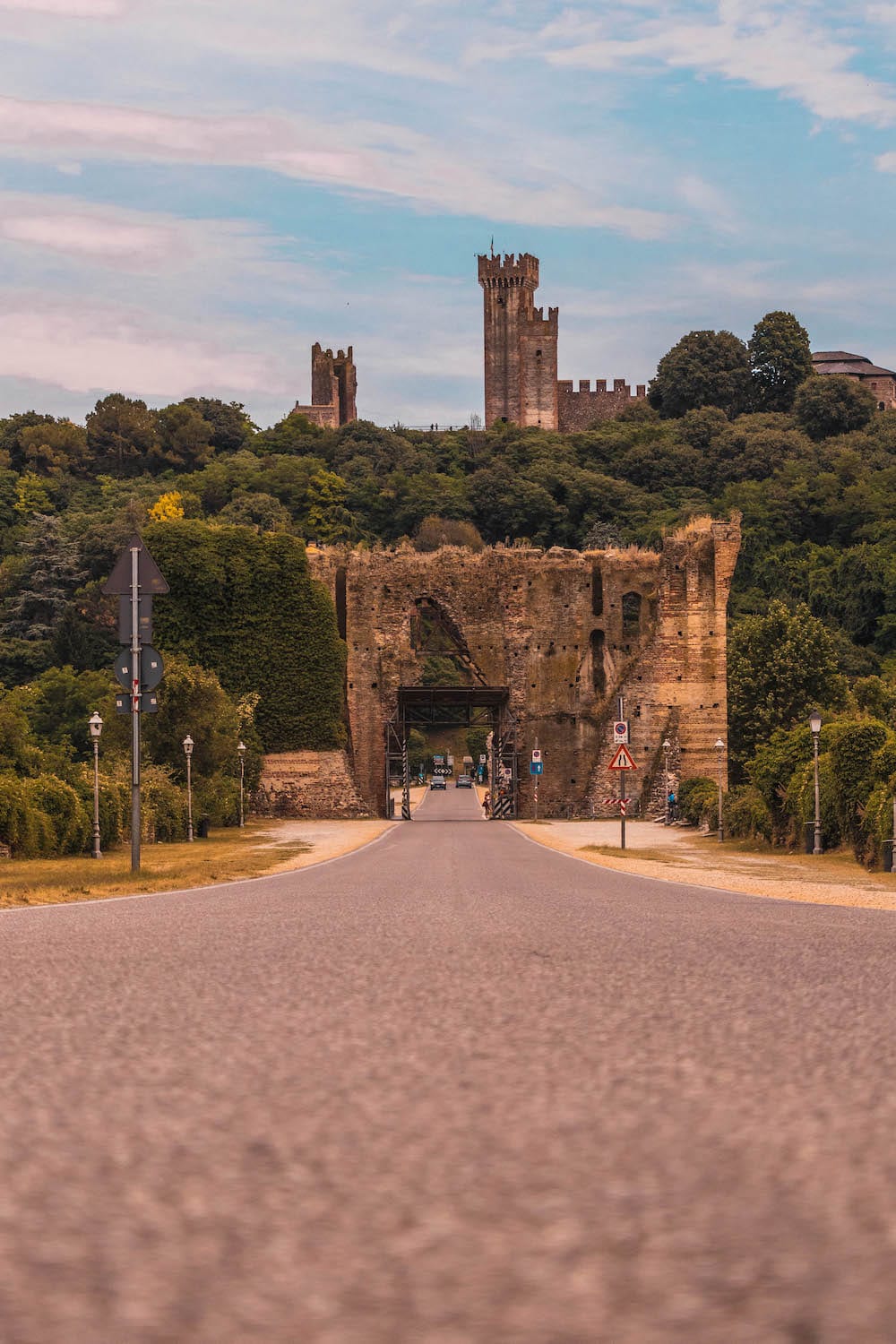 Under the bridge, you'll find a set of stairs to bring you to the top. There are no formal sidewalks, just some gravel and grass. However, the walking path is wide in most places and the street is not busy, so no need to fear!
Ponte Visconteo is a bridge that dates back to 1395! You're reminded of the incredible history all along your walk, with fragments of brick and stone weathered, yet sturdily forming the walls of the bridge.
From this height, you can take in a stunning panoramic view of the Medieval village of Borghetto below, not to mention see the stunning Castello Scaligero on the hilltop above at the end of the road.
Walk up to Castello Scaligero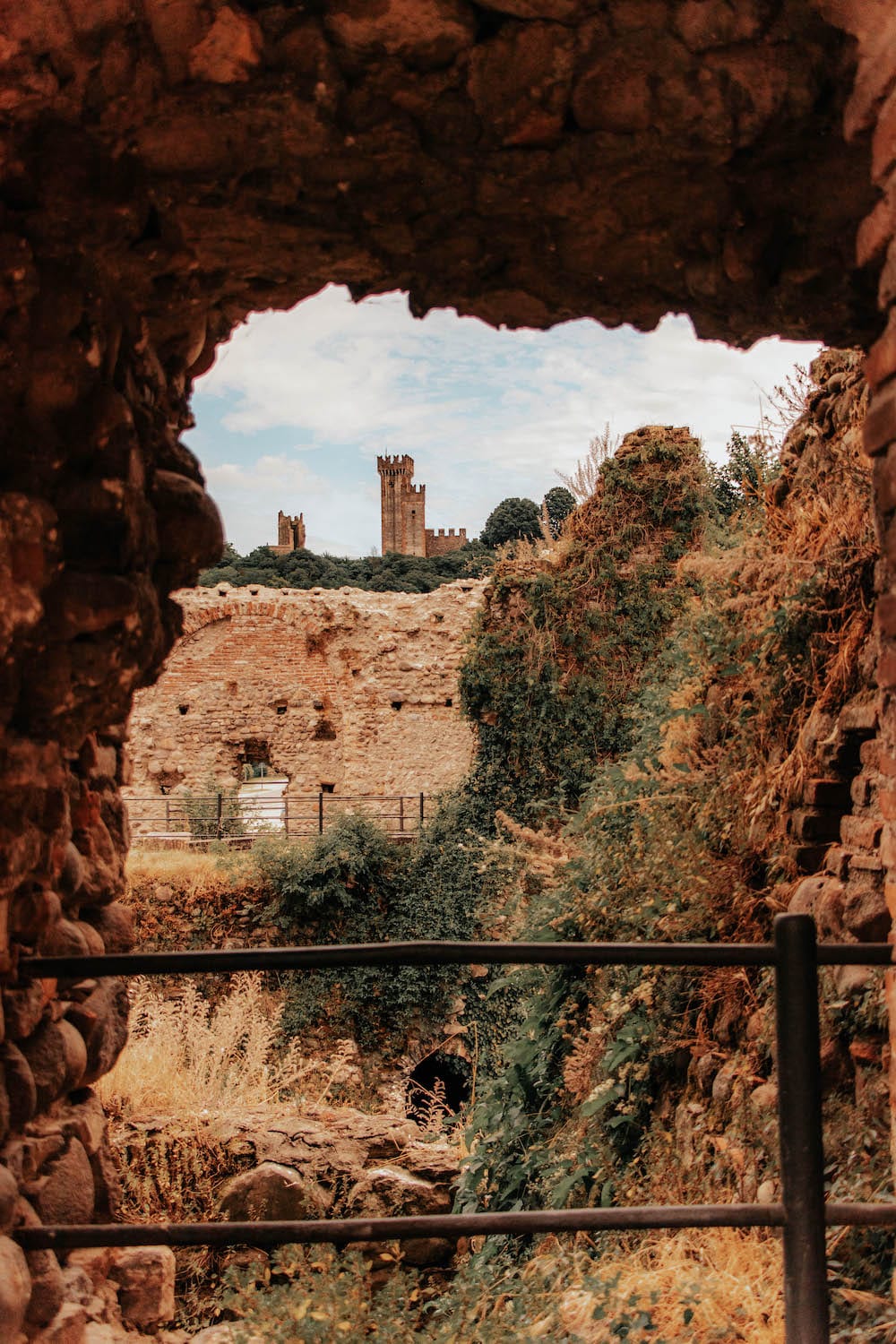 To end the day, make the walk up to Castello Scaligero. If it's hot outside, you may want to start with the walk in the morning, as it's all uphill!
The Castello Scaligero dates back to the 1300s and soars above the Mincio Valley. To make the journey even more picturesque, you can bike your way to the top and take in the incredible views on wheels.
---
Where to Stay in Borghetto sul Mincio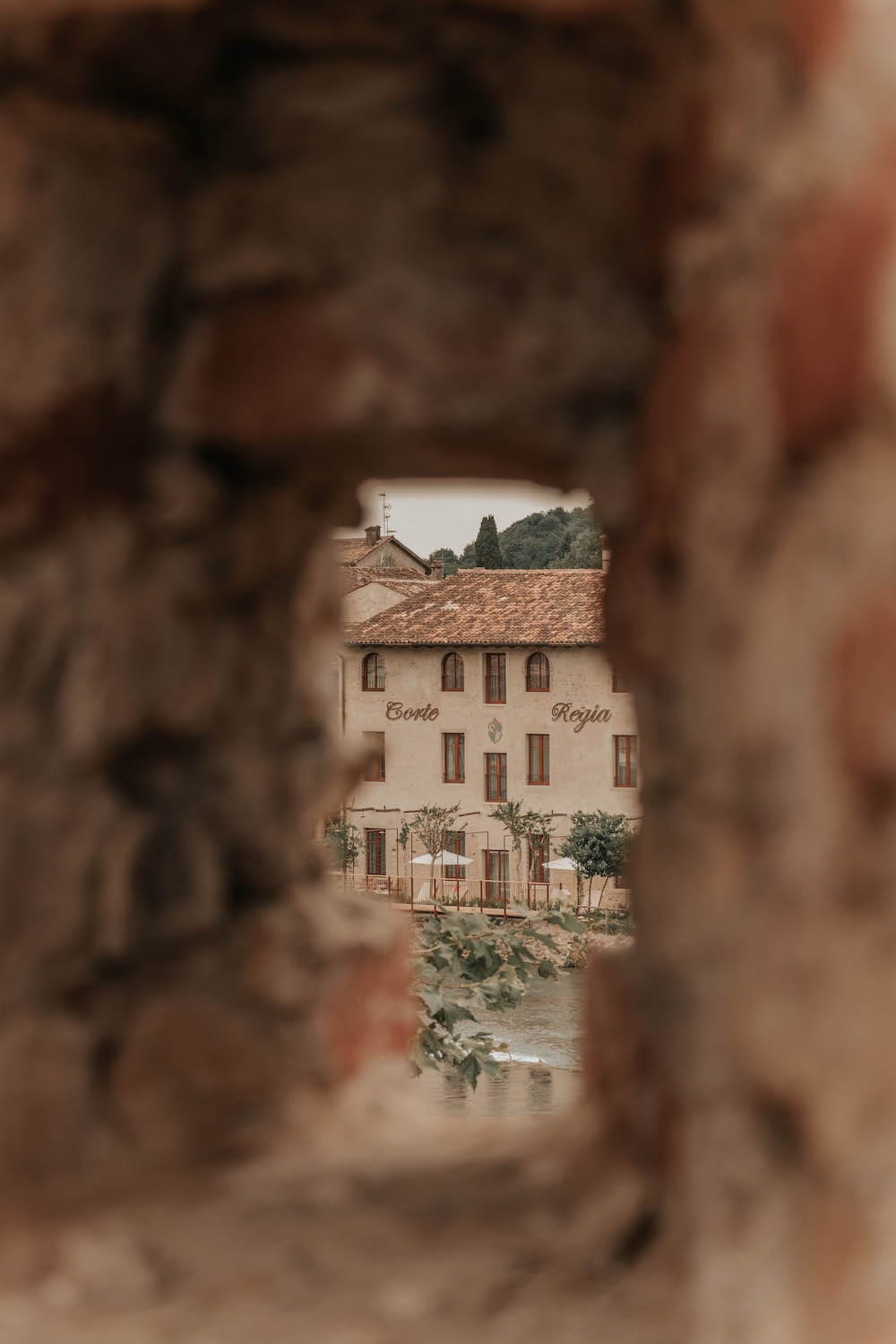 Borghetto sul Mincio is a perfect place to stay for a relaxing retreat, especially as a couple.
Best Budget Options
Best Mid-Range Options
Best Luxury Options
---
Things to Do Near Borghetto sul Mincio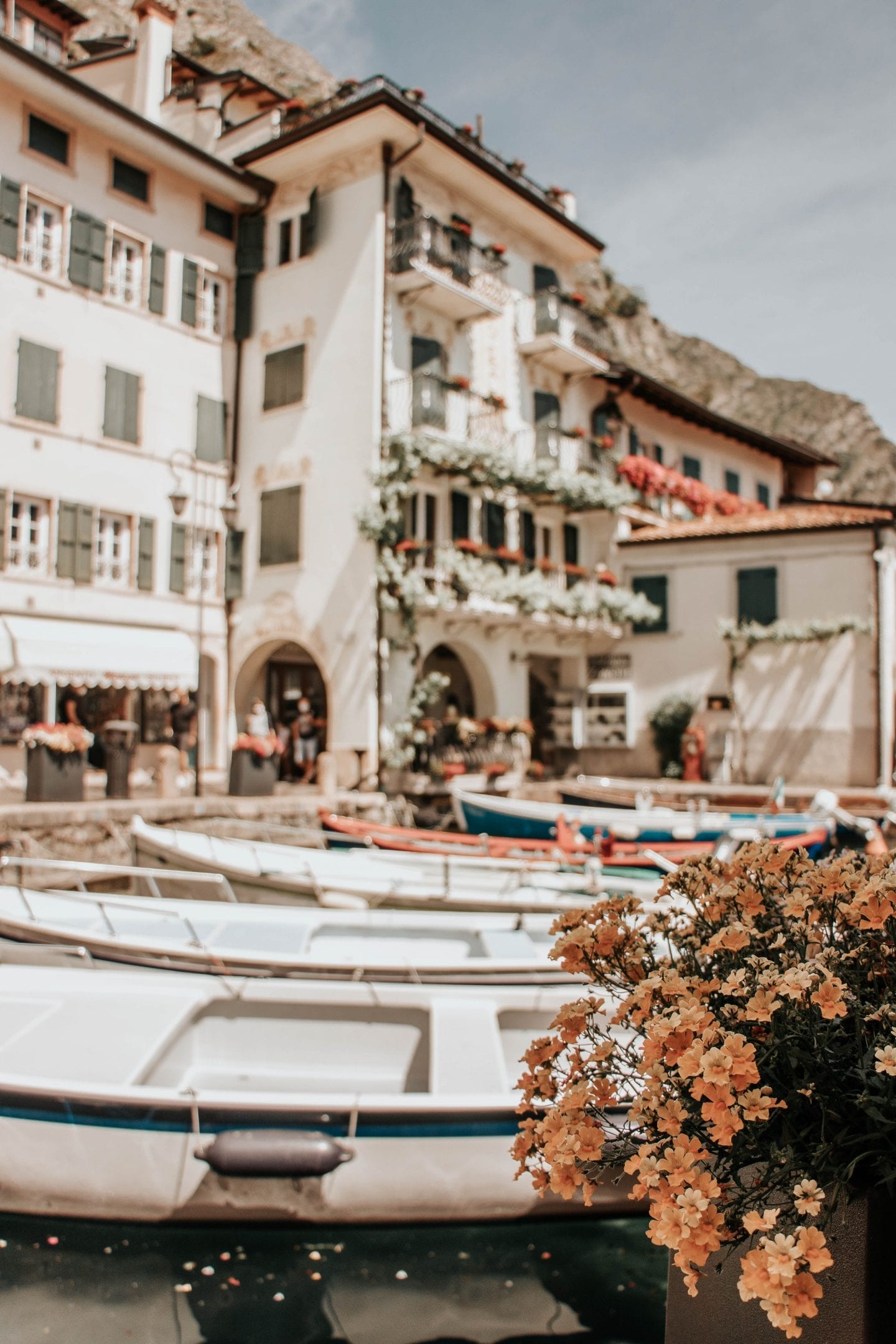 You may find exploring a tiny town like Borghetto sul Mincio will only take up half of your day. If you're a traveler that loves a busy itinerary, then pair a trip to Borghetto with one of these other beautiful places in Italy:
---
Extra Tips for Visiting Borghetto sul Mincio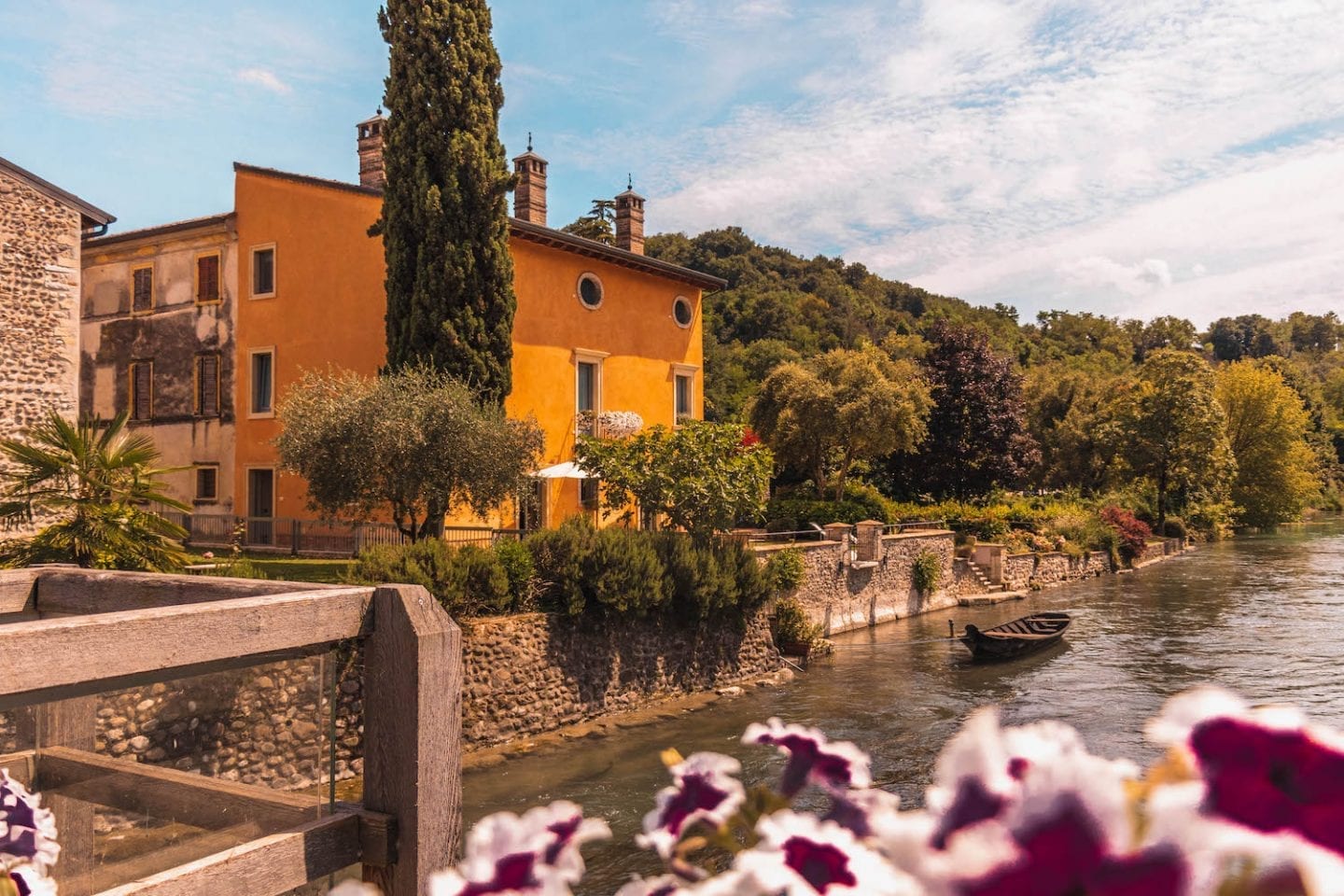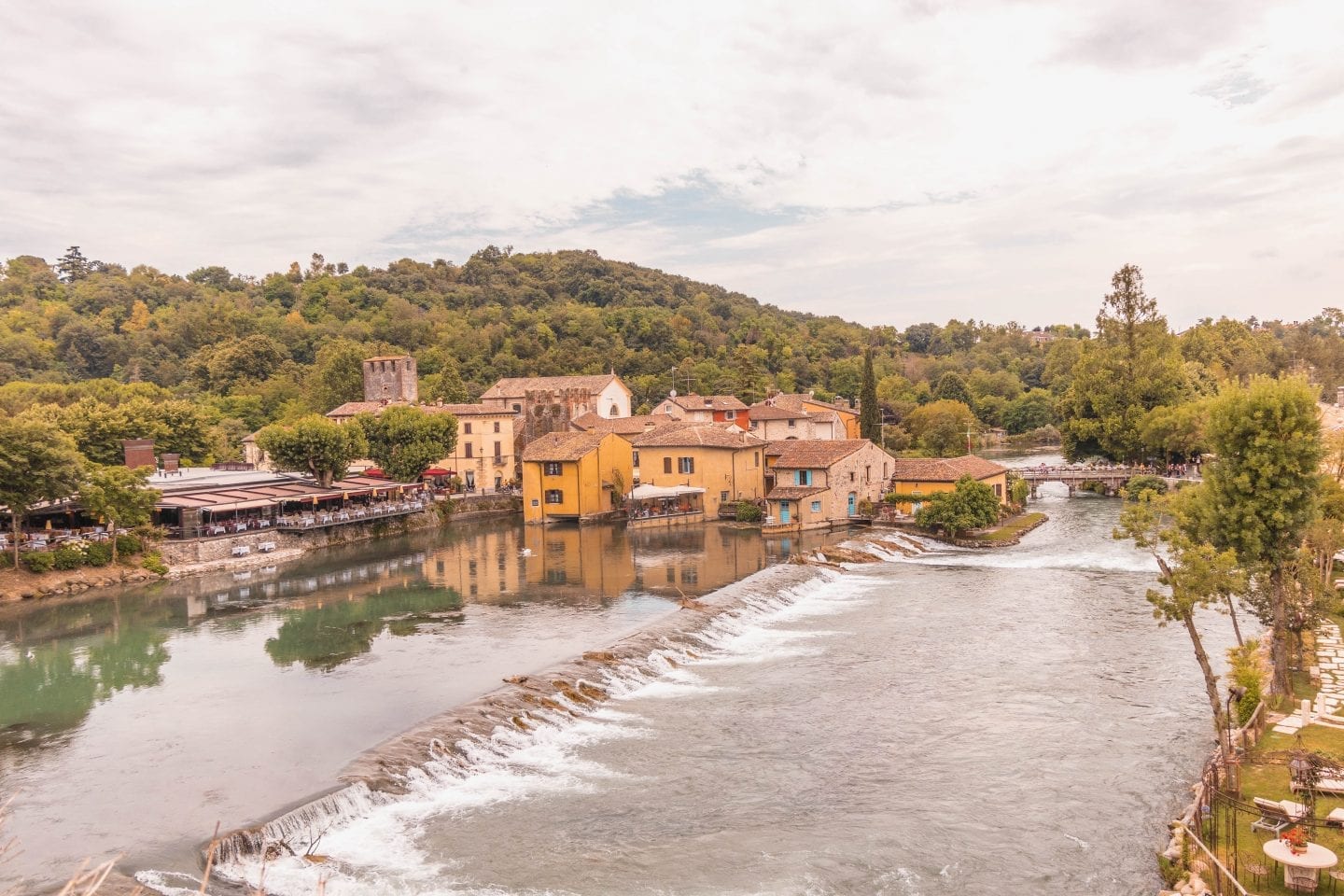 Italy Trip Planning Resources
When to Visit: the months of May-June or September-October offer nice weather, lower prices, and fewer tourists!
Plugs: Italy uses plug types C, F, and L. A universal adapter will work with each plug type!
Currency: Italy's currency is the euro.
Safety: Italy is a safe country to travel to. The main worry for tourists is pickpocketing. Be sure to always carry a bag that zips, or better yet, an anti-theft backpack. Wear it in front of your body in busy areas.
Italy is a mid-range to an expensive travel destination. But you can still save money while traveling! Book any reservations as early as possible for the best deal – this includes car rental, accommodations, flights, and train tickets!
Are you inspired to visit Borghetto sul Mincio?!
Save This Guide on Pinterest for Your Trip!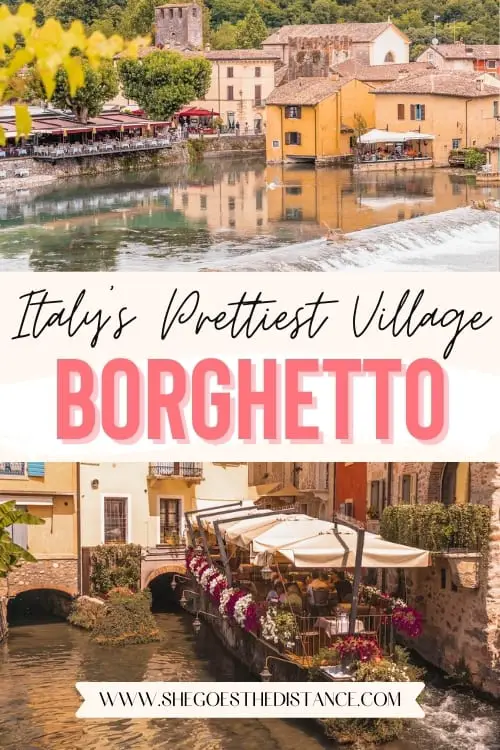 I hope you've found everything you need to know about visiting Borghetto sul Mincio and are planning your escape to this fairytale Italian village!
XOXO
Michela