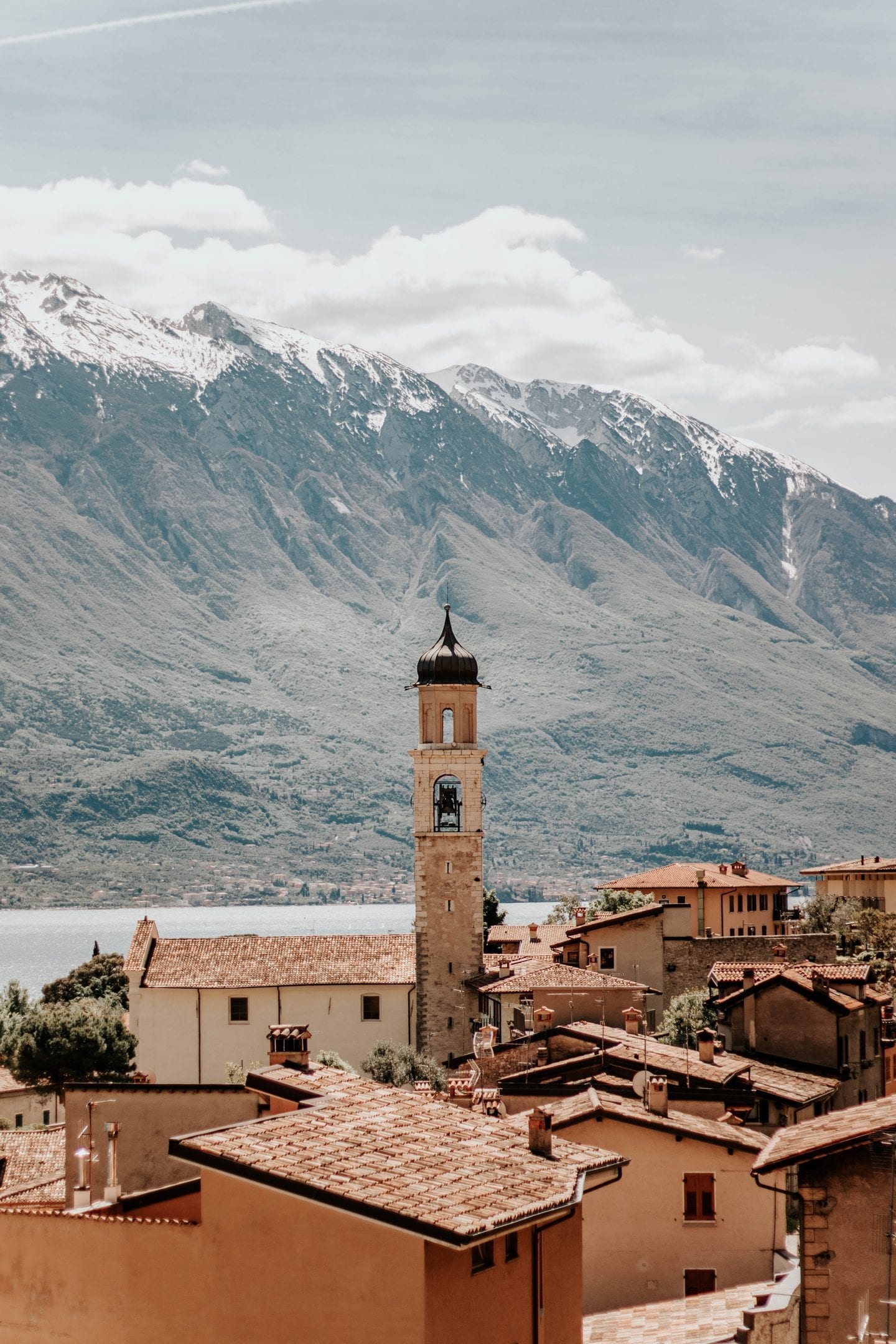 Last Updated on April 30, 2022
Lake Garda: Italy's largest lake. On a map, it's pieced together like a puzzle, with dotted lines across the middle and top distinguishing the three regions that share it – Veneto to the east, Lombardy to the west, and Trentino-Alto Adige to the north. Although large, it has a romantic and intimate feel – from the flower-adorned towns in spring to the cozy snow-tipped peaks in winter hugging the shore. Any town is a good town to visit on this special body of water – but these are the best towns on Lake Garda worth a day trip from Milan or wherever you're wandering as part of your northern Italy itinerary.
My top towns are five – I could list ten more that could give you the same feel (I will be including some honorable mentions) but I think it is most effective if I share with you the very best of Lake Garda, Italy.
Some of these links are affiliate links. This means if you make a purchase through that link, I receive a small commission at no extra cost to you. Read my full disclosure!
The Top 5 Lake Garda, Italy Towns
---
1. Sirmione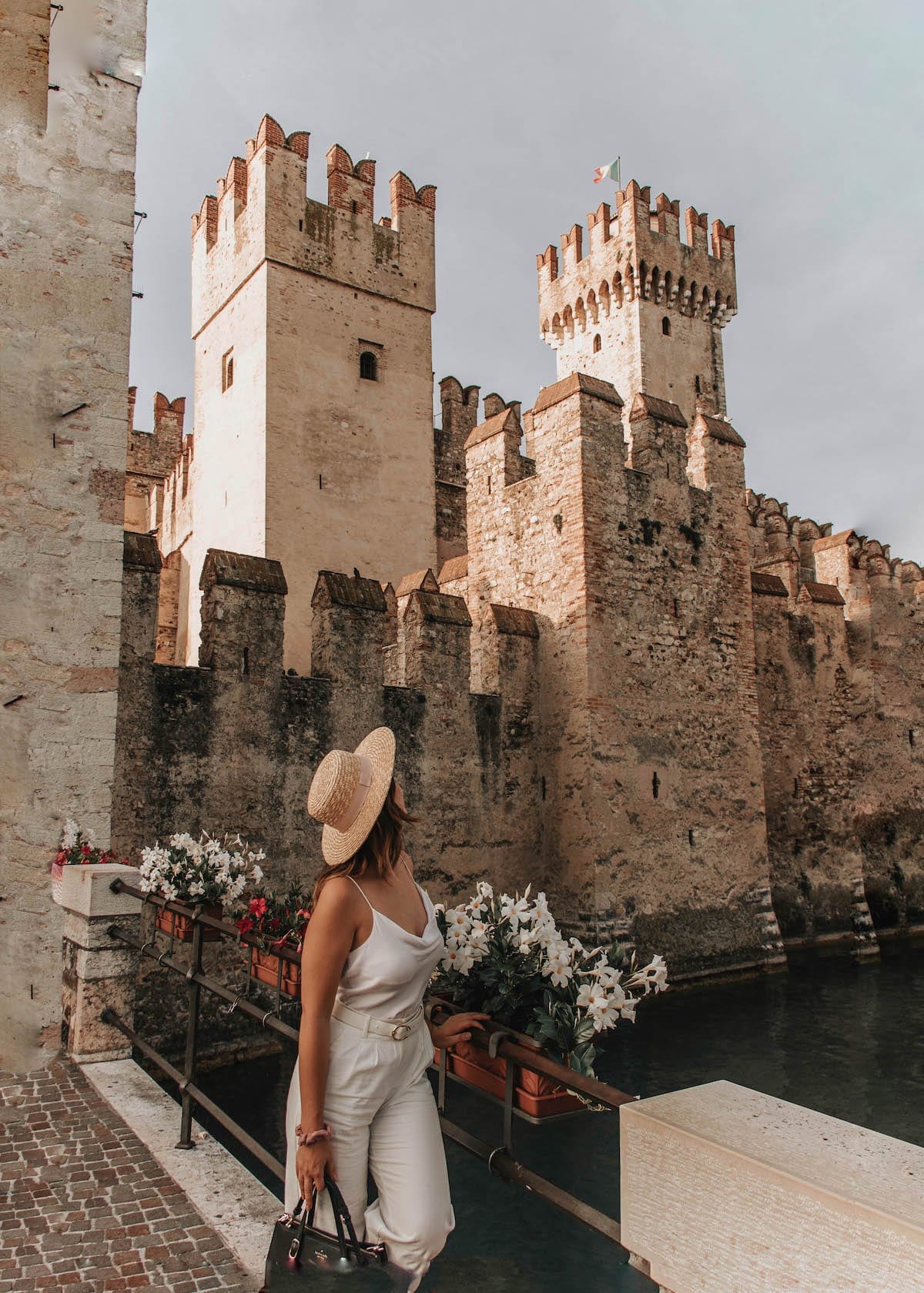 You may have seen that famous Instagram picture dotted across your news feed, popping up to remind you that dreamy places like Sirmione really do exist.
While its Insta-fame is what originally drew me to visit Sirmione, its quaint charm and sweeping views made me want to stay forever: it's one of the most romantic places in Italy.
Sirmione is a one of the best towns on Lake Garda to visit because there is so much to do that isn't just wandering cobblestone streets and taking pictures for the 'gram (even though those are things you should definitely do.)
The striking Castello Scaligero is the centerpiece of Sirmione and an absolute must to admire. Break out your drone if you have one and capture stunning views from above of the tower and moat.
As you wander over the bridge to Castello Scaligero from where you parked your vespa (we can all dream,) you will meet the bright town center abundant with shops, restaurants, and people.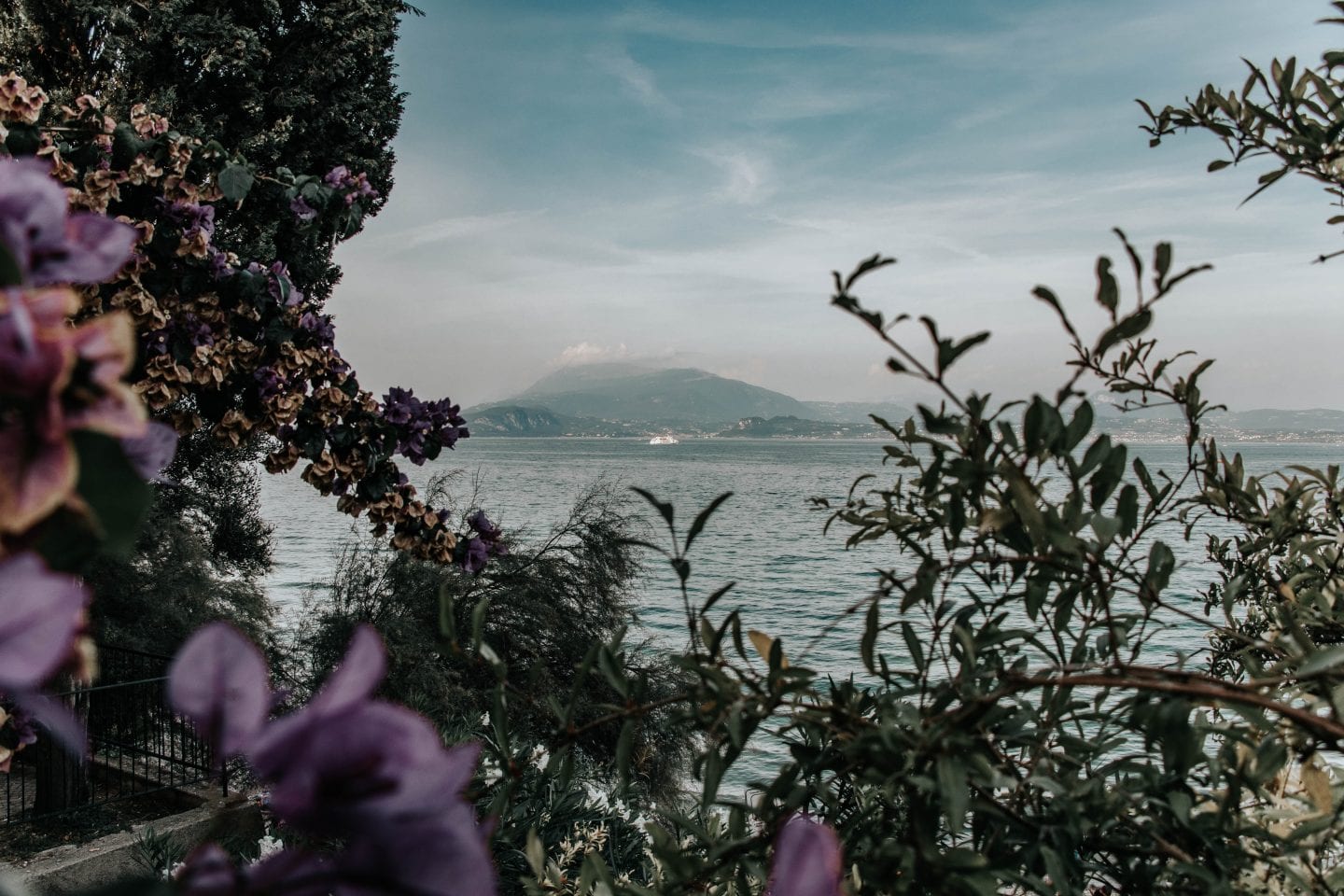 Sirmione is on a peninsula that stretches out from the very south of Lake Garda towards the north, so whichever way you turn your head, there are stunning views. There are several parks that make perfect photo spots, as well as a walkway that encircles almost the entire peninsula!
At the end of the peninsula is an archaeological site, the Grotte di Catullo. You can enter to visit the ancient ruins of a Roman villa dating back to the 1st century B.C. for 14 euros!
The fact that Sirmione is a peninsula also makes it a perfect location for a boat cruise – you can see all the amazing sites from the water!
---
Best Parking: Parcheggio Lungolago Diaz, Lungolago Armando Diaz, 25019 Sirmione BS
This lot is very near to the town center, so it can be difficult to find a space but worth a try! It's 2.50 euros per hour and you pay ahead at a machine where you input your targa, meaning license plate.
Where To Stay:
---
2. Limone Sul Garda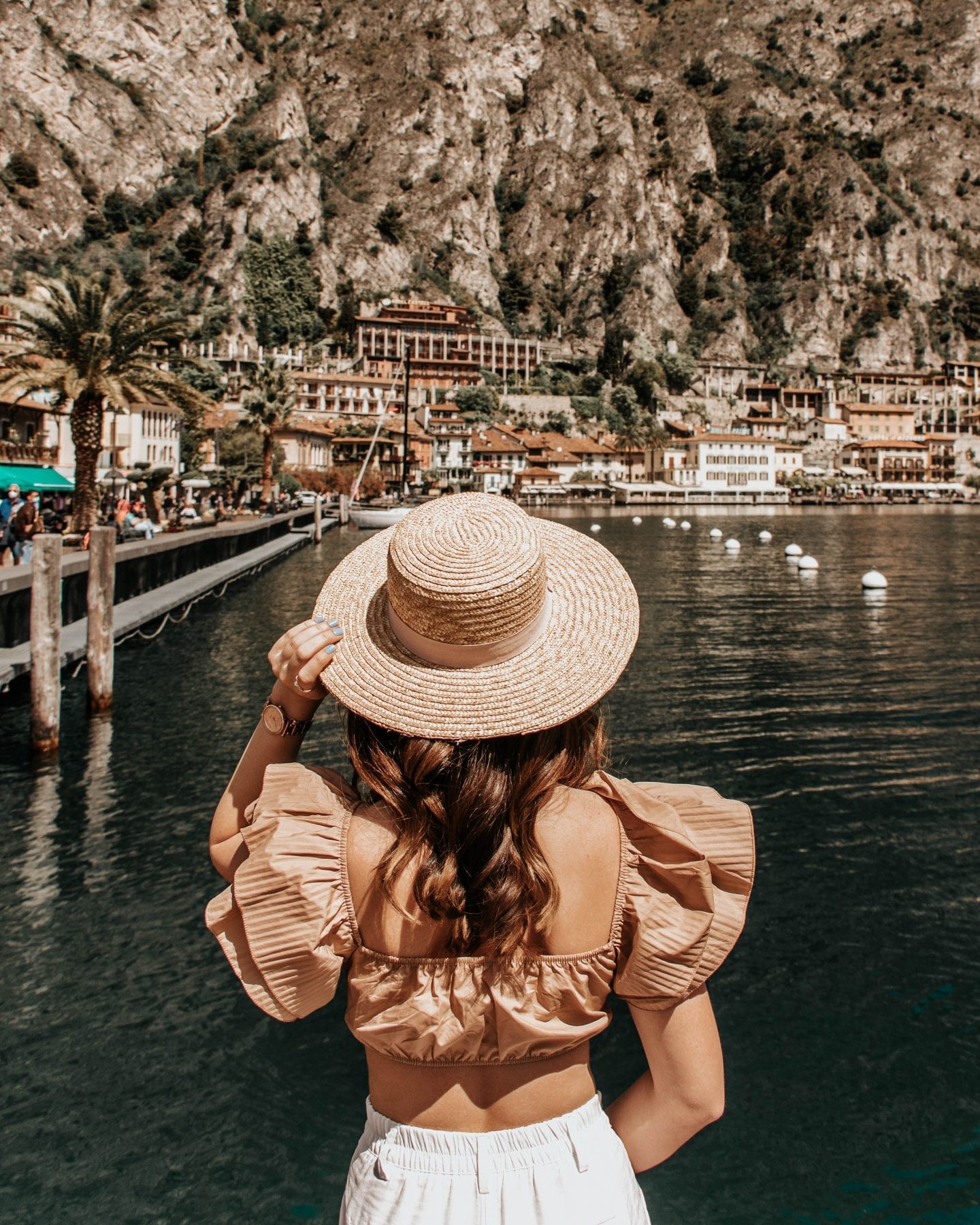 From the lemon-adorned house numbers to the relaxation chairs on the marina, Limone Sul Garda, on Lake Garda's western shore, evokes a positive and relaxing ambiance. The same words keep coming to mind when attempting to describe Limone – cheerful, sunny, and happy!
As you leave the small but bustling town center, the excitement of exploration comes over you. Limone is a web of tiny streets weaving up and down, east to west, and dispersing into tiny alcoves or mysterious passageways leading you to a new place.
Ascending the town, you'll notice on the ground another local and endearing touch – a tile with brightly painted lemons leading you to the Limonaia del Castel, a playground for citrus lovers.
This beautiful citrus-growing sanctuary is another maze of sweetly-scented fruit trees with panoramic views of Lake Garda and Limone's rooftops.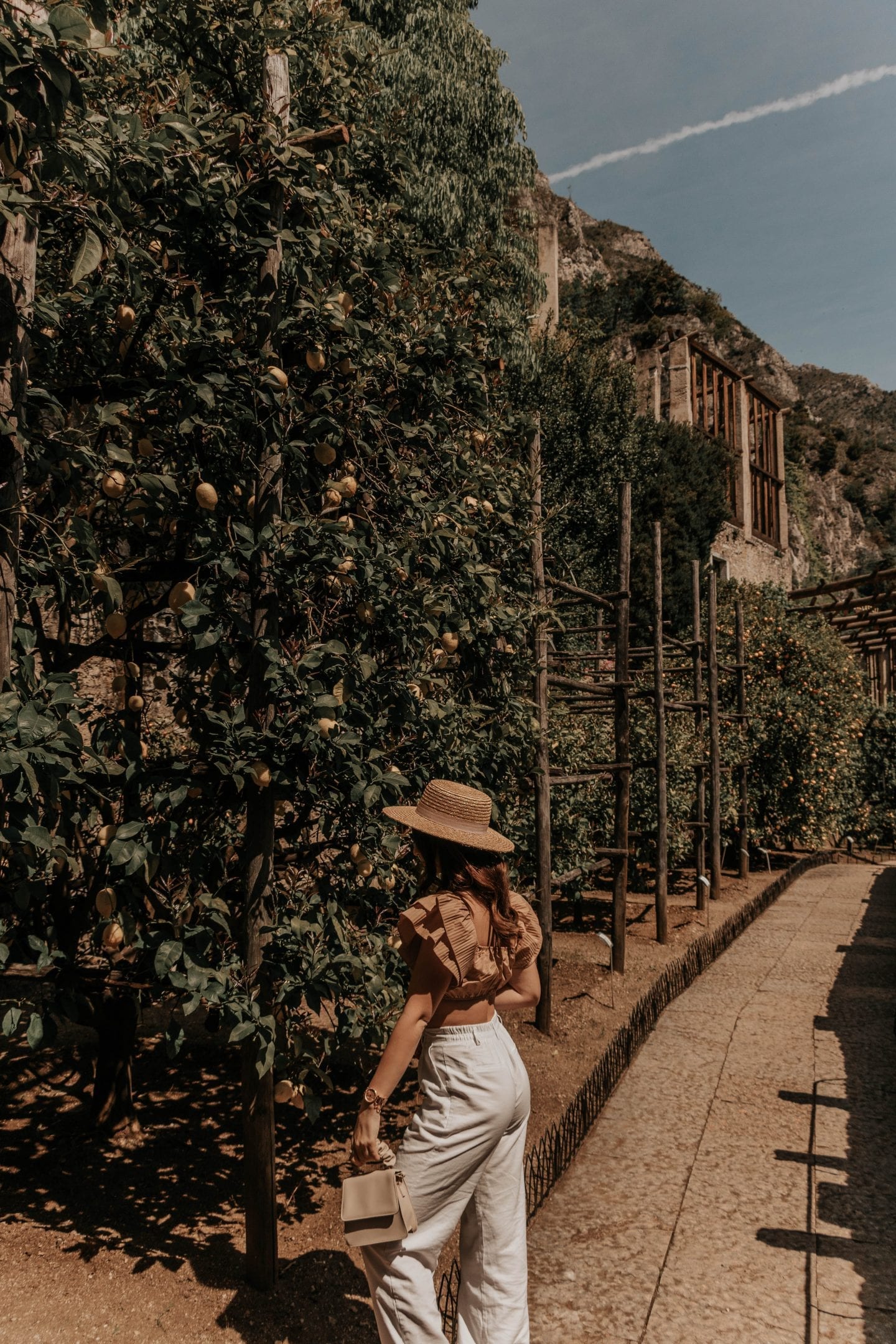 The gardens are only two euros per person to enter and are a magical little place to frolic, take photos, and pinch yourself that this is your life right now!
Limone boasts another surreal attraction nearby, which is the Ciclopista di Garda a panoramic, elevated cycling and walking path alongside the mountain. There is a tiny parking lot on the side of the road right at its entrance, but the limited spots are snatched up quickly.
Otherwise, you can walk from Limone sul Garda starting at Capo Reamol to reach the path.
---
Best Parking: Parcheggio Multipiano, Via Lungolago Guglielmo Marconi, 50
This is a parking garage in Limone (a rare site in small towns,) with restrooms available and rates at 2.50 euro for the first hour and 1.50 euro for every hour after! Keep your ticket on you as you visit the town and you will pay at the machine when you return to your car.
Where to Stay:
---
3. Lazise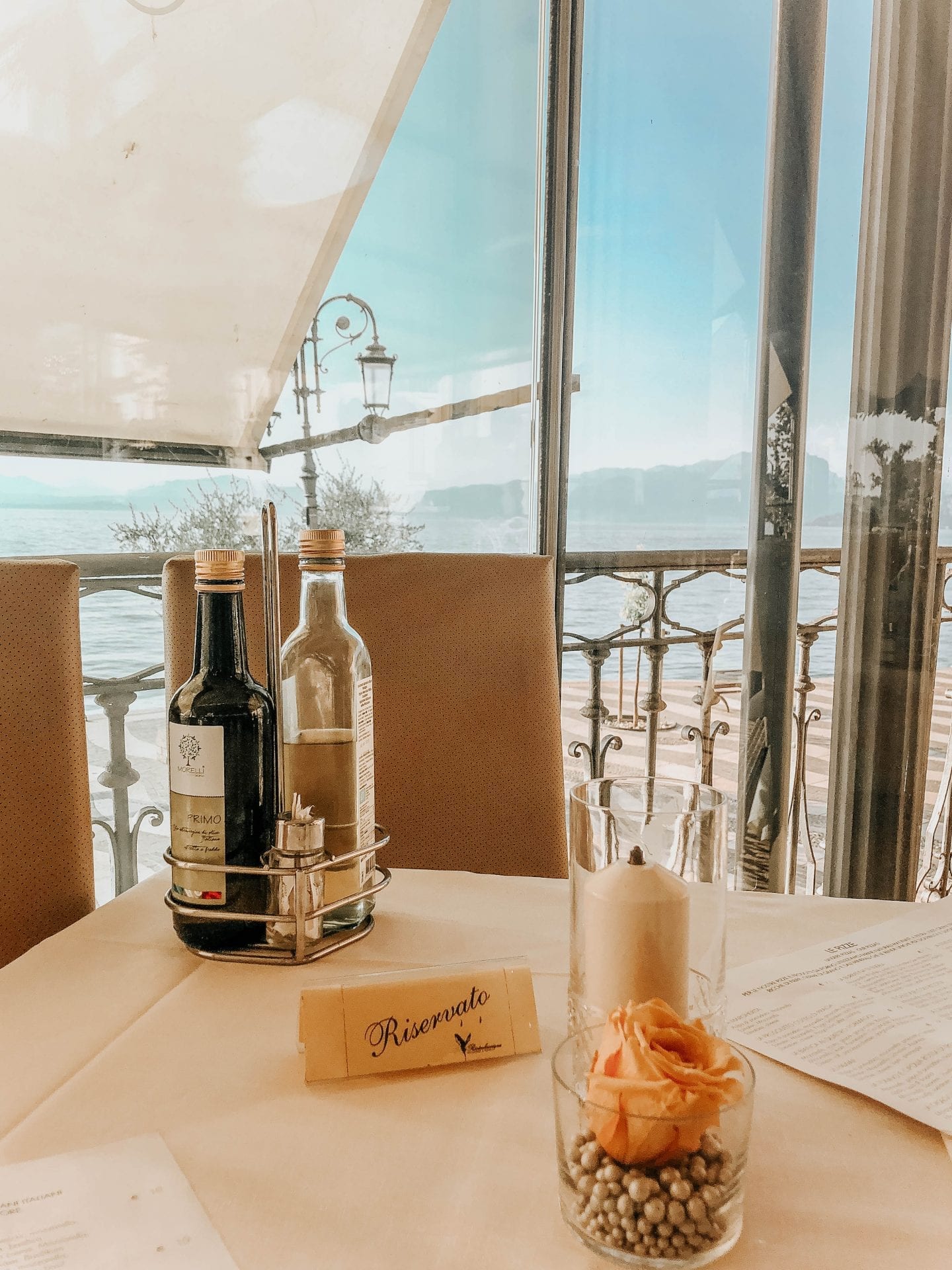 Lasize is another gorgeous town on Lake Garda, but this time on the Veneto side.
I have to rave for a second about probably the best pizza I've ever had in Italy, in Lazise. Firstly, the service here was top notch without costing an arm and a leg, which can be hard to find in Italy sometimes (the waiters aren't working for the tip here.)
Secondly, my bufalina pizza was straight out of Italian cuisine heaven made with the freshest bufala mozzarella you can imagine.
Thirdly, you cannot beat the view. The sunshine twinkles on the water and you can people watch the sprawling boardwalk that is one toe dip away from the lake.
After you stop and eat that pizza (you have to, I'm serious) you can make your own way along the boardwalk or walk closer into town near Castello Scaligero.
And are you a wine connoisseur? Lake Garda is just beside the Valpolicella, one of the famous wine regions of Italy. Take a wine tour in the historic town center in Lazise.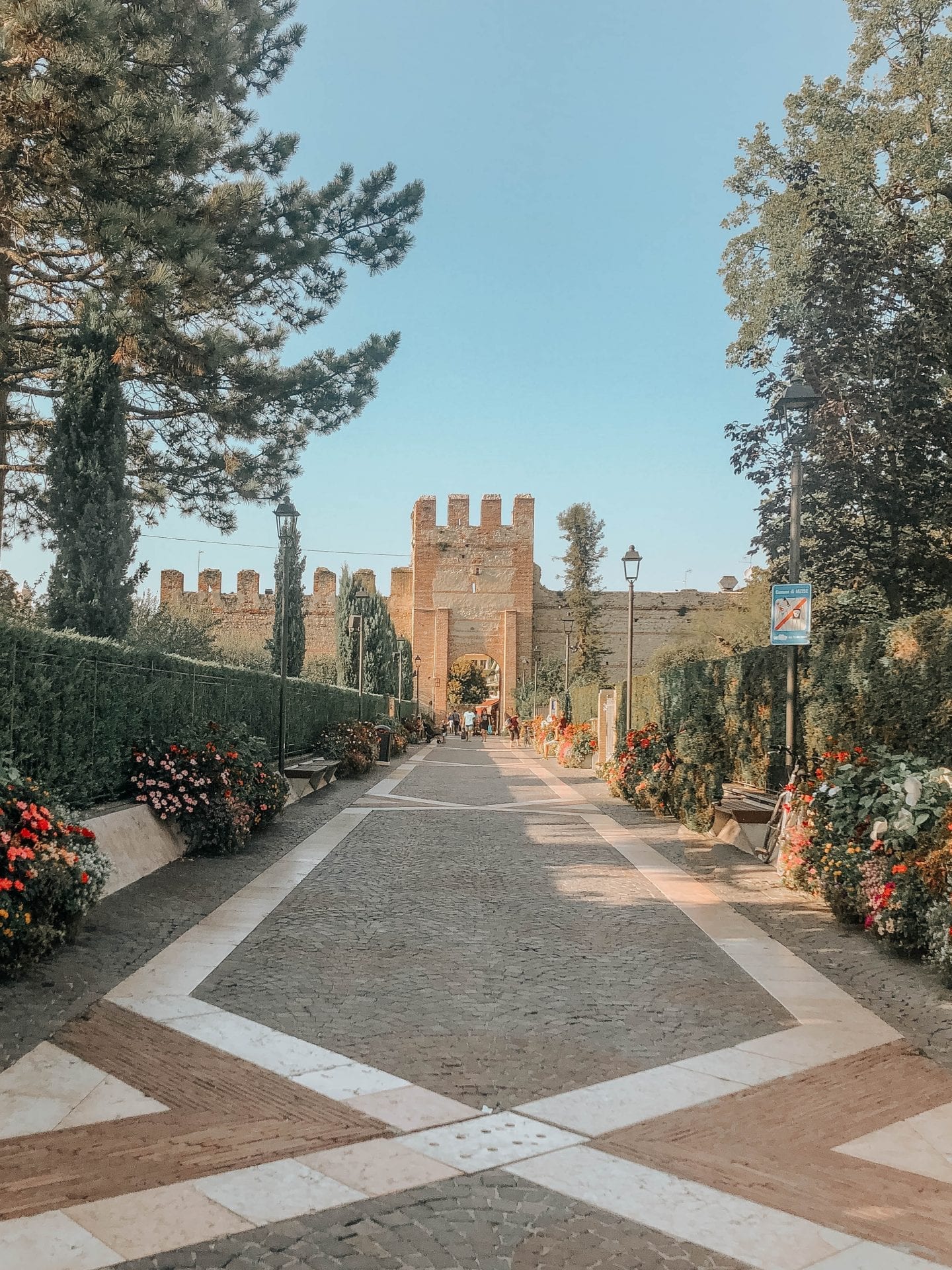 ---
Best Parking: Parcheggio Marra, Piazzale Marra, 37017 Lazise VR
This parking lot is free and very close to the historical walls and center of Lazise!
Where to Stay:
---
4. Riva del Garda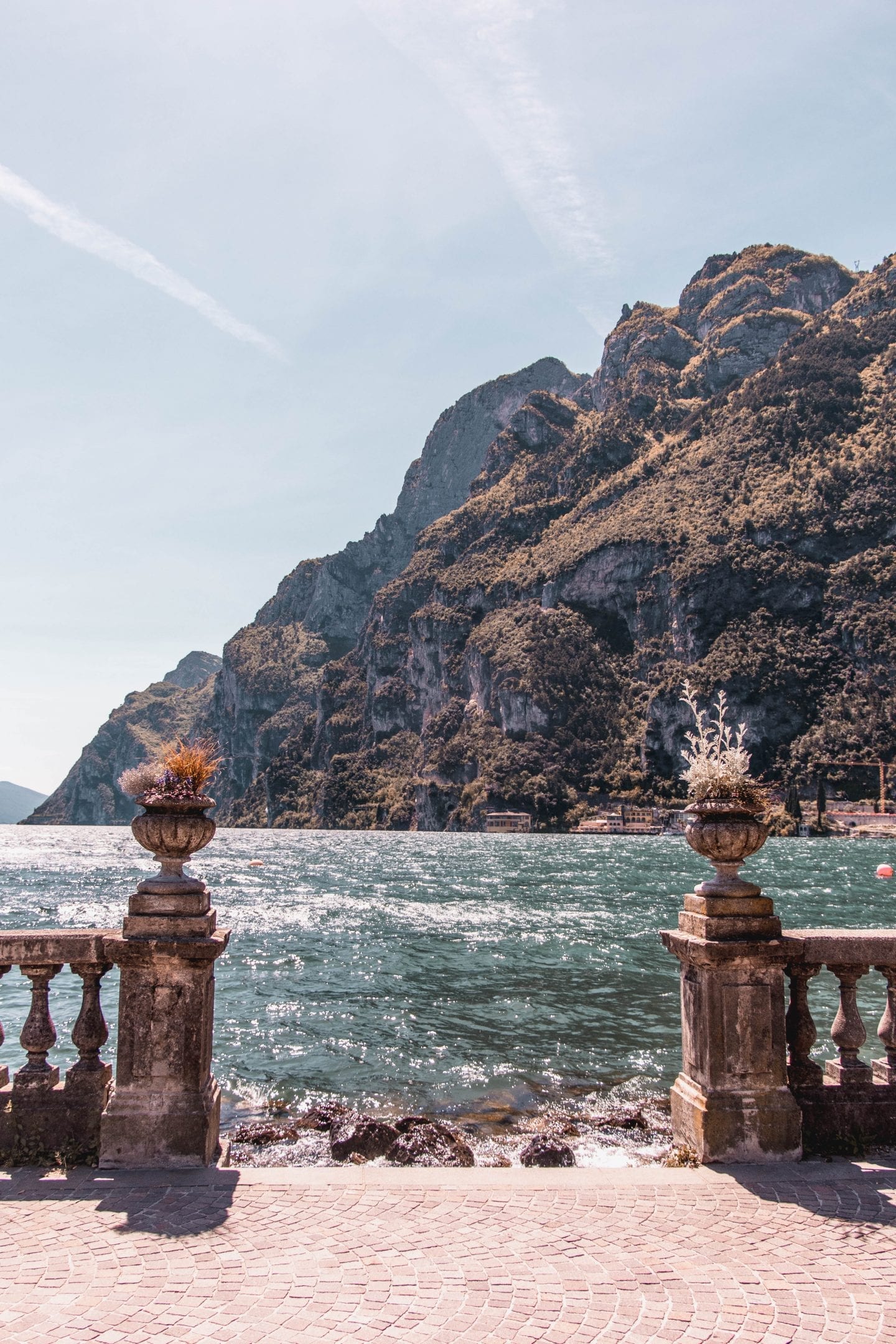 The north end of Lake Garda is a bit unlike any other part, much like its region, Trentino-Alto Adige is unlike any other part of Italy.
The mountains concave a bit to create a large cove – or as I like to call it, wind tunnel.
Hold onto your hats and make sure to bring a jacket because no matter the time of year, the wind will be howling on this side of Lake Garda.
Nonetheless, Riva del Garda is a beautiful town with a bustling center and lakeside beaches.
There are unique attractions including Reptiland, a reptile zoo, and a panoramic elevator up the mountains providing a birds-eye view!
My favorite part of Riva del Garda is its mini riviera and the large parks along the lake. Some are framed by the characteristic carved stone railings and delicate potted flowers you may have seen floating around Instagram!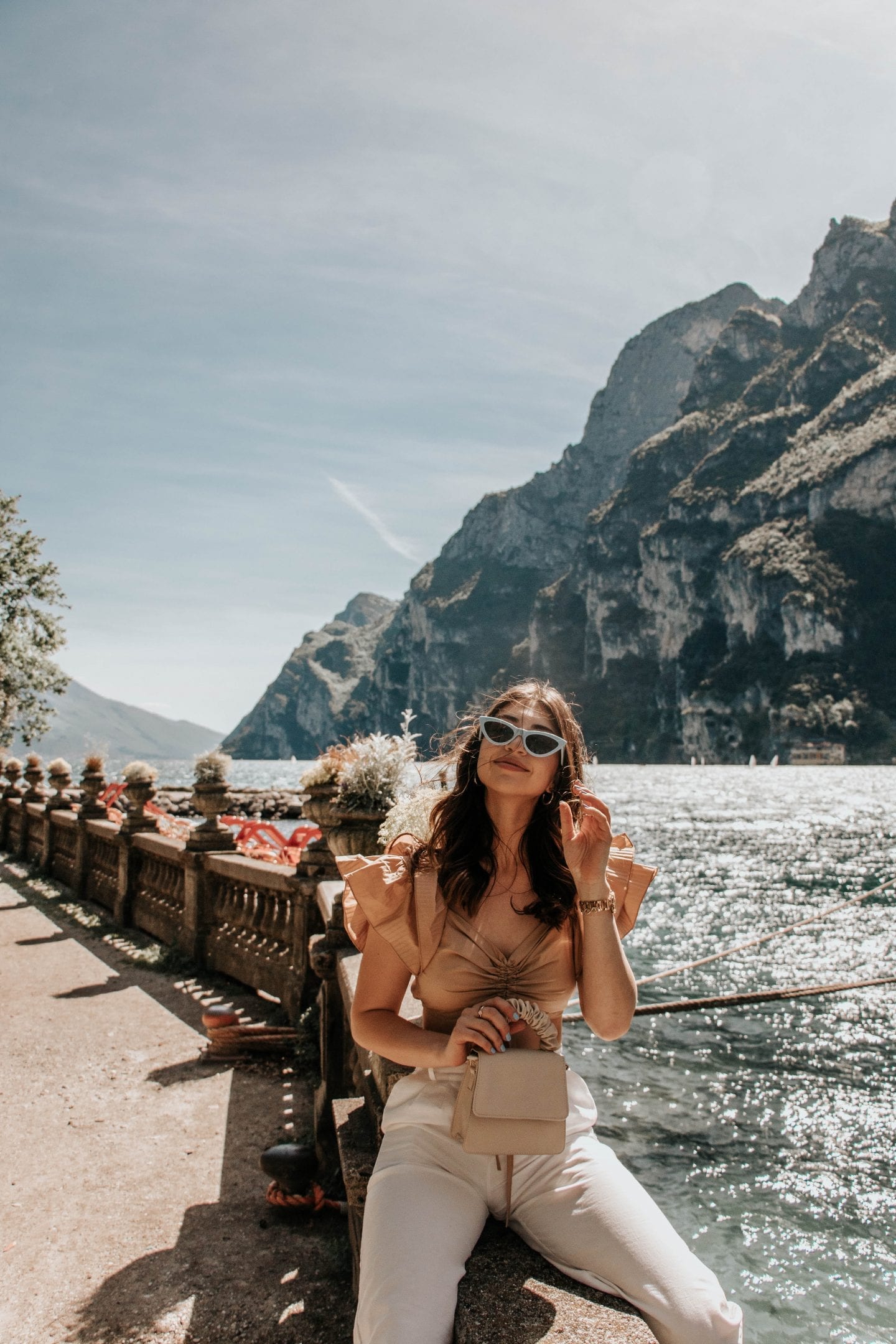 ---
Best Parking: Parcheggio, Viale Rovereto 44, 38066 Riva del Garda, TR
Let me tell you, parking in Riva del Garda was a bit of a nightmare. There are lots of lots, but they are small, and Riva del Garda is popular! This is the only lot after trying what seemed like every other that had spaces around mid-day. Parking is 2 euro per hour.
Where to Stay:
---
5. Torbole (Nago-Torbole)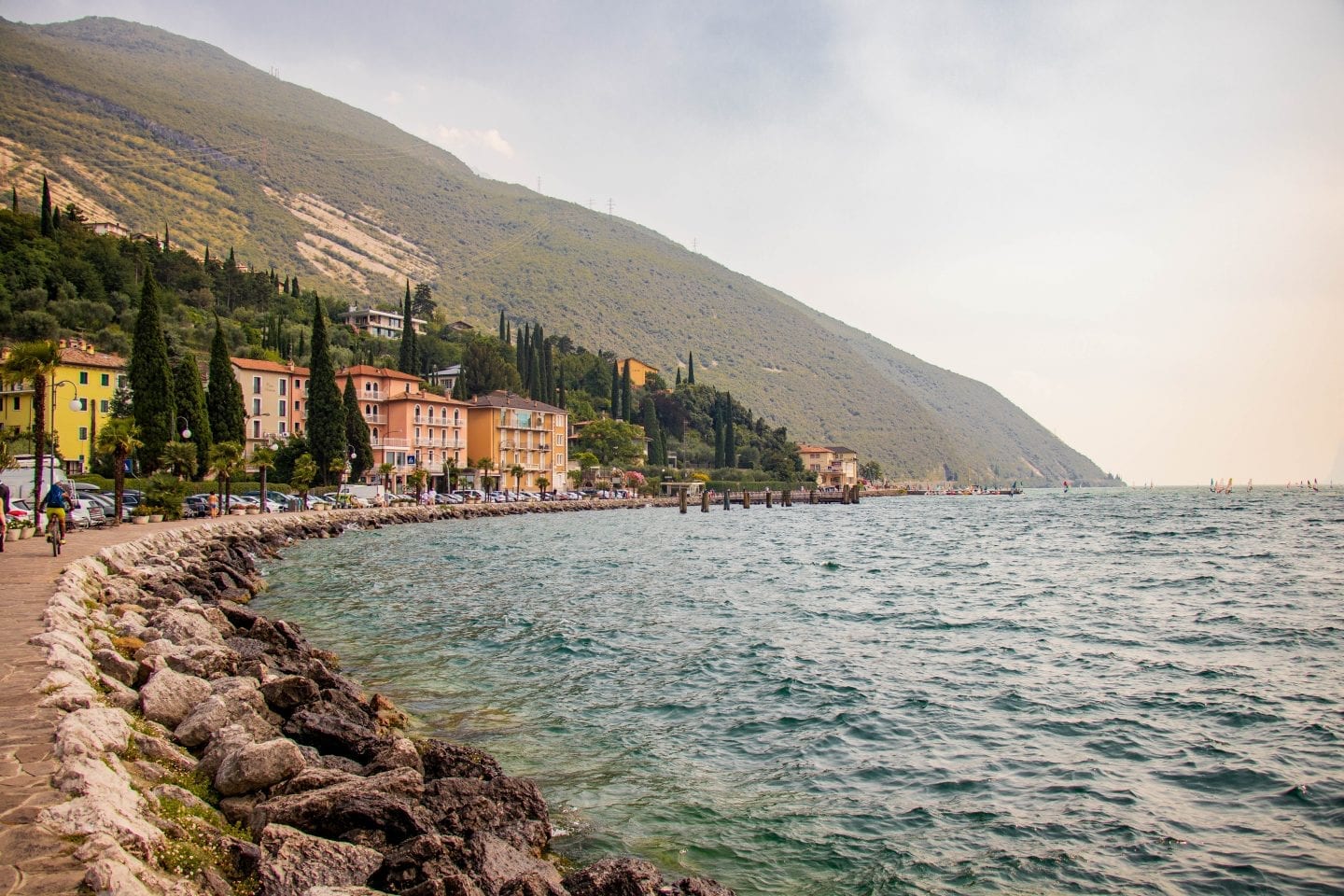 Next door to Riva del Garda is the town of Torbole. It's smaller and less showy than Riva del Garda, but it still boasts a beautiful beach as well as spectacular views of the lake – and the exciting things happening on the lake.
While the wind can be a nuisance to sight-seers at times here, it's a playground for unique sportsmen – kite surfers.
Whether it's driving up to the northernmost point of Lake Garda or lounging on Torbole's beach, you will become enamored by the beautiful sight of kite-surfers dancing on the water like tiny ballerinas in comparison to the massive mountains of the Italian Alps.
You can give it a go yourself for a day, or just take in the incredible views.
---
Best Parking: Parcheggio, Via alle Peschére, 38069 Nago-Torbole TN
This parking is a gravel lot, but it is free and right in the center of Torbole close to the beach!
Where to Stay:
---
5 Charming Honorable Mention Towns on Lake Garda
You could go to any town on Lake Garda and find stunning villas, beautiful boardwalks, and delicious cuisine. These next towns didn't make my top five but still have unique characteristics. And, of course, embody the charming, romantic atmosphere of Lake Garda.
6. Toscolana Moderna
Toscolana Moderna is a laidback Lake Garda town on its western shore with a beautiful marina and darling villas. It's also close to Gardone Riviera, one of the Borghi più belli d'Italia, and Gargnano, where Villa Feltrinelli is located – a.k.a. the villa that Mussolini used to stay at.
7. Tremosine Sul Garda
High above Lake Garda, built between the curves of the cliffs are towns like Tremosine Sul Garda. This town is extra special for the Terazza del Brivido, a platform that extends from the mountain providing a breathtaking overlook of the lake below.
8. Desenzano Sul Garda
Desenzano Sul Garda is the less touristy city on Lake Garda's southern coast. If Sirmione is too crowded for you (which is a huge possibility as it gains Insta-fame) then consider visiting Desenzano. It's also a great place to set off for boating and close to the beautiful Isola del Garda with gardens and a castle-like villa.
9. Malcesine
Malcesine can be reached by ferry from Limone Sul Garda, traveling from Lombardy to the Veneto side of the lake. It too boasts a stunning Castello Scaligero, as well as a cable car to reach the top of Monte Baldo.
10. Peschiera del Garda
Peschiera del Garda sits at the south end of the lake and is easy to reach thanks to its train station. The town is encircled by Venetian fortified walls, which have granted it the title of Unesco World Heritage Site.
From Peschiera, you can also take a half-day boat trip on Lake Garda – and when you see the water, you'll be dying to go on it! It's the best place to take in the views of the mountains and the surrounding villages.
The town is also close to the Mincio River that flows through the countryside nearby to storybook villages like Borghetto sul Mincio.
---
Visiting Lake Garda: How to Get Around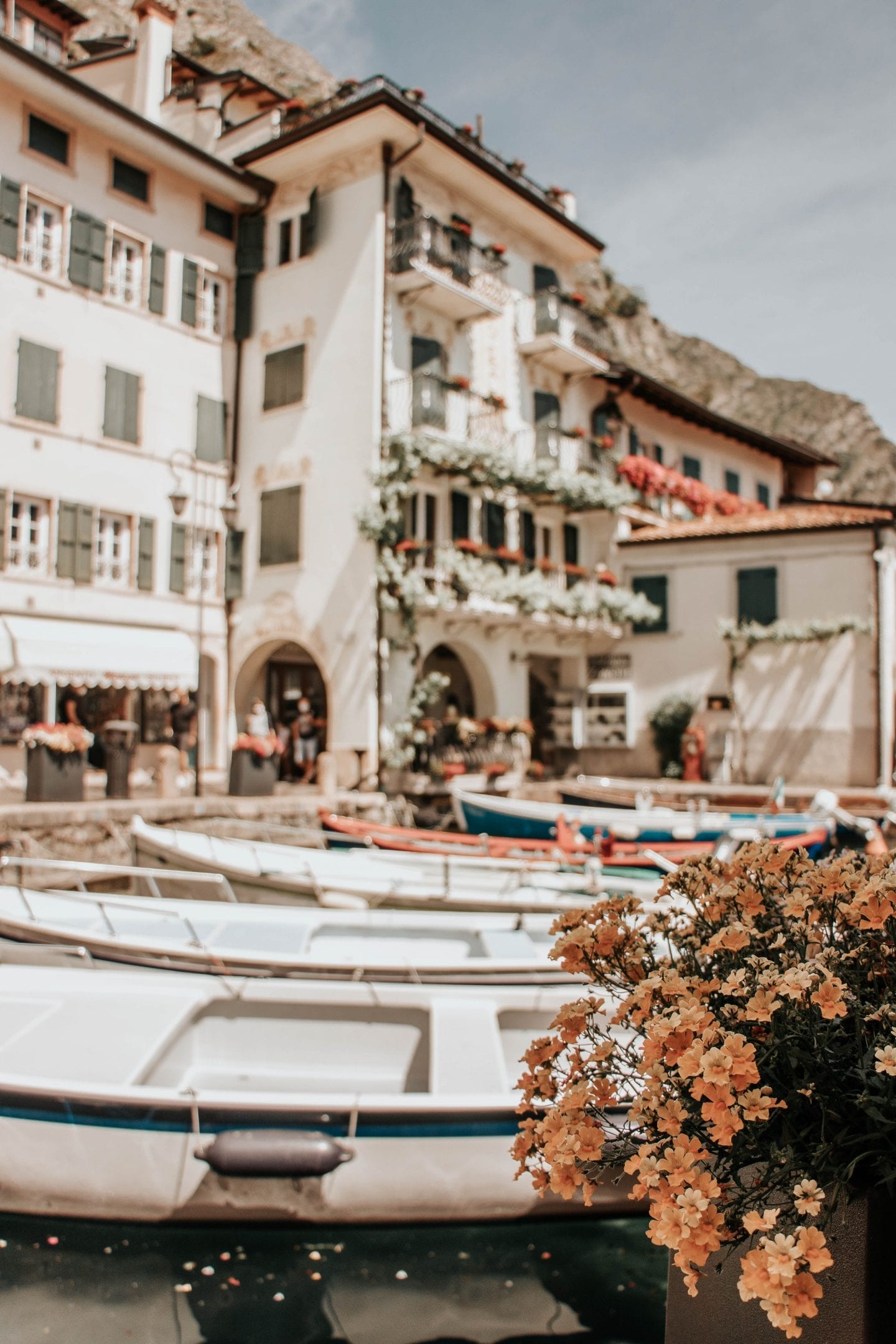 Renting a car is the easiest way to reach anywhere you'd like on Lake Garda, including most of these towns. The scenic roads make it absolutely worth the road trip and will have you enjoying the journey just as much as the destination.
If renting a car isn't an option for you, then you'll be more limited where you can visit. You can travel by train to Lake Garda to stations at the south including Desenzano sul Garda/Sirmione station and Peschiera del Garda station.
If you are wanting to reach Riva del Garda and Torbole, you will have to take a train to the nearest station in Rovereto. Then, take a bus from Rovereto to either of the two towns.
---
Final Thoughts
Lake Garda is an absolute must for any trip to northern Italy.
Because it's located between three regions, it's convenient to include in your itinerary whether as a base for day trips or as a day trip from Milan, Venice, or the Dolomites.
You could even consider making an entire itinerary for Italy's lake region, from Lake Braies to Lake Como!
Overall, these are the best towns on Lake Garda not to be missed when planning your trip to Italy. I hope you love them just as much as I do!
Which of these amazing towns in Lake Garda are you going to visit first?
Share the best towns on Lake Garda on Pinterest!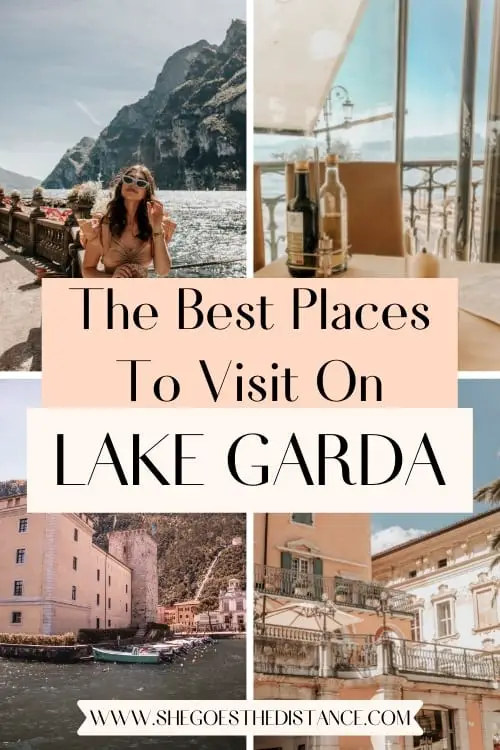 XOXO
Michela