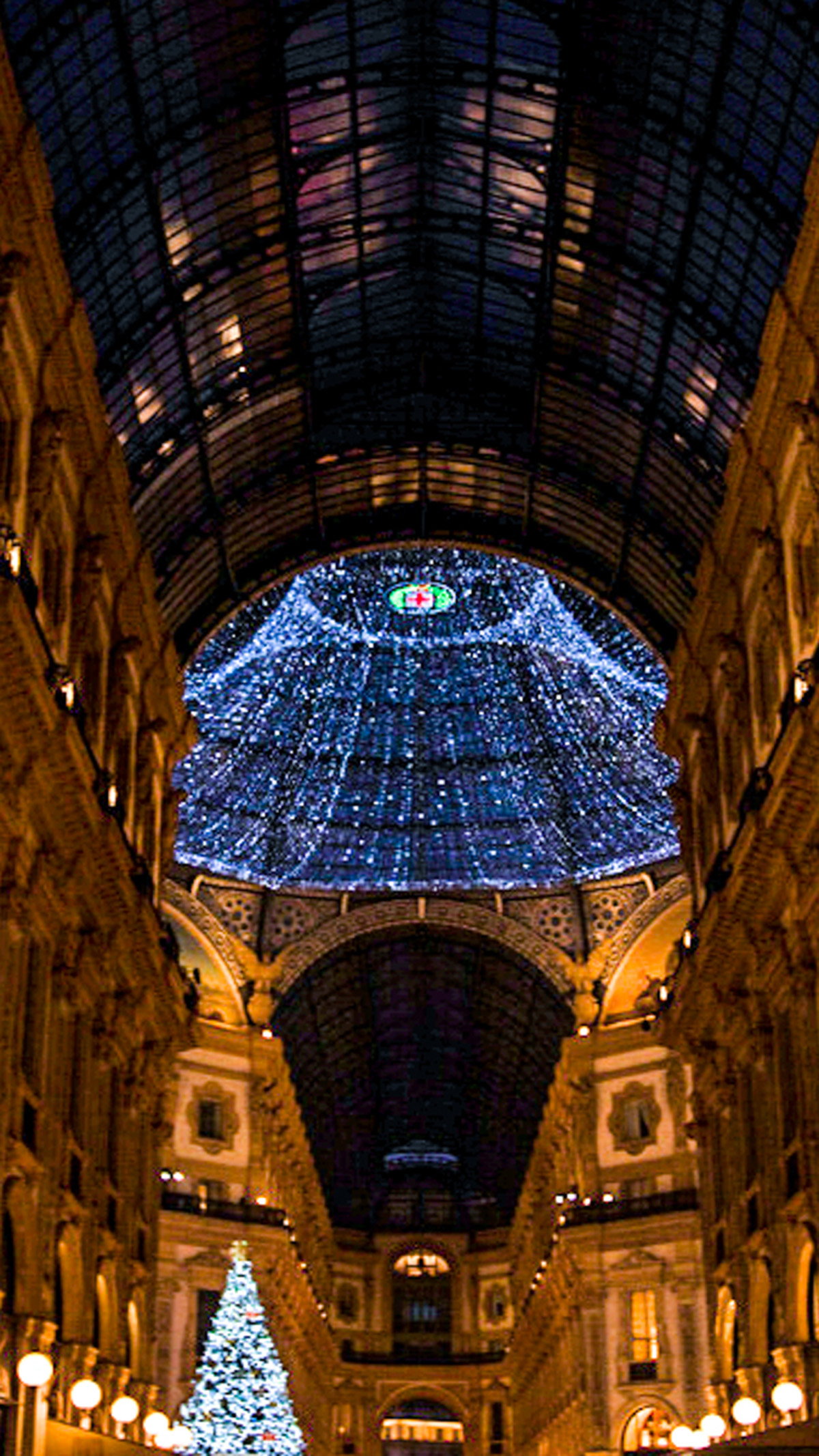 Last Updated on May 11, 2023
The holiday season is magical nearly anywhere you go around the world, but Christmas in Italy is its own kind of special. Up and down the boot, the country glows with charming Christmas spirit, whether it's at the grand Christmas markets in the major cities or the "borghi antici" that hang up their lights and nativity scenes to give the quaint village an extra touch of magic.
If you're planning a trip to Italy during Christmas or culture curious about the top traditions, food and how Christmas is celebrated, then this article is for you.
Some of these links are affiliate links. This means if you make a purchase through that link, I receive a small commission at no extra cost to you. Read my full disclosure!
The Italian Christmas Season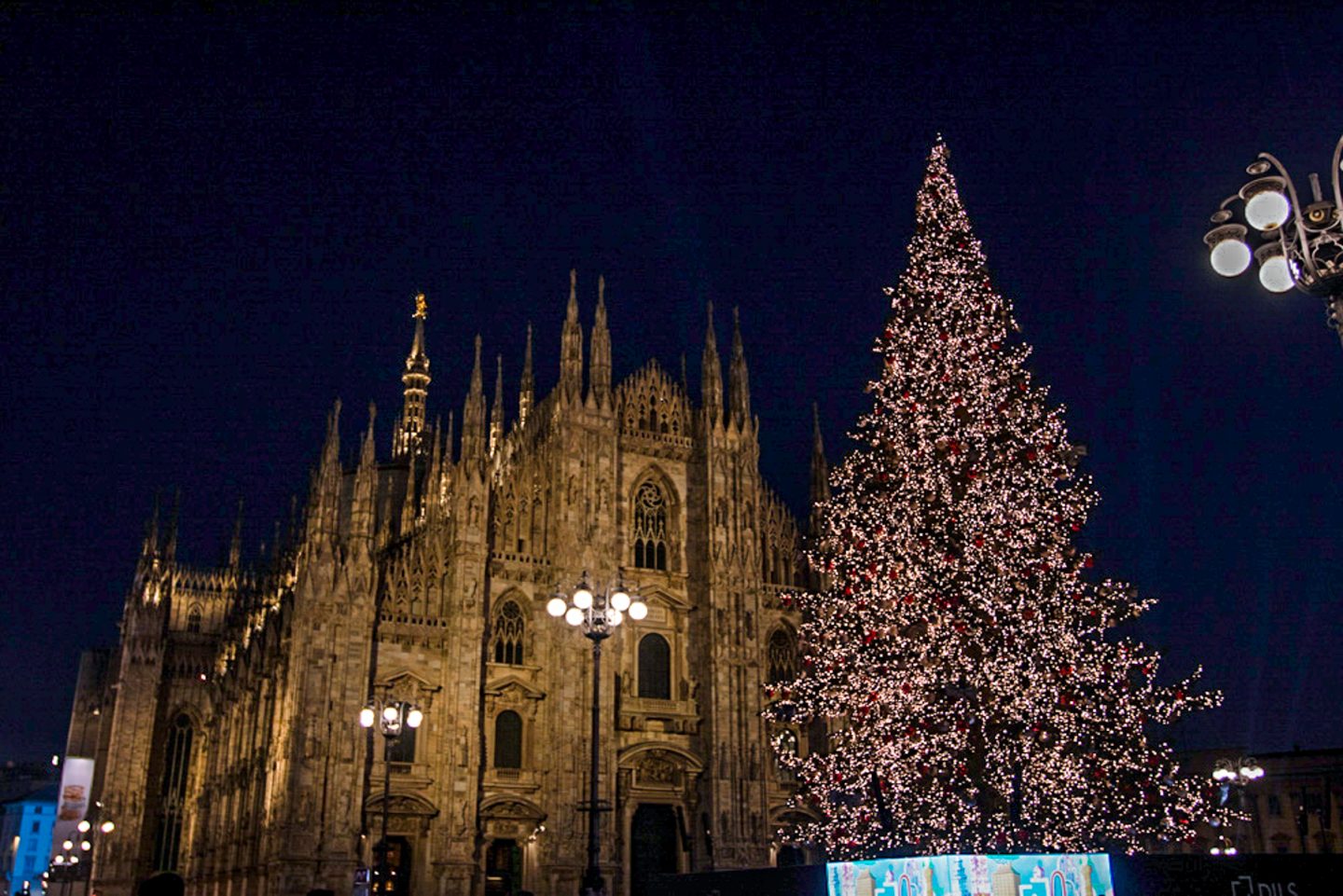 December 8th: Immacolata Concezione, Immaculate Conception
The Immacolata Concezione, or Immaculate Conception, is the day that traditionally kicks off Italian Christmas celebrations. It is an official holiday, so families usually have the day off work and stay home together putting up the Christmas tree.
Although this is the official day to the start of the festivities, many towns now prepare for Christmas much earlier, starting in mid-November.
Good to know: The significant holidays of this period can also vary by region. For example, in Northern Italy, December 13th is Santa Lucia. On this day, children write letters to Santa Lucia about what presents they want her to bring them. This day is actually considered more important than Christmas in terms of gifting!
December 24th: La Vigilia di Natale, Christmas Eve
The next big day is the Vigilia di Natale, or Christmas Eve. In Italian culture, Christmas Eve is typically spent going to evening mass. In Rome, the most popular occasion is attending the Pope's Christmas Eve midnight mass at St. Peter's Basilica.
December 25th: Natale, Christmas Day
Buon Natale! That is how you would wish a Merry Christmas to someone in Italy. You could also say "Buone Feste!" as a more general "Best wishes!"
Christmas day is a day spent with family, not going to the movie or out to eat at a restaurant. Santa Clause is present in Italian culture, called Babbo Natale, but his role is a bit different! That's right – Santa Clause is not the one who brings presents!
Presents are traditionally given at the next big day of the holiday season, which is Epiphany.
Italy is the Catholic capital of the world, so it is no surprise that Christmas is taking seriously at a cultural and also religious level.
December 26th: St. Stephen's Day
The day after Christmas is St. Stephen's Day, another national holiday for which Italians are off work.
December 31st & January 1st: La Vigilia di Capodanno & Capodanno, New Year's Eve & New Year's
New Year's is not as big of a deal in Italy as Christmas is, but New Year's Day is still a holiday in which Italians are off work. However, New Year's Eve is not a holiday and Italians will go to work if it falls on a week day.
For New Year's Eve in Italy, the tradition is to have a big dinner feast with family. There's no TV program like "Rockin' New Year's Eve" but there are several places that host bigger celebrations, like Rimini, a coastal town famous for its nightlife.
Fireworks are also a classic New Year's Eve event!
January 6th: L'Epifania, Epiphany
A day that could be more important than Christmas? If there is any one to try, it is Epiphany.
Always held on January 6th, the annual public holiday is the conclusion to the Italian holidays period. Epiphany is traditionally a religious feast. In Italian tradition, there is also a folklore component: La Befana.
La Befana's story is that the Three Wise Men invited her to go visit Jesus with them after he was born. She initially refused but later tried to catch up with them. However, she couldn't find them and ended up giving the presents that she was supposed to deliver to Jesus to other children.
Now on January 5th, children hang up their stockings to see the next day what La Befana has brought to them!
Good to know: Although not directly related to Christmas in Italy, the official winter sales kick off at the beginning of January. Nearly all stores throughout the country participate in this period of markdowns, so shopping becomes crazy good!
---
Christmas Traditions in Italy
Presepi
Italian is a predominantly Catholic country, so the religious aspect of Christmas is heavily present in the traditions and decorations of cities and villages everywhere. One of the most important and popular of these is the presepio.
Presepio (plural: presepi) is the Italian word for nativity scene, the setting of figures and objects that depict the birth of Jesus. You'll find presepio everywhere around Italy during Christmastime, from shop windows to city squares.
While a trip to the sea isn't ideal in December, the most famous place to see unique, handmade nativity scenes is in Naples on the Via San Gregorio Armeno. The shops along this street are specialized in the creation of the figurines.
Christmas Markets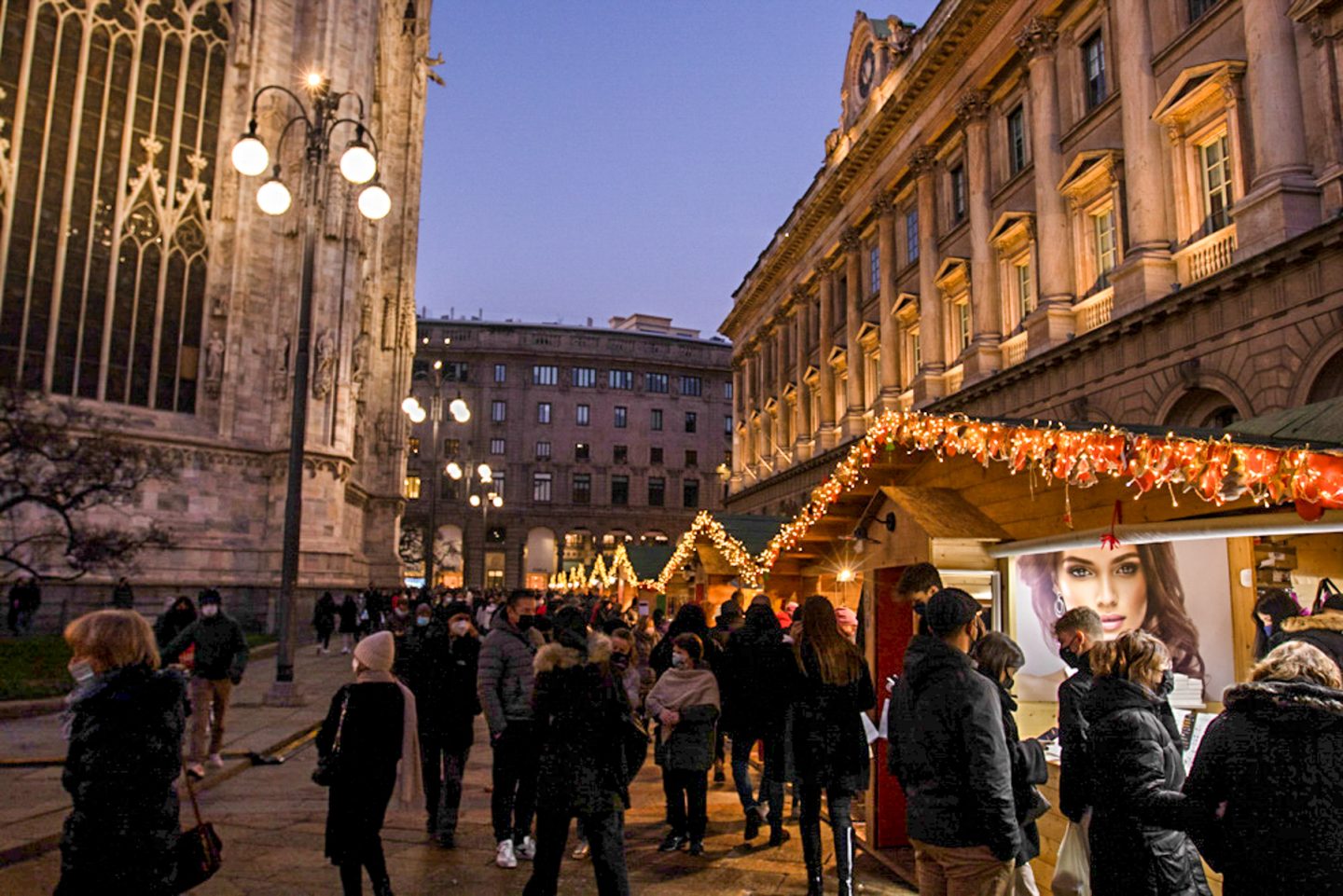 You'll hear me mention them a million times in this article because they are my absolute favorite thing about living in Italy during Christmas – the markets!
Like many other countries in Europe, Italy does not disappoint when it comes to making Christmas come to life in the historic squares of its tiny villages and storied cities.
Christmas markets in Italy are characterized by rows of wooden huts in which locals sell anything from artisan and handmade goods, freshly baked pastries, wines and packaged food, toys and more.
The period of Christmas markets varies by destination, but most open at the beginning of December and last until the weekend after Epiphany, which is January 6th.
Some of the most well-known Christmas markets in Italy (which I will also mention later in the 'destinations' section of this post) are in:
Centro Storico in Merano
Cathedral Square in Bressanone
Piazza Walther in Bolzano
Marché Vert Noël in Aosta
Piazza del Duomo in Milan
Piazza Santa Croce in Florence
Piazza Navona in Rome
Italian food
Italians' love for Christmas really shines when it comes to dessert!
You'll find the most traditional, famous Christmas treat everywhere in Italy, almost on cue, December 1st: panettone.
Panettone is traditionally given as a gift at Christmas, like when going to parties or gifting a family friend. It's a sweet, raised bread in the shape of a dome. The most classic flavor you'll find everywhere are with or without "canditi", which are basically sugared dried fruits. But the gamma of flavors has since expanded a ton!
Whether at the grocery store or at a historic bakery, you can find panettone in flavors like pistachio, chocolate and almond. There are even different variations of this Italian Christmas cake now, like the Veneziana.
Panettone's lesser-known friend is the Pandoro, which is even more cake-like but still considered a sweet bread. Pandoro is originally from Verona and the most classic flavor is like a basic vanilla, but you can also find it in chocolate.
---
Where to Spend Christmas in Italy
While Christmas comes to life everywhere up and down the Mediterranean peninsula, there are some extra special cities and regions that burst with Christmas traditions, spirit and flavors.
If I had to recommend the perfect Christmas in Italy vacation, I would suggest putting together a northern Italy itinerary. The mountain atmosphere is the perfect draw for a cozy, snowy Christmas.
Trentino-Alto Adige
If you had to picture the perfect Christmas in Italy, I think you'd imagine something along the lines of Trentino-Alto Adige. This northernmost region, bordering Austria, is a Christmas-lover's haven, full of tiny villages dotted along snowy valleys between the UNESCO World Heritage Dolomites.
The blend of Germanic and Italian culture in the various small alpine villages makes for the perfect cozy Christmas feeling. Nearly every single village and city in this region decorates and hosts Christmas markets. The most famous are in Merano, Bressanone, San Candido and Bolzano.
But that's not all! Trentino is also known for a tradition you may find creepy and strange: Krampus!
Krampus is a mythical figure in central Europe that accompanies San Nicolò (Saint Nick/Santa Claus) while visiting children on Christmas. Santa Claus gives nice children presents and the Krampus leaves something bad for the naughty children! If you want to read more about this tradition and others unique to this area of Italy, read about Trentino-Alto Adige Christmas traditions.
Valle d'Aosta
Valle d'Aosta is like Trentino's lesser-known, just as beautiful twin! Itis the smallest region of Italy and almost entirely covered by the Western Alps, which includes the highest peak in Europe, Monte Bianco (Mont Blanc.)
The entire region is known for Christmas markets but the most famous is the Marché Vert Noël in Aosta. Even more so, it's the ultimate destination for those dreaming of winter sports in the Alps, from the slopes of Courmayeur to Breuil-Cervinia, with the Matterhorn as a dramatic backdrop.
Milan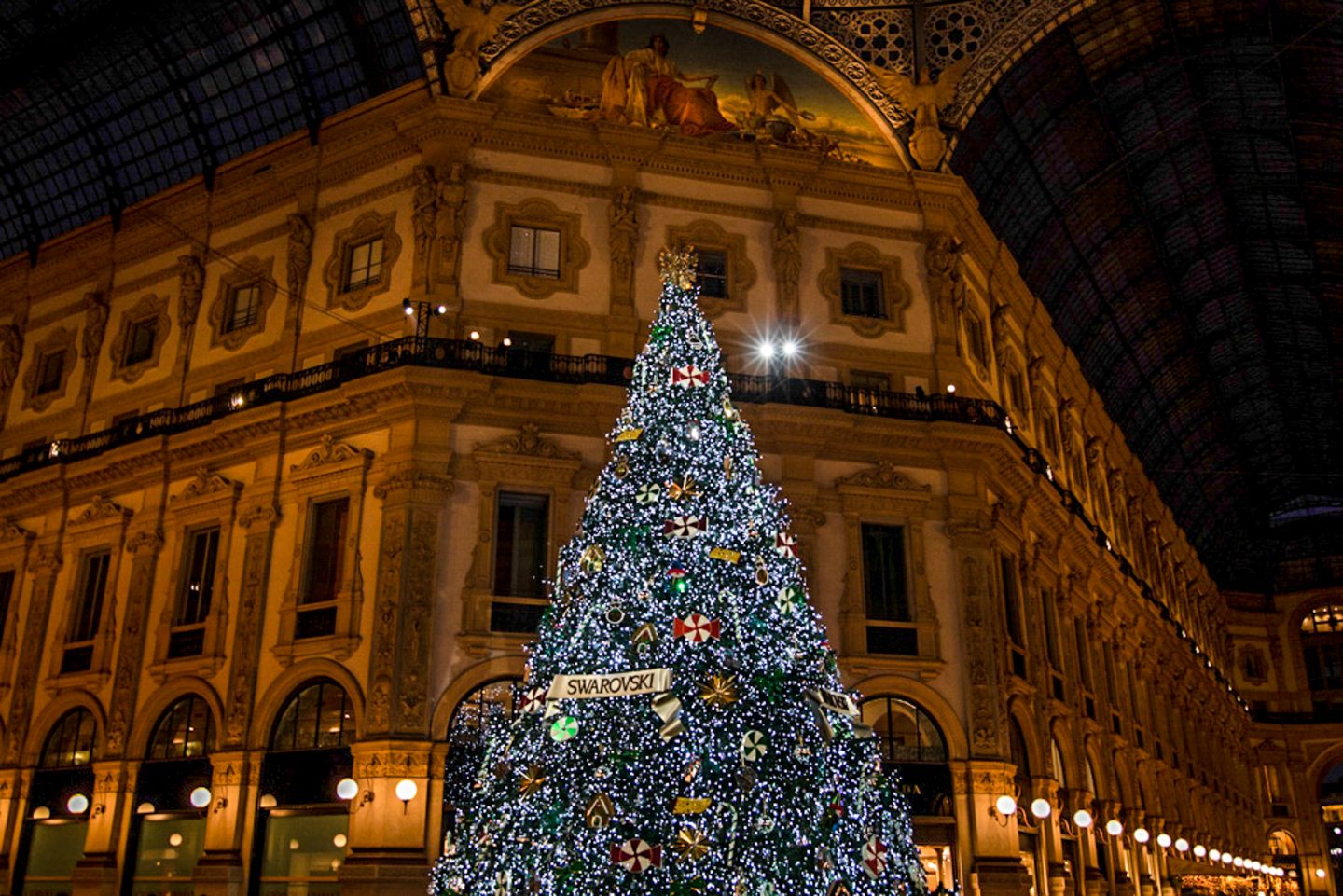 The shopping streets of Milan get decked out for the holidays, glittering in intricate lighting set ups and with more than one Christmas tree around!
The biggest attraction during Christmastime in Milan is the Christmas Market in the Piazza del Duomo. Behind the church are tons of little wooden cabins neatly lined up selling everything from artisan goods to freshly baked pastries.
The Galleria Vittorio Emanuele II is one of the most beautiful sites in Milan at Christmas time. The domed roof drips in twinkling lights and the characteristics Swarovski Christmas tree lights up the entire gallery.
Florence
Florence is another sweet city in which you'll be surrounded by Christmas vibes everywhere you go. Besides the lights that don the city's narrow cobblestone streets, you'll find the Piazza della Repubblica full of Christmas decor, like the classic carousel and Christmas tree.
The Christmas market in Piazza Santa Croce is another festive stop you can't miss.
Rome
I already mentioned it while talking about Christmas Eve, but Rome and, more specifically, Vatican City are meccas for Christmas lovers in Italy. The biggest attraction by far is the Pope's Christmas Eve midnight mass, but you will find festive decor and events everywhere in Italy's capital.
---
How to Plan Your Visit to Italy during Christmas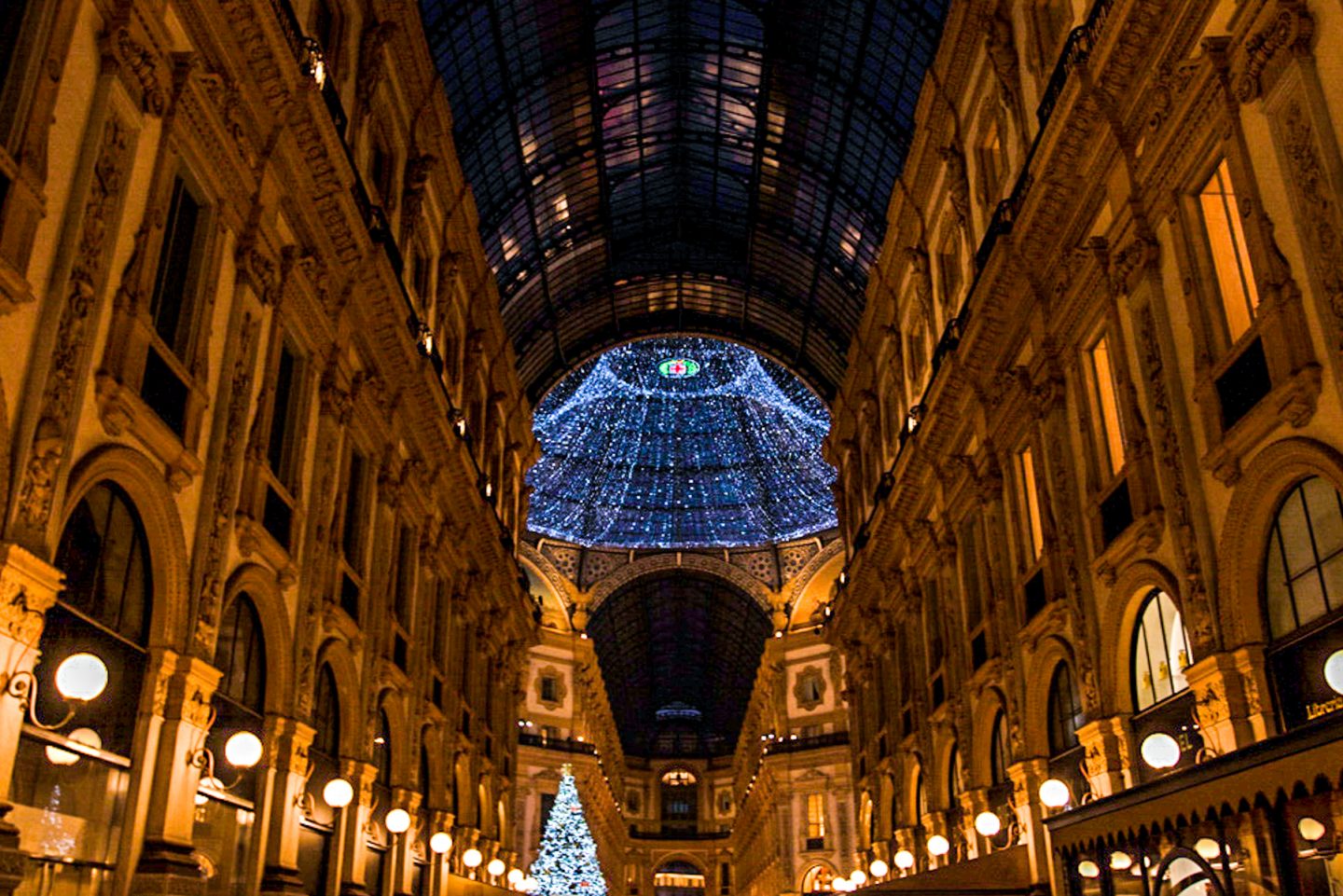 Book Early
You would think that winter in Italy is the slow season given that summer in Italy is so popular. But it is actually the second high season!
Of course, this can depend on which part of Italy you are traveling to. In northern Italy, the months of December to March are well-known for winter sports lovers and prices shoot up for transportation and accommodation.
This is why booking all reservations early is imperative for not only saving money while traveling but also ensuring you get your first choice of everything!
Transportation Advice
The winter period could mean very limited transportation in popular areas like Lake Como or the Cinque Terre. And on Christmas, there will also be limited transportation options available.
There are also considerations to make if you are driving in Italy. You can find a detailed report about winter driving requirements from the roads authority Autostrade Per Italia.
These requirements vary from snow tires to on-board snow chains. Each requirement can also vary by date, usually in effect between November and April.
Packing Tips
Weather can vary during winter in Italy but there's one general theme: it is cold. You may not get snow everywhere, but even on the sunny islands of Sicily or Sardegna, temperatures can get down to the high 40s.
This means to account for bulky coats and winter accessories while packing your suitcase.
Good to know: Just because it gets cold doesn't mean you will have a White Christmas! I live in northern Italy near the Alps and during winter last year, it only snowed a handful of times, always melting away after a couple of days. If you want to see snow in Italy for Christmas, your best bet is to spend the holiday in the mountains.
Plan Travel Days Wisely
The calendar breakdown at the beginning of this post is not just to inform you which days are annual holidays. It also lets you know which days you should look out for (that you may not have already known about) to best plan your travel.
If you can avoid traveling on days that are also holidays for native Italians, then you should. This is one of the easiest ways to avoid unnecessary traffic or crowds at airports and train stations.
---
Final Thoughts
I've been an expat in Italy for almost two years and Christmas is still that time where I pinch myself that I live in such a magical place. I hope my personal holiday experience is helpful while planning your trip or deepening your knowledge about Italian culture!
Christmas in Italy is one of those things you have to add to your bucket list. It's not a specific place or attraction but rather a feeling that you just can't get without experiencing it firsthand.
It's difficult to generalize things about Italy given that the country is so different depending on where you visit. That's why I encourage you to reach out in the comments if you have any questions about your specific situation and interests!
What is on the top of your bucket list to see during Christmas in Italy? Let me know in a comment!
Save this guide on Pinterest!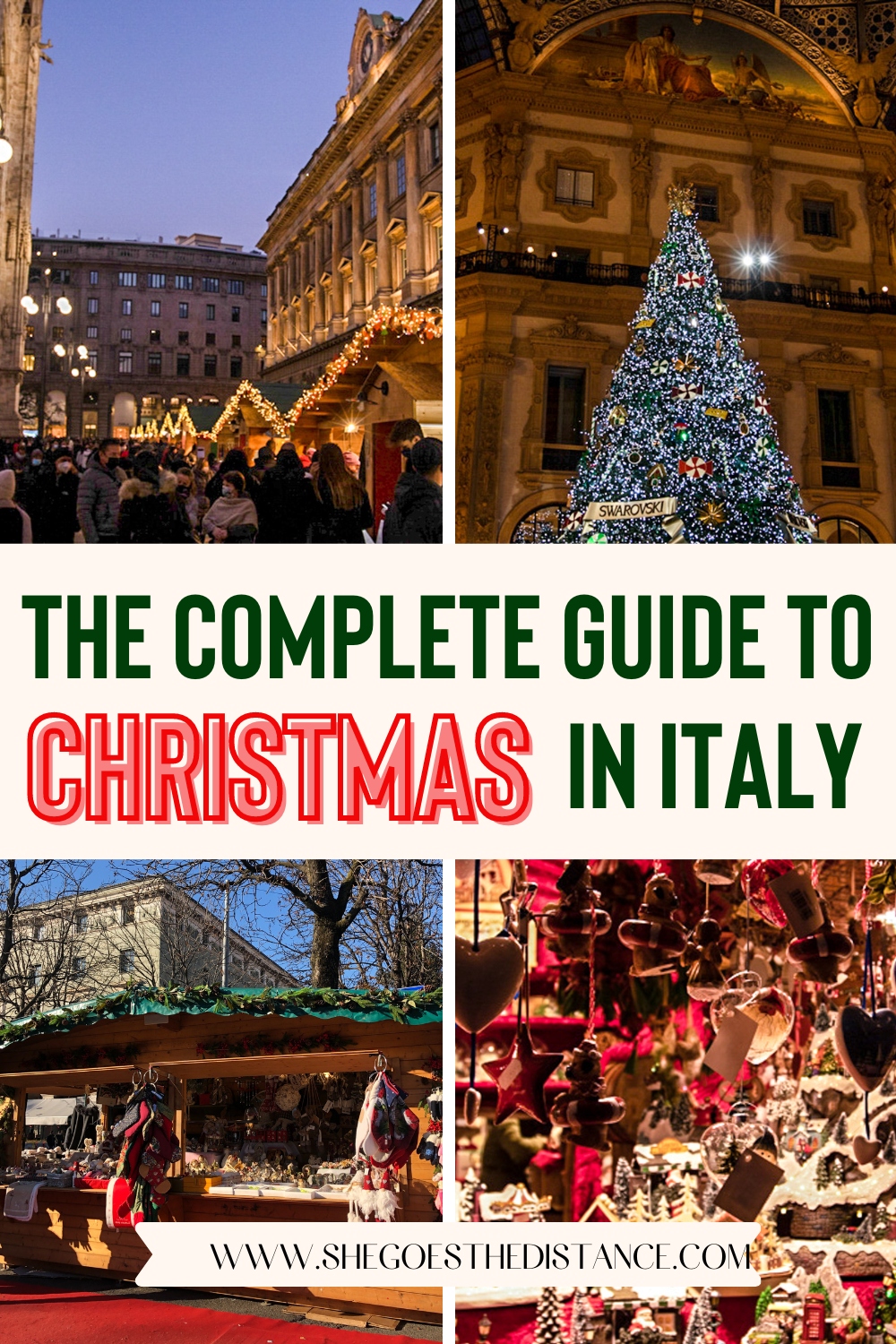 Christmas in Italy is a once-in-a-lifetime experience and I hope this post has helped you understand how to live the season at its best!
XOXO
Michela