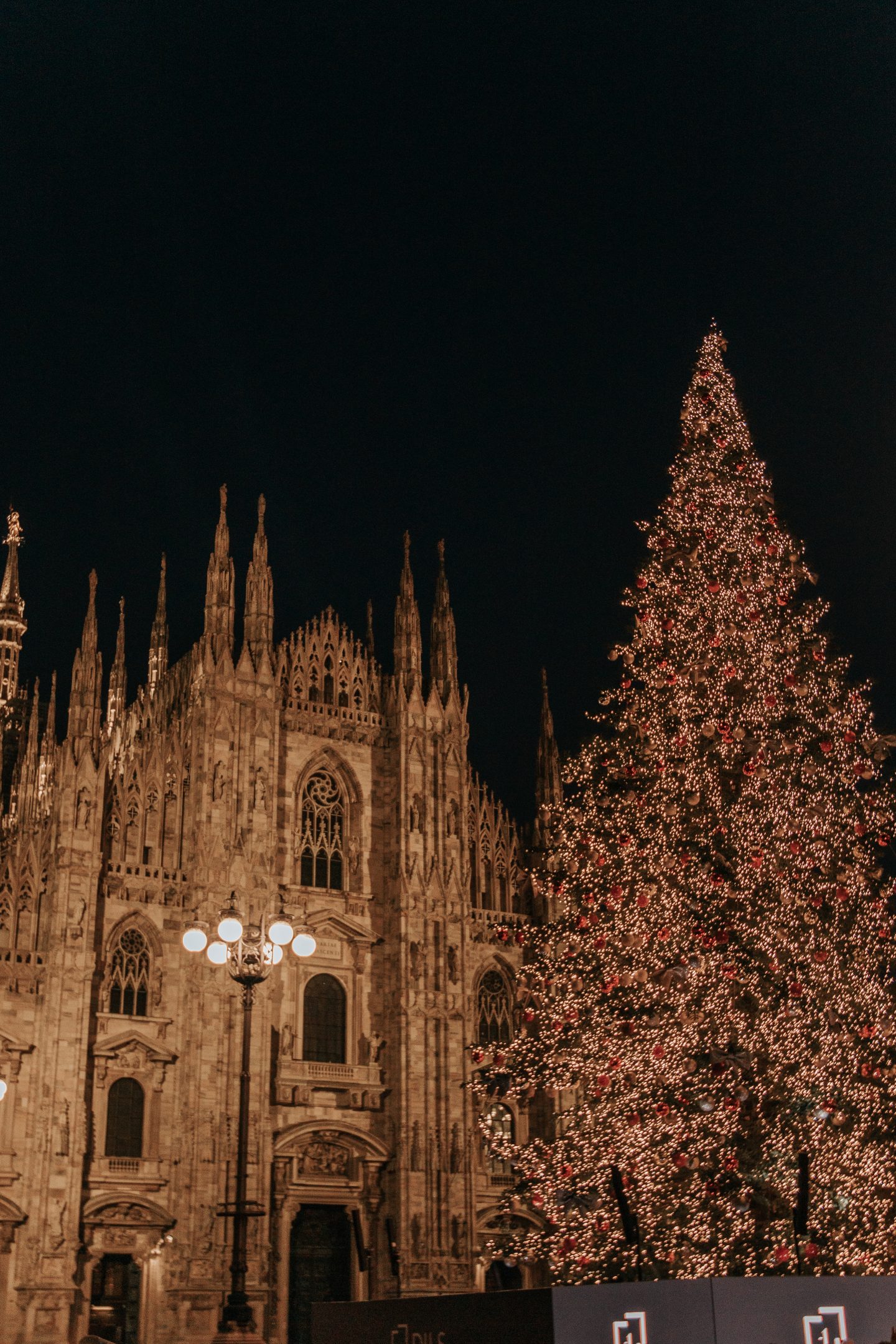 Last Updated on January 7, 2023
While most vacationers flock to Italy in summer for some warm Mediterranean sun, the winter seasons may be the perfect time for you to go on your dream Italian getaway. From weather and packing essentials, to can't-miss events and earn everything you need to know to prepare for a trip to Italy in winter.
Winter sports, the holiday season, fewer tourists – there are compelling reasons to bear the colder weather to have a unique trip to Italy.
Since fronting the weather is one of the biggest factors in deciding if winter in Italy is for you, it's worth noting that the difference between northern and southern Italy's winter climate is huge. You can have sunny days in the south and snow in the north – or on the most random of days, the exact opposite! We'll get into the details in the month-to-month breakdown.
Why Visit Italy in Winter
So what are the pros to visiting during the coldest season?
Outdoor Sports
Northern Italy is a paradise for winter sports lovers – skiers, snowboarders, mountaineers, ice climbers. The Italian Alps have some of the best slopes in the world, from Breuil-Cervinia and the Matterhorn to Foppolo in Val Brembana to Cortina D'Ampezzo in the Dolomites. In fact, Italy is hosting the 2026 Winter Olympics.
That being said, these mountainous areas are also typically the most crowded places to visit in winter. Italians love their ski holidays, and this is peak tourism season for famous areas like the Dolomites.
Holiday Festivities
One of the biggest draws to visiting Italy in winter is to experience the local customs and charming events of the holiday season – namely, Christmas, New Year's, and Epiphany.
Italy is a traditionally Catholic country, so you will see local Christmas celebrations take place from the tiniest villages to the biggest cities. These include charming Christmas markets and elaborate nativity scenes.
Discover all the details about Christmas in Italy, from traditions to things to do and the best destinations to visit.
Fewer Tourists
Generally, in the winter season, there are fewer tourists (excluding the Alps.) It's an especially perfect time to get bucket list cities crossed off – Venice, Rome, Florence.
Lower Prices
Again, besides in the mountains, accommodations tend to cost less during the winter season – but always book as far in advance as you can for the best deals.
Winter Sales
Another reason to visit in winter? The sales! Stores around the whole country slash prices of goods, starting from the beginning of January.
Italians are known for being some of the best-dressed Europeans, so if you love designer, a good deal, and Italian style, this is the best time to visit.
---
Month-By-Month Breakdown: Weather, Events, Tips & More
While it starts to get cold near the end of November, the winter months in Italy are December, January, and February.
Italy in December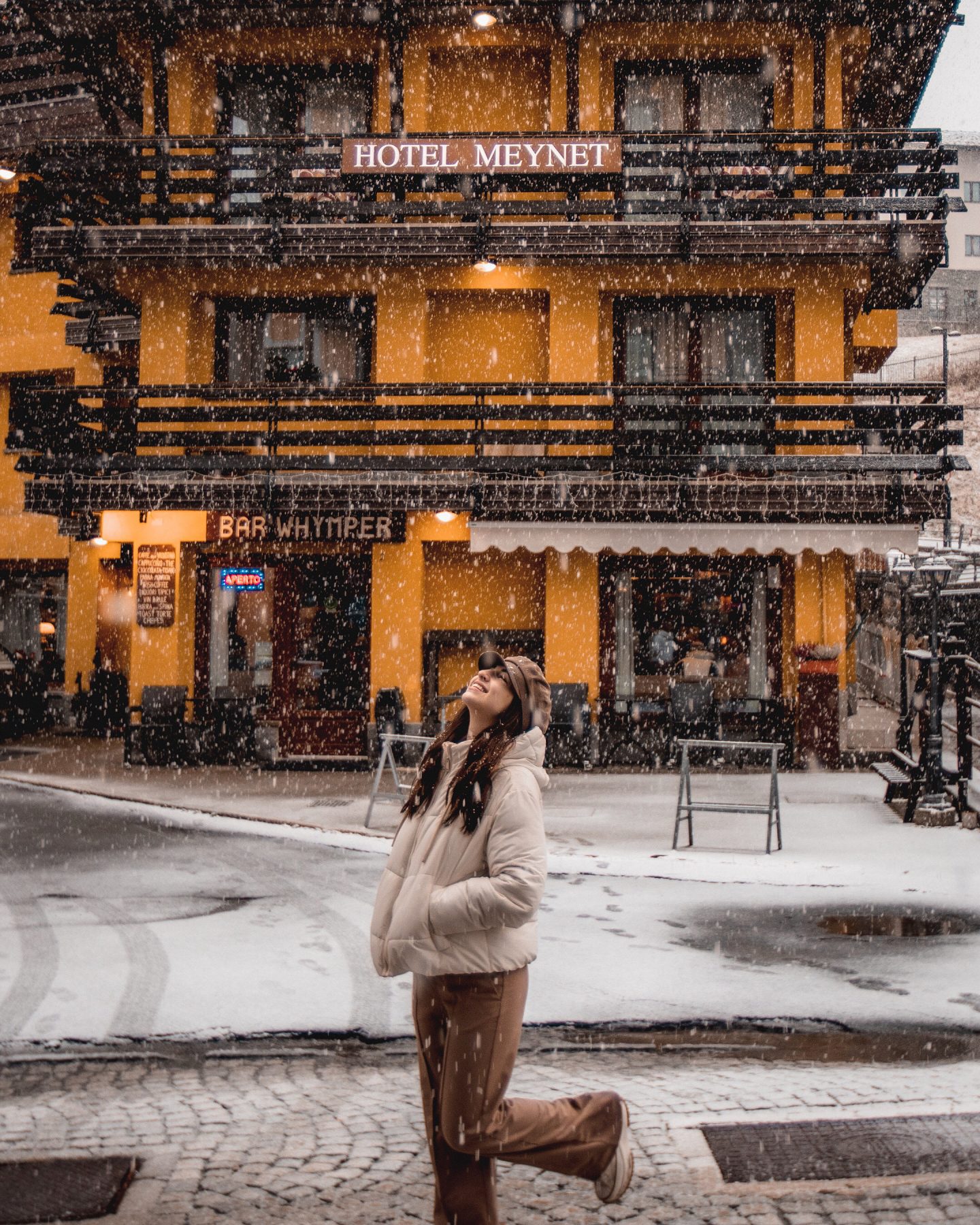 Weather
In northern Italy, November's rainy season can extend into the first week of December. Things start to take a very cold turn by the first week! It's also common to have days of rain and snow mix. However, snow is most common in the mountains, and not necessarily in the plains that make up the rest of northern Italy. Same goes for central Italy.
Temperature highs are usually in the low 40s, while the lows most often hang around the high 20s (°F.)
While it's not as cold as northern Italy in December, southern Italy also starts to get colder in December. Temperatures are as low as the low 40s and as high as the low 60s.
Events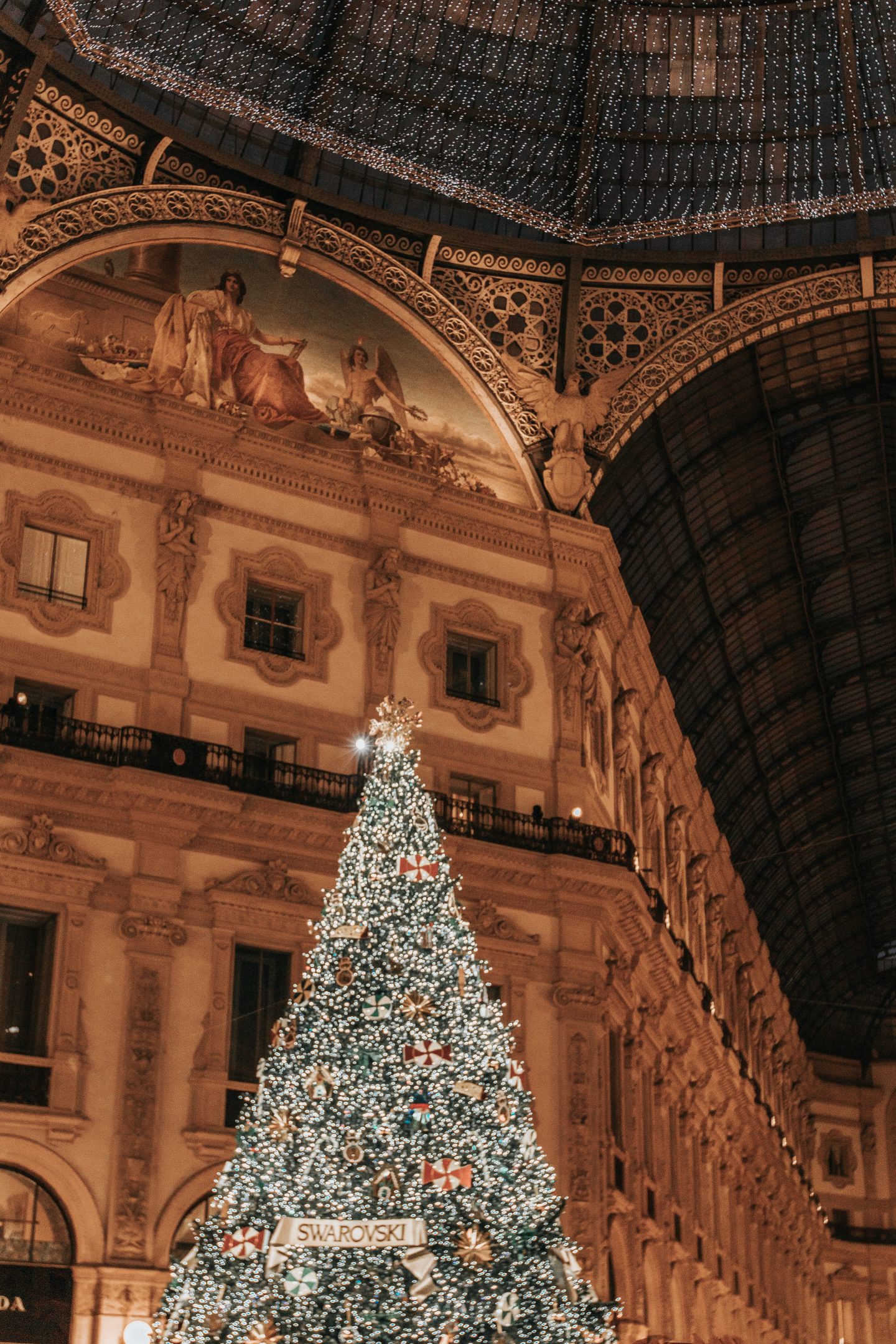 The biggest draw to visiting Italy in December are the holiday events and festivities. Nearly every large city, and many small towns as well, set up characteristic Christmas markets made of little wooden houses.
Here you'll find a variety of locally-made goods like Christmas decorations, souvenirs, and of course, food. Many sell food to eat on the spot, like pretzels, chocolates, and chestnuts, as well as regional delicacies to pack in your suitcase and take home like cheeses, honeys and jams, and much more!
Some of the most famous Christmas markets are in Bolzano, Bressanone, Milan, Merano, and Rome. They usually run until Epiphany, in the beginning of January.
The other main holiday event are the Presepi, or nativity scenes, mostly popular (and originating) in southern Italy. The decorations that make up these scenes are elaborate, the most famous being in Naples on Via San Gregorio Armeno.
The 8th of December is the Immacolata Concezione or Festa dell'Immacolata, which celebrates the immaculate conception of Mary.
It is a national public holiday in Italy, meaning everyone gets off work, so plan your travels accordingly! Try to avoid traveling, as roads will be busier, and keep in mind many small shops will be closed. More commercial shops should be open, but it is still best to double check.
The 26th of December is Santo Stefano, another national public holiday that all workers have off.
Italians also love to celebrate the new year, or Capodanno.
Italy in January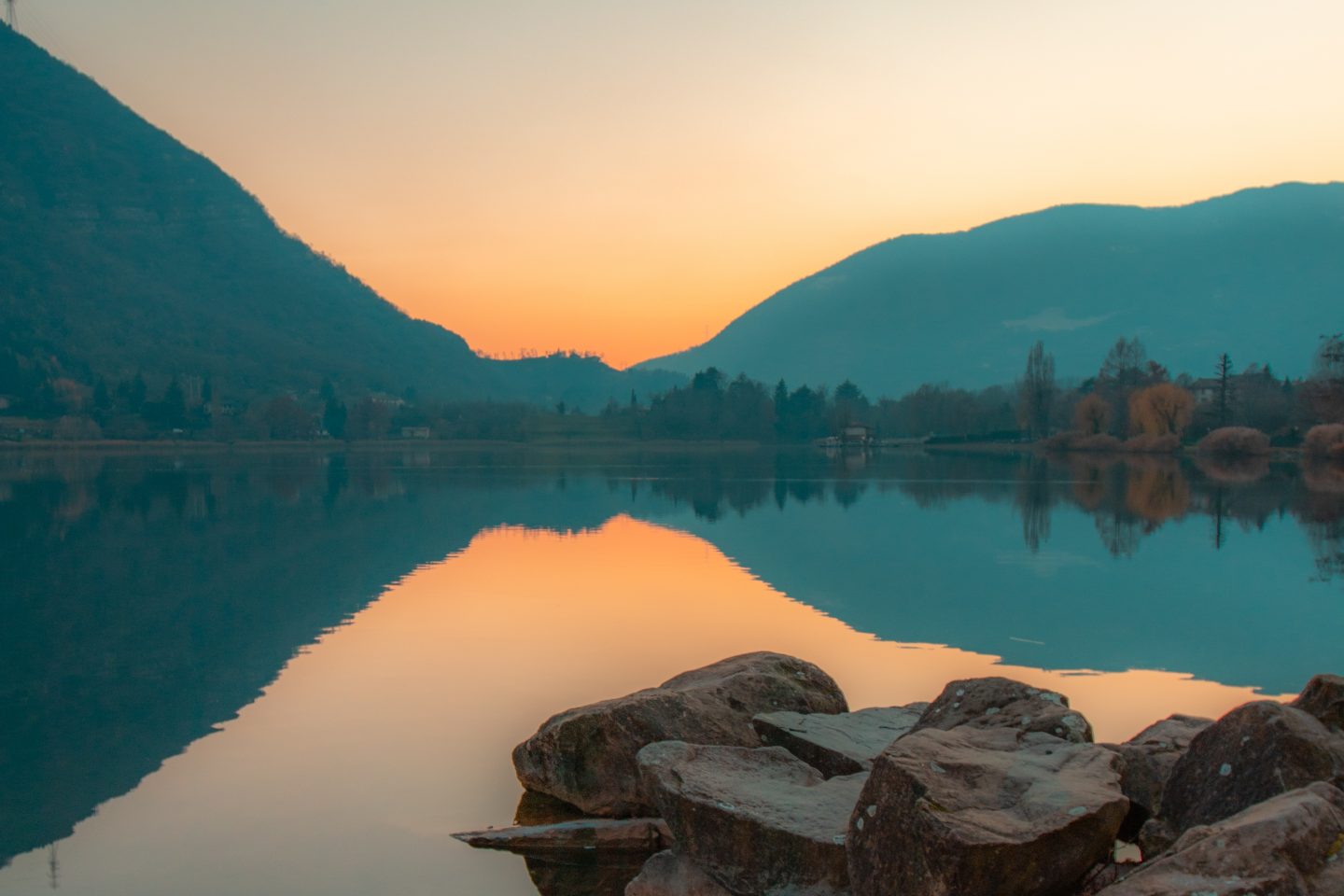 Weather
January is Italy's coldest month.
Lots of bare trees and bitter chills, it's also the emptiest time of the year to visit as a tourist. So there are pros and cons to everything!
In northern Italy, temperatures usually range from low 20s to low 40s.
In southern Italy, temperatures range from high 30s to low 50s.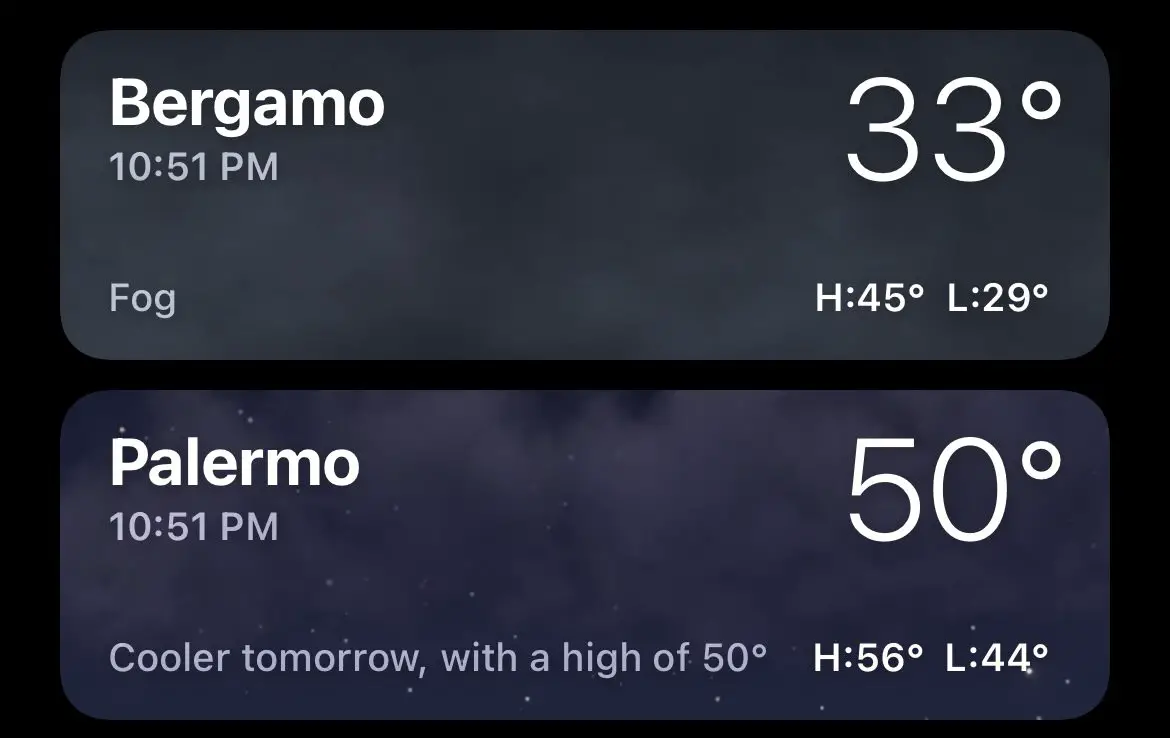 Events
The 6th of January is Epiphany, where again many towns will have celebrations about the Three Wise Men arriving to Jesus' crib.
The central figure of Epiphany in Italy is La Befana, a good witch who brings children presents on Epiphany Eve, similar to Santa Clause.
Also around this time (January 8th usually), the stores will begin the winter sales that typically extend until the end of February.
Italy in February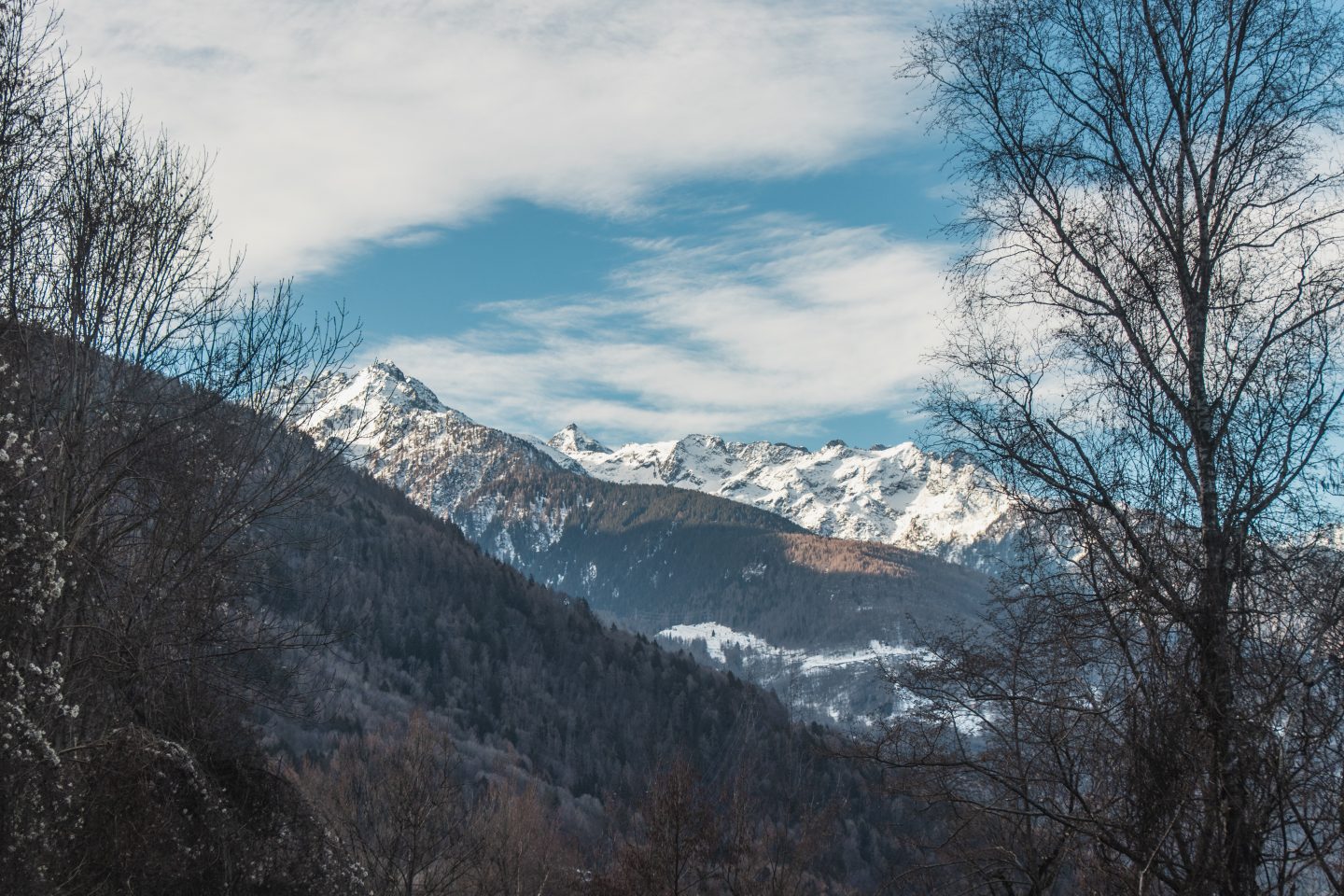 Weather
During February, the weather begins to fluctuate a bit more, with periods of slightly warmer, sunnier days and colder, gloomier days.
Northern Italy temperatures vary from low 20s to mid-50s.
In southern Italy, temperatures are similar to January, from high 30s to high 50s.
Events
The most famous event in Italy during February is Carnevale. Carnevale is a week-long celebration before the beginning of Lent. Venice is the most famous city to experience Carnevale, where people get dressed up in elaborate costumes and masks.
Even if you can't attend the celebrations in the most famous cities, you'll find the traditional foods of Carnevale in nearly every Italian bakery during the month of February. More info on that below!
Italians also celebrate San Valentino, or Valentine's Day, on February 14th, which makes sense since it's one of the most romantic countries in the world! Plan your trip to one of the most romantic places in Italy.
And calling all fashionistas! Milan Fashion Week for the Spring season typically takes place the last week of February.
---
The Best Places to Visit During Winter in Italy
Dolomites
It may be busy, but this unique mountain range is worth the waits and the crowds. Many flock to the Dolomites during winter for its beauty and for its wide range of slopes, like the Alpi dei Suisi.
The towns also feel like true winter wonderlands, with the cozy wooden houses covered in snow.
Good to know: One of the sweetest things to do in the mountains during winter is visit thermal spas. QC Terme is a luxury spa brand (with attainable prices) that has picturesque locations in the Dolomites, the Western Alps, and in the Central Alps at San Pellegrino for the ultimate winter spa experience.
Valle D'Aosta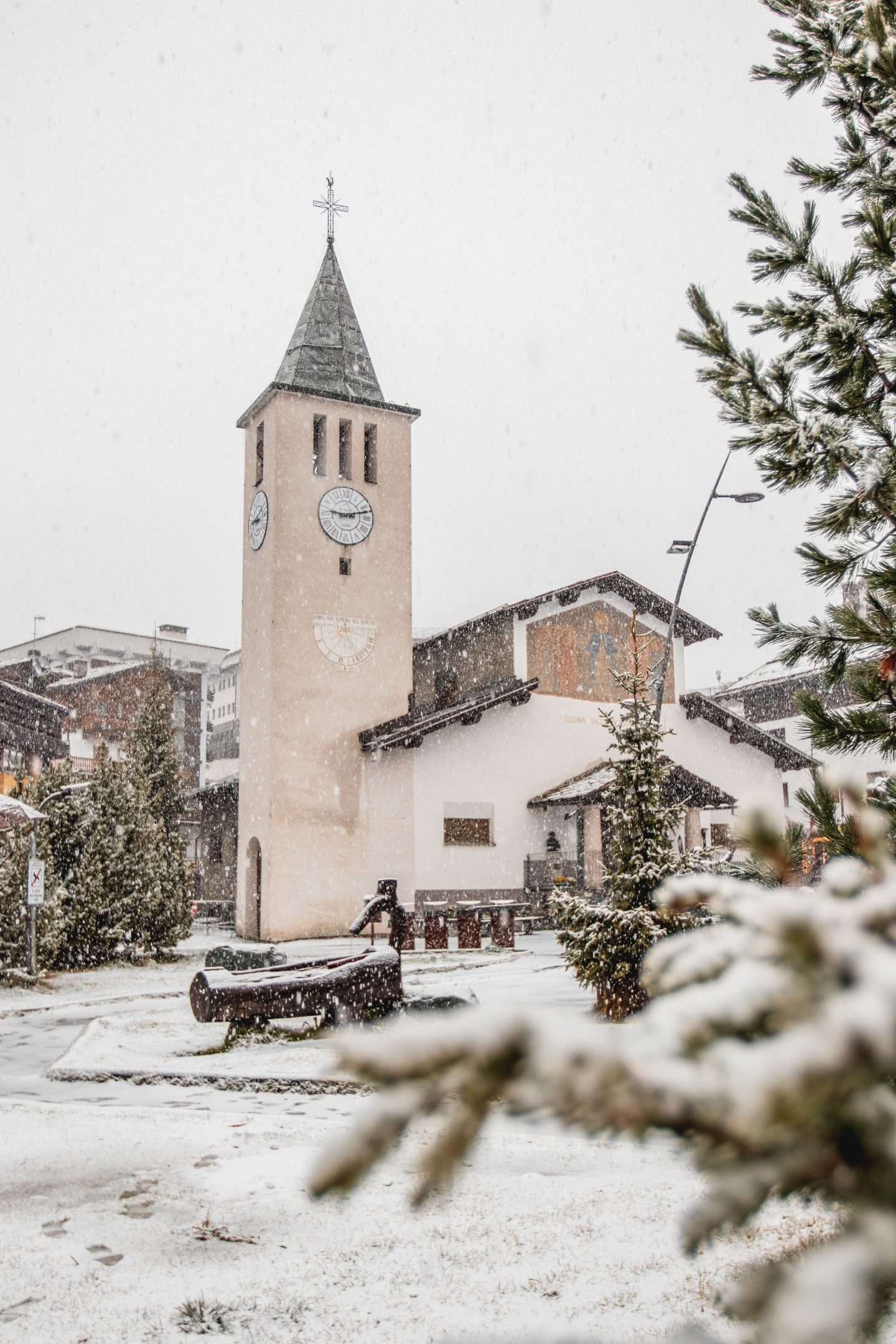 All mountain lovers should not overlook the small region of Valle D'Aosta. Courmayeur is a must visit village, a cozy chalet town at the foot of the highest mountain in Western Europe, Monte Bianco. Breuil-Cervinia is another mountain-town that can't be missed by winter sports-lovers.
Venice and Viareggio
There are no two better places to experience Carnevale in Italy. Visit Venice for the classical celebrations of masked characters strolling the city and Viareggio, a town in Tuscany, for its famous Carnevale parades.
Both of these Carnevale celebration towns can work as day trips from Milan.
Just remember to book these trips for mid-late February!
Rome
Rome during winter typically experiences a more temperate climate (but remember it can snow as south as Sicily, so you never know), but the best part about visiting during this season is skipping the crowds at its most famous attractions.
Naples and the Amalfi Coast
For reasons similar to visiting Rome, the climate is often more temperate in Naples. This city, plus the Amalfi Coast, are buzzing with nearly unbearable crowds during the summer months, which can make them more pleasant to explore during winter. But, you won't be hitting the beach, so you'll have to weigh the pros and cons.
This also applies to areas like the Cinque Terre – empty towns, but too cold to jump in the sea!
Good to know: If you plan on driving in Italy, there is a law that you must have snow chains in your car during the winter months.
Sicily
If you're looking for the warmest escape possible, try Sicily, but keep in mind – it snows here too! The weather can be way more all over the place in the south compared to the north, so I would still pack winter essentials with you.
---
What to Pack for Winter in Italy
Whether you travel to northern or southern Italy, you will likely experience the cold. One of the best tools to help you pack for the weather during your trip is the PackPoint app. It will provide you a packing list based on the weather forecast for your trip and the activities you want to do.
In any case, pack these cold weather essentials for your winter trip to Italy:
Coat
Scarf
Gloves (Opt for touchscreen gloves!)
Hat
Boots

Consider boots made of more durable materials (not soft fabric) in case you need to trudge through snow or get caught in cold rain.

Sweaters
Long-sleeve shirts
Tights
Warm socks
The most important thing you can do to combat winter weather in Italy is wear layers! Bring some long sleeve shirts and tank tops that fit to your body to easily go under sweaters. I also recommend layering tights under your pants and wearing two pairs of socks to keep your feet warm.
If you're planning on skiing or engaging in winter sports, remember to bring snow pants or a full ski outfit.
Italian Food To Try During Winter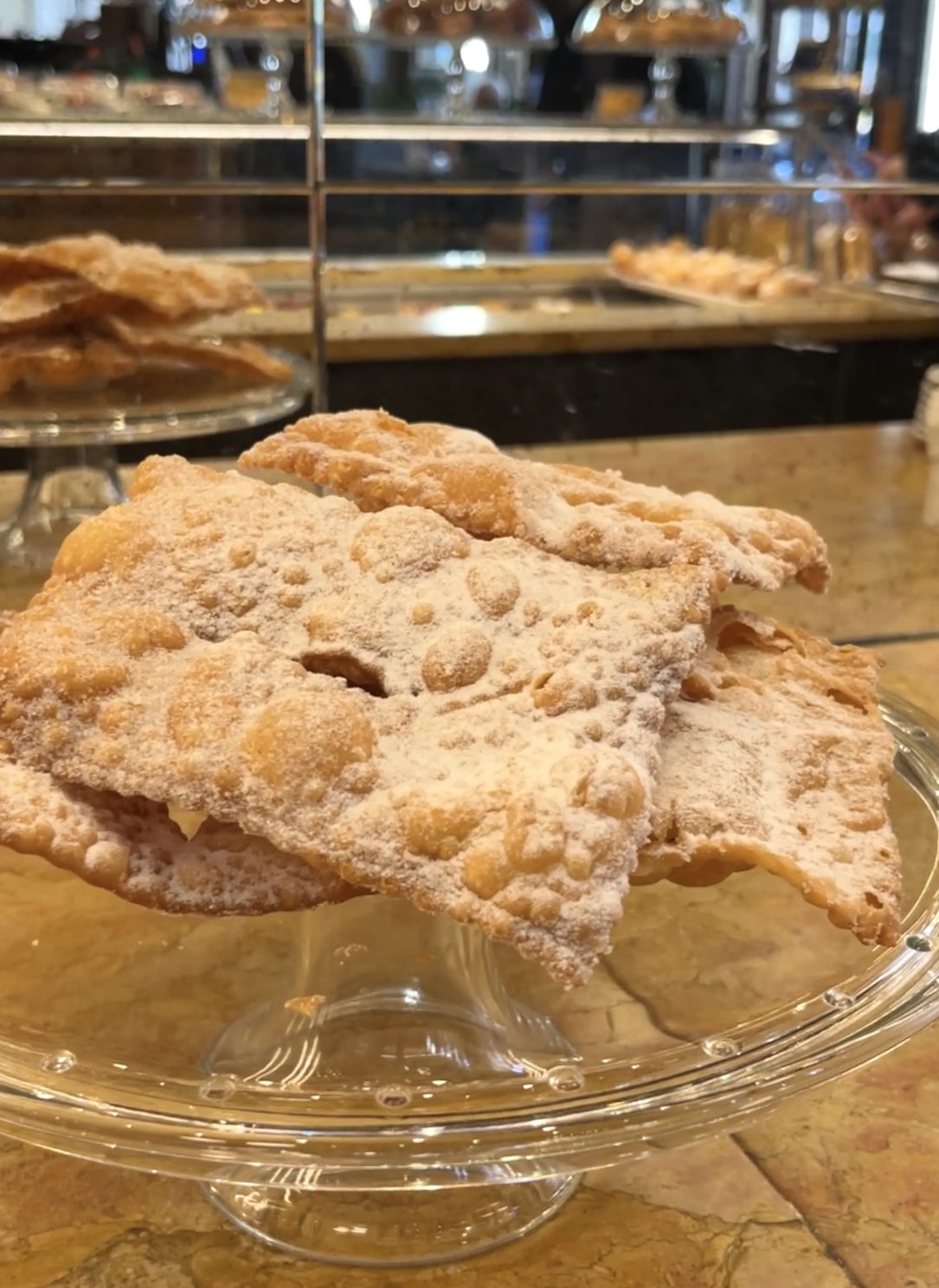 During winter, Italian cuisine goes from light, fresh pastas to heartier, heavier meals like stews. There are also traditional desserts for the various holidays, from Christmas to Carnevale.
Pizzoccheri – A buckwheat pasta local to northern Italy, in the area of Valtellina, is traditionally cooked with potatoes, spinach, and carrots. It is the perfect carby, comfort food!
Polenta – This grain is traditional to northern Italy in the regions of Veneto and Lombardy and is often paired with meat, like braised meat or Brasato, or is cooked alone as a first course with cheese or other ingredients like sausage and spinach.
Panettone – The most famous Christmas dessert, Panettone is a domed, sweet bread traditionally made plain, with chocolate, or with candied fruit (there are more adventurous flavors available as well, like pistachio.) It's often given as a gift throughout the holiday season.
Pandoro – Less famous but still a traditional Christmas dessert, Pandoro is another sweet bread, but a bit more cake-like.
Chiacchiere – Popping up in bakeries throughout the month of February, Chiacchiere are one of the famous treats of Carnevale. It is sweet dough dusted with powdered sugar, a little crunchier but of similar taste to a funnel cake.
Frittelle – Frittelle are also a Carnevale dessert, a type of fried doughnut that can be plain or filled with different flavored creams.
Blood Oranges – Grown in Sicily near Mount Etna, these citrus fruits are at their peak season during January and February!
---
Final Thoughts: Is Visiting Italy In Winter Worth It?
Absolutely, yes!
Whether you are a budget-conscious traveler, an outdoor sports enthusiast, or trying to see Italy with as few crowds as possible, winter is the perfect time to visit. Traveling in the cold is not always the most pleasant experience, so if you're not used to cold weather, I would save your Italy trip for the summer.
However, the benefits of saving money during this season and avoiding the huge, sweaty crowds of summer, is definitely a one-of-a-kind, winter in Italy perk.
What are you most looking forward to during your trip to Italy in winter?
Save this guide to Pinterest!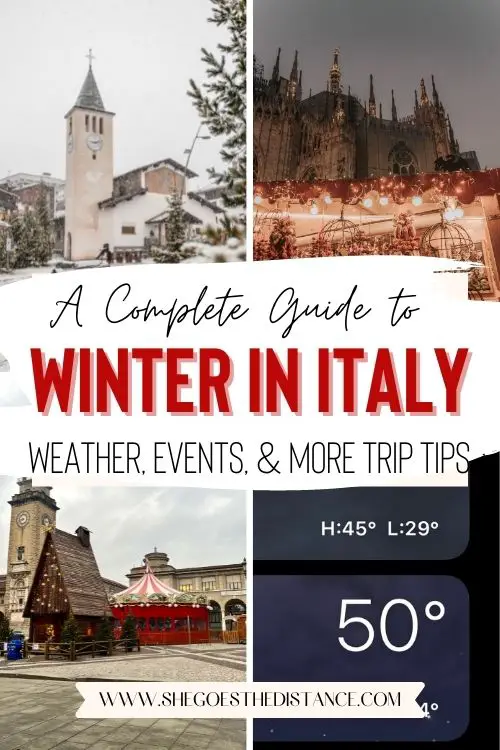 I hope this guide to Italy in winter has helped you plan your trip, or if you're a fellow expat, know what to expect during the cold season!
XOXO
Michela