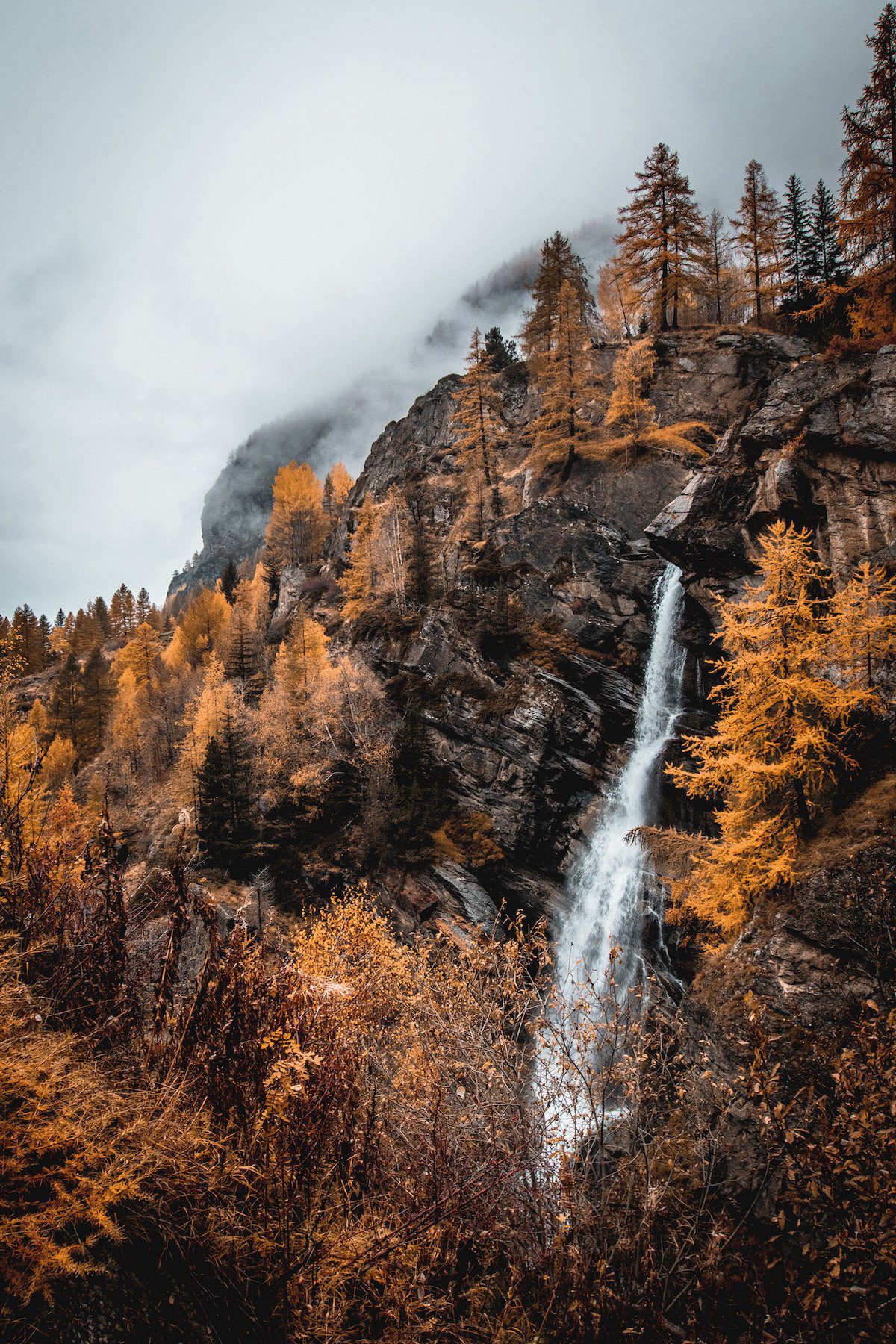 Last Updated on March 19, 2022
Cogne, Italy is a small village tucked away in the Aosta Valley located within the bounds of the Gran Paradiso National Park, the country's oldest national park.
If you're looking for an alpine escape, you've found it. Between sprawling meadows, richly-colored and densely packed evergreens, and trails to peaks waiting to be explored, Cogne is an off-the-beaten path gem in Valle D'Aosta.
Everything you need to know for your visit, from parking to food to the best things to see, is packed into this post!
Some of these links are affiliate links. This means if you make a purchase through that link, I receive a small commission at no extra cost to you. Read my full disclosure!
How to Reach Cogne
Cogne is located within the Gran Paradiso National Park, which is free to enter.
By Car
The easiest way to explore Cogne is to reach it by car. There is only one road that connects Cogne to the Aosta Valley, which is reached at the town of Aymavilles and lasts for 21 km through the mountains.
See more about driving in Italy to avoid hiccups on your road trip and check for car rentals here with AutoEurope.
By Bus
There is a bus from Aosta to Cogne. You can purchase tickets on the bus/at the station in Aosta which is: Biglietteria Savda di Aosta – Autostazione bus – Tel +39 0165 262027. Here is the timetable!
---
What To See in Cogne
Town Center
Cogne is a small village with just over 1300 inhabitants. It's charming town center will likely be your first stop!
You'll see houses with the traditional roofs of Valle D'Aosta, one-of-a-kind shops, and characteristic hotels and restaurants lining the aged cobblestone streets. You should also pay a visit to the Sant'Orso Parish Church.
Prato di Sant'Orso (Saint Ursus Meadow)
The village of Cogne is nestled at the base of the Prato di Sant'Orso, a sprawling, untouched green meadow with soft hills and various walking paths.
It's recognized as a "wonder of Italy" and is a perfect viewing spot of the surrounding peaks and villages.
Lillaz Waterfalls & Biolet Waterfalls (Cascate di Lillaz & Cascate di Biolet)
One of the most spectacular attractions in the fraction of Cogne, Lillaz, are the waterfalls.
Starting in Lillaz, you'll walk through the small village that leads you into a park and on a 15 minute trail to reach the waterfalls. Once you reach the waterfalls you can keep heading up the increasingly steep trail (although it never gets too difficult) to reach the top of the falls.
But it doesn't stop there! Once you reach the top of the falls, where there is a bridge overlook, you'll also see a small sign to the "Cascate di Biolet" or Biolet Waterfalls which is only a five minute walk.
I have to say, parts of the path were not as well taken care of (for example, there was a broken bridge) so stay attentive if you decide to continue on.
If you do continue, you'll eventually reach what is an even more spectacular waterfall surrounded by imposing boulders, and you'll have an up-close viewing point.
Pro Tip: There are two main parking lots in Lillaz right beside each other. One is paid parking, while one is free. The free one is used by buses, but in the low tourist season, it's empty! Avoid the parking lot with the blue-lined parking spaces, otherwise you'll have to unnecessarily pay for parking!
Paleofrana of Lillaz
If you visit the Cascate di Lillaz, you'll notice from the town a part of the surrounding mountains that is a large pile of slate grey, jagged boulders.
This is the Paleofrana of Lillaz, the result of an ancient landslide. More experienced hikers can explore the boulders and caverns!
Valnonty
Valnonty is less than five minutes by car from Cogne, along the Sant'Orso Meadow. It's another locale perfect for hiking and mountain path walks alongside an ice blue river.
Also in Valnonty is the Paradisia Alpine Botanical Garden, where you can see all kinds of plants from various mountain ranges around the world.
Good to Know: Cogne offers free buses to reach the Cascate di Lillaz and Valnonty. If you have your own car, the drive is only a few minutes between each of the towns, with free parking in each of them.
---
What To Do in Cogne
There are many activities offered in Cogne depending on the season!
Hike
If hiking is your forte, then you'll adore the amount of paths there are throughout Gran Paradiso National Park and Cogne.
Summer is the season for hiking, specifically from late April to late June. Some especially beautiful hikes are those to Lago di Loïe and up the Lillaz Waterfalls onto the Biolet Waterfalls.
Discover all the different hiking paths and choose according to your experience level!
Ski
One of the main draws to Cogne is the snow perfect winter season. Cogne offers many different types of skiing and snowboarding opportunities on its downhill paths, from nordic skiing to cross-country skiing to a children's snow park.
You will need to purchase ski passes, for which you can find information here. Skiing is made easy and comfortable, as Cogne has its own ski lifts that you can see from the town center.
At high altitudes, you'll also have a better chance at spotting unique wildlife like the ibex, which is the mascot of the Parco Nazionale Gran Paradiso!
Observe Fall Foliage
My favorite part about visiting Cogne was witnessing the incredible fall foliage and the never-ending spread of trees along the mountainsides.
The foliage is a photographer's dream, so anyone who loves to travel with their camera should be sure to pack some extra SD cards for the beauty they'll be seeing!
Check out the complete guide to fall in Italy.
---
Where to Eat in Cogne
Traditional Valdostana Cuisine
The traditional food of the Valle D'Aosta region is greatly influenced by its mountain environment. You'll find simple, hearty dishes at the core of their cuisine with local fresh ingredients.
I found most restaurants in Cogne and around the region celebrated this traditional cuisine, so it wasn't hard to find a good meal!
In particular, look out for offerings like Polenta Concia, anything with local Mocetta meat, or a universal favorite, Fondue.
Good to Know: Many restaurants in Cogne will close around 2:30/3 in the afternoon and reopen later for dinner. Keep this in mind when planning your arrival time in Cogne!
Here are some restaurants to try in Cogne:
La Cave de Cogne
I personally at at La Cave de Cogne, which was an amazing decision! The environment is much like a cozy wine cellar and they indeed sell local wines and products from the region.
The menu is on the mid-range to expensive side and the plates are quite small, but the food is high-end and delicious.
Dishes to try: Polenta Concia, Gnocchi alle Ortiche, L'hamburger Piemonte e Valle d'Aosta, Menu Tradizione
Bar a Fromage
The menu at Bar a Fromage is completely local and made for cheese-lovers. This restaurant is part of the Hotel Bellevue and offers views over the Sant'Orso meadow.
The menu again is mid-range to expensive.
Dishes to Try: La Favô, La Fonduta Maison, La Raclette Tradizionale, La Boucounò (cheese tasting)
---
Where to Stay in Cogne
Cogne may be small, but the touristic nature of a tiny village in a well-known national park means it is not lacking in accommodation options! Here are some of the best stays in Cogne at every price range.
Budget Stays in Cogne
Mid-Range Stays in Cogne
Luxury Stays in Cogne
Hotel Sant'Orso – $330 per night: All out luxury in amenities and views over the Prato di Sant'Orso are the highlights of this stay.
Bellevue Hotel & Spa – $338 per night: The most expensive stay, but the most luxurious and inclusive. It offers several in-house restaurants, meadow views, and free gear for sports activities. Some rooms even have a private hot tub and sauna.
---
The Best Time to Visit Cogne
I visited Cogne in the autumn, which was spectacular for seeing fall foliage, but the weather was rainy and cloudy.
The true answer to the best time to visit Cogne is that it completely depends on what you like to do!
If you love skiing, you must travel to Cogne in December during winter in Italy.
If you like hiking, late spring is when to visit.
For fall foliage minus the rain, try visiting in mid-October.
Because Cogne is more difficult to reach than most places, I would suggest spending at least one night in the area to maximize your itinerary. You can visit the area in half-a-day just for sightseeing, but you'll likely have to miss out on something in that short time period!
---
Extra Tips for Visiting Cogne
Stay attentive on the roads. Between weather, road work, and narrow, curvy mountain streets, the roads can be intimidating to reach Cogne. Some tunnels are not lit at night (although they are short) so always stay attentive when driving through this area.
Dress for all kinds of weather. In the mountains, the weather can change quickly! While the summer is typically temperate and calm and the winter is snow-heavy, the spring and fall can go from clear skies to heavy fog to constant rain.
Parking is free, but most Sundays there is a market that restricts parking. There is free parking available at the beginning of the town (See the map below for the exact location.) There is however a market on Sundays, so research other parking or transportation options if you plan to visit Cogne on Sunday.
Avoid fines when driving within the town. You can drive through the main street of Cogne, but many side roads are ZTL or Zona Traffico Limitato, meaning only available to residents.
Helpful Map
To summarize this post visually, I created a map in Google Maps Trip Planner with various colorful location markers. You'll find markers for things to do, parking, hotels, and restaurants mentioned in the post!
---
Final Thoughts
Cogne may be out of the way on a Valle D'Aosta road trip, but it is well-worth a detour. The serenity and natural beauty of the vast and open landscapes are a breath of fresh air and wild escape from everyday life.
Utilize resources like the Cogne Tourism website and the Gran Paradiso National Park website to further enhance your itinerary.
I hope this post has convinced you that Cogne is a must-visit village in the Italian alps!
Planning to visit Cogne?
Let me know in a comment and I'll answer any question you may have!
Share this travel guide on Pinterest!
Thanks so much for reading and have fun on your adventure!
XOXO
Michela