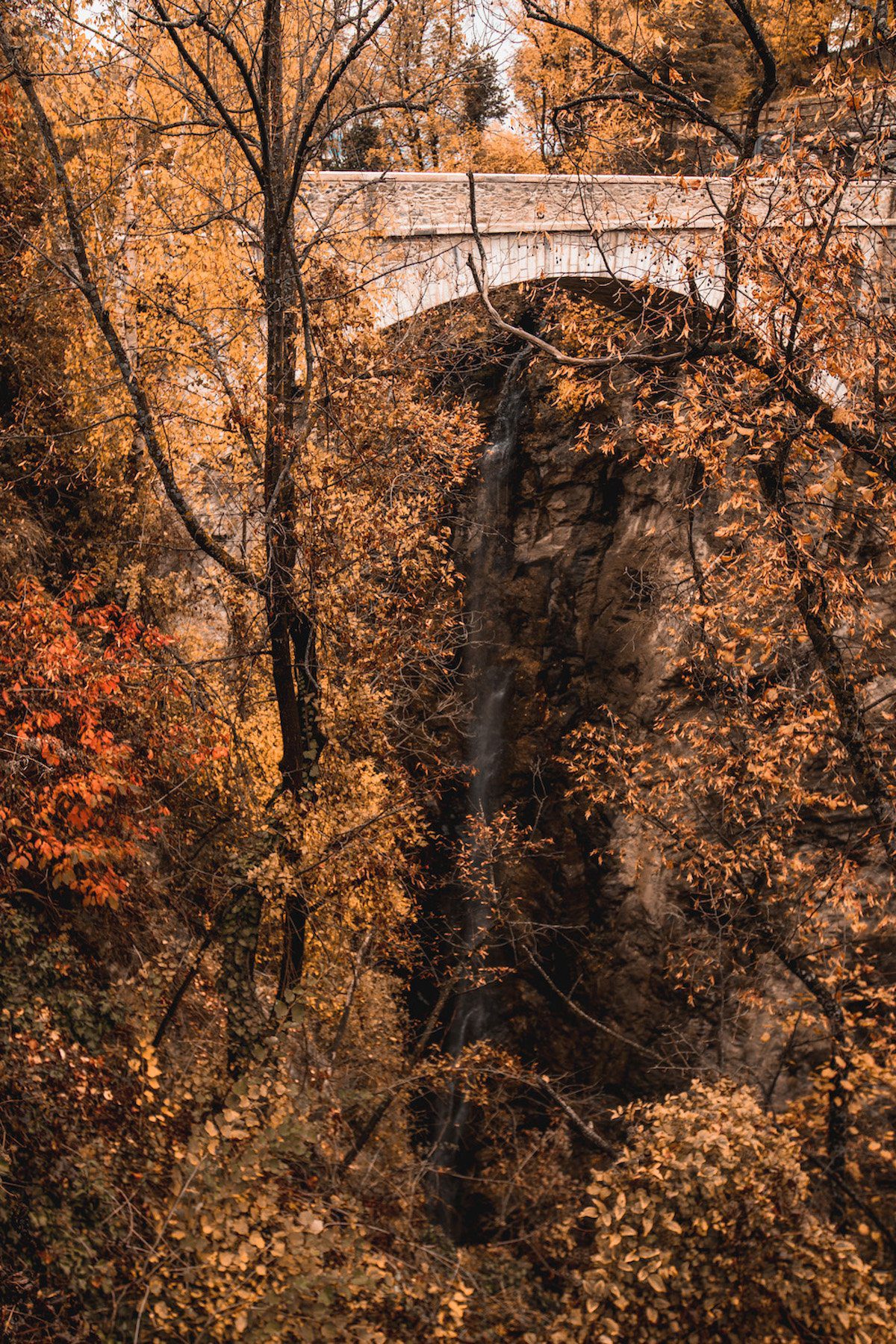 Last Updated on April 15, 2022
If you thought Italy couldn't get any more beautiful, you'll be stunned to visit the country in autumn. Small towns come alive with local food festivals. Rainy days make for the coziest moments in the historic cities. The colorful foliage saturates the plains, valleys, and mountains, making you truly understand that Italy is not just a place to snap photos at monuments and eat good food, but that it is also a nature-lover's paradise. When you're planning a dream trip to Italy though, you don't want to have any doubts about how you will enjoy the country based on the time you visit. While I certainly love fall in Italy, this guide is to help inform you if it's the ideal season for you to visit the country.
Fall in Italy occurs generally over three months just like the rest of the northern hemisphere: September, October, and November. With a month-to-month breakdown of weather, tips for your visit, special events and things to do, plus FAQs answered at the end of this post, my goal is to help you have a clearer picture if Italy in the fall is for you!
Some of these links are affiliate links. This means if you make a purchase through that link, I receive a small commission at no extra cost to you. Read my full disclosure!
The Tourist Season Status
Most people will tell you that Italy in the fall is ideal because there are fewer tourists, it's less expensive, and you'll still enjoy good weather. They're not completely wrong, but I can't tell you you're going to get a cheap, tourist-free vacation in Italy without seeing a cloudy day if you visit in the fall!
But in fall, it's true that things slow down a bit. September is technically part of Italy's "shoulder season" but it is becoming increasing popular to visit since the nice weather continues into the month. So, you may just want to say it's more part of high season.
The first two weeks of October are also considered "shoulder season" while the rest of October and November are off-season in Italy for a few reasons. The weather is colder and rainier and certain tourist areas will actually stop services, for example in the Dolomites before peak winter skiing season. Of course this isn't a specific rule, but it's just to let you know you should double check what services are running in the area you plan on visiting (for example, ferries or ski lifts.)
Do expect price drops for these two months, which may also allow you to travel more of Italy by train or by air!
On that note, different regions of Italy have different peak seasons. For example, the mountains are most popular to visit at the beginning of summer for hiking and the thick of winter for skiing. But if you take southern Italy for example, late summer is when every tourist (other Italians included) flock to the beach.
---
Fall in Italy Month-By-Month Breakdown
Keep in mind that Italy is a country with diverse landscapes, from mountains to the Mediterranean sea, so recapping what the entire country is like is no easy feat! The weather and options for activities will vary: the slopes in the Italian Alps will have completely different sets of weather compared to the beaches in Sicily.
I touch on both northern and southern Italy to give you an overall idea of what conditions are like, but know that such a unique country makes for unique conditions!
Italy in September
Weather
I've touched on weather a bit, but I am going in-depth now! Italy in September, just about no matter where you visit, still maintains sunny and warm conditions.
The temperatures get as low as high 60s but usually hang out at that breezy sweet spot in the mid-70s! The first week or two, and pretty much the entire month for the southern parts of Italy, can still be sweltering, which means you can hold onto the weather of the summer months just a little bit longer.
Plus, you'll have lots of options for outdoor activities.
Don't expect colorful fall foliage though, which won't arrive until late next month!
Good to know: Italians use Celsius to describe the weather! You of course can input whatever form of measurement you prefer in your phone for example, but this is just to keep in mind in case the local talk or news gets you confused.
Events
Some particular things to do in Italy in September include visiting Venice for the Venice Film Festival or heading to Milan for Milan Fashion Week.
If you're a sports fanatic, Serie A soccer kicks off in September. It's a fun way to experience local culture by seeing a game in a bar or special "maxischermo" event.
September is also a big month for food as the fall harvests begin.
In Tuscany, the "vendemmia" occurs which is the Italian word for grape harvest. Who doesn't dream of a wine tasting in Tuscany on their trip to Italy? So, why not do it when the harvest is at its peak!
In Piemonte, its mushroom and truffle season! If you get the chance to visit the Alps, try going on a mushroom hunt, seeking out especially porcini mushrooms!
And if that isn't enough, it's also the peak season for producing olive oil. YUM!
Tips for Visiting
Since September is the most popular of the fall months to visit, you should still book accommodation and car rentals as far ahead as time as possible to save money.
Although they'll still come with some crowds, you should look into visiting popular areas like Amalfi Coast and Cinque Terre during this month to still experience sunny blue skies and the slight lull in tourists after the vacation craze of August.
Italy in October
Weather
Better pack your umbrella if you're visiting Italy in October! The beginning of the month is chilly but still sunny, but mid-October is when the rainy season arrives.
Temperatures are typically in the 60s (Fahrenheit) throughout the day in northern Italy, while in the south you'll still reap the benefits of a breezy Mediterranean climate in the 70s.
Events
Obviously the most notable event in October is Halloween! Halloween is recognized in Italy, but it isn't celebrated as strongly compared to the United States, for example. You'll see some decorations and a few trick-or-treaters, but you definitely don't have to break out in full costume!
And speaking of truffles before in September, the world famous Alba Truffle Festival kicks off in Piemonte.
Then at the end of the month, fall truly arrives! If you don't usually get to experience the spectacle of fall (I'm from Florida, so this was a new one for me!), then you'll be dazzled by the transformation of greenery into a burst of colors!
Tips for Visiting
Harvest festivals, or "sagre", are popular in small villages, celebrating the food that comes from their particular region! If you already know the areas you are traveling to, research when their annual sagra is to see if it falls on your travel dates!
While mushrooms continue to be in season, the other food you'll see become all the rage is none other than pumpkin! Italians don't necessarily partake in the carving of pumpkins but they love to create seasonal menus with produce that is in season, so I highly recommend giving the local harvest a try.
Italy in November
Weather
In November, the weather takes a turn! November is the rainiest month but the temperatures also cool down quickly!
If you're visiting the Alps, it may already start snowing. For instance, I was visiting the Matterhorn on November 1st, at the very northern tip of Italy and the whole town of Breuil-Cervinia was covered in snow!
Always keep in mind the higher the elevation, the colder the weather.
By the end of November, temperatures are dropping to as low as 30° F and lulling throughout the day around 45° F in northern Italy.
In southern Italy, it's also rainy but a little bit warmer in the 50s-60s.
Events
November 1st is Ognissanti or All Saint's Day, which is a holiday in Italy. If you have travel plans on this day like flights or long drives, expect longer wait times, bigger crowds, traffic, and higher prices.
The Alba Truffle Festival also continues into November.
Meanwhile in Venice, November 21st is a special day to celebrate the Basilica Madonna della Salute, which includes a pilgrimage and markets throughout the city. If you have the opportunity to witness a local tradition such as this, you will have an even more meaningful trip to Italy!
If you're heading to the Eternal City, then you may want to add Rome Jazz Festival to your itinerary.
In Mid-November, the entire country begins to transform into a Christmas paradise, with cities hanging their decorations and setting up Christmas markets! Some places where you can visit an elaborate Christmas market are Bressanone, Merano, Bergamo, and Bolzano.
Tips for Visiting
Of all the fall months, November is probably the best time to visit Italy for the fewest crowds and cheapest prices. It's the true off-season for tourism, right before peak skiing season and the holidays of December.
That being said, I caution you to research that services you'll need are not suspended in this slow period, whether that's transportation, store hours, or activities like hiking trails.
November is the peak of beautiful fall foliage so check out the FAQ section below for a list of foliage hotspots!
---
Italy in Autumn FAQ
Best Places to Visit During Fall in Italy
There is no wrong place to visit in Italy during autumn but there are some regions that are at their peak beauty, celebrating special occasions, or certain overcrowded spots that finally die down in these months so you can expeirence them nearly-tourist free.
Where to See Fall Foliage in Italy
Your best opportunity to see fall foliage in Italy is by traveling to northern Italy, where the mountain landscape and forested valleys make for a spectacle of warm orange and yellow hues.
The mountains in particular tend to have birch forests, which are similar to pine trees but turn a bright yellow orange in the fall.
You'll be able to see the leaves turning different colors nearly anywhere in Italy (besides the islands I'd say) but these are some hotspots to get your fix on foliage:
What to Wear in Italy in Fall
It's likely the summer weather of August will carry on into September for the first few weeks, but the end of September to October is when it starts to get chilly!
Of course, like I mentioned before, the weather can depend on where you are visiting in Italy, which obviously will influence what you pack.
I recommend using the app PackPoint to get an idea of what the weather will be like in the exact location you are visiting. The app will then generate a list of what you should pack based on the weather conditions and the other information you input about your trip!
If you're visiting in September, pack light jackets and some light sweaters for late September nights, but don't worry about heavy coats or boots just yet.
In October, the rainy season begins in Italy. So along with a travel-friendly umbrella, try to pack a weather-resistant rain jacket (this is the one I use, which is light, foldable, and portable.) You may also want to consider boots to avoid soaking your shoes in puddles!
I would also recommend a coat for this season, but nothing too heavy-duty. A light wool coat or puffer vest will keep you warm enough.
In November, the same rainy weather continues but from mid-November on, the weather really takes a cold turn! This is when you'll need a heavy jacket, plus a scarf, hat and maybe even gloves.
---
Final Thoughts
Italy is magical any time of year, but fall is a special season to visit. It's not only easier on your wallet, but if you can brave the colder days of the later months of fall, you'll get to enjoy Italy with the locals, way less tourists, and get a glimpse of Italy during the holiday season.
I don't blame you if visiting Italy in summer is at the top of your bucket list, as everyone can imagine it's a Mediterranean dream. But for those who like to go off-the-beaten-path, are drawn to nature and the outdoors or simply looking for a less expensive time to travel, then fall is the perfect time to visit Italy.
Are you planning to visit Italy in fall? Let me know in a comment!
Save these travel tips to Pinterest for later reference!
XOXO
Michela