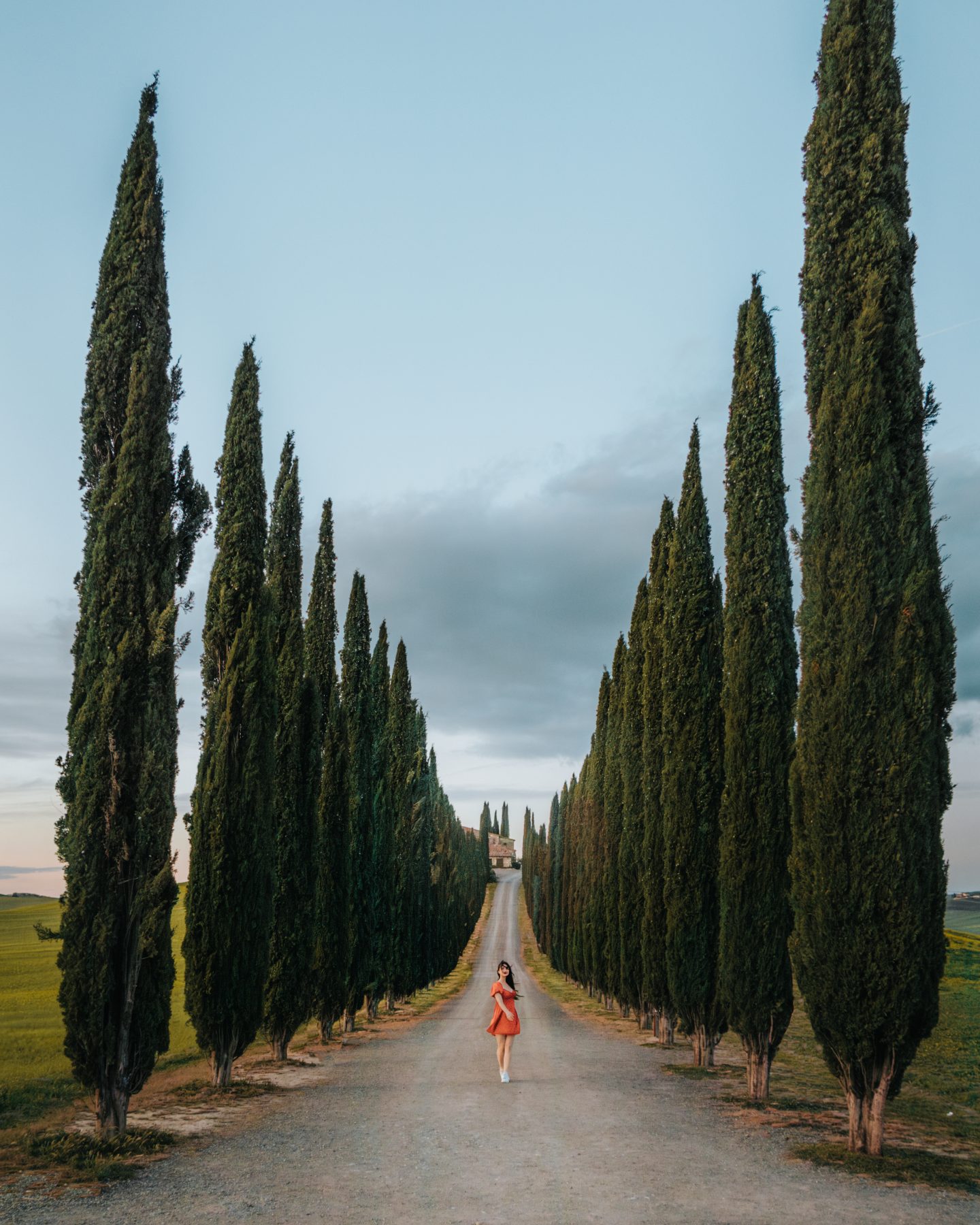 Last Updated on October 1, 2023
Cypress trees in Tuscany are like Audrey Hepburn and Tiffany blue: iconic. The conifer is a distinct symbol of the Tuscan landscape, the dream Tuscany we all imagine in our heads. While there are cypress trees all over the region, there are particularly beautiful spots where the trees are not just a natural element but an artistic additive to Tuscany's stunning rolling hills.
Discover the best places to see cypress trees in Tuscany, perfect photo spots to make all your Instagram followers jealous and simply breathtaking viewpoints that remind you you're living la dolce vita.
Some of these links are affiliate links. This means if you make a purchase through that link, I receive a small commission at no extra cost to you. Read my full disclosure!
Best Places to See Cypress Trees in Tuscany
1. Agriturismo Baccoleno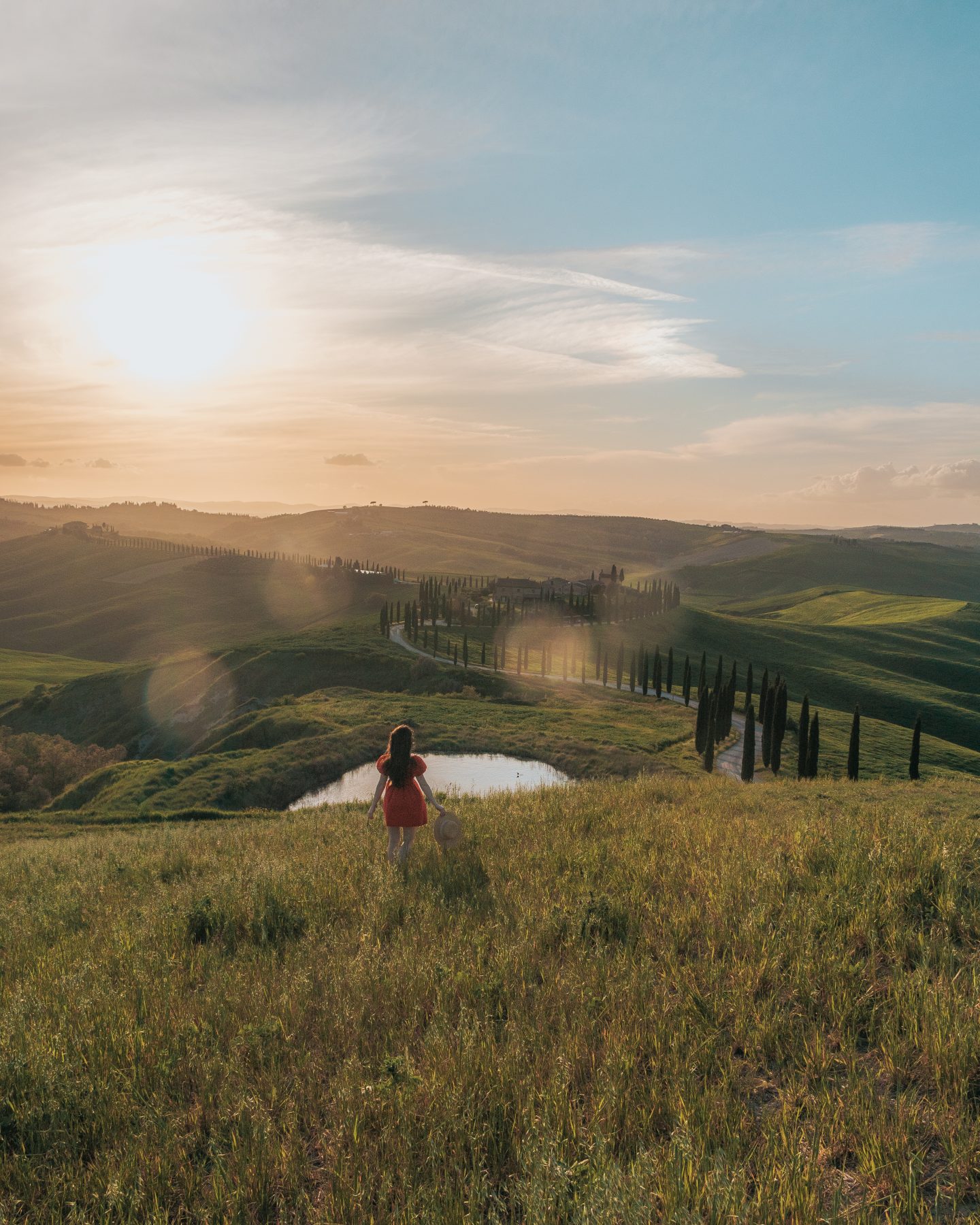 Nestled in the famous Crete Senesi area of Tuscany, Agriturismo Baccoleno in Asciano, Italy is the most famous place to see cypress trees in Tuscany.
I am sure you have seen this iconic landscape all over your Instagram feed if you are planning a trip to Tuscany.
The cypress trees wind down the long, curved path to the elegant Tuscan villa. The entire setting creates this dissonant harmony between the soft, rolling hills, whose grasses dance with the wind, and the structured, stoiccypress trees.
This area has become well-noted around the world for its beautiful serenity, meaning you will likely be sharing this spot with many other visitors, no matter the hour of day.
Let's get down to practicalities: put Agriturismo Baccoleno directly in your maps app. You will know which one it is because you will go from empty, scenic road for miles to one stretch of pavement where all these cars are parked along the side.
Park here safely – the road isn't the widest, so make sure you are truly off of it before leaving your car there.
There are, by now, walking paths marked from the side of the road to the hilltop overlooking the agriturismo. It is super close, so remember that this is an active hospitality structure and to remain respectful of the property and the people. No littering, no screaming, no destroying the lawn, etc.
You cannot walk between the trees on the dirt road leading up to the agriturismo unless you are a guest at the farm stay. Book a once-in-a-lifetime stay at Agriturismo Baccoleno to experience waking up to the magic of this scenery every day.
2. San Quirico d'Orcia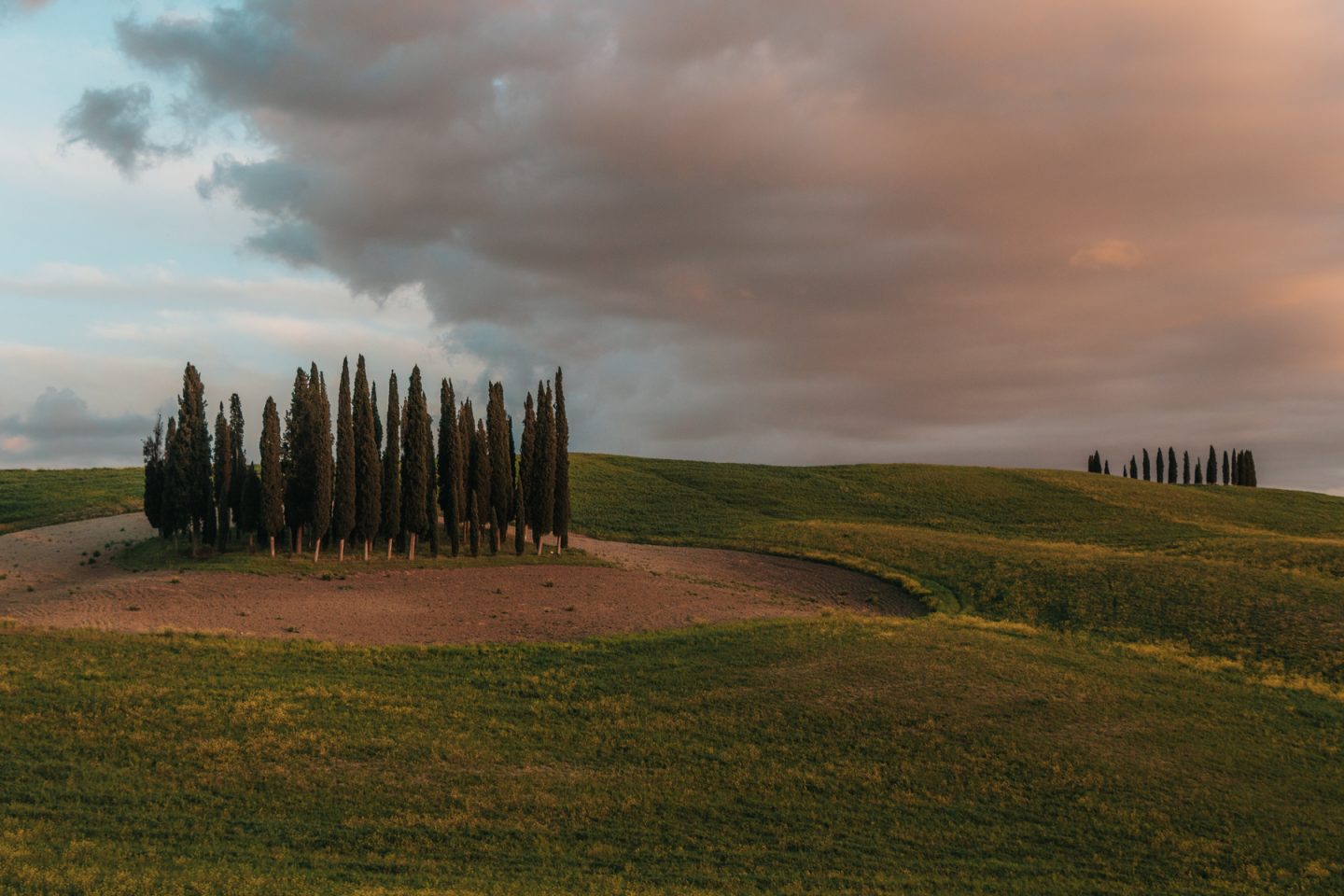 I Cipressi di San Quirico are the second-most famous spot to see cypress trees in Tuscany.
Halfway between Asciano and Monte Amiata and close to Pienza are these two unique groups of cypresses forming a circle/mini forest. They are completely isolated, set along the rolling countryside hills.
To reach them precisely, be weary of what your maps app tells you. Our app gave us a path to the cypresses that crossed into private property, along a dirt road that barely looked safe or used.
Instead, plug in these coordinates and stop along the SS2: 43°03′45.62″N 11°33′31.86″E. You will see the cypresses very clearly from the road and other people often stop to walk up to them, so there is some space to park.
3. Agriturismo Poggio Covili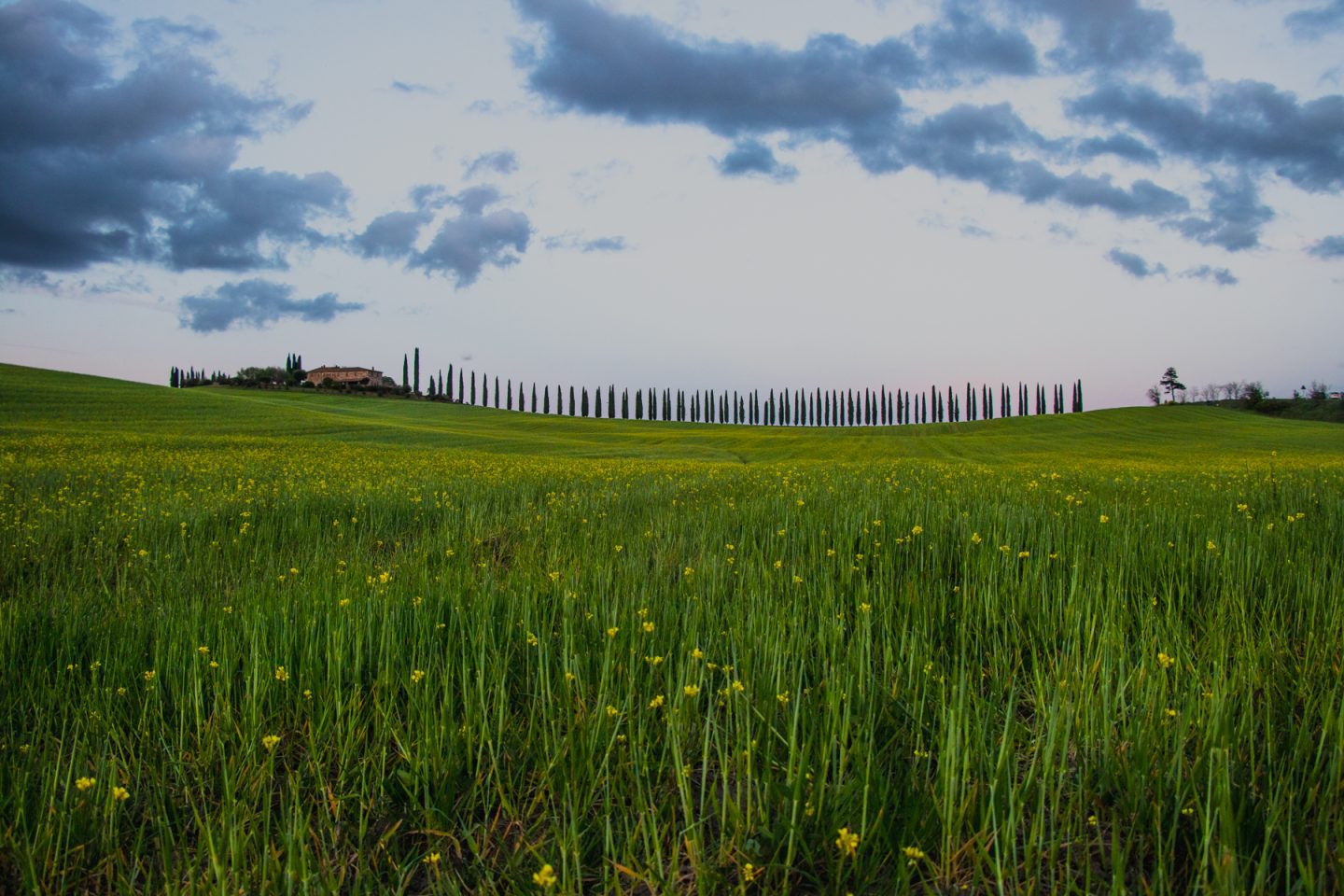 The farm stay Poggio Covili is another instagrammable accommodation and noted photo spot. It is less known than Agriturismo Baccoleno, so you will usually find fewer people here.
The best places to take photos here are along the road SR2 where it curves, so that you can get the landscape shot of the trees gently scaling up the hill towards the farmhouse.
Contrary to Agriturismo Baccoleno, you can take photos on the road of the cypress trees. Keep in mind that it is still private property, so you can not cross a certain point of the driveway (there is a chain) and that you should be respectful. Take a quick photo and keep moving so that you limit any kind of disturbance it may create.
The photo that I took here is the cover photo of this post in case you are wondering what that looks like!
4. Pienza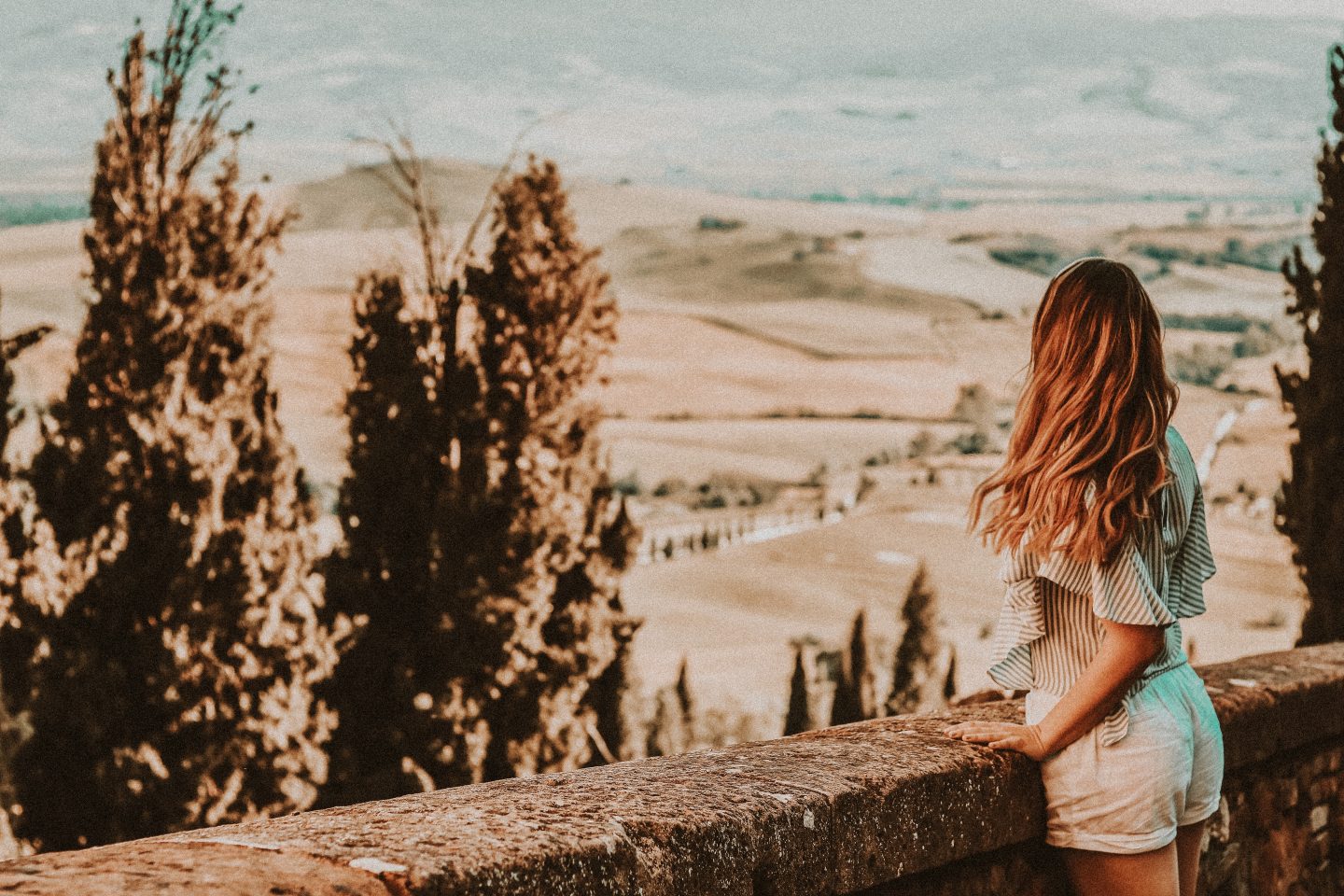 Pienza is one of the most characteristic Tuscan villages in the Val d'Orcia and the entire region.
It is very small, but its hilltop position makes it a perfect viewpoint to take in the valley and, with it, all the roads and villas dotted with cypress trees.
The best place to take it all in is along the Via dell'Amore. But my personal favorite photo spot?
Head to the main square and face the Duomo di Santa Maria Assunta. Walk towards the right side of the church, where you will find a wide descending staircase. Along this little wall are some larger cypresses that frame a perfect shot of the valley below.
5. Volterra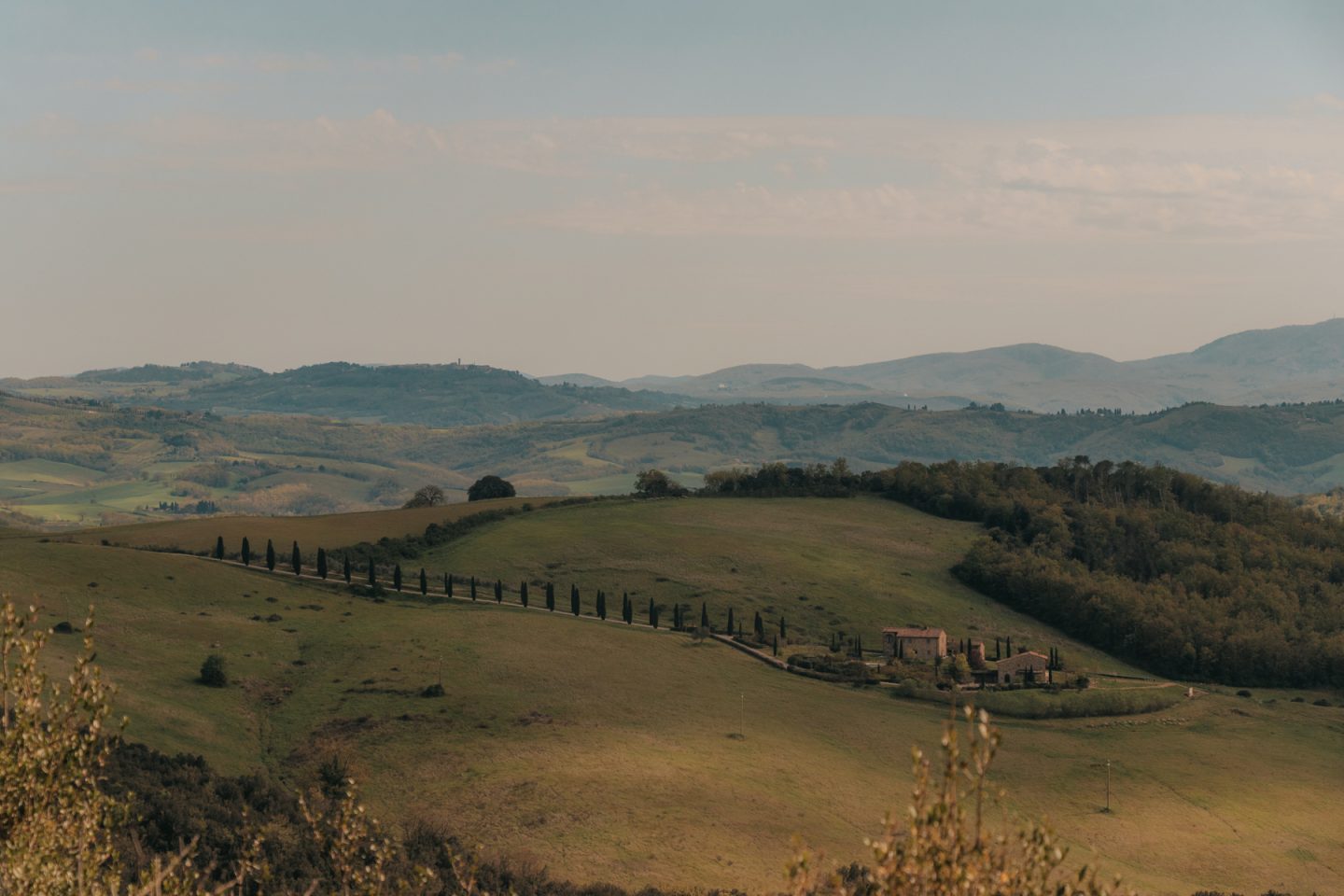 Volterra is one of the best places to see cypress trees in Tuscany and one of the more convenient day trips from Florence, the major city hub in the area for travelers.
The best thing about Volterra is its high positioning at the peak of a hill, which allows you to get sweeping panoramic views of the kinds of villas pictured above, lined with cypress trees.
One of my favorite viewpoints was along this hidden gem street away from the town center, off of Via Persio Flacco.
6. Bolgheri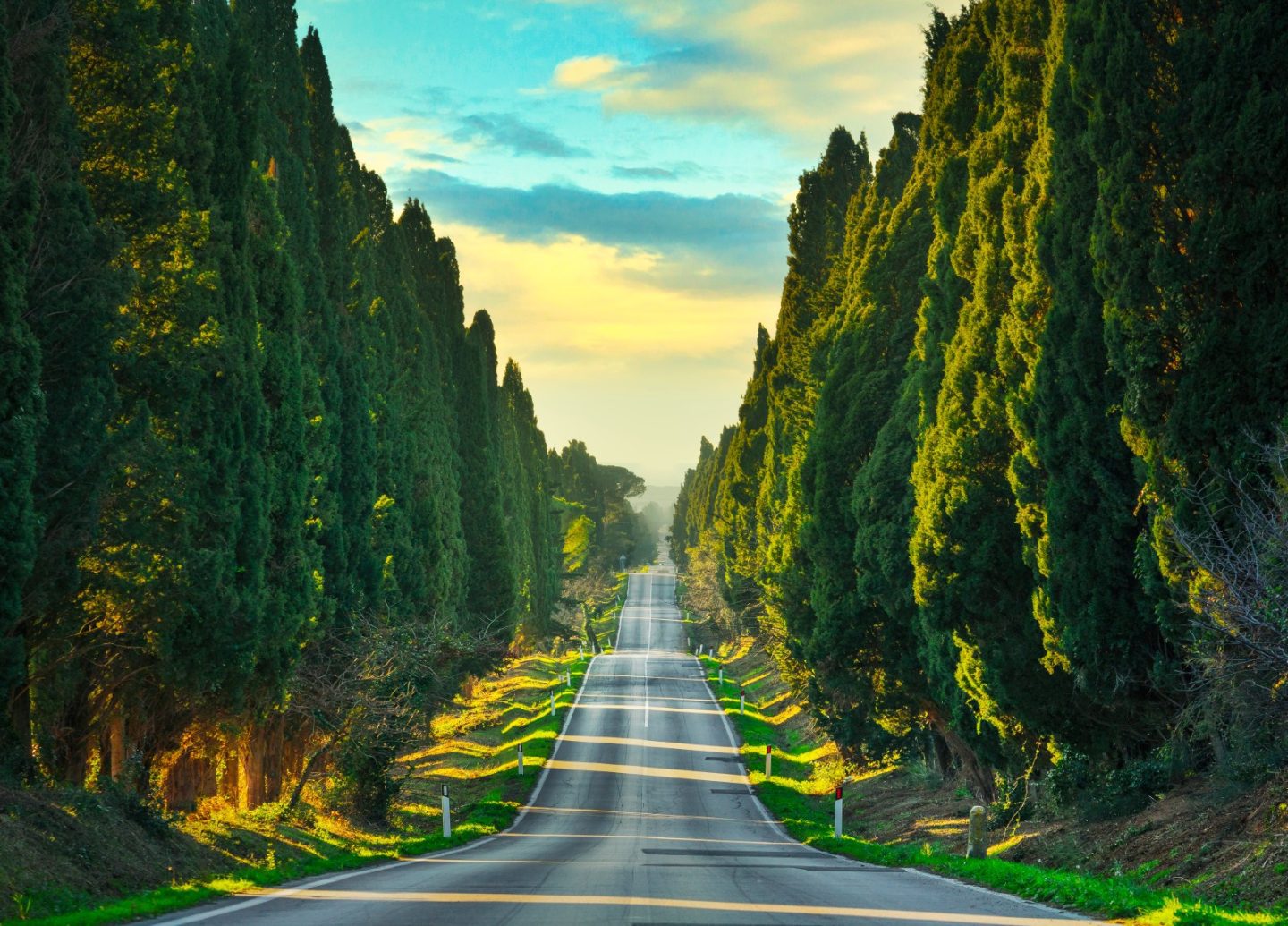 Bolgheri is a village close to Tuscany's coast. To reach it, you have to drive down the charming Viale dei Cipressi.
The Viale dei Cipressi is a 5 kilometer boulevard lined with two rows of cypresses, creating an unusual fullness to the trees compared to their stand-alone skinny and straight look.
The road dates back to the 19th century and has 2,540 cypress trees in total!
7. Monte Oliveto Maggiore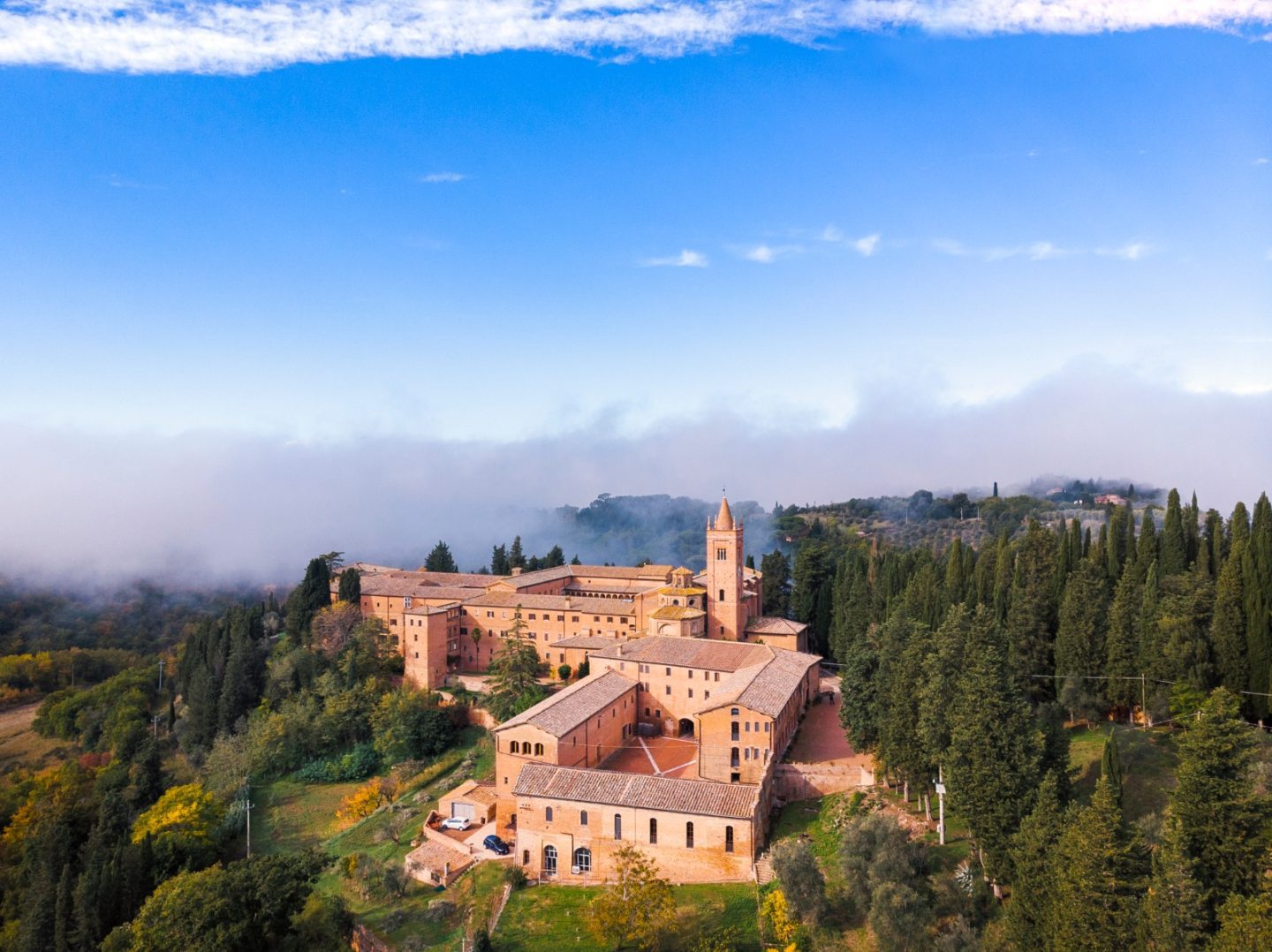 Surrounded by thickly packed cypress trees is the Abbazia di Monte Oliveto Maggiore, a church complex located in Asciano, Italy.
The church was founded 700 years ago and home to the Olivetan monks. You can visit for free during the week or for €5 per person on the weekday.
8. Abbazia di San Galgano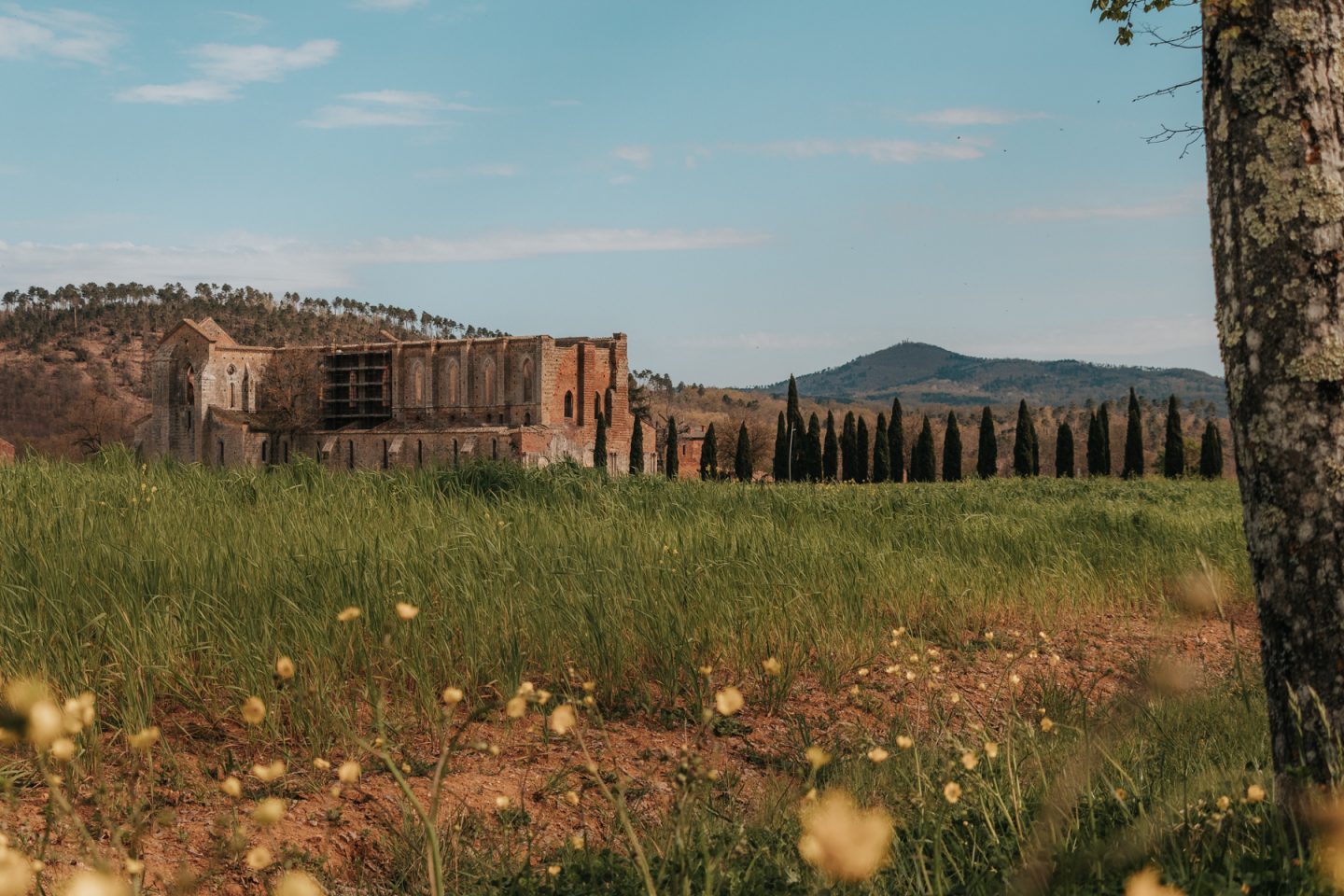 Abbazia di San Galgano is the first gothic church built in Tuscany, dating back to the 1200s. Today, you can visit the hauntingly beautiful ruins of the church for €5.
Or, if you are just looking for an iconic cypress tree photo spot, just walk the open field area around the abbey to catch the perfect angle of the cypress-lined road leading up to the ruins.
9. Montagnola Senese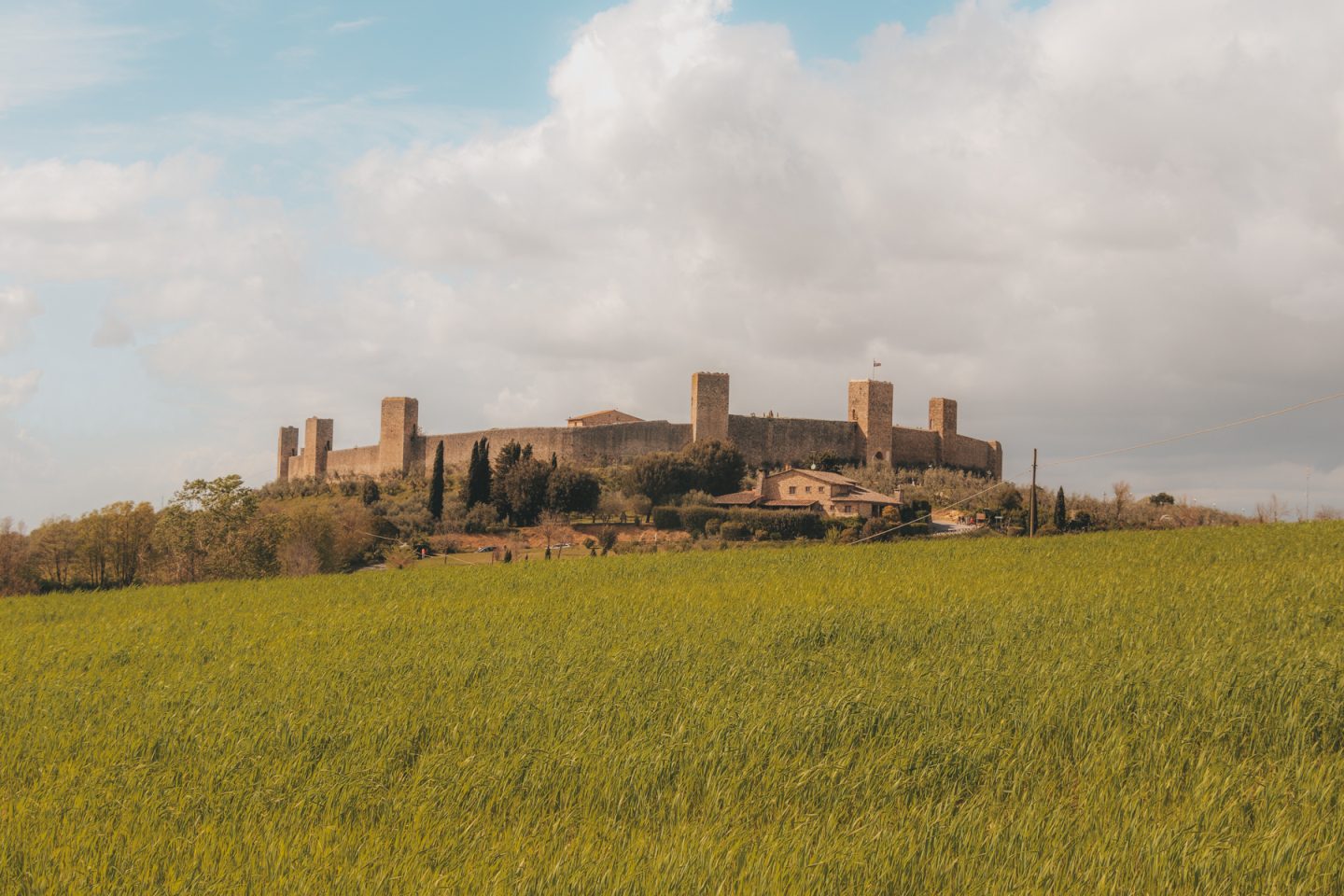 Montagnola senese is an area of southern Tuscany that includes the medieval town of Monteriggioni, pictured above. Monteriggioni is one of the best preserved walled villages in Italy and from these walls, you can see the cypress trees dotted along the surrounding rolling hills in almost every direction.
The area is also known for nature trails and some well-known Italian estates like Villa Cetinale.
10. San Gimignano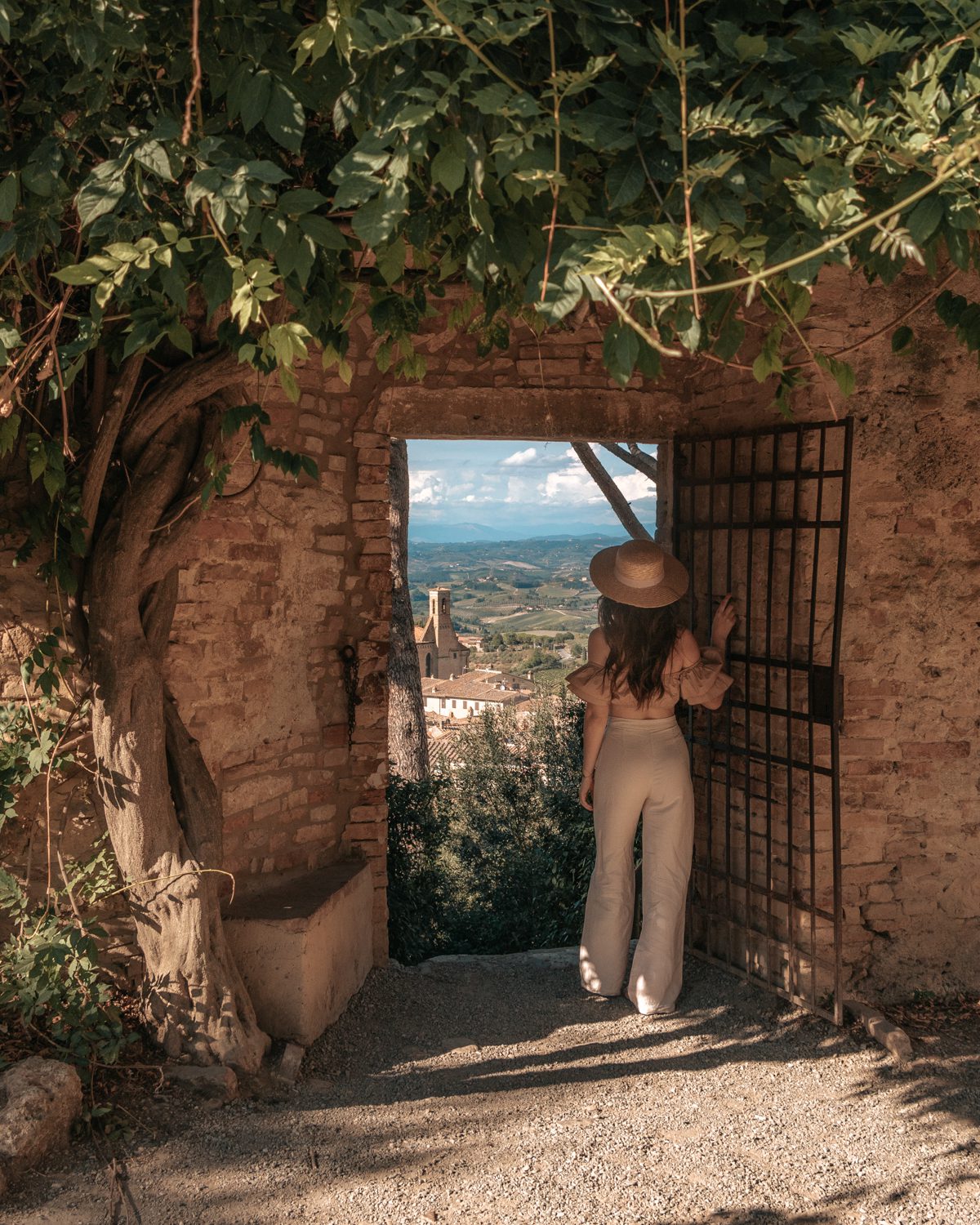 San Gimignano is one of the most classic hill towns of Tuscany. Being just one-hour drive away from Florence, it is a popular choice for travelers who need to maximize their time and utilize day trips to see as much as possible on their northern Italy itinerary.
San Gimignano is not home to just cypress trees but also to a beautiful olive grove in Parco della Rocca, where you will find the Rocca di Montestaffoli, ruins of a medieval fortress. From the tower of this fortress, you get the best views of the surrounding hills and cypresses.
---
Other Tuscan Trees & Photo Spots
Cypress trees may be Tuscany's most well-known greenery, but there are other stunning landscapes where trees are the stars.
Umbrella Pines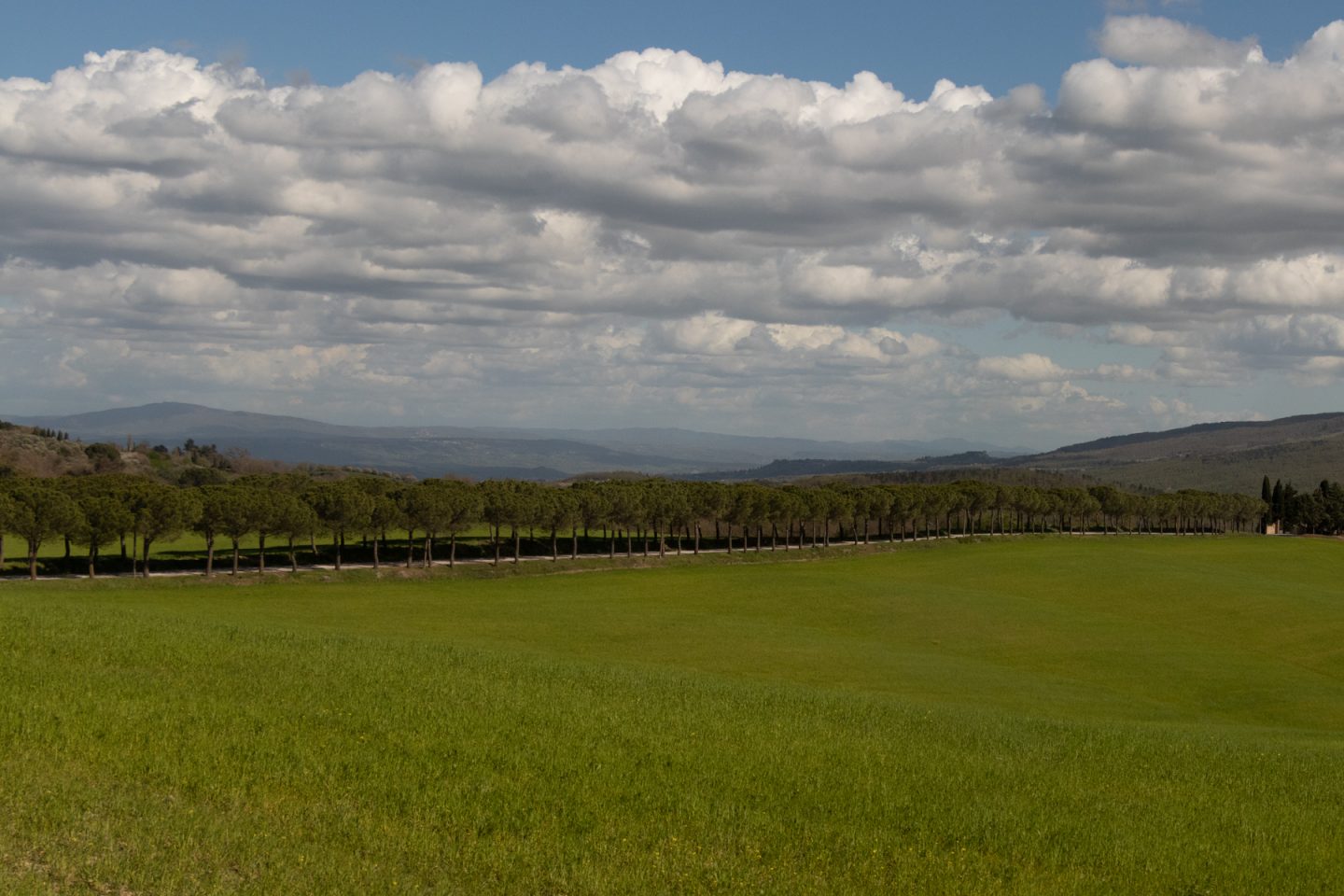 Tuscany is also known for umbrella pines, or stone pines. These bare-trunked and bushy-topped trees are mainly found along the coast of Tuscany.
These Mediterranean treasures grow pine nuts which is often an ingredient in yummy Italian pesto!
Olive Trees
Like much of the Mediterranean peninsula, Tuscany is also home to olive tree groves, as olive oil production is a significant part of Tuscan food culture.
Olive trees grows all over the region of Tuscany, from the southern areas of Siena, Arezzo and Grosseto to northern Tuscany around Lucca, Florence, Chianti and Pisa.
Lucca – Torre Guinigi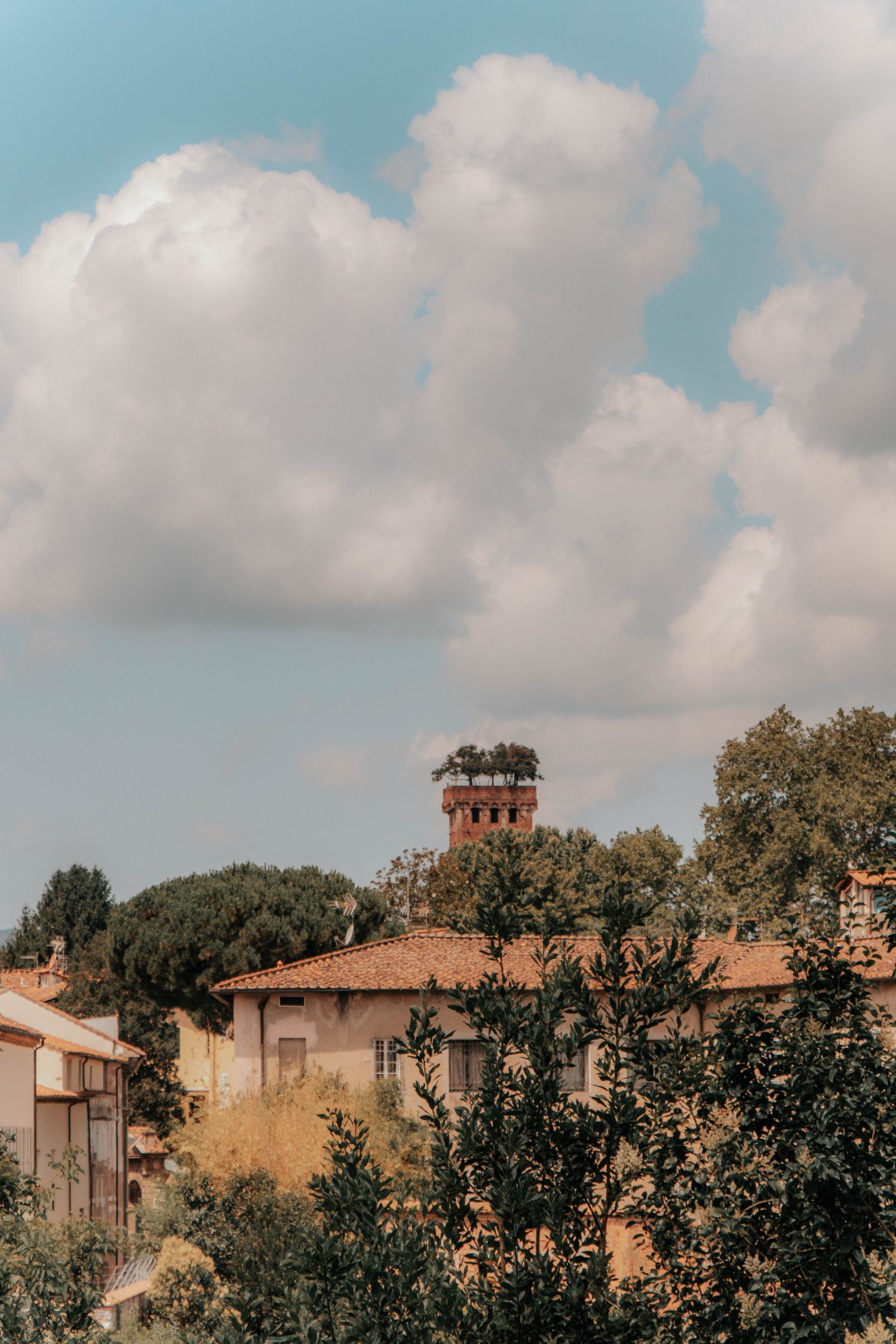 One of the most unique spots to see trees in Tuscany is Lucca – but the trees aren't where you'd expect them to be!
The Torre Guinigi, Guinigi Tower, dates back to the 1300s. Planted on its rooftop are a group of helm oaks that make the building stand out from any other.
---
Map of Cypress Trees in Tuscany
---
The SGTD Take
Seeing cypress trees in Tuscany may seem like a simple thing but you don't realize until it happens how exciting it is to experience a landscape you have always seen pictures of and dreamed about visiting until you are there.
That's why if you are planning your dream trip to Tuscany and want some iconic photos, or just that movie magic feeling of one of the most romantic places in Italy, I hope this guide has been helpful.
Save these photos spots on Pinterest for your next trip!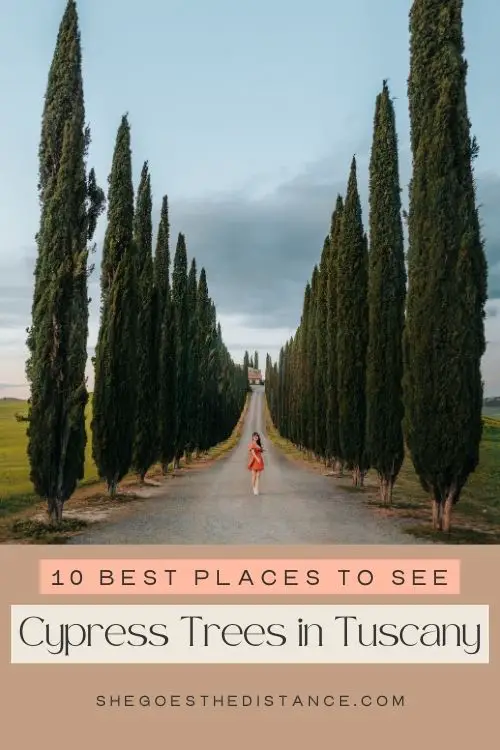 I can't wait to see your photos in these top spots to see cypress trees in Tuscany!
XOXO
Michela