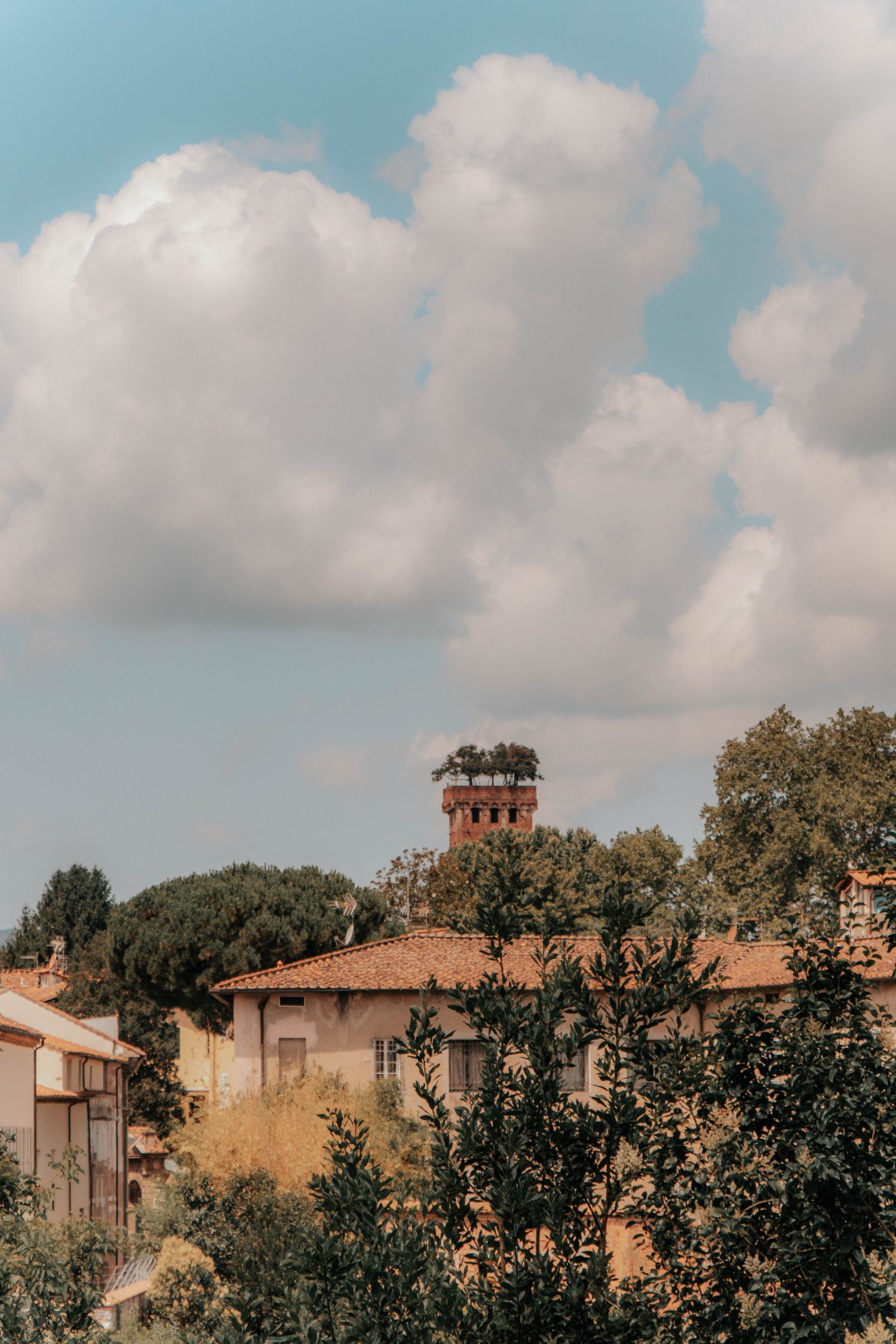 Last Updated on February 18, 2023
Lucca, Italy is a charming historical city in the northern part of Tuscany. The romantic cobblestone streets, ancient stone walls that protect the city, and its many churches are just a few of the characteristics that makes this Italian town a dream to visit.
You may be picturing rolling hills and long stretches of vineyards, and while there is still some of that on offer, this part of Tuscany shows you a completely different side to what you see on Instagram.
Situated in the Appenines, Lucca sits in a flat valley with mountain views to the east and is only a 30-minute drive from the Mediterranean Sea, to the west.
It's a perfect day trip from Florence or close enough to be added to a Cinque Terre itinerary!
Some of these links are affiliate links. This means if you make a purchase through that link, I receive a small commission at no extra cost to you. Read my full disclosure!
Don't forget anything when setting off on your Italian adventure! My curated packing guide is a cute & practical way to ensure you've got everything you need before you go!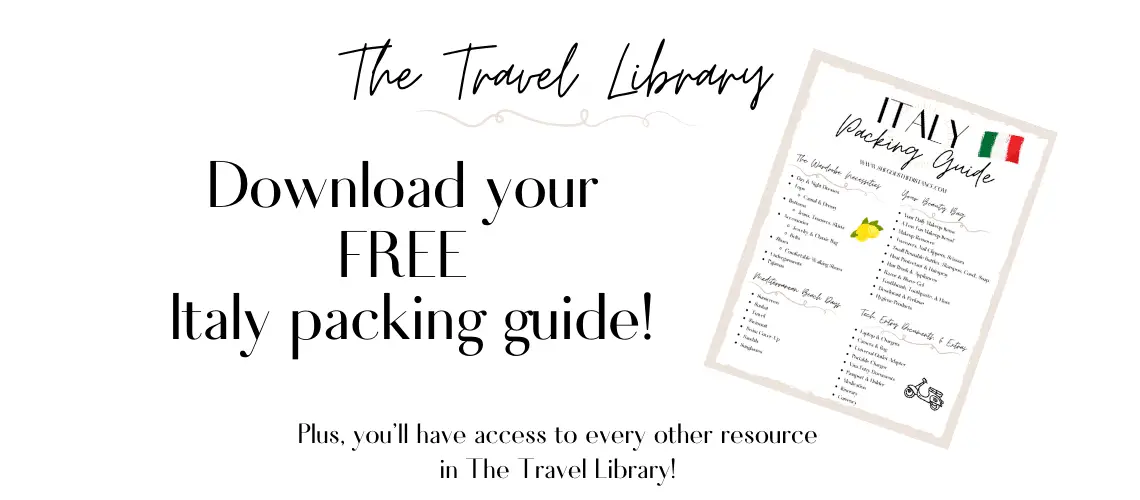 How to Reach Lucca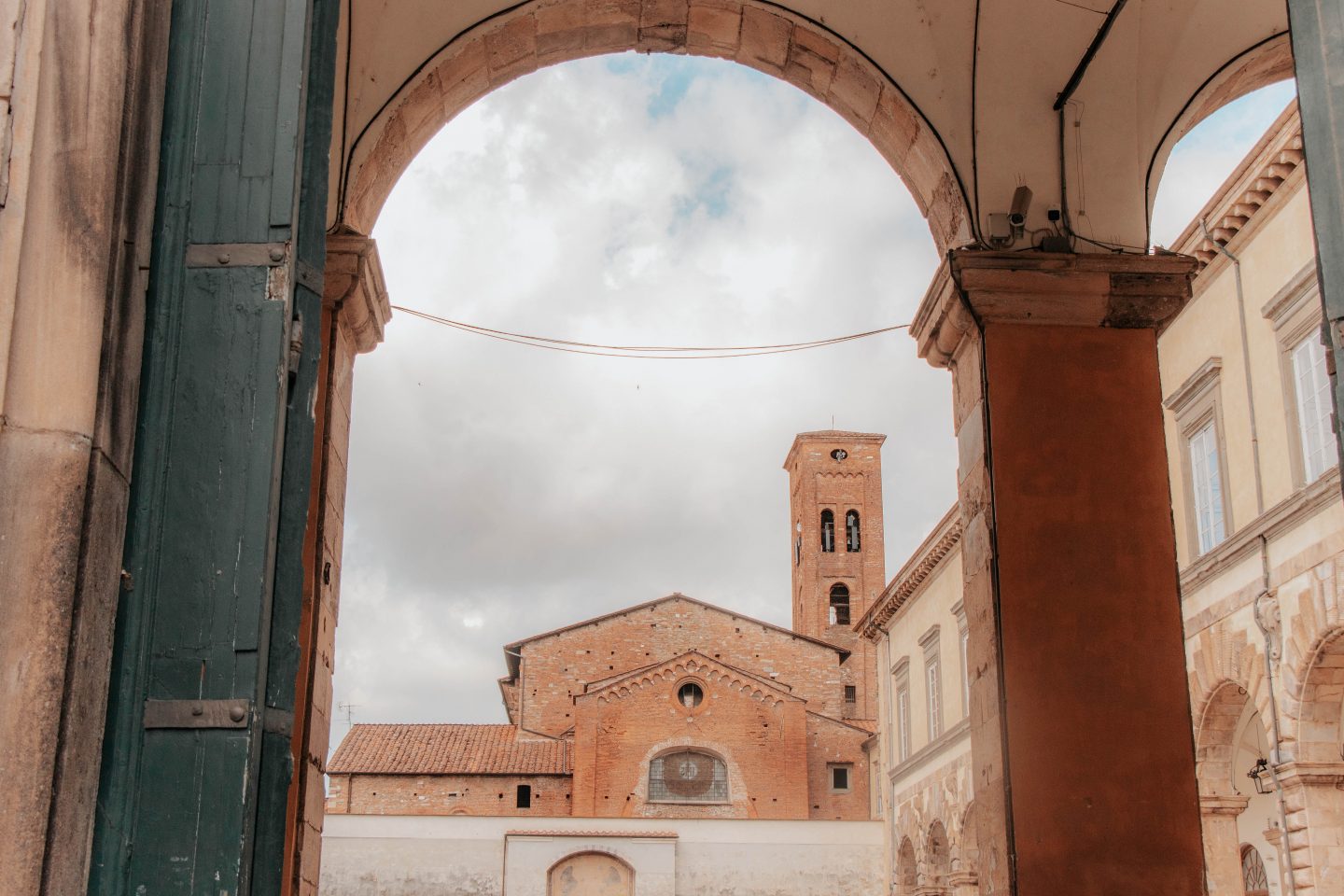 Lucca is not a tiny Tuscan village, but rather a bustling small city. There is a train station and it's well-connected by highway to other major Italian cities.
By Car
Driving in Italy is the best way to get around and completely own your itinerary. It's also the most convenient way to reach Lucca, given its proximity to the highway, if you're road tripping through Italy or traveling from a destination that isn't easily connected to Lucca by train.
There is a ZTL or "Zona Traffico Limitato" in the historical center of Lucca, which means only vehicles that belong to residents can enter. This means you'll have to park on the outskirts of the historical walled part of the city, but there are more parking lots than most Italian destinations usually offer.
I suggest parking at Parcheggio Carducci, which has many spots and parking is only 1 euro per hour. It's right outside the walls and the center is less than a ten-minute walk from this parking lot. The address for this parking lot is: Viale Giosuè Carducci, 187, 55100 Lucca LU.
By Train
Lucca has its own train station for those traveling Italy by train. Regional trains, being those that connect different towns and cities of Tuscany, are going to be more common here rather than national trains.
If you're traveling from a major city like Milan or Rome, you will most likely have to make a connection to reach Lucca by train.
But if you're traveling to Lucca from Florence, then taking the train is your best option to reach Lucca. It's convenient and low-cost compared to spending money on parking and gas by car.
By Tour
If you are fitting Lucca into a robust and busy Italy itinerary, then booking a day tour may be the most convenient option for you to check this place off of your bucket list.
Lucca is well-positioned from famous places in Italy like Cinque Terre and Florence.
While booking a tour to visit Lucca from these sites is a more expensive option than DIY transportation, it can save time and stress on your bucket list Italy trip.
There are day trip tours from Florence to Lucca that may be right for your itinerary needs.
---
What To See & Do in Lucca, Italy
For the purpose of this post, I will be sharing some of the most beautiful aspects to Lucca, Italy's historical city center, hugged by fortified walls dating back to the Renaissance era to protect the city.
Walk Along The Walls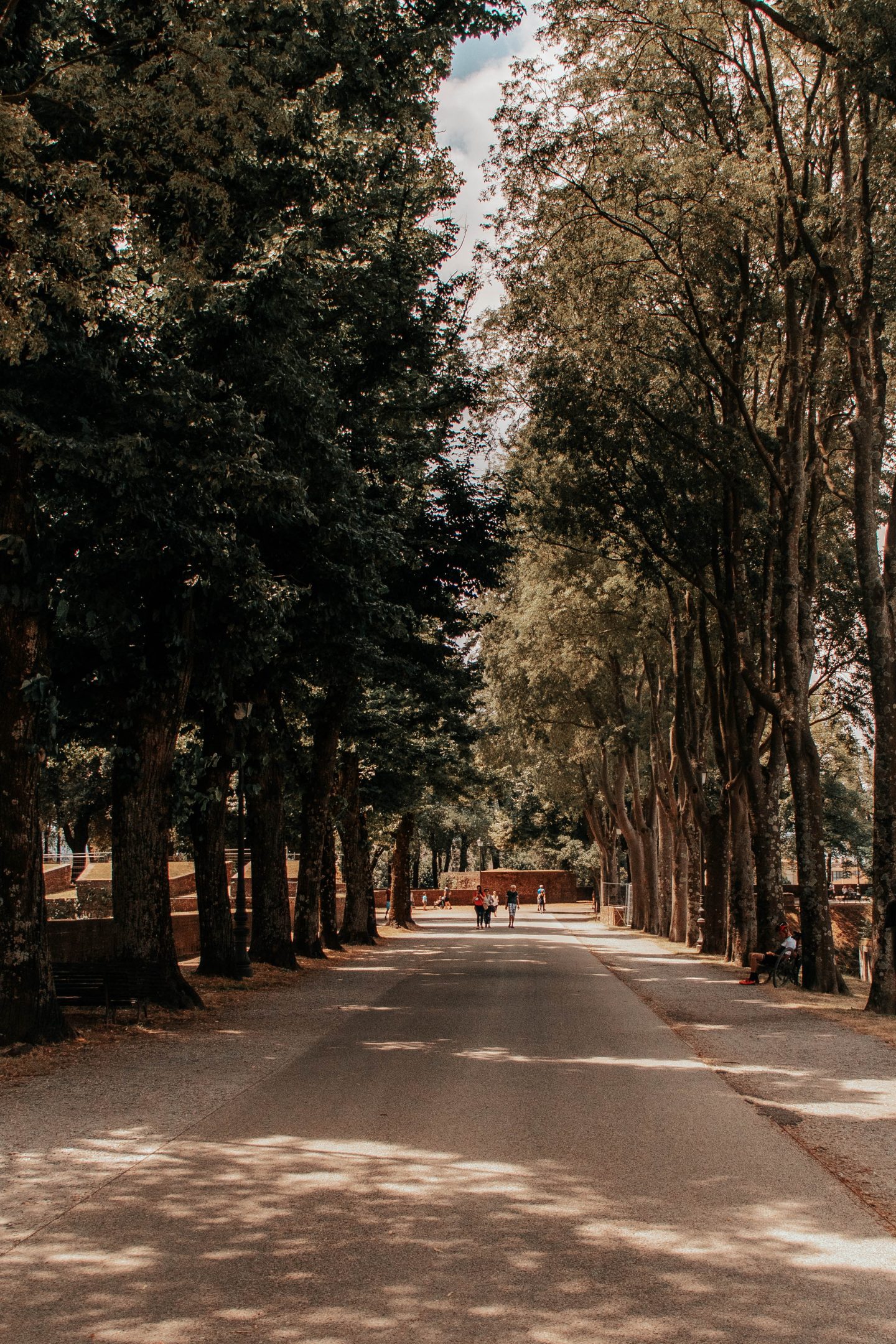 Lucca is a one of the most notable walled cities in Italy. The first fortified walls ever constructed around Lucca date back to ancient Rome but the ones you see standing today are from the Renaissance era, dating back to the 1500s.
The most unique part of Lucca's walls has to be the elevated and expansive park and walking trail that lines the entire fortification. It's the perfect place to get a slightly bird's-eye view of the historical center of the city, as well as cool off on a hot day during Italian summer.
If you're an active person consider renting a bike or taking a bike tour around the walls!
Torre Guinigi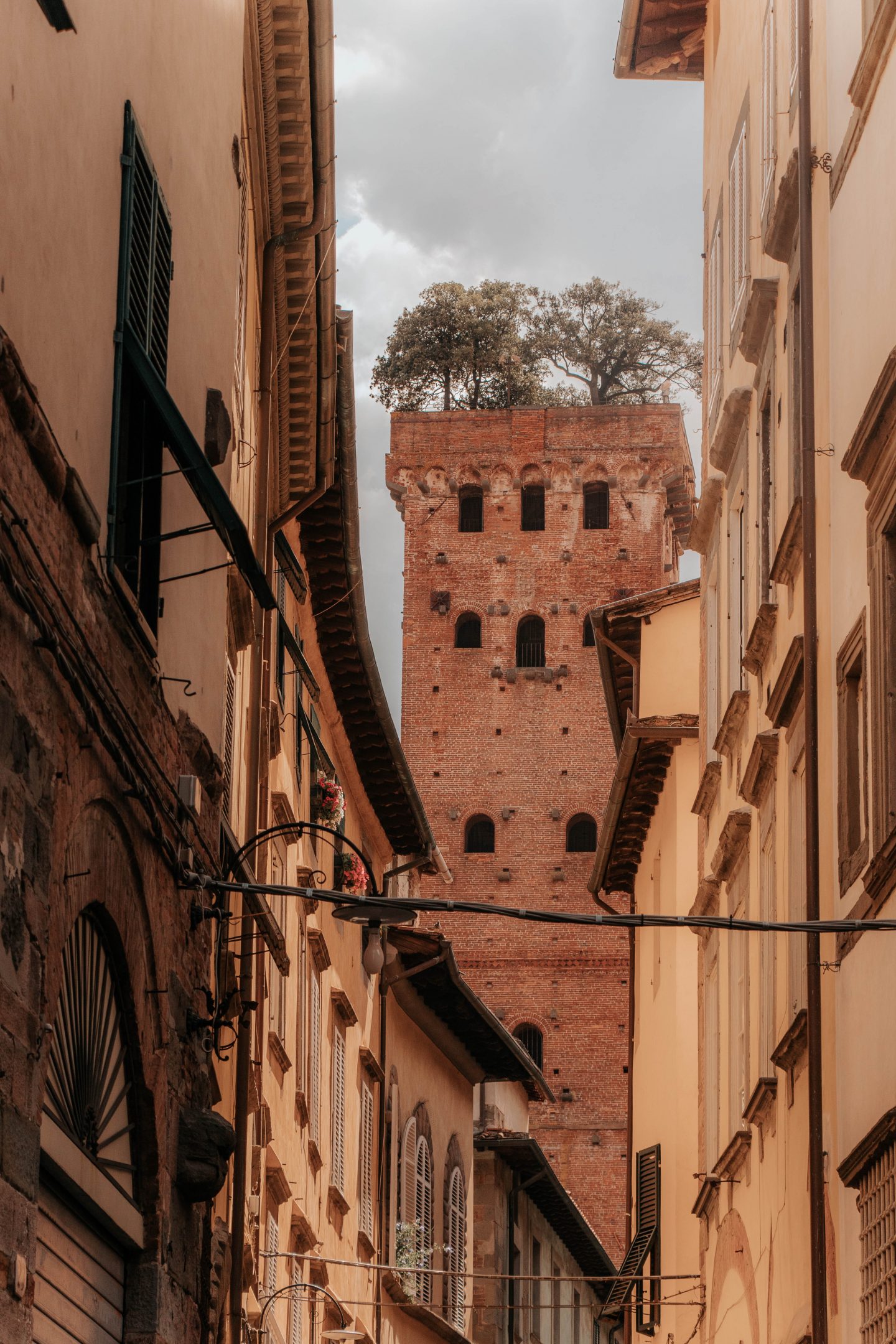 As you walk along the walls from your elevated point of view, you'll see the many towers that soar above the old buildings of Lucca. One of these towers sticks out for a particularly special reason!
The Torre Guinigi, or Guinigi Tower, dates back to the 1300s. The most unique part – there is a park on top of this tower 45 meters high!
A collection of oak trees grows at the top of this tower making it one of the most unique in Italy. You can climb to the top for 5 euros and enjoy the views under the shade!
San Michele in Foro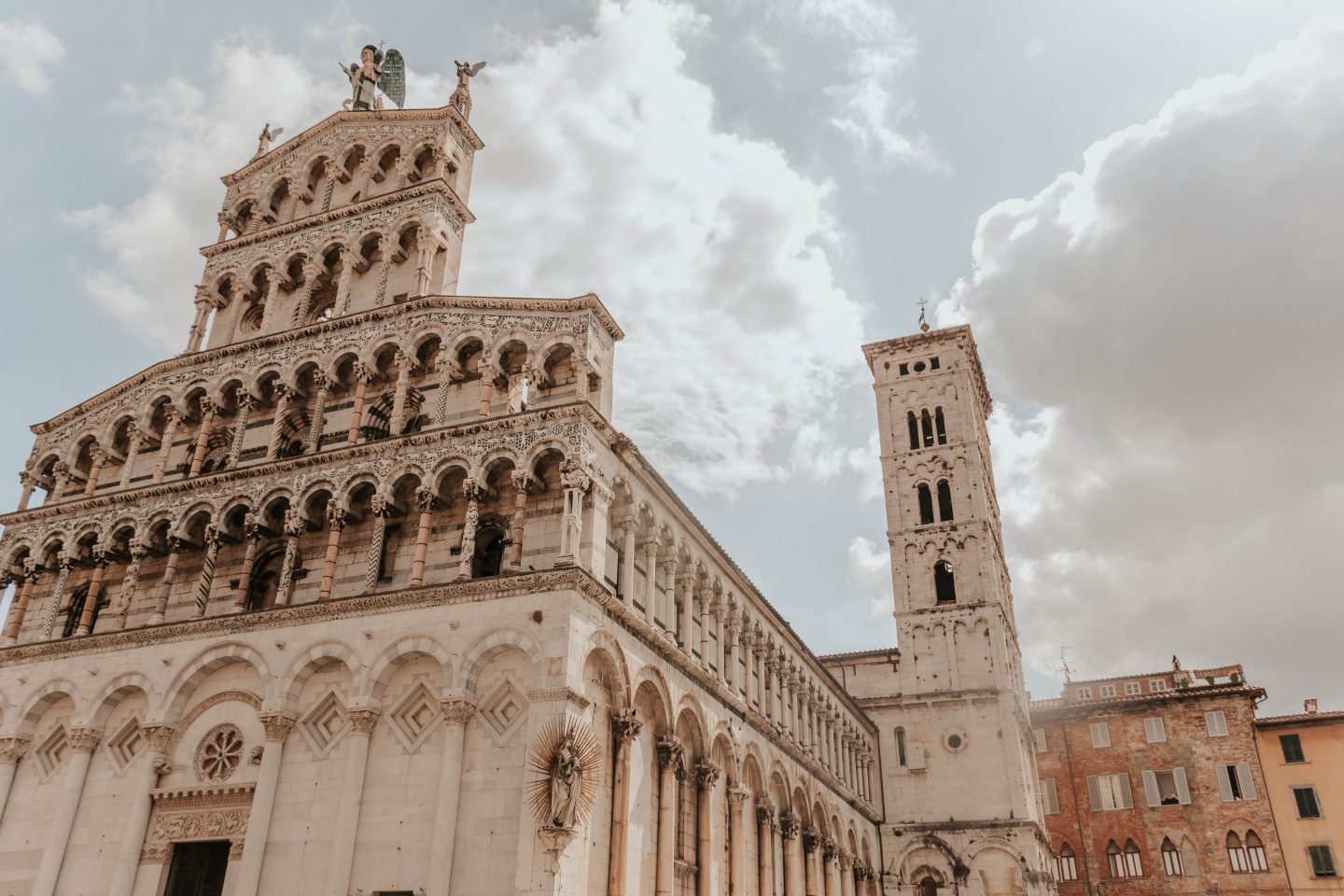 The city of Lucca bears the nickname the "city of 100 churches." And not for no reason!
It seems as if every time you turn the corner of a narrow street you're met with another church. Seeing the city from the height of the walls, you can count the plethora of bell towers attached to the city's many churches!
One of the most dramatic and beautiful is San Michele in Foro. Many of Lucca's churches are attached to or part of other buildings, but San Michele in Foro stands alone, occupying an entire public square.
The intricately decorated facade and bell tower along with the church's imposing stature makes it one of the prettiest churches in Lucca.
Lucca Cathedral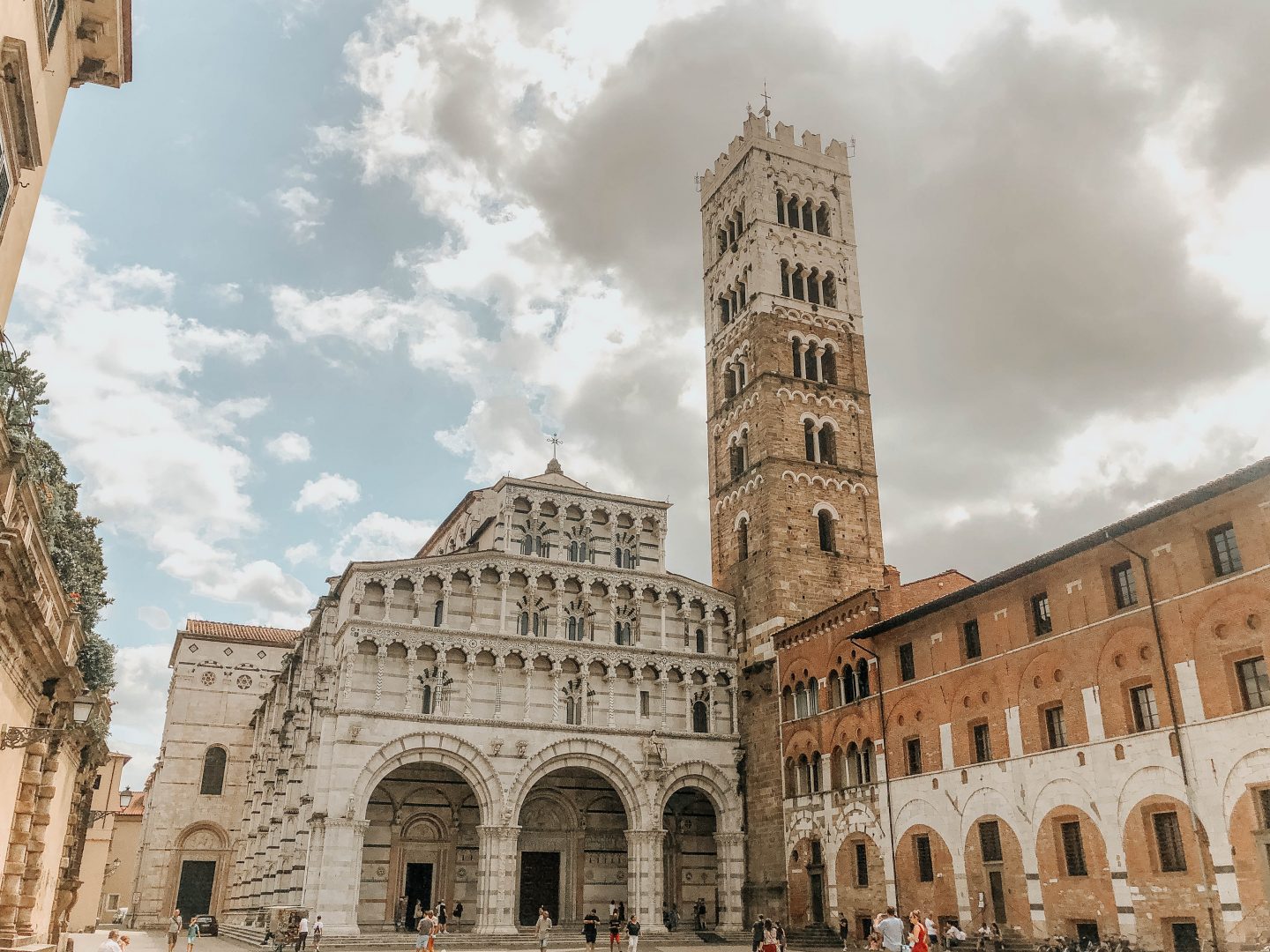 Lucca Cathedral is the main church in Lucca and is also one of the "100" worth a visit in my book!
It's another that is so ornately decorated and designed you can only marvel at the craftsmanship and detail that went into its construction.
The church dates back to the 11th century, which adds another layer of impressiveness to its bold and massive design and construction!
Piazza di Anfiteatro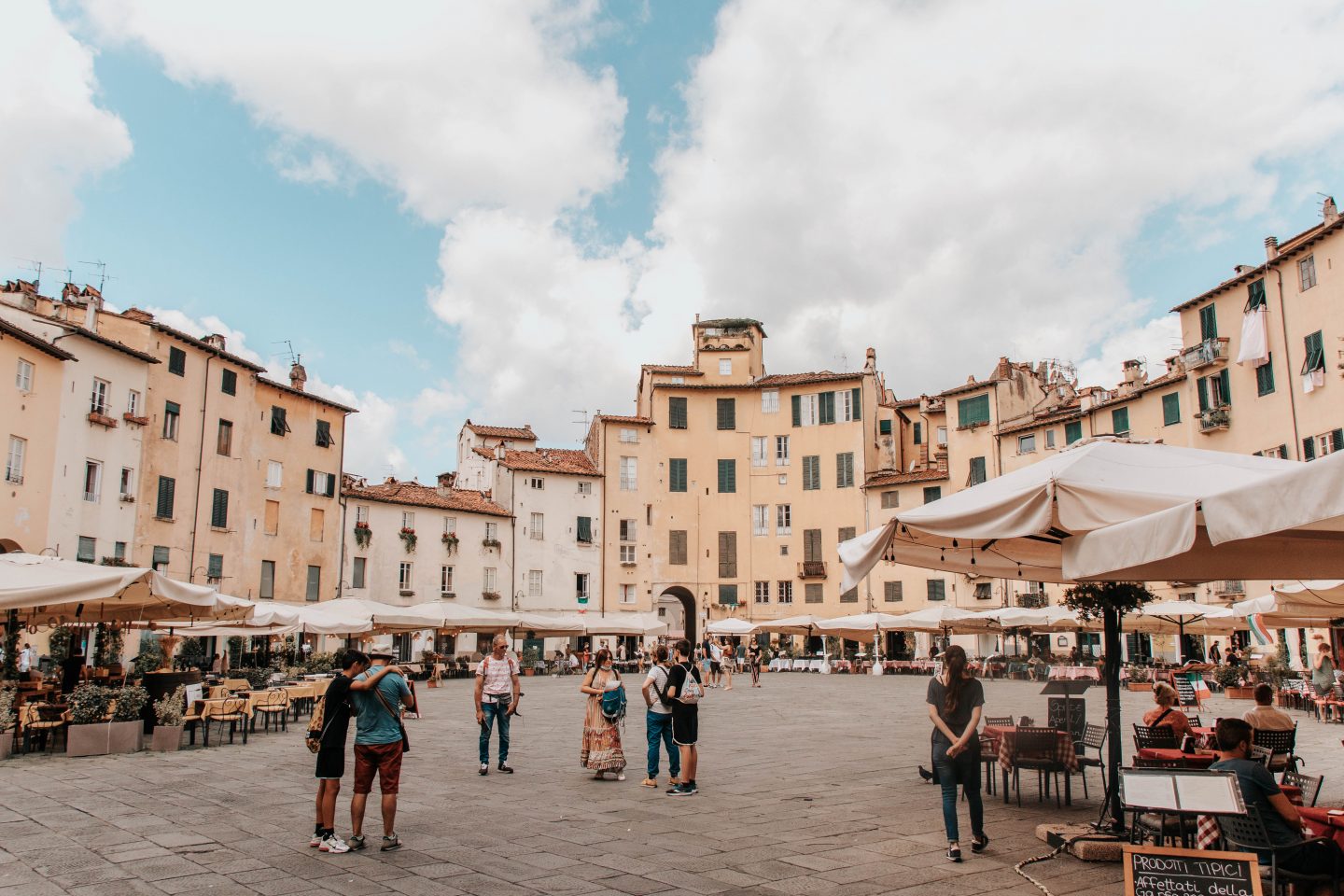 Reminiscent of the famous Piazza del Campo in Siena, Lucca's Piazza Anfiteatro is one of the city's main attractions!
The unique oval design of this piazza makes it a perfect setting to grab lunch and enjoy the rustic, medieval atmosphere.
Orto Botanico Comunale
If you've seen one too many old building or cobblestone, consider taking a break from the narrow streets and stepping into the oasis that is Lucca's Botanical Garden.
It's also a perfect addition to your itinerary if you're staying in Lucca for more than a day and want to engage in activities beyond exploring the city streets.
The only downside to visiting is the entrance fee of 5 euros – while it's not much, there are so many free things to enjoy in Lucca that I preferred!
Villa Bottini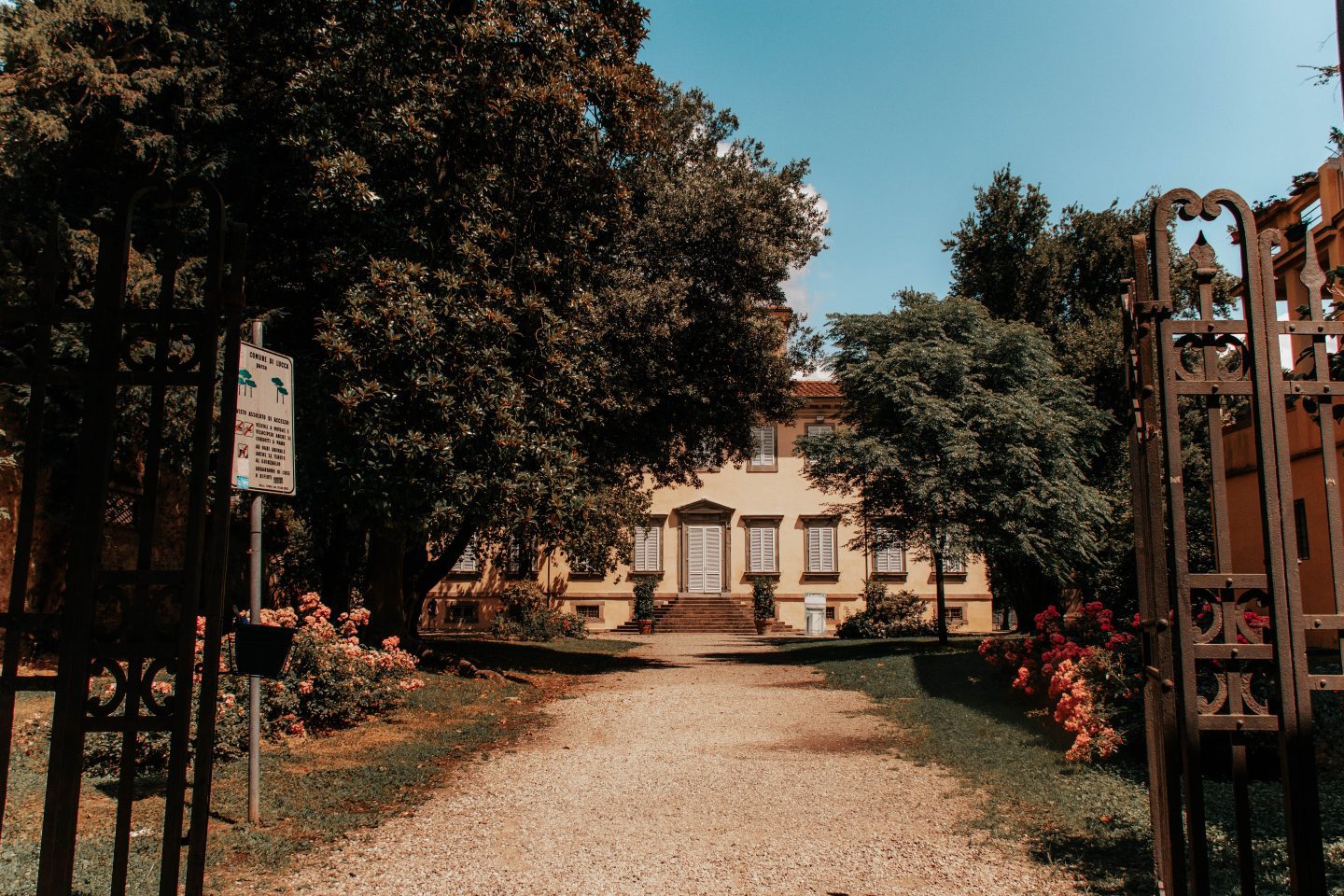 Part of the reason I'm not convinced on the Orto Botanico Comunale is because I would rather recommend you visit Villa Bottoni!
No, it doesn't have exotic plants, but it is a gorgeous, tranquil place to relax during your adventurous day. The park surrounding the villa is free to enter.
I visited Lucca on a Sunday and this beautiful area was empty – so chances are you can enjoy the villa grounds all to yourself!
Palazzo Pfanner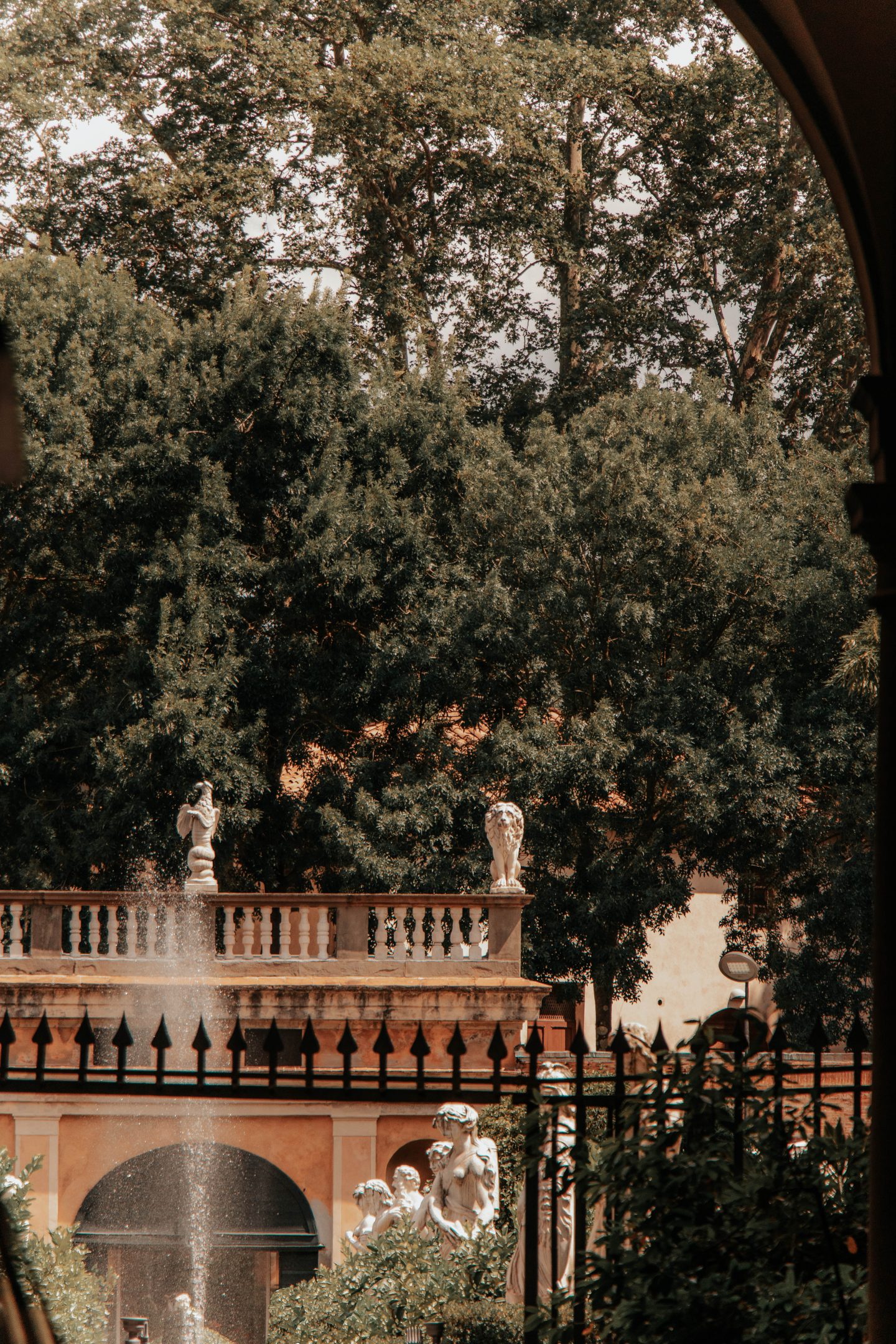 I promise this is the last thing on this list related to gardens! Palazzo Pfanner is a historic residence in Lucca that dates back to the 17th century and is now a museum, in addition to hosting a beautiful garden.
The setback (for me) is the entrance fees – 6.50 euros for both the gardens and palazzo or 4.50 separately. Again, it's not a budget-breaking activity but it's just another cost to factor into your trip budget!
Piazza Napoleone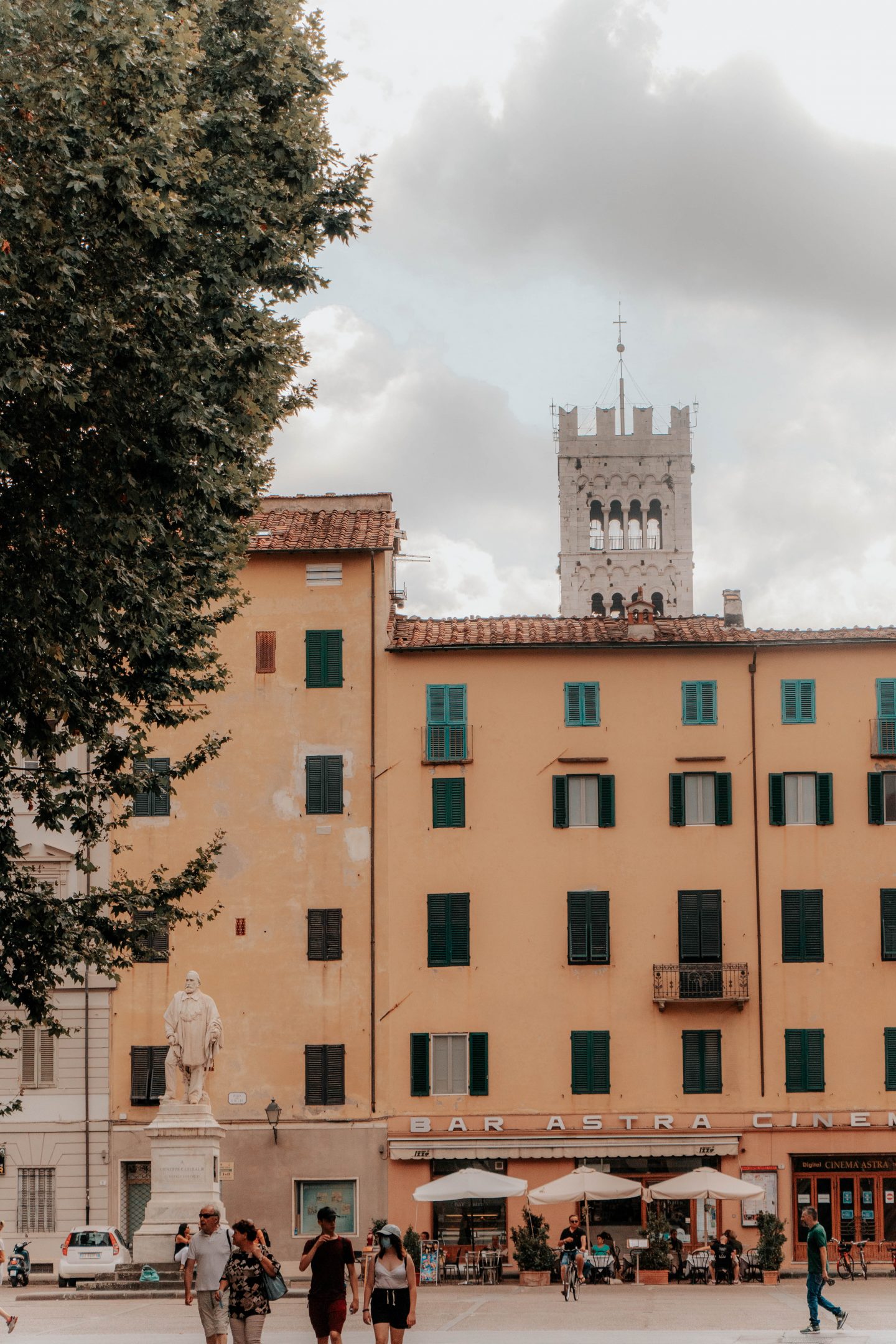 Besides the well-known Piazza Anfiteatro, Piazza Napoleone is the next-most bustling square in Lucca. It's the perfect setting to sit and enjoy a gelato or grab an espresso to make it through the rest of your day exploring!
Ponte della Maddalena
The only activity outside of Lucca's historical walled city center that I recommend worth a visit is the Ponte della Maddalena, also referred to as the Devil's Bridge.
We were on our way to visit this site – but I made a mistake with the GPS! We ended up in a completely different place and since it was the last day of our road trip, we needed to make it home – so unfortunately, we missed out!
So, tip #1 is to input the correct Ponte della Maddalena in your Google Maps. You can find the exact address and directions here from the Visit Tuscany website.
---
Where to Eat in Lucca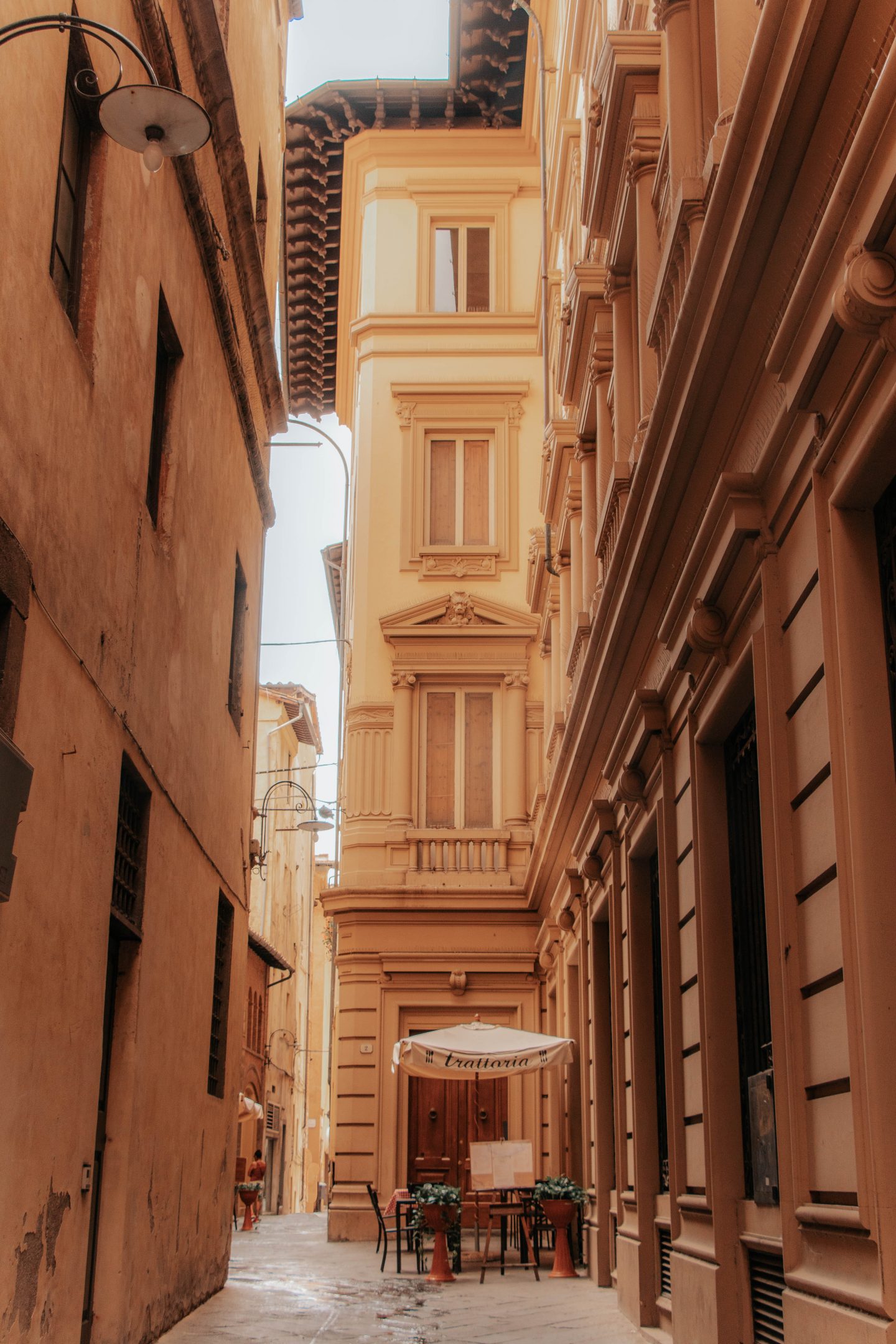 Here a few suggestions on restaurants in Lucca, Italy – from where to grab a light aperitivo to the best place to experience a fancy Tuscan tasting menu.
---
Where to Stay in Lucca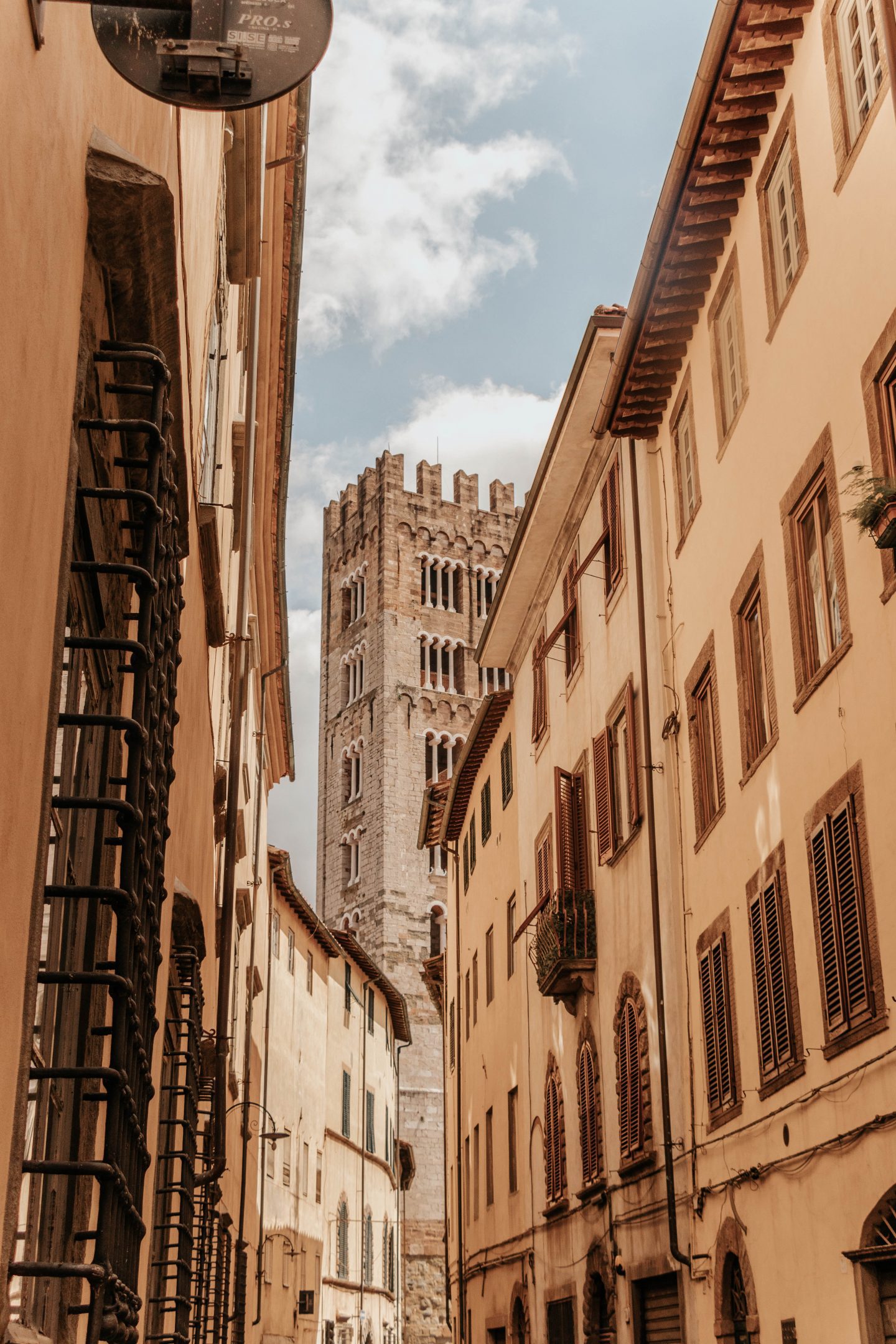 If you're looking for a Tuscan escape and want to make more than a day trip out of Lucca, here are some places worth a stay. Every accommodation is within the walls of Lucca's Centro Storico!
| | | |
| --- | --- | --- |
| Hotel | Price Range/Price Per Night | Highlights |
| Corte Meraviglia – Relais | Budget – 84 USD | Quiet Area, Airport Shuttle, Garden & Terrace |
| At Home Bed & Breakfast | Budget – 94 USD | Location in the Piazza Anfiteatro, Breakfast Included, Kitchenette to Cook Your Own Meals |
| La Gemma di Elena | Budget – 110 USD | Parking, Airport Shuttle, Garden, Bike Rental |
| Hotel Alla Corte degli Angeli | Mid-Range – 199 USD | Fresco-Painted Rooms, Private Parking, Room Service, Breakfast Included |
| Hotel Palazzo Alexander | Mid-Range – 198 USD | Historic Building, Breakfast Included |
| Grand Universe Lucca, Autograph Collection | Luxury – 398 USD | Located in PIazza Napoleone, Views, Minibars, Luxury Rooms |
---
Places Near Lucca To Explore
Alpi Apuane
If you love mountains, you should visit the Alpi Apuane, a one-hour drive from Lucca. These limestone peaks offer gorgeous views and trekking opportunities. You'll also get a peak at where they harvest the world-famous Carrara marble from this part of the Appenine mountains!
Pisa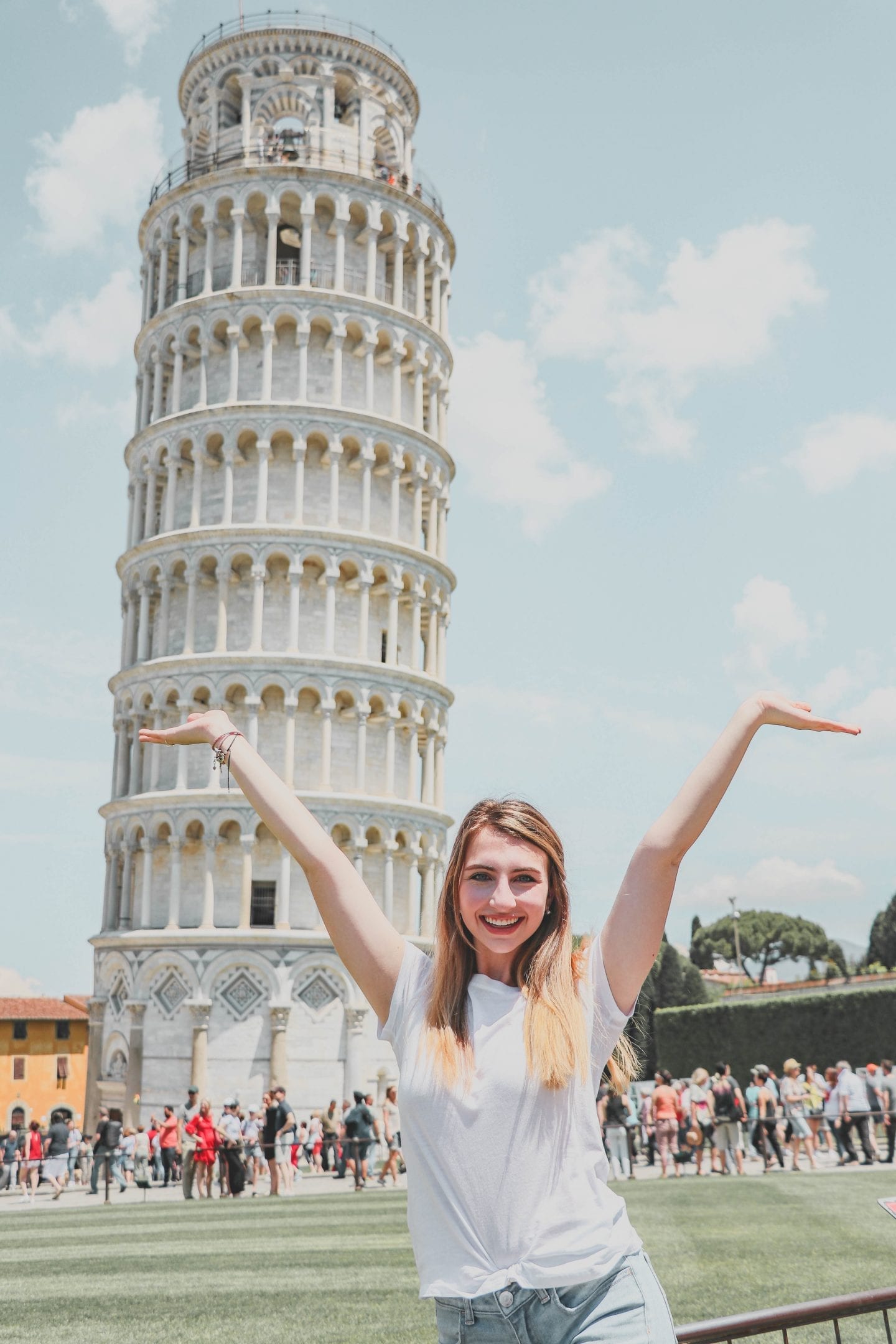 The world-famous Leaning Tower of Pisa is only a thirty-minute drive from Lucca! You could also easily travel between the two cities by train.
Besides seeing the Leaning Tower and the Pisa Cathedral, I didn't find there is much more to see and do in the city of Pisa. I would suggest planning your itinerary to include both Lucca & Pisa in one day to make the most of your Italy trip!
Florence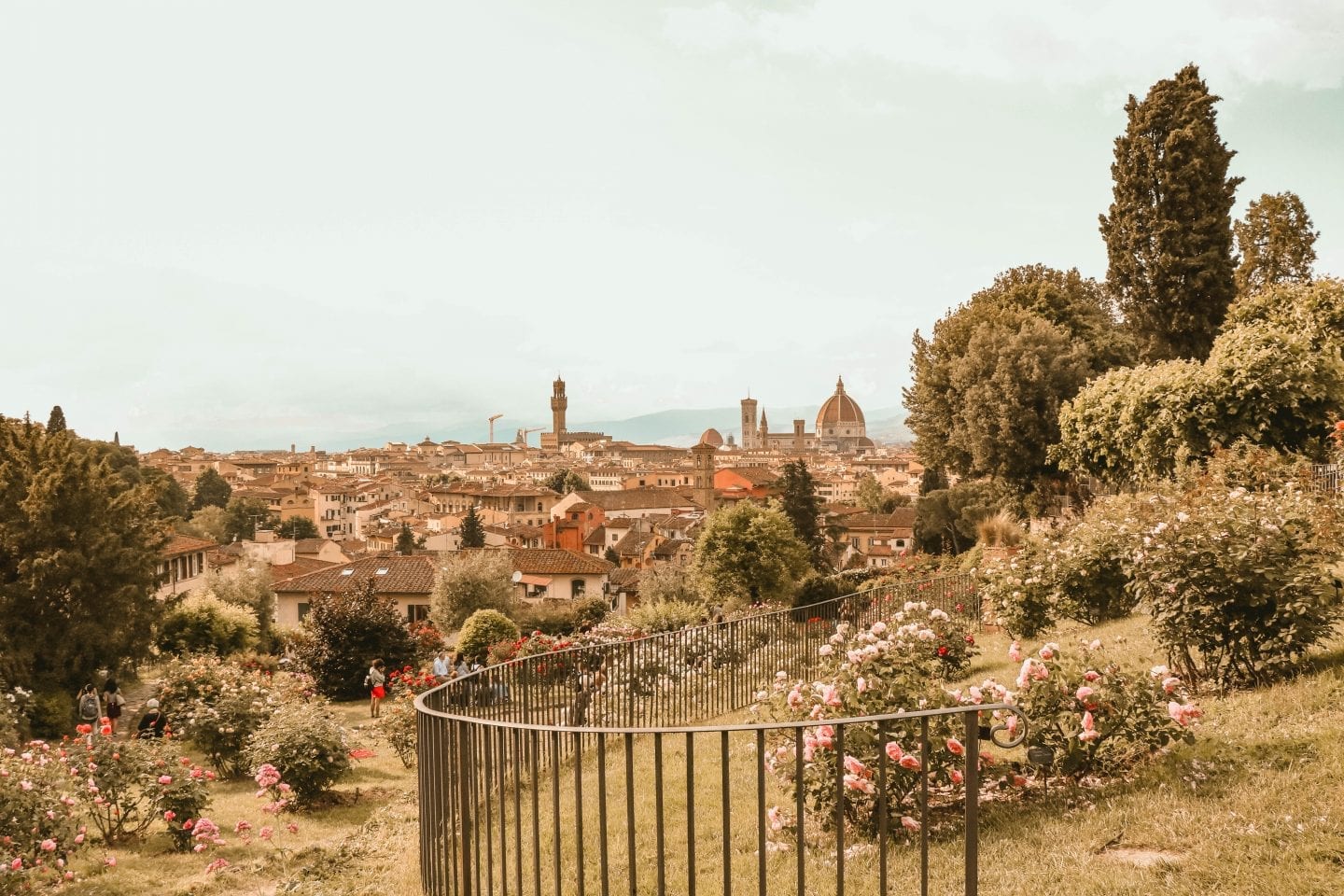 Florence is the cultural and artistic capital of Italy. It's a must-visit on any Italy itinerary and is about a one-hour drive from Lucca, but also easily connected by train.
Check out my guide to 2 days in Florence and where to find the best views in Florence to get some inspiration for your trip!
Cinque Terre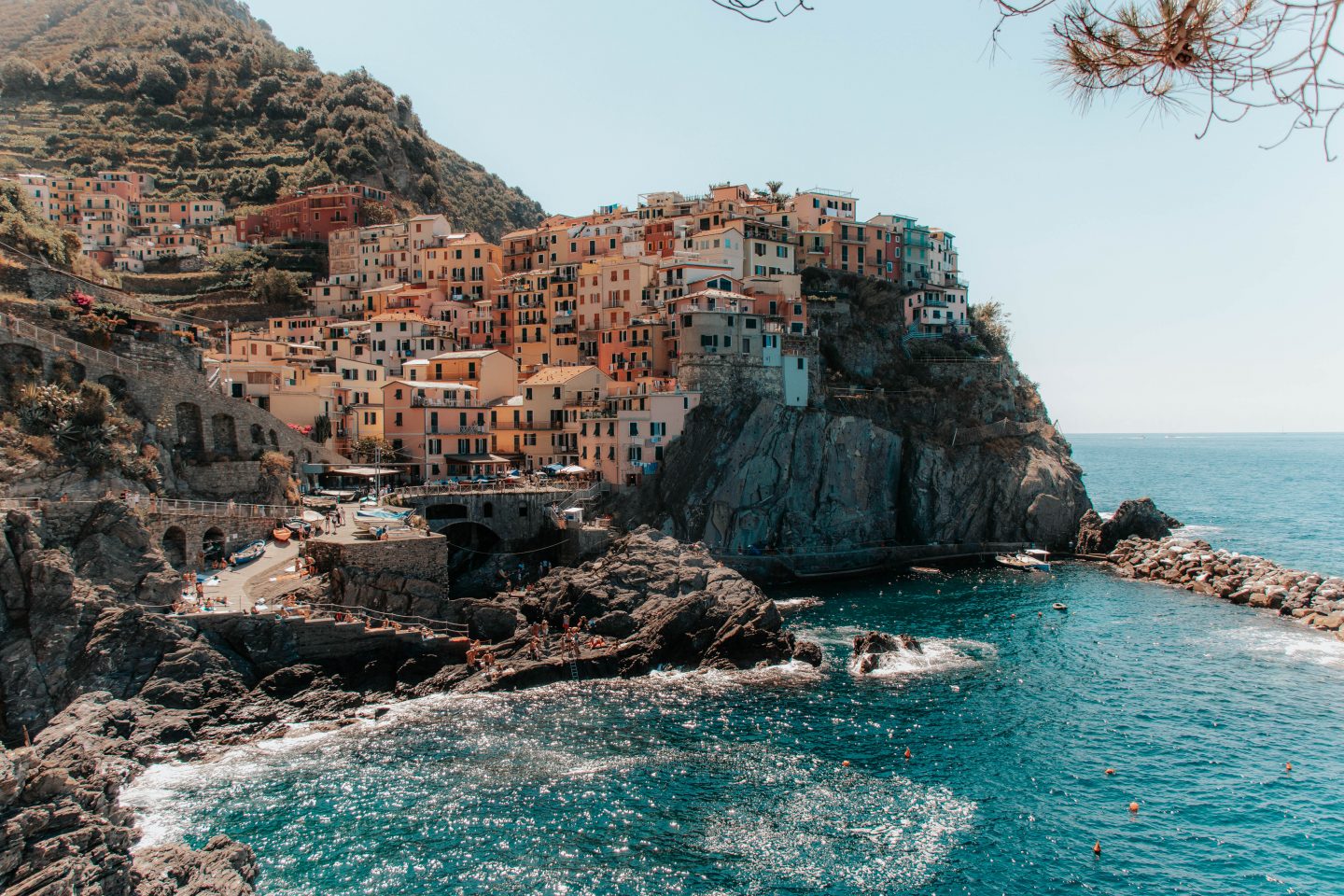 The Cinque Terre are only about an hour drive from the city of Lucca!
I've covered all the info you need to have a perfect time visiting the Cinque Terre, so check out these posts if you're thinking about adding it as a day trip from Lucca:
---
Extra Tips for Visiting Lucca
Lucca is a safe and laidback city in Tuscany. Keep these tips in mind to have the best trip!
Wear comfy shoes. The historic center is made of uneven cobblestone streets. While they are pretty to look at, they can be uncomfortable to walk on all day!
Download the EasyPark app to easily pay for parking and adjust your time on the meter from your phone if you want to stay longer while exploring!
Be aware that in the afternoon, a lot of shops and restaurants close for a pause during the day. Don't wait to have a late lunch!
I hope this Lucca, Italy travel guide covered absolutely everything you wanted to know to plan your perfect visit.
Lucca is one of those cities where you don't have to plan too much ahead. Sometimes it's the most fun to let the maze of narrow, historic streets guide you and create your own experience visiting the city!
What's at the top of your list of what you want to do in Lucca? Share it with me in a comment!
Save this Lucca travel guide on Pinterest!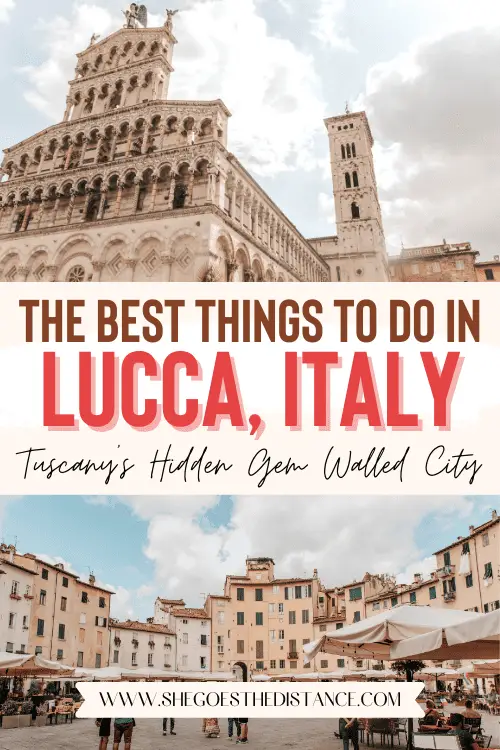 XOXO
Michela