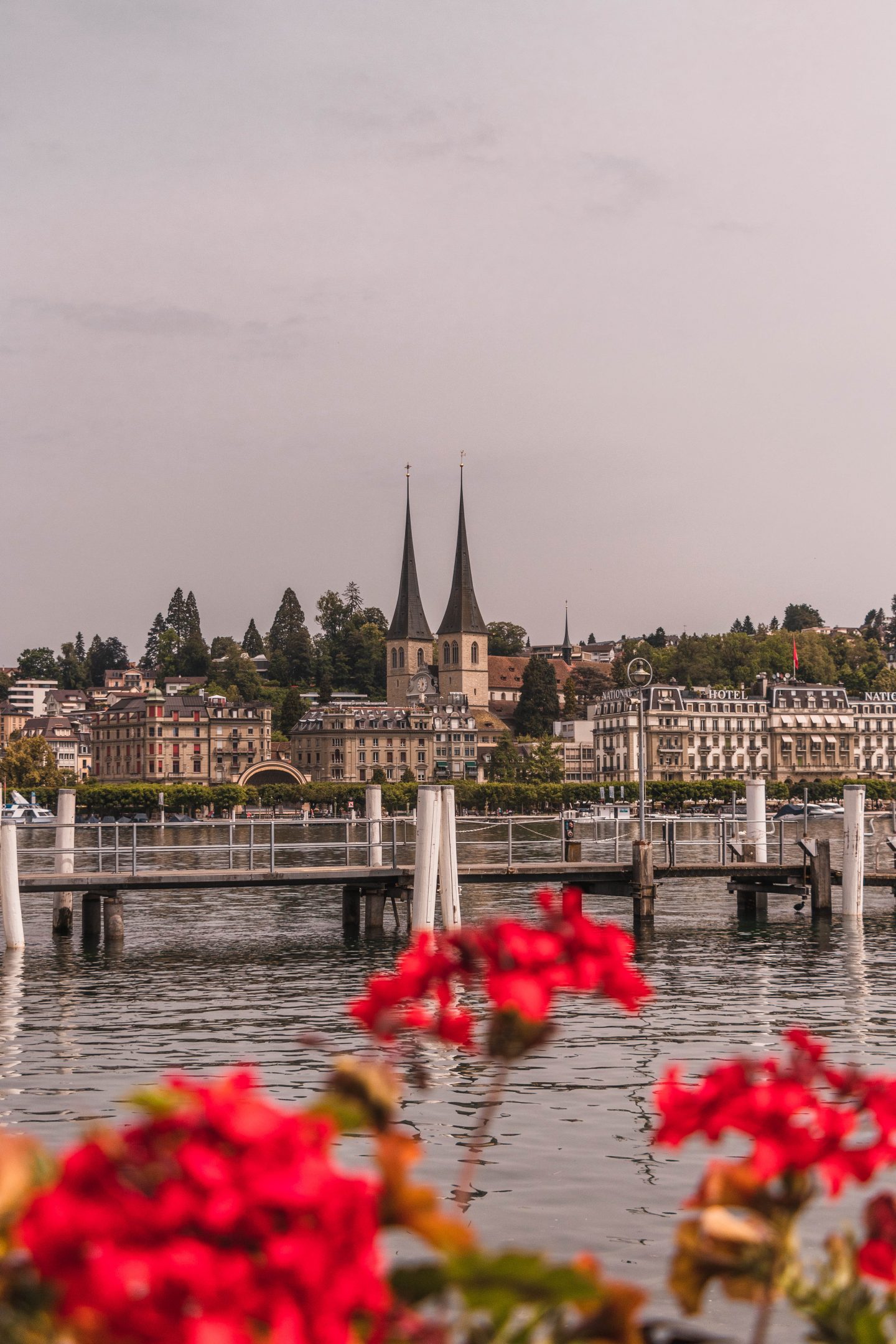 Last Updated on May 11, 2023
Lucerne is a small city with grand features – a deep blue lake, a fairytale Old Town, and surrounds by peaks of the Swiss Alps. It's much cozier than other Swiss cities given its smaller size, yet well-connected to other parts of Switzerland. It's a can't-miss stop on a Switzerland itinerary given its central position – so I've put together the ultimate guide to planning your day trip to Lucerne and ideas for exactly what to do when you get there.
Lucerne is truly one of the most beautiful cities in Europe for its medieval charm and landscape.
One day in Lucerne is enough to see the best of the city and to complement a robust Switzerland itinerary!
I'll detail exactly the best ways to reach this city and the best things to do on a day trip to Lucerne.
Some of these links are affiliate links. This means if you make a purchase through that link, I receive a small commission at no extra cost to you. Read my full disclosure!
How to Reach Lucerne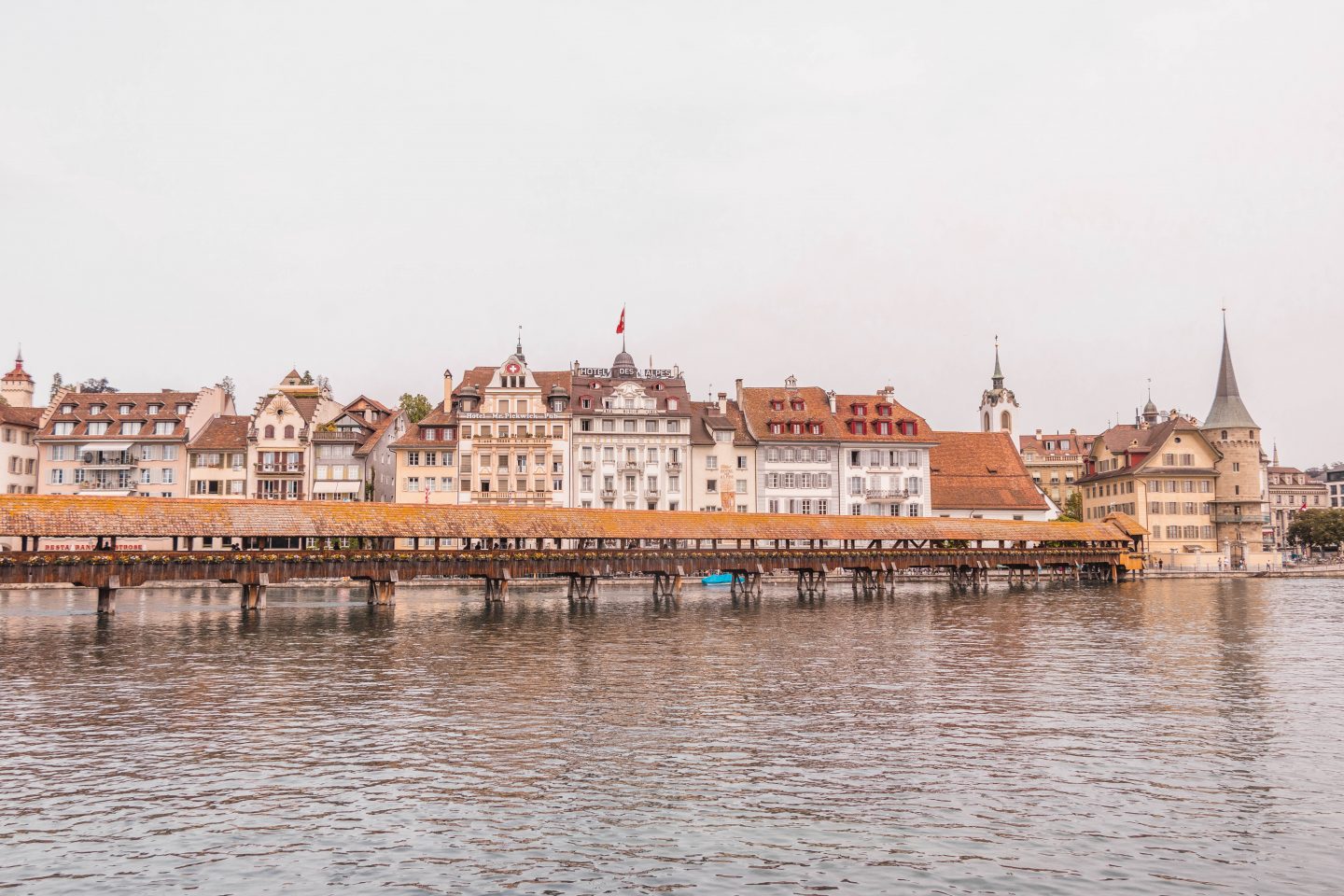 Lucerne is in central Switzerland, about halfway from the country's capital of Bern and the financial and cultural hub of Zurich. Despite the challenge that Switzerland's natural geography can present to transportation, Lucerne is easily accessible by highway and train.
When planning a day trip to Lucerne, there are several ways to DIY your trip. Or, you can opt to have the logistics taken care of for you by choosing a day tour so you can focus on your day ahead!
By Car
The most flexible way to reach Lucerne is by car. You can find tons of travel tips about using a car in Switzerland in my post all about driving in Switzerland.
Parking is a bit cheaper in Lucerne compared to a larger city like Zurich, but you'll have to keep in mind that is in reference to Switzerland prices – which are already very high compared to other destinations. I recommend parking at Bahnhofparking P3 Universität. It's a large parking garage next to University of Lucerne and just minutes' walk from the city center.
By Train
Fortunately, Lucerne has a large and very busy train station just a minute walk from the city center!
Switzerland is well-connected by train, so you should be able to find ideal departure stations and times from wherever you are traveling to Lucerne.
You can search for trains and purchase tickets online.
By Bus
Traveling by coach is actually very popular, comfortable, and cheap throughout Europe. This option is great for solo travelers or backpackers to reach Lucerne for a day trip. On Flixbus, tickets cost as low as 5 USD.
This timetable search can help you discover if there's a public bus route between your city and Lucerne or if other modes of transportation are a better fit for your itinerary!
Lucerne Day Trip Tours
The most stress-free approach to a day trip to Lucerne is booking a tour that handles the transportation for you.
Most tours kick off from Zurich, which is an ideal city to make your home base in Switzerland. Tours can be as little as 65 USD per person for guided tour and transportation to Lucerne from Zurich. You could even book a tour that includes both a visit to Lucerne and an excursion to the famous Mount Pilatus.
You can also find day tour options from the city of Basel.
---
What to Do in Lucerne in One Day
Lucerne makes such a great day trip from any part of Switzerland because the city is beautiful, yet compact. You can make your way around on foot easily and explore every corner in a day without feeling like you've missed out on anything.
Make sure to check these places off of your Lucerne bucket list!
Chapel Bridge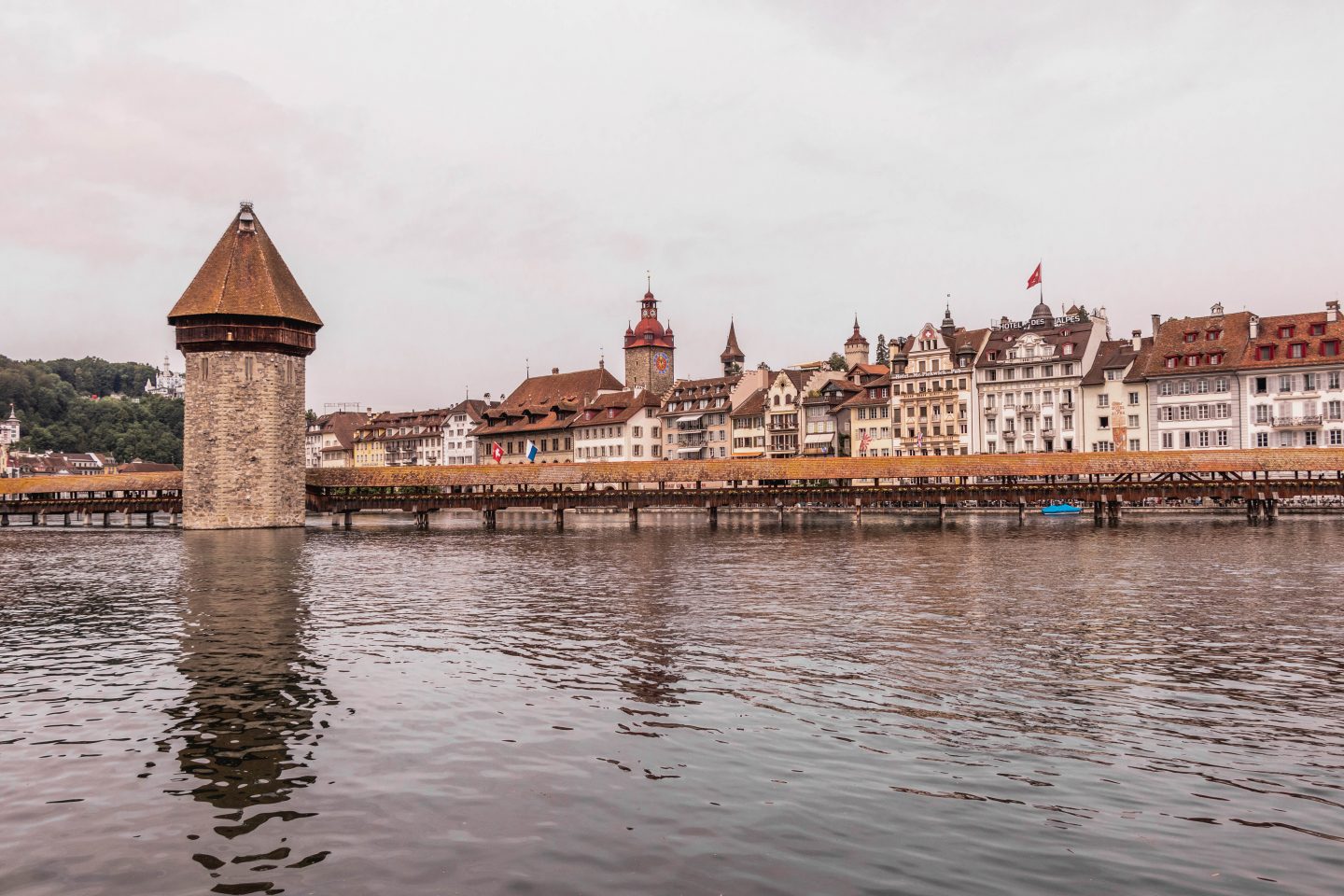 Dating back to the 1300s, the Chapel Bridge is the oldest covered wooden bridge in Europe. It's the centerpiece of Lucerne, stretching diagonally across the river that separates the Old Town and new.
The wooden construction, bright flowers decorating its exterior, and the unique detailed paintings along the interior of the covered bridge all transport you to the medieval era we can rarely imagine as vivid as how this bridge allows us to.
Spreurer Bridge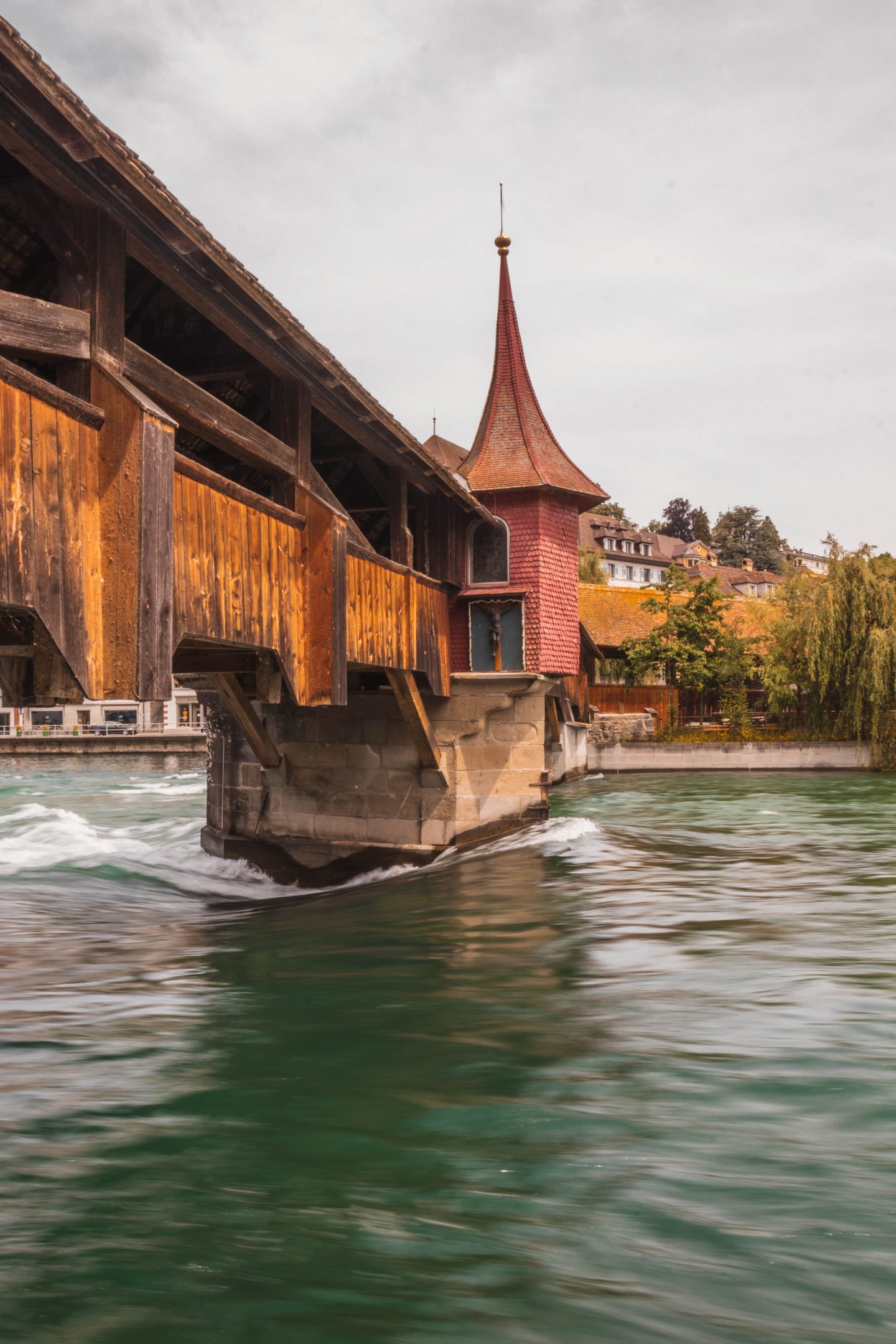 An equally significant but less famous covered wooden bridge is the Speurer Bridge. This wooden bridge is a lot smaller, but offers the same amount of fairytale charm as Chapel Bridge, from the interior paintings to the red turret that extends over the water.
The Reuss River gushes beneath this bridge as it meets a slight dip in the terrain, which was my favorite part of visiting this bridge! It made for an interesting long exposure photo opportunity!
Musegg Wall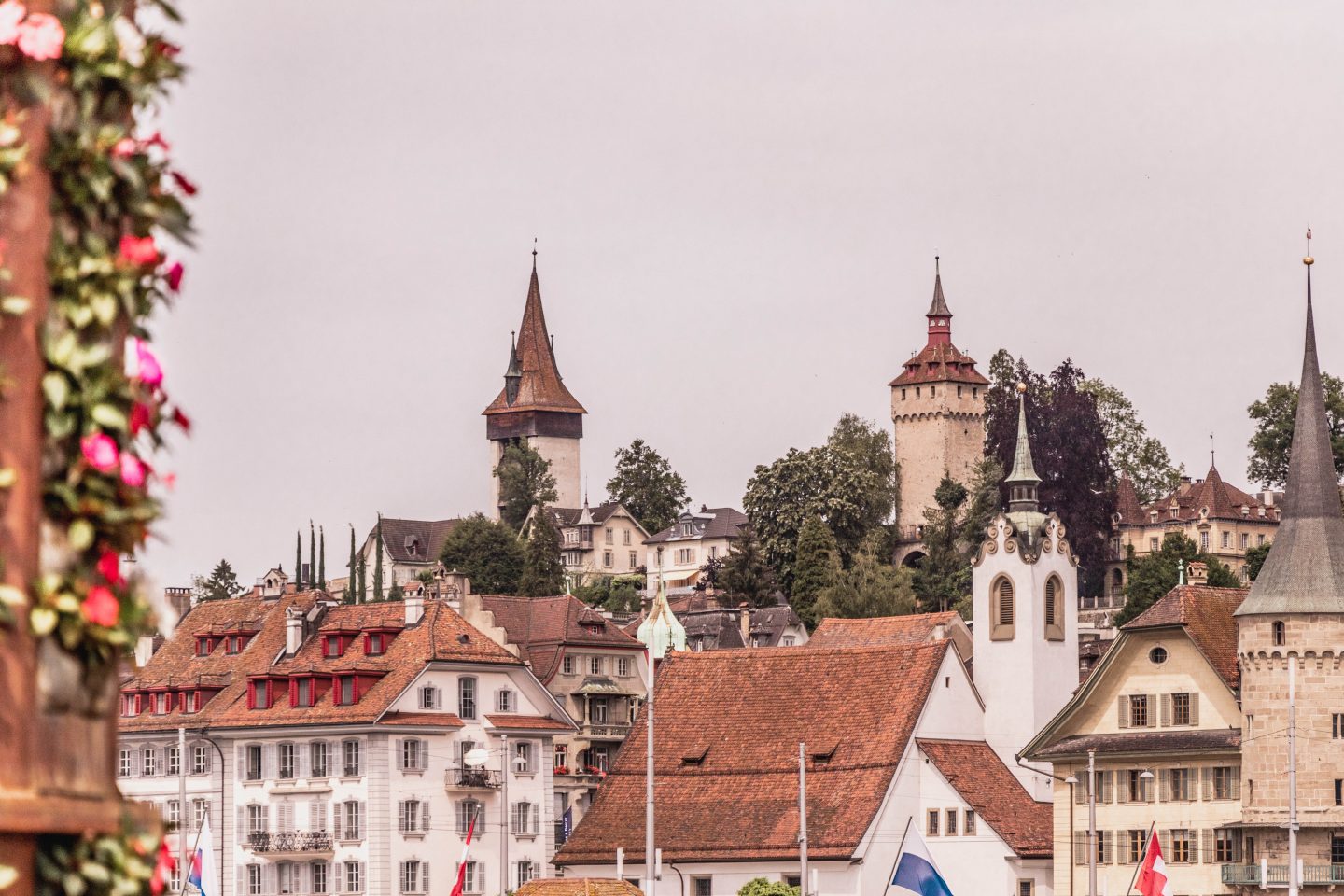 No beautiful European city is complete without fortifications that solidify its historical significance in a traveler's mind. The Musegg Wall is hardly visible from the center of Lucerne, but the nine towers built along the fortification loom over the Old Town.
Old Town ascends a steep hill, which is why many of the buildings cover the wall until you actually reach it. Starting from Spreurer Bridge on the north side of town, start walking left uphill on Brüggligasse which will turn into Museggstrasse.
There aren't too many signs, but just keep walking up until you see the street part. To the left there is an uphill path to the walls and a beautiful park to enjoy a budget-friendly packed or takeaway lunch or simply rest after the steep walk.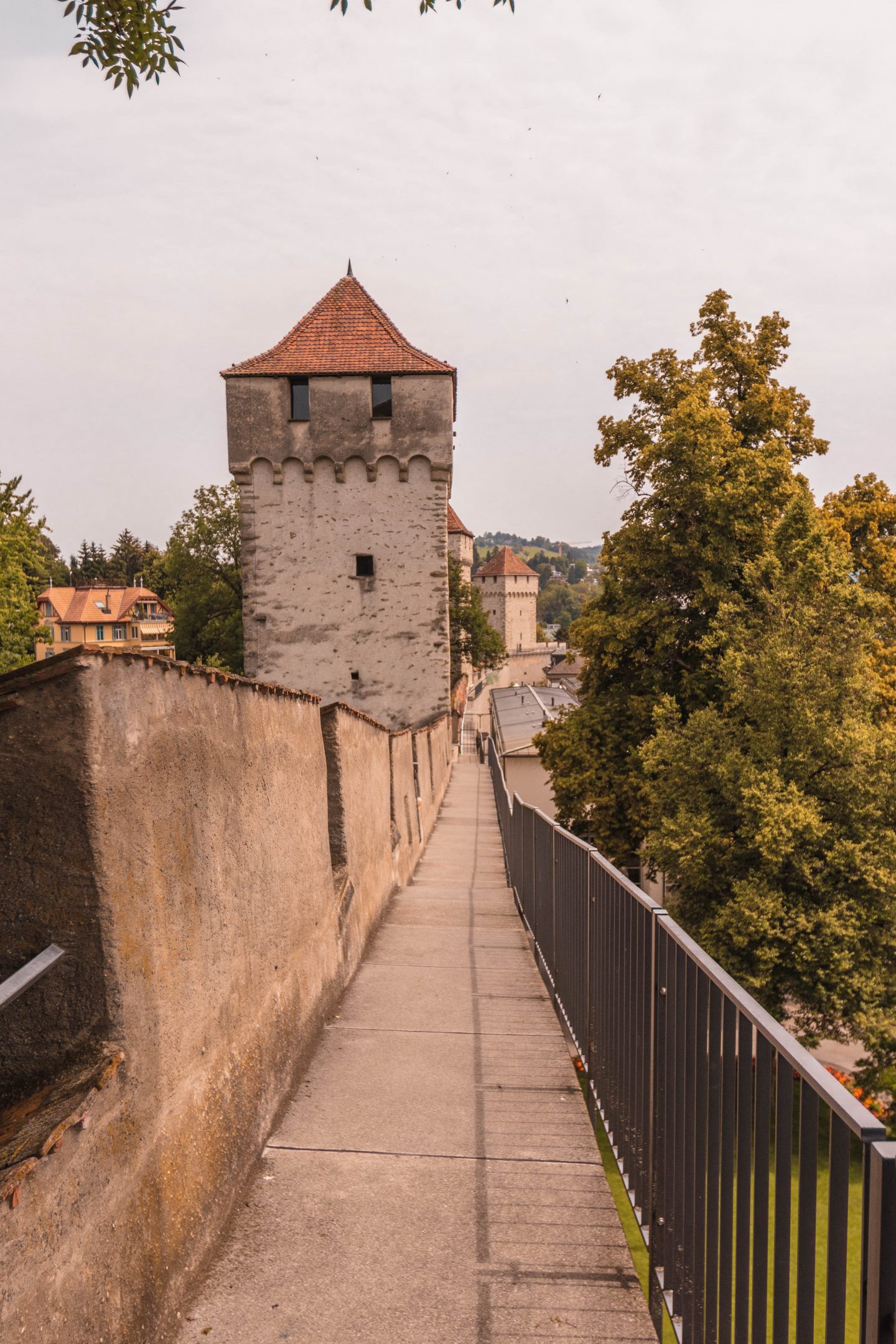 You can walk along many parts of the wall and find special views over the city center and Lake Lucerne. One thing you must do along the Musegg Wall is climb one of its nine towers!
Zytturm Clock Tower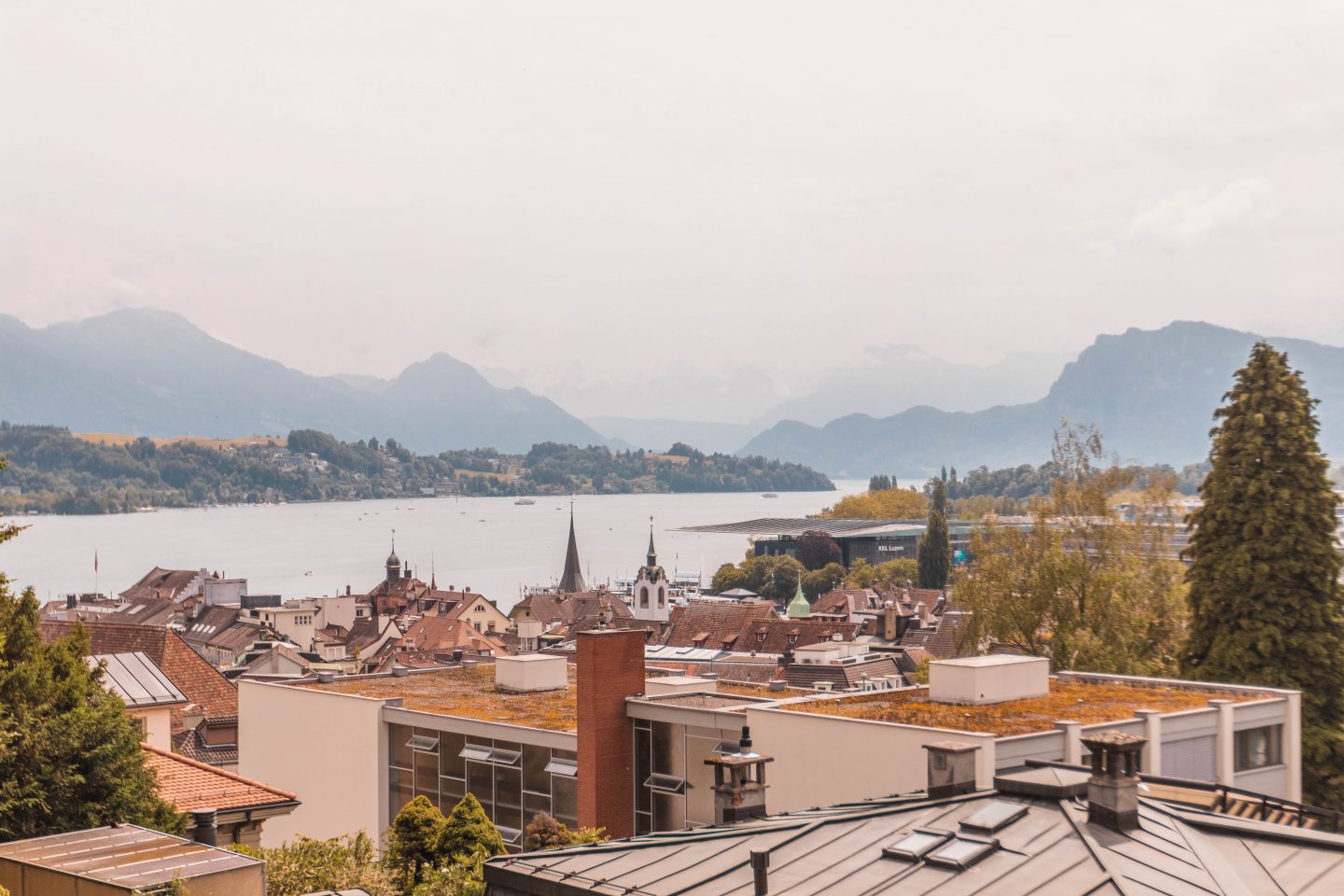 Zytturm is one of the nine towers along the Musegg Wall and it is an ancient clocktower. The face of the tower has a beautifully painted fresco.
Inside, you'll find a museum of clockpieces as you ascend to the top. The stairs can get steep and narrow, so be careful on your ascent.
The top of the clocktower is a large enclosed space with windows peeking out over Lucerne.
If you have the energy, I also recommend visiting Wachtturm and Schirmerturm, which are the two towers on either side of the clock tower. It's a bit of climbing, so if you visit on a summer day like I did, you may tire yourself!
Jesuit Church & Hofkirche St. Leodegar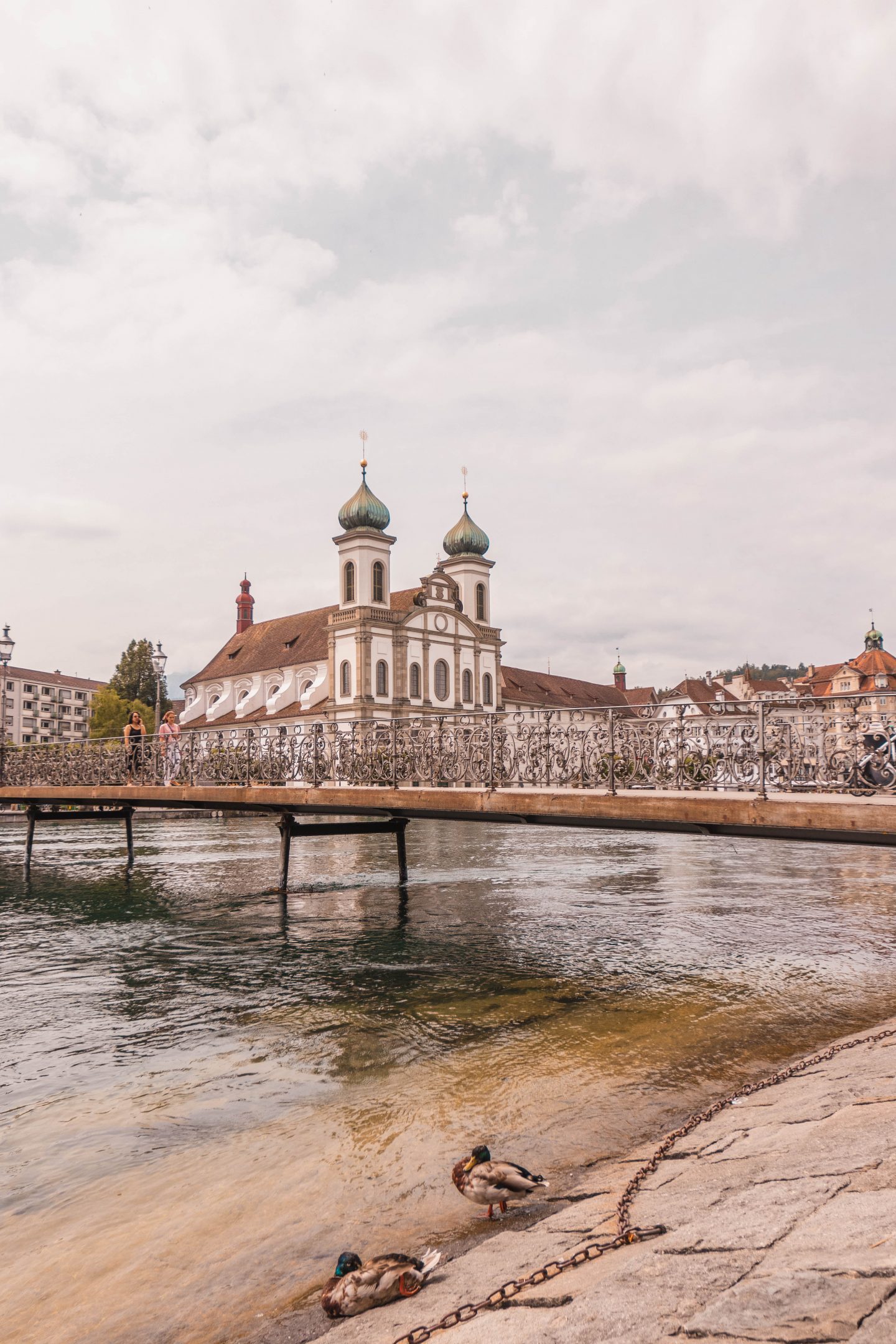 The two main churches in Lucerne are distinctive features of the cityscape. The Jesuit Church sits beside the Chapel Bridge and Reuss River with an imposing facade and detailed, grand spires.
The Hofkirche is located on the other side of Lucerne, near the promenade along Lake Lucerne. This church is surrounded by a beautiful cemetery and, although it's in the city center, the area is quaint and quiet.
Promenade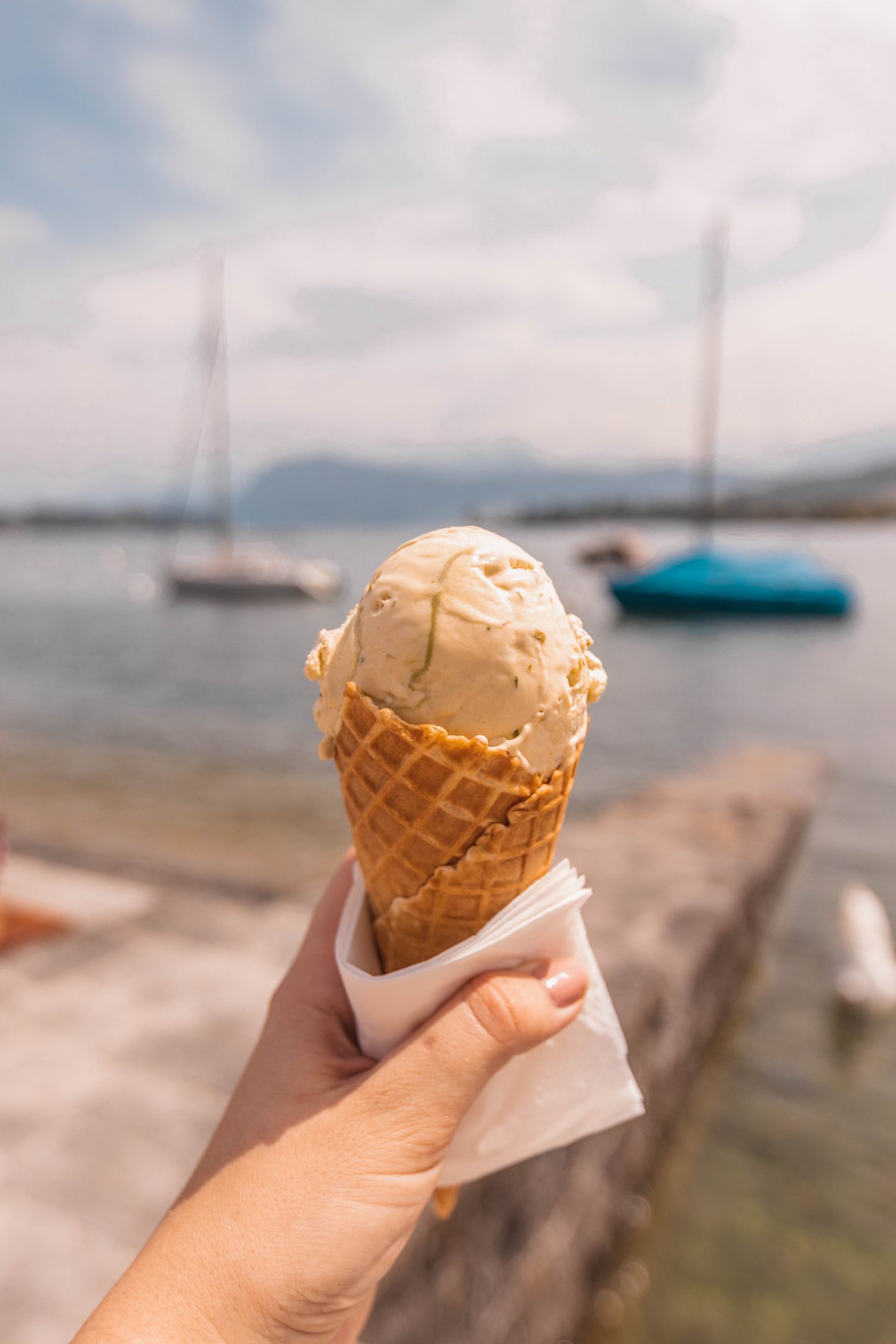 You can't go to Lucerne without being completed drawn to the stunning mountain-framed lake.
Lake Lucerne is a shade of deep aqua and just steps away from Old Town and the Hofkirche. From Hofkirche is the beginning of an incredibly long stretch of promenade. Here you can enjoy lunch at one of the high-end restaurants along the shore or, for a more unique experience, aboard a boat at Schiffrestaurant Wilhelm Tell.
If you make your way to the promenade later in the day, then I recommend picking up a cone of gelato to enjoy on your walk.
If just walking along the lake isn't enough for you to enjoy it, I highly recommend a panoramic boat cruise! Lucerne is beautiful while you're exploring it from within, but seeing the cityscape and geographical landscape from Lake Lucerne is an experience you should try to fit into your itinerary!
Lion Monument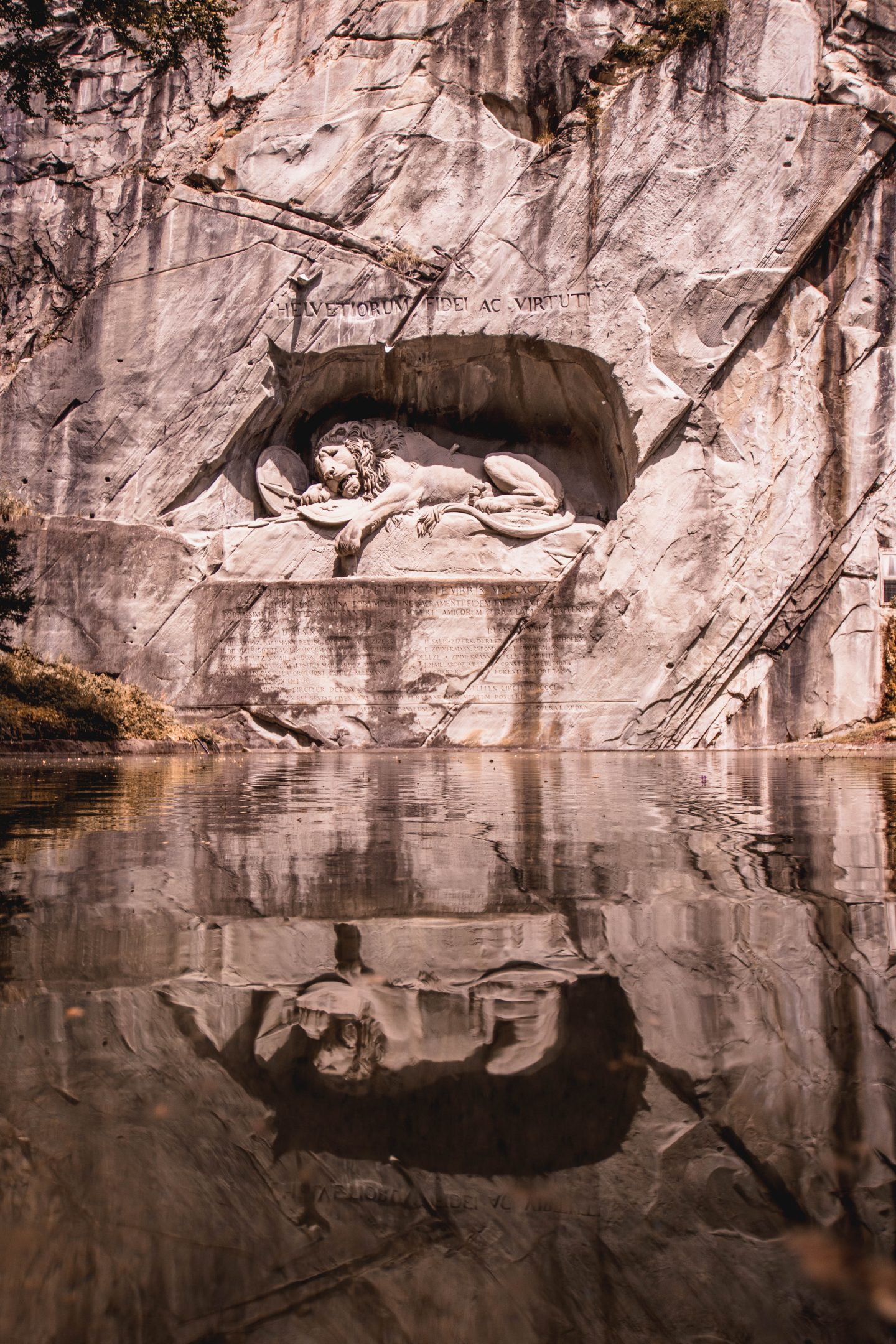 Last but not least to wrap up your day trip to Lucerne, you must visit the Lion Monument.
This striking statue, carved out of a massive wall of rock, represents the Swiss soldiers who died during the French Revolution protecting the King at the Tuileries Palace.
The image of the dying Lion is moving, both for what it represents and for how detailed the carving of the statue is. There is a serene lagoon before the monument and the entire park which surrounds it is a peaceful oasis of foliage and shade, making you completely forget you're in the middle of a city!
If there's one thing you can't miss, it's the Lion Monument.
Mount Pilatus
Mount Pilatus is the most famous peak in the Lucerne area of Switzerland. I wasn't able to make it here on my day trip to Lucerne, but if you plan accordingly, you can fit in a memorable excursion to this peak!
The easiest way to visit Mount Pilatus with just one day in Lucerne is to book an excursion. If you're feeling adventurous and budget-conscious, you can book your ticket and use public transportation to reach the entrance point at Krienz.
If you have more time to explore Lucerne, consider visiting other mountains like Mount Titlis and Mount Rigi!
Looking for more places to visit in Switzerland? Check out Locarno!
---
Final Thoughts
Although it's a small country, there is so much to see and do in Switzerland that trying to put together an itinerary to fit in everything you want to see is a difficult feat!
That's why I wanted to make it as easy as possible to fit in a trip to Lucerne because the city is not one you should miss. From it's historical charm to its geographical beauty, Lucerne is a must-visit.
What's at the top of your bucket list for one day in Lucerne?
Save this destination guide on Pinterest!
XOXO
Michela