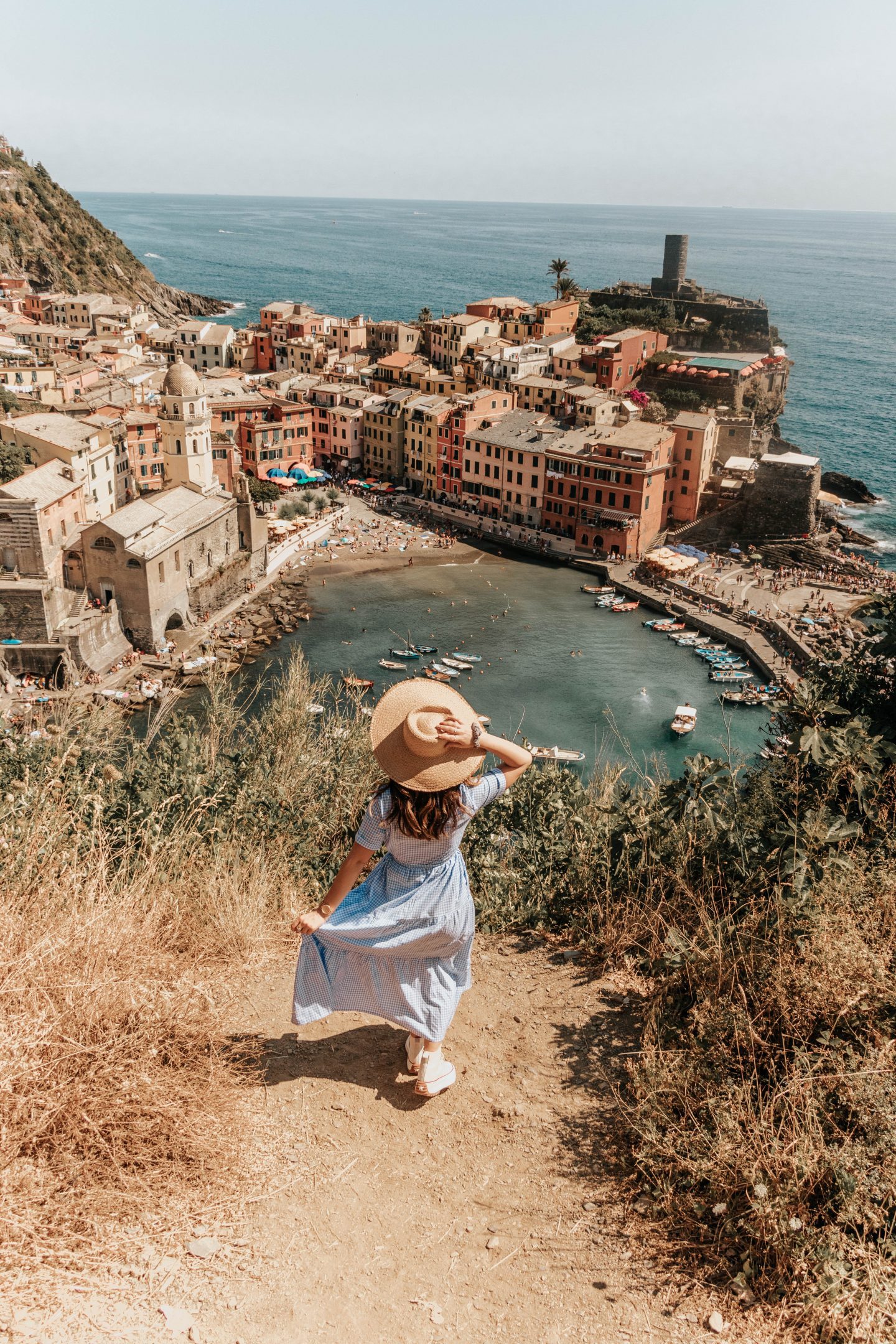 Last Updated on May 11, 2023
The Cinque Terre are on the top of many wanderlusters' bucket list and is one of Italy's UNESCO World Heritage Sites. While exploring Cinque Terre on your own is a must-do, it's essential to prepare your ideal plan of what to do there. This way you can check off all your travel goals as you go when visiting this beautiful region! These things to do in Cinque Terre will inspire and excite you about your trip.
Besides taking in the scenery, there are so many ways to enhance your trip to the Cinque Terre. I could be engaging more with the culture of the Liguria region of Italy or heading to hidden gem spots (that I'm going to let you know about!)
Print this post or write your travel to-do list to ensure you don't miss your favorites of these things to do in Cinque Terre!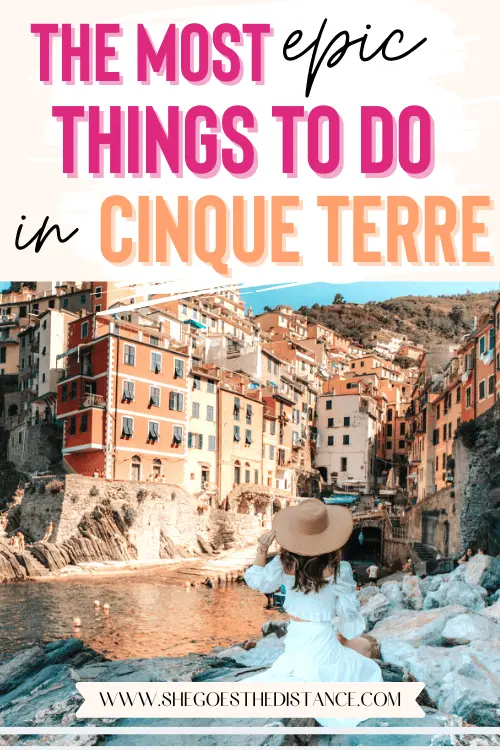 Swim in the Mediterranean Sea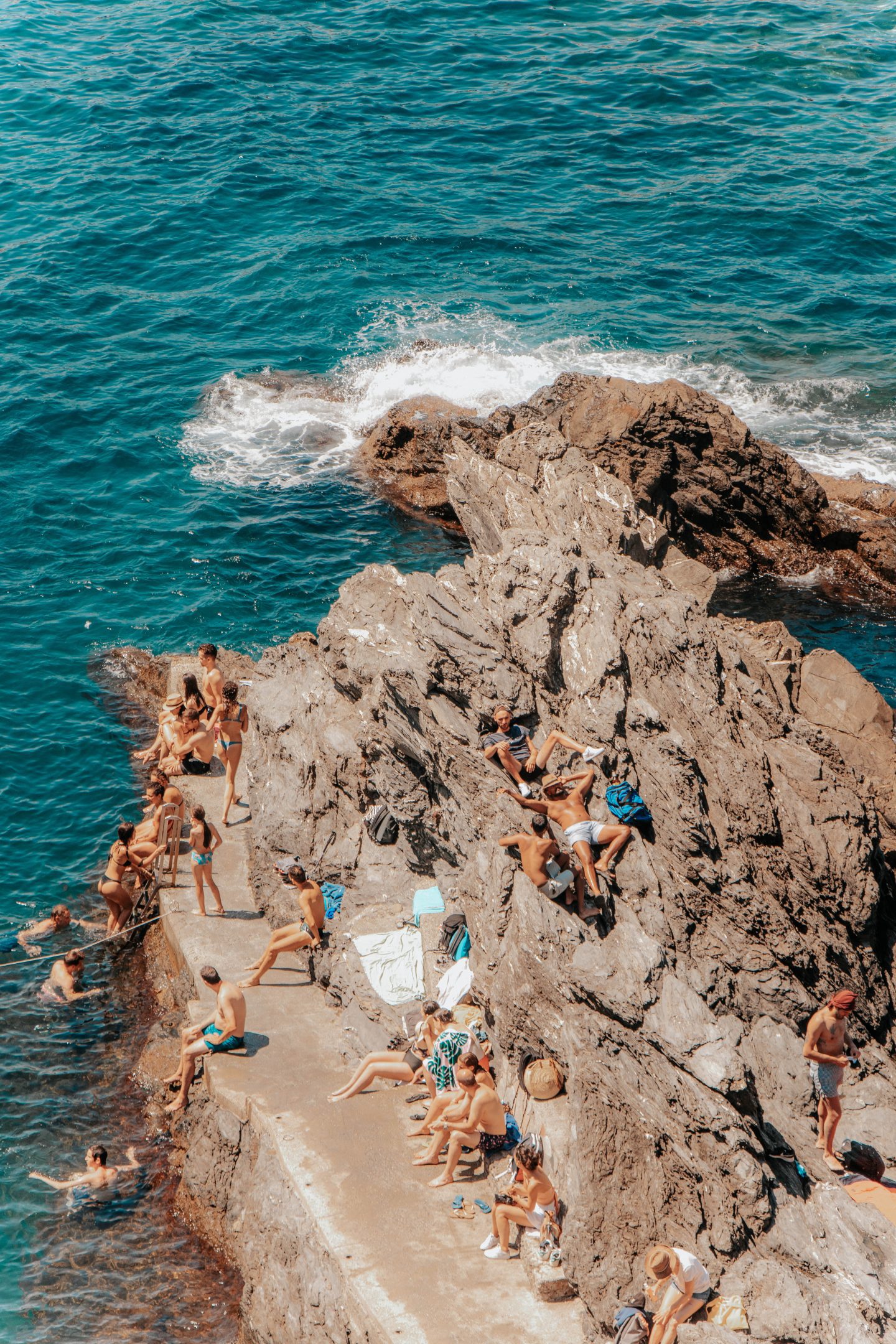 While the pastel towns ooze Italian charm and beauty, the waves of the Mediterranean hitting the shore are begging for you to jump right in!
The sea is a welcome refuge from the hot sun during summer in Italy. Cinque Terre doesn't get the best rap for beaches, but that doesn't mean you won't find some of the most unique and iconic swimming spots here.
Monterosso al Mare is the beach hub of Cinque Terre, but there are also hidden gem swimming spots like Canneto Beach and Guvano Beach. You can get the entire rundown of where to swim in the Med in my guide to Cinque Terre beaches (as well as absolute must-knows before heading to the beach in this area!)
Eat Focaccia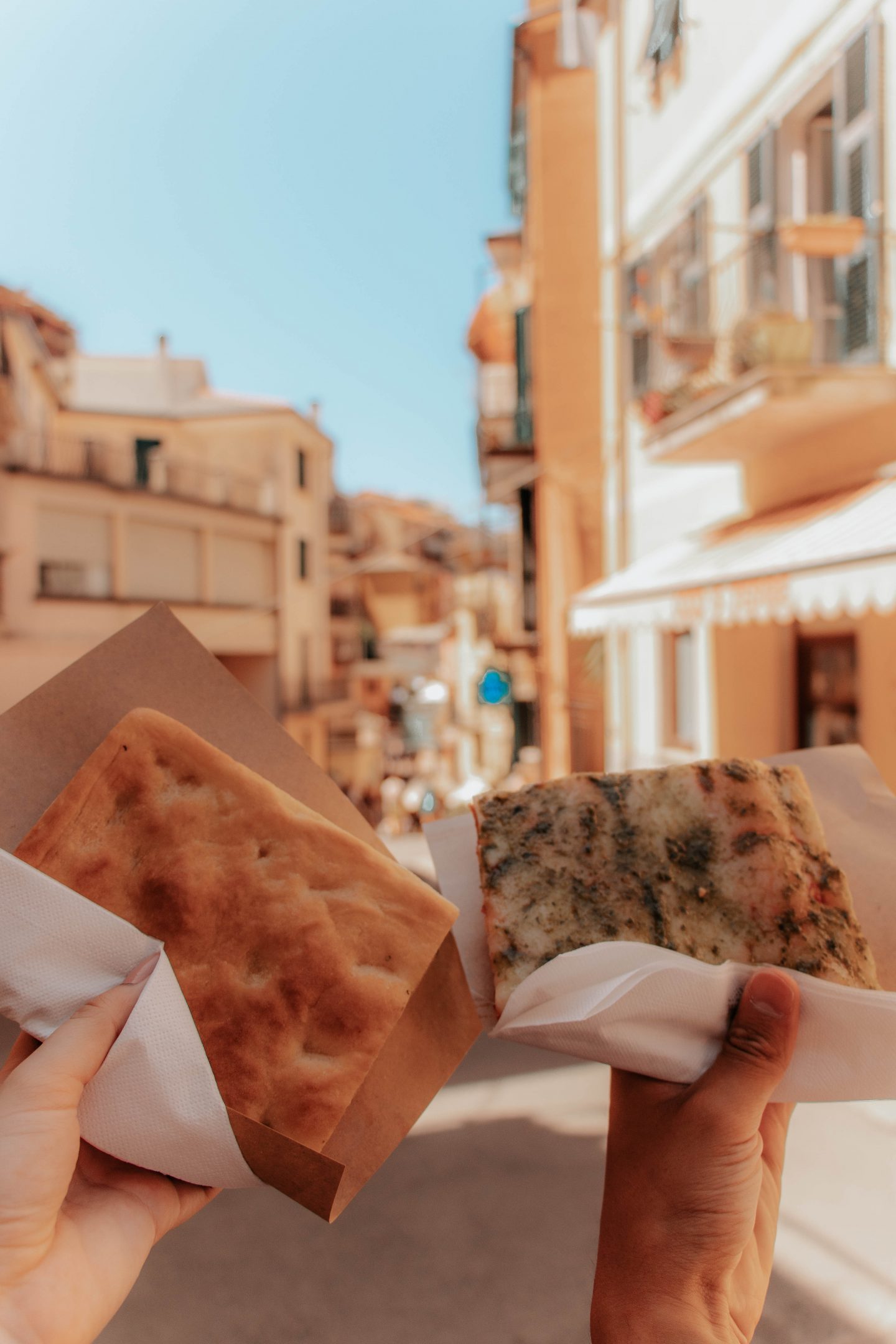 Focaccia, the delicate fluffy bread with dimples all over, was invented in Liguria. While the traditional plain focaccia with olive oil is a classic, you can elevate yours by eating focaccia pizza, focaccia with pesto, or other toppings like onions, olives, or tomatoes.
Focaccia is the perfect midday snack if you're getting hungry before lunch. It's also best to eat it during the morning because that's when it comes out fresh from the ovens.
Have a bit of cash on you when heading into the bakery. Although it's a touristy area, the small shops will usually only take card if you reach a certain amount of spending.
Those couple of euros will be worth it though as you bite into the pillowy goodness of Ligurian focaccia. Plus, with the amount of energy you'll be expending visiting the Cinque Terre, you'll be glad you filled up with this savory treat.
Take the Scenic Train
If you're visiting the Cinque Terre in one day, or even a few, chances are you're going to be taking the train.
It's the most economic, practical, and comfortable way to get around. I use the word "comfortable" lightly here because in the middle of summer with thousands of your best friends also visiting the Cinque Terre at the same time, "comfortable" is a stretch!
Even if you're stuck standing in the train corridors between towns, you'll still have the same epic view from tunnel to never-ending sea.
I go way further into detail about getting around Cinque Terre by train in my one-day itinerary.
In short, you can purchase single tickets for 4 euros one-way or the Cinque Terre Train Card, which is 16 euros per person per day and includes unlimited train rides.
Picnic at the Manarola Viewpoint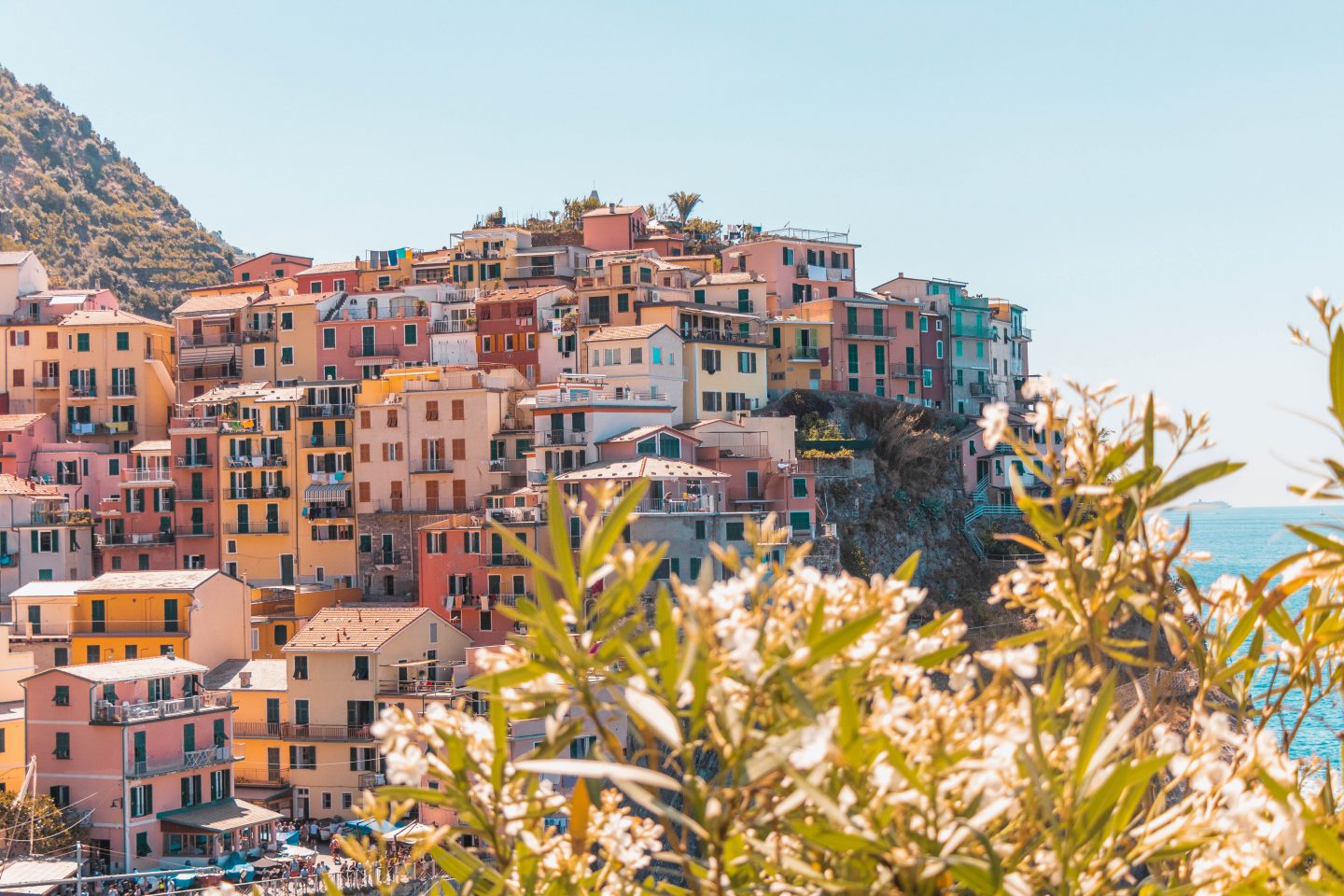 Everyone and their mother wants to go to this one restaurant that has become an Instagram phenomenon – Nessun Dorma.
Not going to lie, I also had this place at the top of my bucket list.
The view is truly incredible and the fresh bruschetta looks oh so delicious, but I've heard mixed reviews about everything else. The service is supposedly not great – they try to rush you after you've just waited an hour to get a table with a view.
And I'm a budget traveler at heart and couldn't imagine spending 50 plus euros (estimated amount) for two people to have a pre-lunch.
But I'm about to let you in on the secret to having the exact same experience, paying way less, and enjoying it on your own time.
Ascend the path up to Nessun Dorma Restaurant and when you reach it, head to the left up a tiny set of stairs. Here, you'll find a children's playground, but keep walking less than a minute and voila! A row of picnic benches available to anyone, right above the restaurant, with the exact same view of Manarola!
You can pack a lunch or grab something for takeaway in the town below and have your very own panoramic picnic above Manarola.
Watch the Sunset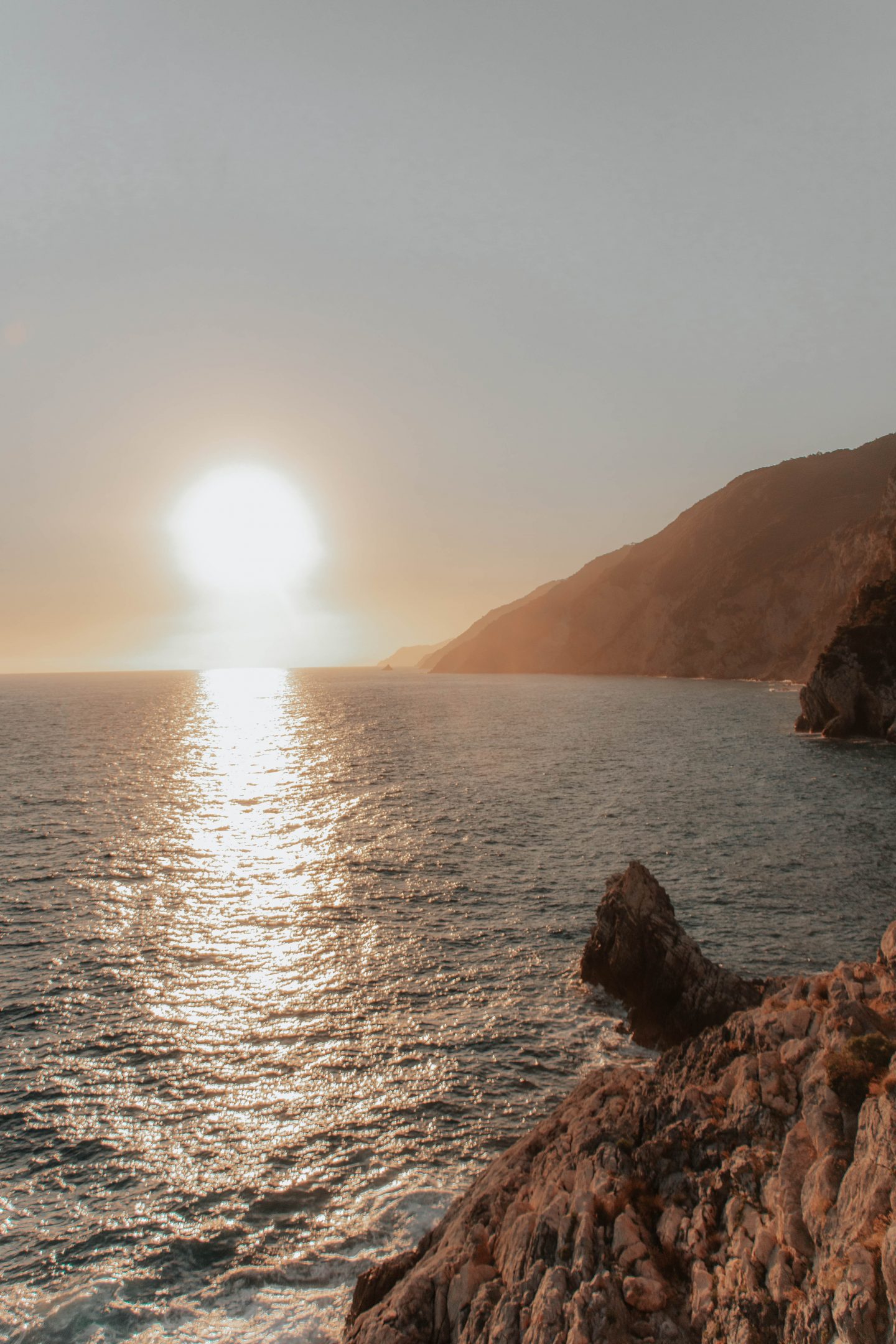 Sunsets in the colorful five villages just hit different. The sun seems to caress the sea and every pastel building becomes a shade of gold.
You can cozy up on the rocks of Riomaggiore for the best view or book a special experience – a sunset boat tour with aperitivo!
Hike the Blue Path
Hiking Cinque Terre is a must-do if you have the time. The scenic pathways along the Ligurian Coast are incredible to experience in person.
The Blue Path or "Sentiero Azzurro" connects all five villages of Monterosso al Mare, Vernazza, Corniglia, Manarola, and Riomaggiore.
However, as of 2021, the part of the path called "Via dell'Amore" from Manarola to Riomaggiore is closed.
You can access the hiking paths by purchasing either the Cinque Terre Trekking Card for 7.50 euros per person per day, which includes only the hiking paths, or the Cinque Terre Train Card for 16 euros per person per day, which includes unlimited train rides along with the hiking paths.
Have a Light Lunch of Ligurian Pesto Pasta – or make it yourself!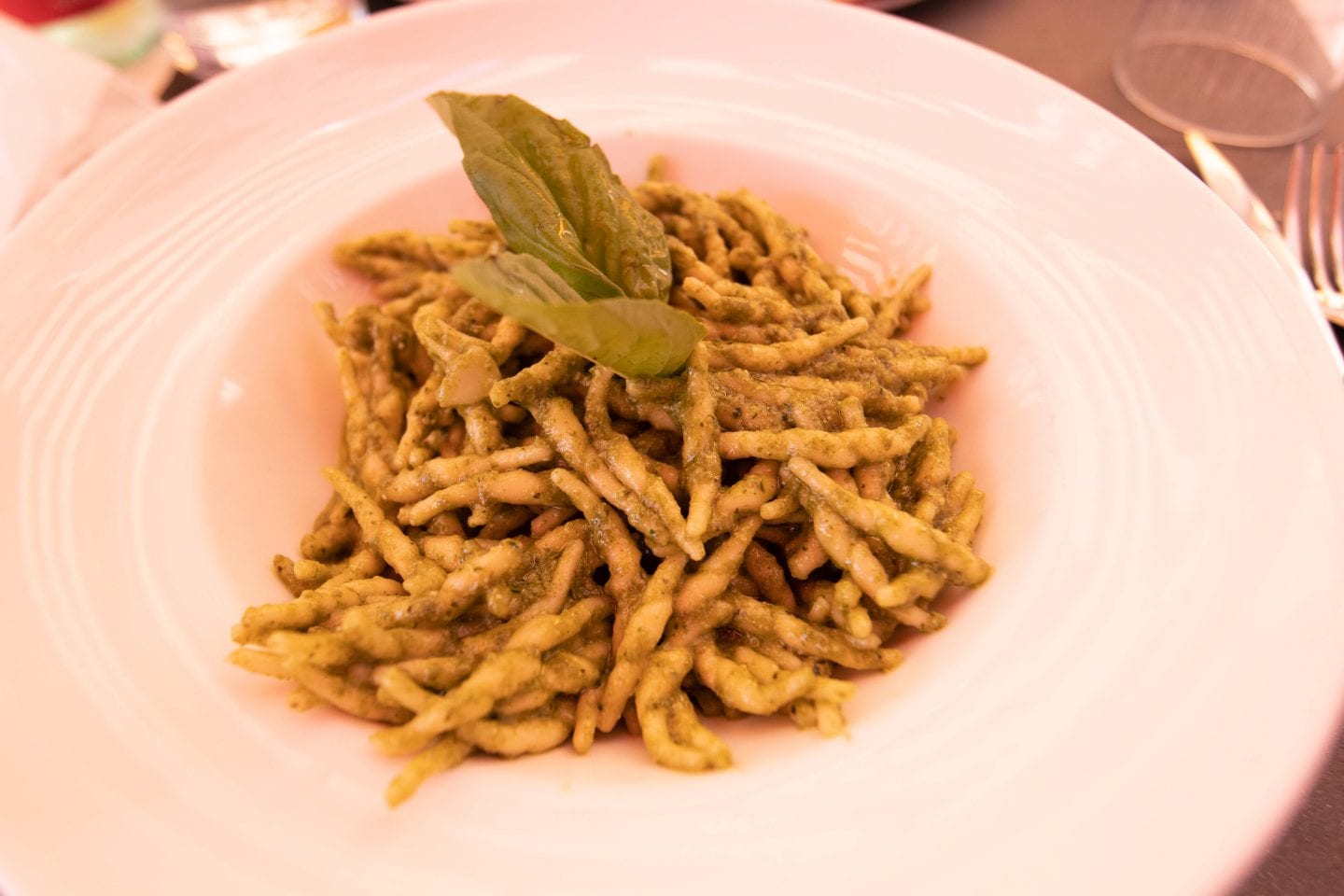 One of the major reasons people travel to Italy is to experience the food culture. Italy's regions all offer unique dishes and tastes and Liguria is no different!
I recommend a light but hearty lunch, especially if you're visiting during the hot summer, and Ligurian pesto pasta is the perfect dish!
If you want to dive even deeper into the food culture, you can book a class/tour to learn how to make your own Ligurian pesto!
Visit St. Mary's Terrace in Corniglia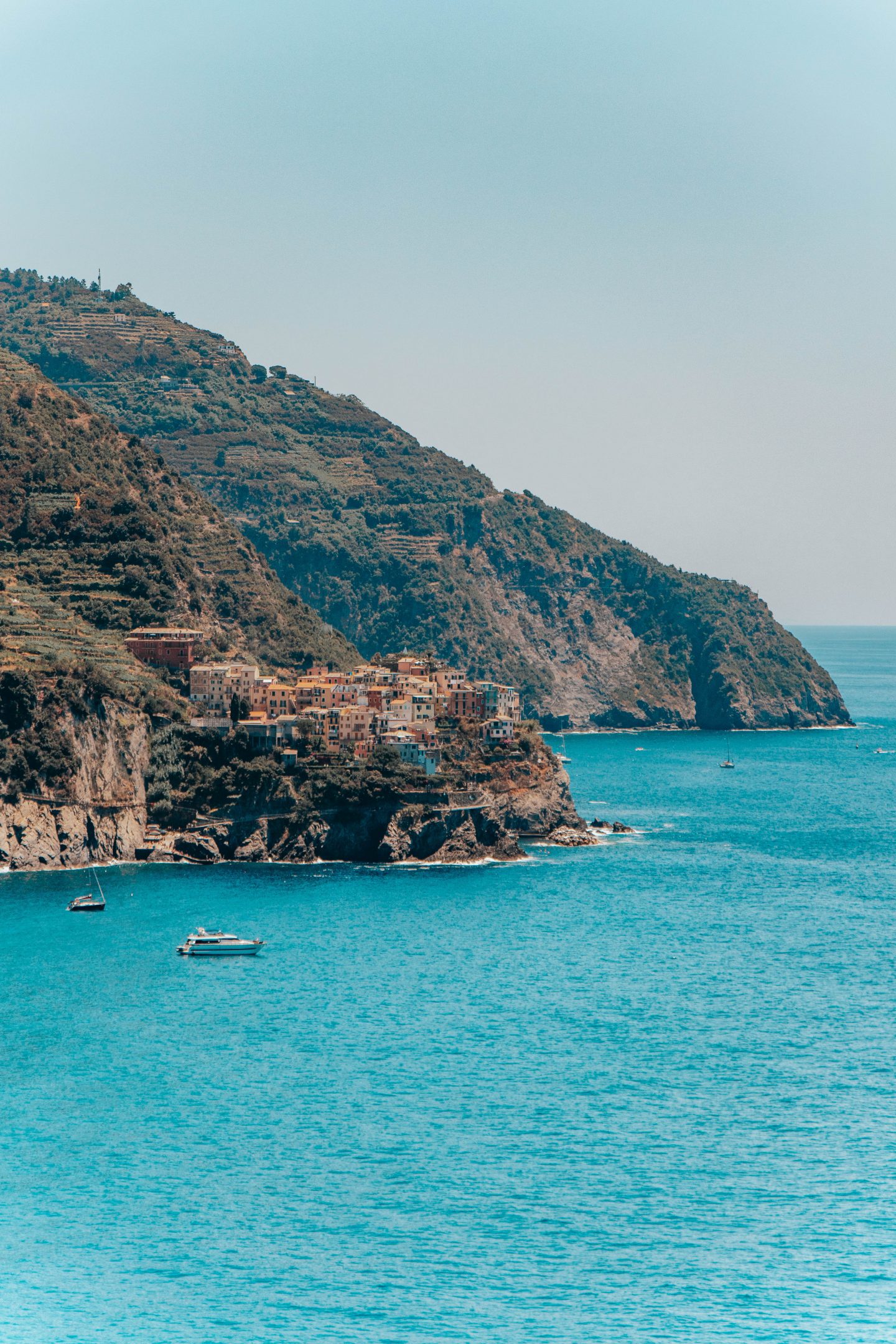 This list of things to do in Cinque Terre includes several breathtaking viewpoints, one of the most dramatic being St. Mary's Terrace in the hilltop village of Corniglia.
The vantage point offers a panoramic view over the Mediterranean and the chance to see the small villages dotted along the rocky coastline.
Because Corniglia is above sea-level, this viewpoint is one of the most vast and makes you feel like you're at the edge of the world!
This view is the easiest to reach. Once you're in Corniglia, follow the main street of Via Fieschi to the end and you'll arrive at the terrace. Take advantage of the telescopes and sitting space or spend even longer here and have a drink on the terrace at Bar Terza Terra.
Climb to the Vernazza Viewpoint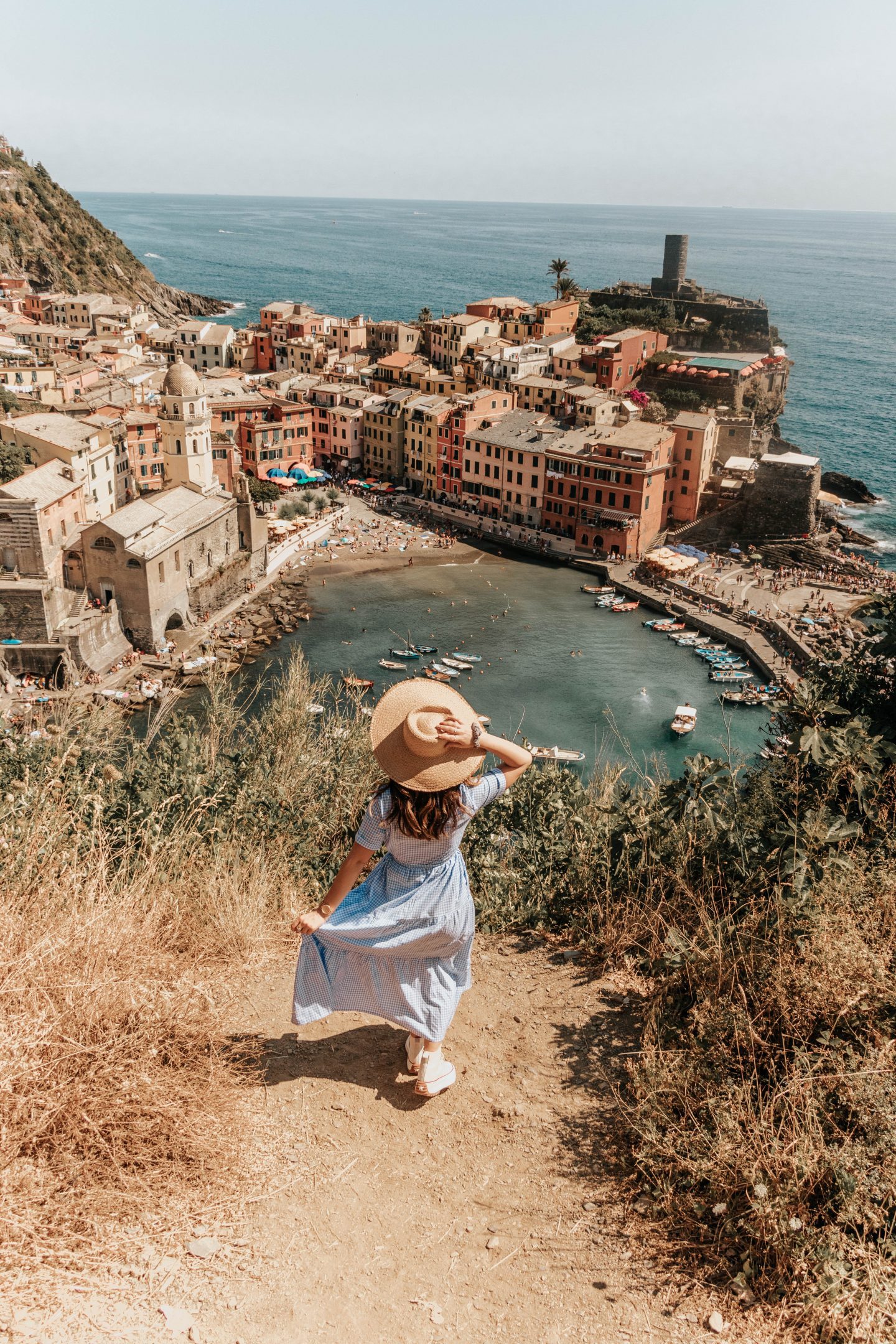 Hang in there, there is one more viewpoint you must see!
The most Instagrammable viewpoint has to be above Vernazza harbor, along the beginning of the Blue Path from Vernazza to Monterosso.
You'll need to have either the Cinque Terre Trekking Card or the Train Card to access this viewpoint. There is a small post at the beginning of the trail where an employee will check!
Also keep in mind that you are not allowed on the trails if you're wearing open-toed shoes. Closed-toed shoes are a must!
The walk is a steep one for a bit of time, but it takes only about 10 minutes to reach this view!
Eat Ligurian Street Food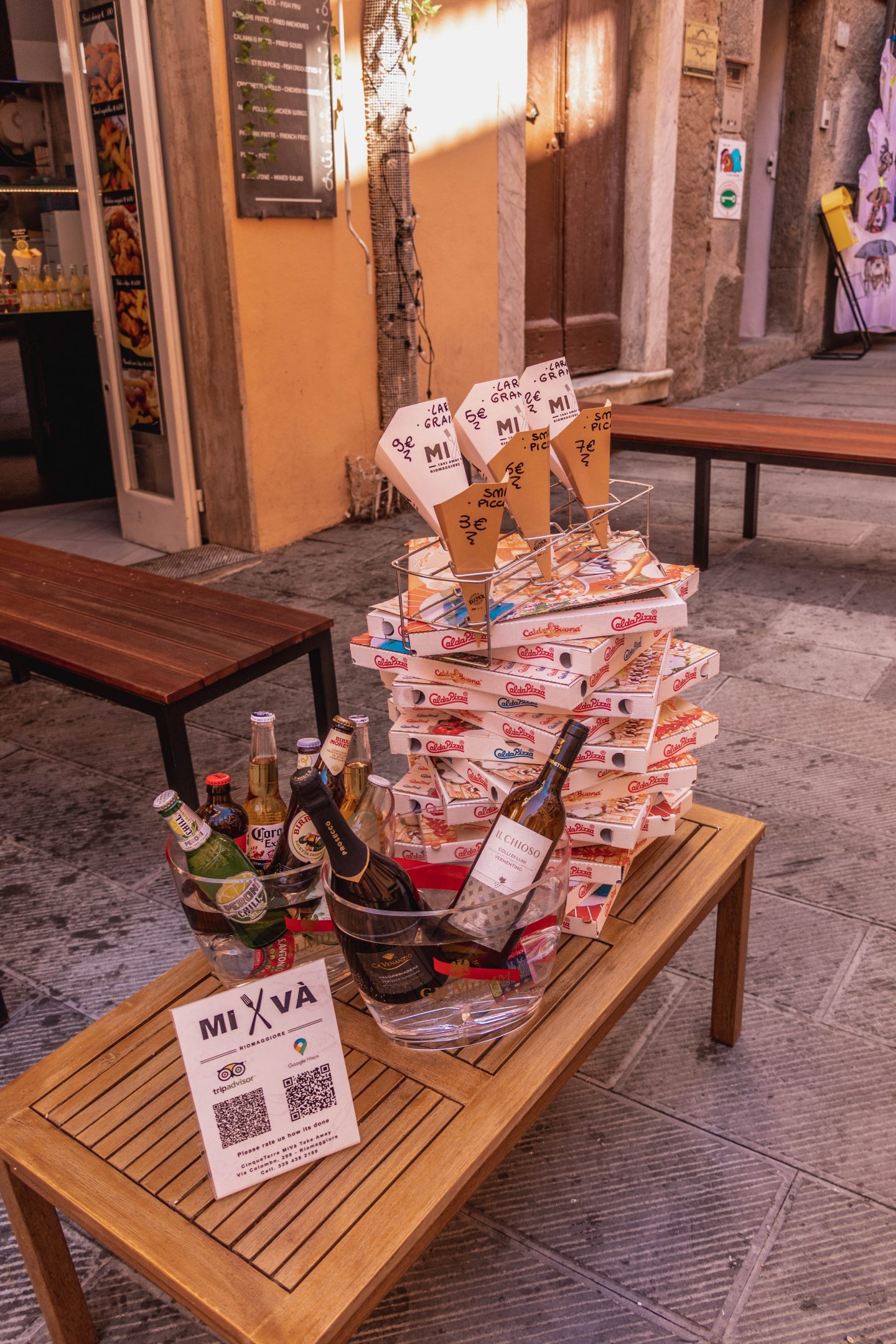 The last food-related thing to do in Cinque Terre is all about the delicious street food.
This area is famous for the takeaway cones of "frutti di mare," or fried seafood.
Being right on the sea, the five Cinque Terre villages are a hub for fishermen.
The streets of the tiny towns don't leave much space for sit-down restaurants and large grocery stores, so many take advantage of the small storefronts to only serve fresh, takeaway seafood.
Chill on the Rocks of Riomaggiore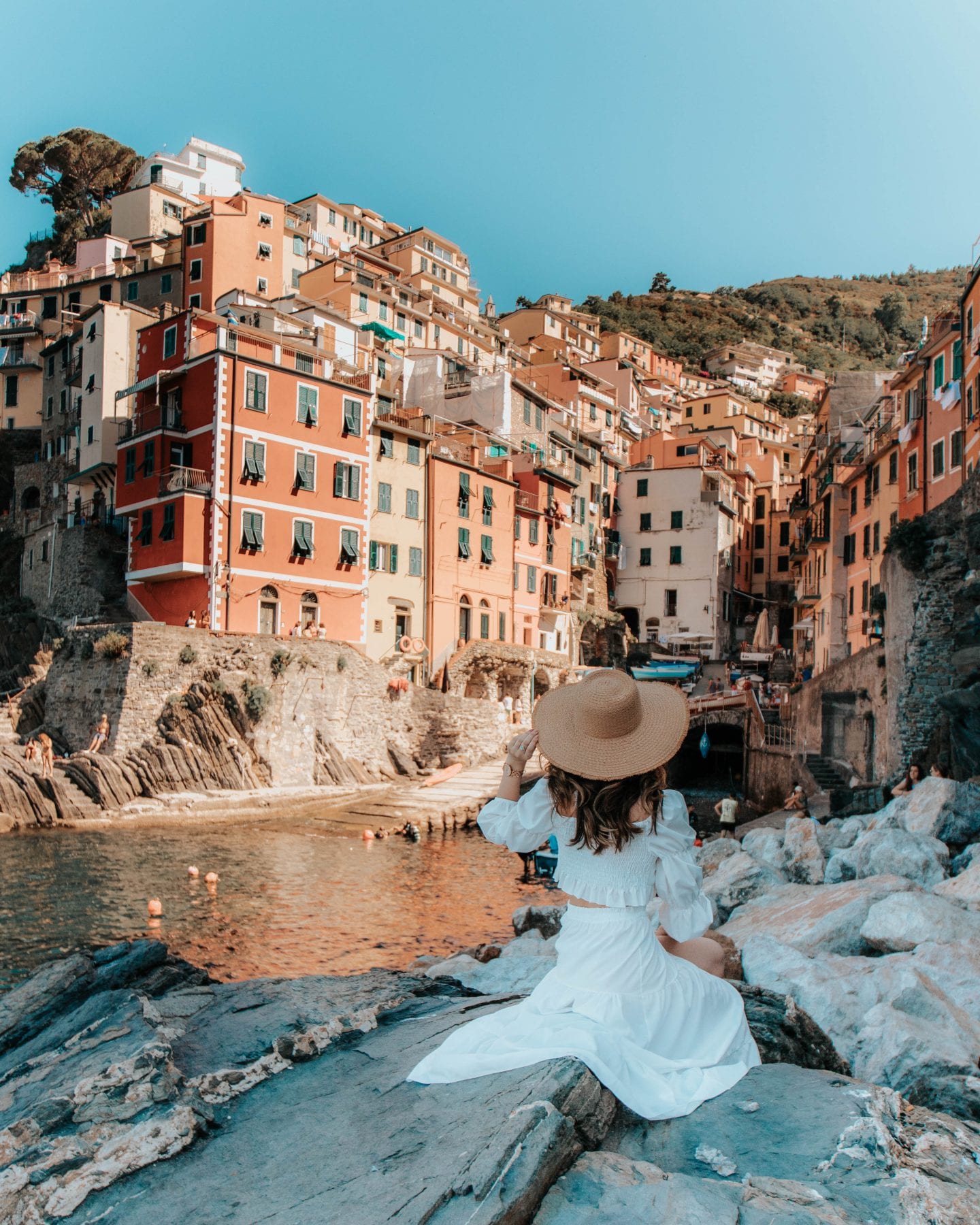 One of the nicest places to hangout in Cinque Terre is your own little spot on the rocks of Riomaggiore harbor.
This is a perfect place to watch the sunset, as you have unobstructed views over the sea and the opportunity to see the colorful houses of the village turn golden at the end of the day.
They're not the easiest to walk on and navigate, so be careful, but once you do find your spot, it feels like you have a special corner of the coastline just for you.
Relax and read a book if you have multiple days to slowly enjoy Cinque Terre or grab a takeaway meal for a budget-friendly and unique dining experience.
Besides the popular beaches in the town centers, there are special coves where sand meets sea only accessible by boat or kayak.
Canneto Beach is just south of Riomaggiore and is a local favorite for the pristine water. Guvano Beach is well-known but hard to reach, in the middle of Corniglia and Vernazza. It's historically a nudist beach and some still take part in this activity today – so, you've been warned!
This is the perfect half-day getaway for travelers who are spending a weekend or more visiting Cinque Terre.
Rent One of the Iconic Striped Umbrellas & Sunchairs at Spiaggia Fegina in Monterosso al Mare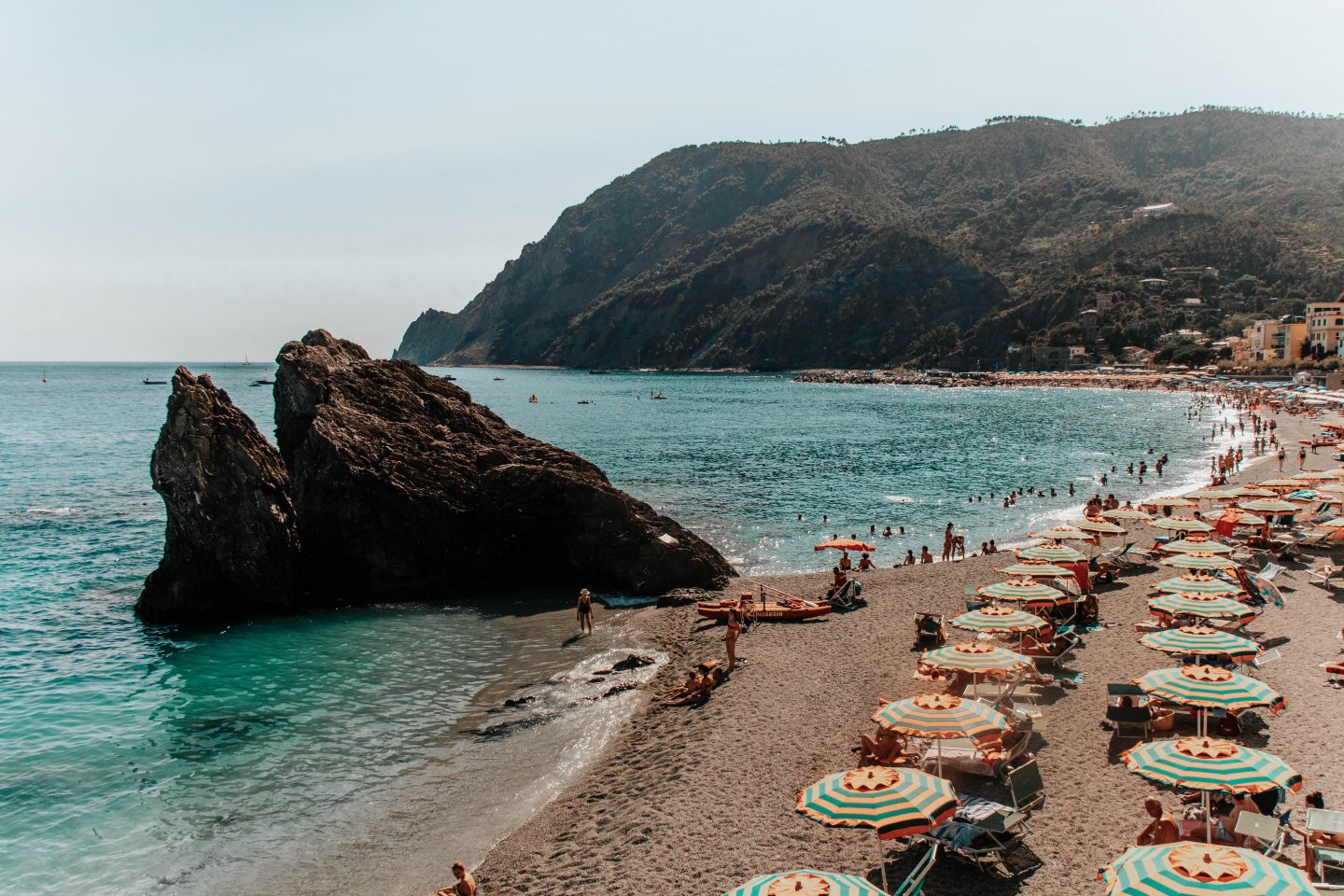 One last beach-related must do is spend a day soaking up the sun at Bagni Eden, a super popular Monterosso al Mare beach club.
The teal and orange striped umbrellas that line the sandy beach are the poster child for Italy summer vacation, so the experience to rent one of your own feels like a pinch me moment! There's more space in this area of the beach than the public part and it's sandier, for a more comfortable experience.
Plus, you'll be sunbathing and swimming next to the large rock formation that is characteristic of Monterosso.
The rental will cost you 30 euros per day for one umbrella and two sunchairs. It's not a bad deal unless you only plan to spend an hour or two at the beach. Keep in mind these "lido" close during the off-season (October-April, usually, but weather-permitting.)
This means more space for the public beach in the off-season.
Sip Cinque Terre Wine at a Cliffside Vineyard
Every region of Italy has their unique wine-producing process and tastes, white wine being the specialty in this area.
What's even more special is how the vineyards are organized and taken care of. The cliffs in Liguria don't leave much room for spread out houses, let alone flat land to create neat stretches of grape-growing vines.
Instead, vineyards in Cinque Terre cascade down the tall hilltops. Caretakers have what is like a small cable car attached to a track that allows them to drive along these high cliffs through the vineyards and pick the grapes.
The whole experience is both beautiful and terrifying, being so high above the sea, but it's another unique part of the culture in Liguria that shouldn't be missed.
You can book a private tour for an intimate experience or visit one of the wineries on your own like Buranco Agriturismo or Terra di Bargòn.
Visit Portovenere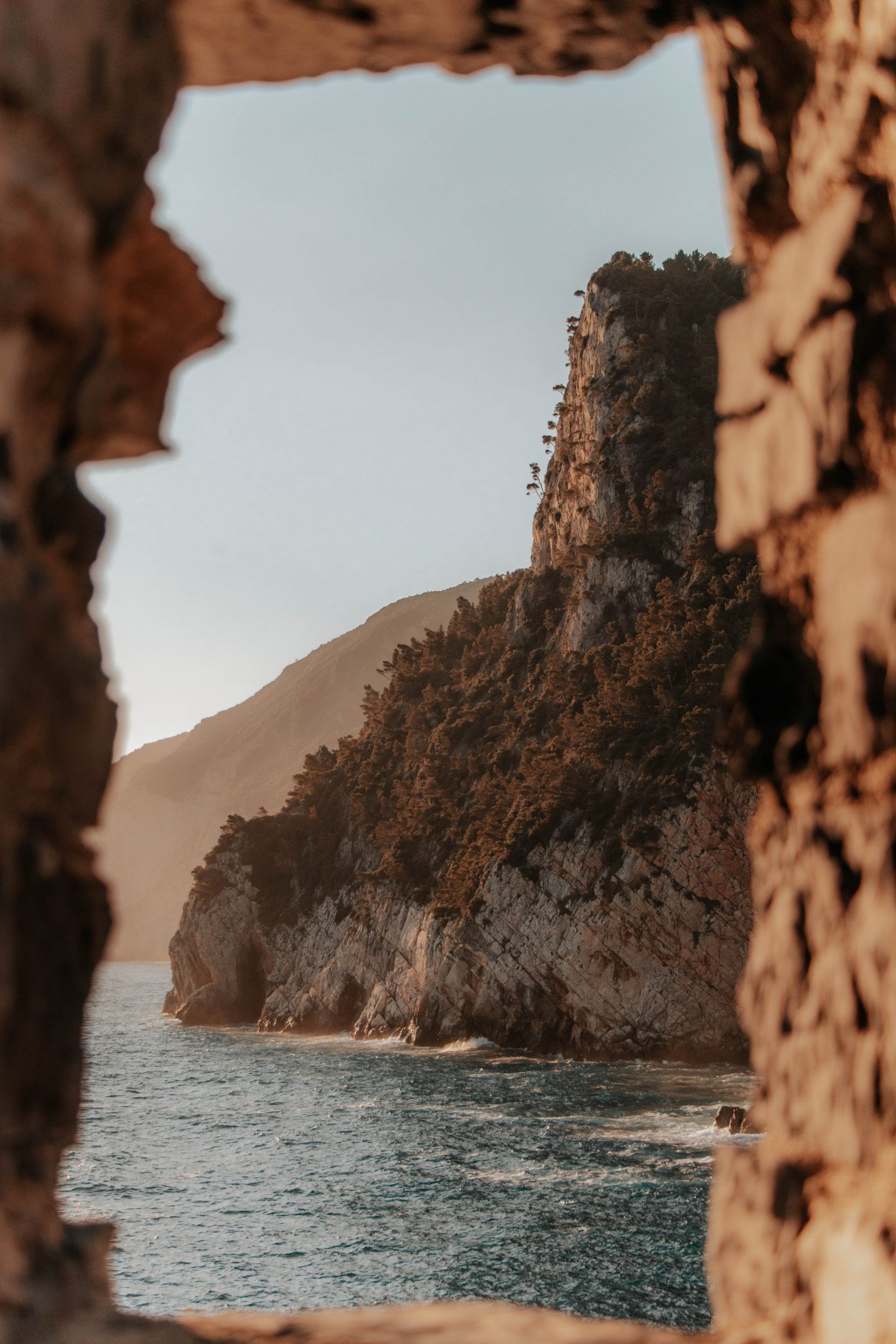 I wouldn't mention traveling to another city as one of the best things to do in Cinque Terre if it literally wasn't one of the best things to do.
But Portovenere is an unbelievable hidden gem you must go out of your way to visit!
From the Chiesa di San Pietro dramatically jutting out into the sea on a rocky peninsula to the gorgeous Grotta di Byron to the wild and secluded Palmaria Island, Portovenere is a destination you could spend your whole Italian summer vacation.
Portovenere is not connected to Cinque Terre by train, which is why a lot of people don't make it out here. It's still frequented by tourists, but not nearly as much as the villages of Cinque Terre.
If you don't have access to a car, then you can take the train to La Spezia and a public bus to Portovenere. The scenic road to reach this secluded town on the edge of the Bay of Poets is one of the most beautiful (and sometimes nerve-wracking) drives you'll make!
---
Final Thoughts
With so much to do in one place, Cinque Terre is a must-visit destination to add to your Italy itinerary. It's the perfect destination for couples on a romantic getaway, solo travelers with a thirst for exploring, and anyone looking for a vacation that offers stuff to do on both land and sea with a bucketload of Italian charm!
It can be overwhelming to try to fit in everything on this list, especially since many travelers make the Cinque Terre a one day or weekend stop on their Italy itinerary.
My advice is to simply rank what's most important for you that you see and for any of the extra "nice-to-do's" put in some effort to research if it will fit into your travel plans.
No matter how much you accomplish on this list, I can guarantee you'll enjoy your surroundings and love the villages of the Cinque Terre!
What is at the top of your Cinque Terre to-do list?
Save this guide on Pinterest!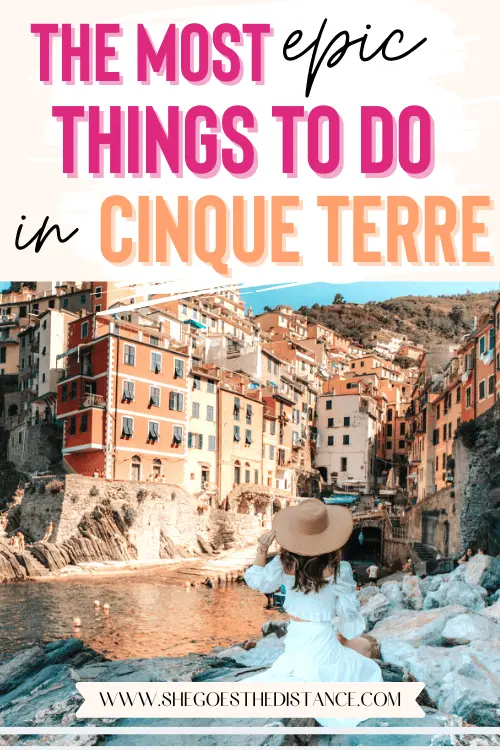 XOXO
Michela