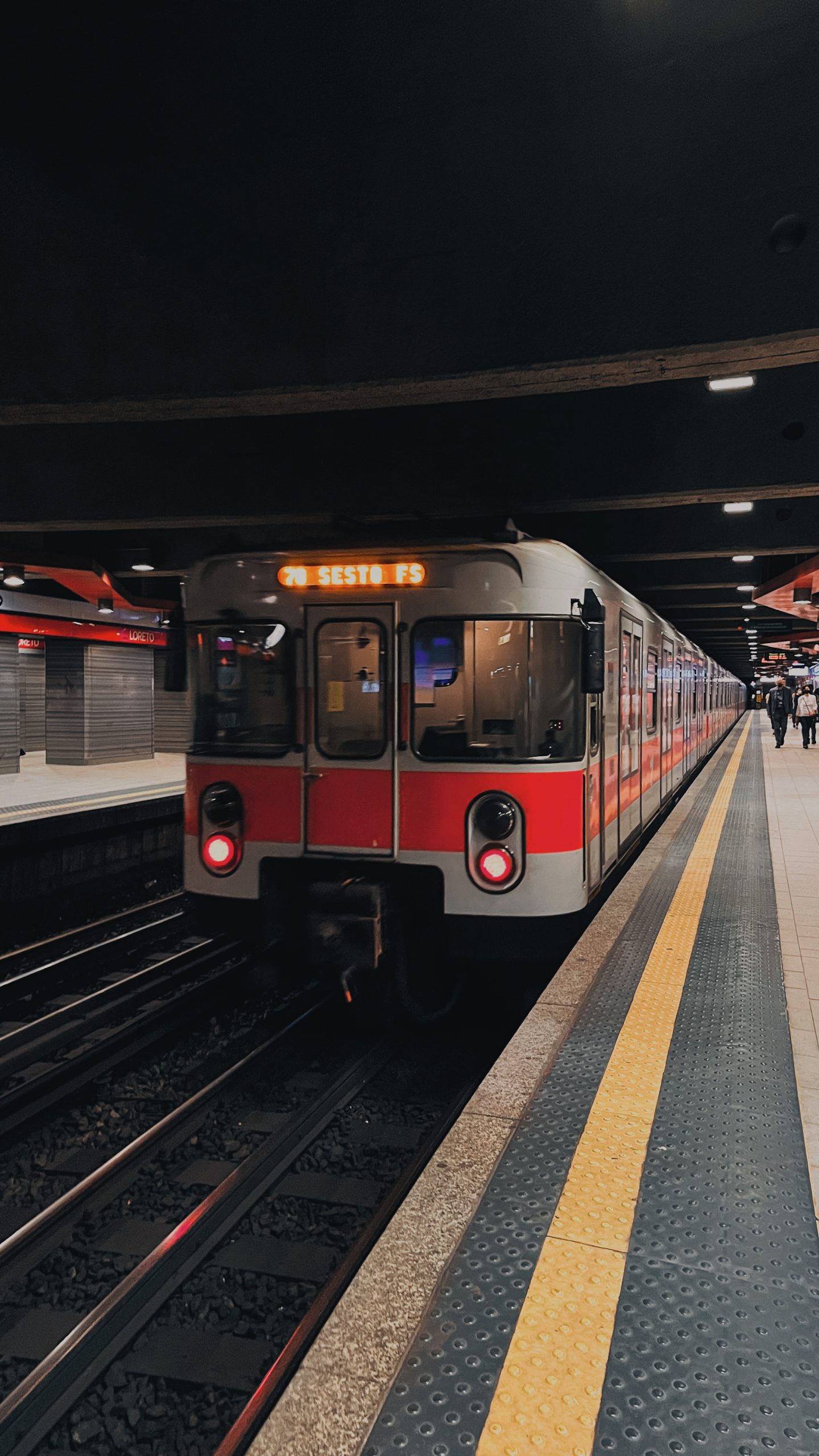 Last Updated on October 28, 2023
From the Duomo di Milano to the quirky neighborhood of Navigli or from cosmopolitan Porta Nuova to watch a soccer game at San Siro Stadio, the Milan Metro is one of the most convenient ways to get around. But, it can be confusing navigating a city entirely new to you and making sure you use your time to the fullest. That's why this quick & easy guide to using the Milan Metro will have you riding the subway like a true Milanese as soon as you arrive.
Whether you're traveling to Milan for the first time or on a budget, or you're a new expat in Italy trying to get the hang of local life, this guide is designed to make you as prepared as possible so you're as confident as can be.
If you'd like to prepare yourself for using other transportation on your trip to Italy, check out my complete guides to buses in Italy and Italy train travel tips.
Some of these links are affiliate links. This means if you make a purchase through that link, I receive a small commission at no extra cost to you. Read my full disclosure!
Start planning your trip to Italy on the right foot with my Italy packing guide! Download for free by subscribing to the SGTD newsletter.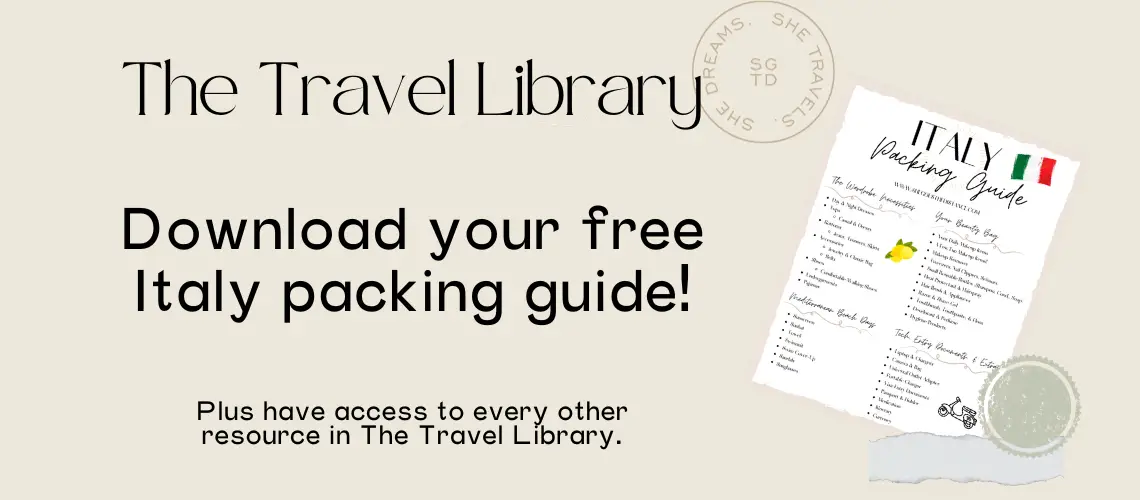 ---
About The Milan Metro System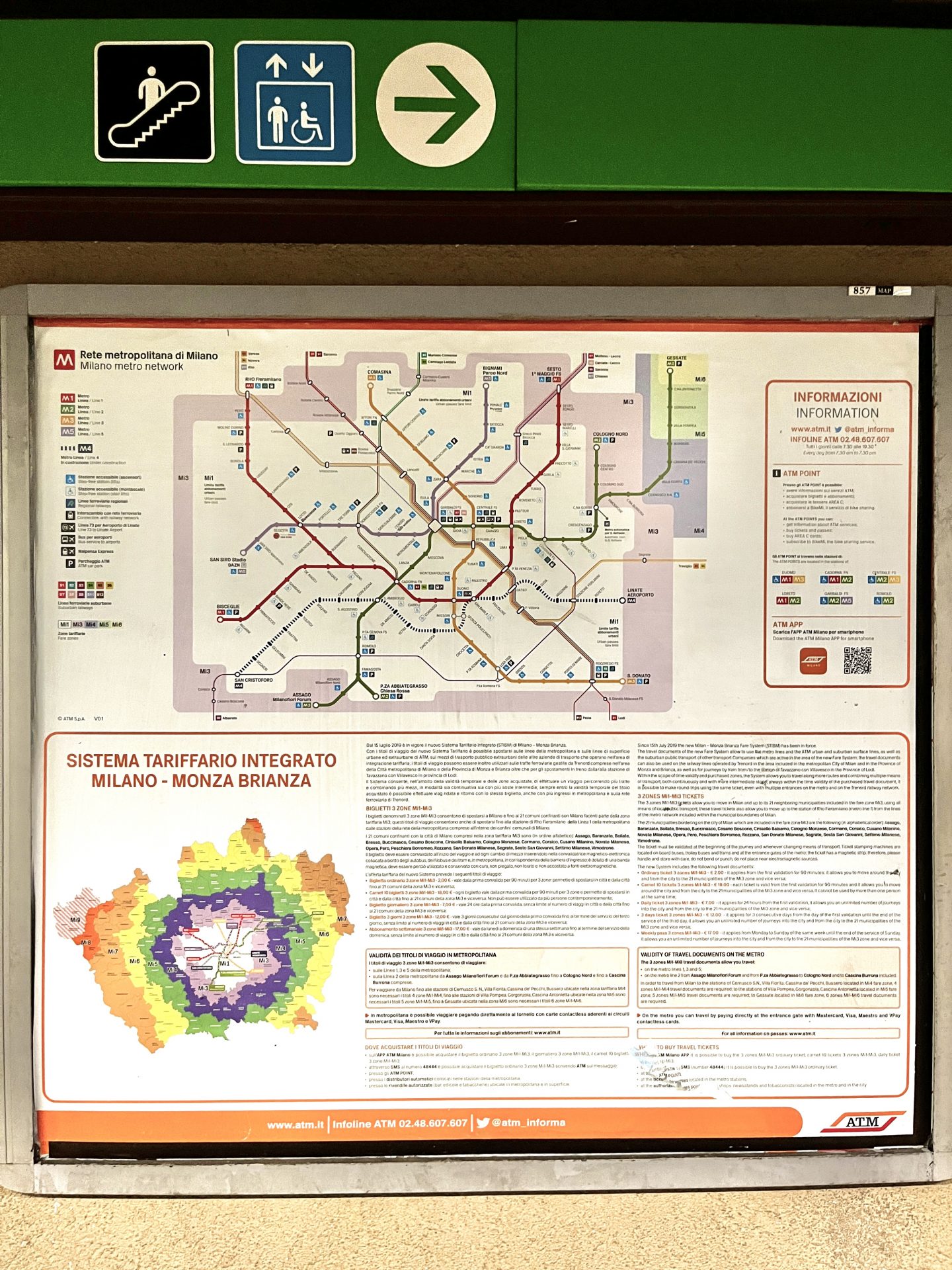 The Metropolitana, or metro, which is the underground subway of Milan, is operated by the Azienda Trasporti Milanesi. The company operates all Milan public transport in and around the city.
There are five Milan metro lines, all color-coded:
M1 (Red line) – Goes from Sesto San Giovanni to Bisceglie and Rho Fieramilano (the line splits.) Major stops include Duomo and Cadorna FN.
M2 (Green line) – Goes from Gessate and Cologno Nord to Assago Milanofiori Forum and Abbiategrasso. Major stops include Lambrate FS (train station), Centrale FS (main train station), Garibaldi FS (train station), Porta Genova (Navigli area).
M3 (Yellow line) – Goes from Comasina to San Donato. Major stops include Centrale FS and Duomo.
M4 (Blue line – New!) – This new metro line connects Milan Linate Airport to the city center.
M5 (Lilac line) – Goes from Bignami to San Siro Stadio. Major stops include San Siro Stadium and Garibaldi FS.
Good to know: Note that some lines split to take you in different directions, like the M1. You have to pay attention not only that you're taking the tram going towards the right place but that you're taking the right split.
At its core, the Milan Metro is not a complicated transportation system. But when you're standing at the station in person, squinting to find your stop on the map, taking a turn down the wrong corridor, you're wishing you had read up on the fundamentals of the metro system!
Pro Tip: Check the metro status of any of the five lines on the ATM official website.
---
Why You Should Use the Metro in Milan
I love to acknowledge and spread the word about walkable cities that are easy to explore and get the most out of on foot. Milan however is no such city.
Milan is huge – and it's made up of a bunch of unique neighborhoods you would never come across unless you tired yourself out walking for hours on end.
and cheapest ways to get around the city, perfect for budget travelers and those with little time in Milan on a busy northern Italy itinerary.
It's Convenient & Fast
The metro is one of the most convenient ways to get around Milan because it is quick and efficient. Since it's underground, it constantly keeps moving. There are no people, other vehicles, or intersections interrupting or delaying the system.
This is why the metro is ideal if you only have one day in Milan to explore and are trying to see as much of the city as possible on your busy northern Italy itinerary.
It's Budget-Friendly
Starting at €2 for a one-way ticket, the metro is one of the cheapest ways to get around the city. It can be the perfect compromise for budget-friendly travelers trying to see a lot while saving money.
Good to know: You can also use your ticket on the more aesthetic (but not as fast) transportation, trams. Some trams are classic trolley cars which make them a cute way to get around, just not as convenient.
You Get a Glimpse at Local Life
Tourists are less likely to take the metro just because of how confusing and intimidating it can be. This means you'll mostly be traveling alongside residents, which offers some fun (and interesting) insight into the Milanese way of life.
Keep in mind the city is one of the most multicultural in Italy, so you'll also see hear many languages and see many foreigners that call Milan home.
Increases Your Confidence as a Traveler
This may be the most metaphorical and figurative reason to use the subway in Milan but it's still important. Getting to know and successfully getting around a new city using the subway is a challenge!
So if you manage to do it, you gain confidence as a traveler, especially while traveling solo.
---
Metro Stations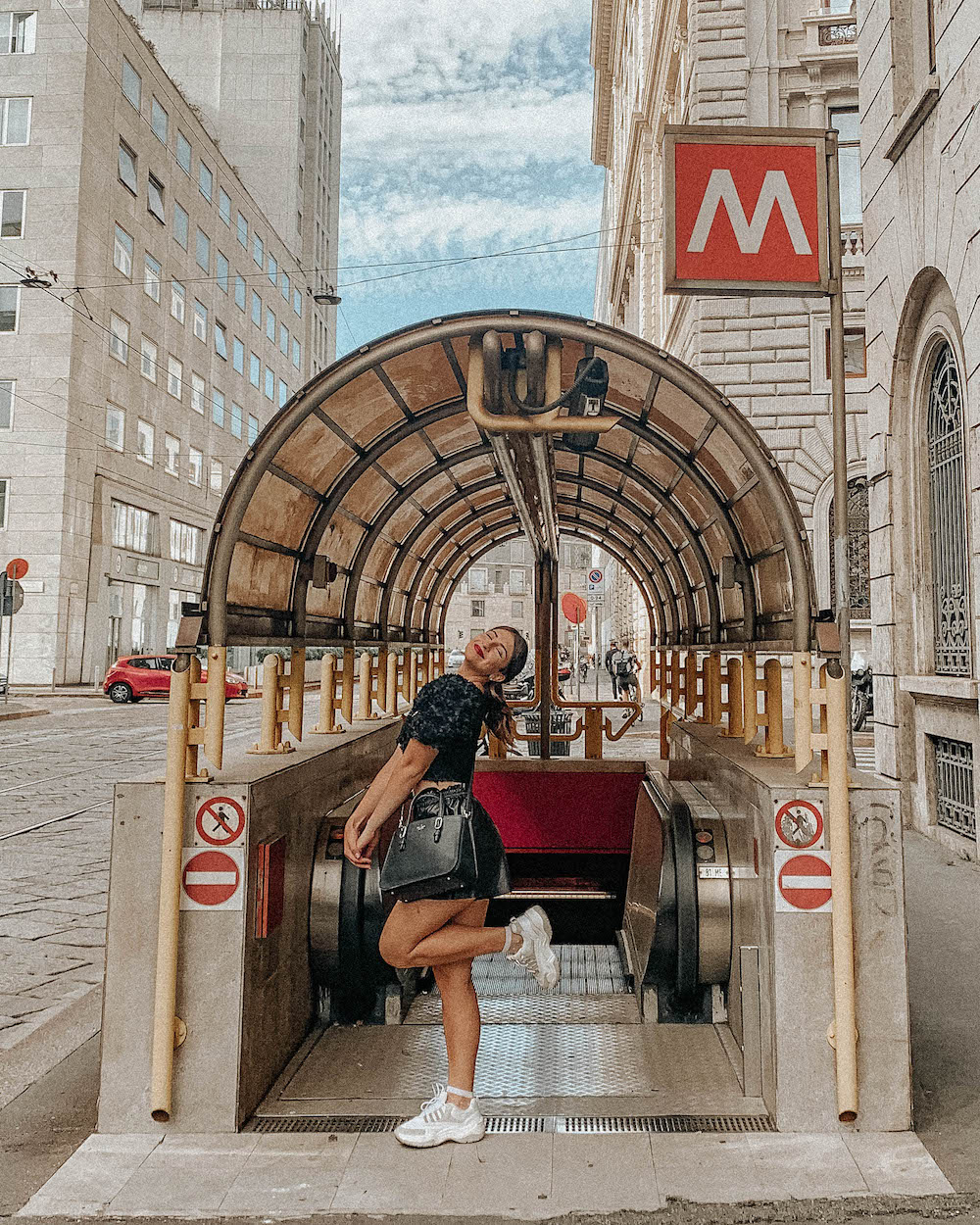 The Milan Metro stations are dotted all throughout the city. While the sign is large, the chaos and bustle of the metropolis can lead you to miss it!
When looking for a metro station, look for a tall sign with a bold M on it. It is located next to stairs or, sometimes, escalators that lead you to the underground transportation.
Once you understand which line you have to take, you'll understand which station you need to enter. There are overhead signs as you descend that indicate what lines service that station.
Amenities
I wouldn't say anyone's traveling on the subway for the amenities, but I want you to leave this post knowing everything there is to know about the subway that could be of use to you.
As far as amenities go, nearly all stations have vending machines with food and drink. Many stations also have an "edicola" (newspaper stand) that sells newspapers, magazines and items like small snacks and water.
I haven't been in every single subway station, but I have never seen a restroom facility. However, I discovered that many stations do in fact have bathrooms. They are not indicated on the maps you'll find in the metro (which is why I didn't know they existed), but you can find all the stations with a bathroom on this map.
Accessibility
Milan's metro stations that are accessible for those traveling with wheelchairs or handicaps are indicated on the metro map by a blue handicap symbol or a white handicap symbol.
The blue symbol means there are elevators in the station, whereas the white symbol indicates that the station has stairlifts for those traveling in a wheelchair.
---
Buying a Milan Metro Ticket
There are several types of Milan Metro tickets and important things to know about using them.
Where to Buy Tickets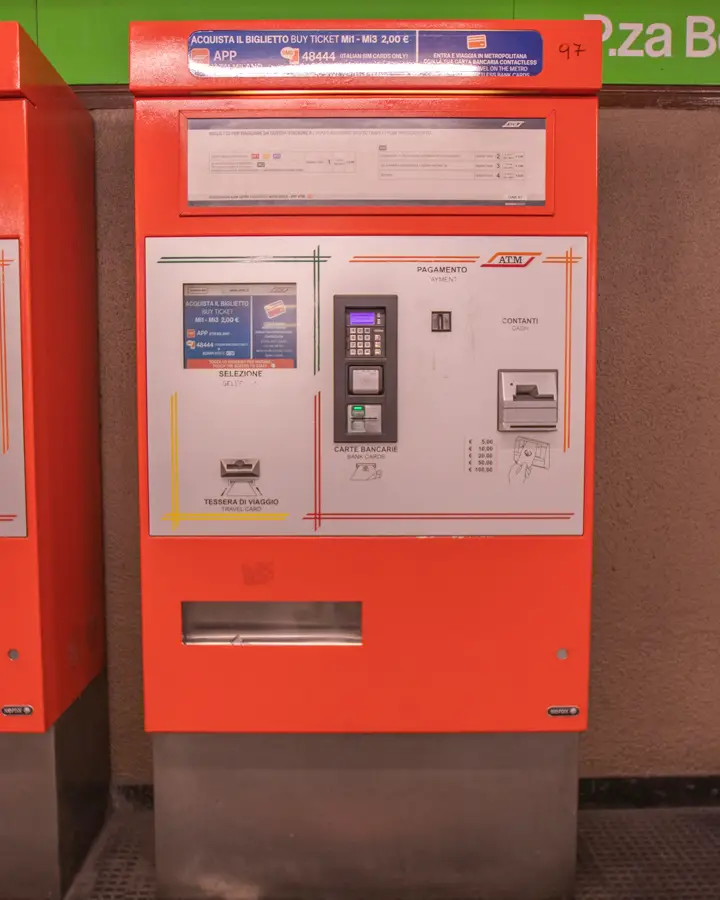 Underground station – The easiest place to buy them is at the big red machines in the station. The ticket prints on the spot. The machines take cash, coins, and credit or debit cards.

The machines are also convenient because you can input what language settings you prefer for the transaction process.
On the ATM app – Pay through the app and receive a QR code to scan at the turnstiles.

I honestly wouldn't recommend purchasing tickets on the app because it's just not as simple and easy as buying them directly at the station. What is nice is that the app provides a timer so you know exactly when your ticket is about to expire.
At bars, tabaccherie, and newspaper stands – If you prefer to buy the ticket from a person, most newspaper stands (edicola) and tobacco shops (tabaccheria) sell Milan public transport tickets. However, note that these places usually only take cash.
By SMS – If you have an Italian SIM card, you can text ATM to the number 48444. The cost is debited to your phone account.

More convenient than paying on the app but still not as simple as buying tickets at the ticket machines.
Good to know: The time frame of the ticket's validity starts at the time of purchase with this method, not at the time you scan it on the turnstile.
You can print tickets purchased via SMS at the ticket machines in the station.
Pay contactless (New!) – You can now go right up to the turnstyles and tap your credit or debit card on the reader to start your journey. Just tap the same card on the exit turnstyles to have a completely contactless metro ride. You can also use Apple Pay and similar services as long as it is attached to a card. Find out more info.
Pro Tip: Even though paying at the ticket machines is my recommended method for buying your tickets, it is not uncommon that machines are out of order. That's why it is good to know of these other options for purchasing your metro ticket.
Types of Milan Metro Tickets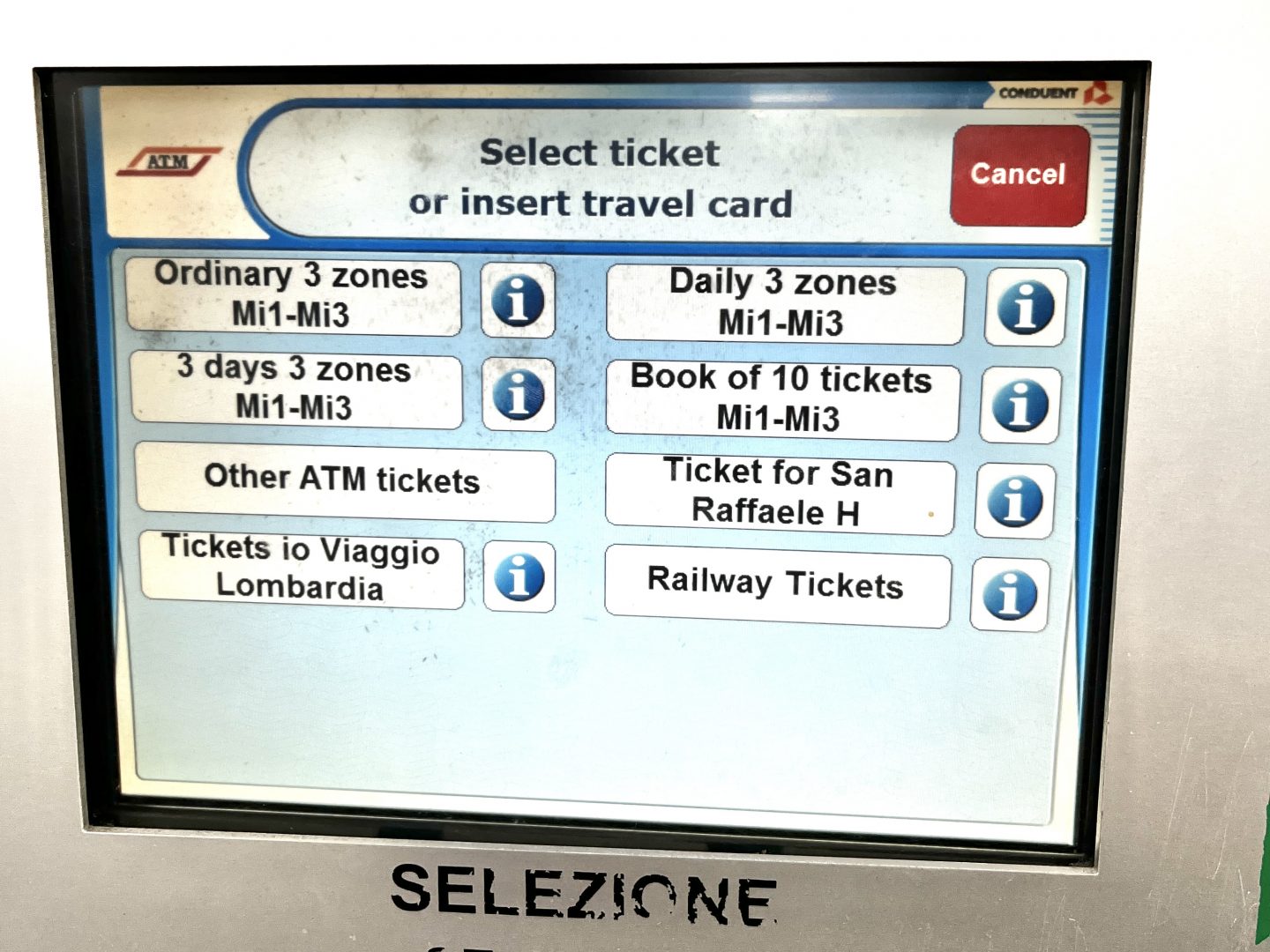 Here are the most common types of tickets available you'll be using:
Single-use ticket: Valid for 90 minutes, meaning you can take as many rides as you want 90 minutes from stamping your ticket at the turnstiles. Costs €2 euros. For this ticket, you would select Ordinary 3 zones on the screen, as you see in the photo above.
Daily ticket: Unlimited rides on the metro, valid for 24 hours from the time it is first stamped.
3 day ticket: Unlimited rides on the metro, valid for 72 hours from the time it is first stamped.
Book of 10 Tickets: Also called a Carnet 10 corsi, it is ticket that allows you 10 rides on the metro.
Milan City Pass: Also called the Milano Card, it is ideal for tourists who will frequently use public transportation. The travel card gives you unlimited access to all Milan transport for either 1, 2, or 3 days, as well as benefits like discounted rates on attractions restaurants and more. It's also convenient because you can buy the Milano Card online. I encourage you, however, to do your own research to decide if this is the option for you, as others have expressed concerns about the value of the card.
Under other ATM tickets, you'll find options for traveling to the outskirts of Milan. The symbols Mi1-Mi3 represent the innermost zones of the city.
The other options on the screen include io Viaggio Lombardia, which is a pass to use all public transportation throughout the region of Lombardy. Ticket for San Raffaele H means the ticket to reach the San Raffaele Hospital.
Pro Tip: Children up to 10 years old don't need a ticket to ride the subway in Milan.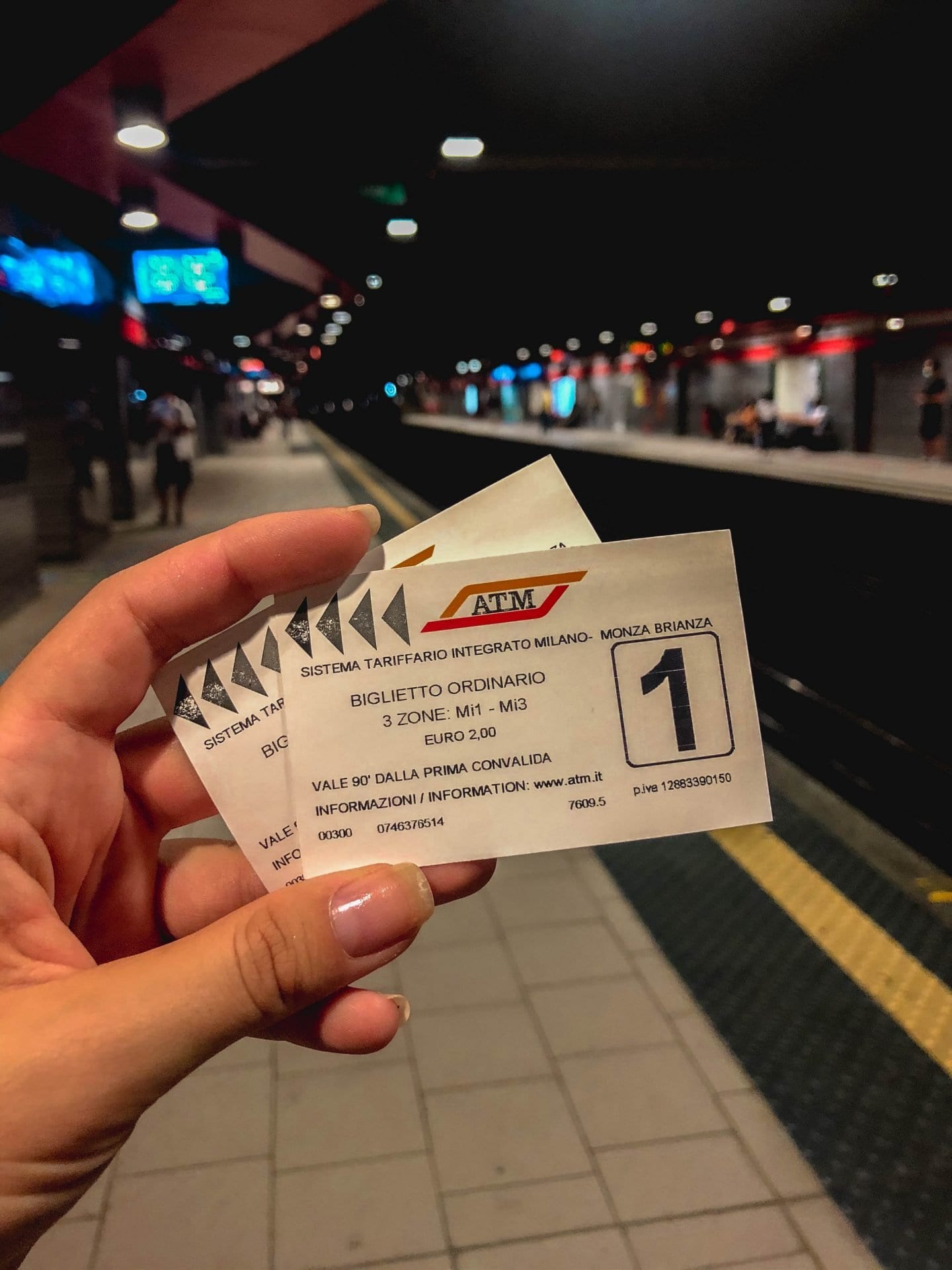 Pro Tip: Your Milan metro ticket can be used on trams, buses, and the city's characteristic trolley cars too!
---
Navigating the Platforms & Subway Lines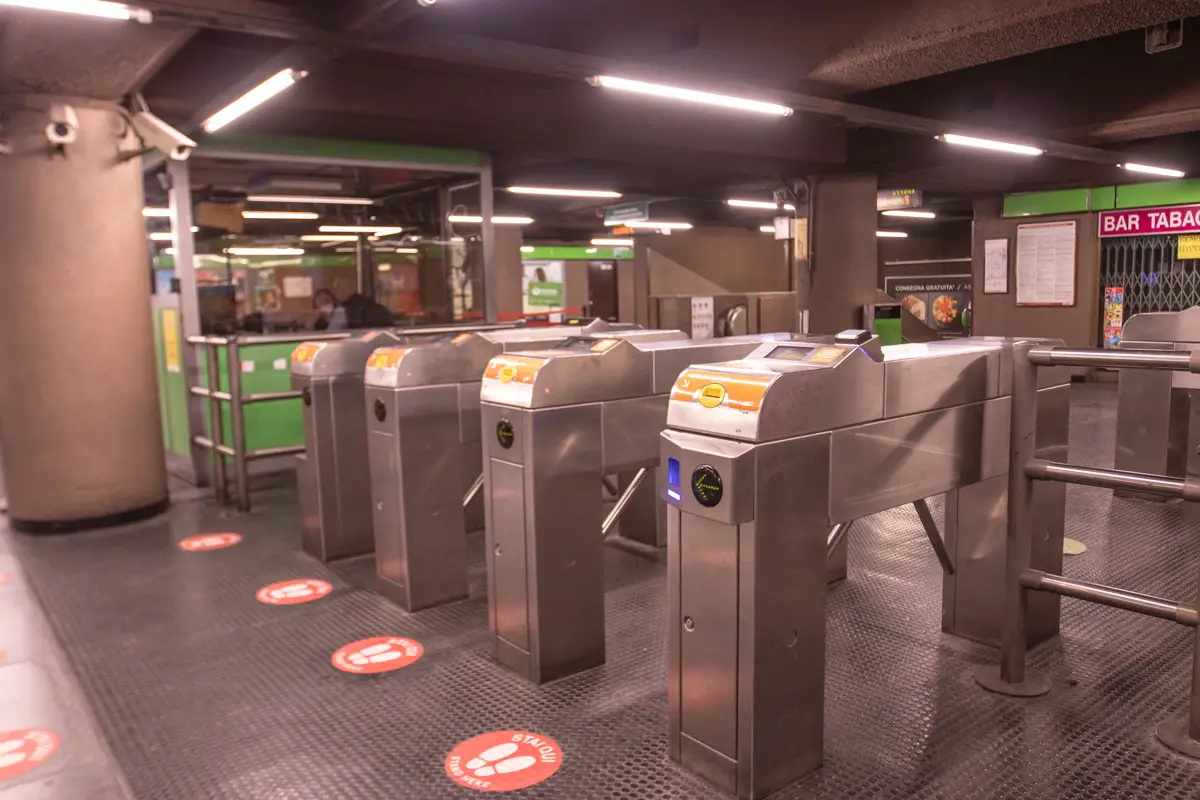 The Milan subway may only have a few lines but you can still easily be overwhelmed when entering a station, especially if it is busy.
Good to know: There are stickers on the ground and signs above that have the line and symbol (M1, M2, M3, M4, M5) to help you know where you're going.
To get down to the platforms, you will have to get past a set of turnstiles. Here you will insert and validate your ticket. It will be stamped with a time, which is the time you will reference for how long your ticket is valid for (90 minutes for single ticket, 24 hours for travel pass, etc.)
When you make your way down to the platform, it is not only important to double check you are going to the right line but also to the train moving in the right direction.
For example, the M3 line has subways that go north and subways that go south. All you have to do is locate on the map next to the stairs (before descending to the platform) if your stop is highlighted on the map. If it is not highlighted in the line's color, that means you have to go to the other platform which is traveling in that direction.
The platforms can either be right across from each other or separated by the tracks.
Help Resources
Pro Tip: ATM at the Milan subway does not mean an ATM where you can withdraw money. It stands for the operating company's name – Azienda Trasporti Milanesi!
ATM Points are info points where you can carry out a variety of tasks: get information, buy tickets or yearly passes, subscribe to BikeMi, Milan's bike sharing service, etc. You'll most likely use them to get more information and get directions in case you've ended up in the wrong spot.
ATM points are located in the following stations:
Duomo (M1 and M3)
Cadorna FN (M1 and M2)
Centrale FS (M2 and M3, Milan's main train station)
Loreto (M1 and M2)
Garibaldi FS (M2 and M5)
Romolo (M2)
Another resource you can take advantage of is the ATM app, which can provide timely information like planned maintenance.
---
Entering, Exiting, and On the Metro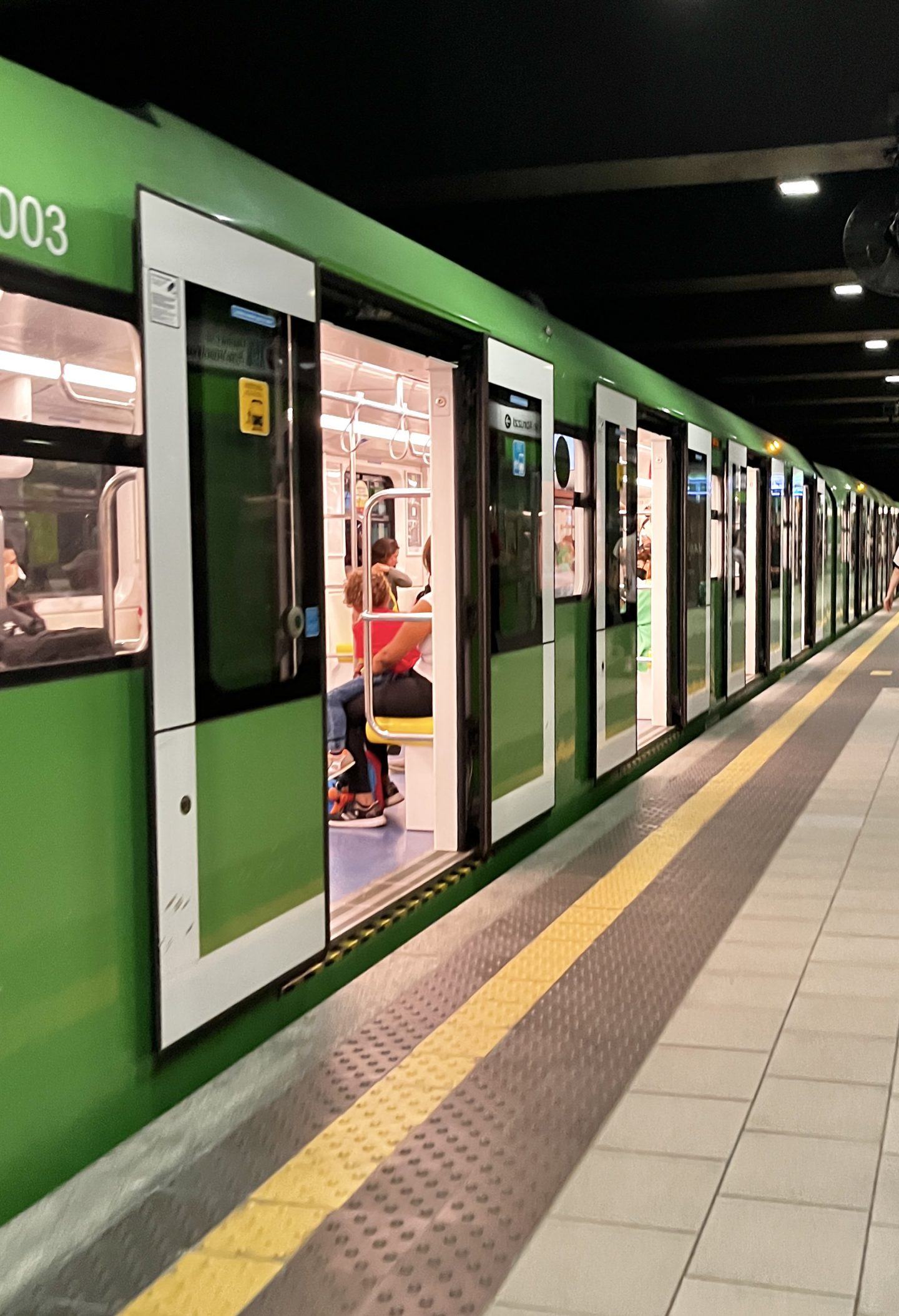 A subway arrives typically every 2-8 minutes depending on the time of day. You can see exactly when it's arriving once you're on the platform. There are screens overhead that indicate how many minutes remain before the next subway arrives.
The interior of the metro is well-kept and you can sit or stand while holding onto the poles. It's generally a smooth (but fast) ride, however, I still recommend holding onto something if you're standing.
Once you're on the metro, the systems make it very easy to know what stops are coming up next. Above the doors is typically a map of the stops on the metro line you can use for reference. On newer metro trains, there are actually TVs that show you what the next stop is. And on top of that, a speaker calls out each stop in Italian and English – all you have to do is pay attention!
Whether you enter and exit on the right or left depends on the station, so it's good to listen to the stop announcements to know which side you should prepare to exit from.
Pro Tip: Have a travel-sized hand sanitizer on hand. I've never seen hand sanitizer stands in the stations and the metro is a high contact place.
---
Most Popular Stops and Locations along the Metro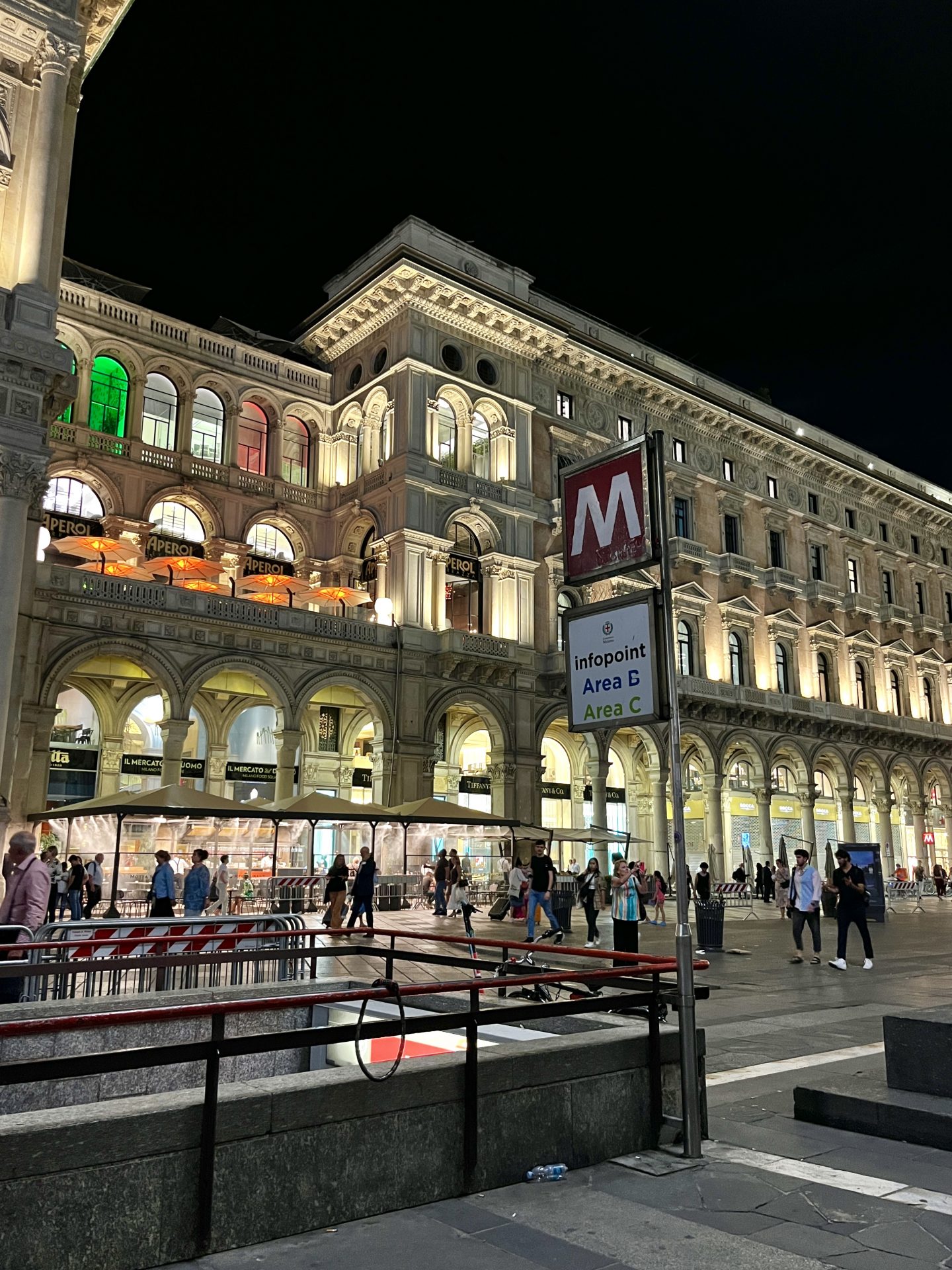 Piazza Duomo & Duomo di Milano
Galleria Vittorio Emanuele II
Milano Centrale
San Siro Stadium

Stop: San Siro Stadio DAZN (M5)

Porta Nuova District

Stop: Garibaldi (M2 & M5)

Navigli
Castello Sforzesco
---
Using the Metro Beyond the City Center
Airport Transfer
Curious about using the Milan Metro as an airport transfer? It won't get you all the way to Milan Malpensa or Milan Linate Airport, but there are several ways you can use the metro for part of your journey.
When looking at the map, you'll want to look at any of the stops with a plane symbol next to them. The symbol 73 + plane is the line for Linate airport.
Any symbol with a bus and plane means there are airport shuttle buses near that metro stop (that go to multiple airports like Linate, Malpensa, and even Milan Bergamo Airport.)
And finally if you see a train symbol with a plane symbol, that is the Malpensa Express, which can take you directly to Malpensa airport.
Reach Nearby Cities
The Milan Metro also operates alongside intercity railways, a convenient transportation option for taking local day trips from Milan. The suburban railways connect you to places like Lake Como, Pavia, and Chiasso.
These railways are accessible from these metro stations: Lancetti, Porta Garibaldi, Repubblica, Porta Venezia, Dateo, Porta Vittoria.
Connect to All of Italy
Meanwhile, if you are traveling more of Italy by train, you can use the metro to get to any of the stations in Milan. Just check your train ticket to confirm the station and then look at the metro map to locate the correct stop. All the train stations connected to the metro have a train symbol next to them.
Metro stops that are also train stations have an FS written next to their name, but some of the main train stations are:
Milano Centrale
Lambrate
Porta Garibaldi
Cadorna
Porta Genova
---
Tips for Taking the Milan Metro
If you can, avoid using the metro during high-traffic times, like rush hour on weekdays. Or, as a more unique example, when AC Milan or Inter, the city's soccer teams, have a game! (Personally experienced this chaos!) The ATM operator company actually has signs to encourage people to take the subway on off-times if they can because of how high-traffic peak times get.
Move quickly. Stops are brief and when the metro and platforms are full of people, it is important to stay sharp and quick exiting and entering the subway. (I literally saw someone get smushed by the doors one time – as you can imagine, it looked like it hurt. Don't let that scare you – just reminding you to stay attentive and quick!)
Keep your ticket on hand. As I mentioned before, you must hang onto your ticket because you'll need it to exit the subway station. It's best to keep it close on hand so you don't have to rummage through your things to find the small piece of paper.
---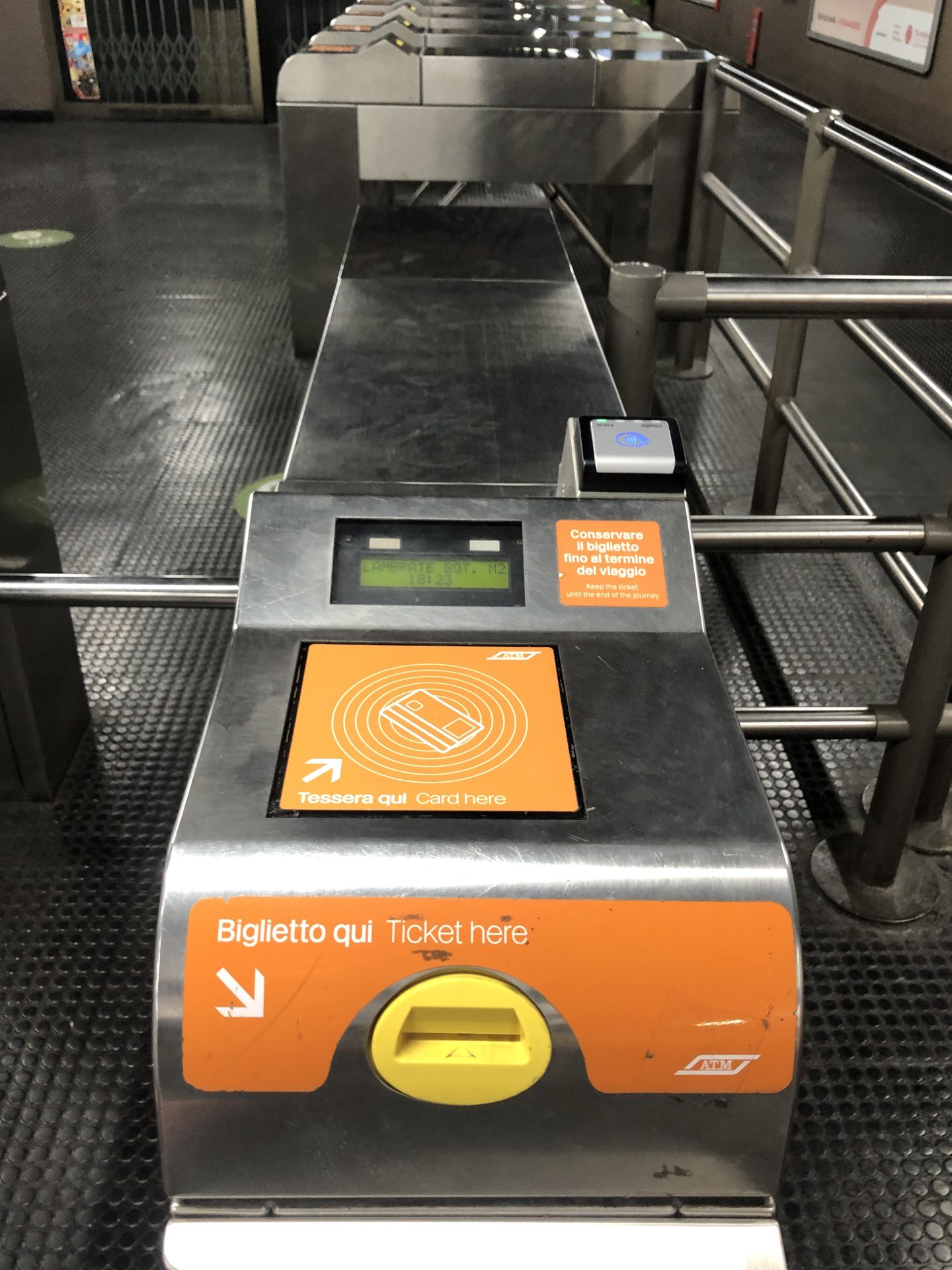 Italian Words to Know for the Metro
You are almost a Milan metro pro! Most everything is translated to English on the metro, but it will still be helpful to know some key words.
Here are some Italian words to sharpen your vocabulary and really master the metro. (Side note: Italians call the metro, metro, so you shouldn't have any translation issues there!)
Biglietto – Ticket
Binario – Platform
Uscita – Exit
Fermata – Stop
Nord– North
Sud – South
Est – East
Ovest – West
Metropolitana – Subway (the full term)
Stazione Ferroviaria – Train station
---
Final Thoughts
The Milan Metro can be an intimidating place for first-time visitors. Although a lot of it is straightforward, the overwhelm of a new city and travel worries can get the best of us and easily knock us off our travel game!
That's why I hope this guide to using the Milan Metro has helped shed some light and prepare you for your upcoming trip.
It's fast and convenient and ultimately is the easiest way to see many places in Milan even in a short period, so I highly recommend you give the underground a try to make the most of your itinerary.
What's on your Milan bucket list? Let me know in a comment!
Save this guide for reference on Pinterest!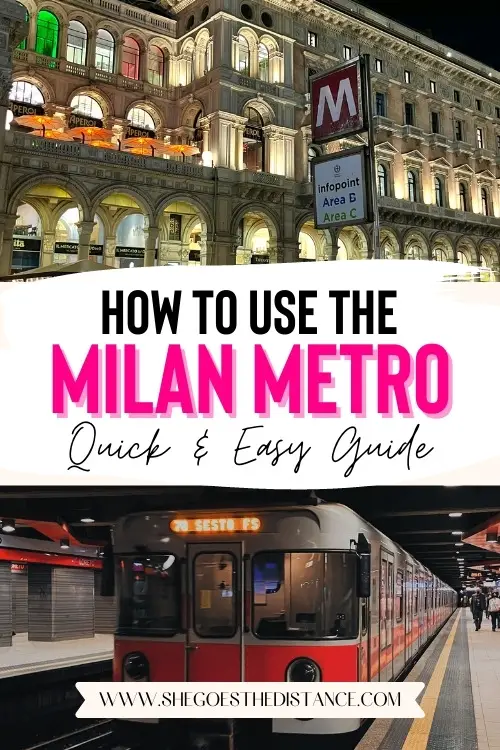 Now you'll be using the Milan Metro like a local in no time!
XOXO
Michela