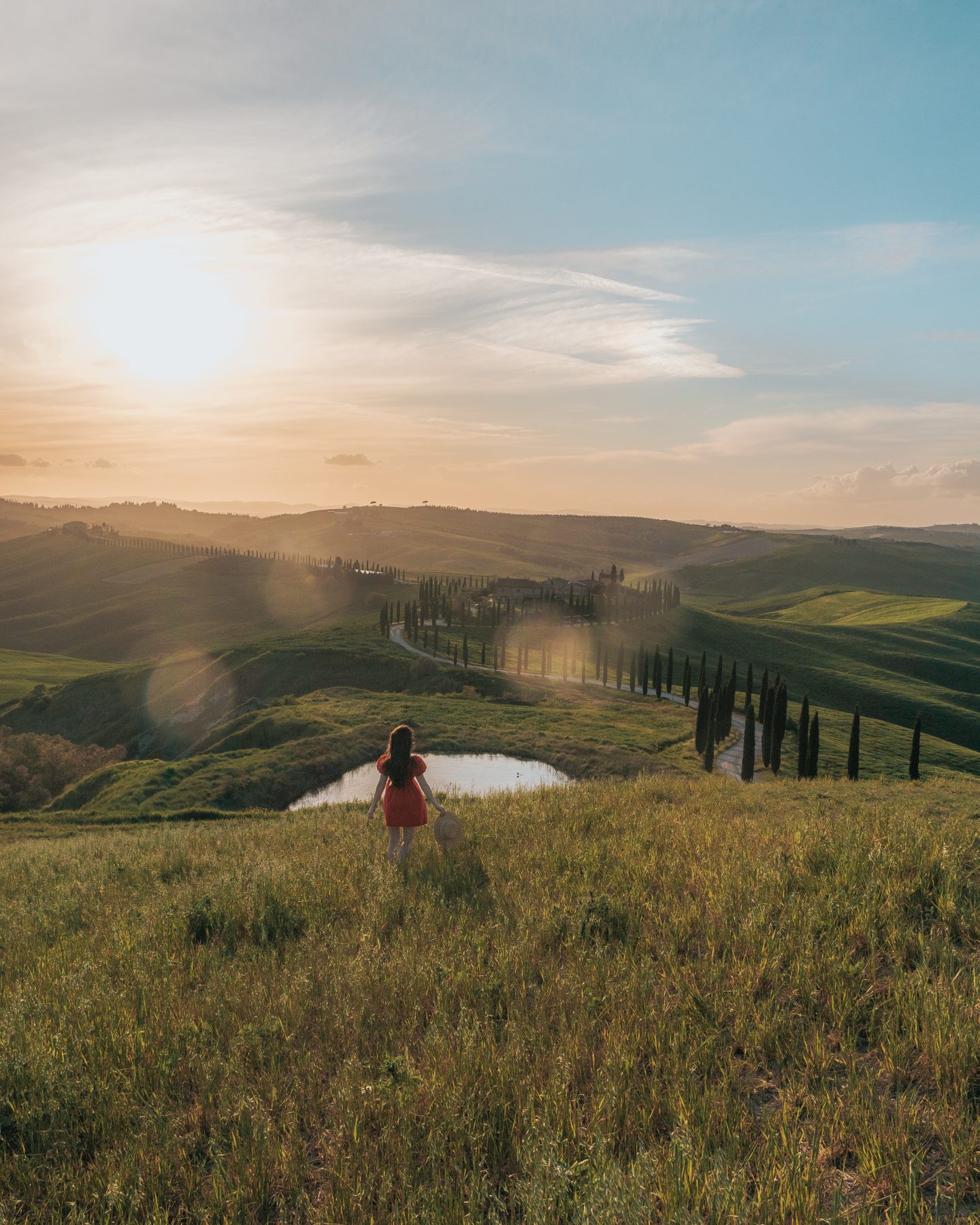 Last Updated on September 17, 2023
The Tuscany countryside is one of the most iconic landscapes of Italy, Europe and the world. Everyone recognizes the soft, rolling green hills dotted with poised cypress trees and rustic villas, nestled between medieval, terra cotta villages. If you are planning your bucket list trip to Tuscany, these are the 12 places you absolutely cannot miss.
Some of these links are affiliate links. This means if you make a purchase through that link, I receive a small commission at no extra cost to you. Read my full disclosure!
1. Pitigliano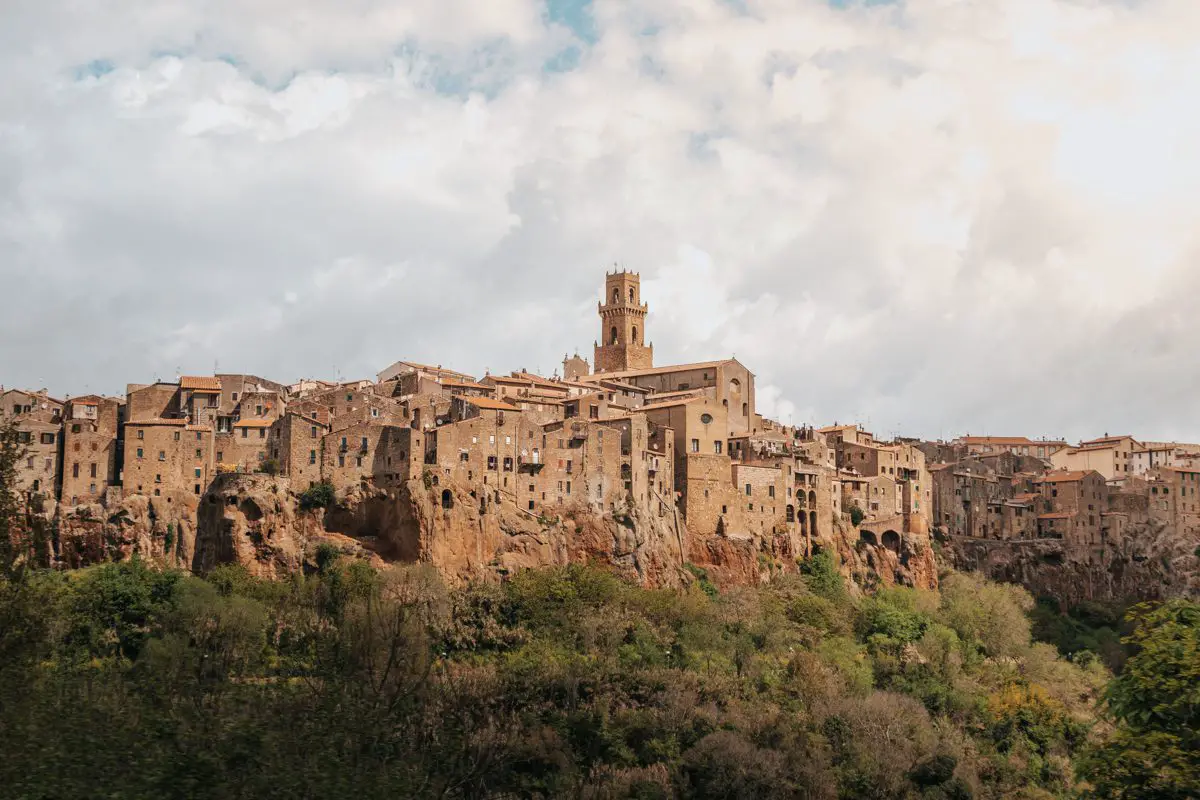 We are starting this guide in the very south of Tuscany, along the border with the region of Lazio. Pitigliano, Italy is one of the most beautiful villages of Tuscany, rising up from a forested valley and built from volcanic rock, which gives it the name of the "City of Tufo".
Pitigliano has a unique history. The town was a refuge for Jews coming from Rome, and so its Jewish community heritage is a significant part of the culture, from the old synagogue to the typical dessert, sfratto.
2. San Gimignano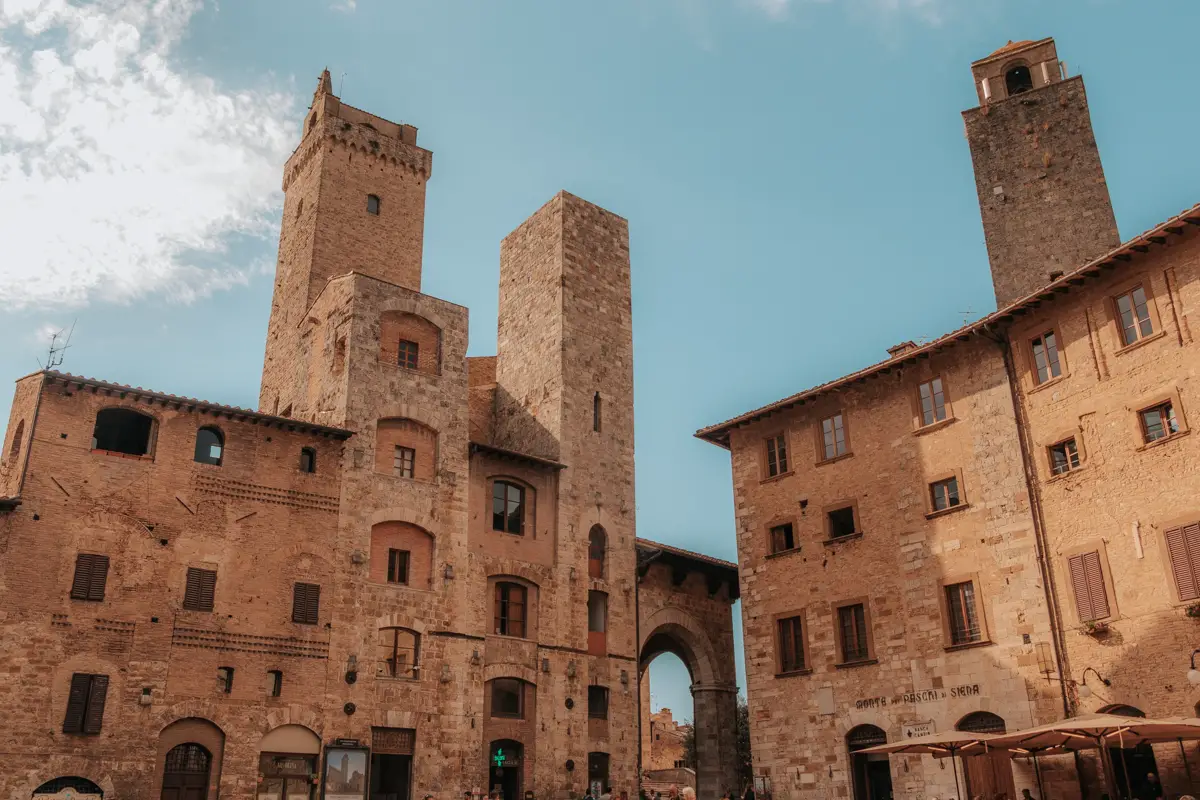 San Gimignano is one of the easiest day trips from Florence or Siena, just one hour away by car.
The medieval town is known for its towers, what would be considered skyscrapers in their medieval era origins. One of my favorite spots in San Gimignano is the Rocca di Montestaffoli, the ruins of a castle on the town's edge. Here, you will find an open tower that gives you a sweeping view of the Tuscany countryside and of the town's skyline.
3. Volterra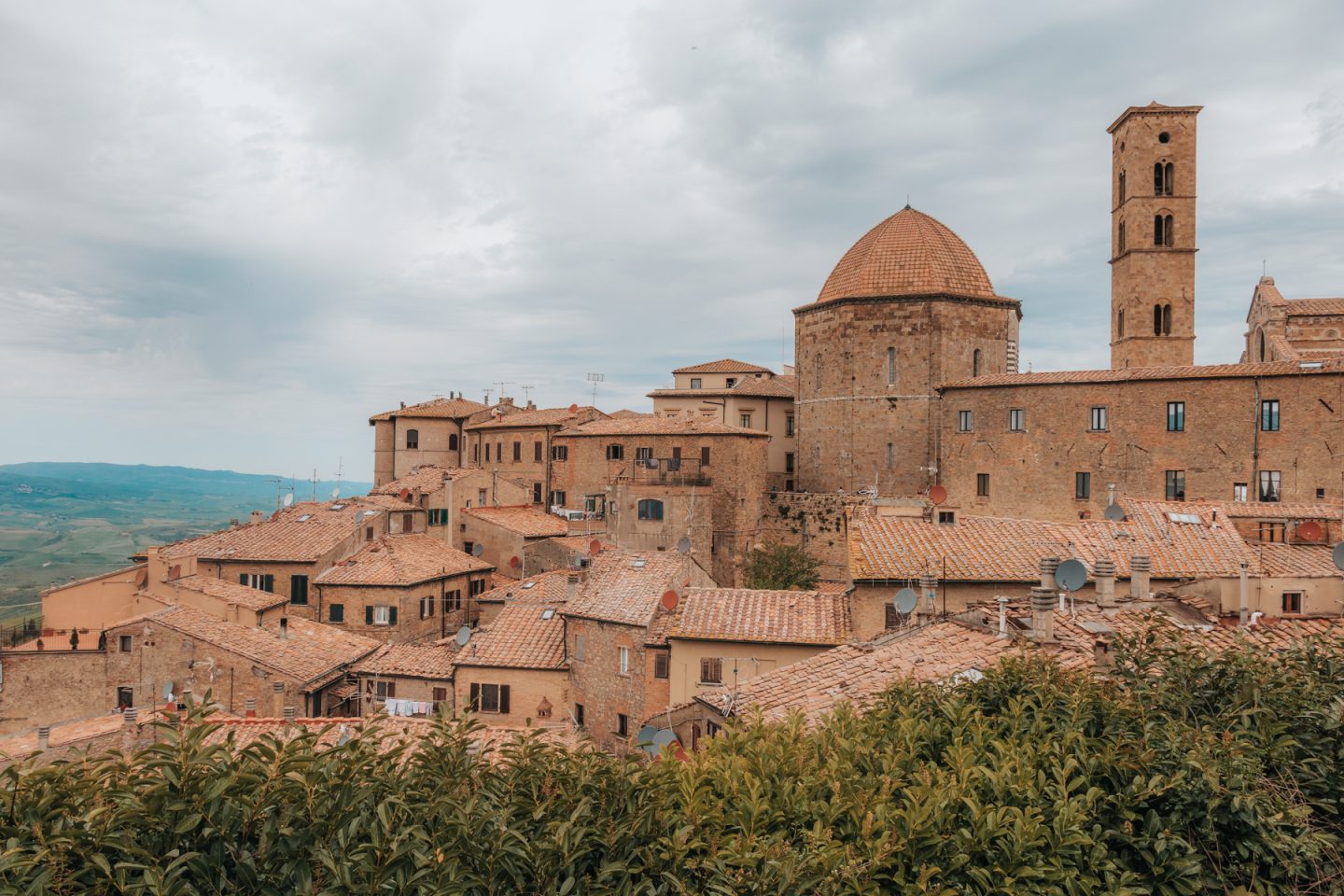 Volterra is another town that is close to Florence, making it a more convenient day trip option for travelers wanting to visit the Tuscany countryside, but that don't have a lot of extra time on their itinerary.
The hilltop town is incredibly impressive as you drive up the curvy road to reach the summit. It is painted a burnt orange that creates a stark contrast from the surrounding green hills.
Volterra has Etruscan origins, predating Roman times, so you can feel every ounce of history walking the narrow streets and past ancient ruins.
4. Lucca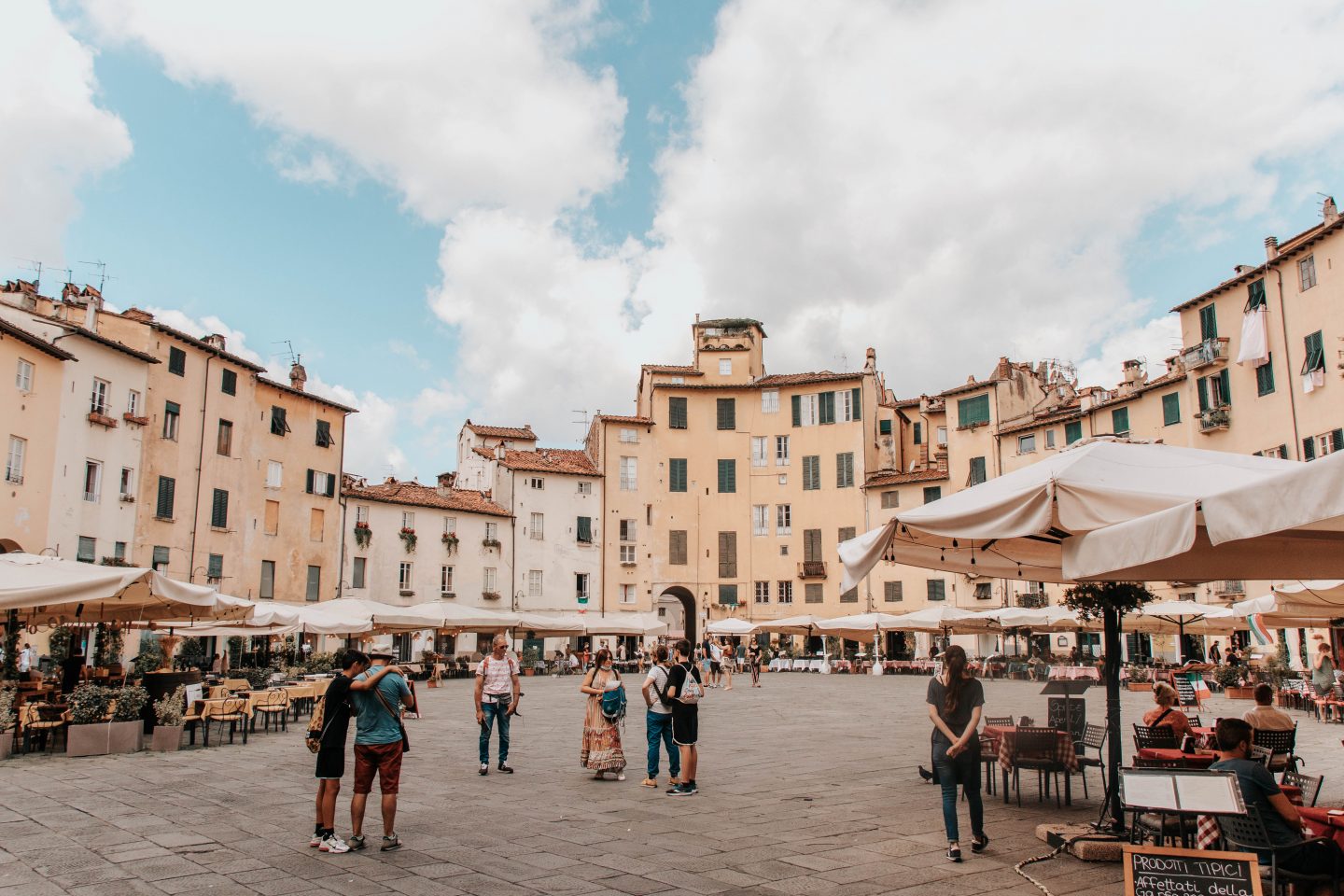 While most picture the standard Tuscan countryside landscape as bare, rolling hills, Lucca, Italy is nestled in an area much closer to the coast and the Parco Alpi Apuani, with dense forests, tighter and taller hills and umbrella pines.
It is completely unique to other beautiful countryside locations and, thanks to being well-connected to Florence by public transportation, it is also one of the easier day trips to plan if you are tight on time and are traveling without a car.
Lucca is a walled, medieval city set in a fertile plain. Once you enter the gates, you are transported into a maze of narrow streets that open into large squares, including the unique Piazza dell'Anfiteatro, which is shaped as an oval.
Lucca's many churches are one of the most characteristic things about the city, and the striking facade of Chiesa di San Michele in Foro is not to be missed.
The last quirky thing about Lucca? It has towers that grow trees! The Torre Guinigi has a park located on top with large oak trees. Get the best view of it by walking along the top of Lucca's medieval walls.
5. Monteriggioni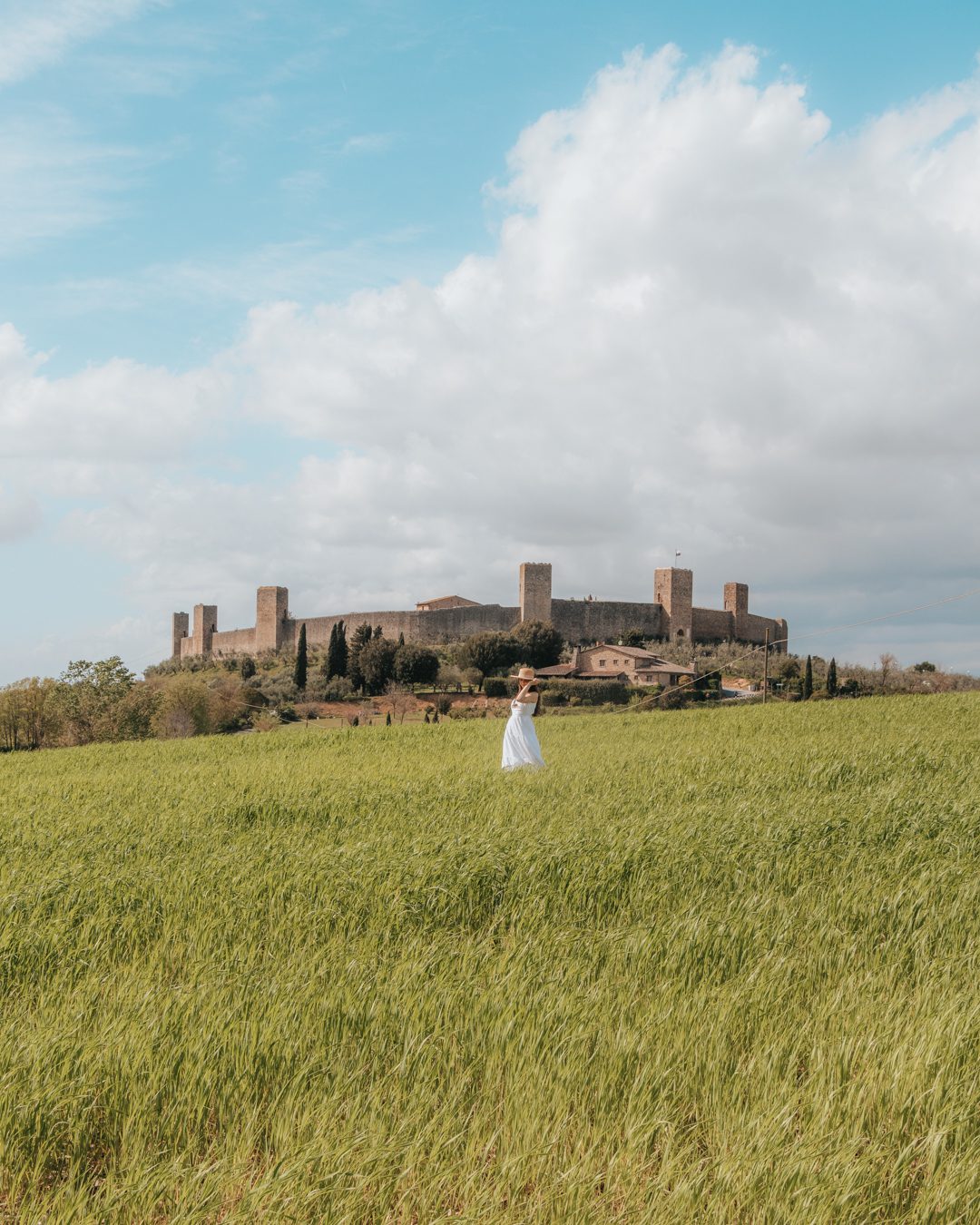 Monteriggioni, Italy is one of those towns that is so small that it is impossible to spend more than a few hours in, yet so interesting that it is impossible to skip.
This is one of the best preserved medieval villages in all of Italy. Its fortress walls that encircle the small village center are completely intact. You really get this sensation that you are walking back in time while you visit.
Monteriggioni is a stop on the ancient Via Francigena, a pilgrimage route from Cambridge, England that people traversed all the way down the boot of Italy.
And final fun fact: Monteriggioni is one of the locations in the world famous video game series, Assassin's Creed.
6. Saturnia Hot Springs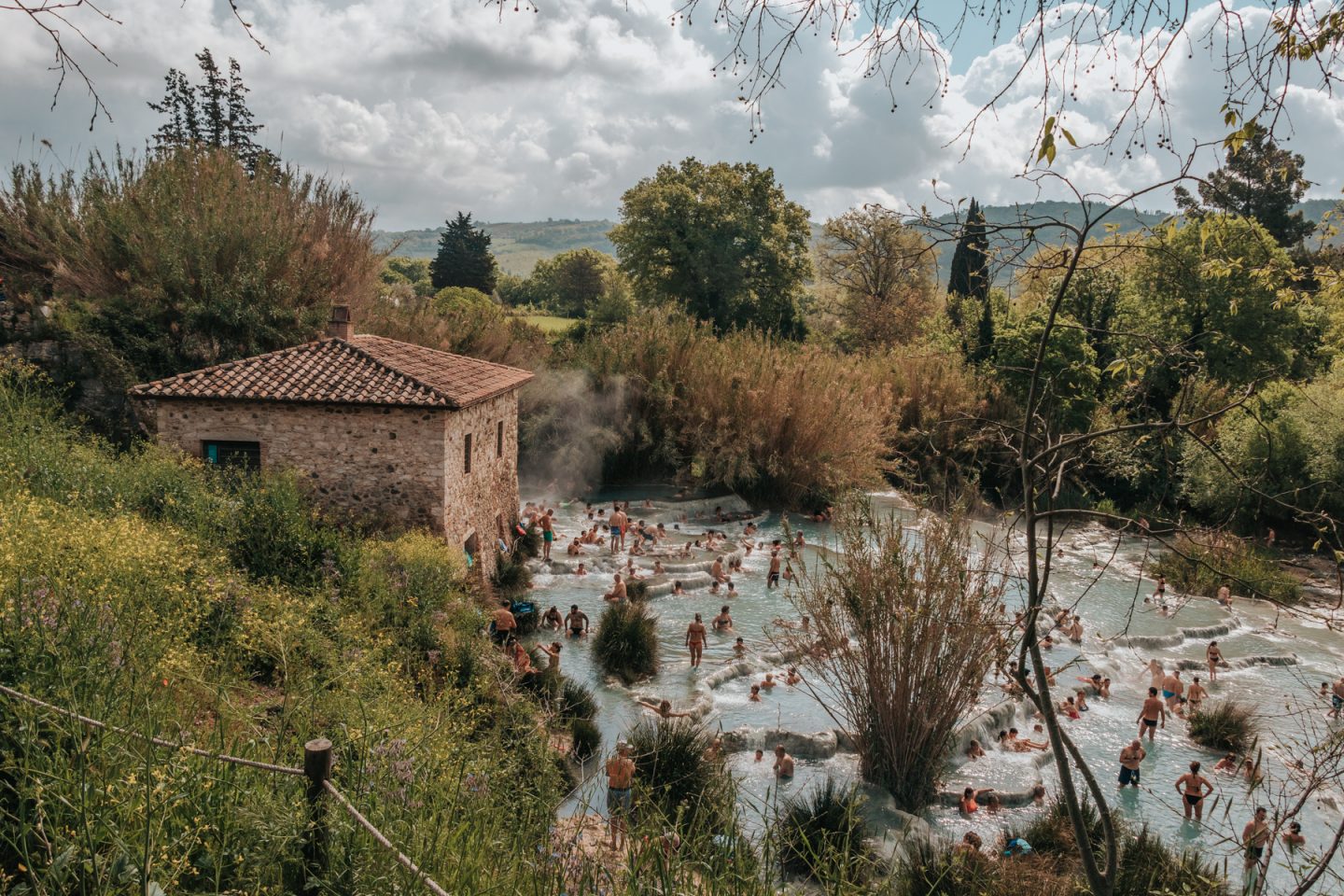 The Tuscany countryside is a whole lot more instagrammable thanks to the rise in social media popularity of Saturnia hot springs.
Saturnia is a town in southern Tuscany. It is not the easiest to reach by public transportation, so having a car is important if you want a seamless visit.
Saturnia is now famous and booming thanks to social media for its aesthetically pleasing and vibe check-passing hot springs. These thermal baths are all natural, with their crystalline blue water and white sulfur pools. Locals and tourists alike love the mineral-rich water for its skin benefits and, of course, the ultimate relaxation experience.
Learn everything you need to know about visiting in my Saturnia hot springs guide.
7. Pienza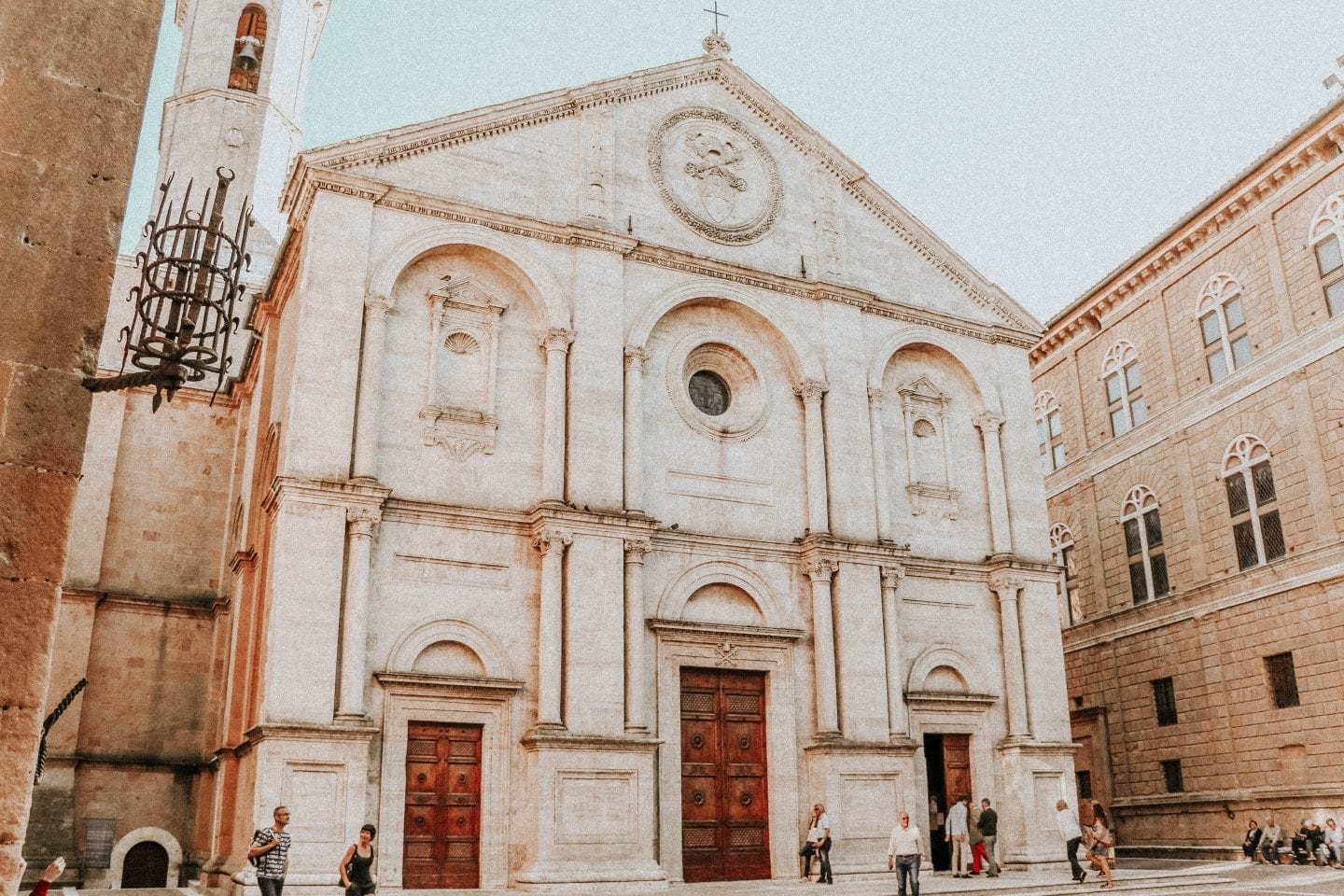 If I had to pick one town that embodied Tuscany countryside, it would be Pienza.
This village is quaint, perched on a hill in Tuscany's most beautiful valley, the Val d'Orcia and provides everything you think of when Tuscan countryside comes to mind: sweeping views of the iconic landscape, homely, comforting food in quaint trattorias, narrow, cozy streets, and milky, terra cotta architecture that speaks to a long, rich history.
The town is home to Pope Pius II, so many of the buildings and squares are in his honor.
The Via dell'Amore is one of the most iconic places for views in Tuscany, a boardwalk wrapping along the hilltop town of Pienza and looking down on the vast Val d'Orcia valley.
8. Panzano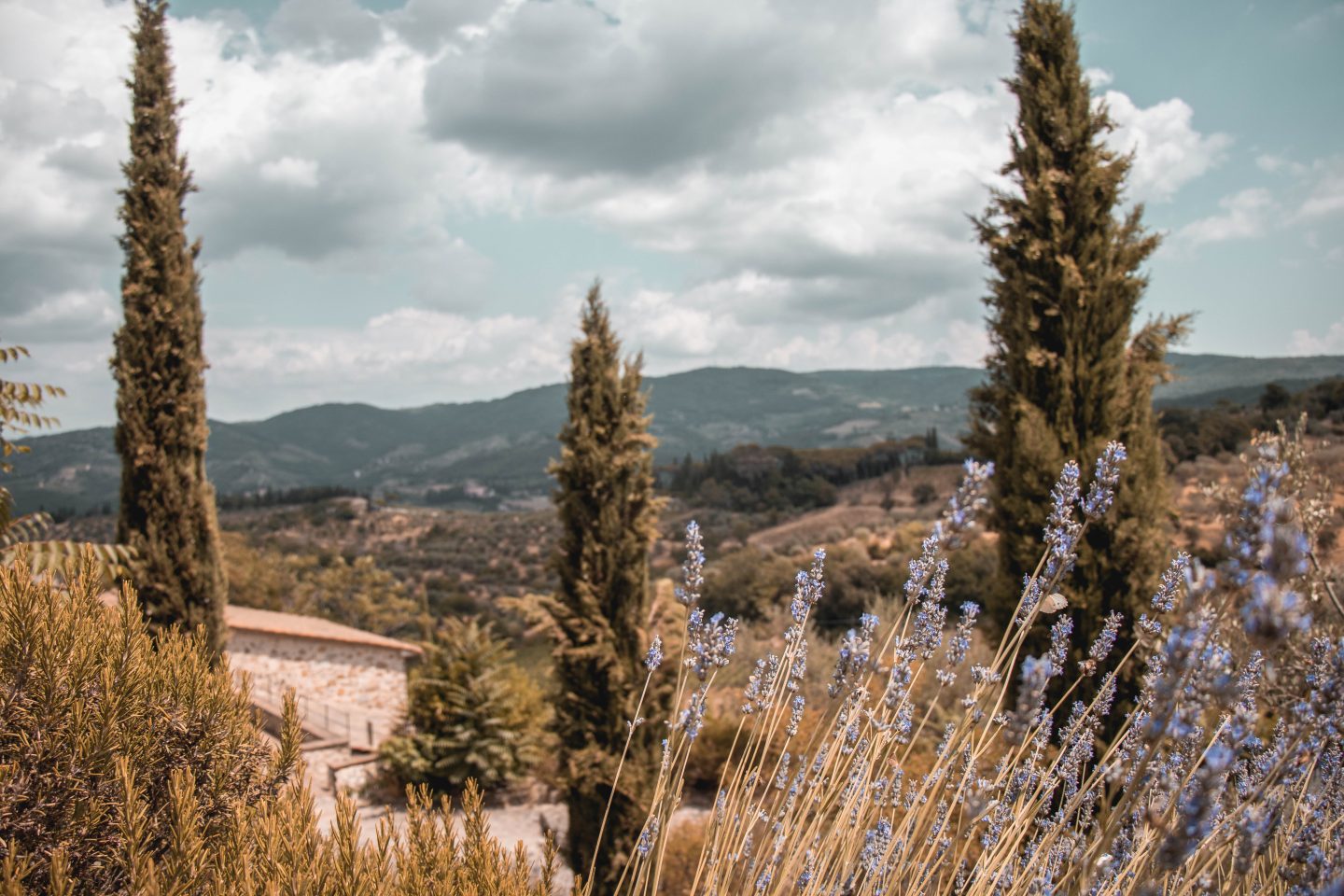 Closer to Florence and nestled in the heart of Tuscany's most famous wine-producing region, the Chianti area, is Panzano.
Panzano is famous for Chianti wine, so there is no shortage of wine tasting and vineyard-exploring experiences.
The town is reachable from Florence by bus, which makes it a convenient location for a day trip.
I recommend lunching at famous butcher Dario Ceccini's Antica Macelleria for the best of Tuscan meats, or at Ristorante Oltre Il Giardino for some of the most pinch-me lunch views I have ever had in my many years of traveling Italy.
9. Crete Senesi & San Quirico D'Orcia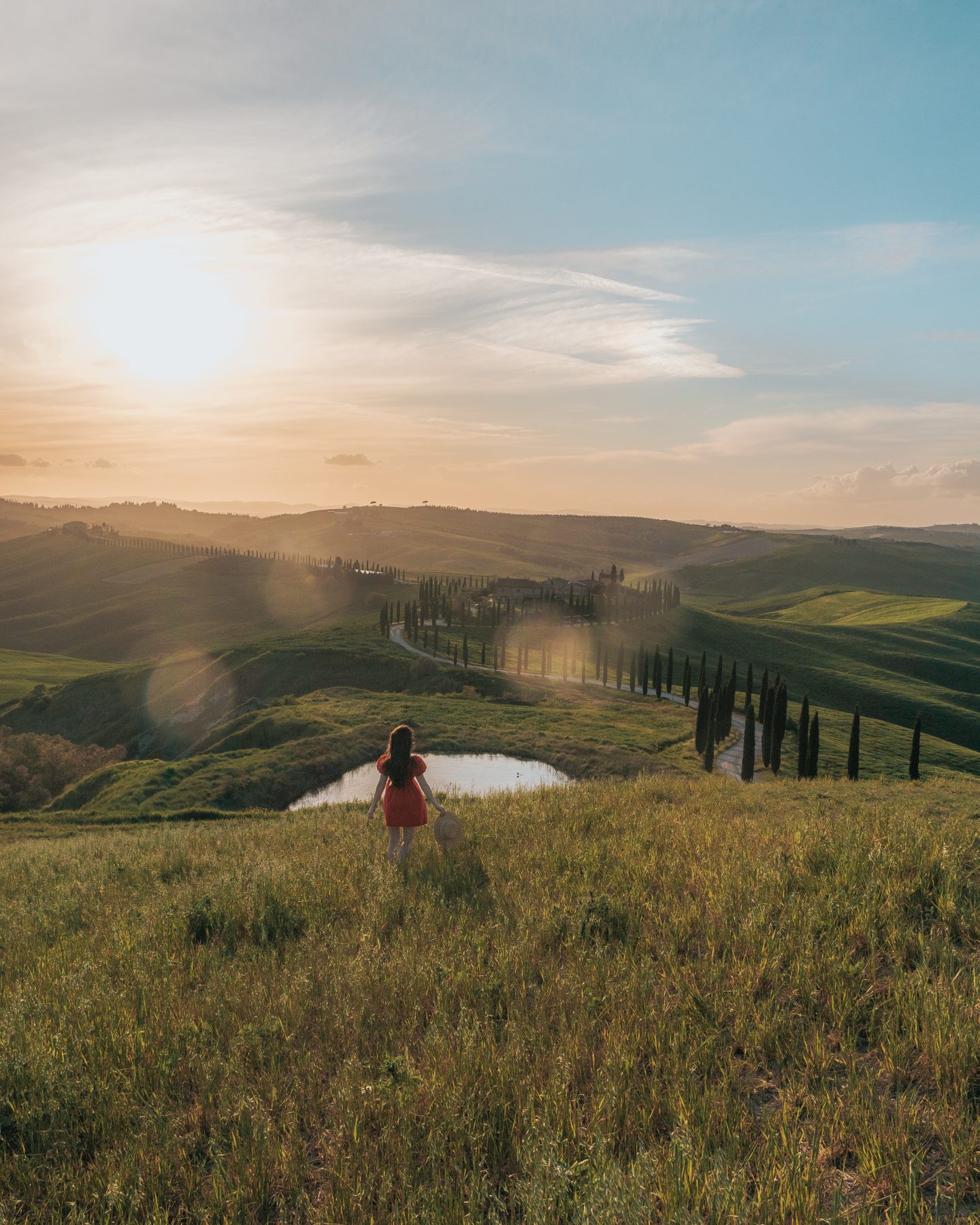 Near Pienza in the Val d'Orcia are a host of locations that speak to the beauty of the Tuscan countryside.
The Crete Senesi is one of these areas, famous for cypress trees. The most iconic spot is Agriturismo Baccoleno. Here, photographers and tourists gather to get epic photos of the cypress trees lined along the villa's windy road among untouched grassy hills.
Another area is San Quirico D'Orcia. Here you will find two sections of cypress trees gathered in a circle in the middle of nothing, making for a unique photo opportunity.
10. Bagni San Filippo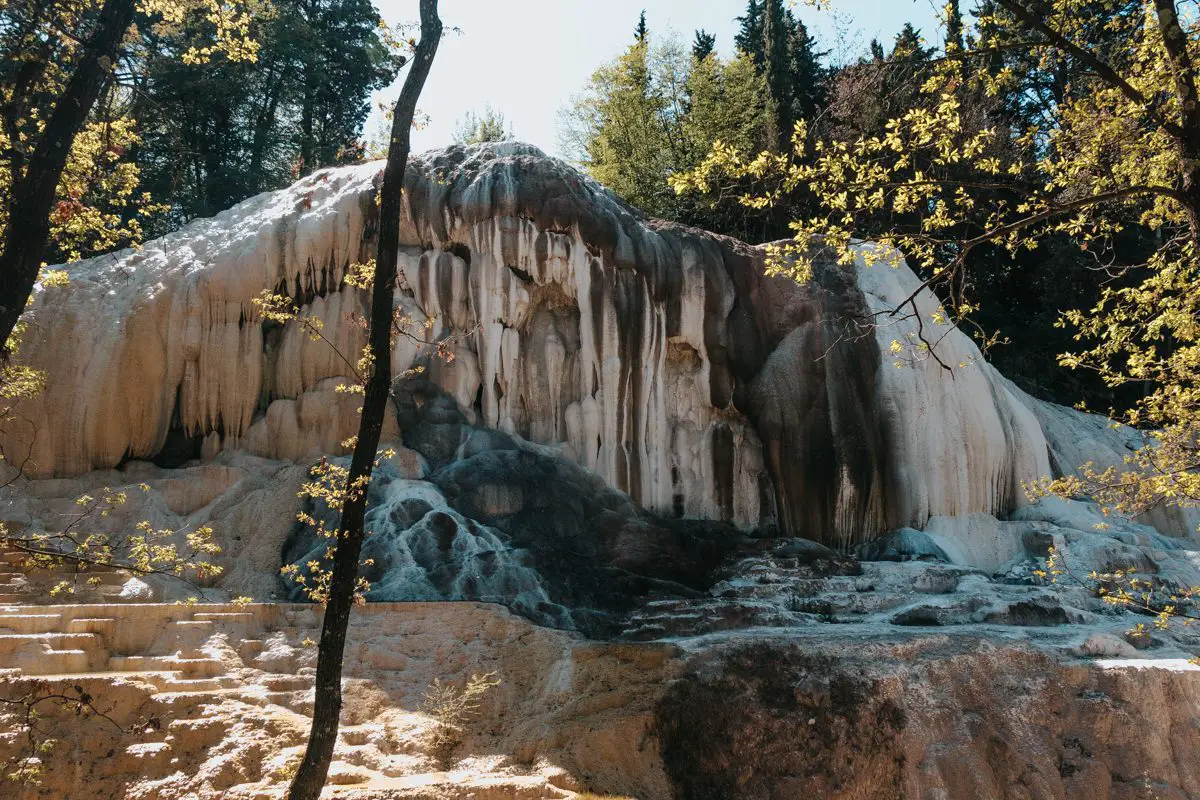 If hot springs are one of your top things to experience in Tuscany, then add Bagni San Filippo to your bucket list.
These thermal pools are more wild and natural than those in Saturnia, which also makes them a little bit more messy. But the completely unique landscape, characterized by the massive rock formation, Fosso Bianco (pictured above), makes even a little bit of mud completely worth a visit.
For the best experience of these springs, arrive early and make your way down the spring river, since crowds tend to gather near the top of the pathway at the first pools.
11. Abbey of San Galgano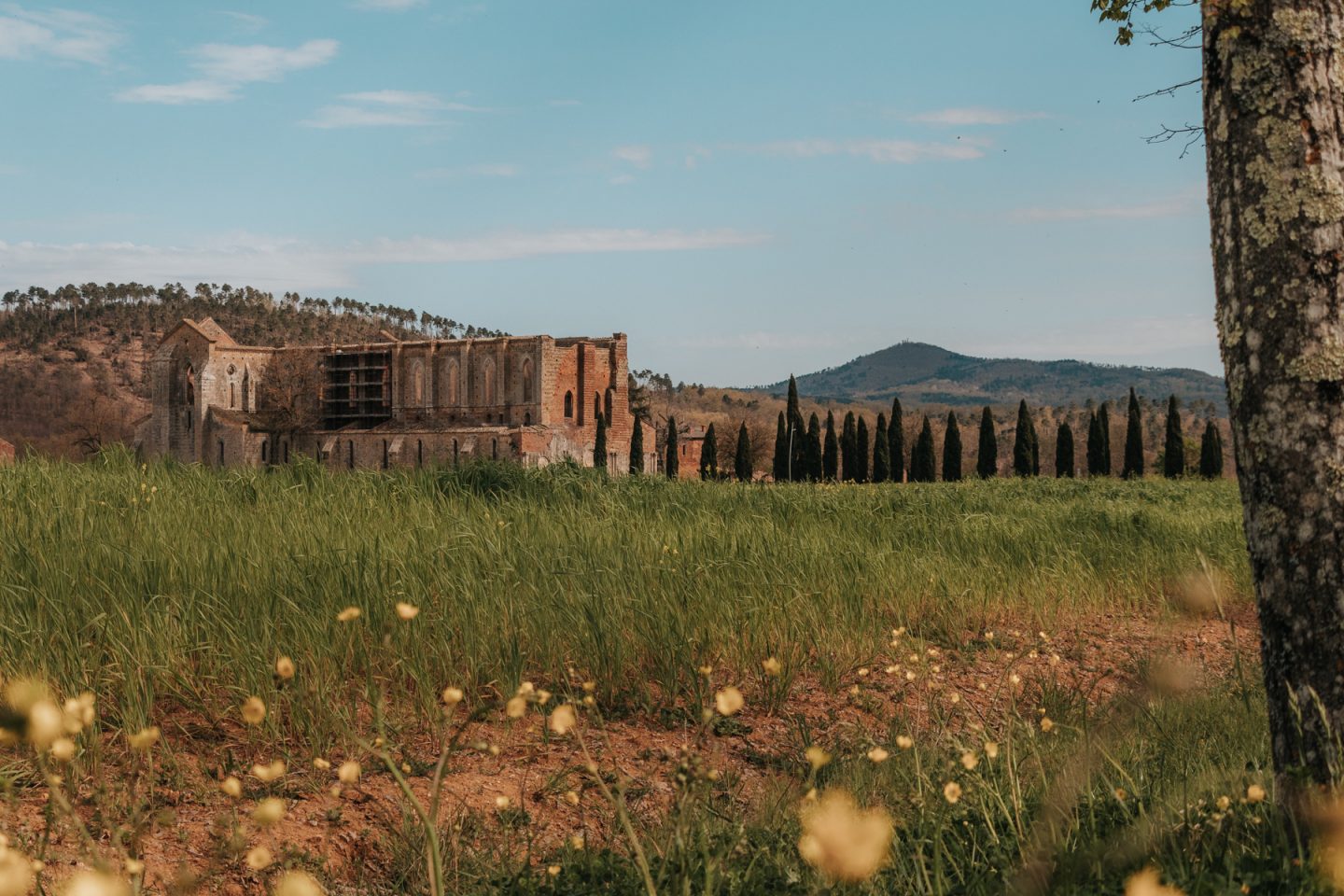 One of the most beautiful, secret places in the Tuscan countryside is the Abbey of San Galgano.
Nestled between the hills and plains of central Tuscany is this majestic building, the ruins of a 13th century Gothic church. Hauntingly stunning, the ruins are one of the most interesting places to visit to discover a unique piece of Tuscany's history.
Discover how to have the best visit in my guide to the Abbey of San Galgano.
12. Montepulciano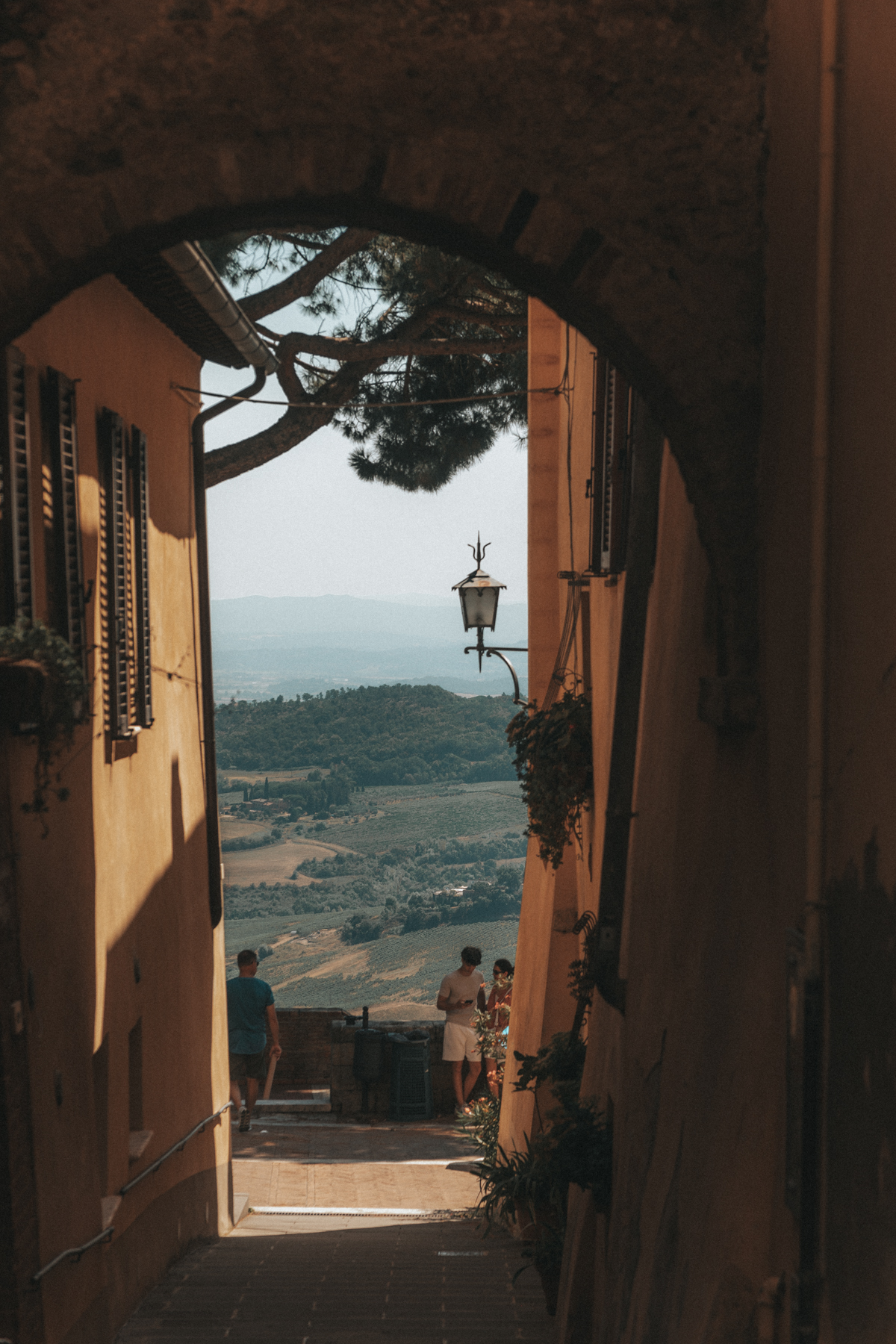 Last but not least, a must-visit in the Tuscan countryside is Montepulciano.
I had been to Tuscany multiple times and on my last visit I really thought "I don't need to see Montepulciano, it is just like all the other towns." I couldn't be more wrong!
Montepulciano has striking charm that comes in the form of a very steep, bustling city center that is like this cauldron of Tuscan culture. From the main square at the very top of the hill to the windy, panoramic streets, it is a can't-miss on my list of Tuscany towns to visit.
If you are visiting Montepulciano and are looking to stay in the area, I highly suggest Poggio Olivo.
---
Tuscany Countryside Travel Tips
The Tuscan countryside is a vast area of central and southern Tuscany. There are many places to make your base in Tuscany for exploring.
Stay in a characteristic agriturismo
If you are traveling throughout Tuscany, you must spend at least one night in a typical agriturismo, or farm stay.
These farm stays are typically rustic villas in the countryside surrounded by farmland, olive groves or vineyards. There are usually only a few rooms, or you may get the entire villa to yourself. There are some agriturismo that fall into the luxury category, but there are also many that you can stay in for $100-200 per night.
Here are some of Tuscany's cutest agriturismo:
There are so many agriturismo to choose from that these are just the few that come to mind that I have either seen in person or stayed at. You will have your pick of pretty villas where to spend your nights in the Tuscany countryside!
Travel by car
The best way to explore the Tuscany countryside is by car. Not every one of these villages or areas is connected by public transportation, and even if they are, it is often not a direct route. So, you are looking at long travel times and increased chances of making a travel mistake.
This is why it is best to rent a car for exploring the Tuscan countryside. Not only will you have a more efficient itinerary and be able to see more places, but you will also have way more freedom to customize your itinerary as you go, staying longer in places you fall in love with or maybe going off the beaten path to explore on your own.
Pro Tip: Check out everything you need to know about driving in Italy.
Taste the typical meals and wines of Tuscany
No trip to Italy would be complete without trying the local cuisines of the regions in which you are traveling. Here are some of the typical food native to Tuscany:
Pici pasta
Pasta with wild boar sauce (cinghiale)
Florentine steak (Bistecca alla Fiorentina)
Chianti wine
Cantucci
Ribolita
If you are a true foodie, then you should take advantage of some of the more special food tours and experiences offered all over Tuscany, from cooking classes to truffle hunting to wine tastings.
---
The SGTD Take
There is a reason why the Tuscan countryside is so famous. And there is a reason why I, and I am sure you too, will never get tired of exploring it.
Some of the best scenery in Tuscany and in all of Italy is in the countryside. These are just 10 of the most beautiful places, but you will find that the entire area is breathtaking. Just driving from place to place leads to discovering incredible angles of this region.
I am usually a strong advocate for going off the beaten path and avoiding tourist destinations, but Tuscany is one of those places that, no matter how famous and how popular it gets, it is truly worth experiencing in your lifetime.
Have questions about your Tuscany countryside itinerary? Ask my advice in a comment!
Save this bucket list on Pinterest!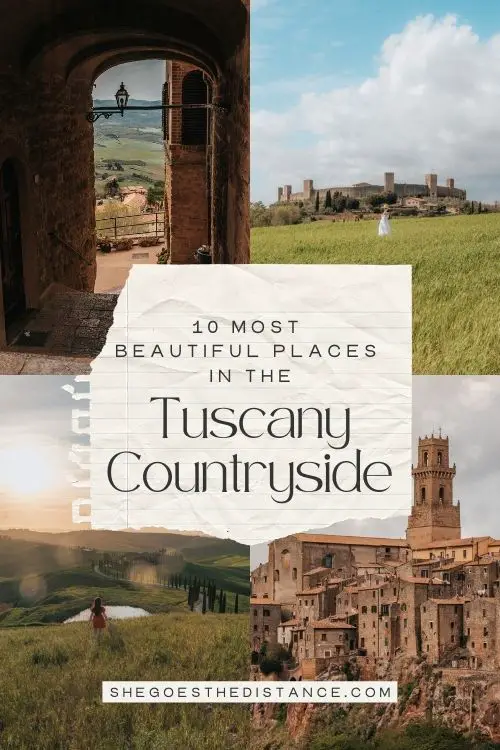 I hope you enjoy this guide to the Tuscany countryside and will soon be seeing these incredible places in person!
XOXO
Michela