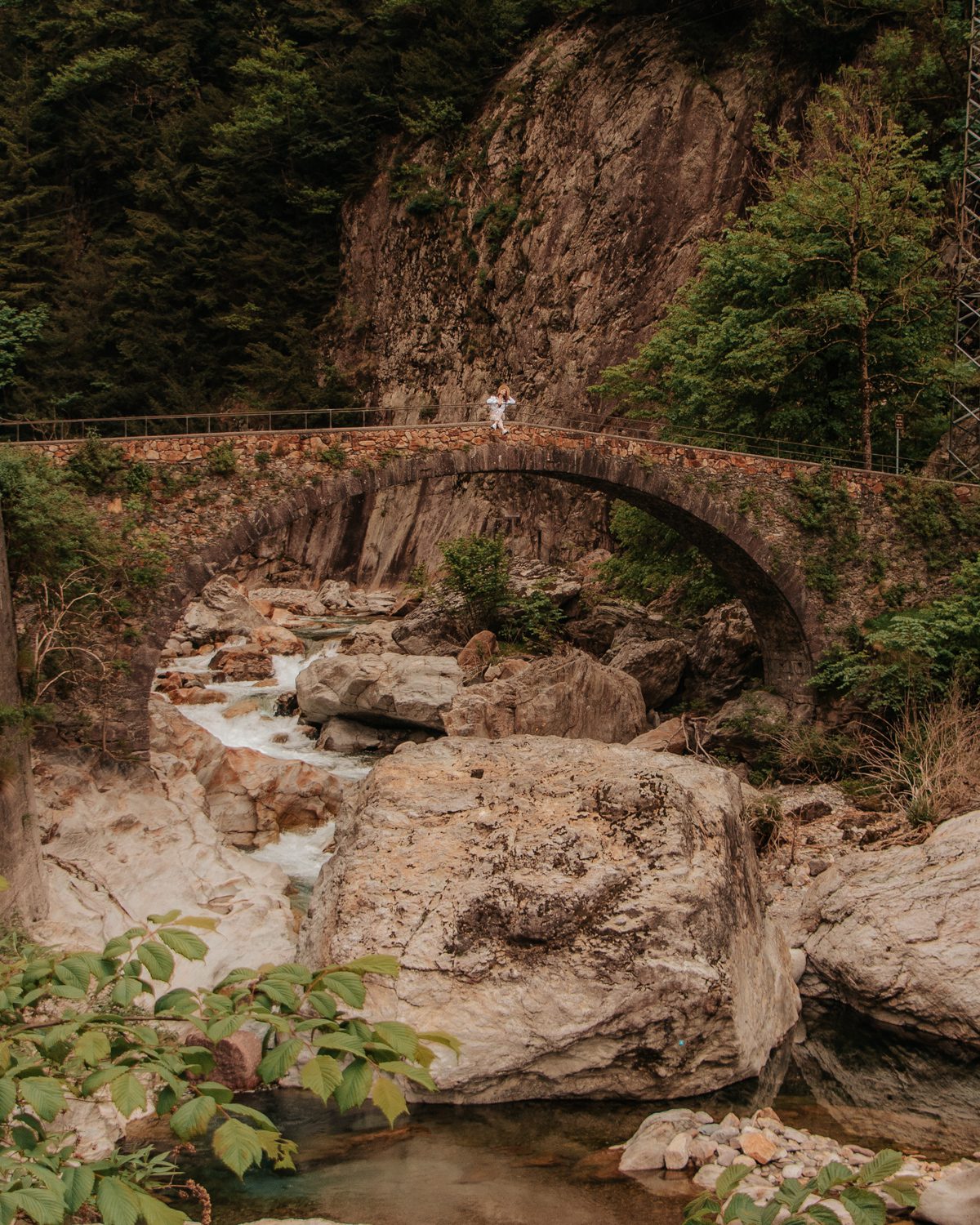 Last Updated on April 30, 2022
Val Brembana, also written Valle Brembana, is a mountain valley in northern Italy, just north of the city of Bergamo. Situated among the peaks of the Orobie mountain chain in the region of Lombardy and taking its name from the river that winds through all its charming towns, the Brembo, Val Brembana is full of hidden gem locations that will truly take your breathe away.
It's true that Italy is one of the most popular travel destinations in the world, but since becoming an expat in Italy, it has only become clearer to me that so much of this country is still undiscovered by travelers. Yes, the Instagram-famous destinations like Lake Como and historic, cosmopolitan cities like Venice and Milan should remain on your bucket list, but I recommend you add a few off-the-beaten-path locales to create the most enriching and fulfilling northern Italy itinerary.
That being said, the Brembana Valley is one of the areas you should consider making a detour for. Especially during fall in Italy, the heavily forested, towering mountains and gushing ice blue river put on an illustrious display of color and natural beauty that is a feast for the eyes.
This post is a dedicated guide to the top places to see and towns to visit in Val Brembana, covering can't miss things to do and unique stays.
Some of these links are affiliate links. This means if you make a purchase through that link, I receive a small commission at no extra cost to you. Read my full disclosure!
How to Reach Val Brembana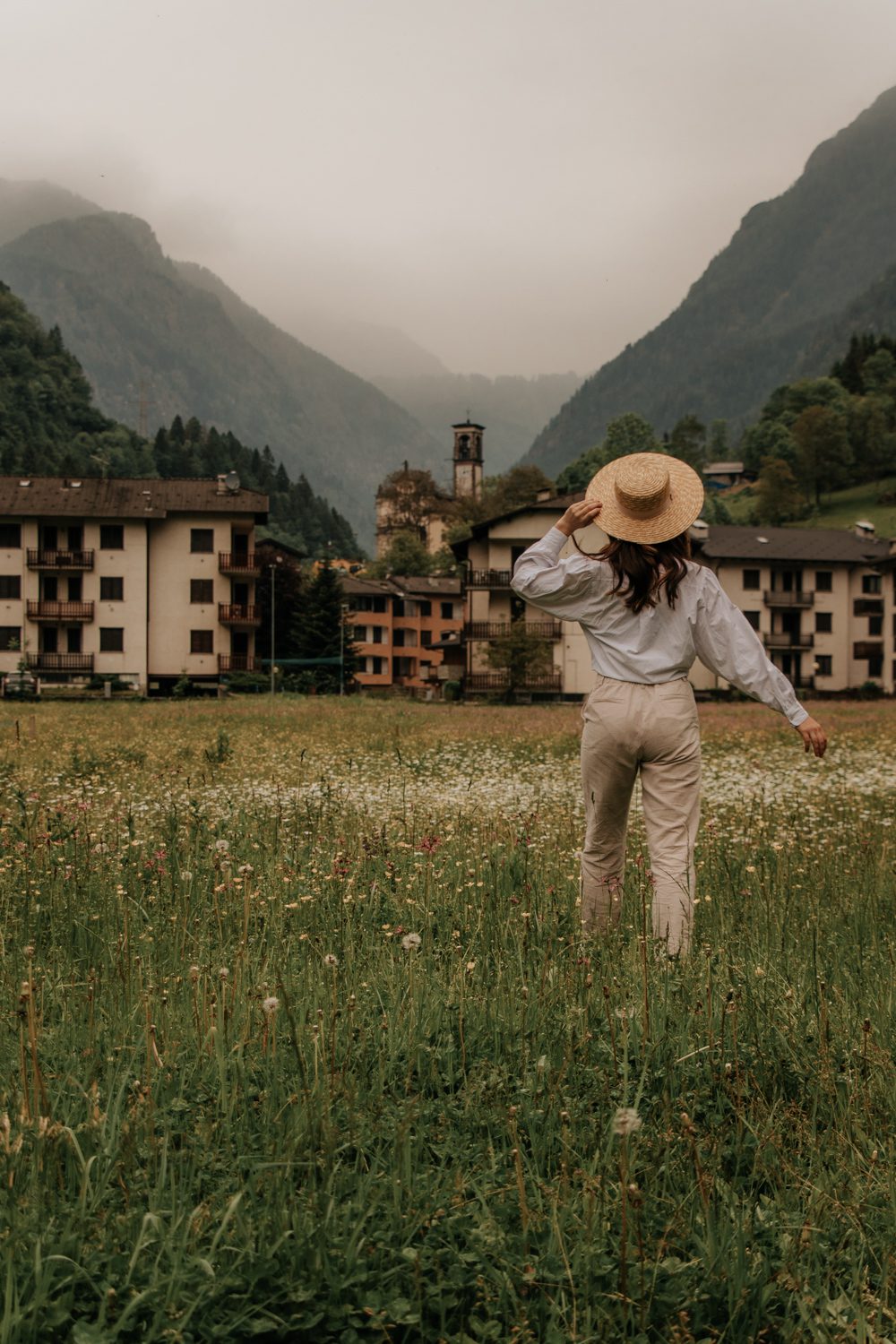 If you're looking for things to do in Bergamo, Val Brembana is a perfect day trip. The city of Bergamo is 40 minutes by car or train from Milan, and the beginning of Val Brembana is only 15 minutes from Bergamo.
By car
The easiest and by far most preferable way to reach and explore Val Brembana is by car. Because it is a mountain valley, there is one main road that winds through, basically to a dead end. Directions are fairly easy to navigate, but you will have to stay attentive to frequent curves, as well as tight, narrow streets ascending and descending any mountains.
Traveling by car is the most flexible way to explore beyond the main road and towns, as you don't have to rely on public transportation's schedules.
Check out my full guide to driving in Italy for more information like parking options and strange driving rules.
Pro Tip: Fill up your tank before heading to Val Brembana. There are gas stations throughout the valley, but they are fewer and further between than the more industrial areas you'll be coming from and you don't want to get stuck in the middle of nowhere!
By Bus
If you choose not to rent a car in Italy, then you can also reach Val Brembana by bus. The Arriva bus company offers various lines from the main station in Bergamo up throughout the valley.
Read my guide to buses in Italy for more information on how to purchase tickets, navigate time tables, and ultimately end up in the right place!
---
Things to Do & See in Val Brembana
San Pellegrino Terme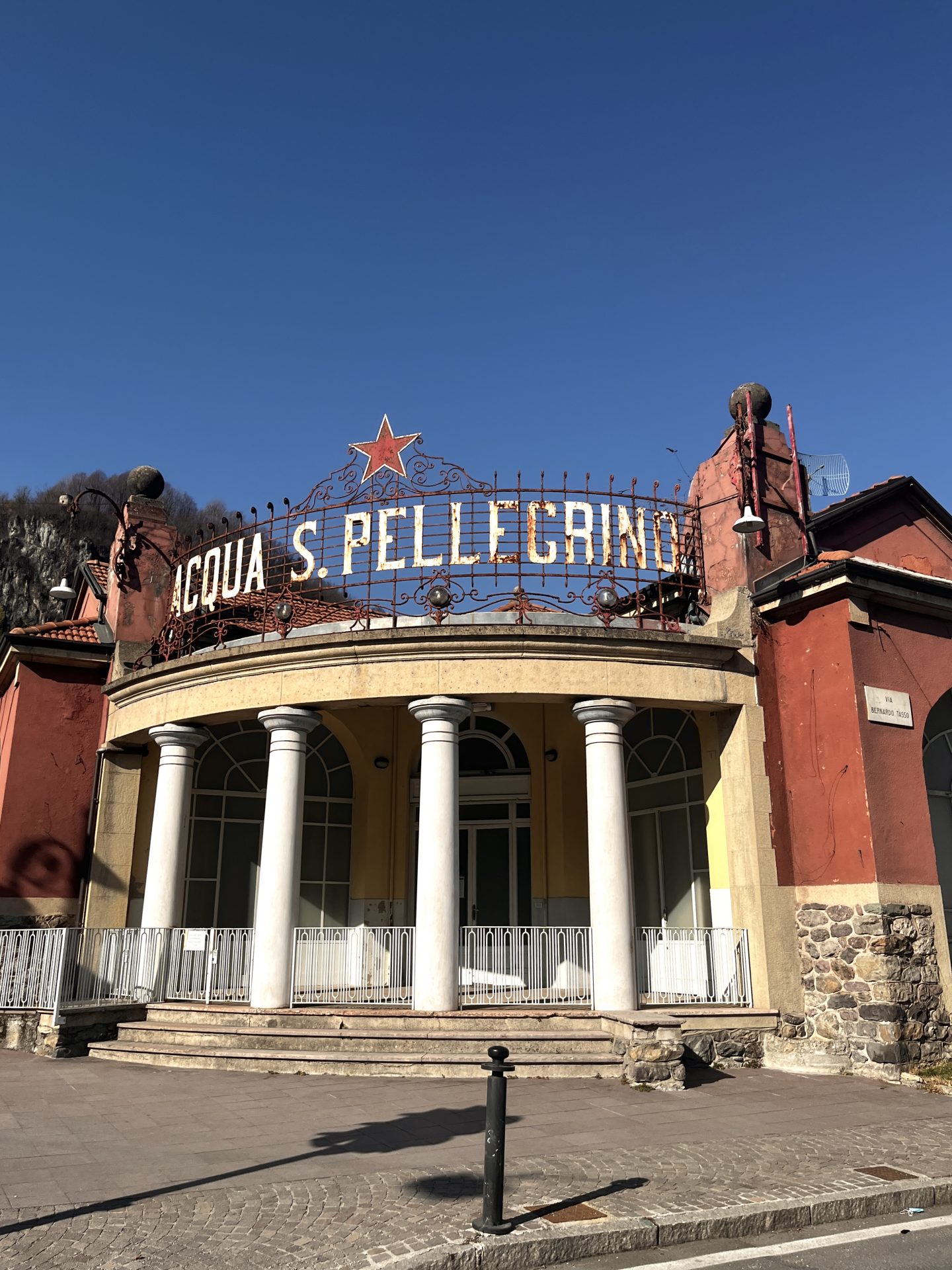 Imagine you're at the mouth of a mountain valley: the road starts to become curvy and before you know it, you'll be looking down into a cavernous valley from the car window.
The first must-see stop is the town of San Pellegrino Terme – yes, the San Pellegrino. You've drank their sparkling water but have you been to the mountains it come from?
San Pellegrino is charming and a bit luxurious. A beautiful tree-lined promenade stretches along the Brembo River through the town, whose greatest structure is the Grand Hotel.
The Grand Hotel is a massive, historic building that opened in 1904. Today it undergoes restorations but you can take a guided tour of the ground floor for 7 euros.
Top Experience: QC Terme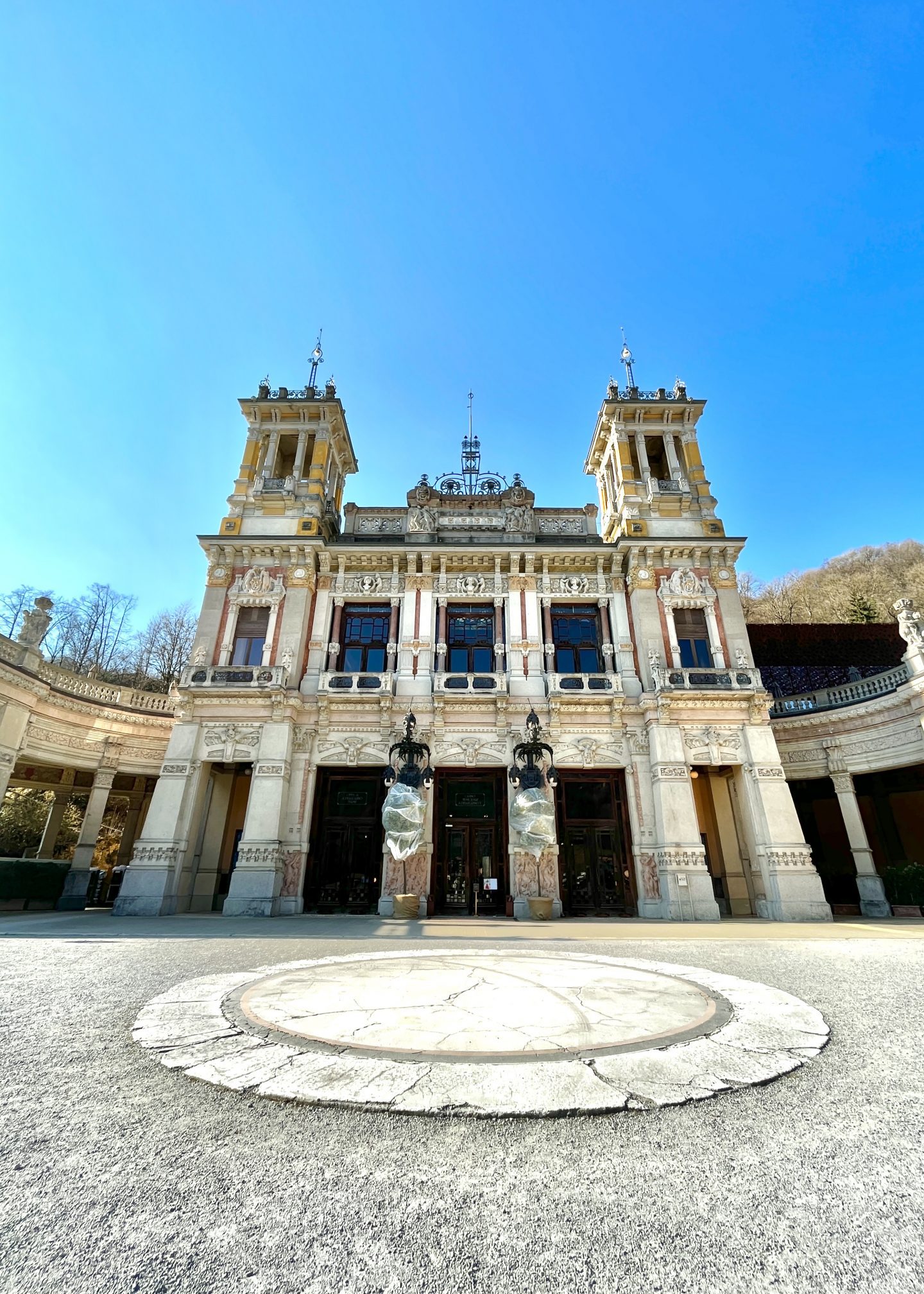 Want to feel like you're at a luxurious mountain spa retreat on a budget? Check out QC Terme San Pellegrino. QC Terme is a brand of thermal spas located through Italy and the Alps and even in New York.
The QC Terme San Pellegrino is in the old municipality building with an interior as striking and ornately decorated as its facade. The entrance fee starts at 54 € per person, which may seem steep, but the variety of spa activities is worth it. Plus, it's much less than you would pay for a spa resort hotel per night.
San Giovanni Bianco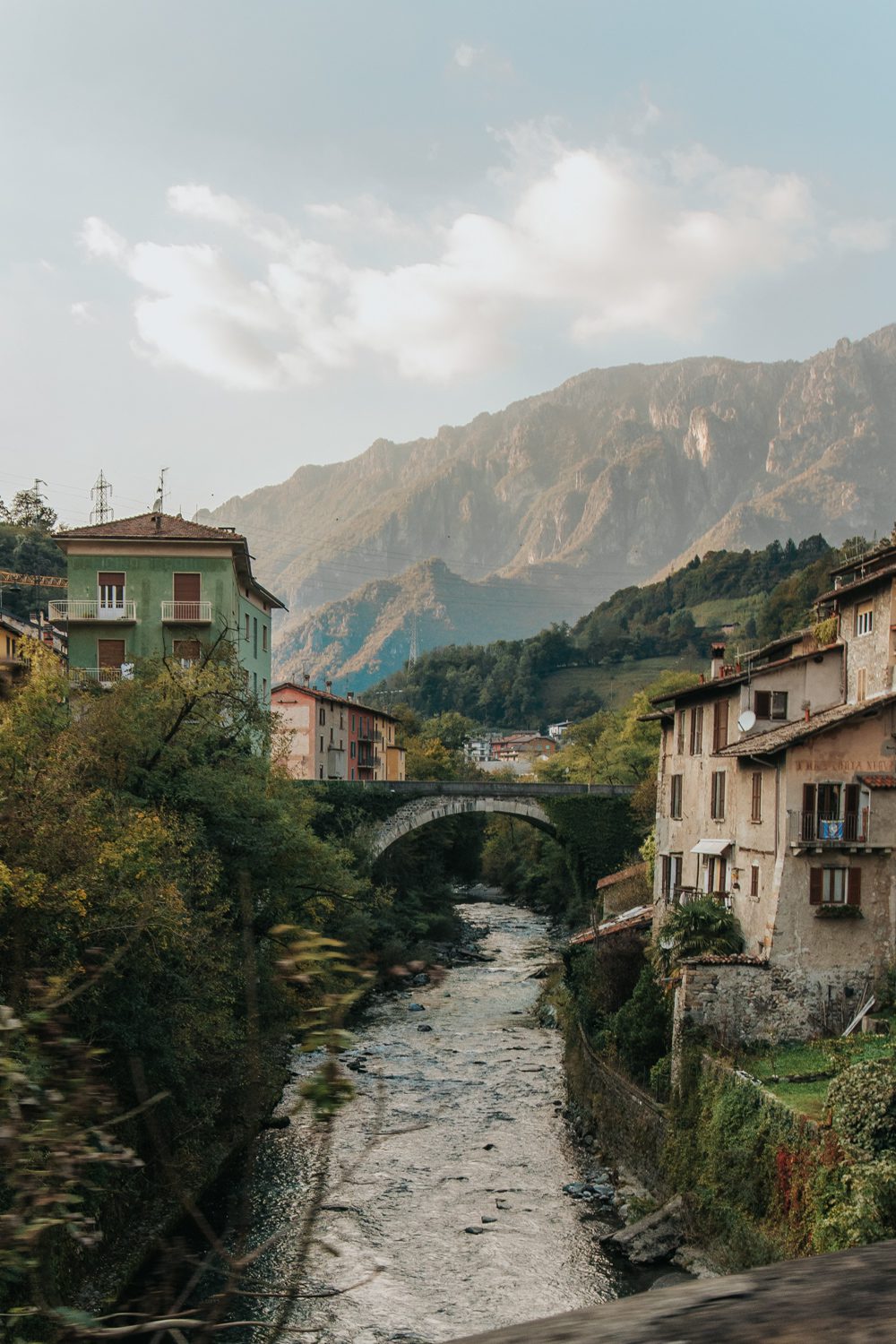 San Giovanni Bianco is the next notable town you'll see along your drive. Honestly, there's not too much to do in this town, but I had to mention it as a worthy pit-stop for taking pictures!
The town is connected by several old and huge bridges, with beautiful views of the Brembo River.
Cornello dei Tasso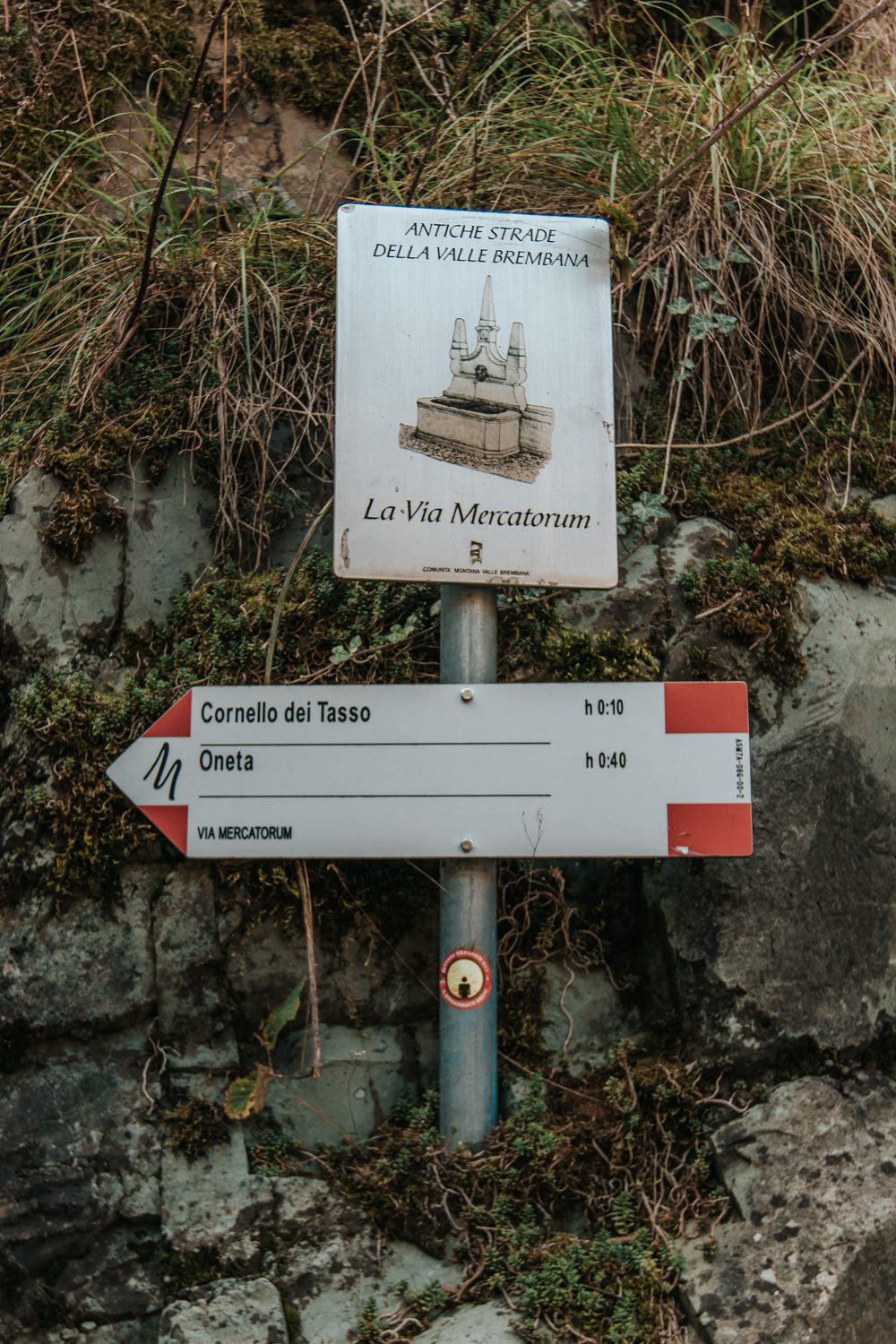 Cornello dei Tasso is a village that takes you back in time. The tiny hamlet is perched on a mountainside, overlooking the dip of one of the smaller valley branches.
Pro Tip: The village is a part of the town Camerata Cornello in case you cannot find it in your navigation, but there are several signs along the road highlighting the directions to this historic place.
Your journey into medieval Italy starts at the bottom of a cobblestone footpath, a 10-minute walking trail to the village entrance.
The "streets," or should I say pathways, are made up of round stones and the houses dressed in vines, and some in fresco-painted detail, resemble a true fairytale setting.
Although tiny, this spot has some big history to boast. It is home to the Tasso family, of which you may know the famous poet Torquato Tasso. And it is also where the first post office was born! There is a museum, the Museo dei Tasso e della Storia postale – the Tassos and the Postal Service History Museum.
The village, thanks to its obscure location high and off-the-beaten-path, is completely tucked away from traffic and noise. That being said, count on Cornello dei Tasso being a brief stop on your itinerary. You could walk around in 1 hour and have seen everything!
Piazza Brembana & Lenna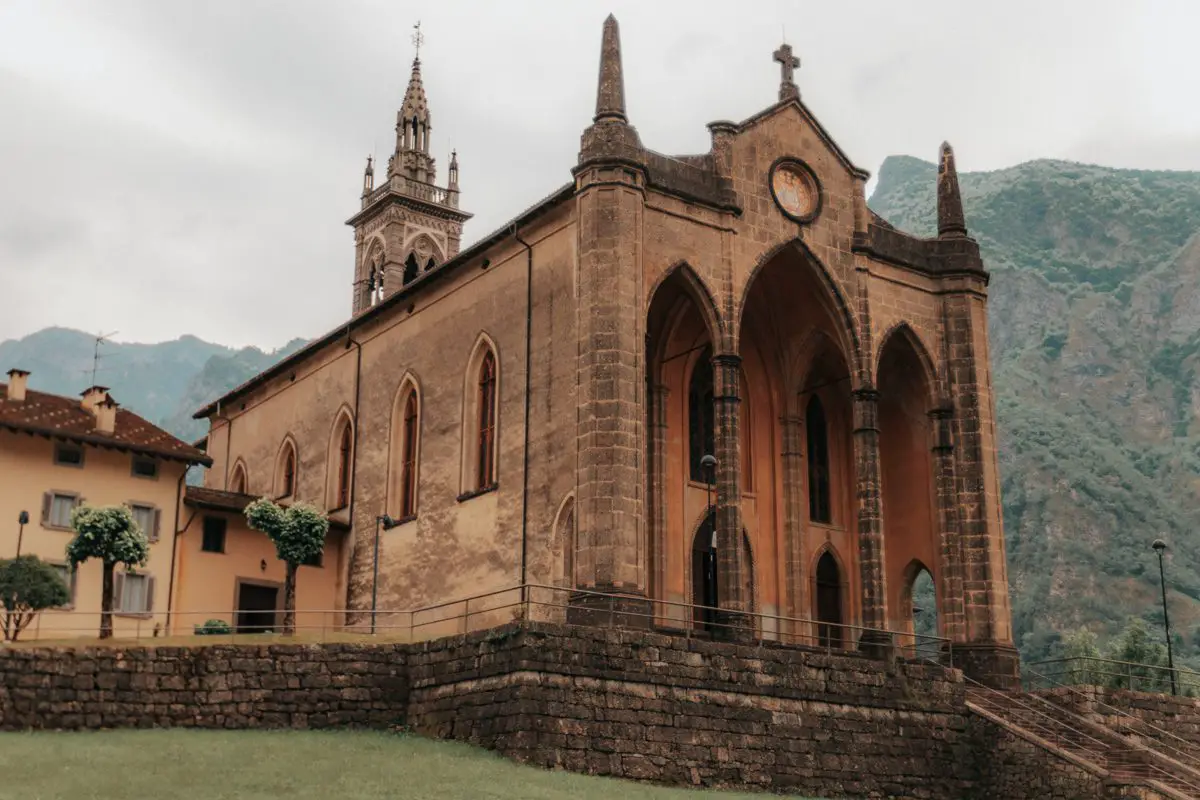 Piazza Brembana and Lenna are two small areas of the valley that, ultimately, I recommend you only do a brief pit-stop at.
The town of Piazza Brembana is interesting because it is high up on the mountains. The most unique part was its imposing, gothic style church that has incredible views of the surrounding peaks, which photos without a drone cannot do justice!
And head to Lenna for a unique place that stands out from all other stays and experiences: Agriturismo Ferdy. Agriturismo in Italy means a farm stay, but Agriturismo Ferdy is so much more!
The agriturismo offers a wealth of activities that show off the best of the valley and life in the mountains. From tasting menus of local cuisine that comes right from the surrounding nature to horseback riding lessons and pony rides to a wellness spa for a cozy mountain retreat, you can take advantage of a day of activities or slow down and spend a few nights relaxing in nature.
Ponte dei Canali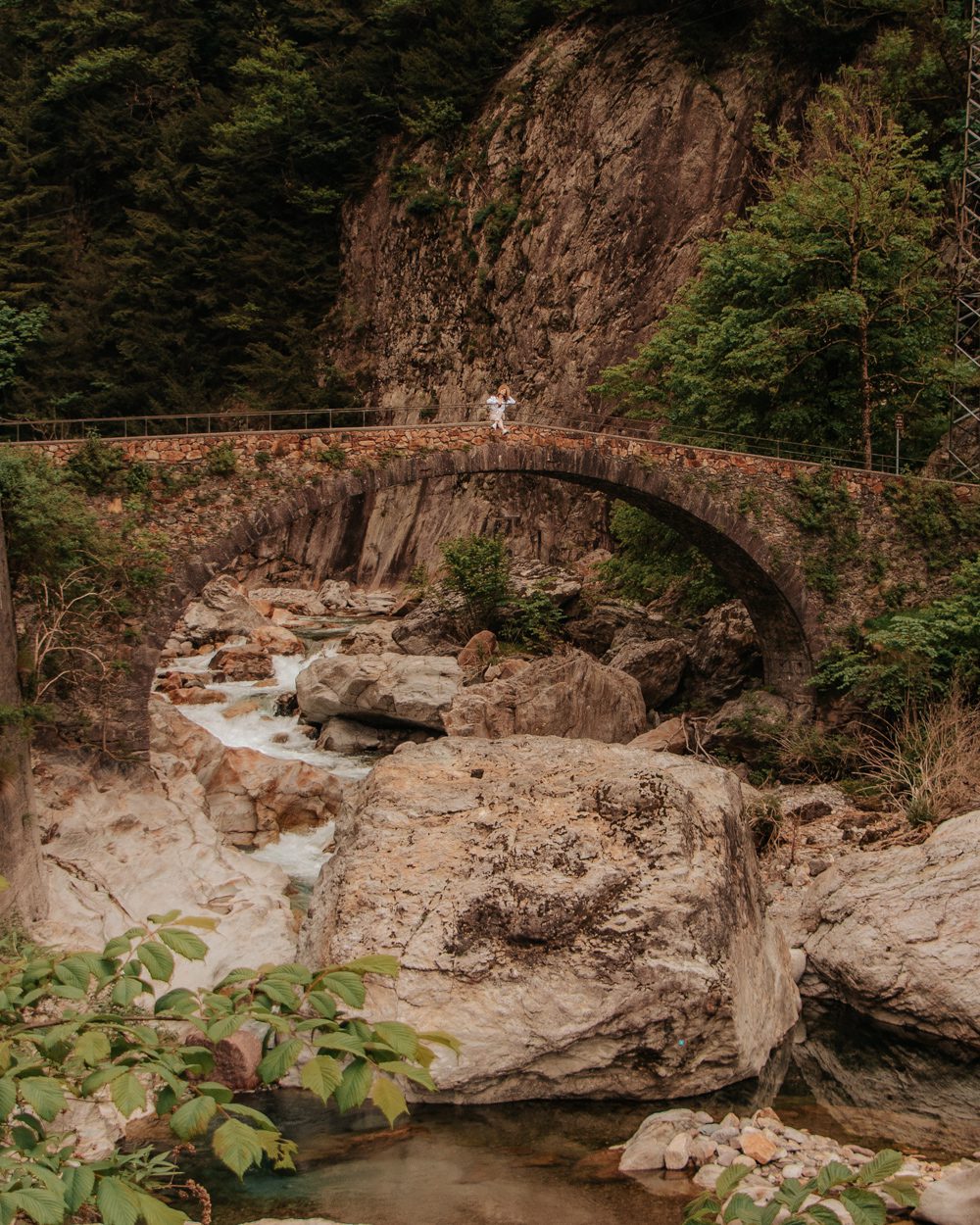 I have to mention one of my favorite spots I spent time at in Val Brembana: the Ponte dei Canali. This bridge is located just along the main road in Val Brembana and is straight out of a fairytale! Moss-covered stones make up a delicate arch that swoops over a unique part of the Brembo River, where the gushing stream is a crystalline teal and the banks are spotted with imposing boulders.
The Ponte dei Canali dates back to 1715, a complete clash with the newly paved road just beside it. Nonetheless its beauty identified itself as my perfect picnic spot!
There were nearly no visitors around, just some hikers passing every now and then, as this area is also a place with walking paths. It's a complete hidden gem to visitors even if, in reality, it isn't that hidden!
Branzi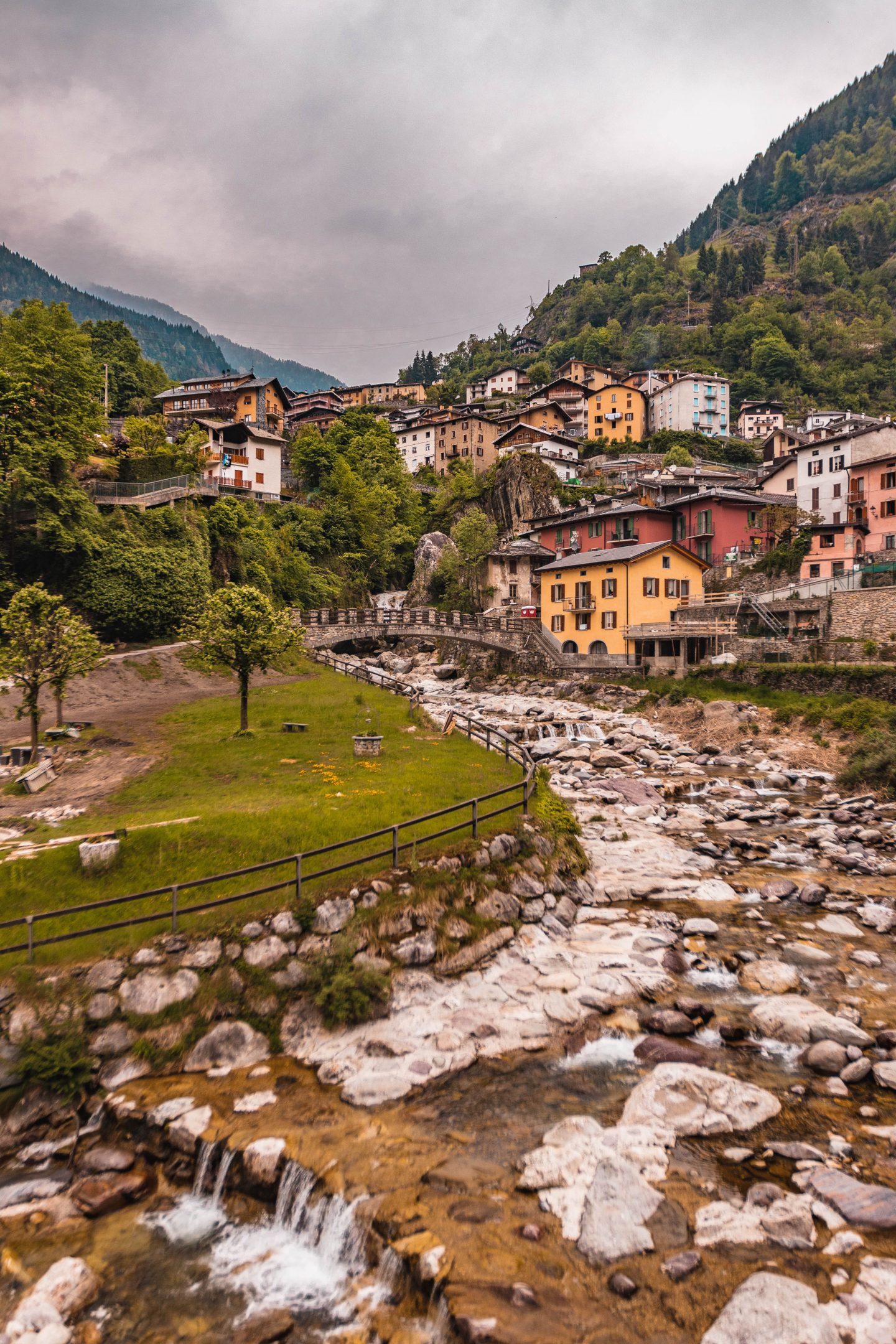 Branzi is my favorite area in Val Brembana. The worn, rugged homes cascading along the Brembo River, situated beneath a huge waterfall makes the town of Branzi the most picturesque. Branzi is also famous for its local cheese and salami.
Top Experience: Laghi Gemelli
This top experience is dedicated to those who don't mind putting a little sweat into their vacay. If you're visiting the mountains, you may as well take advantage of the many hiking paths. In fact, you could hike the whole valley following the path markers.
The Laghi Gemelli, or twin lakes, are characteristic for the fact that they are two lakes beside each other that sort of mirror one another. The hike from Branzi takes about 3 hours and you reach about 2000 m. There is an accommodation, Rifugio Laghi Gemelli, beside the lakes if you want to stay overnight.
Foppolo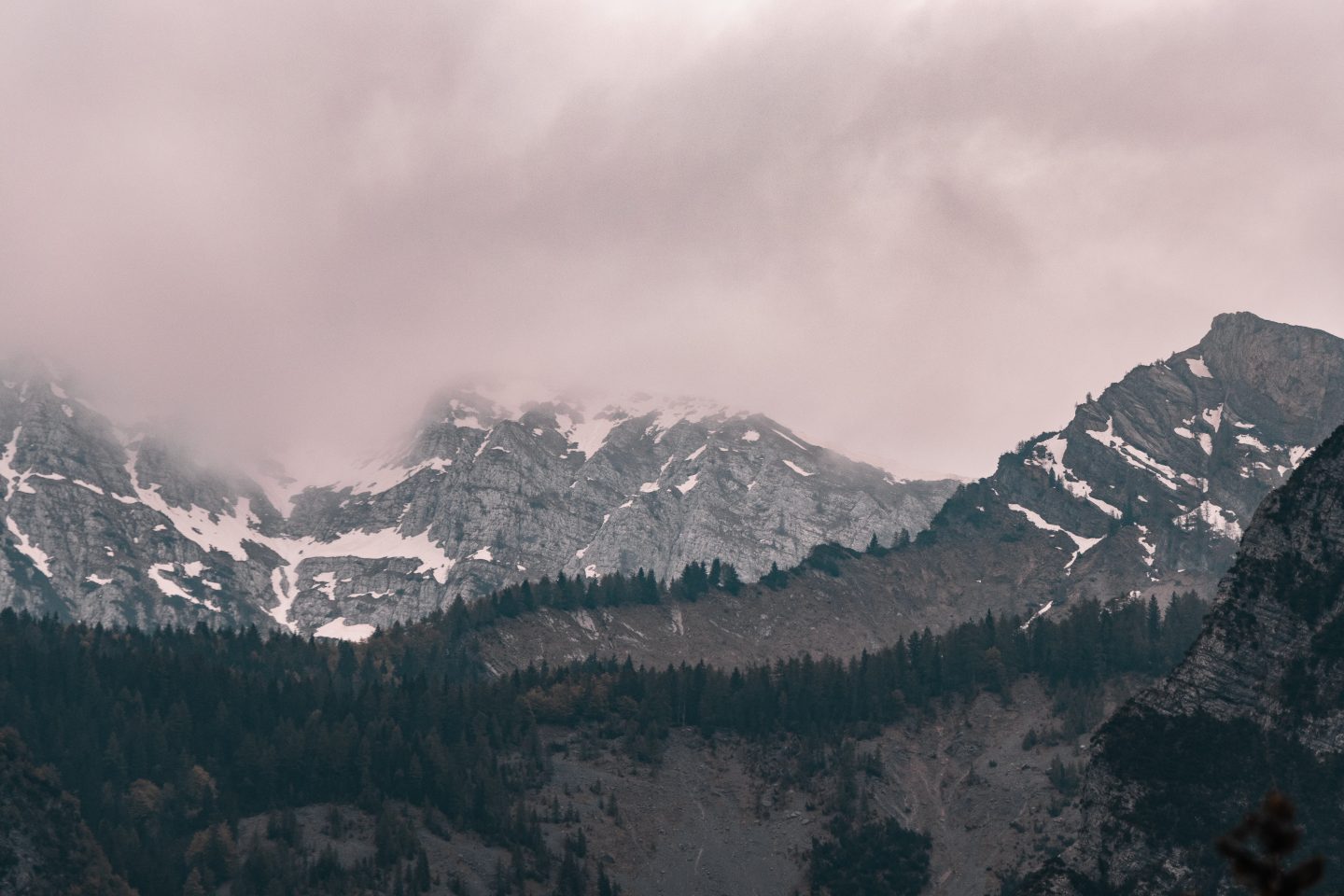 Foppolo is a town just past Branzi, the last town of the entire valley. It's the most well-recognized skiing destination in the Bergamo area, so it is the perfect spot for outdoor sports lovers visiting Italy in winter.
The hotels and ski resorts are mainly at the base of the valley, connected to the ski areas by lifts. Because it is a ski resort town, it offers many more amenities like shopping, leisure facilities, and spas. The most snow in the area occurs around February, but the ski season runs from the beginning of December to early April.
---
Top Tips for Visiting Val Brembana
Weather
The mountain valleys sport a climate that fluctuates a lot more often than the flat plains of the Po river just to the south. Even if you're visiting Italy in summer, the weather will always be slightly colder in the valley with the gradually rising elevation you travel. It may be the perfect for weather for shorts and a t-shirt in the city, whereas the same day in somewhere like Branzi is chilly! Keep this in mind when packing for your visit.
In winter, it will be super cold and covered in snow! That's why it is a great area to visit for winter sports lovers.
Budget
Val Brembana is a super budget-friendly area to visit in Italy. Since it is not as Instagram-famous or well-known as other areas like Monte Bianco to the west or the Dolomites to the east, it is an ideal Alps location for travelers on a budget.
Parking is widely accessible and, since the towns are all quite small, restaurants and amenities tend to cost less. I would say San Pellegrino Terme and Foppolo are the towns that cost the most.
Nearby Attractions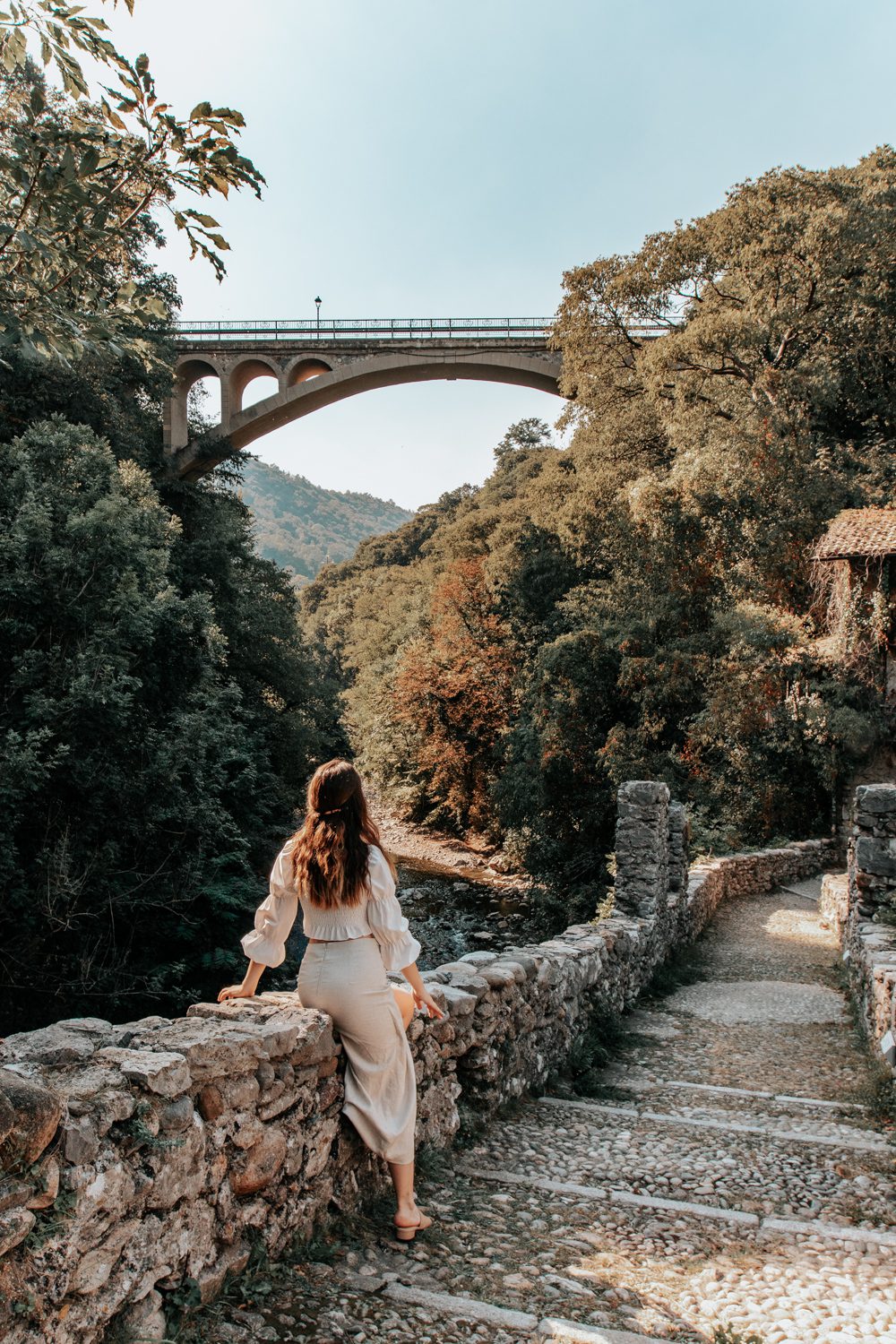 Val Brembana is one of the main valleys in this chain of the Alps, but there are also others to discover! Consider driving through next-door Valle Imagna – highlights being Clanezzo and the Cornabusa Sanctuary, a religious sanctuary built in a cave within a mountain.
And of course, visiting the city of Bergamo is a must. From the historic upper town of Città Alta to the vibrant yet chill city center of Città Bassa, you get the perfect mix of modern and antique Italy.
Since I know you like getting off-the-beaten-path if you're reading this post, I also recommend you check out Lake Iseo. It is the lesser known of northern Italy's large lakes and let's hope it stays that way! It is a local hidden gem, to which belong laidback, charming towns and the largest lake island in Europe, Monte Isola!
---
Final Thoughts
Val Brembana is the nature-escape from my home in Bergamo and I want to make sure everyone knows about it! It may not be Instagram-famous, but it has its own authentic appeal in its charming towns, centerpiece river, and natural, wild areas yet to be explored.
I recommend Val Brembana to travelers looking for an alternative Italy experience, one that is more authentic and far less touristy, as well as those trying to slow down, who have lots of time on their Italy itinerary. Val Brembana is peace and quiet, yet lots of adventures await. It's a glimpse at local life and a side of the Alps most people never get to see! It's undeniably a hidden gem.
What are you thinking to visit in Val Brembana?
Save this guide on Pinterest!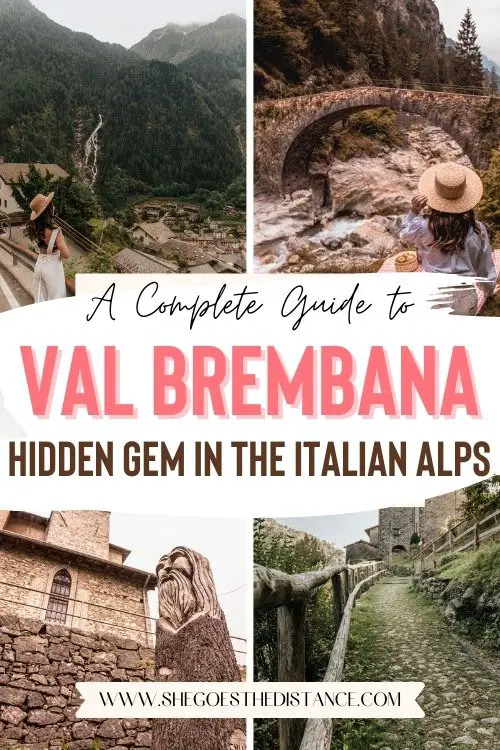 I hope this guide to Val Brembana in Italy has taught you about a new place you've never heard of or helped you plan your upcoming trip! Feel free to ask me any questions or for recommendations in a comment.
XOXO
Michela