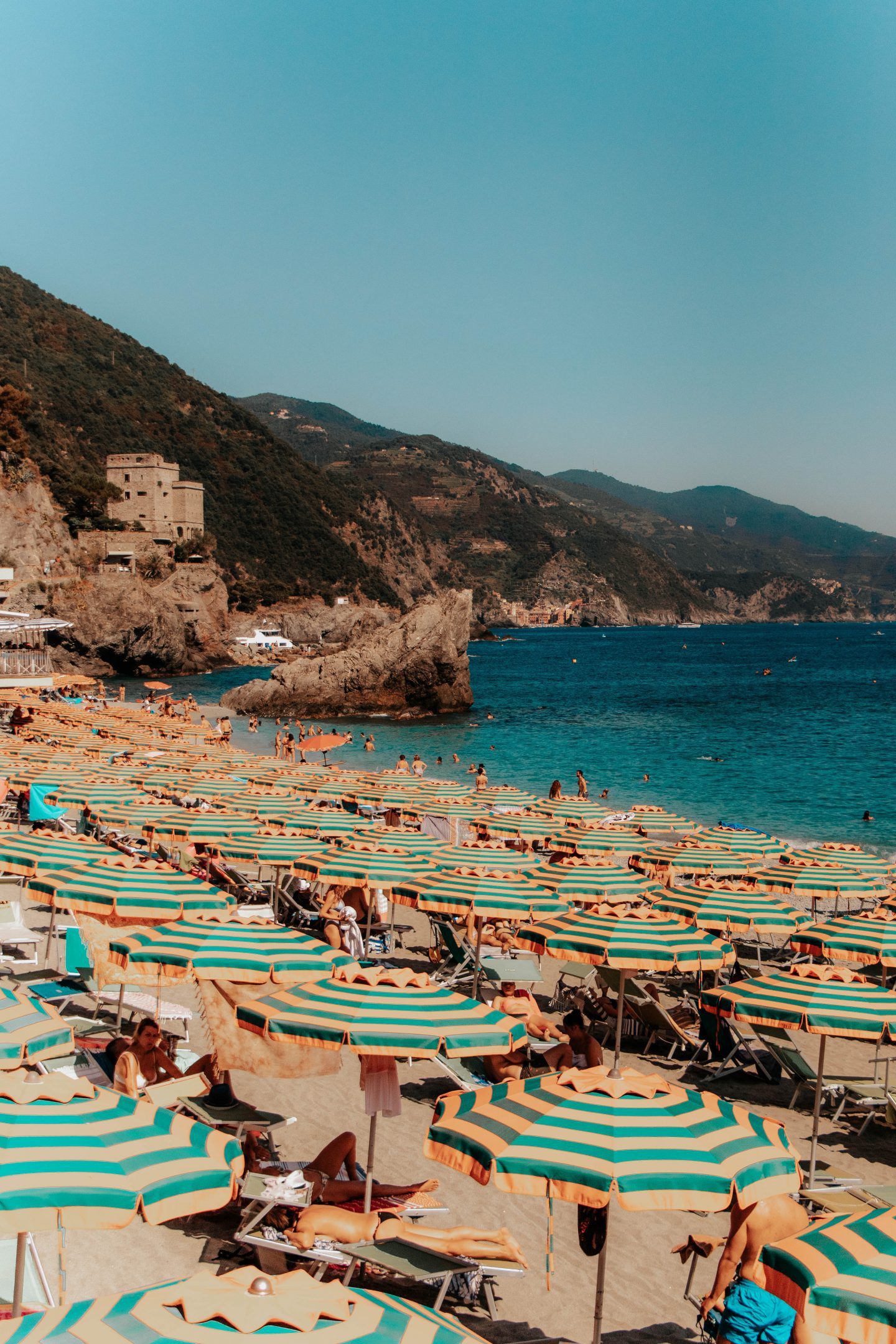 Last Updated on June 12, 2022
The colorful towns of the Cinque Terre are charming to explore, but as you take in the views, the dreamy Mediterranean waves crashing into the cliffs make it impossible to not want to dive right in. Take your pick of the most picturesque Cinque Terre beaches and escape the heat of the Italian summer with a quick dip or an all-day seaside retreat.
But the beaches in Cinque Terre are not always a walk in the – national – park! See what I did there? Yeah, we can ignore my bad jokes.
What we can't ignore is that most of the beaches of the Cinque Terre are not the most comfortable, whether it be due to the terrain, the rocky shores, or the busy crowds.
I've outlined the beaches in each of the five villages and exactly what kind of beach day each would be best for.
Keep in mind, the villages themselves are tiny, so the beaches tend to reflect that. You'll likely be making lots of "amici" while you're sunbathing!
If you're still on the hunt for accommodation, check out my guide on where to stay in Cinque Terre on a budget.
Some of these links are affiliate links. This means if you make a purchase through that link, I receive a small commission at no extra cost to you. Read my full disclosure!
Before you leave to for your Italian vacation, make sure you don't forget anything!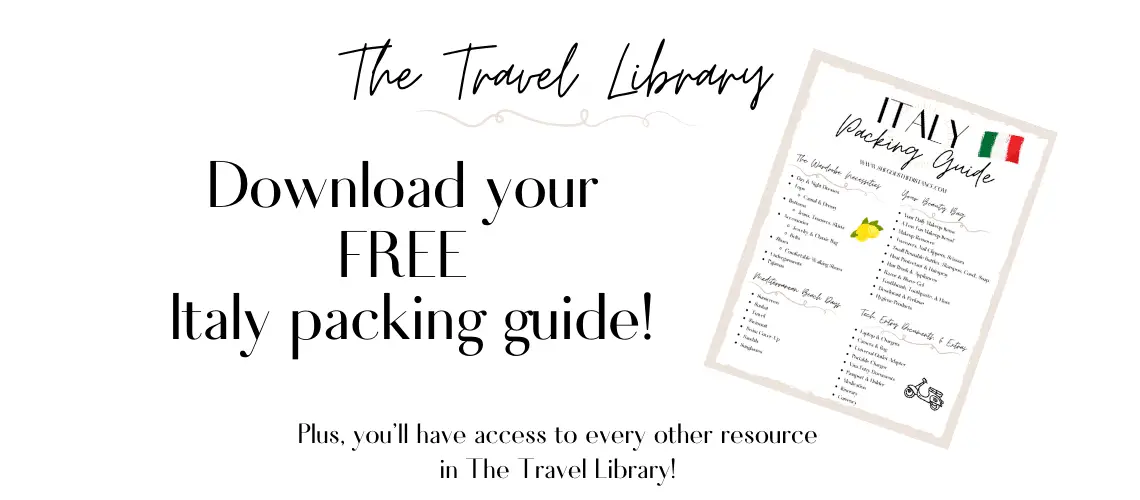 ---
Cinque Terre Beaches
If you only have one day in Cinque Terre, I recommend tacking on a dip in the Med to the end of your itinerary – it's something everyone should do in Cinque Terre!
If you're lucky enough to spend a few days in this region, then you can prepare to have a more comfortable beach experience without being constrained by time.
After all, heading to the beach is one of the things you must do in Cinque Terre and one you can do no matter your time constraint.
There are beaches that work better for some travelers than others, so I highlighted which beaches align with different beach day goals.
I also highly recommend you don't skip over the last part of this post. It has essential tips you'll want to know when visiting these tricky to navigate beaches and preparing for things you're probably not thinking about like where you're going to change into your swimsuit and how to protect your things from theft at the beach.
Monterosso al Mare: Best for All-Day Beach Hangouts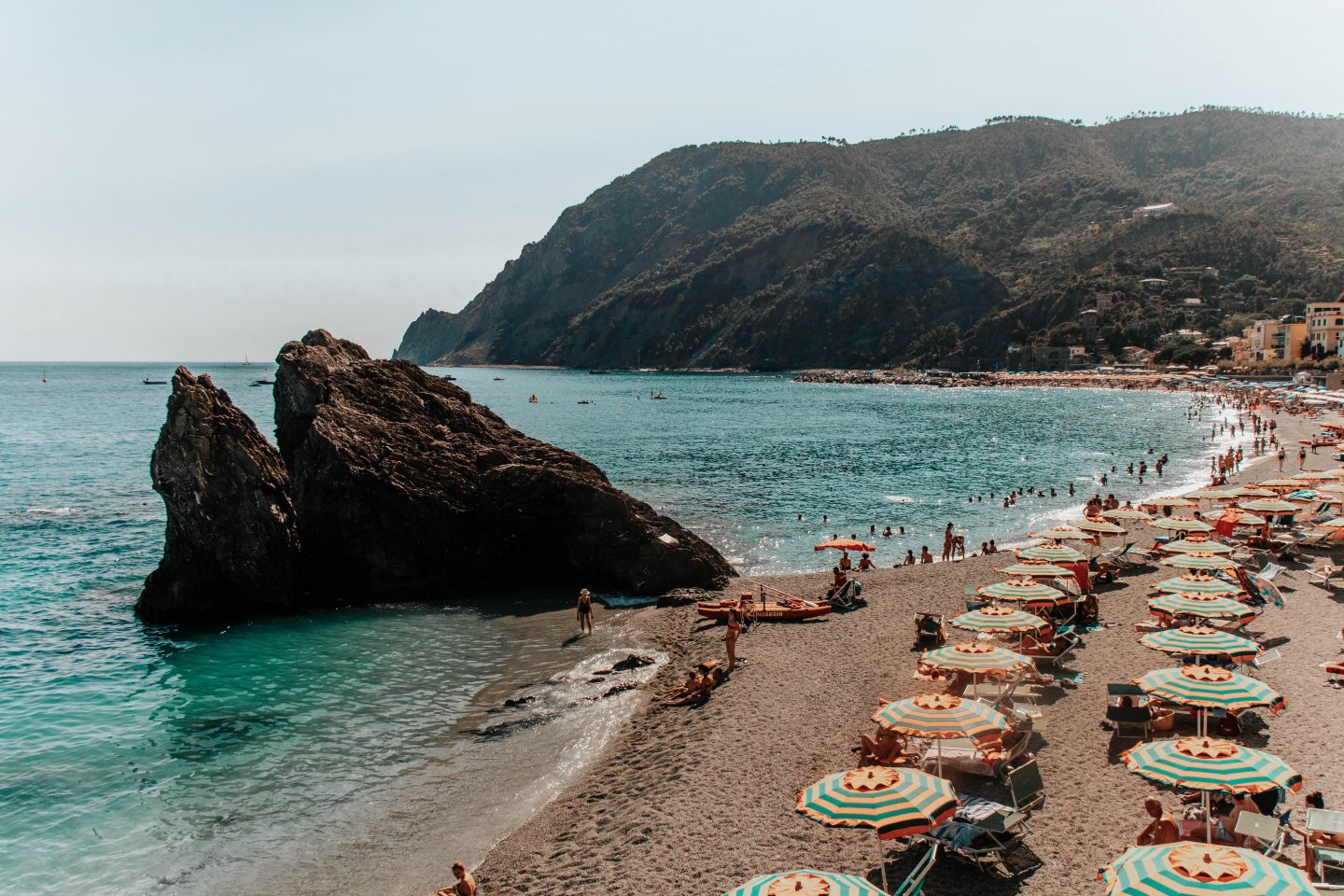 All of the Monterosso beaches are close to food and have on commodity that every other beach in Cinque Terre is lacking – space! That's why this town is a perfect spot for those who want to make taking in the sun and swimming an all-day affair.
Spiaggia Fegina
If you know Cinque Terre from a certain Instagram viral capture, it's the orange and blue striped umbrellas of Bagni Eden on the Spiaggia Fegina.
Spiaggia Fegina is a long stretch of mostly sandy beach in front of the new part of Monterosso town and the train station. It's very easily accessible and the amount of space along this stretch of coastline is why it's an ideal swimming spot for those who want to spend a whole day at the beach.
The famous "lido" is Bagni Eden, where you can rent an umbrella and two sun chairs for the day for 30 euros. These lido close for the seasons outside of summer, so keep that in mind when you're deciding when to visit the Cinque Terre.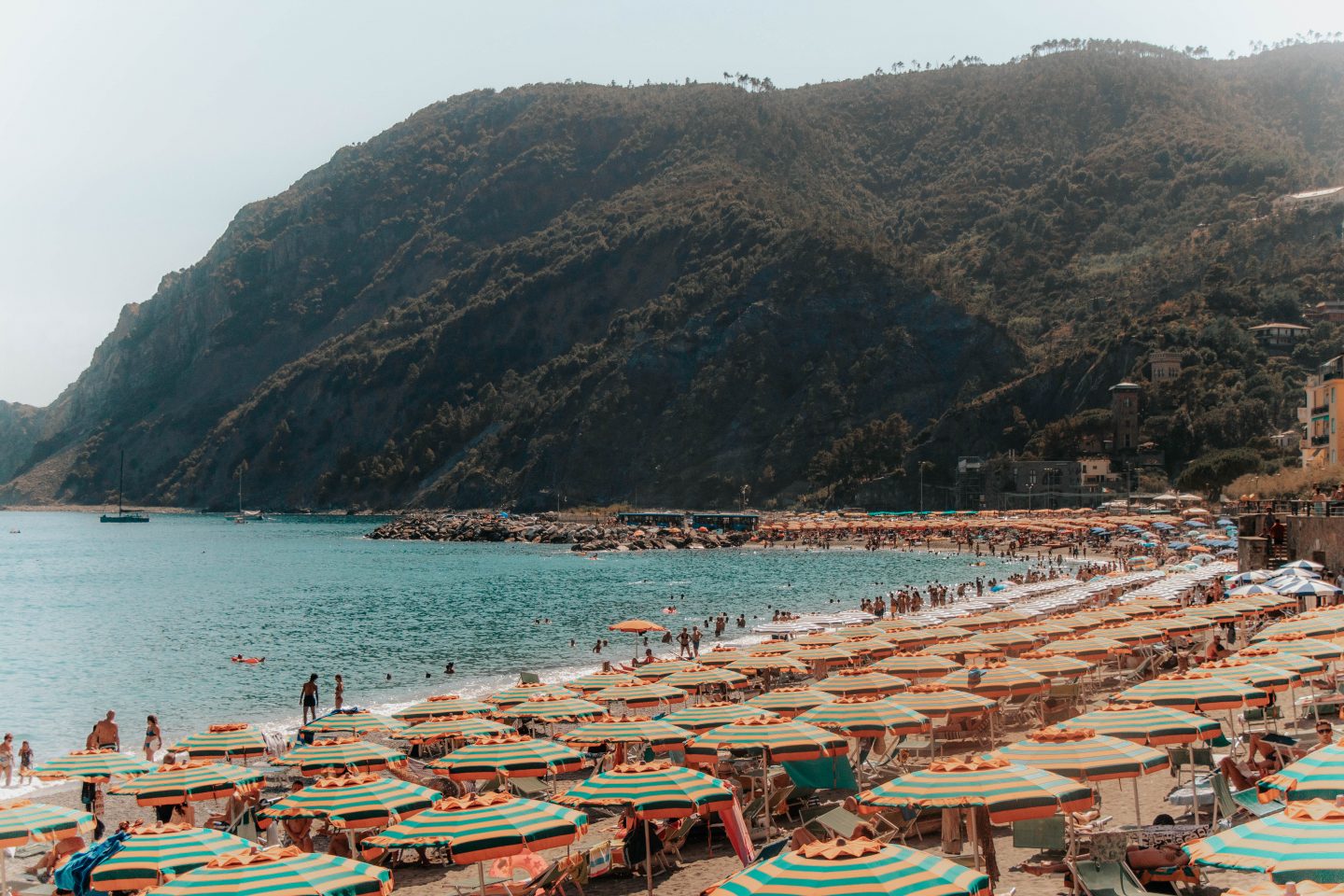 Spiaggia Gigante
Take a right after you exit the train station and after a five-minutes walk you'll reach Spiaggia Gigante to your left. There are both free and paid areas where you can enjoy this beach.
There is a giant statue of Neptune carved into a nearby cliff, which is an interesting aspect of this beach!
Spiaggia Portiglione
Keep walking from Spiaggia Gigante about ten-minute's and you'll find a long stretch of wall by the nearby sailing club "Circolo Velico."
On the other side of the wall is a strip of pebbles you can lay out on and enter the water from. It's not the most comfortable beach, but it is an option if you want to escape the crowds of the popular main beaches.
Spiaggia Tragagia
Spiaggia Tragagia is in front of the Monterosso Old Town, separated from these other beaches.
Starting at the train station, you'll head left and it's a ten-minute walk to reach this beach. You'll know you arrived after you walk under the short tunnel and see more nautical umbrellas coloring the beach.
This beach is a bit smaller than the others, but it does have a free public beach area to the right of the lido with the umbrellas.
Vernazza: Best for Afternoon Dips
Vernazza is one of the most popular towns in the Cinque Terre and actually has an official sand beach located in its harbor.
Harbor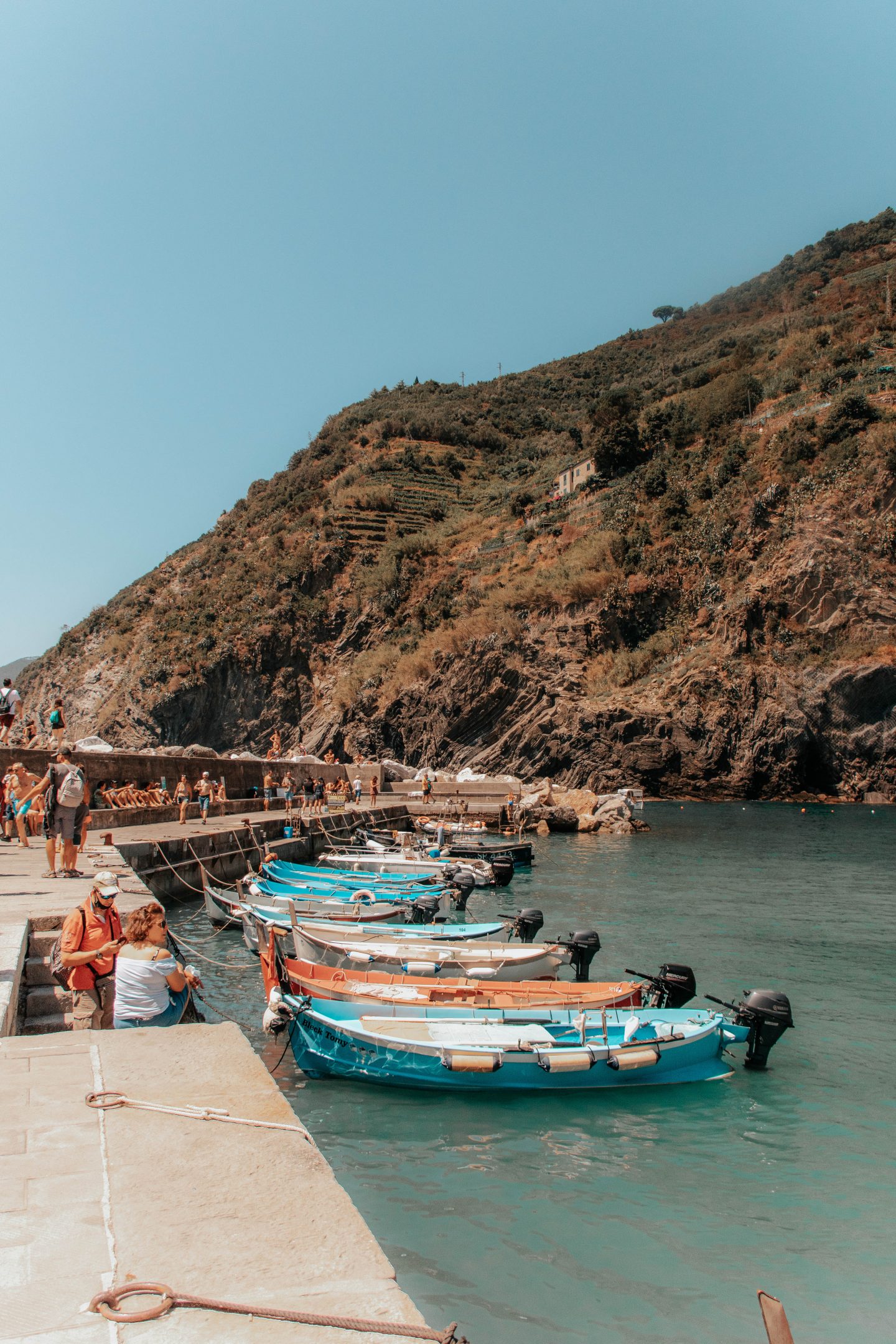 The Vernazza harbor has its own sand beach in front of the main square. I say it's the best for an afternoon dip because I personally wouldn't spend a whole day here. There's not one bit of privacy (you can say hello to every hundred tourists walking by at a time,) it's small and crowded, and the water is not the prettiest.
If you just want to take a dip and avoid becoming a sandy mess, you could continue your walk along the harbor and set up camp at the end of the marina, where there's a ladder to enter the water.
Rocks Below Chiesa di Santa Margherita di Antiochia
From the harbor beach, you can head to the right along the rocks to set up a sunbathing spot below the Chiesa di Santa Margherita.
It's not the most comfortable place to swim because there's not a ton of options for finding a space to leave your stuff or sunbathe. That's why it's best if you just want to jump in for a bit to cool off.
Cave/Vernazza Beach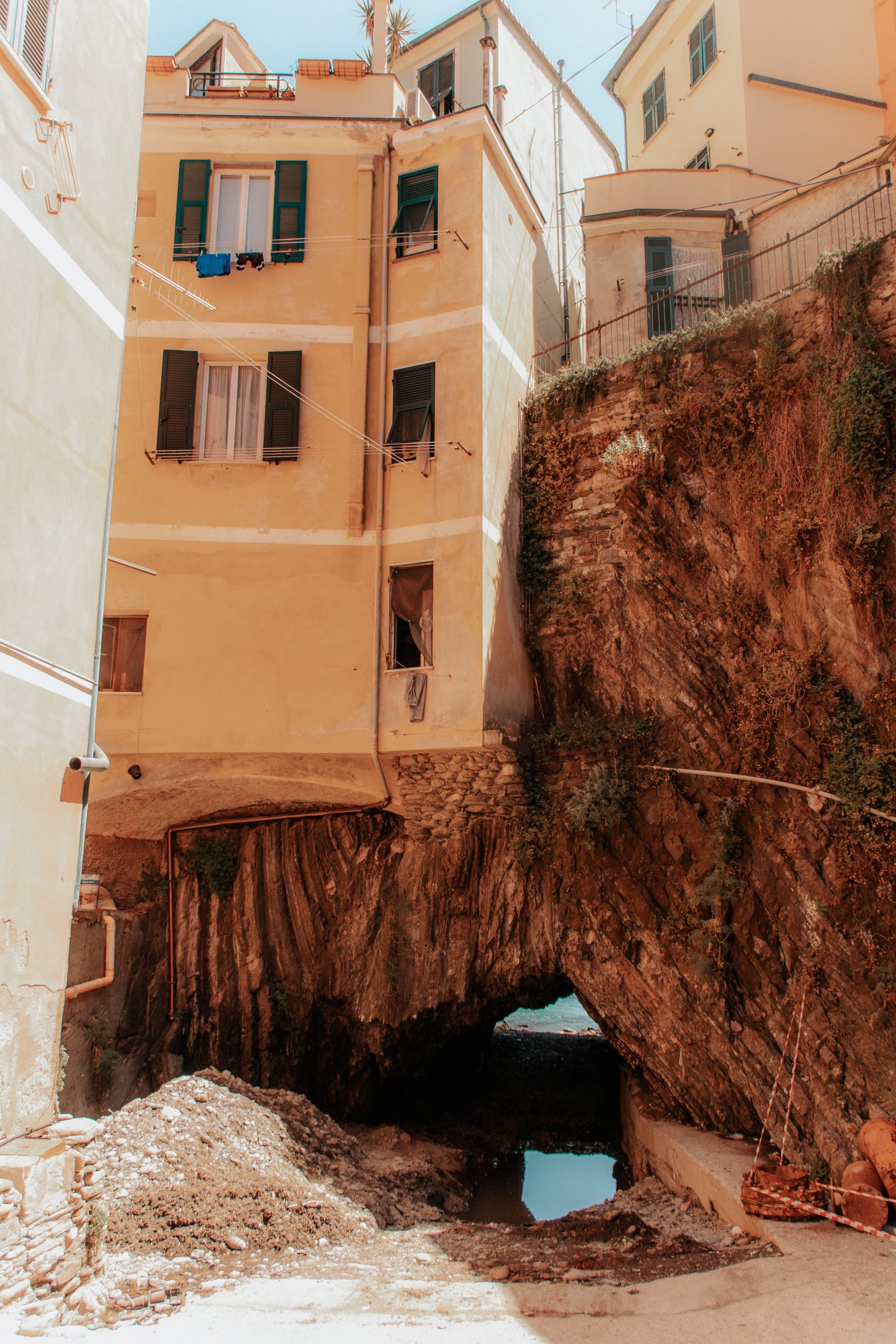 There is a unique swimming spot you can easily reach from the village of Vernazza. Walking down from the train station towards the harbor, turn to the left before you enter the main square and you'll see a cave opening.
Through this cave, you'll find on the other end a rocky stretch of shoreline where you can take a dip in the sea.
The entrance to enter the cave was actually closed when I visited (July 2021,) I believe for restoration or construction works. I will update this post if I'm able to find news about when this beach will be reopened!
Corniglia: Best for Off-The-Beaten-Path Beach Goers
Corniglia is the only village of the Cinque Terre that does not directly touch the water. The clifftop town however still has some swimming spots to offer if you're willing to put in some extra effort.
The Corniglia Swimming Spot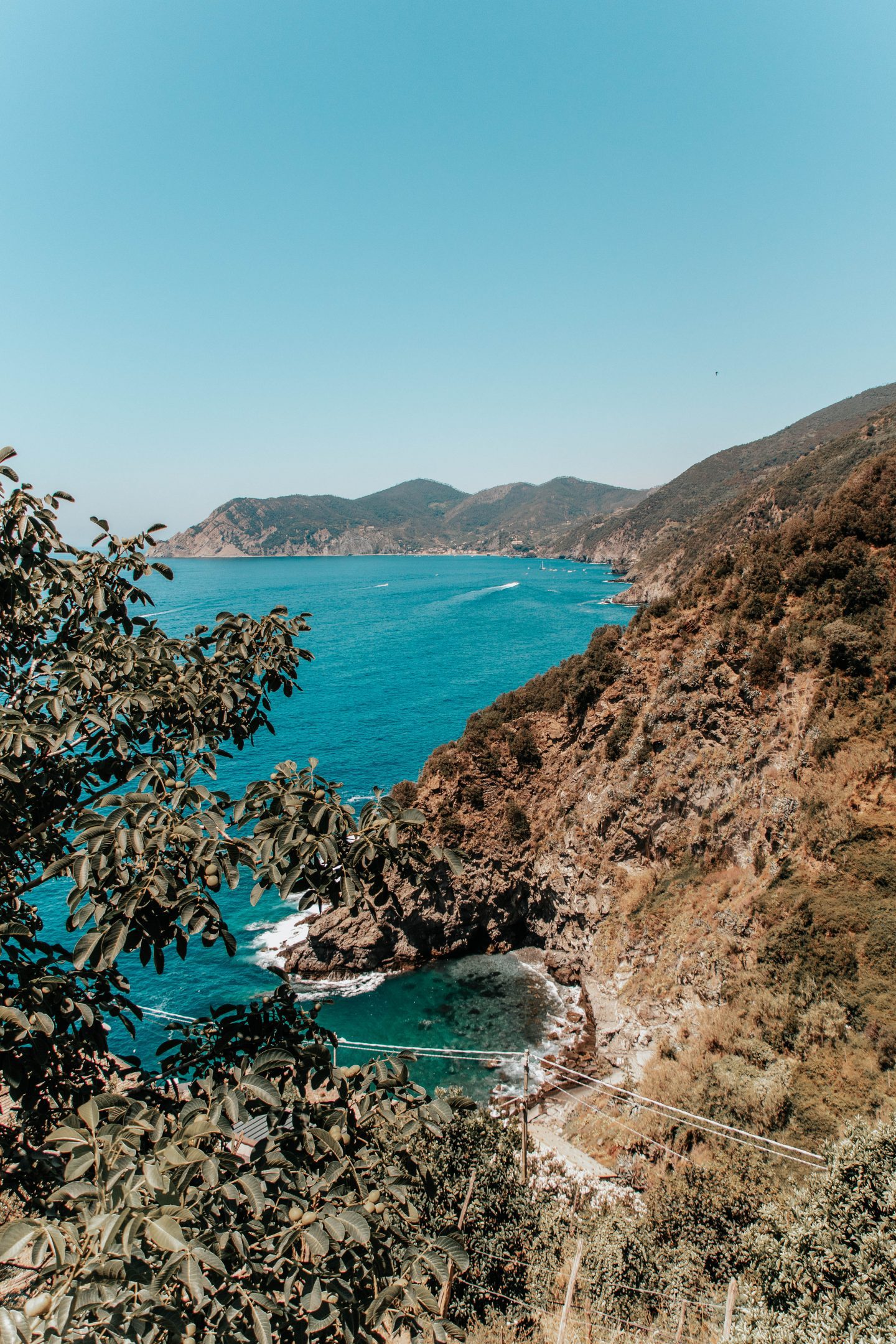 I have no idea how to describe this beach other than "the swimming spot." That's because it's not really a beach – it's a strip of rocky shore at the base of a turquoise cove accessible by a steep set of stairs from Corniglia's town center.
Once you reach the Oratorio Santa Caterina along Via Fieschi in Corniglia, look to your right and you'll find the beginning of a long pathway that eventually takes you to this picturesque bay.
Guvano Beach
Guvano Beach is one that you can only access by sea. There is a path down from the Blue Path or "Sentiero Azzurro" which is one of the hiking trails of the national park, but it is deemed too dangerous to use.
Guvano is an incredibly private, large beach that doesn't experience the mass tourism that most of the beaches on this list do.
It's historically a nudist beach and some locals still take part in that tradition, so if that's not your thing, don't waste your time trying to plan a visit here!
Spiaggione di Corniglia
Although I don't recommend you visit this beach, I still wanted to include it so you could make your own decision if it's the type of beach you are looking for.
This beach is accessible from the train station at Corniglia, where you'll walk down to a narrow strip of rocks. This is a place to sunbathe only at low tide, otherwise the piece of land is too narrow. It's not the most aesthetic nor comfortable beach so to me, it's not really worth a visit.
Manarola: Best for Cliff-Divers & Sunbathing
Manarola is known for picturesque views, but not for having a nice beach. But it's marina makes for a very "Italian" swimming spot.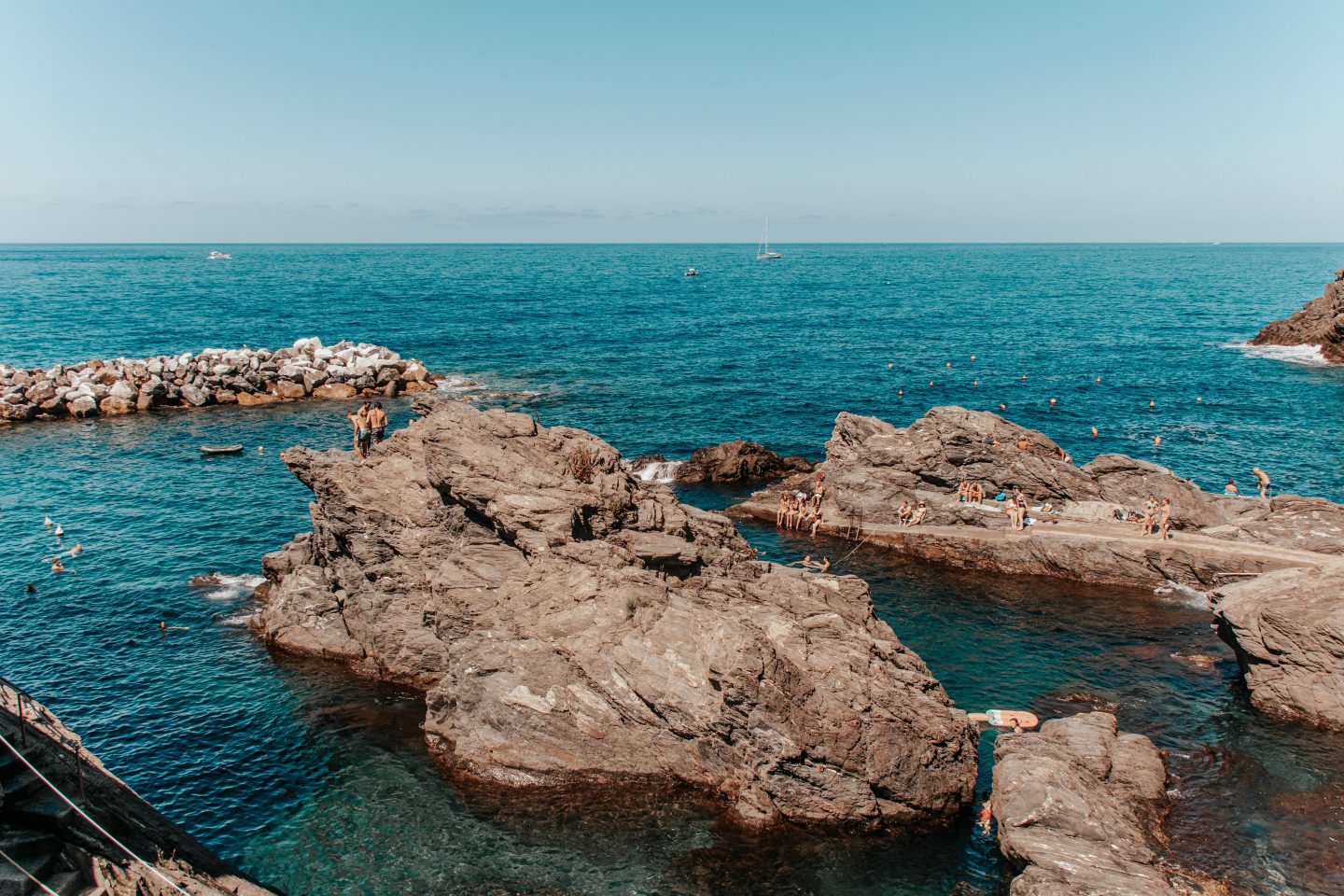 Marina
Manarola's marina is characterized by large, dark boulders and scream adventure! It's a very "Italian" spot because the locals know how to do it best, taking advantage of the natural landscape and enjoying it to its fullest.
The height of some of these boulders is perfect for cliff-jumping, but if you're not willing to be as daring as the locals, there's also a ladder as well as a drop-off area where you can calmly enter the water.
One cool thing about this Manarola beach (that you also have to watch out for) is that there's a boat service station right above the swimming spots. While I visited Cinque Terre, I actually got to see how they lower one of the boats into the marina – and see them warn all the swimmers to move out of the way!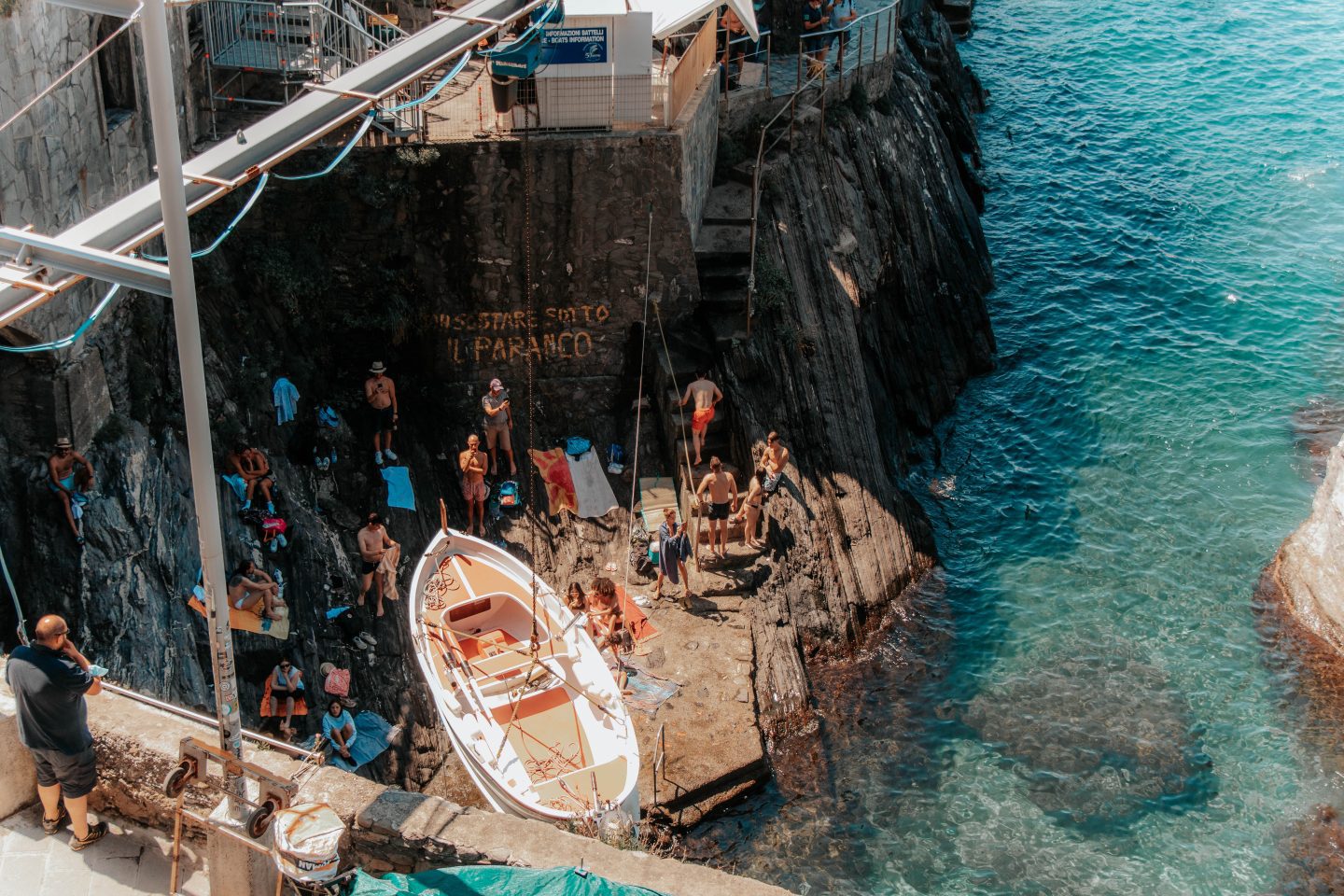 Riomaggiore: Best for Adventurous Swimmers and Natural Views
Riomaggiore has a natural beach just a few-minute's walk from the town center, as well as a remote beach you can only access by sea.
The Beach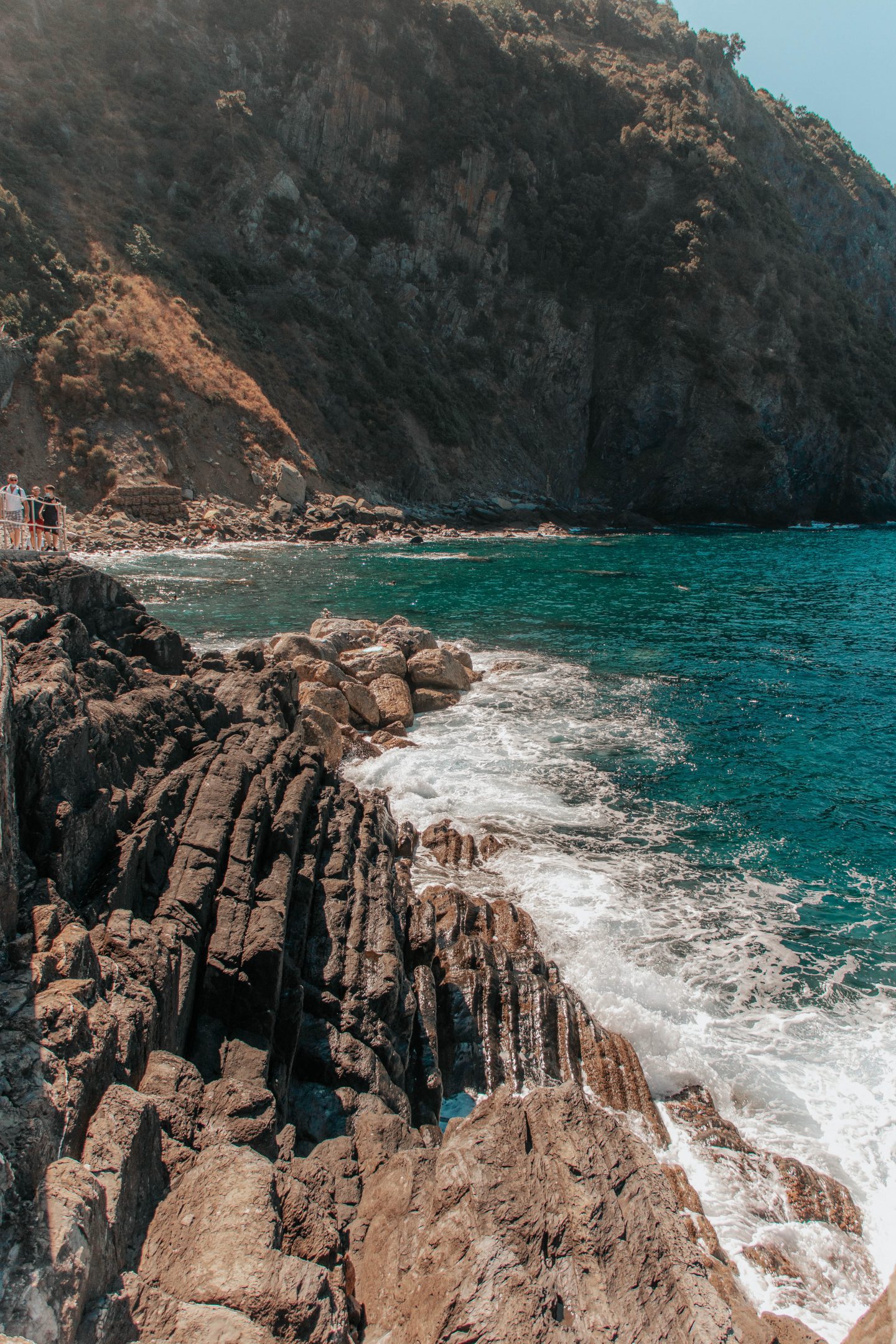 The Riomaggiore Beach can be reached by walking down to the harbor and up to the left where you encounter the classic Riomaggiore viewpoint. After seeing the view from the terrace, keep walking left and down the path along the rocks to eventually reach the small pebble beach.
This beach is quite picturesque, as you can't see the town from here – just the giant cliffs and rocks around you.
I would say this Riomaggiore beach is better-suited for strong swimmers, as the waves in this cove can get rough, expecially because the Cinque Terre ferry stop is right next to this beach.
Canneto Beach
Canneto Beach is a local favorite. Many tourists don't know about it because it's not advertised and it's not easy to reach.
You can only reach this beautiful beach by sea, but if you have the means, then you'll be spoiled by the unbelievably clear waters and untouched nature.
---
Other Beautiful Beaches Near to Cinque Terre
Portovenere
Portovenere is a gorgeous seaside town, only 20-minute drive from the Cinque Terre. It's not connected by train, which is why it can be easily missed on a visit to Cinque Terre, but it's so worth the detour if you have the time and transportation to make it here.
Byron's Grotto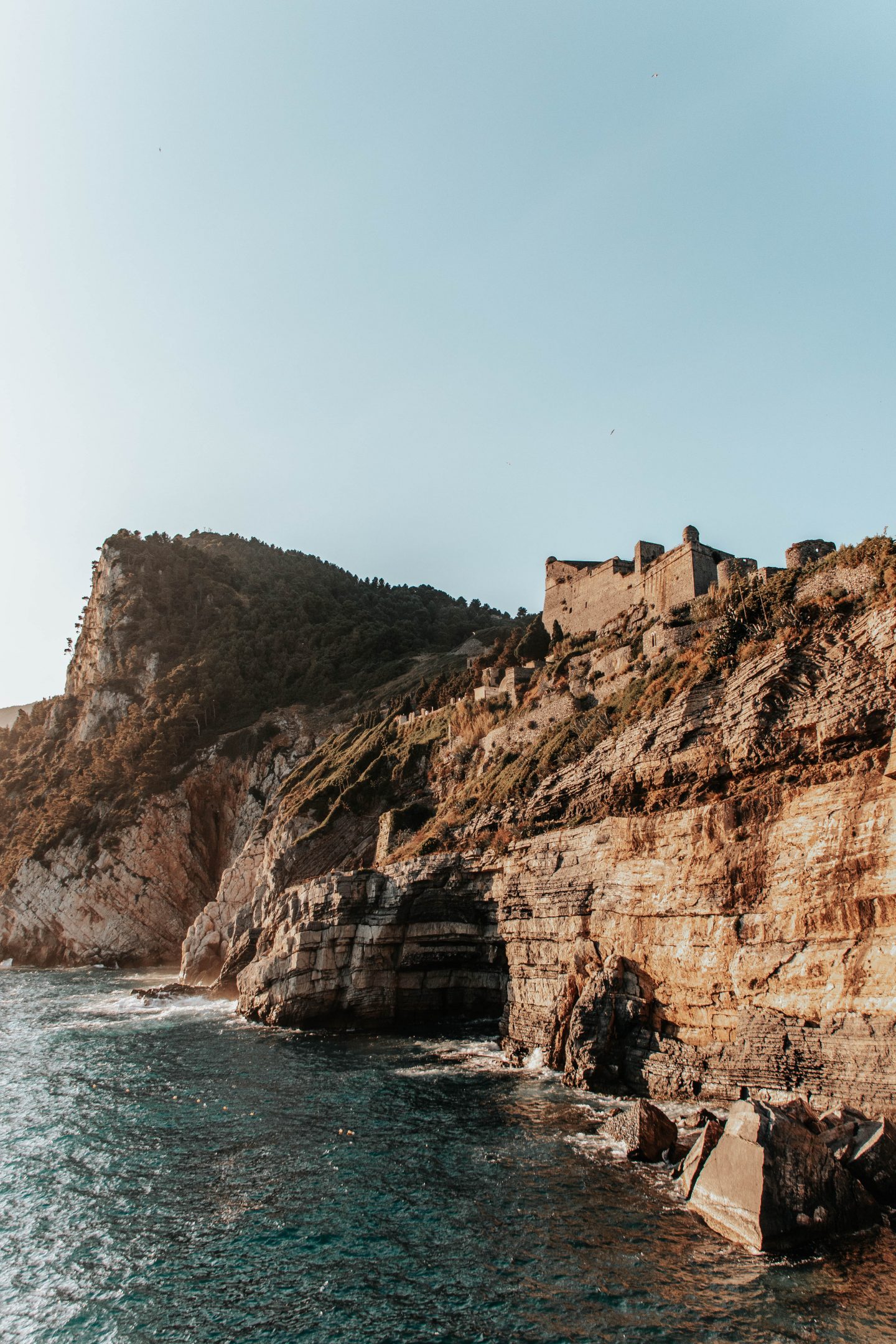 One of the most magical locations I've ever seen is Byron's Grotto in Portovenere. I knew I had to mention it because it's just too pretty to ignore, especially when Portovenere is so close to Cinque Terre!
This exact cove inspired one of Lord Byron's poems, hence the name Byron's Grotto.
The medieval castle combined with the rocky cliffs and the crashing of the waves is an insane landscape that makes you think you just stepped into a world like Game of Thrones.
The best time to visit is at sunset, when this area literally glows and the light bounces off of the waves.
The waves can be a little rough in this area, so it's better for experienced swimmers, but even at sunset there were a handful of people still enjoy the water and taking in the view from the rocky shore.
Palmaria Island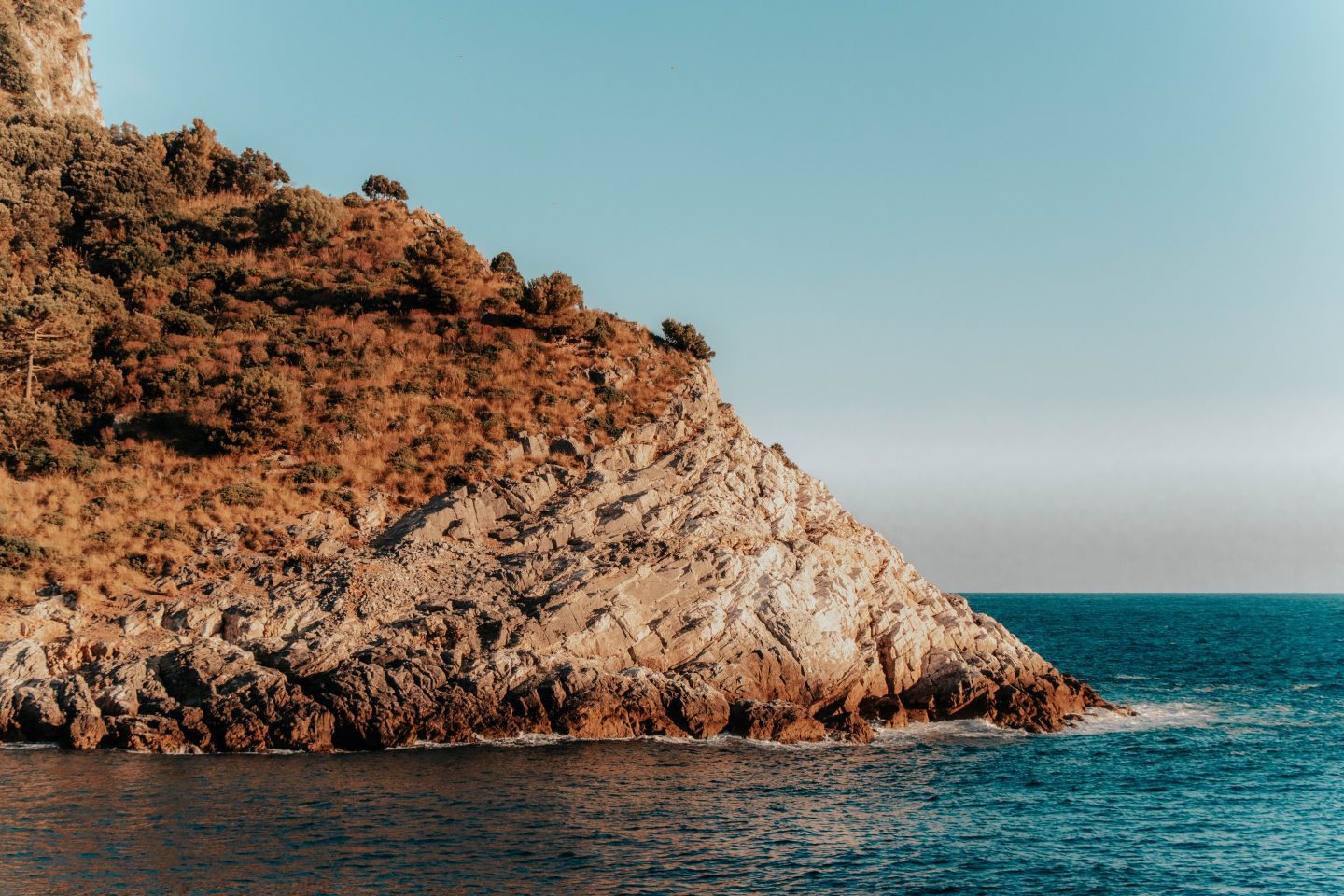 Just across from Portovenere's town center is the wild-looking, rocky Palmaria Island.
If you want to escape the crowds, then opt to take the ferry across and spend a day exploring the island or soaking up the sun at Spiaggia Gabbiano. This beach is right across from Portovenere and has free and serviced beach areas.
There are also more remote beaches, only accessed by boat, like Cala del Pozzale or Calla della Fornace. These are great optiosn for those who are seeking more privacy and trying to get off-the-beaten-path.
Bay of Poets
One last area to mention that's the most convenient to visit in Portovenere is the beaches along the Bay of Poets, including Spiaggia di Arenella, Spiaggia d'Olivo and other smaller beaches along this stretch of shore.
These beaches are perfect for families or travelers who want the convenience of setting up to spend a whole day swimming and sunbathing.
Levanto
Spiaggia Levanto is a wide and long beach in the neighboring town of Levanto. Levanto is connected to the Cinque Terre by train, so it's easily accessible and it's also a great place to stay when visiting the Cinque Terre.
This beach is similar to the beaches of Monterosso with both free public areas and private lidos and lots of space to make a spending a whole day a comfortable experience.
---
Cinque Terre Beach Tips
From my own personal experience, I have a few tips to share so you can have the best beach day in Cinque Terre!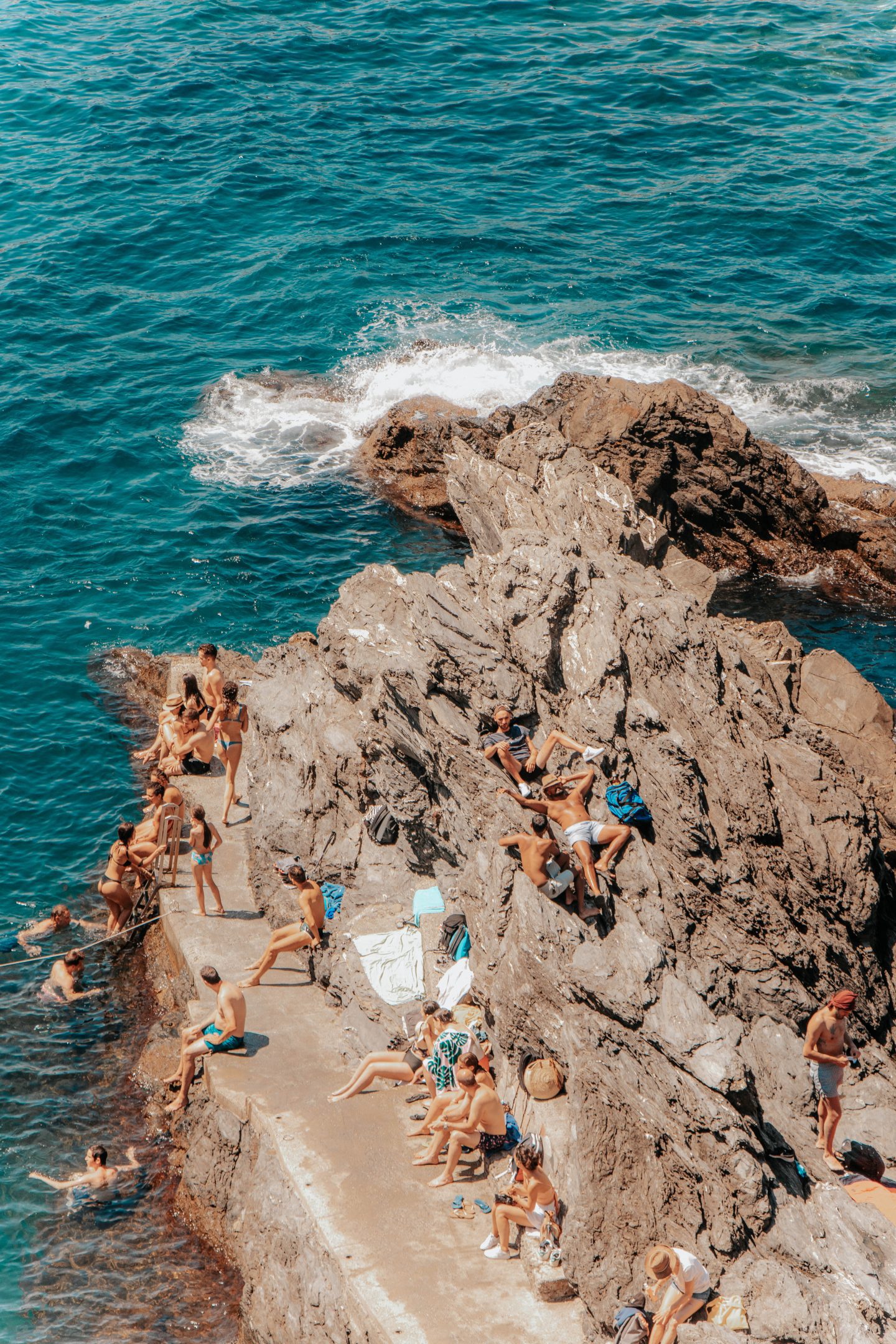 Umbrella and Sun Chair Rentals
At the Monterosso beaches, you may want to splurge and rent a set of beach chairs for 30 euros a day. If you plan to stay the whole day, it's not a completely terrible deal.
But do note to arrive early, especially on weekends. Rentals can quickly sell out in high season!
Changing Rooms
Most beaches in Cinque Terre don't even have changing rooms and for the ones that do, they're only available to those who paid for rentals and access to the beach.
So, if you plan to only enjoy the public beaches or any beach without a changing room, think ahead of how you're going to change.
Bring an extra towel to cover up with, locate a public bathroom (hard to do, but I have more tips in a second on that) and wear clothes that can easily double up as a swimsuit cover up.
Watching Your Stuff
Something I often forget about traveling with my boyfriend in two is that if we want to go swimming anywhere, we have to make sure it's in an environment where we can keep our eyes on our stuff the entire time.
Italy is a safe country, but a real threat to tourists is pickpocketing and theft.
So, stay alert and be sure to not venture too far into the sea away from your belongings.
Before you actually get on the beach, take off any expensive jewelry and hide your valuables in your bag so people don't see you putting them away where you're going to be leaving you stuff.
I always carry my WANDRD PRVKE backpack that has anti-theft features for my photography gear, but I also recommend PacSafe for a general anti-theft backpack.
Finding Public Bathrooms
For changing and general bodily duties, you'll want to be able to find a public restroom. There are a few things to note about restrooms in Italy and the Cinque Terre.
Businesses usually only reserve their bathrooms for clients, so you have to buy something to use them.
In popular tourist areas and stops like gas stations, you have to pay to use a public bathroom (usually 1 euro.)
You can use the app Flush to locate bathrooms near you anywhere in the world.
If you purchase the Cinque Terre Train Card, I discovered the train station bathroom is free to use included with that purchase. I discovered this in Monterosso and was able to change in the restroom, which was actually very nice and had an attendant.
Slippery Rocks
From the large boulders to the pebbles at the shore when you immediately enter the water, the rocks can be unforgiving on your feet.
Firstly, they're probably going to burn or puncture your feet in the sun, especially the rocky pebbles.
Secondly, the larger stone boulders and the rocks beneath the surface when you enter the water can be super slippery. Proceed with caution and even opt to bring a pair of non-slip swim shoes to have more traction against the slippery surfaces.
Food & Snacks
Nearly every beach on this list is in very close-proximity to town centers where you can sit and dine or take some of the amazing street food (cones of "frutti di mare" aka seafood or Ligurian focaccia) for a snack.
The only beaches this doesn't hold true for are the two beaches you can only access by sea, Guvano and Canneto, and the other Corniglia beach. It's better to bring everything with you in that case, including snacks and a packed lunch, if you're making a day out fo visiting these locations.
---
Cinque Terre Beach Essentials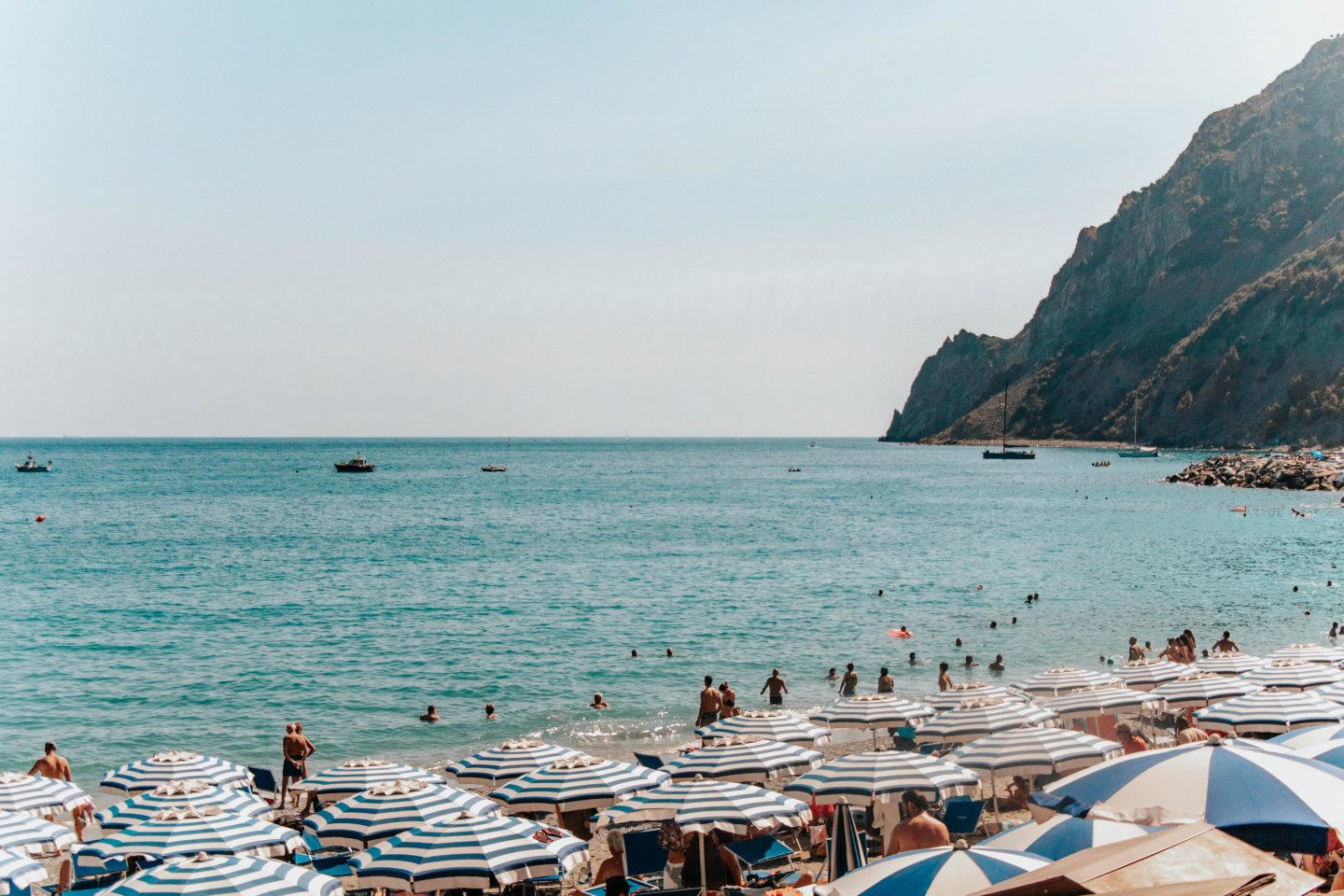 Because of the nature of the beaches and facilities in this area, there are things you will absolutely want to bring with you and not rely on trying to sort out at the beach.
Towels – This one is obvious, but you may want to bring more than just one to lay on and one to dry off. Some of these beaches are only composed of big, hot boulders, so you don't want to be burning on top of them while you sunbathe. And if you choose to enjoy a free beach, you likely won't have a changing room – so having an extra towel to hold over you in case you have to change at the beach is helpful. If you're trying to travel light, check out lightweight microfiber beach towels that don't soak up sand (Monterosso beaches are part sand and rock.)
Sunscreen/sunhat – Like I said, the sun can be especially brutal because of the terrain of some of these Cinque Terre swimming spots. Don't mess around with the Mediterranean heat waves – protect your skin and feel more comfortable and cool with a hat! Nearly every beach on this list doesn't have shade – so you'll want to be protected from the heat.
Water – The only spot I found with a free and refreshing public water fountain to fill up is in the Vernazza main square. So don't count on having lots of places to fill up. Either stop at a cafe or kiosk to buy water before you hit the beach or bring a filtered water bottle from home.
Swim Shoes – Most of these beaches are rocky, so if you feel more comfortable, you can pack a pair of swim shoes so your feet don't hurt on the sharp pebbles.
---
Map of Cinque Terre Beaches
To make the geography and distance between beaches a bit clearer, I marked every single beach I mentioned on the map below!
---
Final Thoughts
Cinque Terre beaches are certainly unique – which is truly what makes them so beautiful and an amazing experience to enjoy when visiting Cinque Terre.
Luckily, the variety of swimming spots and beaches in each Cinque Terre village means different kinds of travelers can find which beach works for them.
Hopefully you make it to at least one of these beautiful spots, if not a few!
Which Cinque Terre beaches are you adding to your bucket list? Let me know in a comment!
Save this post on Pinterest!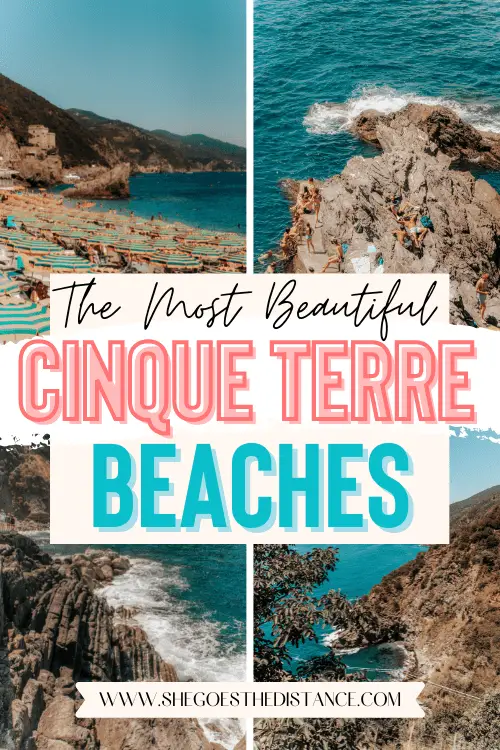 I hope this guide to Cinque Terre beaches has gotten you even more excited about your trip! Enjoy kicking back and relaxing in one of the most picturesque places on the Med!
XOXO
Michela