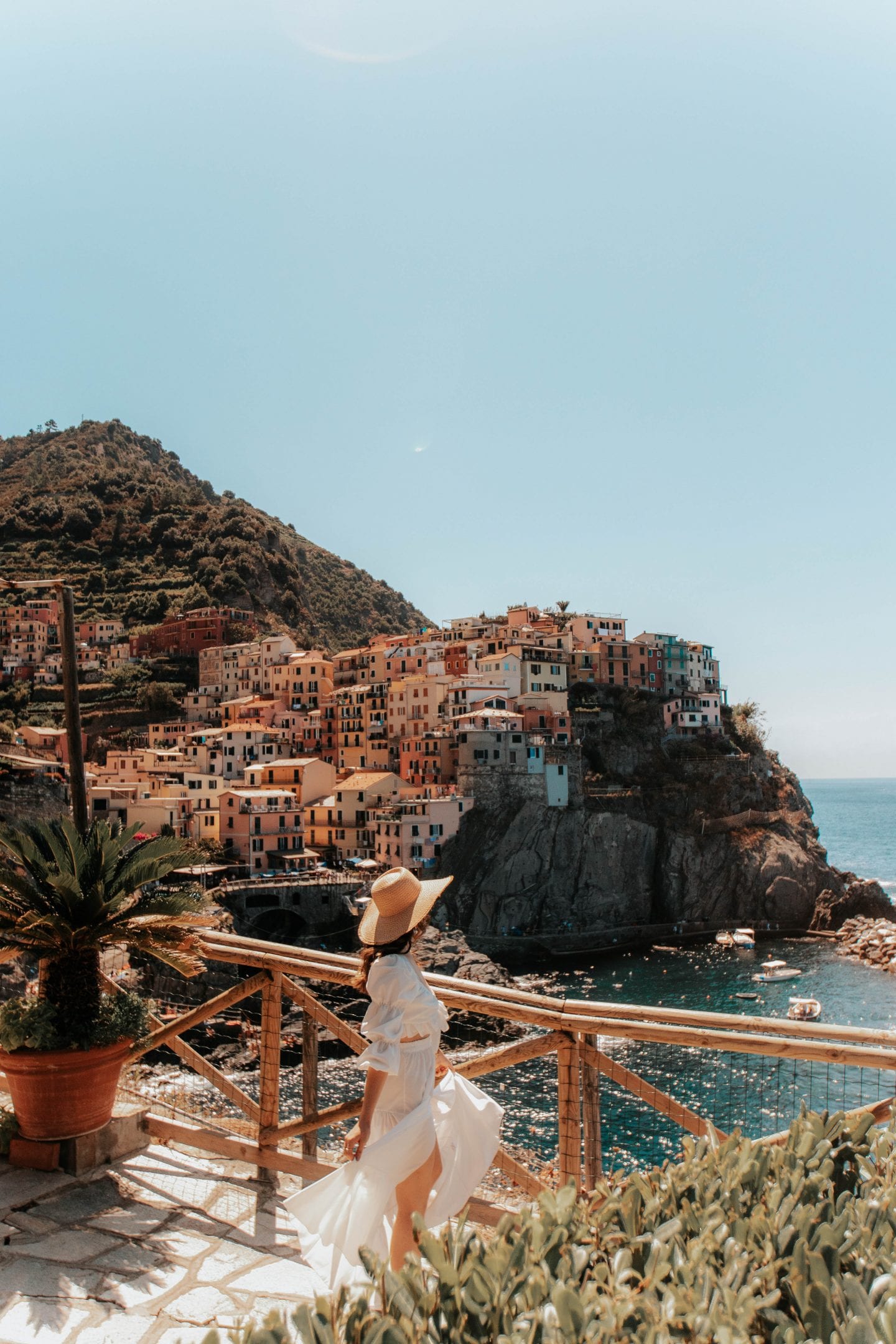 Last Updated on May 11, 2023
Jumbled colorful houses perched on cliffs above the azure Mediterranean sea glowing under an unobstructed sunset – that's what comes to mind when I think of Cinque Terre. This paradise on the Italian Riviera is not to be missed on any Italy trip and I'm going to show you how to squeeze it into your vacation plans with the perfect Cinque Terre one-day itinerary.
The Cinque Terre are a collection of five seaside villages on the Ligurian coastline. Did you know this area is both a national park and UNESCO World Heritage Site? Yep, it's more than just a pretty place to take Instagram pictures (although you can bet I have some epic suggestions for that.)
Is it possible though to see all these towns have to offer in one day? Absolutely! While I would encourage you to spend a night or two just so you don't have to plan a whirlwind itinerary, you can still pack in epic experiences and see many of the best things to do in Cinque Terre in one day.
Cinque Terre can easily be visited from Florence or even as a day trip from Milan (if you do the right planning.) Look out for other ways to fit the Cinque Terre into your trip on my post regarding northern Italy itinerary ideas.
If you're thinking of spending more than one day, take a look at my guide on where to stay in Cinque Terre on a budget.
Some of these links are affiliate links. This means if you make a purchase through that link, I receive a small commission at no extra cost to you. Read my full disclosure!
Before you set off on your Italian adventure, make sure you're not missing anything!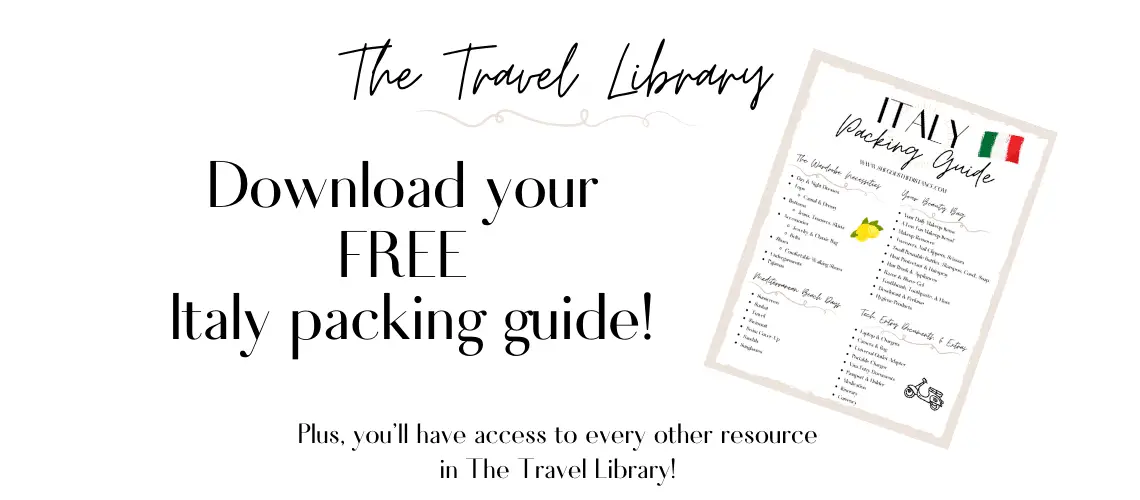 Getting Around
To plan the perfect day trip to Cinque Terre, you're going to have to create a plan for getting around. Cinque Terre is not a destination that I would say is easy to "just wing-it."
Car traffic is limited in the towns, trains are typically packed with other tourists, and hiking is a laborious way to travel between villages if you're not properly prepared.
Traveling By Train
The easiest way to navigate the Cinque Terre is to travel by train. It's really the only way to be able to see all five villages in one day. The Cinque Terre train line connects La Spezia-Riomaggiore-Manarola-Corniglia-Vernazza-Monterosso al Mare-Levanto (and some also to Sestri Levante.)
The duration of the train rides is only a few minutes between each town and you'll have scenic views from your window.
Traveling Italy by train can be confusing so check out my Italy train travel tips before your visit.
It's helpful to save a screenshot of the Cinque Terre train schedule to your phone. Some trains come every 15 minutes, some could come every 30, so it's helpful to know while you're exploring what train you want to catch.
There are not many seating options on the train platforms and they get packed with tourists, especially during summer in Italy.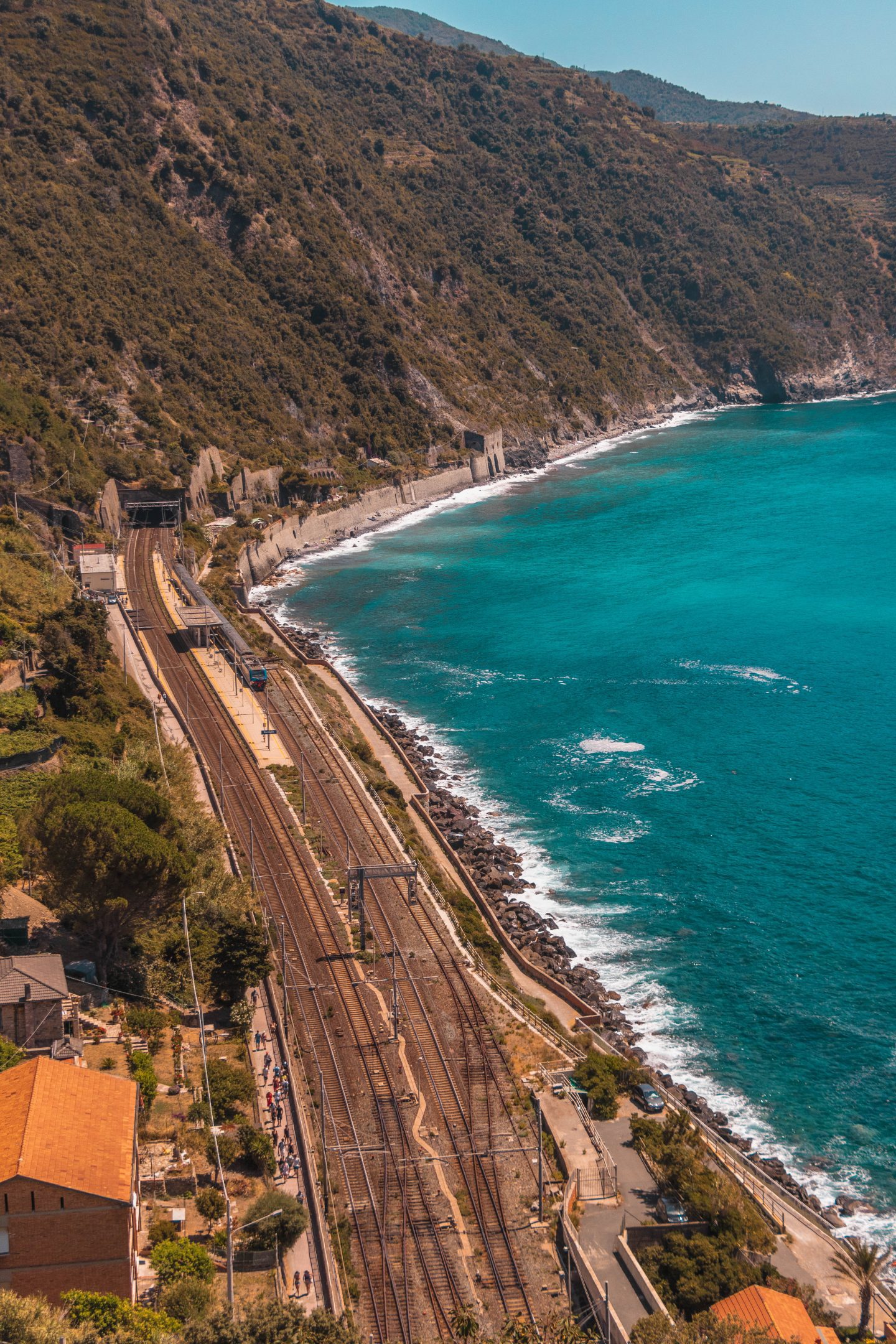 Cinque Terre Train Card
The Cinque Terre Train Card is an absolute must for visiting Cinque Terre in one day.
It gives you unlimited train rides and access to the hiking trails for 16 euros per person per day.
You'll see in the next section why it pays off in comparison to single tickets.
It's also the only practical way to see all five villages because one of the hiking trails is closed (more information under the Cinque Terre Trails Card.)
You can buy the Cinque Terre Train Card online or at any of the train stations/information stands of the five towns, La Spezia, or Levanto.
Take note that it is only valid on the day you purchase it. If you're buying your tickets through the website, then it's only valid for the date you choose.
I highly recommend buying the card online before you visit to avoid long lines.
If the train staff come to check your ticket, you'll also have to present a valid photo ID. If you buy your ticket online, you can take a screenshot of it or download it to your phone to present. However, if you purchase them in person, you MUST validate them at one of the tiny green machines that are all along the train platforms.
If your ticket isn't validated, you will receive a fine!
Good to know: The English translation of the website to purchase the Cinque Terre Train Card is not clear for two categories. Know that "Aggregate" means groups, if you're buying the cards for a group, and "Guys" is meant to be children, if you're purchasing the card for children.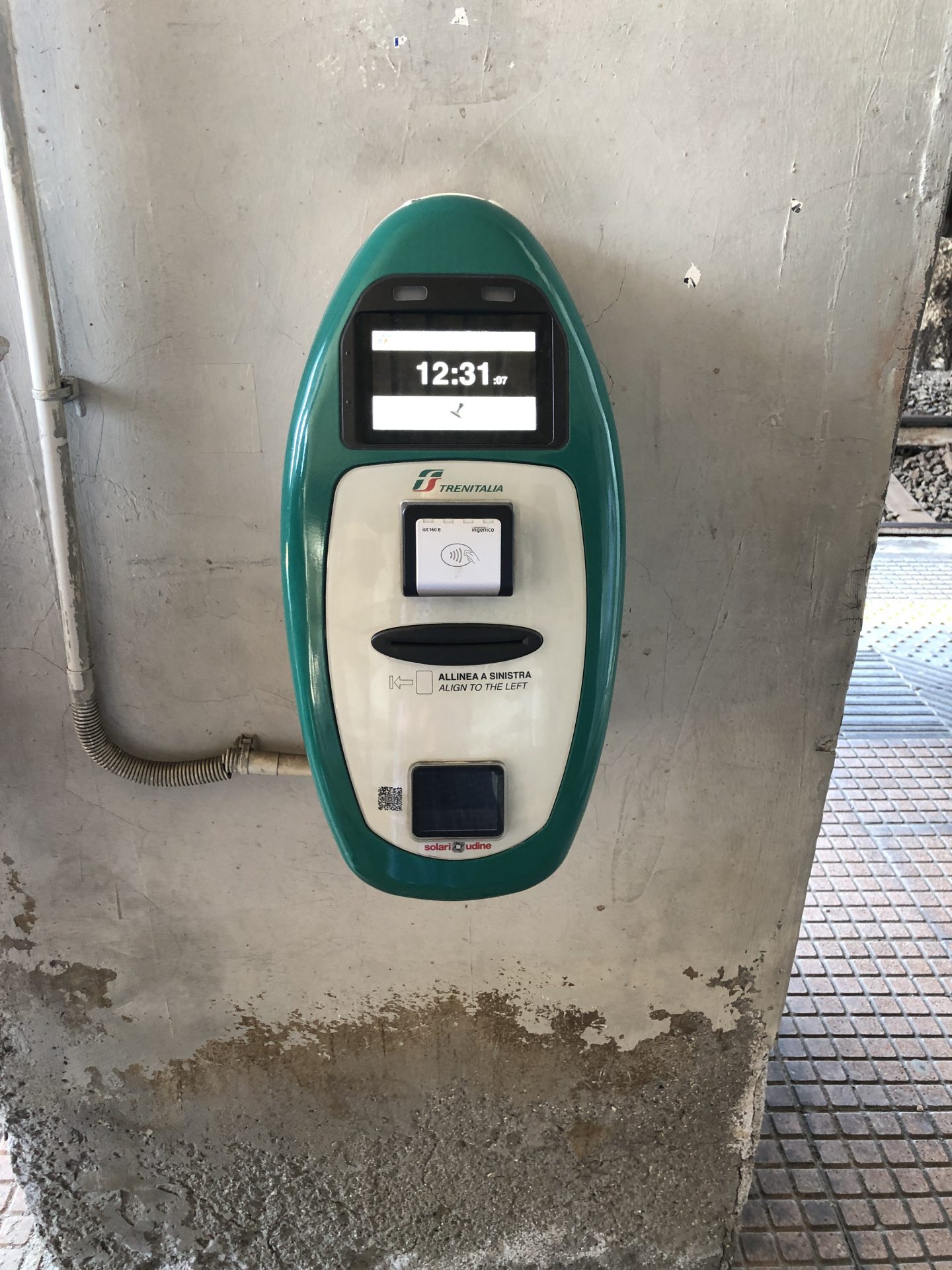 Single Train Tickets
You can opt to purchase separate train tickets, but a single-way ticket costs 4 euros per person. If you're taking the train more than four times (which you will be to reach all five villages,) then the Cinque Terre card has already paid for itself.
Cinque Terre Trails Card
The Cinque Terre National Park also offers a Cinque Terre Trails Card which, for 7.50 euros, gives you access to all of the Cinque Terre hiking trails.
The Cinque Terre Train Card also gives you access to the hiking trails, so I would only buy this card if you were solely hiking between two or three towns on your day visit.
Likely, you won't be doing that because you won't be able to see everything, so it's not the ideal visitor card option for one day in Cinque Terre.
Important to Know: The hiking trail Via dell'Amore, which connects Manarola and Riomaggiore, has been closed for years and it is unknown when it will reopen. There is an alternative path that is not scenic if you have no other way to reach towns than by foot.
Other Transportation Options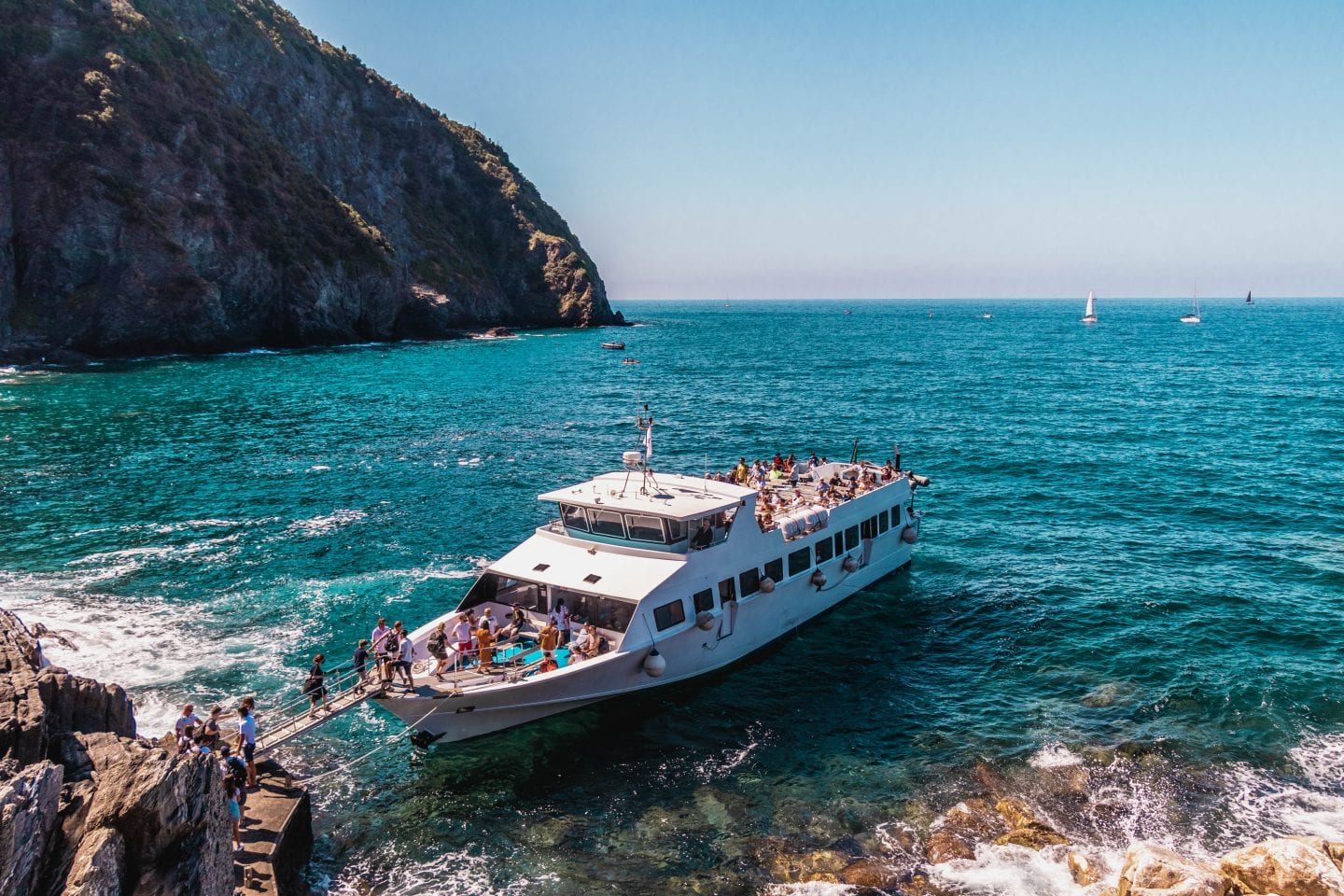 As I've mentioned, I would really only recommend taking the train to navigate Cinque Terre for a day. However there are other options.
By Ferry – Seeing the Cinque Terre villages from the water is a unique experience. Taking the ferry is a more costly option which is why I suggest the economical Cinque Terre Train Card. Roundtrip tickets for the boat ride cost 35 euros.
By Car – It is possible to reach the towns by car even though it's not practical. Parking is extremely limited and all of the town centers are closed to car traffic. I recommend reading the national park's guide on arriving by car as it's packed with information on getting between each town.
By Tour – One day in Cinque Terre can most easily and most expensively be accomplished by reserving a day tour. I would only recommend a Cinque Terre tour in the case that you're coming from somewhere like Milan for a day trip. Having transportation and the itinerary organized for you will help you to see more and not get tired from making the long drive yourself. Otherwise I'd recommend it if you want insider knowledge and have the money to splurge on a guide! But I personally loved exploring the villages on my own time.
---
One Day Cinque Terre Itinerary
My perfect Cinque Terre one-day itinerary starts in La Spezia, but you can do the itinerary backwards if you're staying in Levanto.
If you are staying in Levanto, I would actually recommend you still do the itinerary in this order (Riomaggiore to Monterosso al Mare) and you'll see why as I highlight what there is to see in each of these towns.
Riomaggiore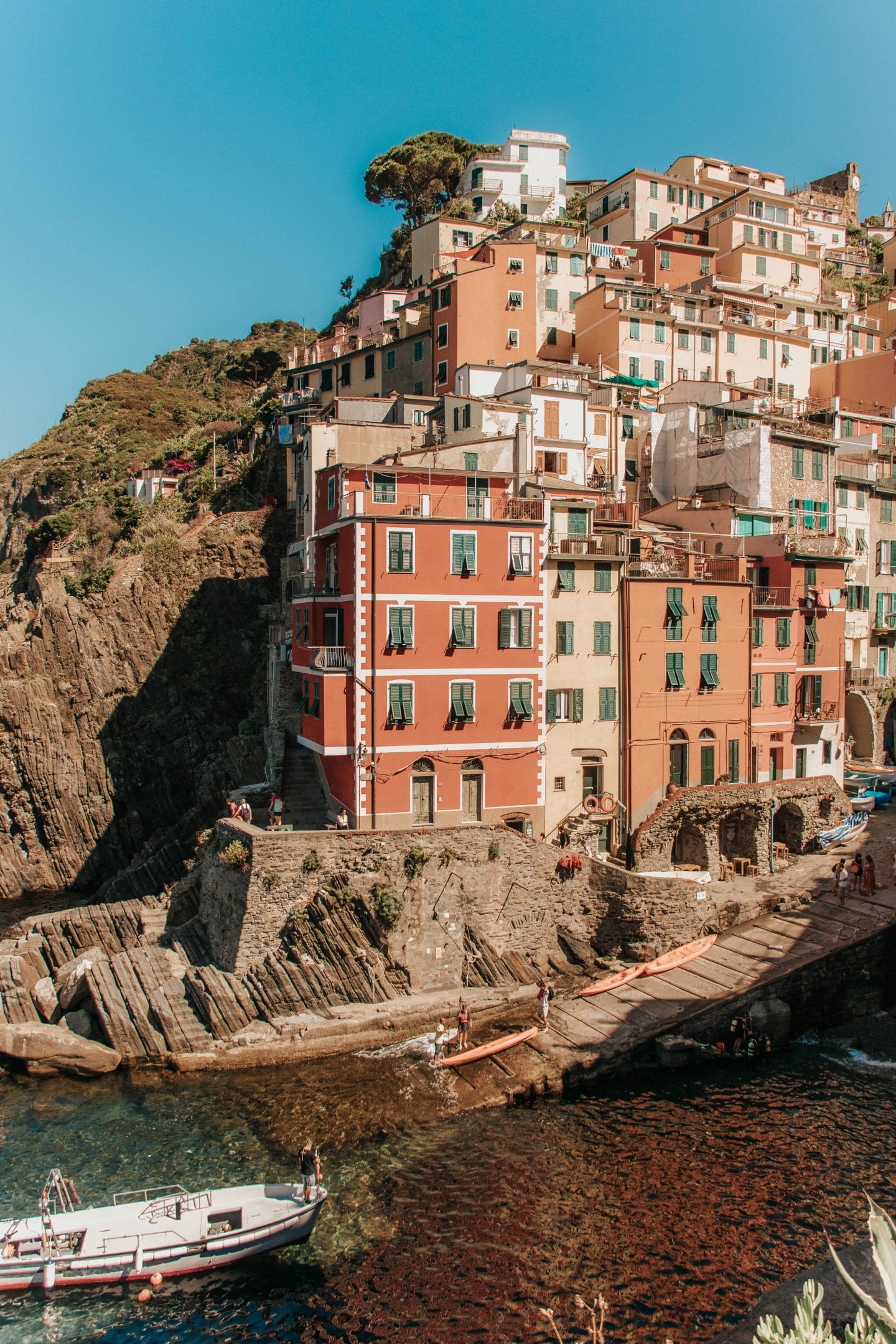 Riomaggiore is the largest of the Cinque Terre villages with a tiny harbor, but wide and bustling main street.
To come and go from the train station in Riomaggiore, you'll take a super long tunnel and at its end, you can choose to go left first and explore the main street, or go right and head down to the marina.
What To Do
Highlights of Riomaggiore include the boulders that make up the harbor's edge. They're the perfect place for a picture spot or morning snack.
Also around the harbor you'll find classic viewpoints – ascend the staircase to the left and you'll capture the classic Instagram photo of Riomaggiore's stacked buildings leading down to the sea. Ascend to the right and you'll see more of the coastline on a viewing deck.
If you like your breakfast sit-down style, you'll love the main street of Riomaggiore. One cafe you should check out is Il Maggiore. I've heard mixed reviews about their lunch and dinner meals, but their glass case of fresh and glistening pastries is a welcome morning treat and they have a deck perfect for people-watching while you enjoy your Italian breakfast.
You could also start your day with a quick swim at Riomaggiore Beach (find the details in my Cinque Terre beaches guide!)
Manarola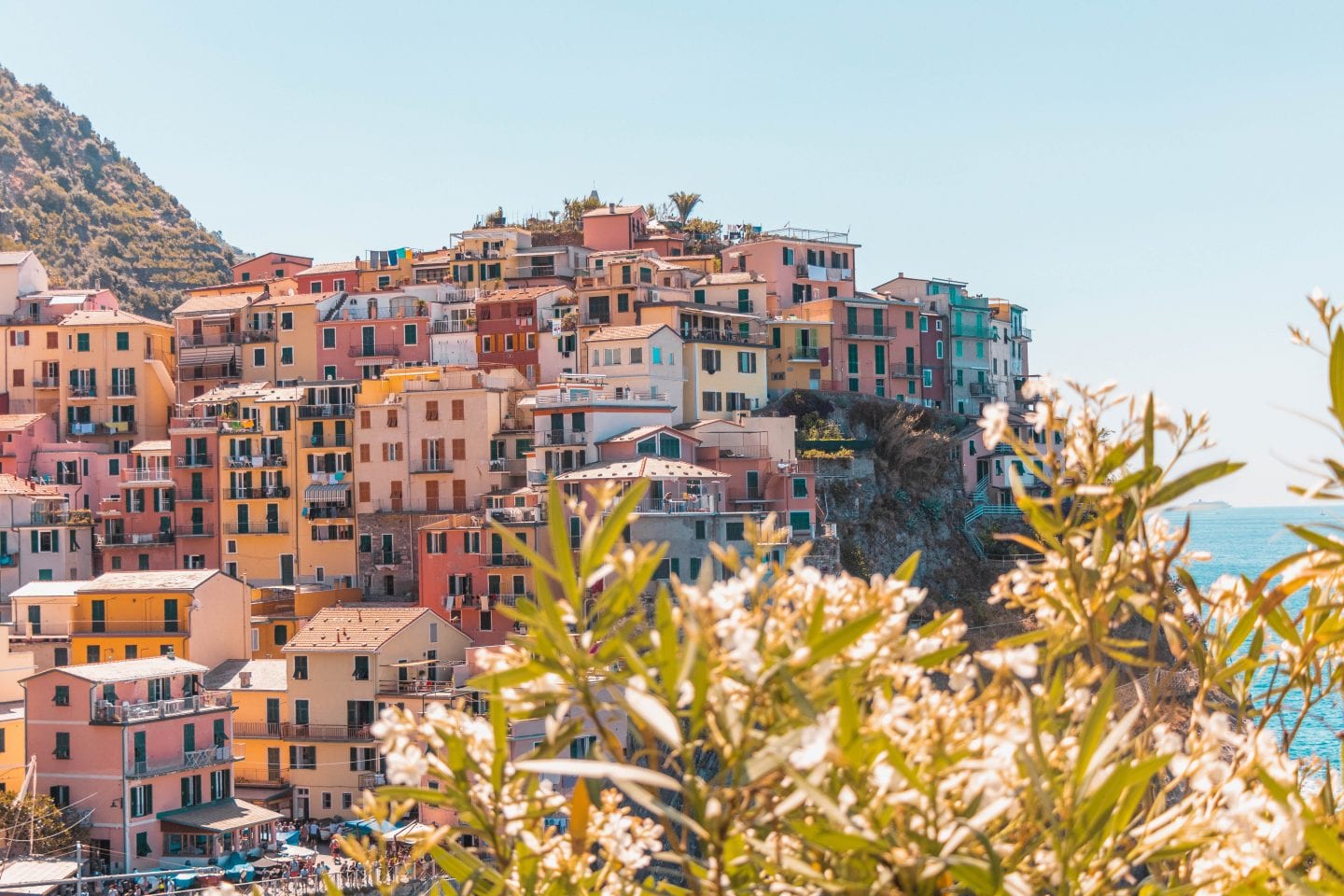 After an hour of exploration and maybe another for Italian breakfast, head back through the tunnel to the train station and embark towards Manarola.
Manarola is the vision of Cinque Terre that everyone pictures. The jumbled buildings create a beautiful mess of color above the sea that literally sparkles under the midday sun.
While Manarola doesn't have a proper beach, many Italians make do with the rocks and paved areas descending into the sea to take a dip in the water.
What To Do
The best thing to do in Manarola is walk up the path to the right of the town's center and see the village from eye-level. You can take your instagrammable photo here or I can show you a few hidden gem spots to wow your followers and excite the photographer in you!
Keep walking up to where there is the Nessun Dorma Restaurant. Have your travel buddy photograph you from the small staircase that takes you above the restaurant and you get this: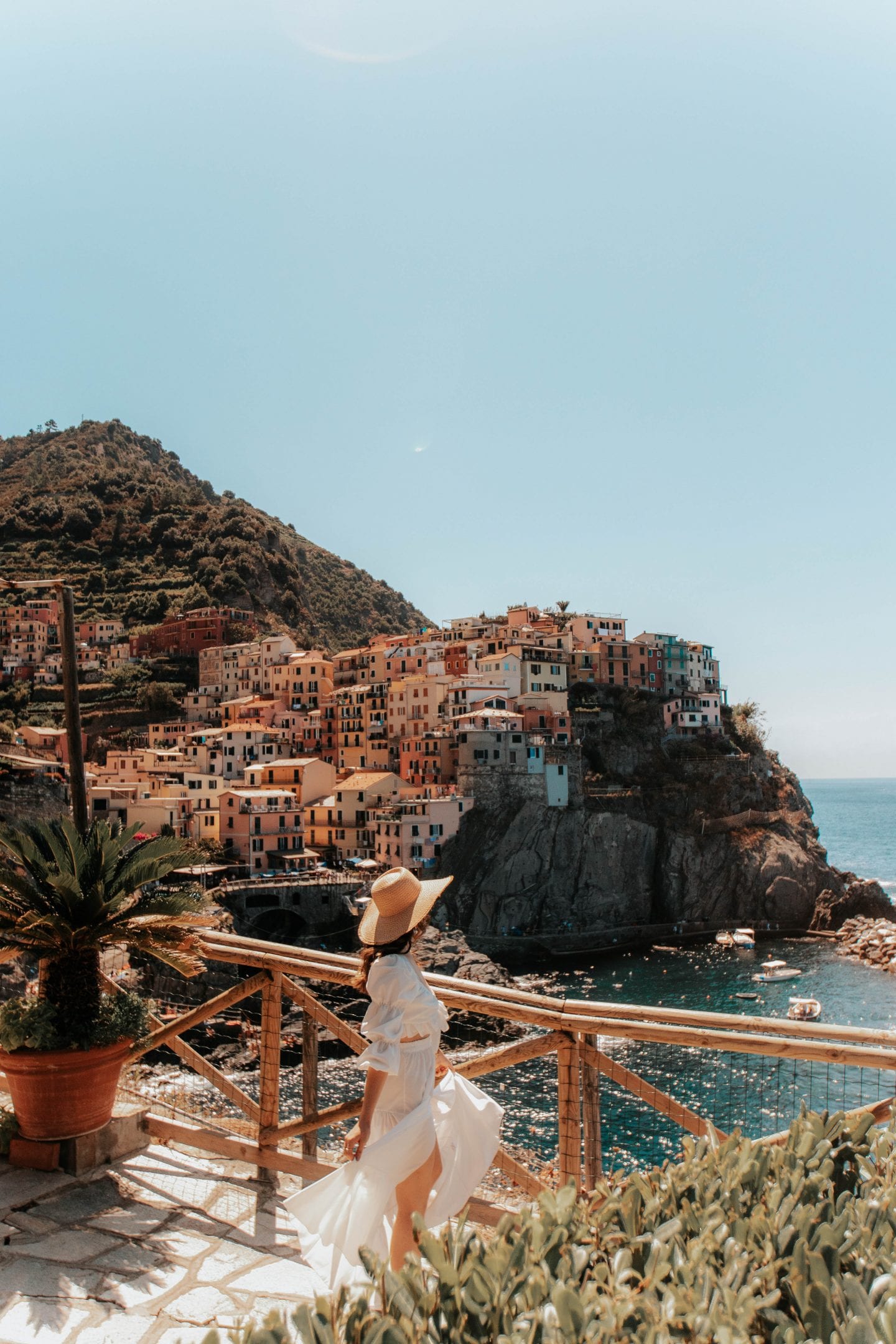 Oh, but I'm not done. Walk up that small staircase and you come across a children's park, a free bathroom, and some picnic benches. There's a lot to unpack here, so stick with me.
Firstly, USE THE FREE BATHROOM. It's in good condition and free bathrooms are hard to come by in Italy.
Secondly, in this park area, you'll see a row of picnic benches with the SAME view as the expensive Nessun Dorma Restaurant just a few feet below. Save money and pack or lunch or buy a panino from town and eat it here to take in that Insta-famous view!
Lastly, walk past the bathroom and you'll eventually come across another path that will take you back down to Manarola center. This path offers an amazing view (which translates to amazing photo opportunity) and isn't flooded by tourists like the one you see everyone run to after they get off the train!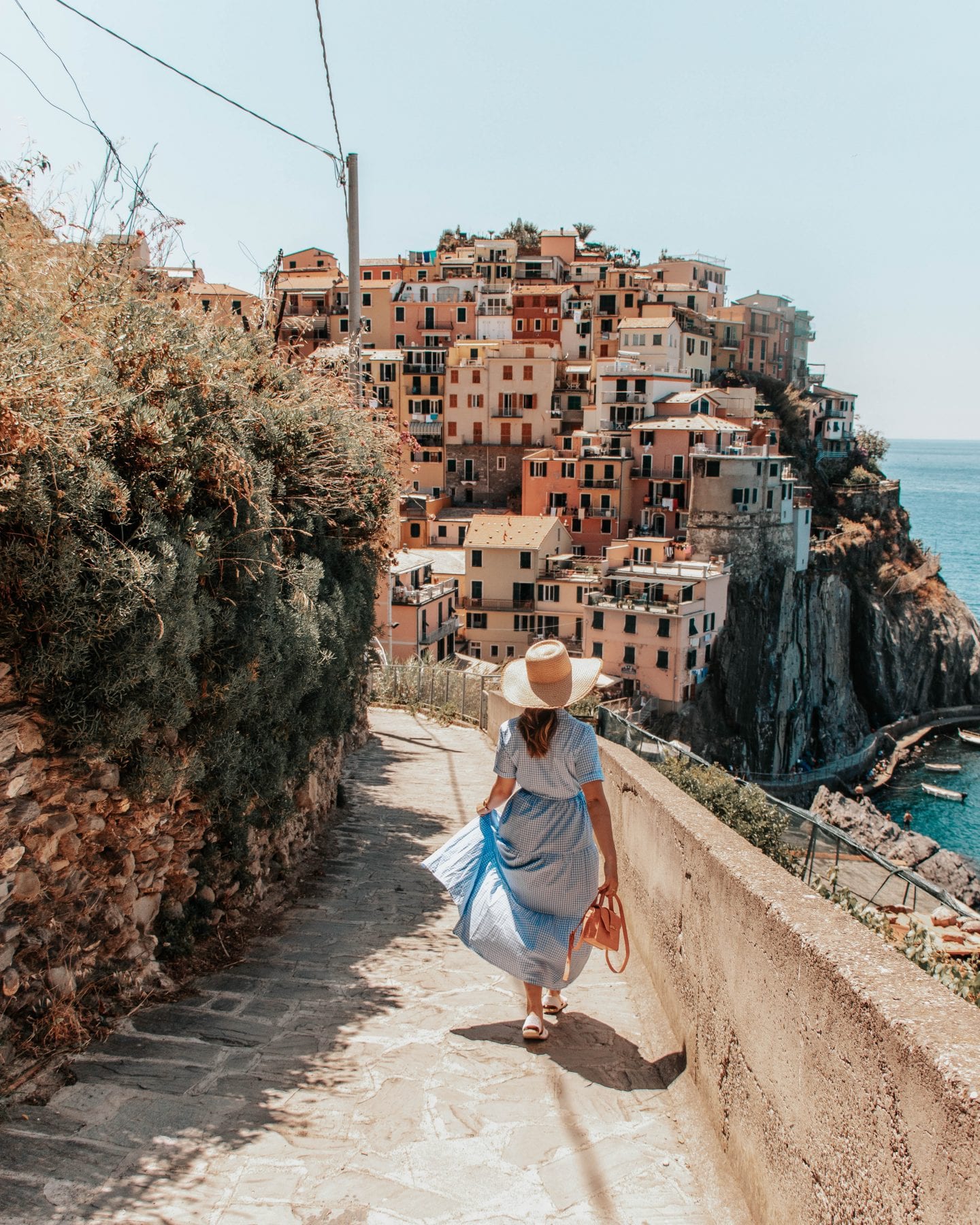 Corniglia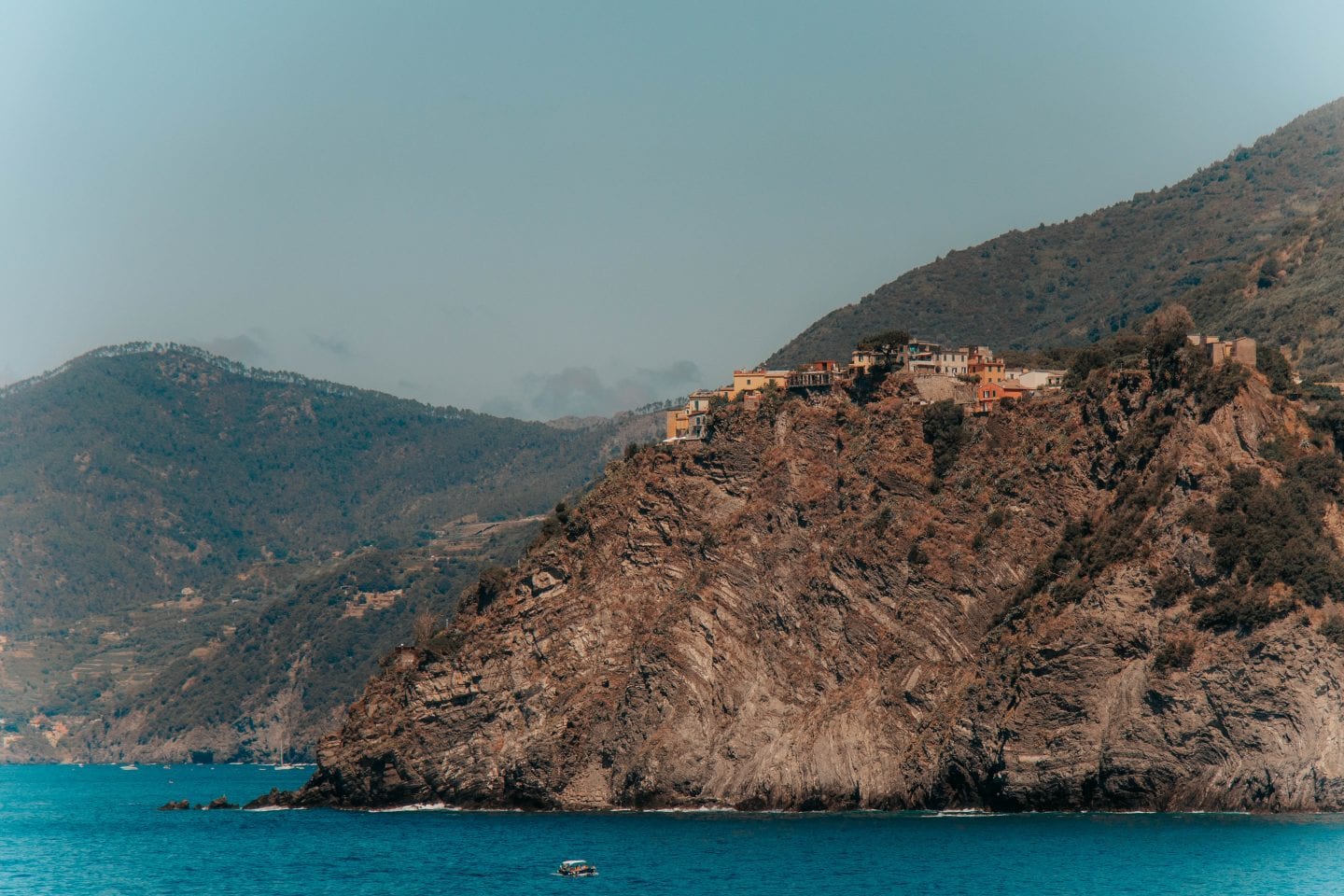 Corniglia is the most underrated and often looked-over town of the Cinque Terre. The tiny villages sits on a high hilltop, so it doesn't directly reach the sea.
Even though it's small, it oozes tons of charm!
When you arrive in Corniglia by train, you'll see that it's not easy to reach like the other towns! You can head straight down a walking path that takes you to a massive set of stairs, the "Scaletta Lardarina" and climb to the top of town.
Or if the summer heat is getting to you like it was getting to me when I visited Cinque Terre, you'll pay extra attention to a white shuttle bus arriving!
Good to know: My advice is to take the shuttle bus into town so you don't waste a ton of energy and then take the scenic staircase back down to the train station. The shuttle is included with the Cinque Terre Card.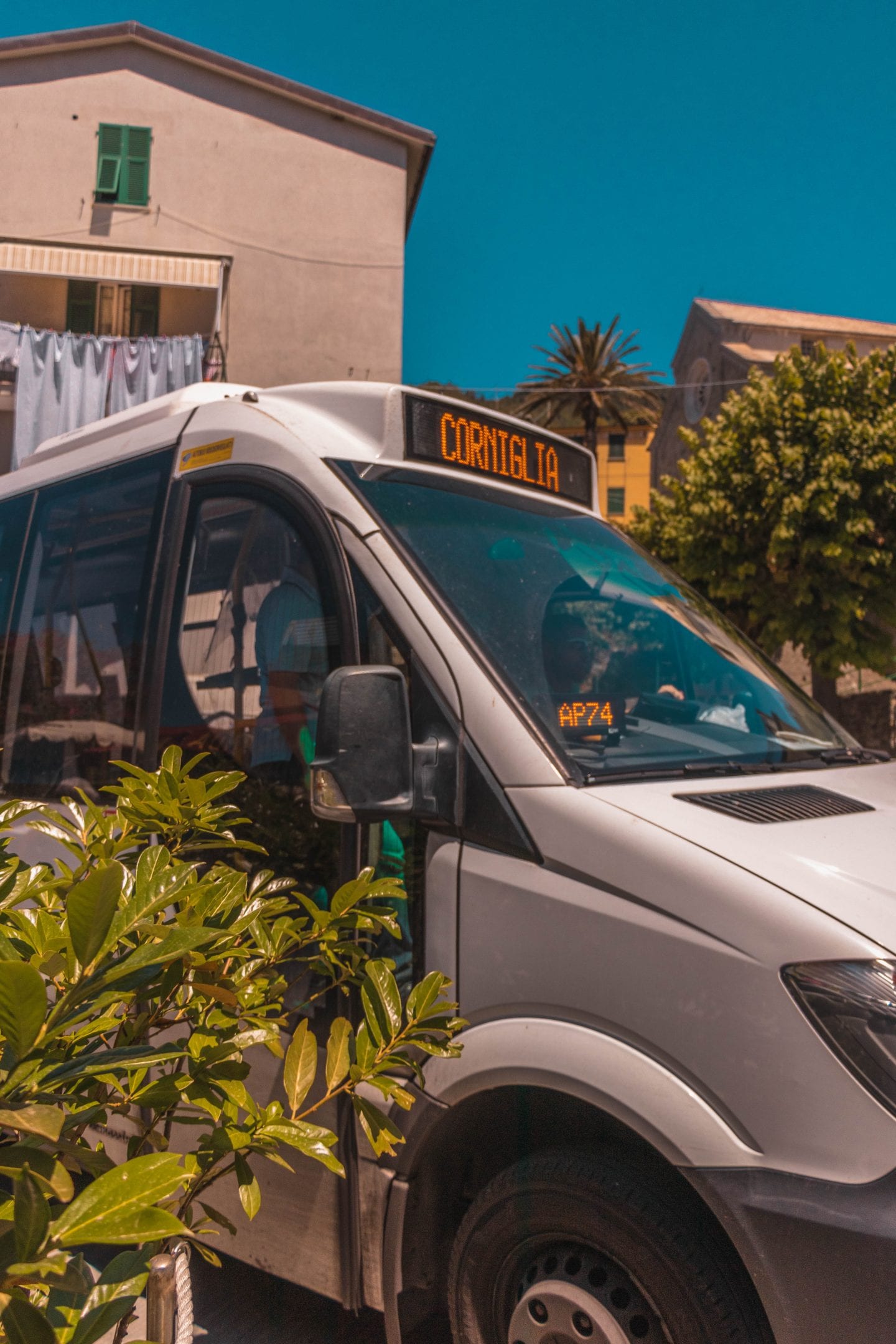 What To Do
When you reach the village center, you'll absolutely love the super narrow streets and authentic local shops. Corniglia is a great place to stop and have a bite if you're getting hungry by now. I recommend lunch with a view at Bar Terza Terra.
The restaurant occupies part of the St. Mary's Terrace, where you can vast views of the sea and neighboring villages. Just follow the main walking street (Via Fieschi) in Corniglia and you'll reach the viewpoint.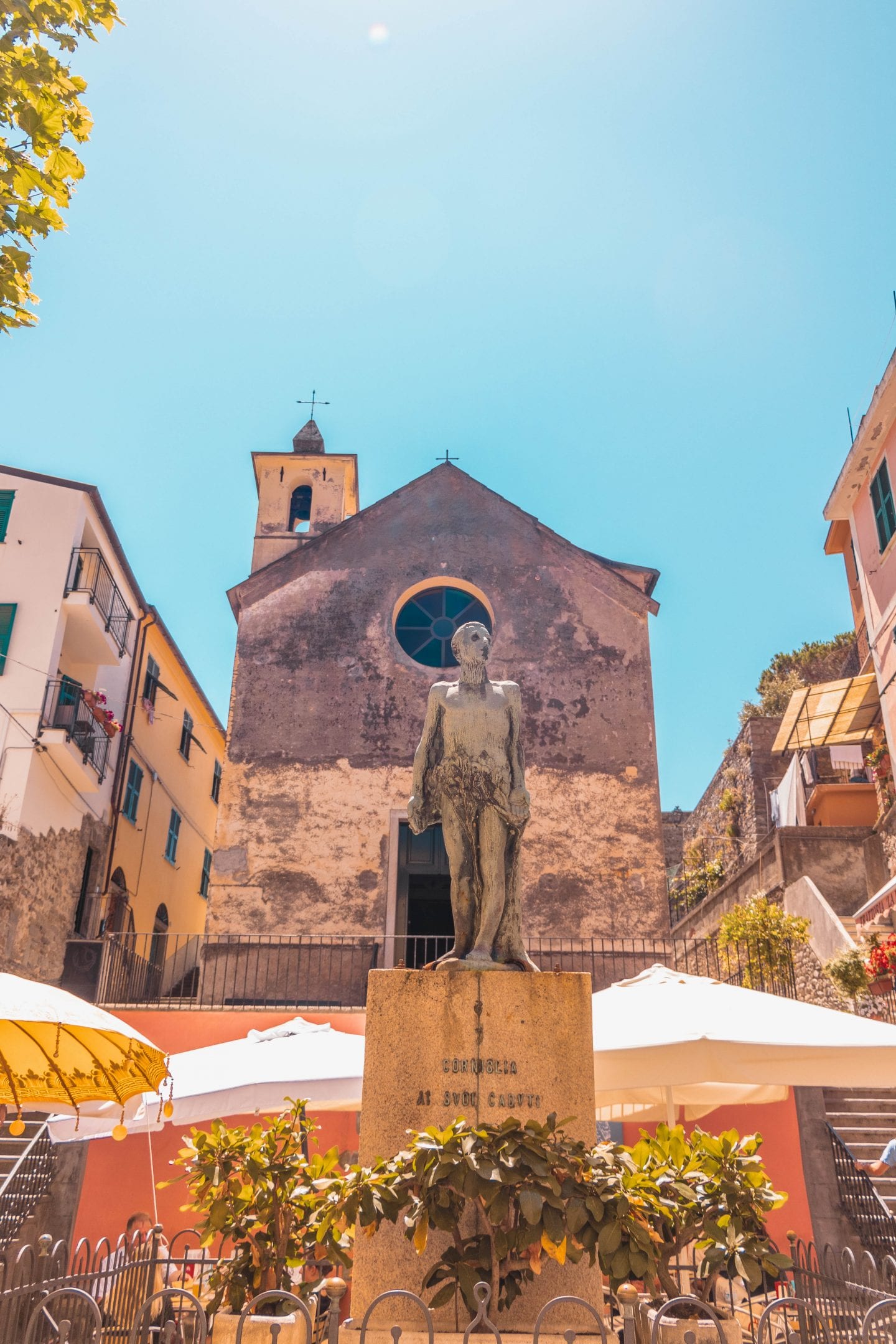 Take your time to check out other paths leading to panoramic vistas as well, like the one that starts just across from the church Oratorio Santa Caterina.
My boyfriend and I spent extra time in Corniglia just taking a break. As I've mentioned, the summers in Italy are amazing but they can really get to you on an active day of sightseeing. Take frequent rests and soak up the atmosphere so you don't burn out in the middle of the day.
Take the "Scaletta Lardarina" back down to the train when you're done exploring. It's a ton of steps but the view and experience are worth the burn!
Vernazza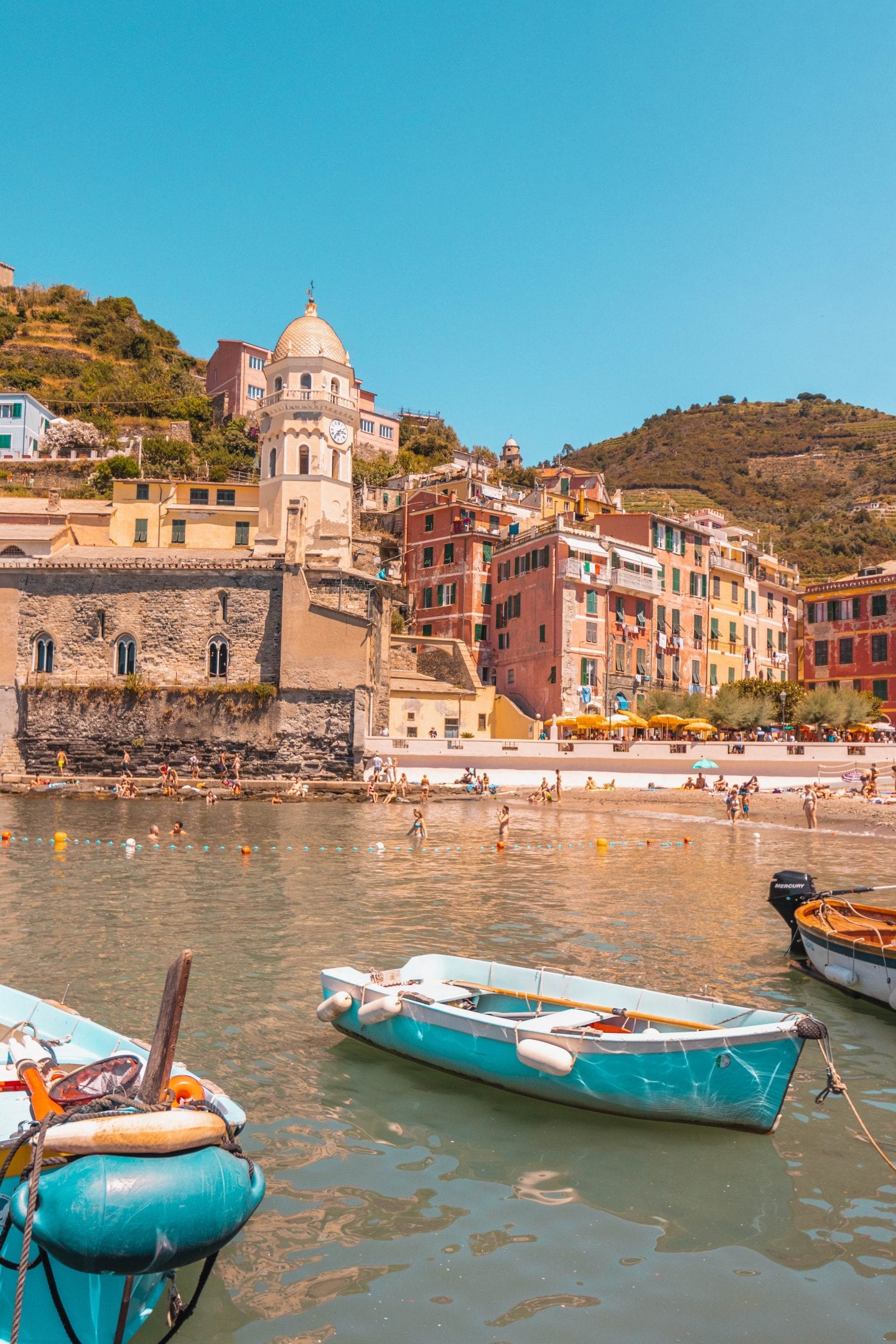 The most beloved of the Cinque Terre villages must be Vernazza. Many are seduced by this town's large harbor and wide main square.
Vernazza has it's own official beach in the harbor and while it's not huge, you'll find tons of Italians and tourists alike taking a dip on the beach or along the harbor's walls.
Vernazza has views and historical sites to boast.
What To Do
If Corniglia wasn't your lunch destination of choice, then Vernazza offers lots of cute and scenic restaurants at different price points.
If you're willing to spend extra for lunch with an epic view, check out Ristorante Belforte and Ristorante La Torre.
For a less expensive meal with a view, I recommend Ristorante Vulnetia in the main square. I took the pesto pasta – a must-try food in Liguria, the home of pesto! My boyfriend took a quirky food – lemon pizza with Cinque Terre lemons!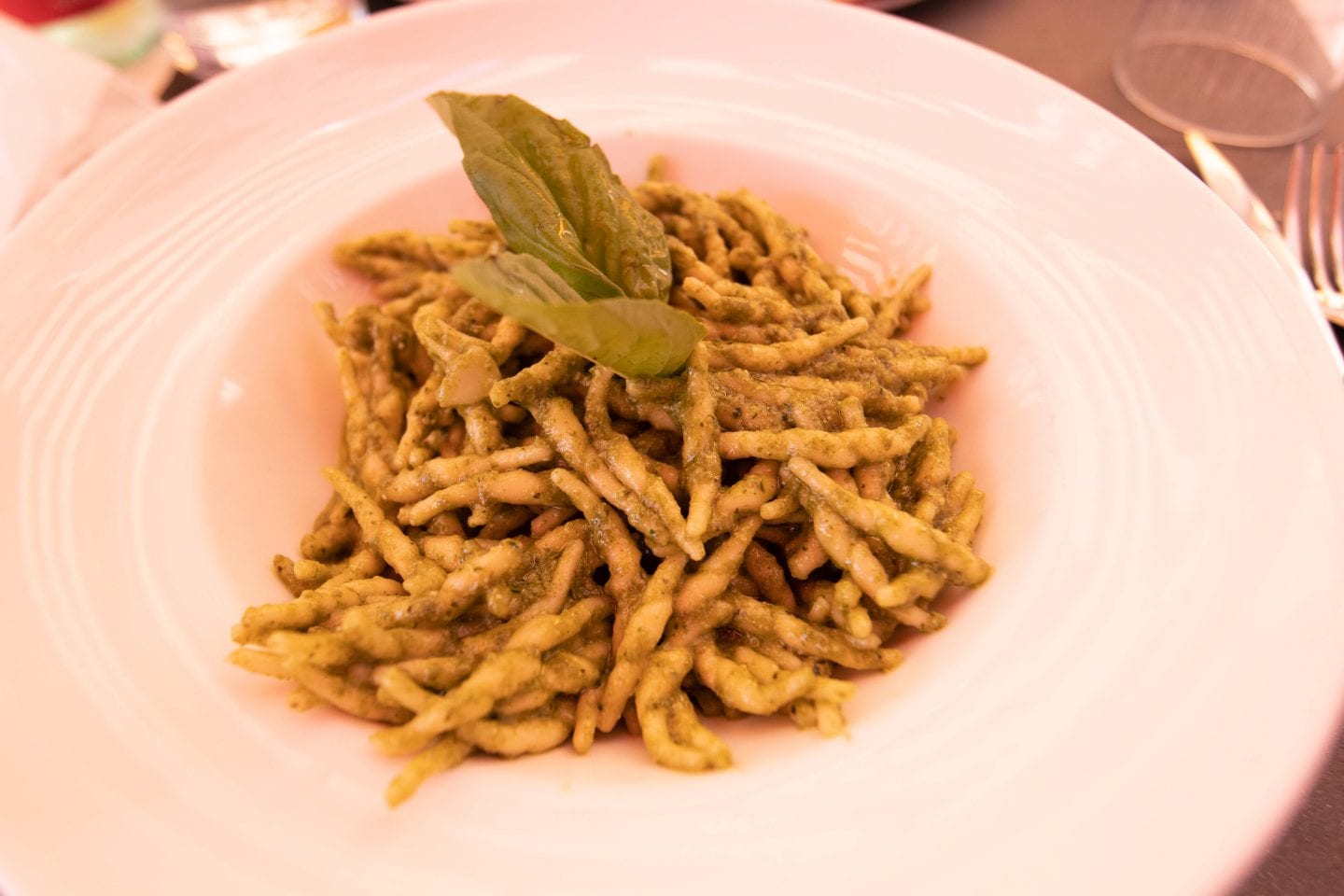 For the least expensive option, there are tons of street food takeaways with "frutti di mare" cones that have different kinds of fried seafood for 12 euros. For what they are, they were too expensive in my opinion. galler
That's why we decided we'd rather pay the extra 10 euros to sit and eat lunch in the square.
As for activities, you should visit the Chiesa di Santa Margherita di Antiochia beautifully set at the edge of Vernazza's harbor. If you don't mind a steep climb, then head to Castello Doria, the hilltop castle over Vernazza that dates back to the year 1000 CE.
Photo Spots
My favorite thing to do in Vernazza was – no surprise here – take photos! For the best photos spots, I recommend the harbor as well as the viewpoint from the Blue Path, or "Sentiero Azzuro," the hiking trail from Vernazza to Monterosso.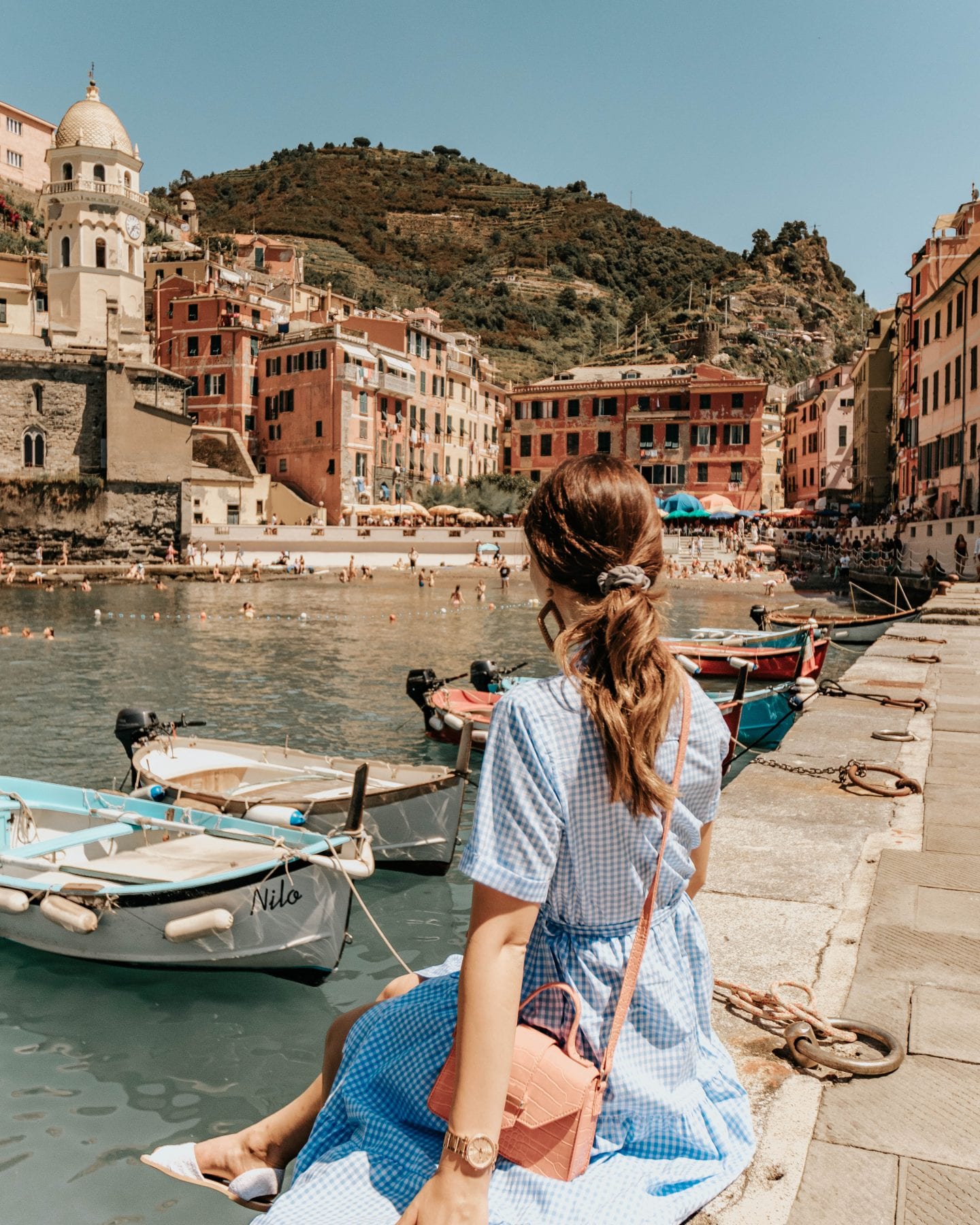 Starting in the main square, next to the Ristorante Vulnetia, you'll see a narrow upwards staircase. There's a small sign next to it with an arrow pointing to "Monterosso." Keep climbing up and eventually you'll reach the beginning of the Blue Path.
You'll need a Cinque Terre Card to access the trail, but the iconic viewpoint is only a ten-minute walk from the trail start.
Also, wear closed-toed shoes or else you can't be allowed on the trail!
Take the trail past the bend and begin the ascent past the vineyards to reach this iconic panoramic view: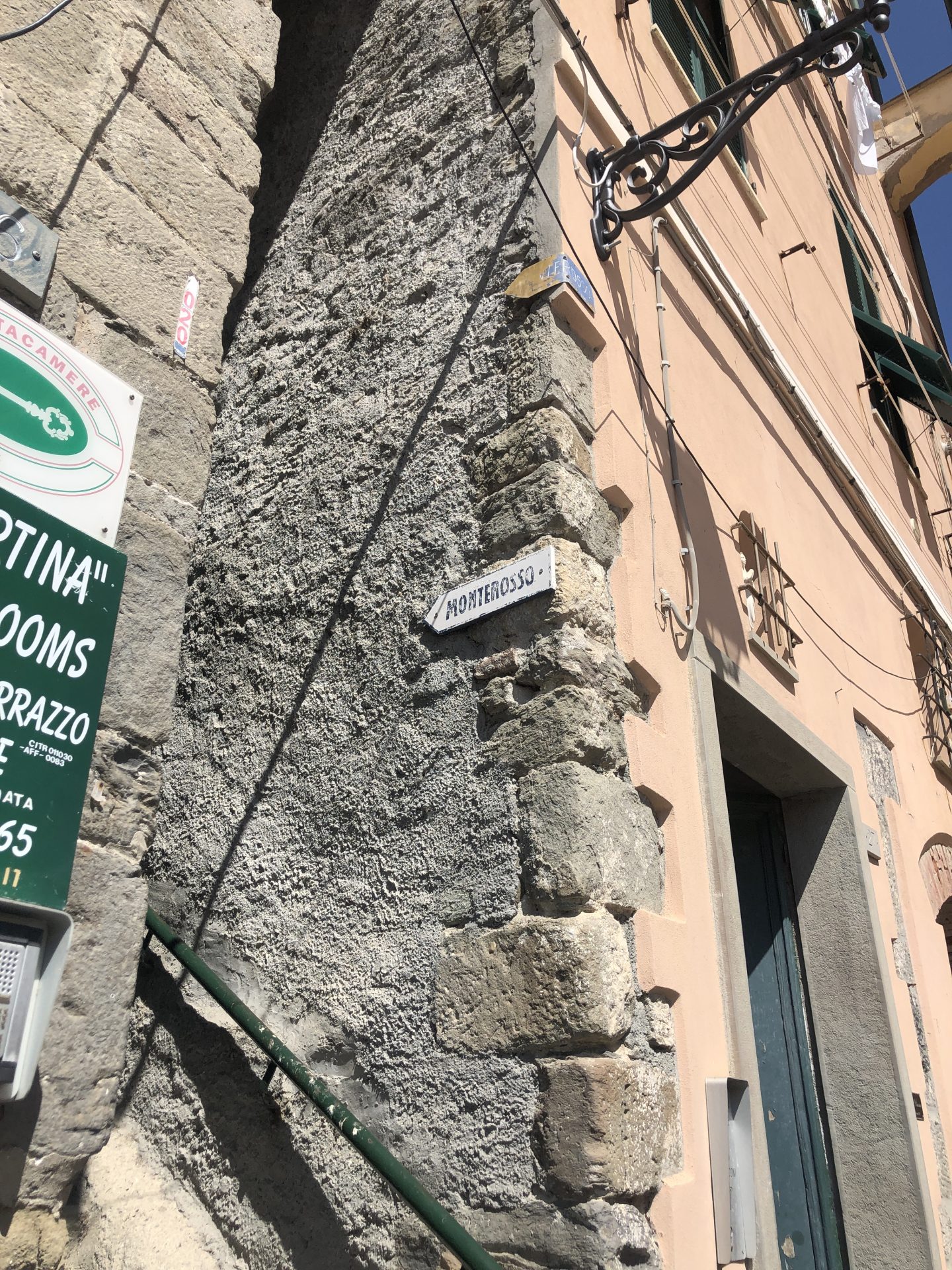 Monterosso al Mare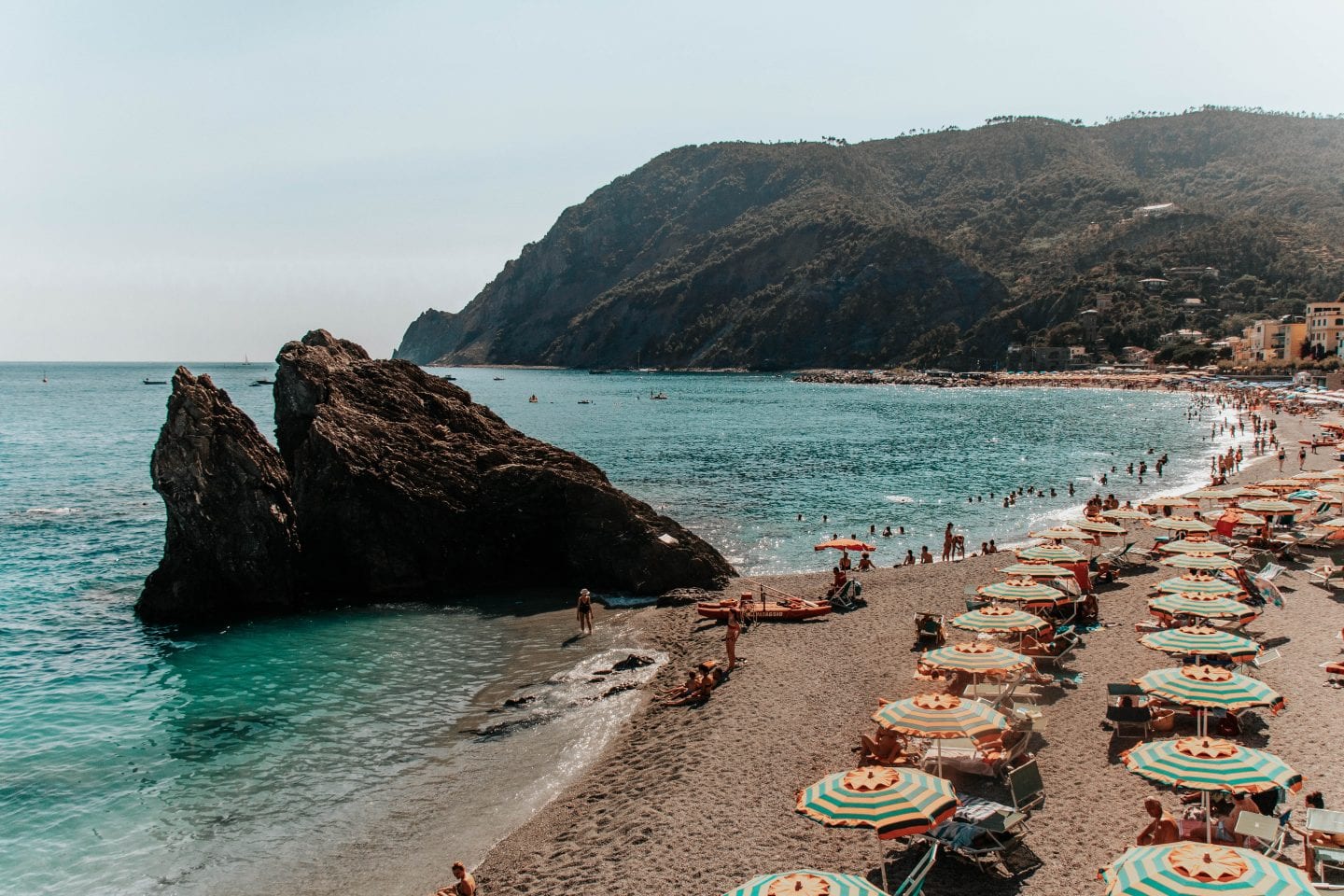 I personally kept Monterosso al Mare as the last town on this Cinque Terre one-day itinerary because it's the only one with sprawling beaches. You may want to finally take a dip in the sea after all your exploring!
What To Do
Before you jump in, explore the Monterosso old town first. Exit the train station and head left past the enticing umbrellas and beach chairs. Once you pass under the short tunnel, you'll have made it to the historic center of Monterosso.
There are some beautiful restaurants and churches in Monterosso al Mare. The center is calmer than the other town centers since the beach is the main attraction. That means you can take it slow and enjoy avoiding the crowds.
Visit the Church of San Giovanni Battista or at least admire it's unique striped exterior!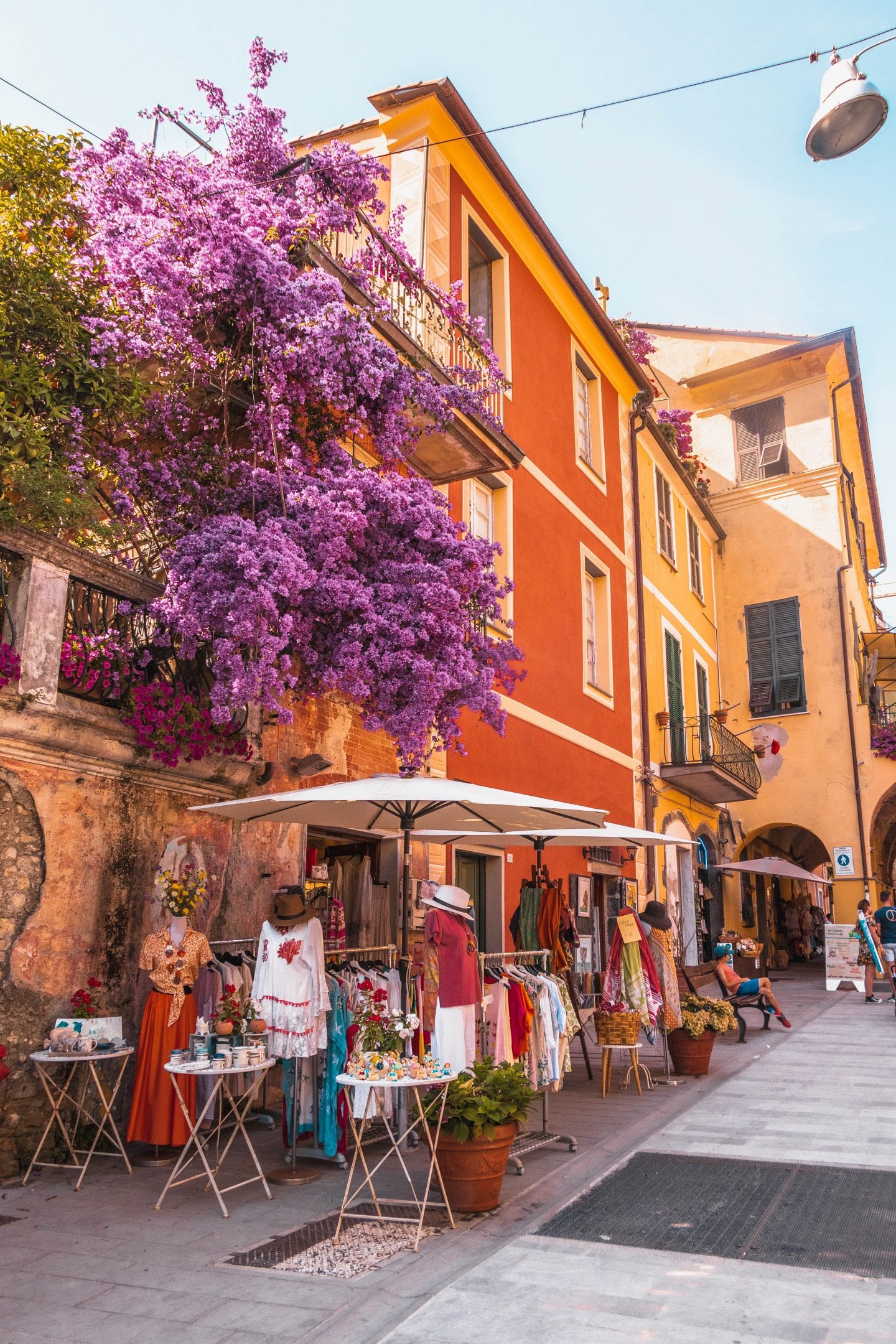 Another reason why I think Monterosso is the best way to finish one day in Cinque Terre is because those that have spent all day at the beach are now leaving!
Because of this, you shouldn't have a problem finding space on the free public beach area. However, some of the private beaches with the umbrella and sun chair rentals said they were at capacity. If that's a diehard must-do for you, then visit Monterosso in the morning for a dip and go back to your accommodation, if you have one, to freshen up before heading to the other towns.
Important to Know: The bathrooms at the train stations (specifically the one in Monterosso is where I experienced this) were free for those with the Cinque Terre Card. Good to know when you're searching for a public bathroom!
End Your Day
There are a few ways you can end your Cinque Terre one-day itinerary. You can be like me, exhausted and return to your accommodation and cook yourself a budget-friendly dinner! Not the picturesque evening I had in mind, but you just have to go with the flow sometimes.
Or you could head back to Riomaggiore, grab a takeout pizza and enjoy dinner while watching the sunset on the rocks at the harbor. Now that is what I had planned, but let's just say the walking and the summer sun kicked my butt.
If you want to splurge, you could even take a sunset cruise from La Spezia with aperitif and truly live la dolce vita.
---
Extra Tips for Visiting Cinque Terre in One Day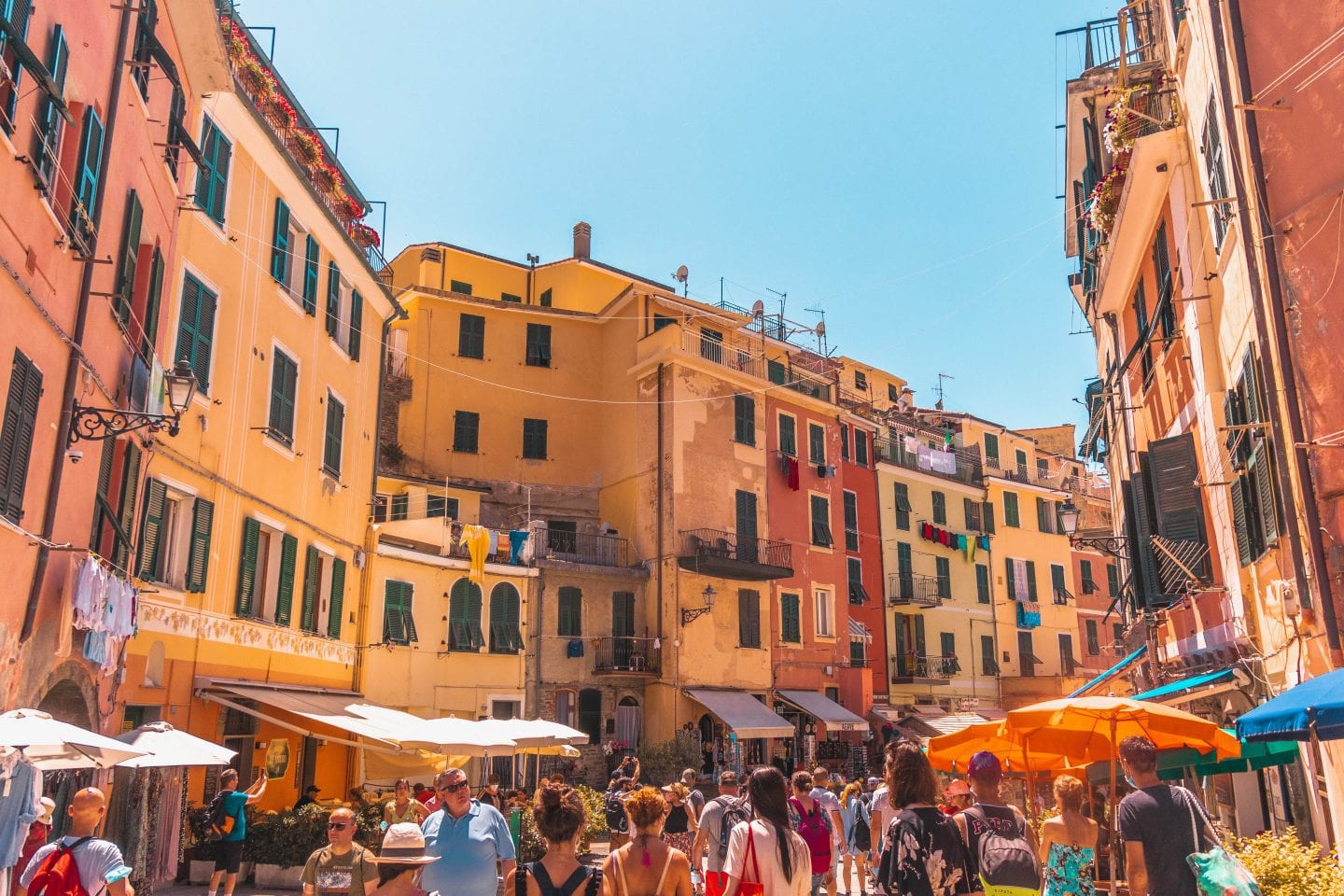 Seeing Cinque Terre on a budget? Opt to stay in Levanto or La Spezia, where accommodation is cheaper and you have easy access to the train. If you're arriving by car, it will also be easier to get accommodation with free parking in these cities rather than the villages themselves.
If you want to avoid the crowds, then you won't like Cinque Terre in the summer. Try to travel on the shoulder season of May-June and September.
Bring a refillable water bottle. Not every town has a public fountain, but you can fill up at a refreshing fountain with clean water in the main square of Vernazza. I use and love Brita water bottles because they have a built-in filter. For a less bulky option, try a collapsible water bottle.
Wear comfy shoes. If you want to look cute and feel comfortable, I recommend Vionic shoes. These are the exact pair I wore for two months living in Florence and surviving the uneven cobblestones.
Start searching for accommodation as soon as possible. Cinque Terre has become an extremely popular destination to visit and the earlier you book the better for your budget and for your chances at finding a suitable place to stay.
---
Final Thoughts
As you can see, you can accomplish a lot with one day at the Cinque Terre.
While this itinerary isn't for those who prefer slow travel and enjoy taking their time at a destination, it is for those who want to travel budget-friendly and see as much as they can on their trip to Italy or Liguria.
I hope these tips and this one-day itinerary to the Cinque Terre have helped you better prepare for your visit!
Despite it becoming so crowded with tourists, the tiny villages of the Cinque Terre have yet to lose their magical touch. It's totally worth seeing on your trip to Italy!
What are you most excited to do in Cinque Terre? Tell me in a comment!
Save this itinerary to Pinterest for later reference!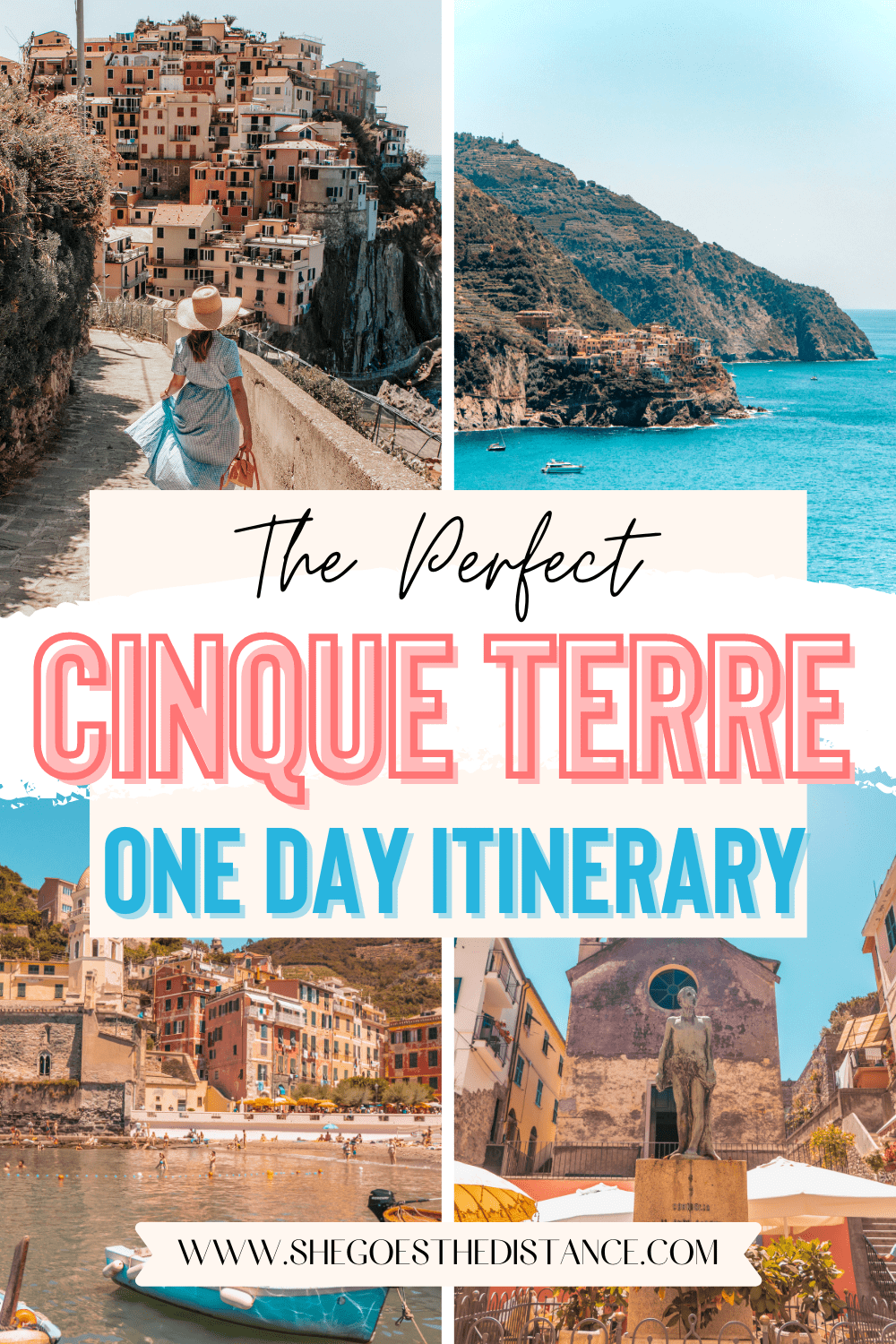 I hope you have enjoyed this Cinque Terre One Day Itinerary and that all the information is helpful to you!
XOXO
Michela