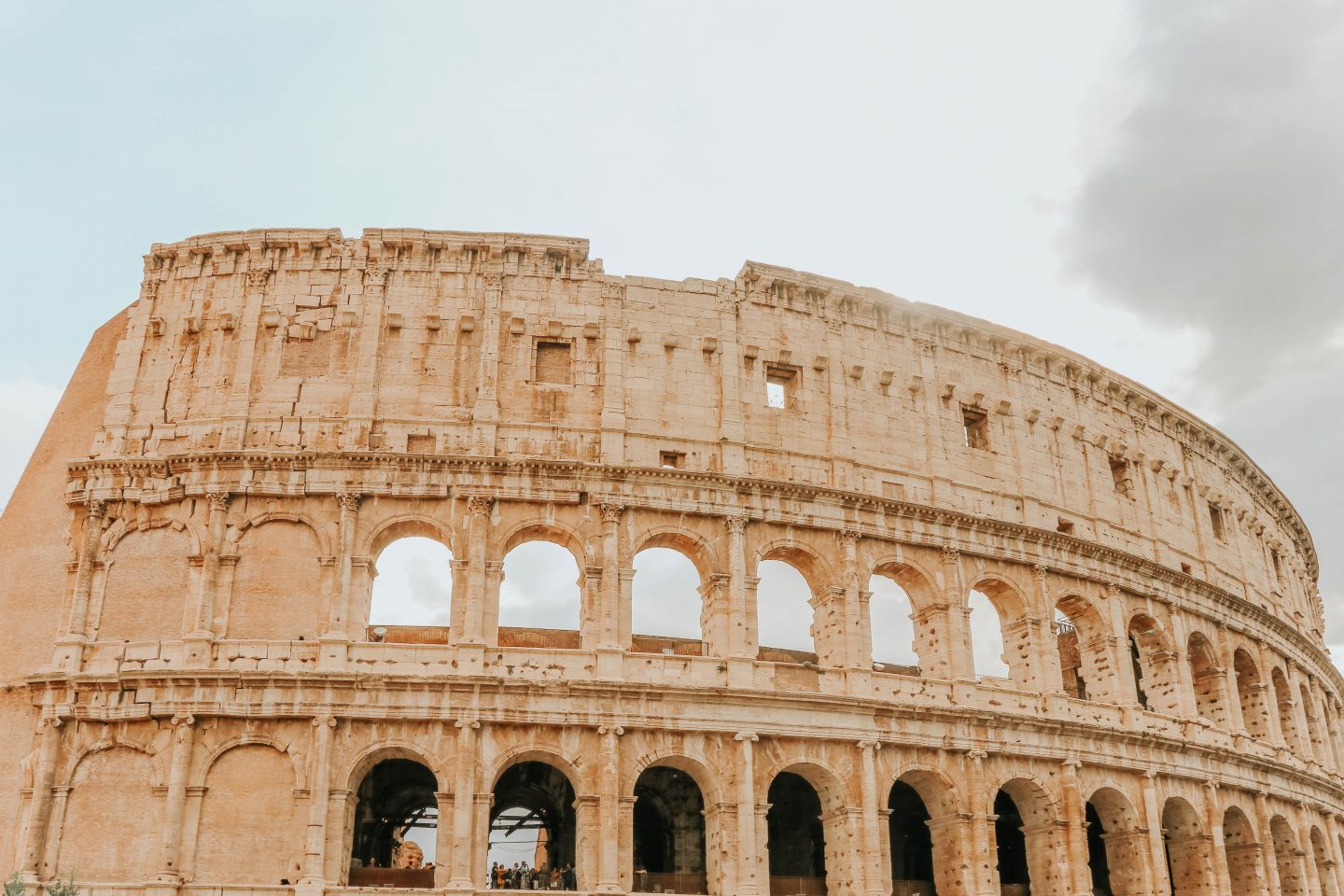 Last Updated on July 6, 2023
Traveling internationally is both exciting and intimidating – with so many moving parts to keep track of while trip planning, you don't want to forget essentials that will make your international travel experience safe and stress-free. With this international travel checklist, you'll know exactly the steps to take in preparing for your upcoming trip.
Preparing for an international trip is not just about deciding what outfits you're going to wear or what activities you're trying to cross off your bucket list or how you're going to stay entertained on a long-haul flight.
Travel prep includes everything from researching the visa requirements of your destination to finding a pet-sitter to simply having a pen on the plane.
This international travel checklist gives an overview of all the steps you should take before departure, plus important travel tips we often overlook, to ensure your trip goes as smoothly as possible.
Some of these links are affiliate links. This means if you make a purchase through that link, I receive a small commission at no extra cost to you. Read my full disclosure!
Download the PDF International Travel Checklist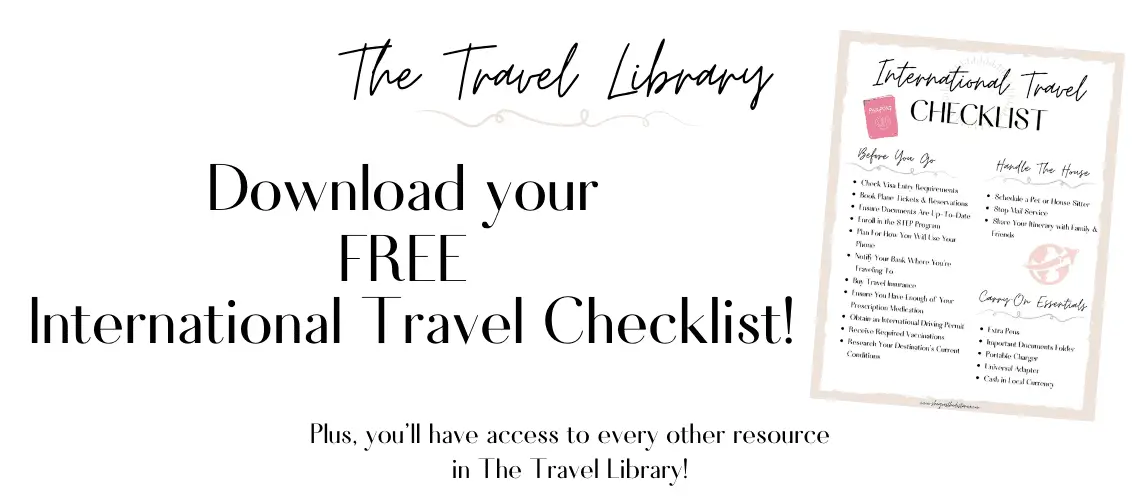 Step one is to convert this informative post into a handy checklist you can download and print as your international travel prep gets underway!
You will receive tons of information about preparing for international travel throughout this post, but if you're looking for a quick and easy fix, you can jump straight to the downloadable checklist of the actionable steps you need to take.
It's also a helpful handout to keep things organized as you're preparing to go abroad – you have a lot to think about, so a printed list can at least streamline one aspect of your trip prep!
Not to mention you can download so much more, like a packing list or photo editing presets, since this checklist is part of The Travel Library.
---
Preparing for International Travel: Before Departure
1. Check Visa Entry Requirements For Your Destination
The first thing you should do when preparing for international travel is update yourself if there are any visa requirements for entering the country with the passport you hold (I have the most experience with my US passport, so I'll mostly be referencing travel as a US citizen.)
You can do a quick check for visa requirements by country and then contact the embassy covering your jurisdiction to proceed with applying for a visa if necessary.
2. Book Plane Tickets & Other Important Reservations In Advance
As soon as you know you're leaving the country, start looking to book flights, accommodation, car rentals, and any other reservations that would be detrimental to your itinerary to not have planned.
Use my favorite cheap flight hacks to find a flight and keep in mind countries can be strict if you don't have a return ticket home. Have some kind of proof of onward travel or your return plane ticket when going through customs.
3. Ensure Documents Are Up To Date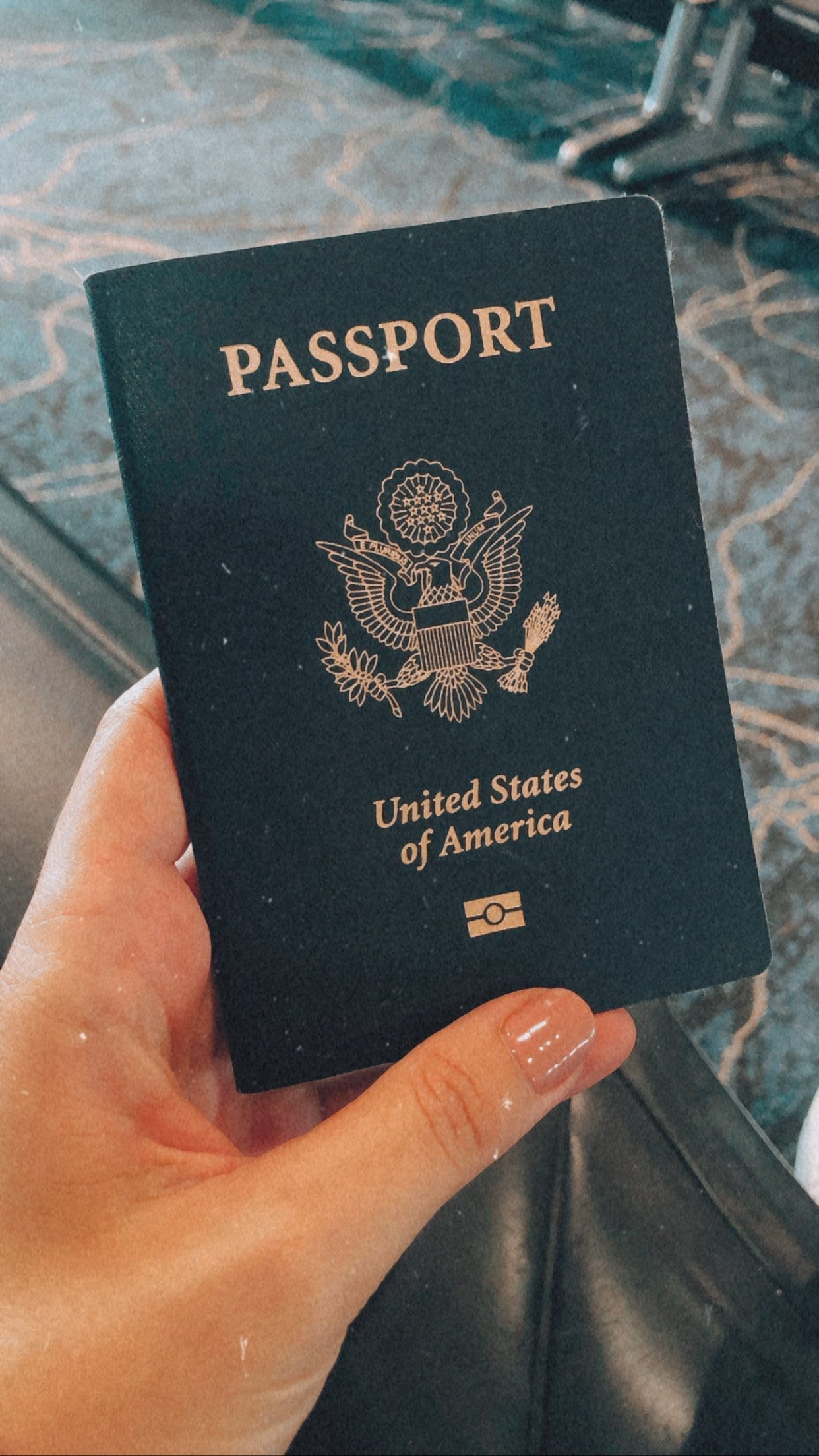 The most important document for international travel is your passport. Besides not losing it, you must make sure the document is not expired.
Passport renewals should be done as soon as possible if you realize your passport is expired before your next trip.
Another thing to keep in mind is that some destinations will not allow you in their country if your passport will expire within 6 months of your trip or if you don't have enough blank pages.
4. Enroll In The STEP Program
United States citizens should always enter their trip information into the Smart Traveler Enrollment Program, offered by the US Department of State.
By entering your information, you will then be notified by email of any relevant safety news affecting your destination, including protests, emergencies, and embassy contact information.
If an emergency does occur, it makes it easier for the embassy to contact you and your family, so this is one of the most important things to do on this international travel checklist.
5. Plan For How You Will Use Your Phone
This has always been a big one for me – probably because I've been in countless situations where my phone doesn't work while I travel!
You have several options for figuring out how you will use your phone abroad:
Pay for your international phone plan through your domestic provider. (Typically expensive, but convenient)
Only use free WiFi.
Buy a local SIM card. (You can learn about the basics in my guide to buying a SIM card in Italy.)
Pay for a WiFi roaming hotspot like Solis.
Depending on your budget and duration of your trip, some options are better than others. If you're only abroad for a week, then I would just use free WiFi or pay for an international phone plan through my provider.
Anything longer and paying for a SIM card is way more worth it. The SIM takes a few days to activate, so even though it's cheaper still than an international phone plan, it's not very convenient for travels less than a week.
6. Notify Your Bank Where You're Traveling To
Depending on your bank, you may have to submit a travel notification so they know what days and where you will be out of the country in order to not flag your purchases as fraud.
Also find out if the bank or certain credit card companies charge fees for international transactions.
7. Buy Travel Insurance
I typically never buy travel insurance, but going abroad is a different story. Not only is your trip abroad expensive, but your health insurance will likely not cover you for anything while you're in a foreign country.
It is worth it to protect your trip and be prepared for any emergencies by investing in travel insurance. World Nomads has different policies for your needs and budget to keep you covered and have some peace of mind while traveling.
8. Ensure You Have Enough of Any Prescription Medication During Your Travels
Before embarking on your trip, order and pick up any medication or vitamins you will need for the duration of your trip.
Items like toiletries and clothes are easy to get abroad, but prescription medication is not something you want to forget.
Pro Tip: Always keep medicine in your carry-on in case your checked bag gets lost.
9. Obtain An International Driving Permit (If Necessary)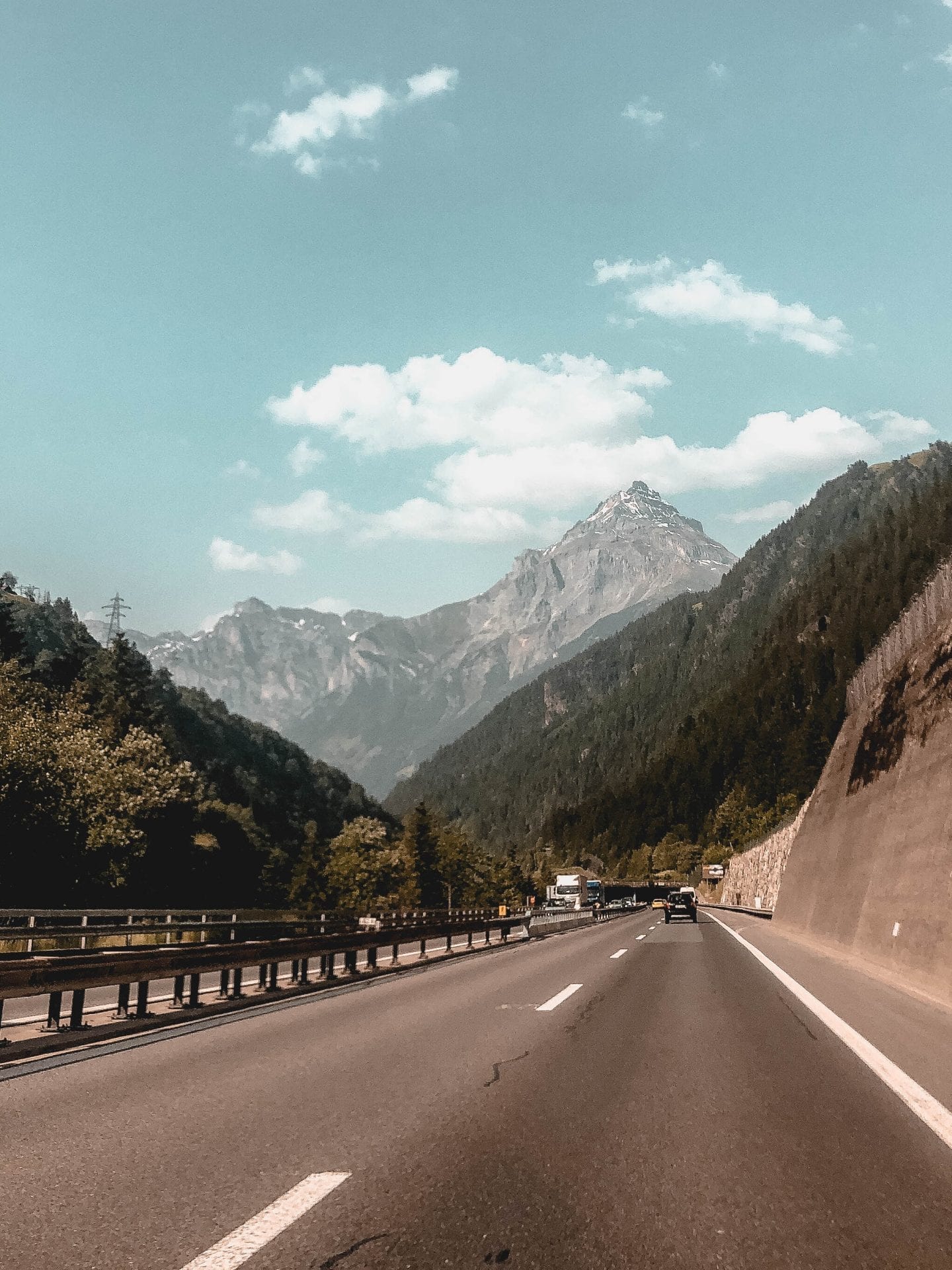 If you are planning to go on a road trip abroad, rent a car, or drive for any reason, then make sure to check if your US Driver's License is valid in that country.
In most cases, you will have to get an International Driving Permit which is basically an authentication of your US Driver's License.
Do this step several weeks in advance of your trip in case you have to wait for the permit by mail.
10. Receive Required Vaccinations (If Necessary)
The CDC has a feature to search for health information according to each destination around the globe. This includes current public health situations in the country and required vaccines, if any, upon entry.
11. Research Your Destination's Current Conditions
What's the weather like where you're traveling to? Is there a holiday occurring during your travel dates? Asking yourself these questions and finding the answers will help you to avoid bumps in your itinerary as best as possible.
Being far away from home, you won't have the same comforts and resources. Surprises like a national holiday where no stores are open or a train strike (yes, both of these happen in Italy where I live) can freak you out if you have to change around your travel plans!
Spontaneity is one of the most fun parts of traveling, but having a plan to be prepared can help you avoid sticky situations.
---
Handle Things at Home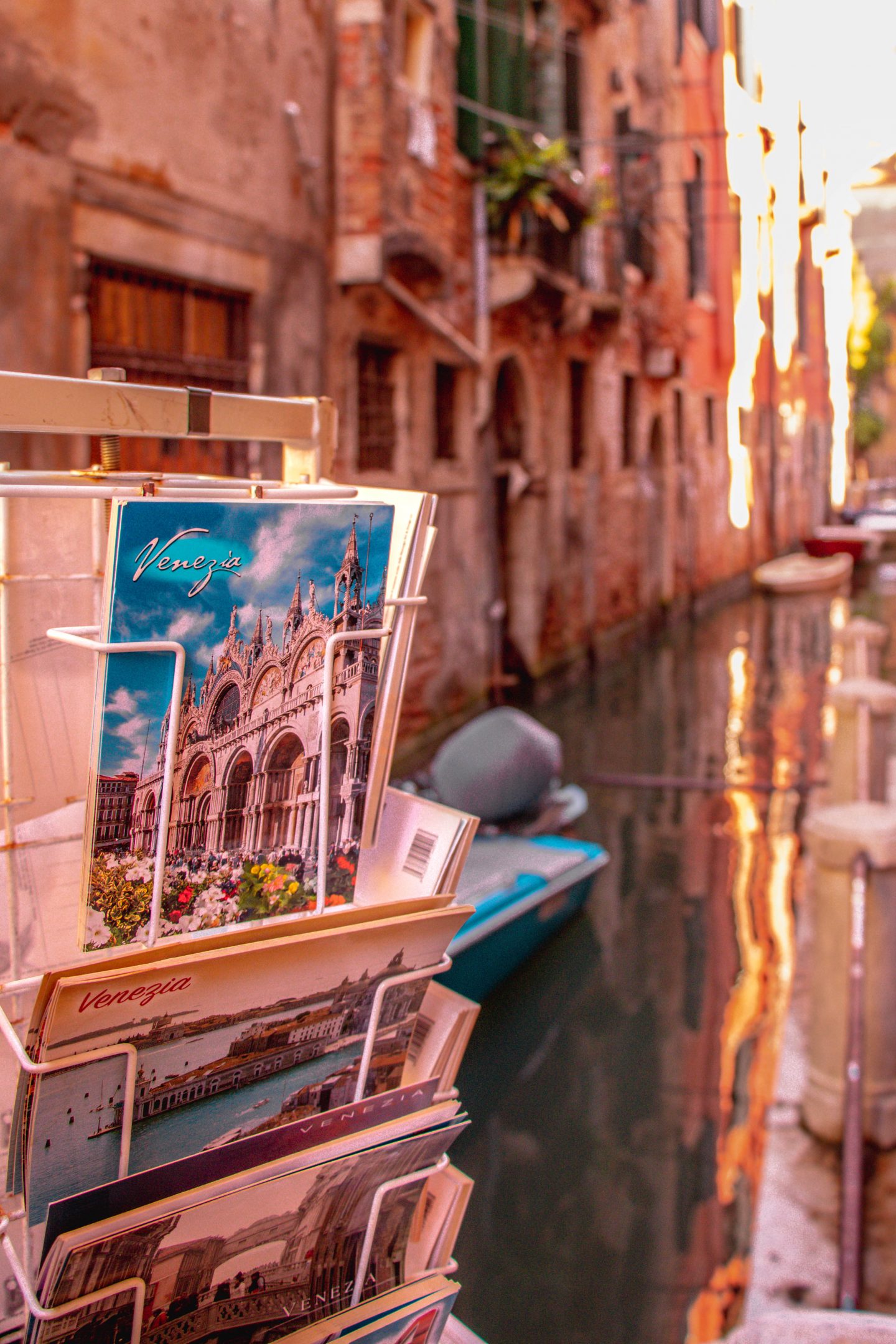 12. Schedule a Pet or House Sitter
Taking a trip means you can forget about your troubles at home – well, not entirely. If you need your house taken care of or someone to watch a pet, get those services in order well before you leave for your trip.
Scheduling services last-minute can mean no availability, which creates a stressful situation, which we are trying to AVOID with this checklist!
13. Stop Mail Service
You're on vacation, but your mail is not! If your mail piles up while you're abroad, you run the risk of items stopped being delivered.
The US post office, for example, can usually hold mail up to 30 days. If you are traveling for longer than that, you may have to sign up for a forwarding service so your mail is received.
14. Share Your Itinerary With Friends & Family
The last step for handling things at home is to share your itinerary with someone staying behind. This tip is especially important for solo travelers, so friends and family can know where you're supposed to be and when in case something happens.
You can share your detailed itinerary through apps like Wanderlog, where you can also update it as you travel.
At minimum, give loved ones or close neighbors an idea of where you'll be and for how long so they can keep an eye out for things back home and know how to contact you if necessary.
It's also to helpful to leave copies of documents like your passport with your family in case of emergency.
---
Carry-On Packing Essentials for International Travel
There are certain items you should always keep in your carry-on – medicine, valuables like jewelry, as well as an extra outfit (especially for international trips with connecting flights – you never know if you'll be the unlucky one to have their luggage lost.)
Keep essentials easy-to-reach all throughout your airport experience. When you need to sign something or charge your phone, you don't want to have to open up your suitcase and dig through your stuff at the airport gate trying to try and find a pen or charging cord.
Pro Tip: Take photos of your suitcases in case they get lost. It may assist the airline in recovering your lost bags quicker!
15. Extra Pens
It may be the simplest thing to cross off on this international travel checklist, but don't forget to throw some pens into your carry-on bag or personal item.
On international flights, you'll have to fill out customs forms and potentially other documentation based on the destination or airline. Always bring a pen with you and keep it accessible throughout your flight.
You don't want to be stressed trying to ask neighbors for a pen or being unprepared for customs (they like to move quickly and efficiently.)
16. Important Document Folder
Especially when traveling alone and now in 2021 with COVID-related travel restrictions and rules still in place, I always carry an easily-accessible, closable folder that holds my important documents.
In this folder I'll keep:
Printed Boarding Pass
Printed Itinerary
Copies of any necessary documents like birth certificate, SSN, etc. (I only do this if I'm doing long-term travel, like study abroad)
Visa Documentation
Passport (I typically keep my passport in my WANDRD Backpack because it has a secret, unidentifiable pocket on the backside for anti-theft security)
COVID-related Travel Documents – Proof of Vaccination, Proof of Negative Test, etc.
Keep the folder accessible for check-in and customs. You may also add customs forms to this folder along your journey to make sure you don't lose them.
Pro Tip: Make sure to also take photos of important documents like your passport. If you lose it, it could help you get a replacement faster.
17. Portable Charger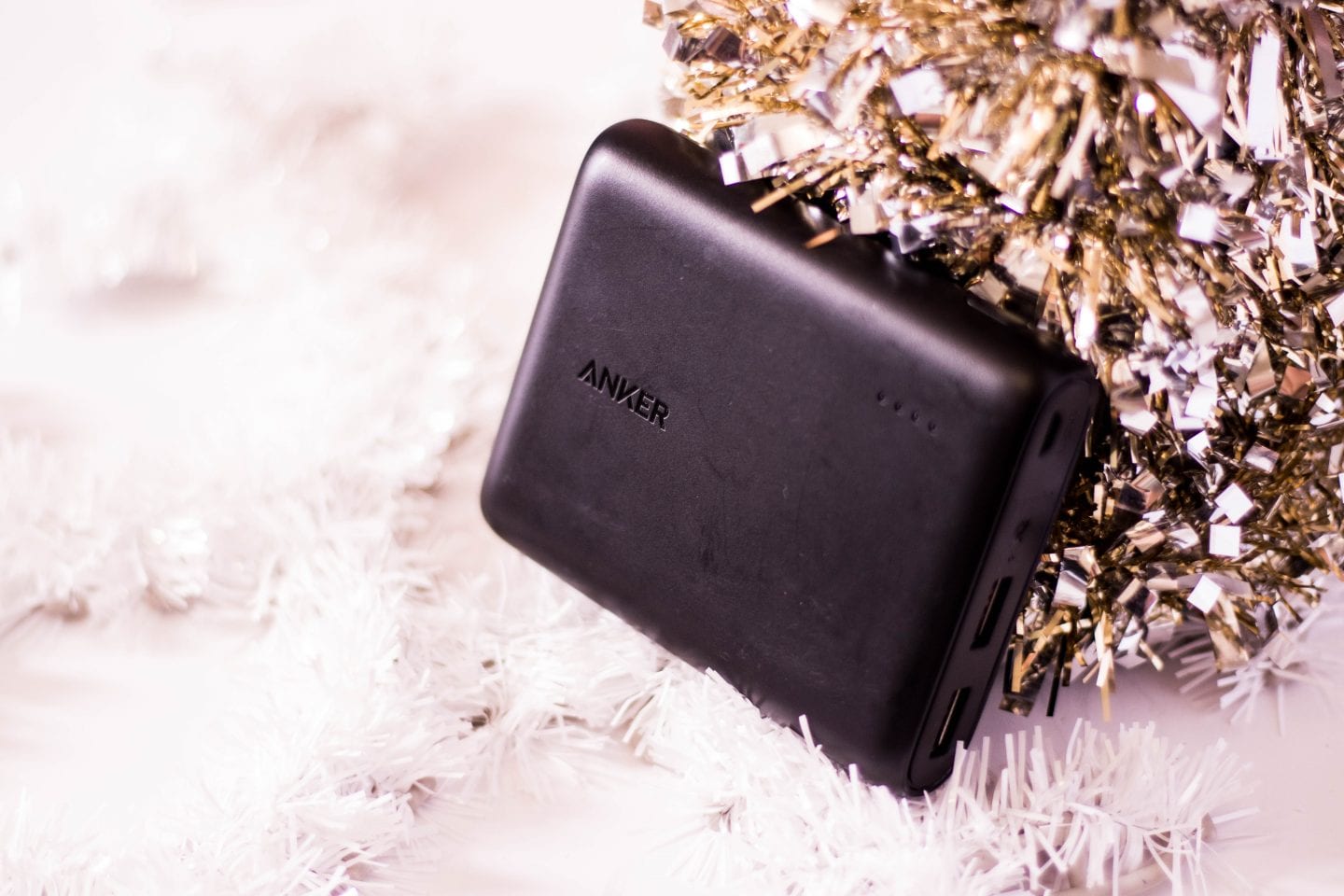 I never leave for a trip – especially a long one- without my Anker Powercore Portable Charger. While traveling internationally, you never know what can happen.
You may have the wrong outlet adapter or the USB port in the plane cabin might not work and the last thing you want to do is be without a phone.
It may be the only place you have evidence of hotel reservations, transportation tickets, and moreover, where you can contact family and friends to tell them you're safe.
The Anker portable chargers are the best brand I've come across, lasting me years, and worth the $60 in comparison to buying a cheap one that will stop working after a few charges.
Storytime! I once traveled to London for a weekend and on my return flight to Italy, the plane was stuck on the tarmac for SIX HOURS! I returned to Pisa eight hours late, having missed my bus back to Florence, and my phone had been dead for hours – which also happened to be the only place I had evidence of a bus ticket to try to get on the next bus. These are the kind of situations you want to avoid by always having a portable charger on you!
18. Universal Adapter
Along the lines of keeping your phone battery alive, you want to make sure you're traveling with a universal adapter that will fit the plugs of the country you are traveling to!
No plug adapter equals no way to charge devices, use hair appliances, or power up whatever other electronics you travel with.
Most universal adapters are inexpensive and – as they say – universal, meaning they can work with a lot of different plug types. Make sure your destination is one of the plug types included before you purchase.
19. Cash in Local Currency
I personally prefer to use my card when I travel, but it depends on your destination and your bank's policies if that's a viable option for you.
For example, if your bank charges high fees for using your card abroad, then paying in local currency may be more economical. On the other hand, some destinations more than others are going to widely accept debit and credit cards.
Whether you wish to pay in cash or card throughout your travels, I recommend exchanging at least a couple of days' worth in currency to ensure you have a backup method of payment in case of emergency.
Think about if you will need to take a taxi from the airport to your hotel and any purchases you may have to make as soon as you arrive in the country. The more things that fall into that category, the more money I would exchange into local currency.
Plus, if you forgot to notify your bank of your travels, you may not be able to take out cash from ATMs or your card may be declined.
Find out more about currency and using ATMs abroad before you go. Just remember, it's always good to have a backup plan!
---
Final Thoughts
Traveling abroad is an incredibly rewarding experience. This international travel checklist covers all the serious stuff you need to take care of before your trip.
But it's all so that you can avoid stressful situations and travel away from home with peace of mind!
I hope these tips were helpful and allow you to enjoy your international travel while being adequately prepared!
Any questions about the international travel checklist? Leave me a comment!
Save this checklist on Pinterest!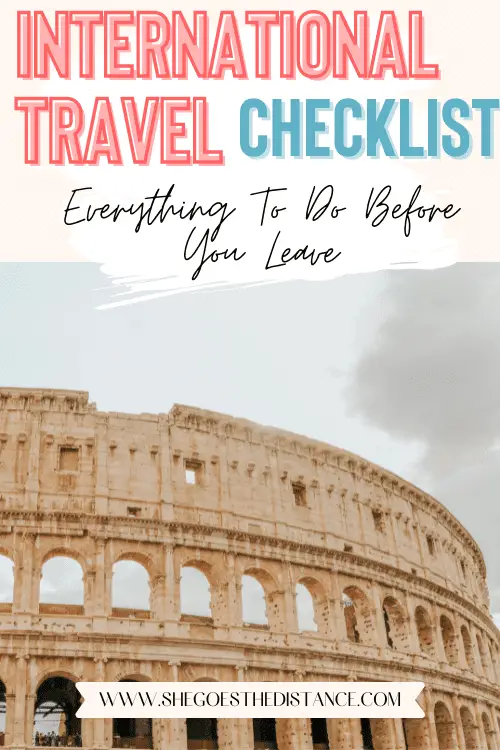 XOXO
Michela