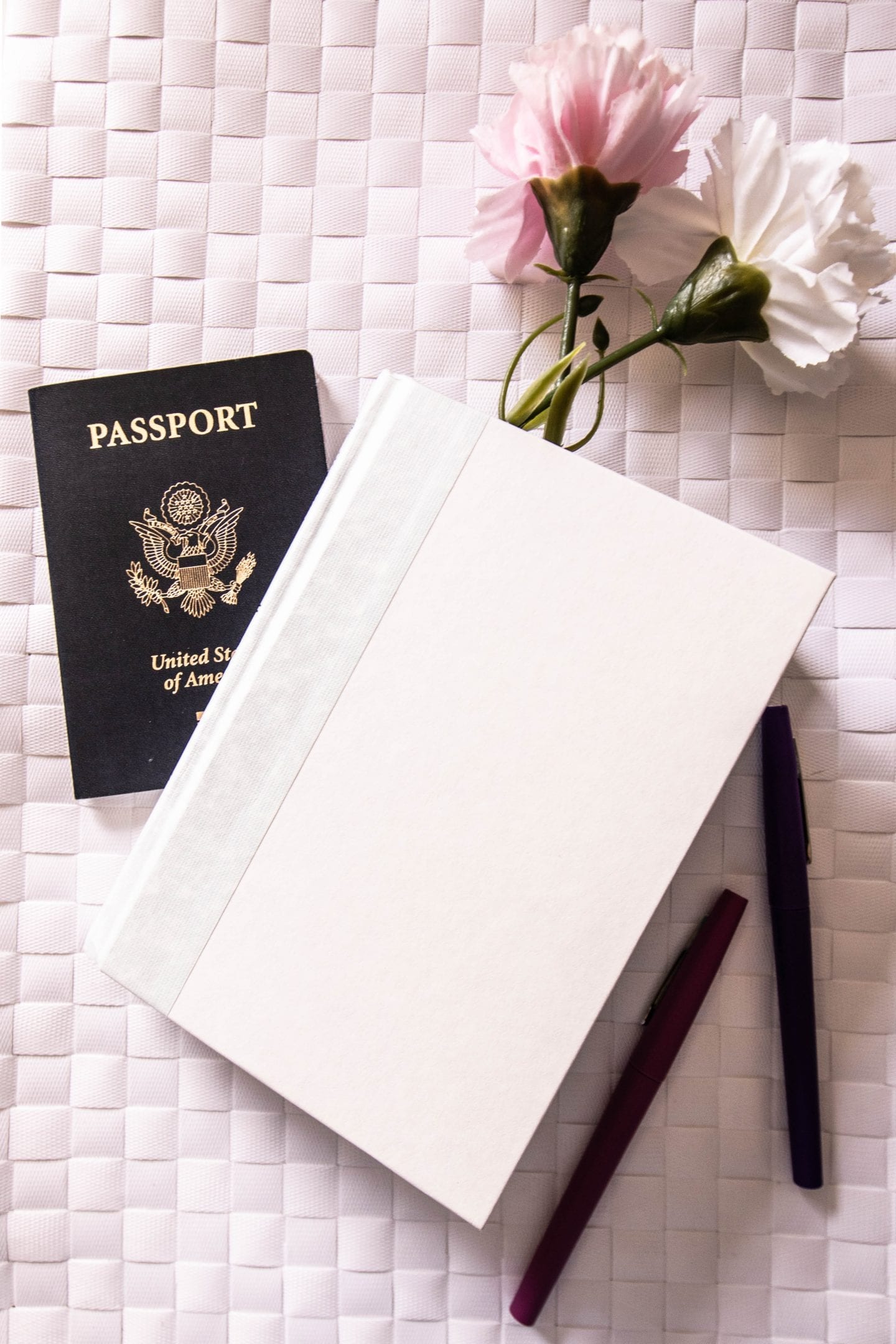 Last Updated on April 22, 2022
It's so easy to let our travel photos get buried in our camera roll or to say "I'll remember this night forever" and forget the details that made it so special just a few months later. That's where keeping a travel journal becomes such an important part of your trip! These travel journal ideas & writing prompts will make you fall in love with trips all over again and keep your favorite memories alive.
Travel journaling is therapeutic, fun, and provokes self-reflection and creativity. While we travel, we can be pretty busy – exploring different places, sleeping on planes, meeting new people. But just because you're busy during your trip doesn't mean you can't keep a travel journal!
Keeping a travel journal is even more rewarding when you can make it personal with mementos (and other travel journal ideas I'm sharing below!)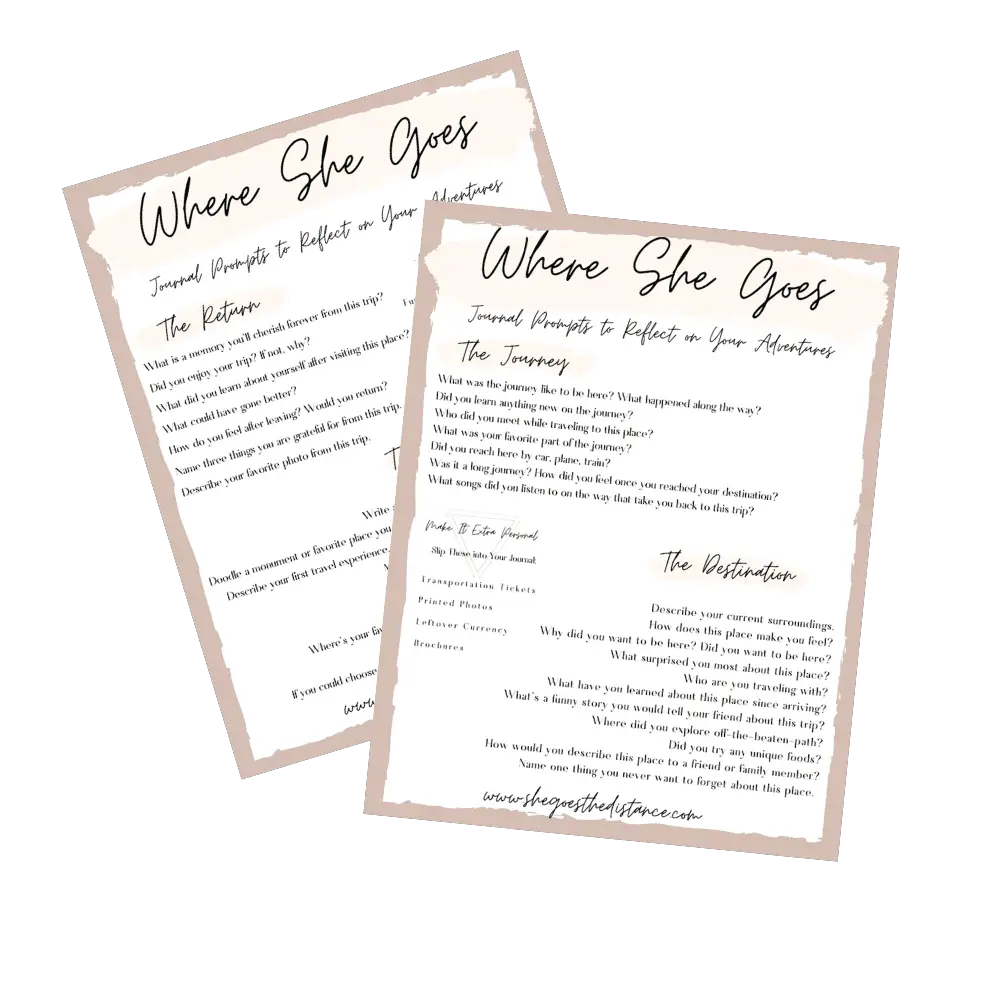 And if you're just here for the prompts, you can jump to the bottom of the post or download the free 'Where She Goes' Travel Journal Prompts list from The Travel Library.
Let's get into everything there is to know about travel journaling and the creative ways you can go about your trip memory-keeping.
Some of these links are affiliate links. This means if you make a purchase through that link, I receive a small commission at no extra cost to you. Read my full disclosure!
All About Travel Journaling: What It Is, How To Do It, & Should You Keep A Travel Journal?
Keeping a travel journal is simply about recording memories from a trip. You can even keep track of and plan future trips in a travel journal (which I, as someone in love with lists, do often!)
There's no one way to journal about travels. You could write during or after your trip, keep a travel bullet journal, track you running bucket list, save travel tips for your next trip – the important thing is to be creative and reflective!
Travel journaling is an amazing tool to see how travel has influenced us to grow as a person, from conquering fears to gaining self-confidence.
It can be used to beat the lonely times of solo travel or try to escape the post-trip blues by reliving those memories just made.
While we travel, there are so many highs, lows, emotions, funny moments and more that we say we will never forget. But to really never forget them, we have to reflect on them and document them! That's where keeping a travel journal comes in handy.
The Best Travel Journals
There are lots of different options for travel journals. You could use a plain basic notebook or write in a travel diary with printed prompts and exercises. So, how do you know which one to choose?
The truth is, you can go through a lot of travel journals. Maybe you'll get the chance to experience multiple different kinds! If you are naturally more creative, choose a mostly blank travel journal to which you can add personal touches.
If you struggle with what to write about, opt for journals with prompts built into them (or scroll down to the prompts below and download the list!)
Two travel journals that are both cute and interactive are the Wander Always Journal and the Page A Day Journal. These have prompts and activities within them, so there's a bit less room for creativity. But, it also makes the process easier and faster with these bonuses.
Another travel journal that is perfect for those wanting a more sleek and clean look is the WNDRD Trip Planning Journal. As it says in the name, you can use this notebook for journaling and for trip planning with the specially printed planner pages.
Travel journals can also be great sentimental gifts for friends and family (or for yourself – I won't tell!)
Travel Journal Apps
Everything has an app these days, right? Travel journaling can even be done on your phone! Some apps for travel journaling include:
Travel Diaries
Polarsteps
Hoptale
Momento
There's also a sweet app called Journi, where you can create photo albums with diary entries and track your trip on a map. Then you can print or share these mini albums! You can group your photos while traveling or after so that they are easy to find. This way won't be lost in your camera roll!
Creative Travel Journal Ideas
If you want to do more than just write in your travel journal, then there are many ways to make it special and personalized!
These unique travel journal ideas are meant to get you thinking about how to make your love for travel or the travels themselves come alive.
Look for inspiration everywhere. Maybe you have a ton of extra coins lying around from your trip to Italy. Or you saved those flowers you picked near the coast of France and they are now dried. These can all be accessories used to bring your travel memories back to life in your journal!
Photo Pocket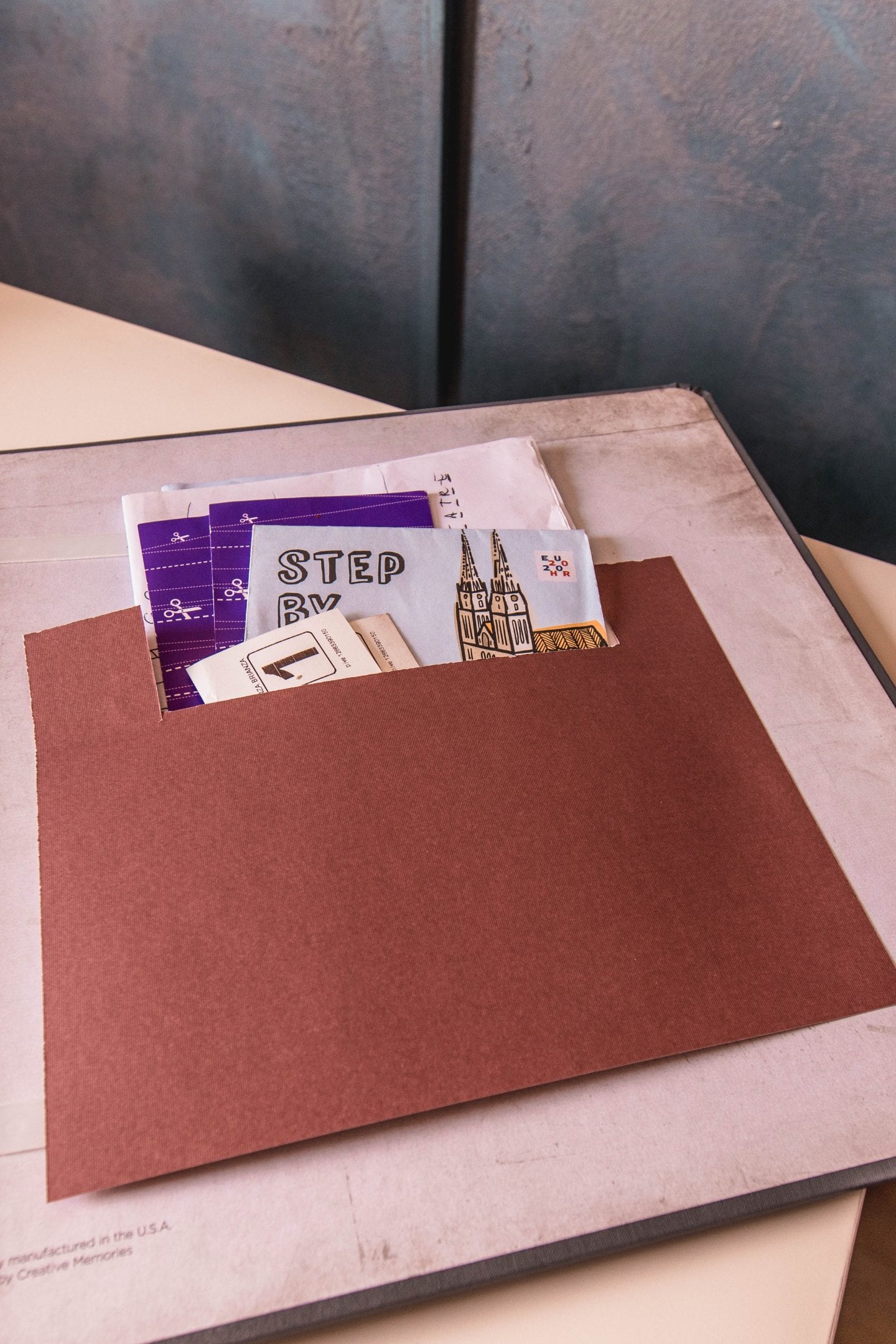 The first travel journal idea is to add a photo pocket to the back or front of your journal. This is a super simple way to create a little storage of your photos without having to spend time doing a complete album!
Simply take a piece of cardstock or stiff paper and cut it into a rectangle large enough to hold your photos. You can even create a scoop like mind so they peek out.
Then add adhesive to the bottom and sides and attach it to wherever there is a sturdy spot on your journal. Voila, you have a place to put all those photos instead of letting them get buried in your phone!
Scrapbook Layout
While the first idea to making your travel journal more creative was a simple way to include photos in your journal, this version takes a bit more time and creativity.
In your travel journal, you can either leave space on the pages as you write or write and layout photos at the same time to create a commemorative mini travel scrapbook.
You'll need small adhesive, scissors, and some creative juices flowing to transform blank pages into something beautiful.
Stickers
Decorating your travel journal is another way to give it more personality and bring out the fun of your trips.
You can opt for inexpensive sheets of stickers or find specific decals you fall in love with to tell the story of your trip!
Good places to buy unique stickers and decals are Etsy, Amazon, and Society6.
Here are some of my favorites for an aesthetic travel journal cover and pages!
Add Your Own Art
Take the design of your travel journal to the next level by channeling your inner artist. Use paint to decorate the outside. Doodle your favorite places on the pages or the cover to bring you back to a place.
Whatever artistic addition you can make to your travel journal, the more personal to and reflective of you it will be.
Preserving Tickets, Passes, & Other Mundane Mementos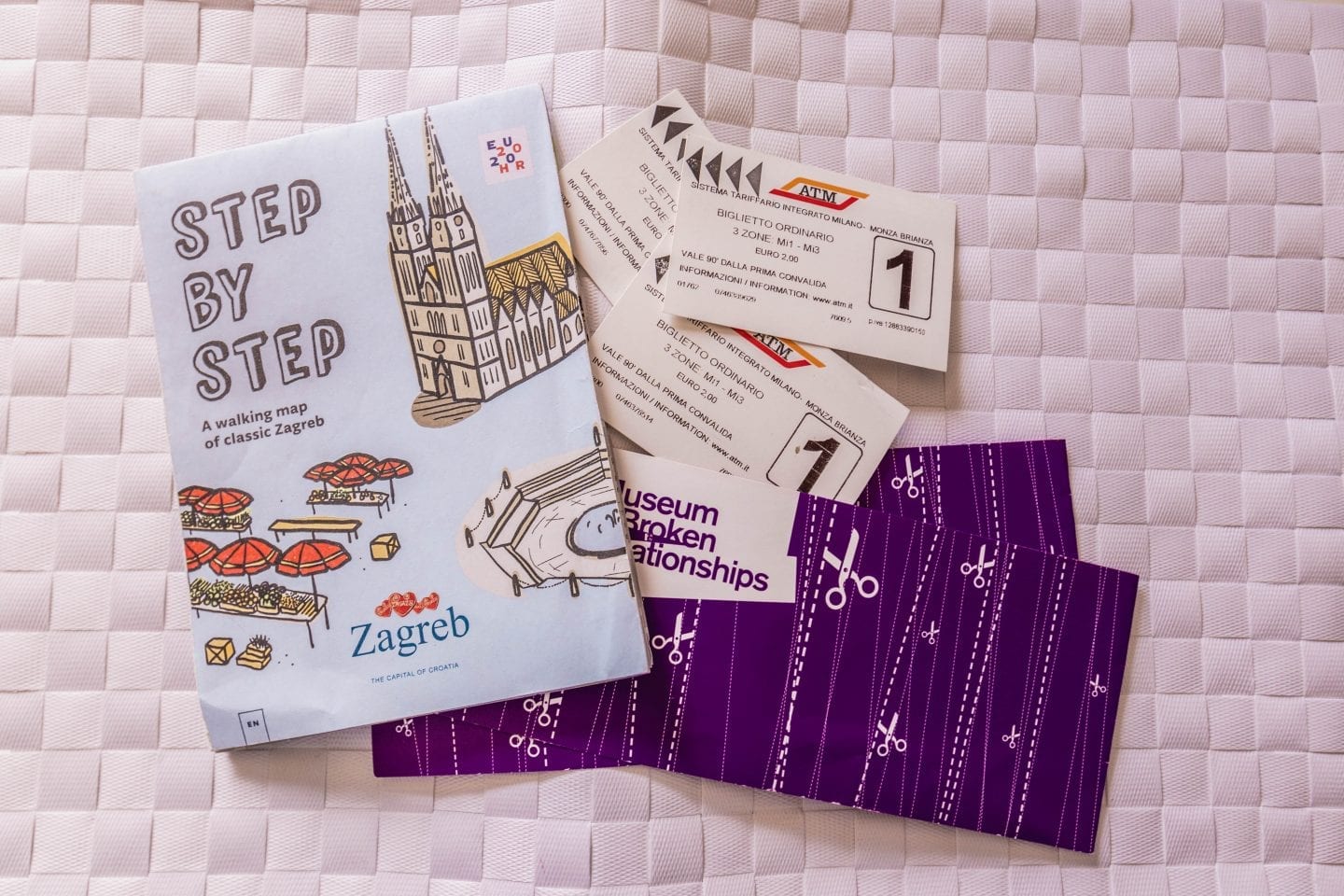 One of the best travel journal ideas is to preserve all of the extra bits from your trip – things like train tickets, museum passes, and local maps – to add to your writing entries.
They may seem useless after your trip, but these tokens of your travels are the real elements that bring your memories to life. Seeing a word can help you imagine a place, but physically touching your metro pass or gallery ticket takes you right back to the moment you used it.
Tape these small papers to page corners, stuff them in the photo pocket, or even use them as little bookmarks to organize your journal.
Choose Something to Collect
Make your travel journal completely unique by sticking with a theme. This idea for travel journals will take some time to execute throughout your travels, but it can be a special way to remember each place you've been to.
Whether it is stamps, postcards, or boarding passes, build up a consistent collection of them from wherever you travel.
Then when it comes time to assemble your journal, you have a cute consistent theme and a visually appealing diary to document every place you have been.
---
Travel Journal Prompts for Reflection & Memory-Keeping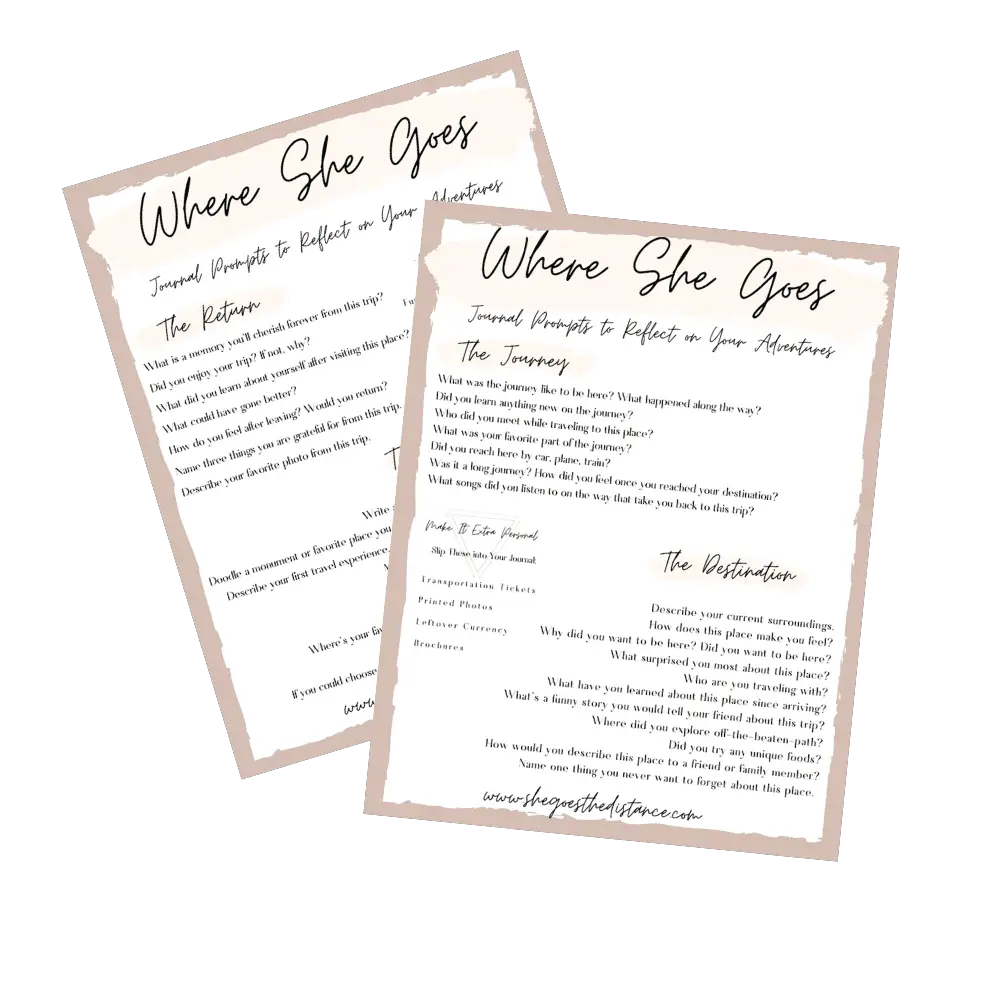 Travel journal prompts are ways to combat writer's block and inspire creativity. To make these prompts easier to reference, you can download the free printable of 'Where She Goes' Travel Journal Prompts from The Travel Library, where you'll also have access to resources like my girl's packing list and Lightroom photo presets.
The Journey
What was the journey like to be here? What happened on the way to your destination?
Did you learn anything new on the journey?
Who did you meet while traveling to this place?
What was your favorite part of the journey?
Did you reach here by car, plane, train?
Was it a long journey? How did you feel once you reached your destination?
What songs did you listen to on the way that take you back to this trip?
The Destination
Describe your current surroundings.
How does this place make you feel?
Why did you want to be here? Did you want to be here?
What surprised you most about this place?
Who are you traveling with?
What have you learned about this place since arriving?
What's a funny story you would tell your friend about this trip?
Where did you explore off-the-beaten-path?
Did you try any unique foods?
How would you describe this place to a friend or family member?
Name one thing you never want to forget about this place.
The Return
What is a memory you'll cherish forever from this trip?
Did you enjoy your trip? If not, why?
What did you learn about yourself after visiting this place?
What could have gone better?
How do you feel after leaving? Would you return?
Name three things you are grateful for from this trip.
Describe your favorite photo from this trip.
General Memory-Keeping
Write about the first travel memory that comes to mind.
Doodle a monument or favorite place you have visited that made you want to pinch yourself.
Describe your first travel experience. What were you feeling? Scared? Excited? Anxious?
Make a list of all the people you've met while traveling.
What's one thing you would change about travel?
What's one thing you want to do better while traveling?
Where's your favorite place to travel with family? Describe it in vivid detail.
Describe a place you've visited through using all five senses.
If you could choose one place you've been to stay forever, which one would it be?
Final Tips for Travel Journaling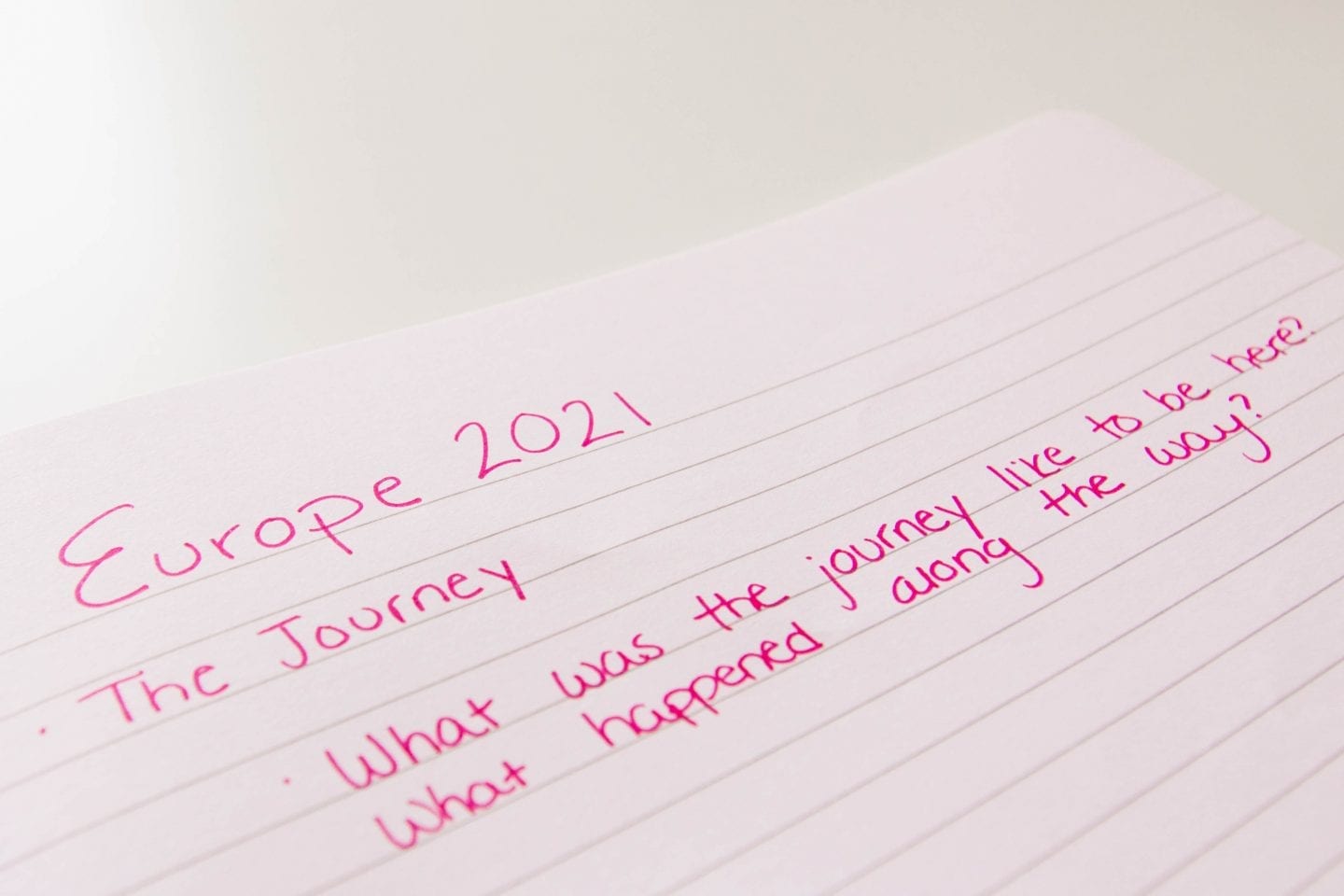 Hopefully with all these travel journal ideas and writing prompts, you feel more comfortable and excited to document your travels! Here are some extra tips to make travel journaling work for you:
Keep your travel journal with you as you are on the go. This may seem obvious, but when you think about it, we don't want to pause our day to go write about what's happening that very second. Instead, have your journal with you to doodle your surroundings or write down specific feelings you have at the moment. You can elaborate later!
Write down keywords to escape writer's block. If you have trouble getting started, jot down a few words that come to mind when you are looking at a prompt. Often when writing, we get overwhelmed by what the finished product should look like that we can't even start! Start as small as keywords and as your ideas come in the writing will flow.
Use every sense for details. An easy way to get more creative and describe a moment well is to think about it from the perspective of all five senses you experienced with. What sounds did you hear, things do you see, flavors did you taste?
Let me know what you think of these travel journal ideas, prompts, & tips with a comment!
Save this guide to Pinterest for later reference!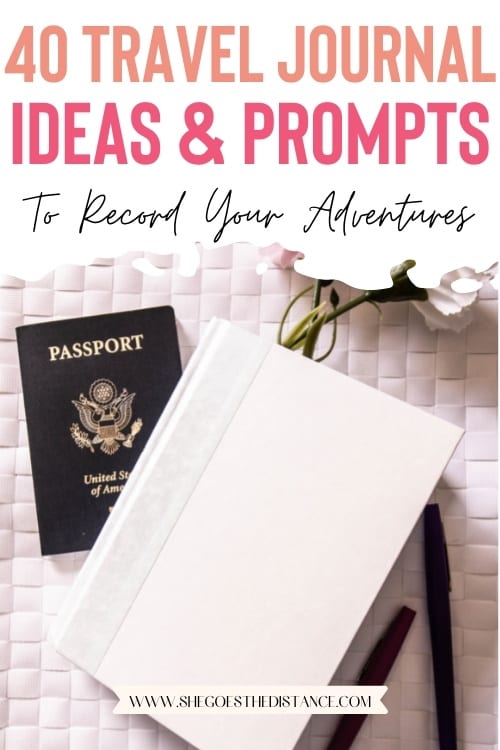 The more memories we make, the more important it is to jot them down so we have them forever. Tell me if you're excited about travel journaling like me!
XOXO
Michela