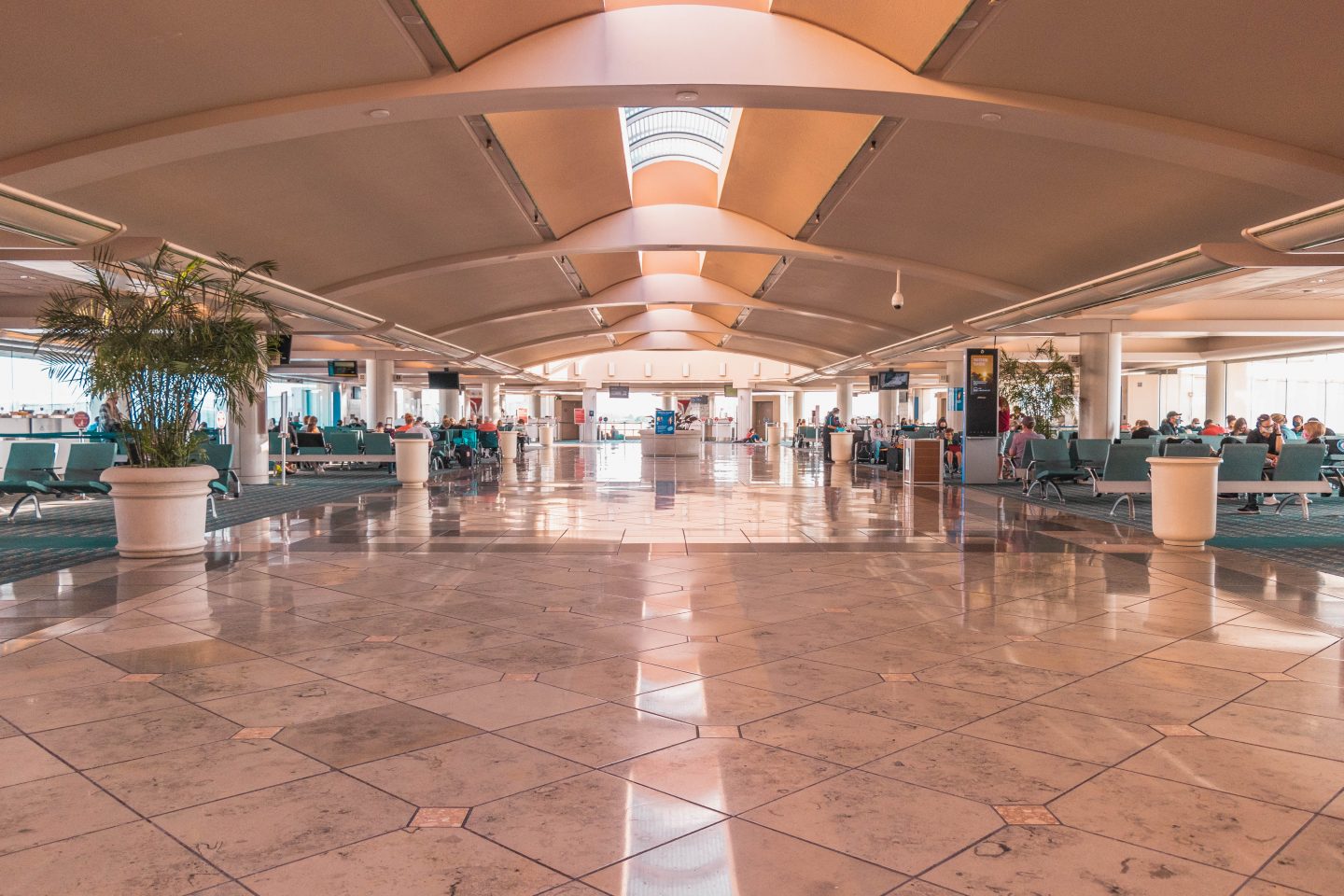 Last Updated on February 22, 2022
No matter how much you love to travel, everyone can agree that even in the best conditions, flying can be stressful, anxiety-inducing, and tiring. Doing it alone is even more of a feat in itself. Flying alone for the first time is nerve-wracking, but with these tips, you'll be able to have the best experience possible.
The key to make your first time flying alone a piece of cake is preparation! It is so much better to be over-prepared than under-prepared in what is a very hectic, intimidating, and, at times, confusing environment. Some of these tips may seem simple, but I can promise they are effective.
Some of these links are affiliate links. This means if you make a purchase through that link, I receive a small commission at no extra cost to you. Read my full disclosure!
To make the tips in this post a breeze to remember, I solidified everything (and added a bit more) to the First Time Flying Checklist, available to download and print for free in The Travel Library.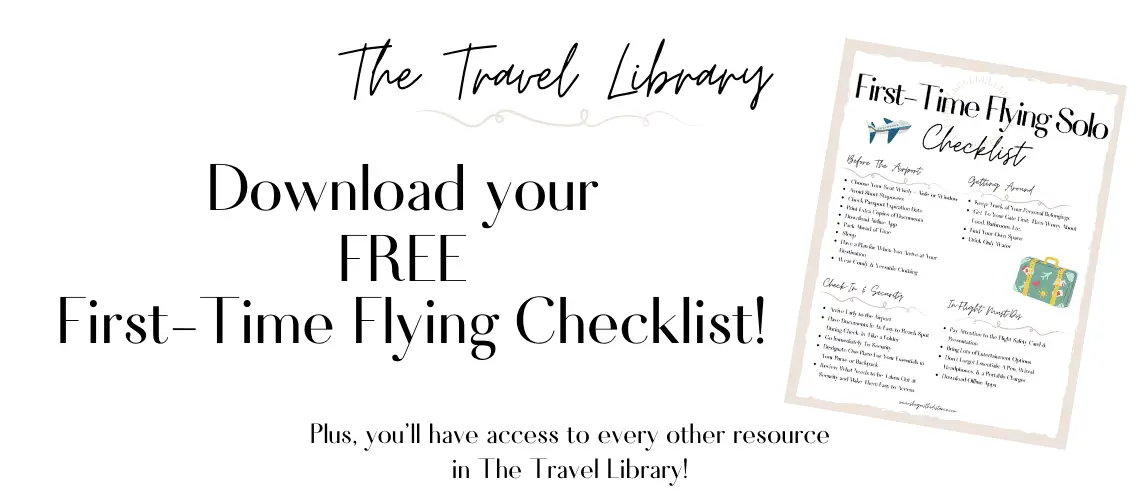 Pre-Trip Jitters: How to Prepare Before You Go to the Airport
Choose Your Seat Wisely
Since you're flying alone for the first time, you'll want to have the most comfortable experience possible. For some people, this may look different when it comes to choosing your seat on the plane (although I think we can all agree choosing the middle seat is uncomfortable on any flight.)
The pros of the aisle seat are that you may get a bit of extra legroom and you won't have to bother anyone if you need to get up and use the restroom or move around the cabin. Pros of the window seat are being able to lean against the wall of the cabin, which can help you sleep or rest better, and of course, taking in the view!
If it's your first flight ever, my suggestion would be window seat – when else do you get the chance to float among the clouds and have a bird's eye view on the planet!
If the sound of that gives you anxiety though, you may love the aisle seat and the freedom it allows you to move around.
Save on flights trying my favorite cheap flight hacks!
Beware of Short Stopover Times Between Connecting Flights
One other thing to check before clicking book is the amount of time you'll have between flights if you're itinerary has multiple stopovers.
Being your first time flying alone, you don't want to choose flights that have anything less than an hour duration of stopover between them. I would play it as safe as possible and aim for something around the 2-3 hour mark.
In some cases with connecting flights, especially internationally, you may have to switch terminals, go through security again, go through customs/passport control, and of course, gates can always change, leaving you frantically trying to navigate the airport.
The extra hour or two spent in the airport may be boring, but it's much better than missing your connecting flight!
Check the Expiration Date of Your Passport
If you're traveling internationally while flying for the first time, know that most destinations will require that your passport be valid at least 6 months after the final day of travel.
You won't typically need your passport if taking a domestic flight, at least in the US, but you will need a form of ID. Check ahead of time what forms of ID are acceptable here on the TSA website.
If you are a US citizen, remember the requirements for using your Driver's License as an ID will change starting May 3, 2023 – it will have to be the newer, updated version called Real ID – read more information about Real ID here.
Preparing for an international flight? Read up on my 19-step international travel checklist so everything goes smoothly while you're abroad.
Print a Copy of Useful Documents
I may do it excessively, but I love to print my itinerary, travel documents, boarding pass, and whatever other potentially relevant papers I will need to travel.
It's also absolutely necessary in this era of flight travel, given that many destinations have entry restrictions, extra rules regarding COVID tests or vaccines, and airlines have their own strict policies they need to follow.
Keeping everything on hand means less frantic searching through your phone for important documents or confirmation numbers.
Download Your Airline's App for Easy Check-In and Notifications About Your Flight
As soon as your confirm your flight booking, I recommend you download the airline's app for a multitude of reasons. Firstly, checking in will be a breeze if you do so through the app (usually 24 hours before your flight departs.)
Secondly, you never know what can change about your flight. On the last occasion that I flew, I flew with Delta and their app gave me notifications throughout the duration of my departure and return flight including gate numbers, gate changes, reviewing COVID-19 related rules, check-in reminders and lots of helpful information so that I didn't have to stress about anything.
Avoid Packing Last Minute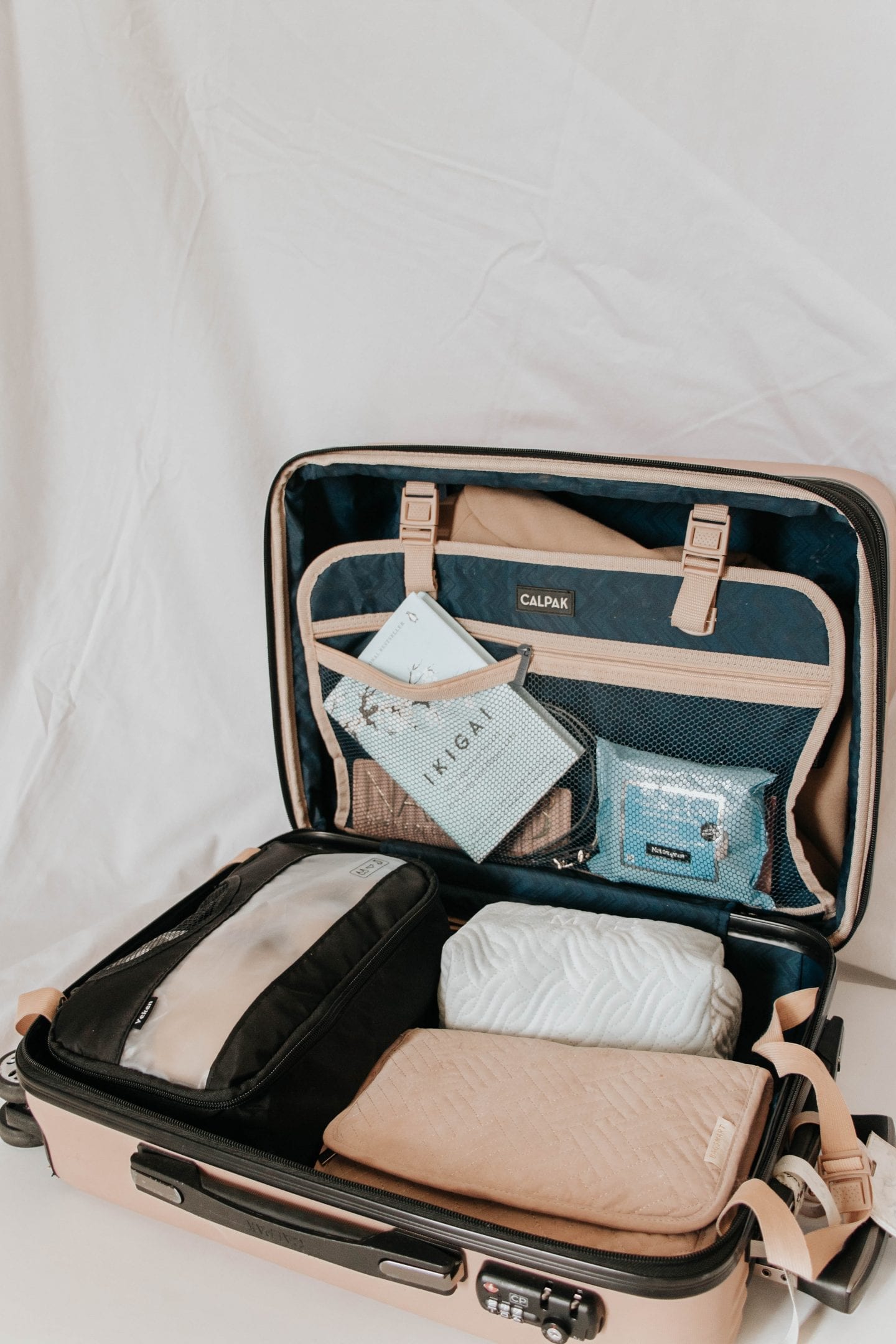 It happens to the best of us to put off packing until the night before your flight. But this kind of habit will only add stress to a stressful situation.
Packing ahead means total clarity and peace of mind that you haven't forgot anything (although I have a list of those items you'll likely forget, so you should probably check it out just to be 100% sure.) You already have the rest of the flying process to worry about – getting packing out of the way early!
You may want to also think about what kind of carry-on luggage you want to pack.
Short journey? Maybe packing a duffle bag is a better option for you since its more spacious. My favorite is the LeSportSac duffle bags.
Long flight? A traditional carry-on and one that has 4 wheels instead of just two will be easier to move around with. The one I use and love is from Calpak.
Learn more about packing like a pro with my essential packing tips for maximizing space.
Get a Good Night's Sleep the Night Before Your Flight
For those who can fall asleep on a flight, I am jealous of you. I have a few tips up my sleeve when it comes to long-haul flights, but it is not easy making a narrow space sitting directly next to strangers a comfortable sleeping environment.
That being said, try to get as much rest as possible in the days leading up to your flight. Flying tired means you're more susceptible to getting sick and you're overall in a terrible mood.
I'd still bring along a good neck pillow or jacket to lay your head on. Even if you don't sleep, it makes the experience more comfortable.
Have a Plan to Get to Your Destination After You Land
As a solo traveler, it's imperative you keep your safety as your top concern. Plan ahead to know how you are getting to your accommodation after you land.
Screenshot the address of your accommodation or print a copy of the booking with the address, research the forms of public transportation and have cash in the local currency to use them, and avoid choosing flights that land at night!
One other thought on this note is to have a plan for using your phone at your destination. If you're traveling internationally, you can't predict if you'll be able to connect to wifi. Buying a local SIM Card immediately at the airport probably won't work as it takes a day or two to activate.
Contact your phone provider and inquire about international charges. I used Verizon and would activate the $10 per day International phone plan as soon as I landed abroad so I could contact my family. The fees aren't fun, but it's most important that you are able to reach people.
Check out more of my solo female travel tips for safety and travel safety essentials.
Wear Comfy & Versatile Clothes
Comfy clothes don't have to be ugly outfits or pajamas, but you'll be happy you opted for comfort over style. It's helpful to dress in layers (but not too many) so you can adapt to different temperatures and also to bring versatile pieces of clothing. For example, wear a sweater or sweatshirt you could use as a pillow.
Here are some things you may want to avoid wearing to the airport:
Heavy or constricting fabrics
Shoes that are time-consuming to remove
TONS of layers – you'll have to take every jacket, sweatshirt, coat, etc. off at security
Not wearing socks – you won't want to walk through security barefoot!
Here are some items you should wear to the airport:
Easy to Remove Shoes
Socks – If you're traveling internationally I highly recommend wearing socks and packing slippers in your carry-on so you can give your feet a rest and take off your shoes without bothering anyone!
Soft, light fabrics like cotton
---
Airport Mania: Making a Hectic Environment Calming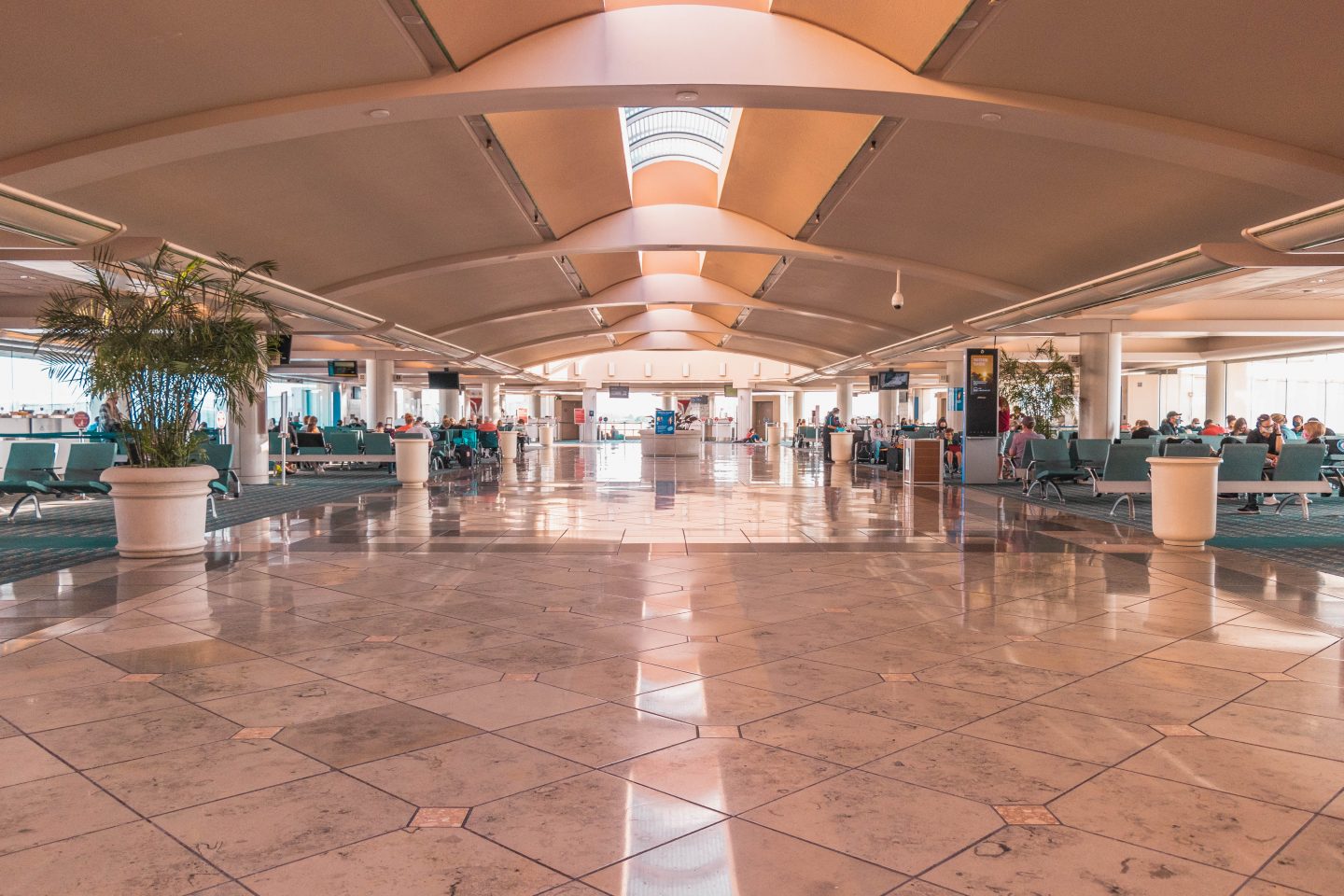 Arrive Early to the Airport
Simple, but effective. Arriving early makes the surprise of long check-in lines or leaving something in the car a lot less stressful, because you have the time to spare.
You never know what to expect at the airport, but I can assure you it will never go as you think it will! There will likely be hiccups and if you're lucky enough where there aren't any, then great you can chill out before your flight!
Having a plan:
Look at parking options beforehand so you know what's the most economic and convenient spot to park.
Is your flight domestic or international? Most international flights will recommend you arrive at least 3 hours before the departure time.
Have One Spot for Important and Essential Items
Traveling through the airport can get hectic and before you know it you think you've lost your passport, when you've actually just put it in a different purse pocket.
It's important that you designate one area to keep small, important items like your passport, boarding pass, checked luggage receipt, and ID.
You may also want to designate an easy-to-access area for small essential items like your phone charger, lip balm, pens, tissues, etc.
In the past I also used a patterned passport cover to help me locate my passport easily in my full backpack. Now, I use my WANDRD Anti-Theft Backpack which has a hidden pocket on the backside of the bag for important documents.
Make Taking Things Out For Security Easy As Possible
Once you've checked in, don't hesitate to head straight to security screening. Wait times can vary and you can be waiting for a long time to get through if you're at a busy airport or traveling during a popular season like, for example, Christmas.
That being said, you'll want to think ahead about the security check process. Research what needs to be taken out of bags or taken off of yourself. As a general rule, you'll have to remove shoes, belts, phones, and sometimes jewelry to go through
Find Your Own Space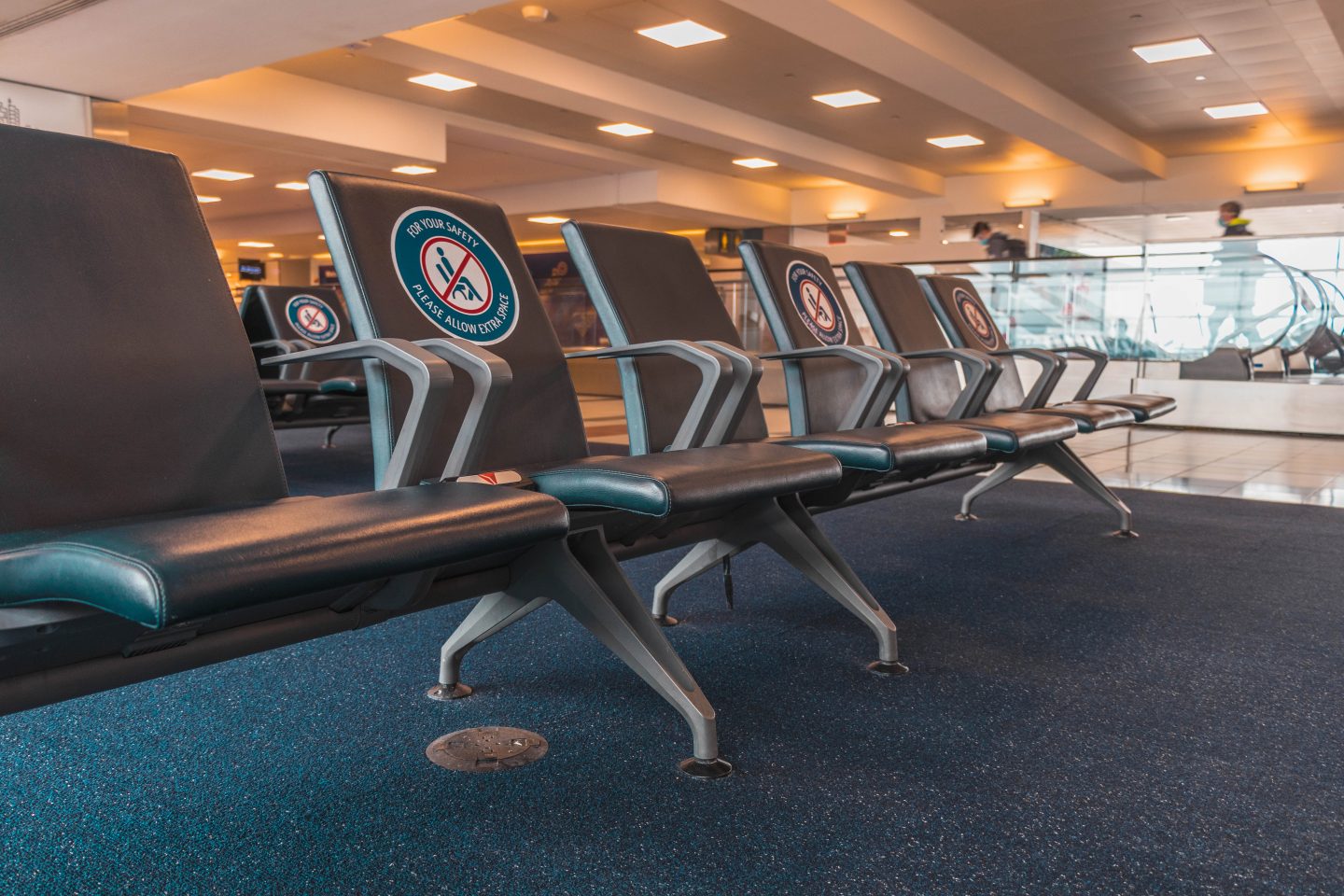 Airports are typically big and busy places, so choosing a spot to sit and relax before your flight is an important task. Stay by your gate and if you can, situate yourself near a screen that lists all the flights so you're aware of any delays or gate changes.
The important thing is to pick a spot where you can settle in and relax before boarding.
Keep Track of Your Personal Belongings
When maneuvering through a busy environment, there will be a lot of distractions. Being aware of yourself and your belongings is the easiest way to avoid something being stolen or accidentally left behind.
Be especially aware of your belongings after you pass through secruity and stop to put all of your things back together. People always leave items on the benches and chairs in that area.
Drink water
Everyone knows that the flight cabin is a super dry and dehydrating environment.
You can pack an empty water bottle or purchase one after airport security. Stick with just water – sugary drinks will not hydrate you and may potentially upset your stomach. Having a coffee may make you extra jittery when what you really want to be is calm throughout the entire experience of flying alone for the first time.
Bored Indoors: How to Entertain Yourself and Feel Comfortable while Flying
I've written an entire post on things to do on flights to avoid boredom because I've made EVERY mistake there is to make and spent flights with absolutely nothing to do. In the meantime here I'll share my top tips so that you're entertained (aka distracted if flying makes you anxious) and comfortable.
Flight Safety
If it's your first time flying alone, being aware of flight safety can put your mind at ease. The safety card in the seat pocket typically gives me anxiety and induces fear, but actually being prepared is the most comfortable thing you can do.
Pay attention to the flight attendants during the safety demonstration and keep these main flight safety tips in mind:
Choose a seat near an exit row to help you feel more comfortable.
Always keep your seatbelt fastened throughout the duration of the flight even if the seat belt signal is off.
Your seat cushion can be used as a flotation device in case of a water landing.
If the cabin loses air pressure, oxygen masks will drop down in front of you. Put yours on first before helping others.
Overpack Your Entertainment Options
Flying is exciting for the first few minutes, but it quickly becomes boring. Play it safe and overestimate how bored you'll be so that you have enough options to entertain yourself!
Inspiration for things to take along with you:
Magazines
Puzzle Books
Laptop/Tablet
Books
Work
Journal – read all about travel journaling!
Don't Forget Small Essentials – Pen, Wired Headphones, & a Portable Phone Charger
If there's three things I need to make sure you pack along with you before your flight it's a pen, wired headphones and a portable charger.
If you're traveling internationally, you'll have to fill out forms on the plane and flight attendants don't usually walk around handing out pens. Even if you're traveling domestically, you may want to do things like journal, puzzles, or work – so having a pen is essential.
I have been caught too many times without a pair of wired headphones on a flight where I intended to watch the in-flight entertainment. Cabin crew may not always provide them or even have them, so if you typically use wireless headphones, consider packing a backup pair of wired ones, otherwise no movies for you.
Never travel without a portable charger. Not just for entertainment purposes, but for safety purposes, you should always take along a portable phone charger. Having a dead phone in a new destination does not make you feel the most safe.
Plus, I've been on flights where the USB port or outlet doesn't work at my seat. If there's one travel item that is worth an investment, it's a good portable charger.
Download Offline Apps
An entertainment option that is weightless is to download apps that can be used offline. Think games like Solitaire or Sudoku. Remember to do this before you get on the plane because your service will likely not be powerful enough to download apps before take-off in the cabin.
This tip also goes for music! Sometimes to save storage on your phone, songs will be loaded to the Cloud instead of directly on your phone. Switch on Airplane Mode and suddenly most of your music library is gone. Be sure to download the music that you want before boarding!
---
Final Thoughts
I hope this post helped guide you through the process of flying alone, but more so that it provided useful and actionable tips to have a comfortable and stress-free experience!
Even if you're familiar with the process of flying, not having someone by your side to rely on can be a nerve-wracking thought. I've flown dozens of times by myself and I still get nervous at times!
As I mentioned at the beginning of this guide, being prepared is the best way to fly. It may seem over-the-top, but I'd rather be over-prepared than caught up in a ball of nerves when something doesn't go as planned!
If there's one thing traveling solo teaches you, it is that you are capable of so many things. As scary of an experience as flying alone can sound, you'll find that it is empowering more than anything.
What are your fears about flying alone for the first time? Let's conquer them in the comments!
Share these tips on Pinterest!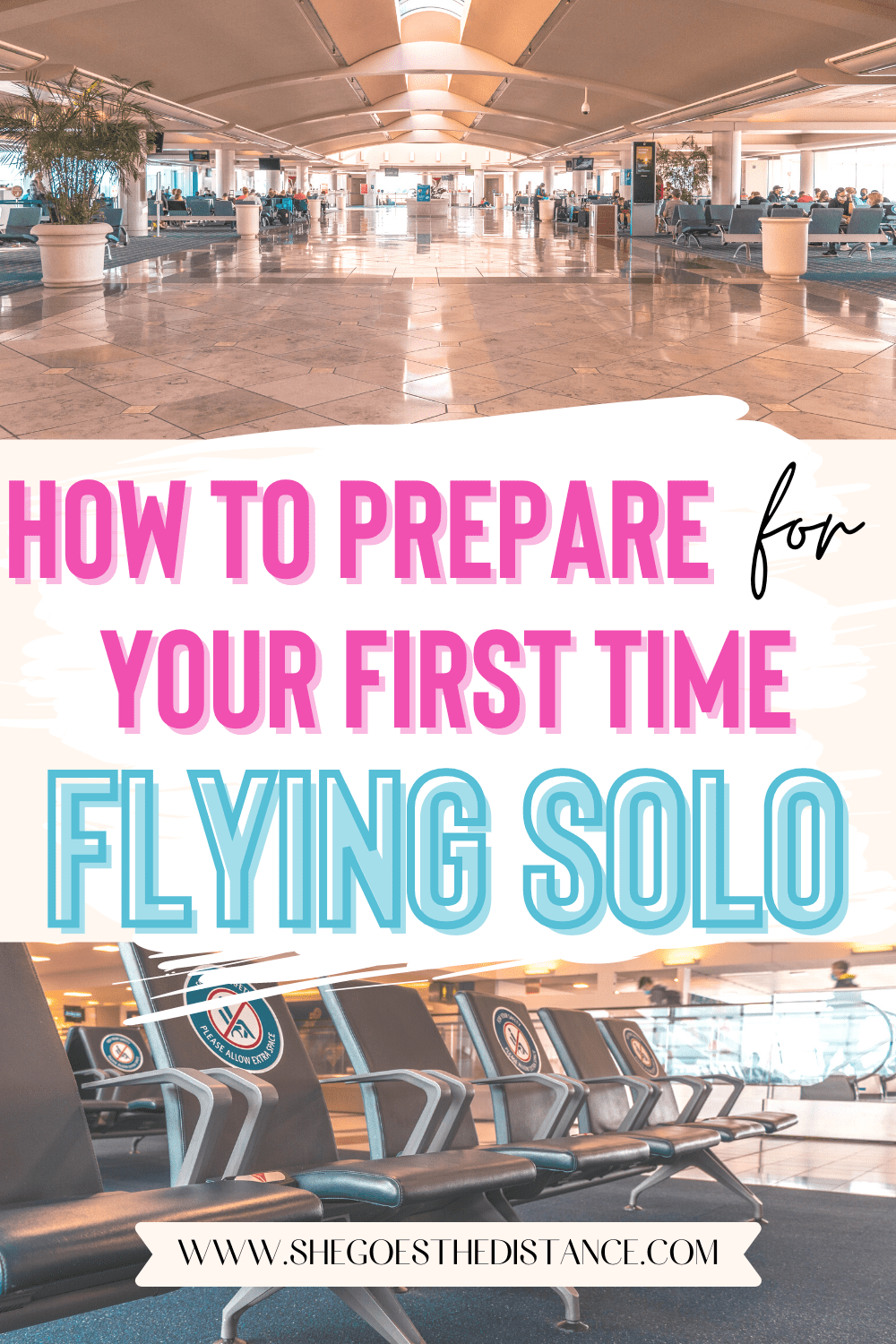 I hope these these tips about flying alone for the first time make the experience a little less scary, and a lot smoother!
XOXO
Michela