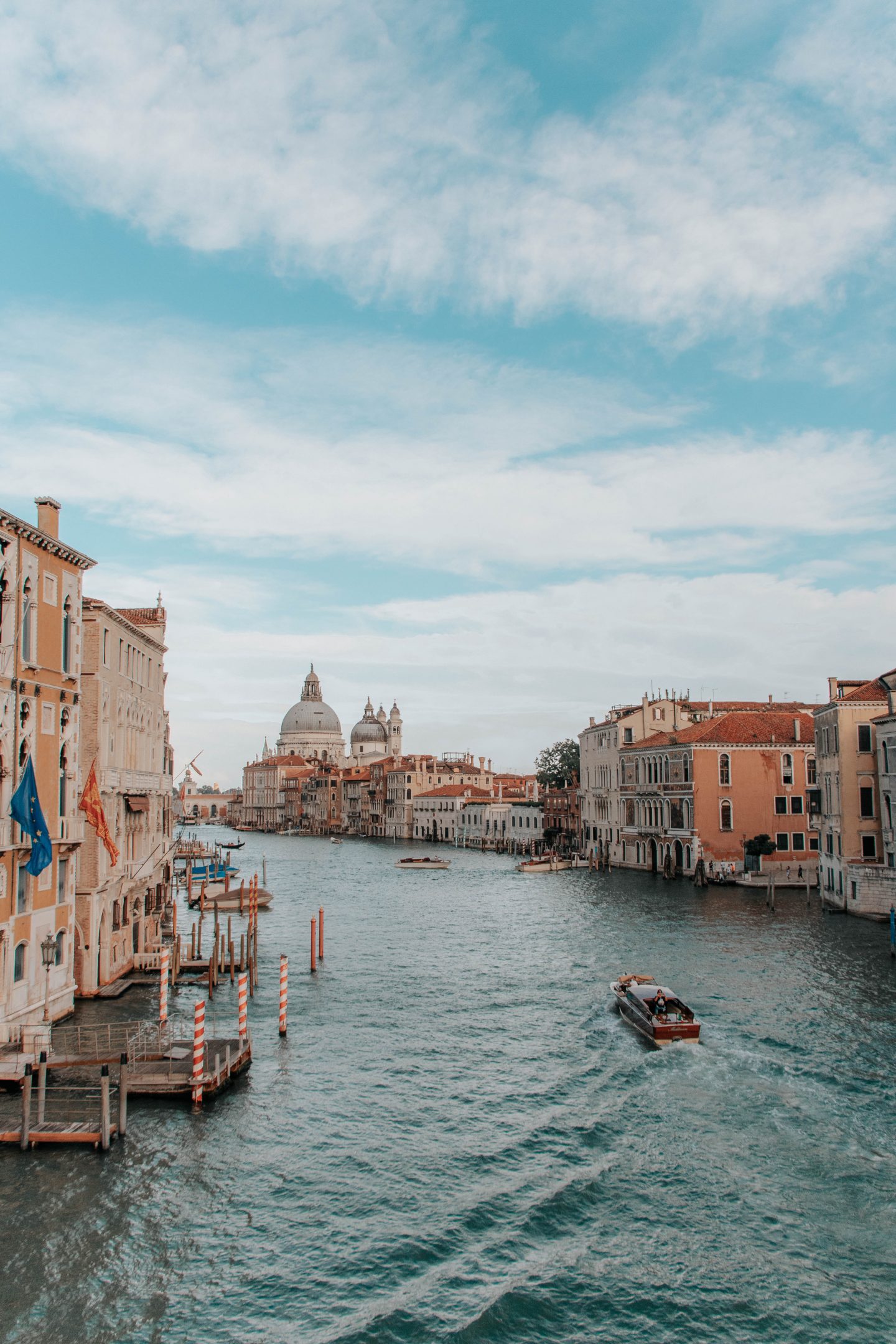 Last Updated on February 22, 2022
Venice is known for its dreamy canals, romantic architecture, and being one of the most expensive places to visit in Italy. All of that charm comes at a hefty price tag – if you don't know how to avoid the tourist traps. This is the ultimate guide to experiencing the best of Venice, even on a budget!
Traveling more around Europe on a budget? Avoid these costly mistakes.
Some of these links are affiliate links. This means if you make a purchase through that link, I receive a small commission at no extra cost to you. Read my full disclosure!
Before heading off to Italy, download your all-in-one packing list curated by me – a local!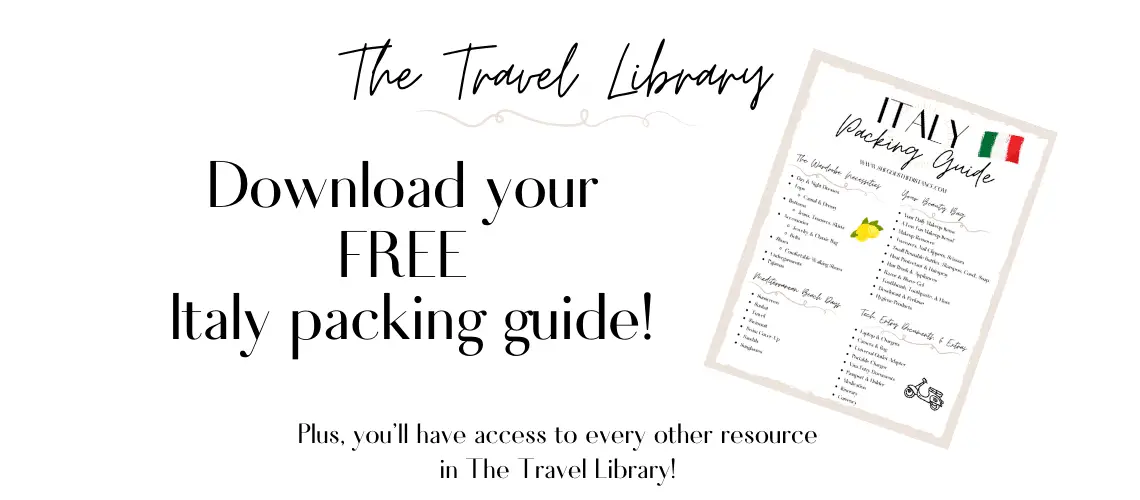 How Much to Budget for a Trip to Venice
The BIG question.
Your budget for Venice will depend most on how long you plan on visiting the city. You can get away with visiting Venice as a day trip from Milan or Florence. However, I suggest staying at least one night – even with two days you'll be rushing around to see the most famous spots and might not have time for hidden gems.
Plus, there's so much to see and do that one day is just a peek into the beauty of Venice!
Three days is the ideal length to explore various neighborhoods of Venice and the outer islands without feeling rushed.
On average, not including accommodation, expect to spend at least 50 € per person every day in Venice, taking the cheapest food options and not spending on activities. It's more likely you'll spend 70-80€ per person per day with meals, transportation, snacks, and activities included.
---
Accommodation in Venice Budget Tips
Book Early
Venice is too popular a destination to wait for a last-minute deal on accommodation. The more options you have available, the more likely you'll find one in your budget!
I tend to stick to Booking.com for the mix of low-cost B&Bs and apartment stays that are still conveniently located in the center.
Know the Travel Season
There are certain times of the year where Venice is packed and hotels know that they can make more money off of visitors. Watch out for the summer season (mainly the months of July and August) and the season of "Carnevale" in February.
The slow fall and winter months are the cheapest times to visit Venice.
Stay In Outer Neighborhoods
You'll want to avoid staying in the Rialto or San Marco neighborhoods if you're trying to save money. But that doesn't mean you have to miss out on staying among the romantic canals and quaint streets!
Even though the outer islands of Venice may look far on a map, the distance between these main areas is walkable. Search for accommodation in Dorsoduro, Giudecca, or Cannareggio which is the historic Jewish ghetto neighborhood.
I'll tell you exactly where I stayed: Ca' San Vio. This sweet bed and breakfast was situated five minutes from the Basilica Santa Maria della Salute on a quiet street down from a canal – does the setting get more perfect than that? For 80€ a night, it's definitely cheap for accommodation in central Venice.
Keep in mind that in Italy, there is a tax charged per person per night when staying in accommodation. Double check before arriving at the accommodation if you paid this tax when booking online or if you have to pay it when you arrive.
Good to know: You'll also have to leave copies/send a picture of your passport to the accommodation according to Italian law.
Don't Discount Hostels
Hostels on average will cost more per night in Venice compared to other European cities but that doesn't mean they can't still be affordable.
I love staying in Generator hostels and they have a location in Venice! For any other hostels, I always use Hostelworld to book.
Something to keep in mind is that the word "hostel" doesn't mean the accommodation only offers dorm beds. Many offer private rooms and female-only rooms (super smart for solo female travelers) so they're worth checking out as opposed to a hotel.
In the same breath, there are some private-rooms in hostels that will cost more than inexpensive hotels! What I'm saying in this tangent is to let go of what your idea of the word hostel means and do some thorough research!
---
Food in Venice Budget Tips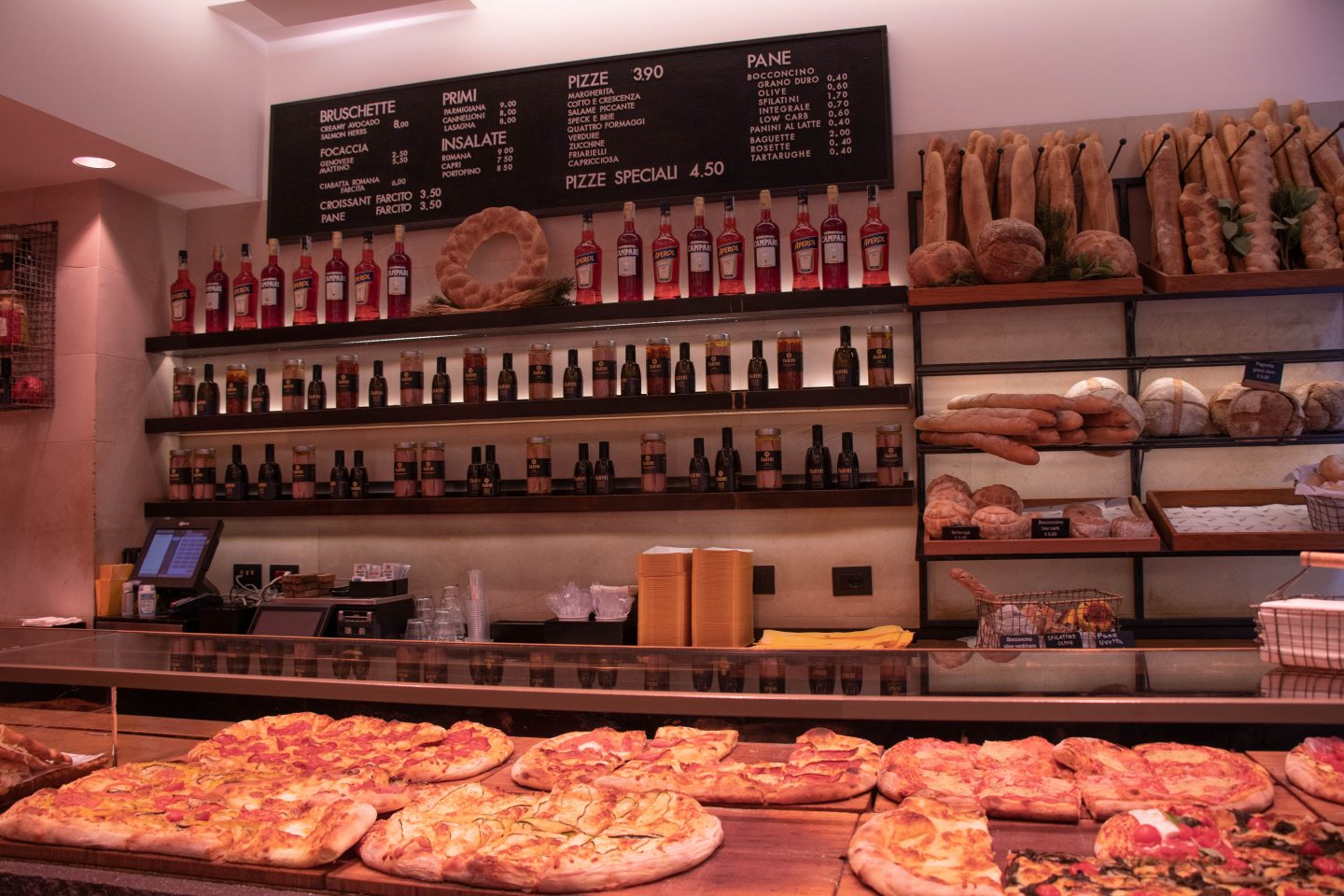 Stroll the Main Square, But Eat Elsewhere
There will be a ton of inviting restaurants near San Marco but 9 out of 10 are super commercialized. The warning signs: super long menus or waiters standing outside trying to invite you to sit.
Regardless of the fact that the food is probably not as tasty in these commercialized places, you'll also end up paying way more. Venice is overall more expensive than other parts of Italy, but still, don't be fooled into buying a 20€ bowl of pasta.
In general at a decent restaurant in Italy, average prices should look like this:
Pasta/First Course: 10-12€
Meat/Second Course 15-20€
Pizza Margherita: 7-8€
Water: 2€
Extra "Venice on a Budget" Tip: It is customary in Italy that you pay for water, which arrives at your table in a neat glass bottle. If you want to avoid this extra expense ask for tap water or "acqua del rubinetto."
Eat Takeaway to Avoid "Coperto"
In Italy, instead of tipping, each person is charged a "coperto" or cover charge for sitting down and eating at a restaurant. It can be as low as 1€ per person up to around 3€ on the high end.
An easy way to avoid this extra charge is to eat takeaway! One of my favorite spots we ate in Venice? Ravioleria. You may think by the name that it's Italian food, but it was actually a Japanese takeaway with all kinds of steamed bao buns – strange for the middle of Venice, but I can attest to its nearly 5 star review for how delicious and cheap it is!
---
Transportation in Venice Budget Tips
Use Public Transport to Reach Venice
To make your life easier and save money, plan to reach Venice by public transportation – bus or train. There are no cars on the main islands of Venice, so you'll have to pay to leave your car on the mainland or in one parking garage at Piazzale Roma on the edge of Venice.
The parking garage will cost around 30€ per day, whereas parking on the mainland will be cheaper, but you'll have to take public transport by train or bus to reach the Venice center (plus I really think it's worth it to spend all your time in Venice in the main area!)
Share a Gondola ride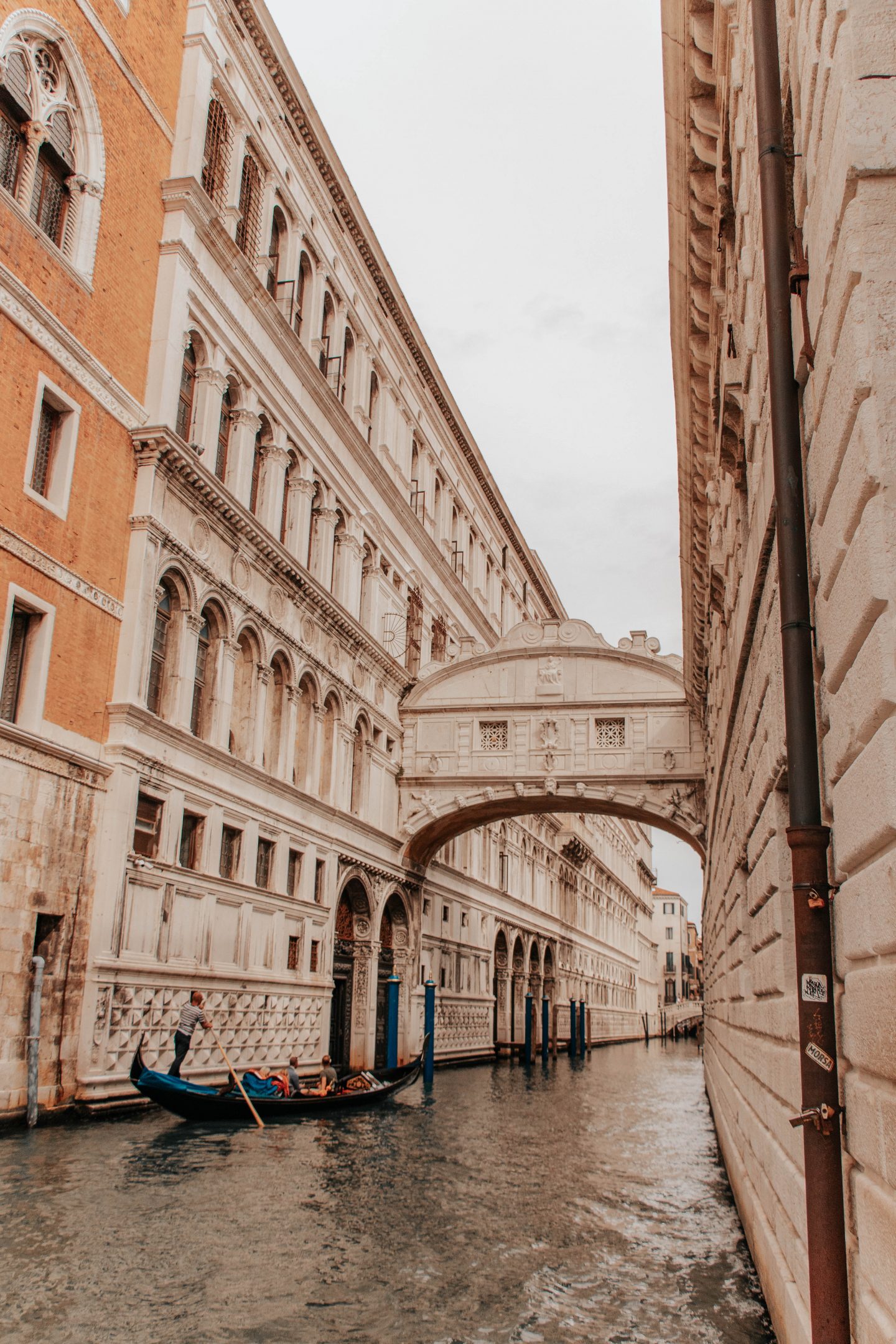 Gondola rides are a rite of passage in Venice (at least, that's how society makes you feel about them.) The problem? They cost around 80€ for a 30 minute ride. That's a lot for one activity.
I've been to Venice twice and have yet to take a gondola ride (even being the hopeless romantic that I am) and I'll tell you why. While I've been there, the experience looks more awkward to me than romantic as you drift by tons of tourists and people on the little streets taking pictures of you so they can get an Instagrammable photo of the gondola.
It's also just super expensive and I prefer to put my money towards other things while I travel like food experiences, engaging tours, and rooms with a view!
I don't want to rain on anyone's parade – I haven't done a gondola ride, so maybe I could completely change my mind if I bit the bullet one day!
Even on a tight budget, you can enjoy a trip down the Grand Canal by boat by taking the vaporetto for 2 euros. Of course, you'll be joined by many others using the public transport, however, it's an inexpensive way to see Venice by water – even better if you can snag a spot in the back of the boat for unobstructed views!
Get Your Steps In
Venice is a super walkable city. As confusing as the narrow streets can be at times, you could walk around and explore the city in just a day if you fast-tracked through the attractions.
Now, I don't recommend that as the best way to enjoy Venice, but it shows you that walking is truly the easiest and cheapest transportation there is in Venice.
I only recommend using the vaporetto for excursions to outer islands, both to save money but also because everything is easily reachable between the main islands.
All this being said, even though it's walkable, you'll want to thoroughly plan out an itinerary if you have lots of ground you want to cover. My favorite way to create one is with Google Maps Trip Planner, where I can add different layers to represent different days of the itinerary and colored location markers to have an idea of where I want to go and how I can get around efficiently to see as much as possible!
Transportation Day Passes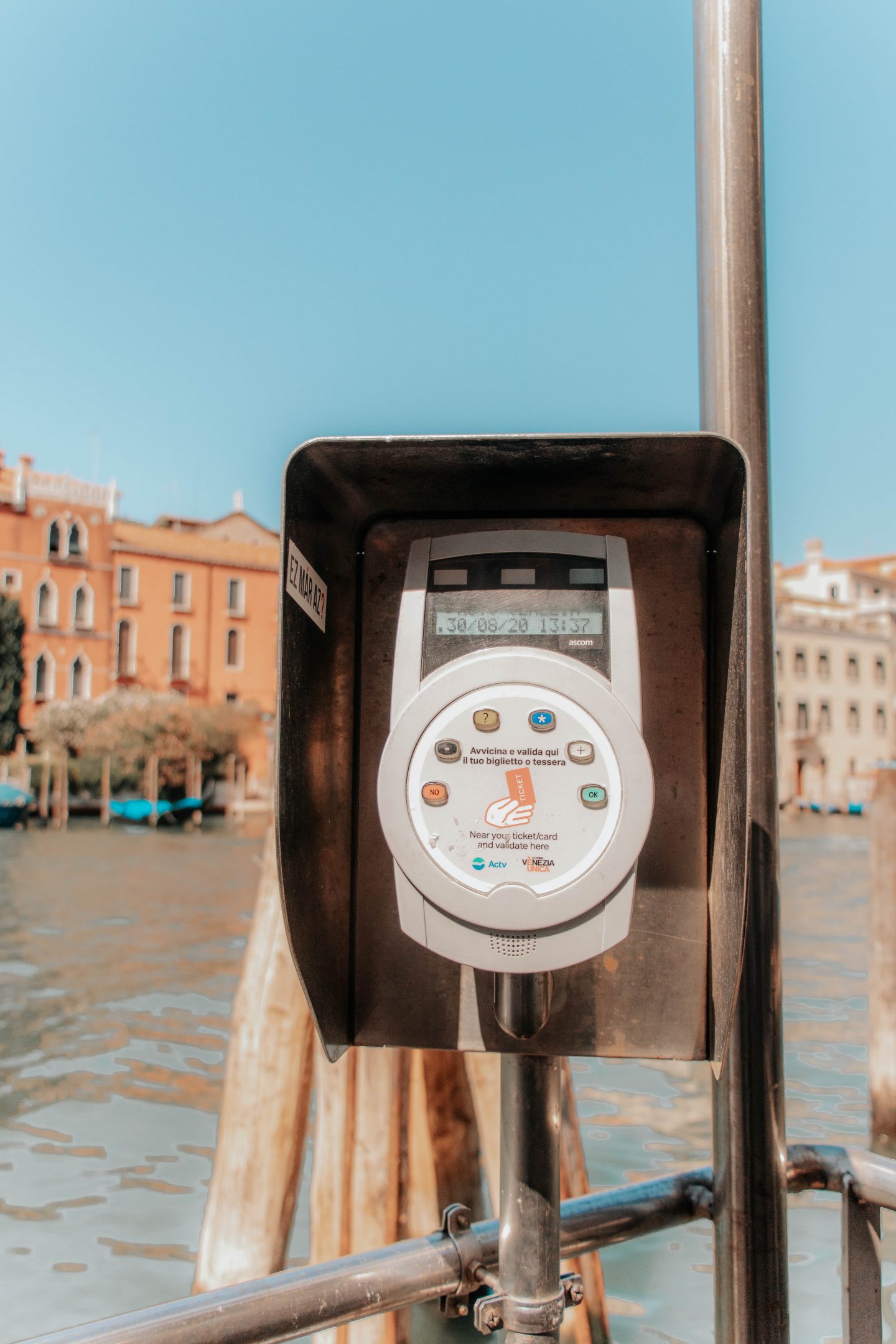 If you don't think walking will be your thing (which is a shame due to all of the beautiful narrow streets you discover by getting lost!), you should look into the transportation day passes offered by the city of Venice.
A one-way vaporetto ticket is 7.50€ so a one-day pass at 20€ is a good deal if you plan on taking it more than 3 times.
You can explore more about Venice water taxi transportation here.
---
Things To Do In Venice On a Budget
Venice is very different from a city like Rome. Yes, it boasts world-famous attractions, but even the most go-getter of travelers would agree that the best part about it is just experiencing the city yourself. Walking the streets, admiring the architecture, sitting alongside a canal or looking out towards the Adriatic Sea.
So, in that sense, it is easy to visit Venice on a budget – walking around is completely free! But, vacations and visits rarely go without at least one activity on your bucket list, so here are some things to do in Venice on the cheap side.
Keep in mind many of Venice's main sights are free to visit/see like the Rialto Bridge, Rialto Market, Bridge of Sighs, and Accademia Bridge.
Piazza San Marco and St. Mark's Basilica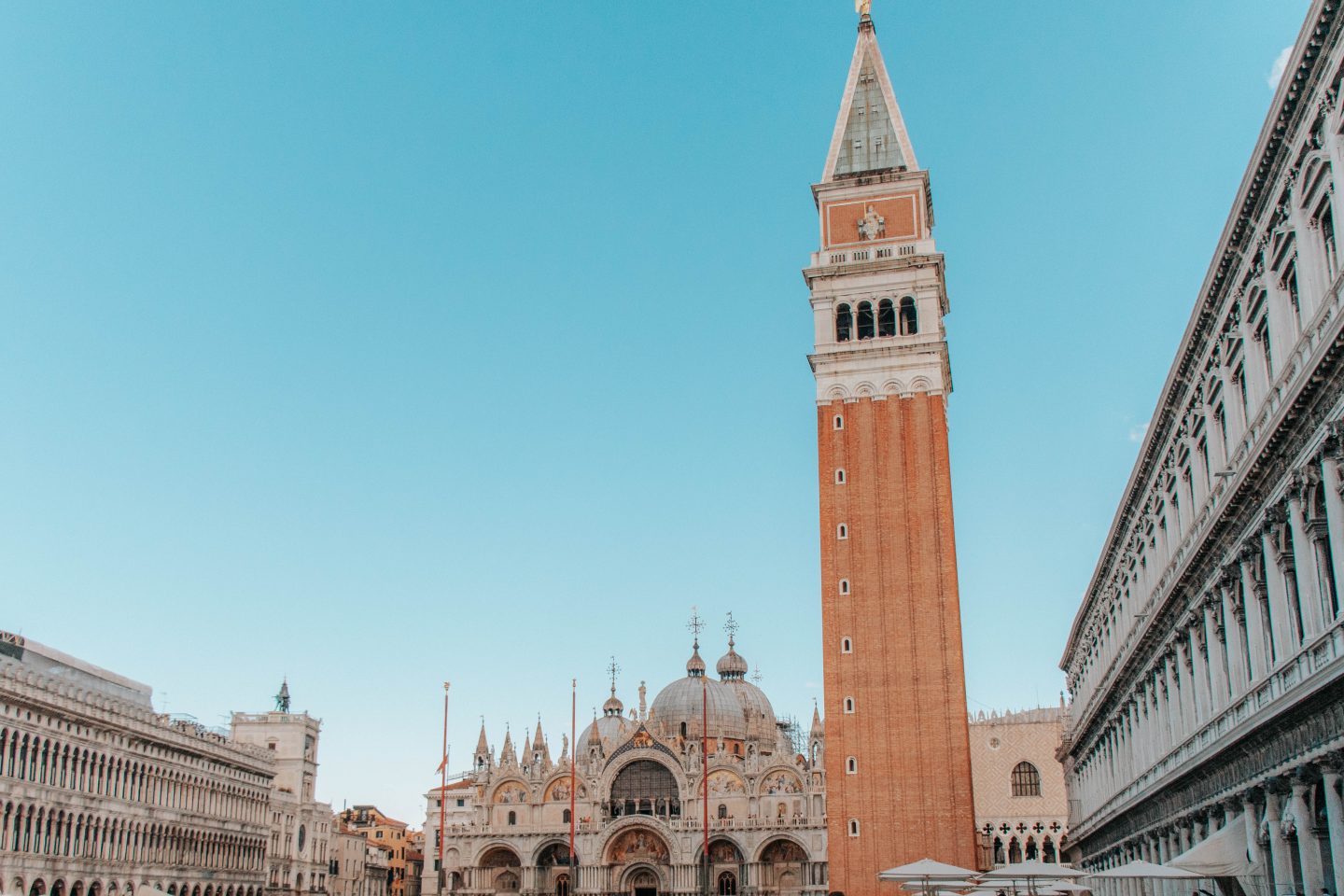 The most iconic location in Venice is the vast square of Piazza San Marco, the doorstep to the ornate Basilica di San Marco. Entrance to the cathedral is only 3€ compared to a whopping 10€ entrance fee for the Campanile di San Marco, or St. Mark's Bell Tower, just beside it.
Another free thing to do in Venice: Visit the botanical gardens! Just around the corner from the Piazza San Marco along the marina are the small but beautiful Royal Botanic Gardens of Venice. This is a unique (and free) activity to add to your stroll!
Basilica di Santa Maria della Salute
The Basilica di Santa Maria is recognizable in any photo of Venice, the large domed cathedral on the edge of the Grand Canal.
To enter is free, which makes it a perfect addition to a Venice budget itinerary.
Plan Your Trip Around Free Museum Days
If you love museums, it will be worth it to plan your visit around the first Sunday of each month, which is when all state museums are free to enter!
Take a look at the full list and see if some of your bucket list museums are on it!
Extra "Venice on a Budget" Tip: If you're under 29 years old, the Venice City Pass, which includes entry to 11 museums, 14 churches, discounts, and more, is half price of what it is for adults – 29€. This is actually a great deal and if you're a traveler who wants to get more out of Venice than just admiring its external features.
Visit the Outer Islands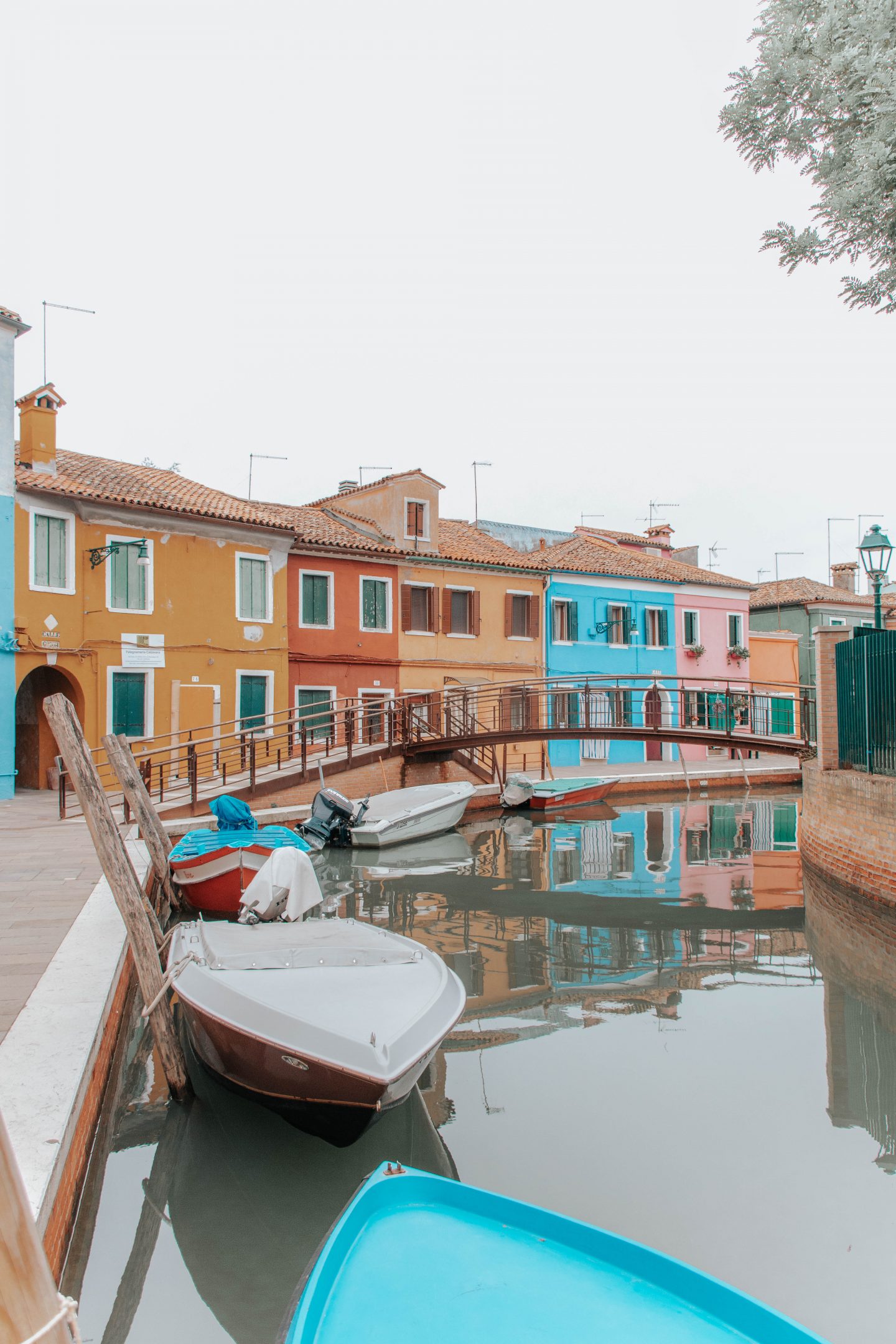 This is an extra expense, but it's something I really don't think you should miss when visiting Venice! If there's ever a moment to spend on transportation its a 14€ "andata e ritorno", or round-trip, ticket to the outlying islands.
How you want to configure the trip is up to you, whether you want to visit colorful Burano or glass-blowing hub Murano, but the ticket does have a time-constraint once you validate it on your first ride.
So it's easier to just visit one island and enjoy it than try to rush through so you can avoid buying another ticket.
Rooftop Terrace
One of the coolest free experiences in my opinion is the rooftop terrace at T Fondaco dei Tedeschi, a luxury shopping mall.
All you have to do is reserve a spot online!
It made my list of unique things to do in Venice, which may also help provide inspiration for your trip.
Free Walking Tours
Taking a free walking tour is a great option for budget travelers to meet people and to get to know the city more deeply.
You can start with a simple Google search to find tours like this one or inquire about any at your accommodation.
---
New Tourist Laws
Something to keep in mind for future travel to Venice are new laws introduced in 2021 and set to be imposed in 2022 that include limiting tourists and charging admission to the city.
While admission would only be between 3.50€ and 10 € per person to visit Venice, it's still something to keep in mind ahead of planning your trip (once the changes are enforced.)
You'll also need to consider this when determining what time of year to visit Venice. With limits on the number of tourists being able to enter, summer in Italy will surely mean the city could hit capacity, being its the busiest time to visit.
---
Extra Tips for Visiting Venice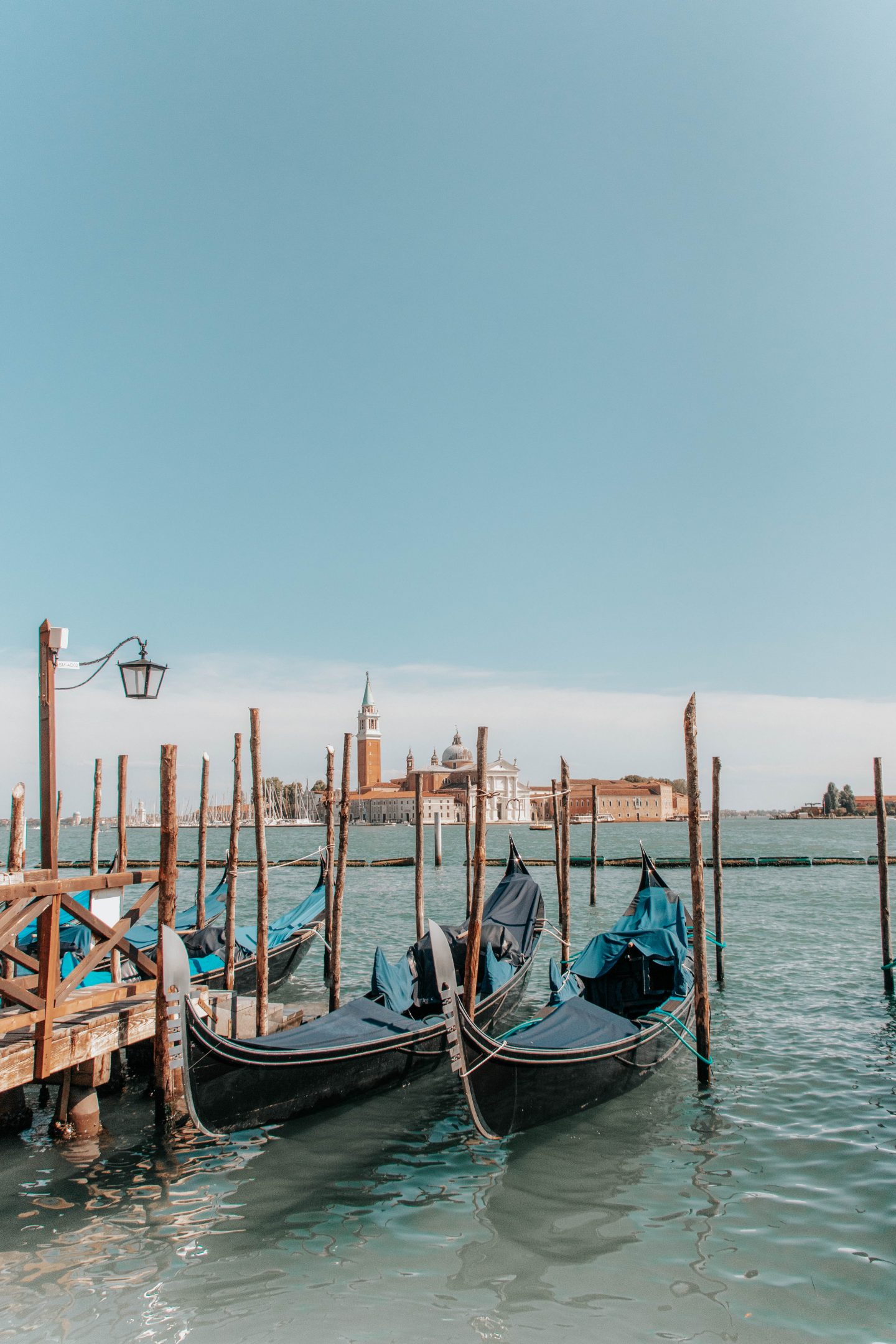 The rising of the moon means a changing of the tide (something I discovered on my last trip.) The streets of Venice commonly flood at night for this reason! My boyfriend and I decided to go to Piazza San Marco to see it by night but the entire piazza was underwater! If you're brave, you can go right ahead, but I'd recommend at least buying some plastic shoe covers off of local sellers before diving in!
Have extra patience when visiting Venice and go with the flow. I'm one who loves to have a planned out itinerary, but the maze-like nature of Venice makes it so much more exciting to just turn every new corner and see where you end up. Every nook is beautiful, so it's better to soak up the moment than over-plan when visiting Venice.
Take tons of photos! Some of my favorite memories are captured in the beautiful landscapes of Venice. Jot down these best photo spots in Venice before heading off on your trip!
Final Thoughts
Budget travel is all about give and take. Splurge a little here, hold back there. It is not a crime to splurge a little in Venice!
Prepare yourself ahead of time that it's not going to be a cheap city to visit, but that the experience is worth it. Adjust other things in your budget or limit your time in Venice in order for to make it work for you.
Hopefully these budget tips will help you plan the perfect trip to Venice while staying money-conscious!
For more budget-friendly travel guides, I've got a whole category dedicated to saving money while traveling!
And for Italy travel, prep yourself with these all-inclusive guides:
Buon viaggio!
Any questions? Let me know in a comment!
Save this budget travel guide to Pinterest!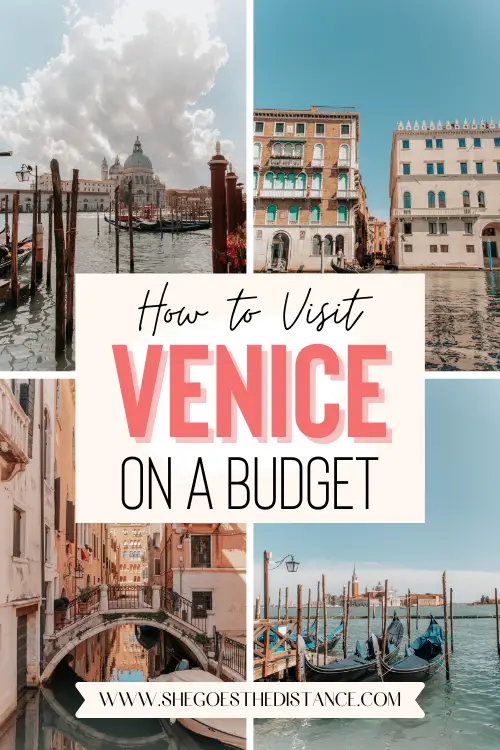 XOXO
Michela