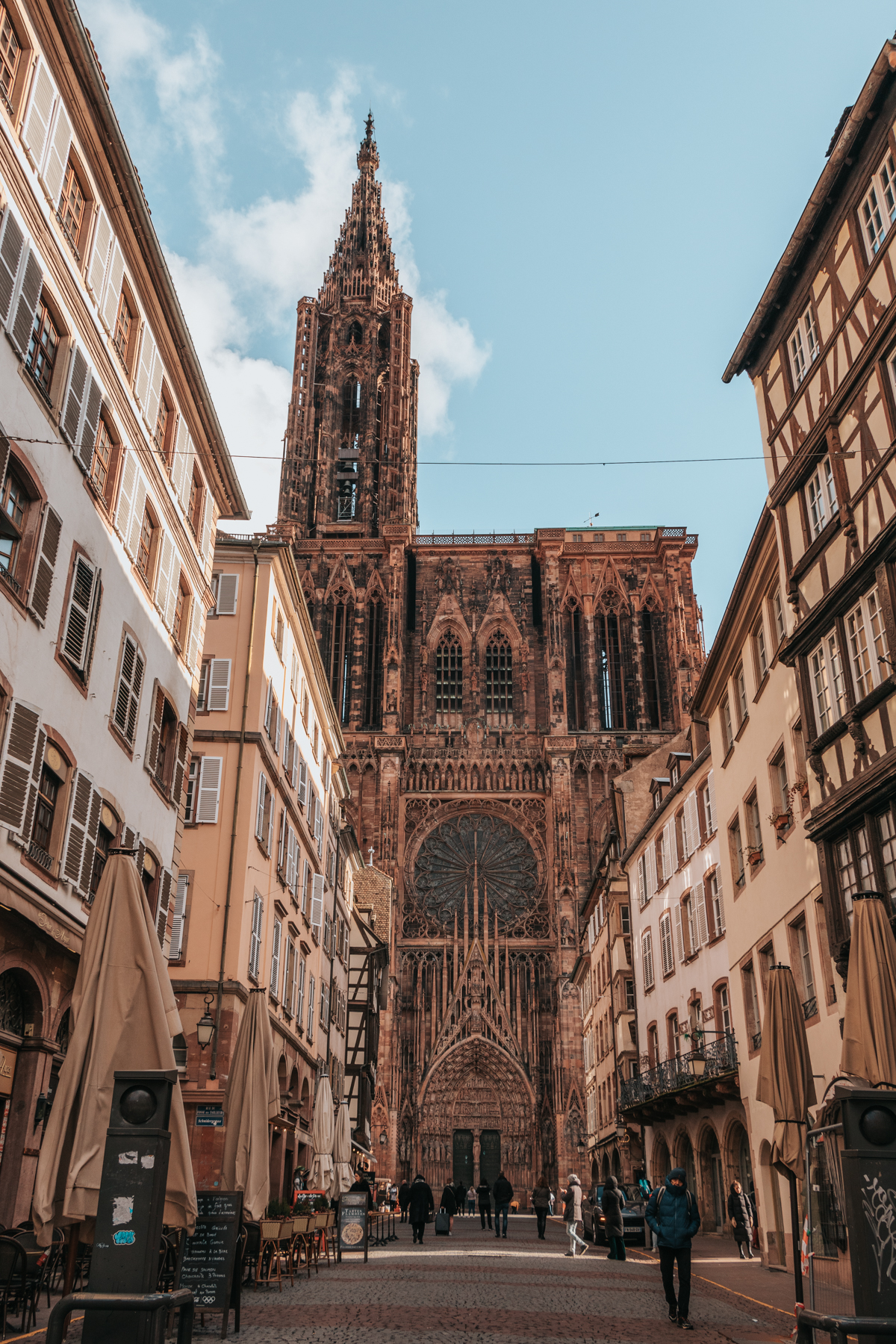 Last Updated on September 29, 2023
The perfect France itinerary includes a whole lot of Paris, a slice of countryside life and riviera magic and a glimpse at the magical cities beyond the country's metropolitan capital. This last one is exactly why you must make room for a Strasbourg day trip on your French getaway.
Capital of the Grand Est, stop on the Alsace Wine Route, mecca for European governing bodies and gateway to the most fairytale of French hamlets, Strasbourg is a striking balance of cosmopolitan and classic. Being just two hours by train makes it one of the easy day trips to add to your Paris itinerary.
But how difficult is it really to organize a Strasbourg day trip? How much can you see with one day in Strasbourg? When is the best time to visit? Get the answers to all your burning questions in this travel guide.
Some of these links are affiliate links. This means if you make a purchase through that link, I receive a small commission at no extra cost to you. Read my full disclosure!
---
More About Strasbourg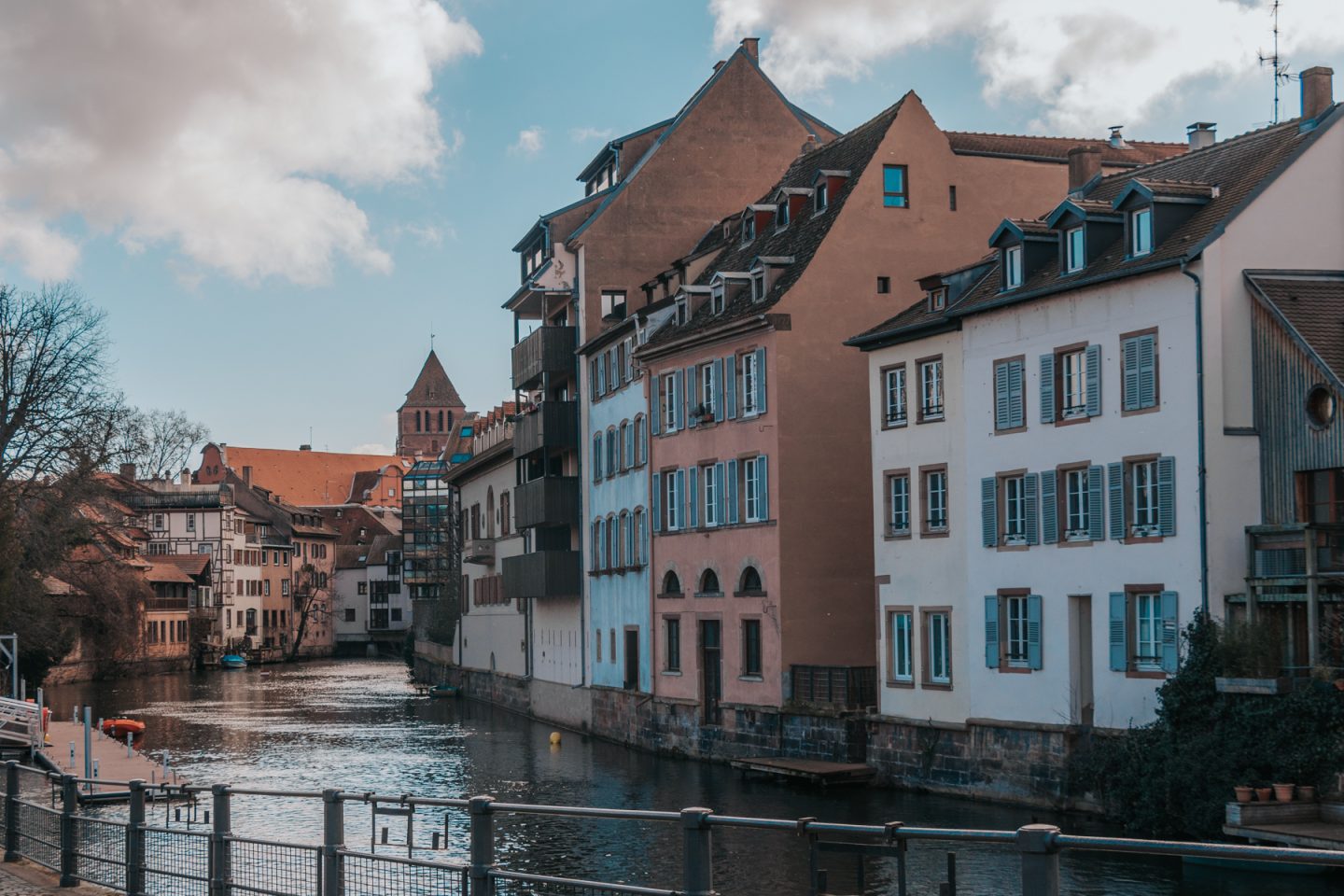 Why should Strasbourg be on your bucket list? I could name a few reasons…
It is one of the most picturesque regions in France. Think timbered houses, dramatic, gothic cathedrals, quaint riverbank paths.
The city is uniquely laid out in that the center is located on the Grand Île, translated to big island. The River III that runs through the city also has a second branch, Canal du Faux-Rempart, that wraps its way around the city center, or Old Town. This forms the Grand Île, a UNESCO World Heritage Site. It is the first time a city center was given the title.
It's unique location in the Alsace region which borders Germany and throughout history has passed from being French to German to French (etc.) territory means that there is a cultural blend like in no other part of France. You see this cultural mix in traditions, architecture, food, language and just about every aspect in life.
The city is the gateway to the Alsace Wine Route, a dedicated wine-lover itinerary to discovering the Alsace region.
It is the capital city of the "Grand Est" region.
Not only is it a significant city to France but also to Europe. It is home to numerous European institutions and governing bodies like the Council of Europe, the European Court of Human Rights and the European Parliament of the EU.
---
What to See & Do on Your Strasbourg Day Trip
Plan your Strasbourg itinerary by picking and choosing the top sights you want to see from this list!
Sunrise at Barrage Vauban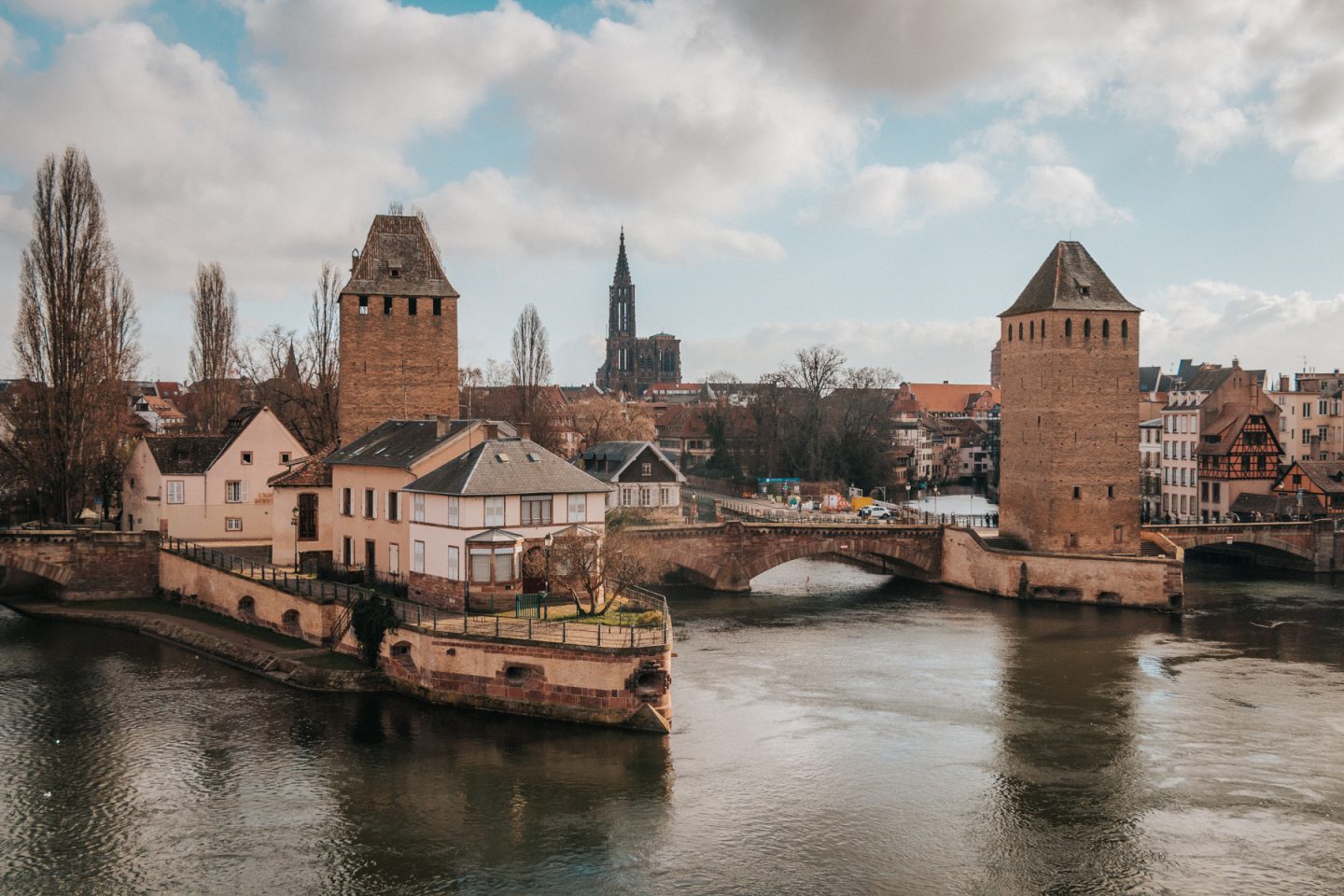 The Barrage Vauban, or Vauban Dam, on the River III is a covered bridge built in the late 1600s as a city defense structure.
The best part about this spot is the large rooftop terrace that offers an incredible view of the "Pont Couverts", La Petite France, and the Strasbourg Cathedral in the city skyline.
The terrace and bridge are completely free to visit. The terrace is open at different times throughout the year:
September to October: 8 am to 7 pm
November to February: 8:30 am to 4 pm
March to April: 8 am to 7 pm
May to August: 7:15 to 9 pm
You can access the terrace via stairs or through the accessible elevator.
Ponts Couverts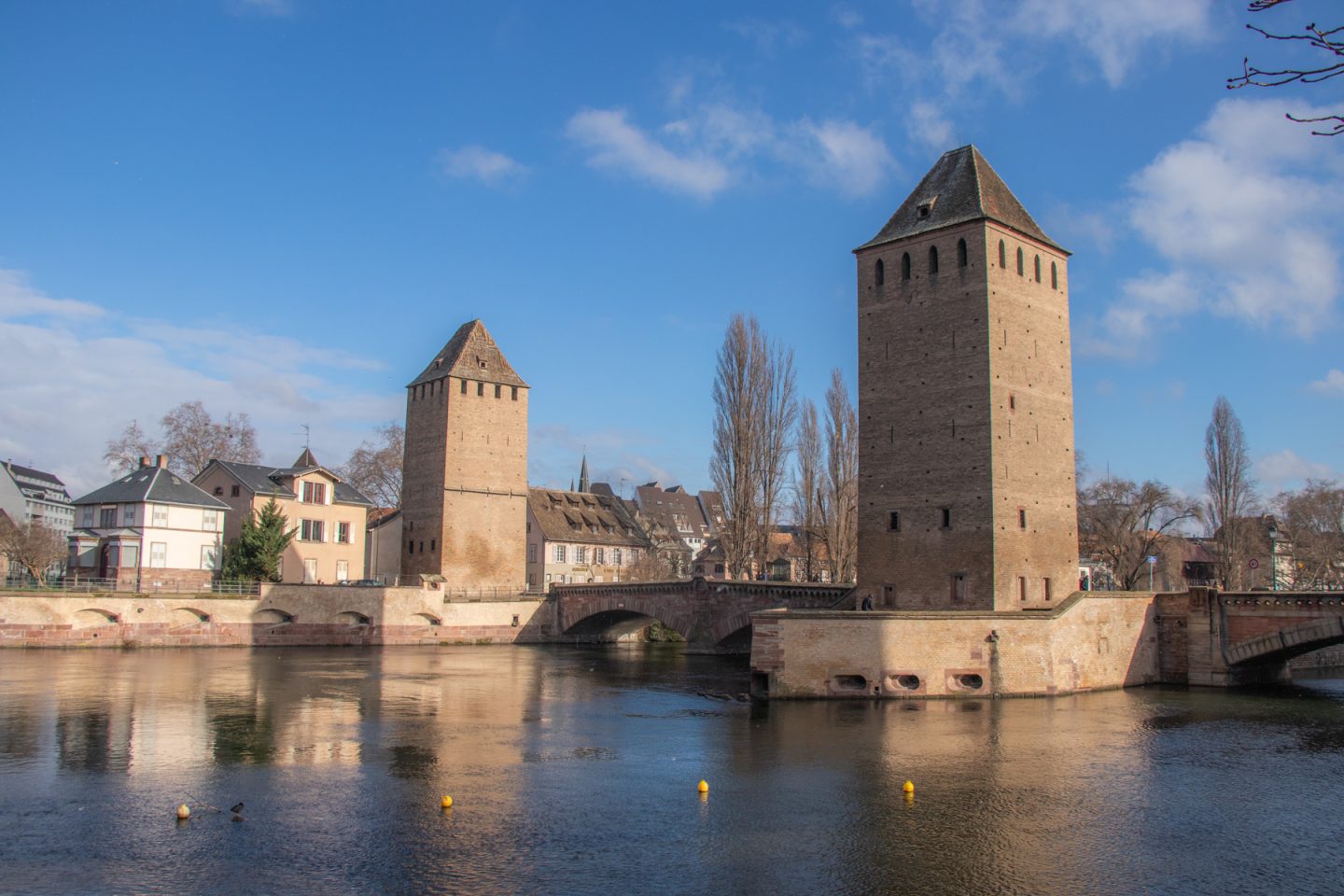 The Ponts Couverts, or Covered Bridges, are an impressive collection of bridges and towers on the River III built as a defensive structure in the 13th century. They once were covered with roofs but they have since deteriorated.
The bridges cross the points at which the canals of the city all meet to form the River III.
La Petite France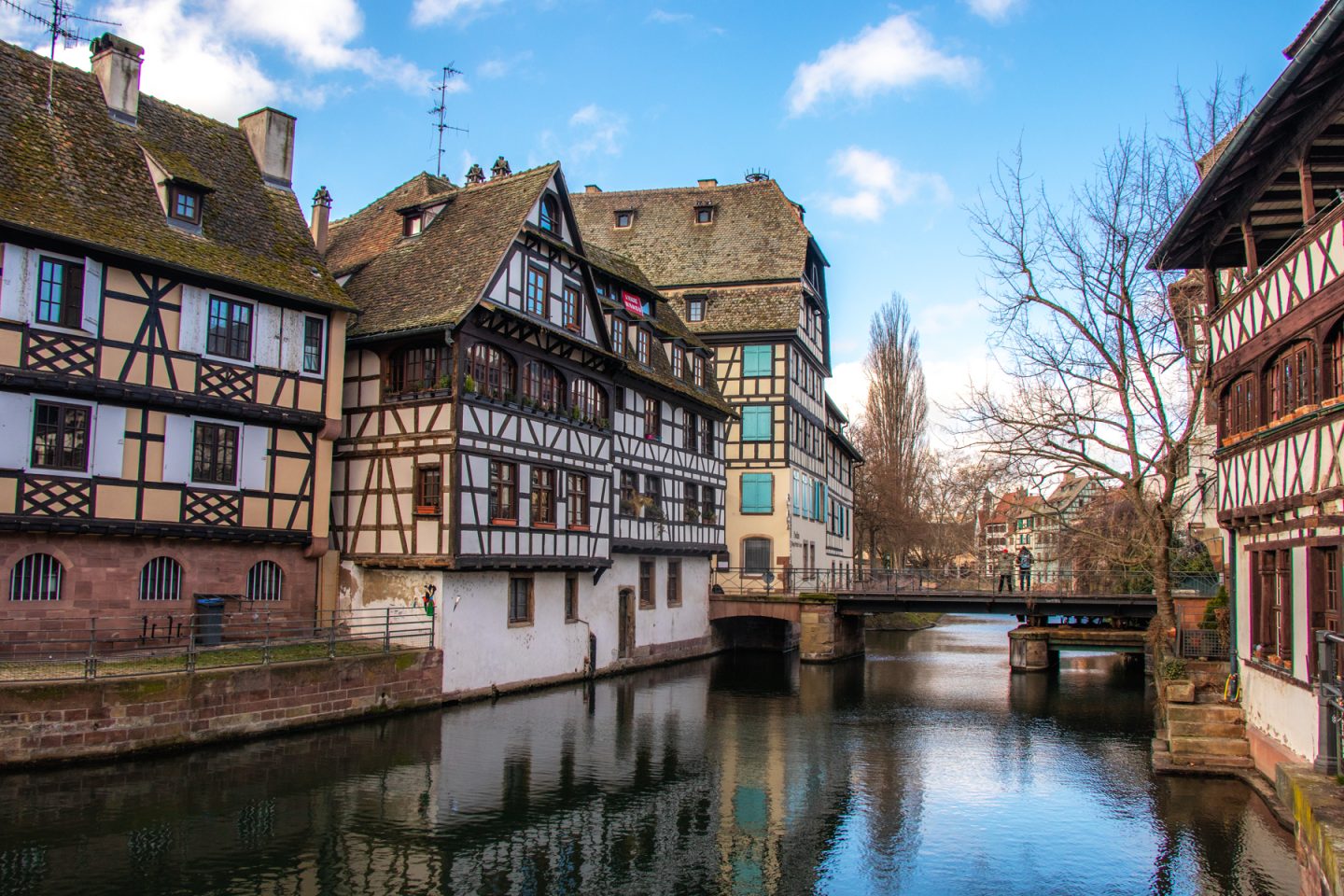 La Petite France is Strasbourg's historic neighborhood. You will notice a sudden shift that truly feels like a jump in time when you move from Strasbourg's contemporary museums and classic French buildings to what is the preserved, medieval hamlet of the city.
The architecture, narrow, cobblestone streets and peaceful canals make it one of the most romantic areas of Strasbourg. It is a city attraction, so you will find lots of tourists here and charming souvenir shops.
La Petite France is also a great place to take off and explore Strasbourg by boat. A boat tour is a unique experience and perspective from which to discover Strasbourg seeing as the whole historic city center is on an island! Circle the Grand Île and get one-of-a-kind views from panoramic boats.
Strasbourg Cathedral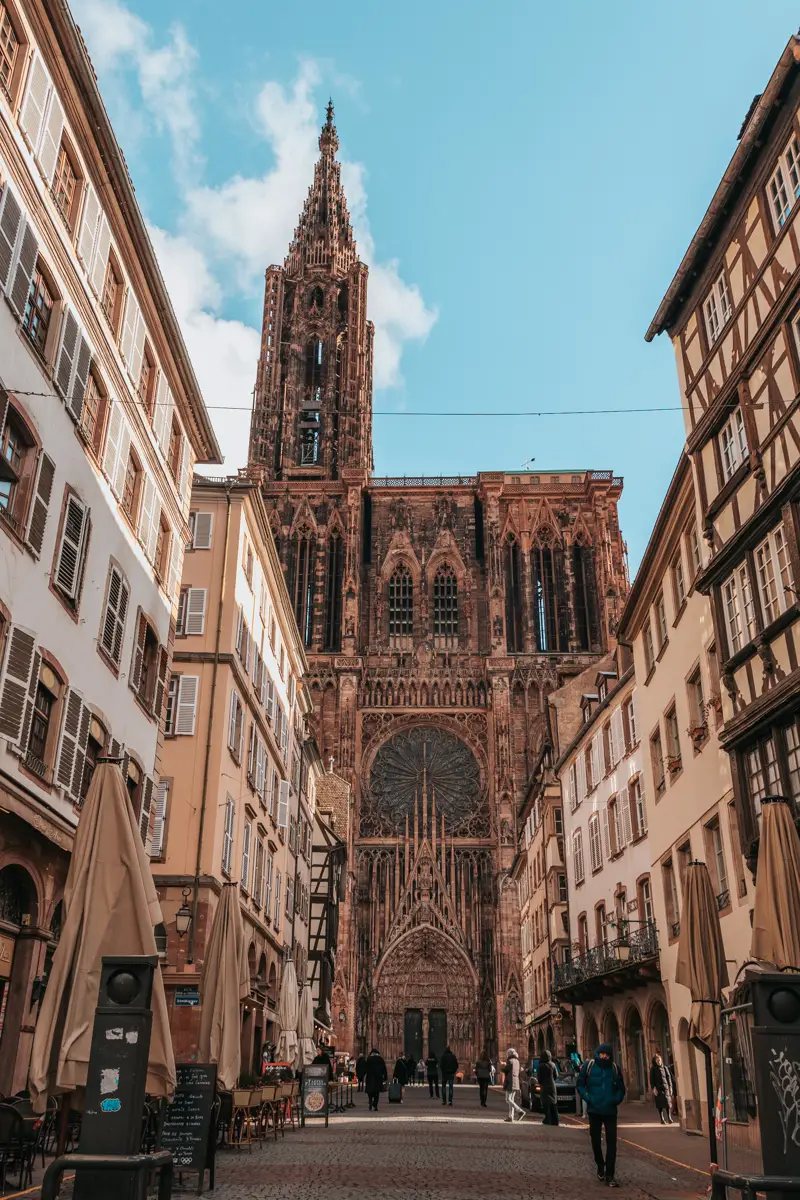 The absolute must-see in Strasbourg is the cathedral. And luckily it is the second tallest building in France, so you can see it from nearly any spot in the city!
Fun fact, it was actually the tallest building in the world from 1647 to 1874. The Strasbourg Cathedral is truly breathtaking in all meanings of the word.
The square surrounding the cathedral is not very wide, so it is difficult to get a full picture or view of it without having to strain your neck!
You can visit the free for inside during two periods of the day: from 8:30 to 11:15 a.m and 12:45 to 5:45 p.m from Monday to Saturday. Instead on Sunday and holidays, it can only be visited from 2 to 5:15 p.m.
The reason for the gap in visiting hours during the week is because a special show takes place during the closing period to which you have to buy tickets. Inside the cathedral is a Renaissance astronomical clock, a completely unique art and engineering piece. Watch the clock come alive in the dedicated show with figurines popping in and out telling different stories. Tickets to the show costs €4 for adults and €2 for kids.
Visit one of Strasbourg's Museums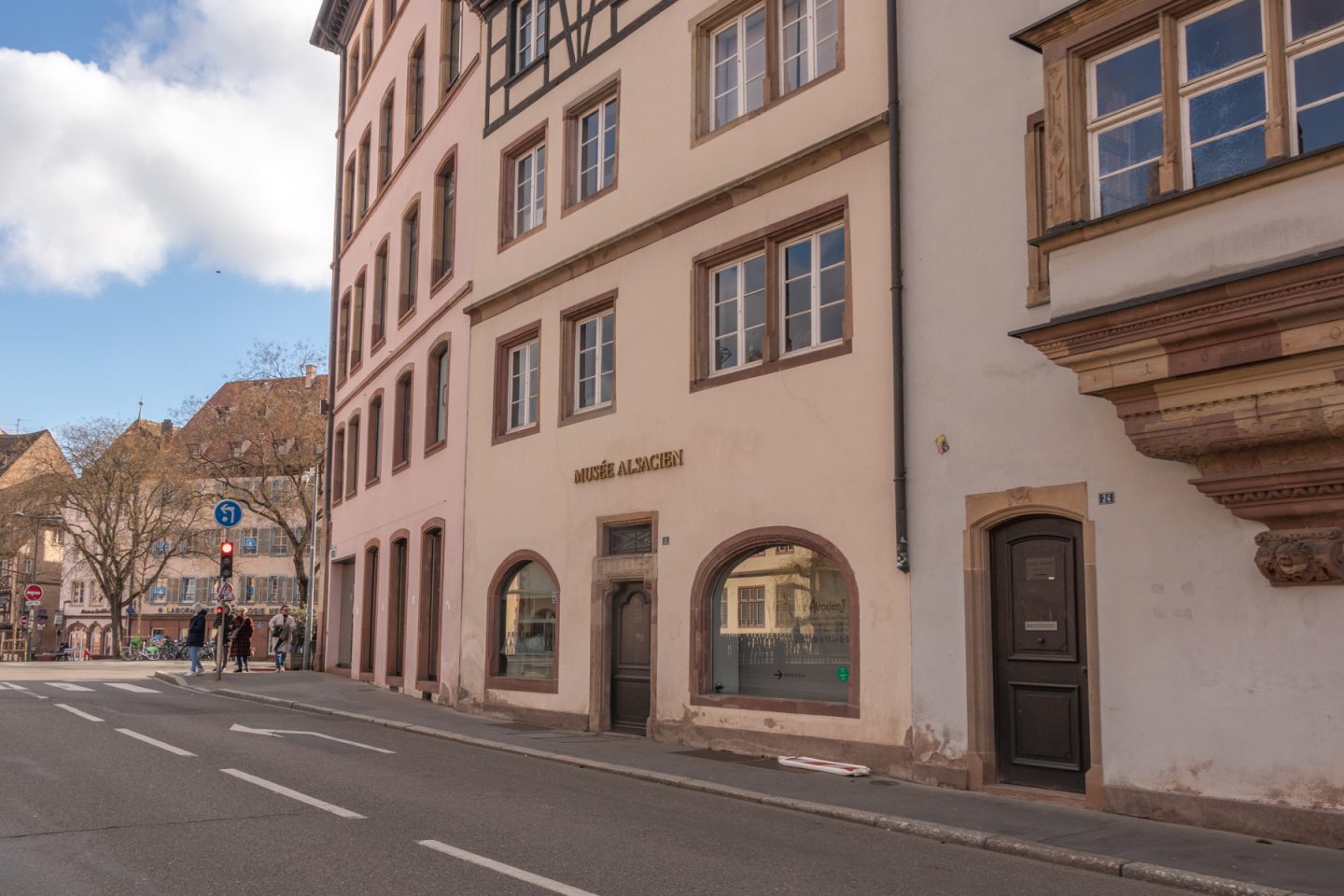 Like any good European city, Strasbourg has a variety of museums to choose from. You can visit the Alsatian Museum to discover what life was like in the Alsatian region in the 18th and 19th century. This museum is interesting because you walk through the museum as if they were the real rooms of an Alsatian house, with objects, artifacts, toys and all the typical things you would find that they truly used back then.
Strasbourg also has its own history museum housed in the former city slaughterhouse. These exhibits are more traditional for telling each aspect of the city's cultural, political and economic history but there are also interactive moments that make it fun and engaging.
Strasbourg has a whole host of unique museums that there is truly something for everyone: the Museum of Modern and Contemporary Art, the Fine Arts Museum, the Oeuvre Notre Dame Museum (medieval works), the Museum of Seismology, the Château Vodou, which has the largest collection of West African vodoo artifacts in the world – so as you can see, the list goes on.
Visit the Strasbourg tourism website to search for museums.
Palais Rohan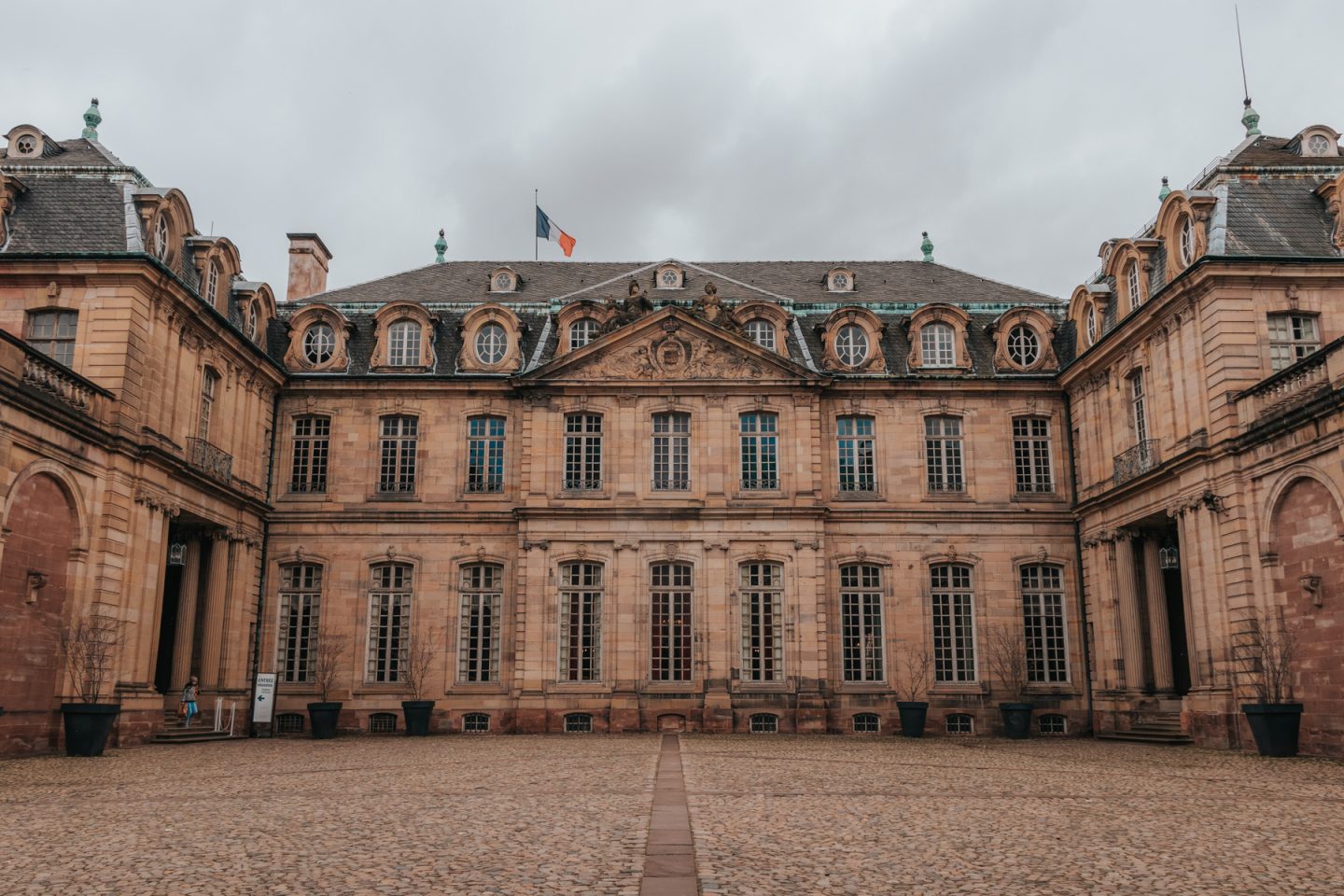 The Palais Rohan, royal palace of Strasbourg is neighbors with the Strasbourg Cathedral. It was built for the Prince-Bishop of Strasbourg in just 10 years from 1732-1742.
Within the palace are three different museums – the Archaelogical Museum, Fine Arts Museum and Decorative Arts Museum.
You can visit the grand courtyard for free.
It is closed on Tuesday and Thursday. Every other day, you can visit from 10 am to 1 pm and 2 pm to 6 pm.
Parc de L'Orangerie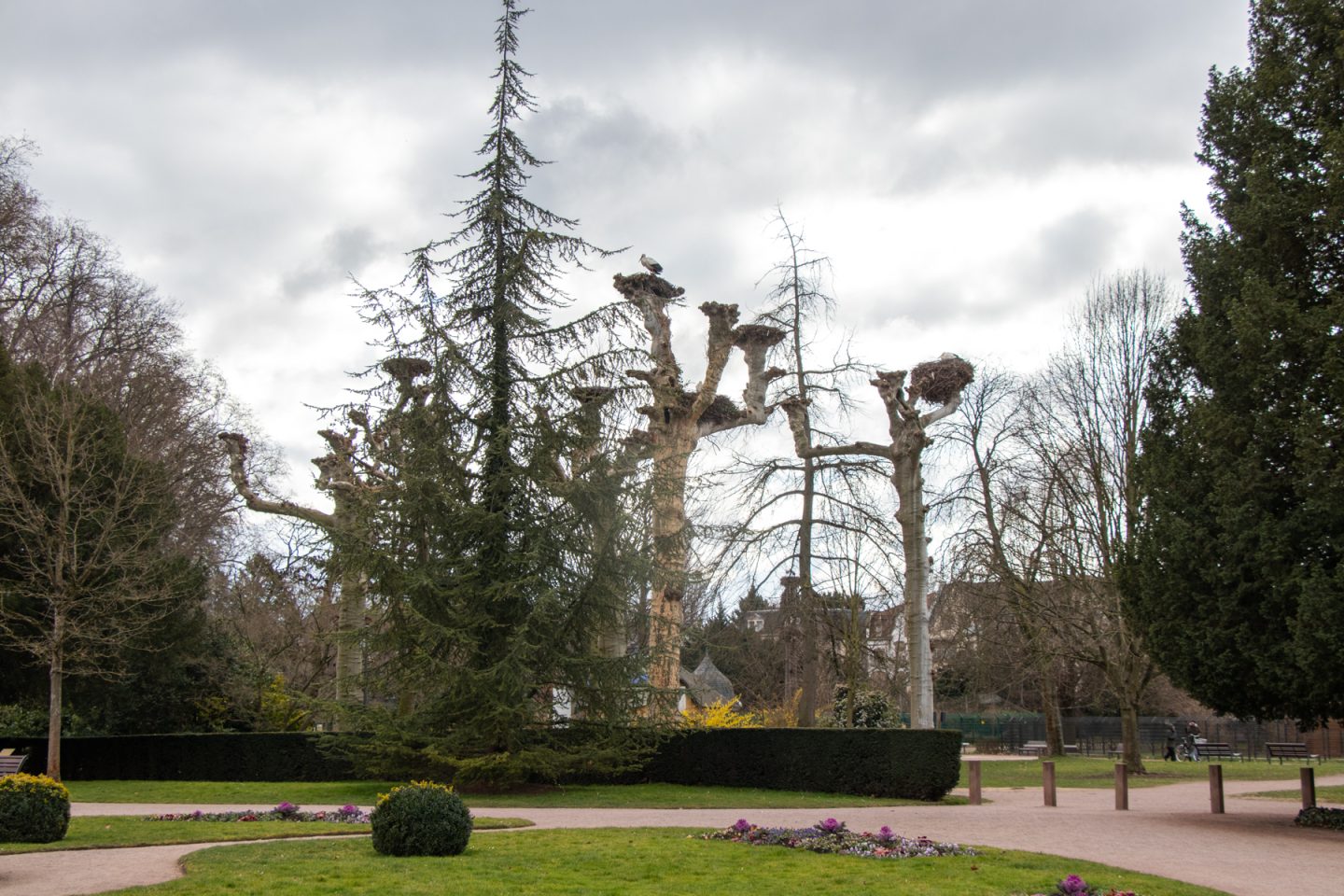 Every good European city has its central park, an oasis of greenery and fresh air to escape the bustle for a moment. Parc de l'Orangerie is no exception!
The park is located in the northern part of the city, about a 25 minute walk from the city center. Check out the lakes, villas and – my favorite part – the storks!
The most unique thing about the park is that it is basically a wildlife refuge for storks, one of the resident animals of the Alsace region and a cultural symbol. You will find storks in paintings, souvenirs, on buildings – in almost every place you can think of.
Storks were once near extinction and were introduced here to help them stabilize their population. Since 1971, 800 storks have been born!
At the park, the storks make their nests on top of what look like these kind of bald tree stumps. It is such an exciting and engaging experience to see them organically live within the city context and not in a zoo-like, restrictive nature.
Being the oldest park in Strasbourg, it is enjoyed in many different ways – a romantic date, a morning workout or a family outing.
Strasbourg Christmas Market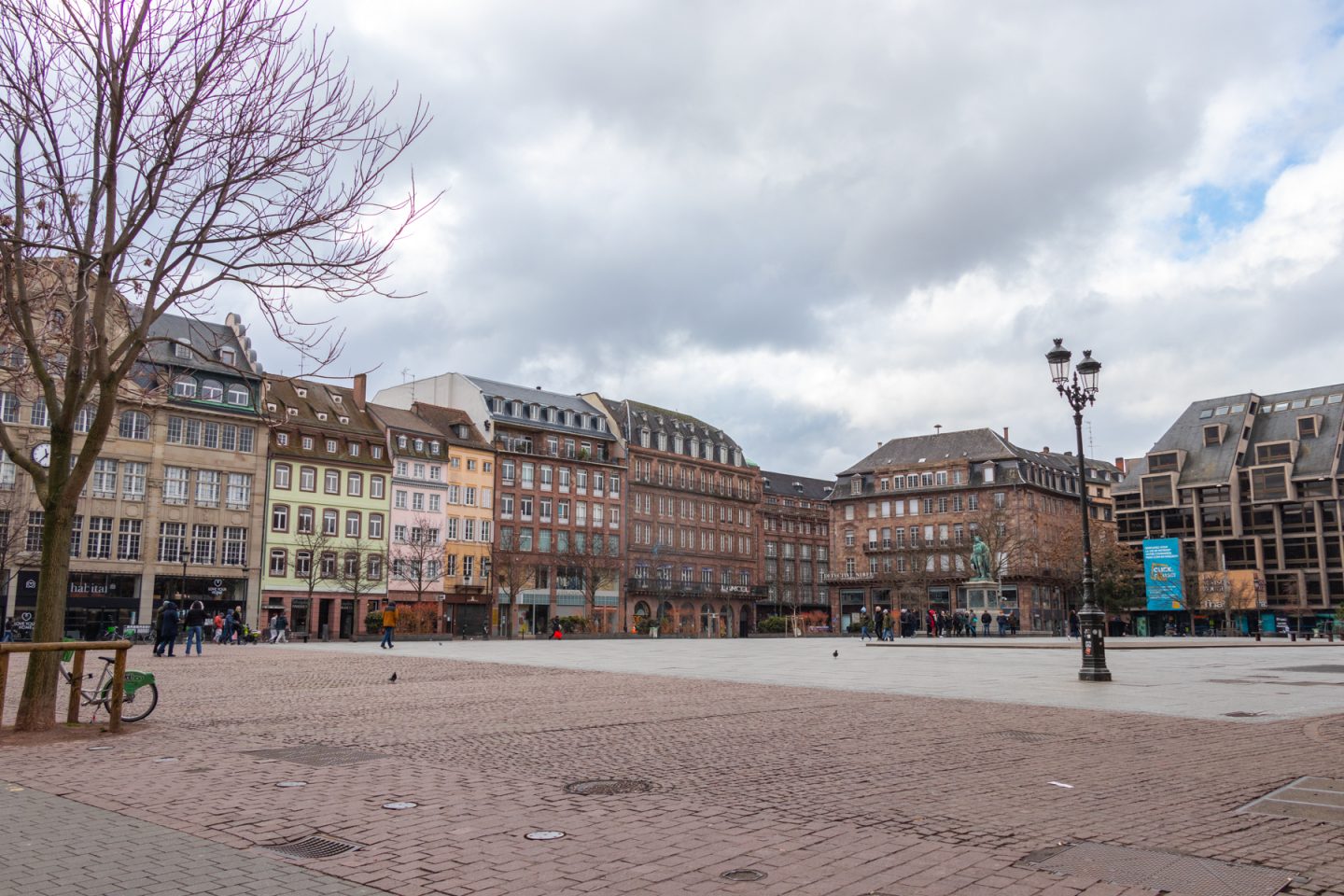 I visited Strasbourg in February of 2023, so unfortunately I missed the Christmas market period! However, Strasbourg and the Alsace region as a whole is known for its Christmas markets.
The Christmas market season usually runs from the end of November to Christmas Eve. And there is't just one market. There are 13 spread across the Grand Île!
One of the most famous markets is in the city's largest square, the Place Kléber. A huge Christmas tree selected from the Vosges Mountains is put up here every year!
If you plan on visiting in 2023, I recommend looking at this complete guide to the Strasbourg Christmas markets.
Palais du Rhin & Place de la République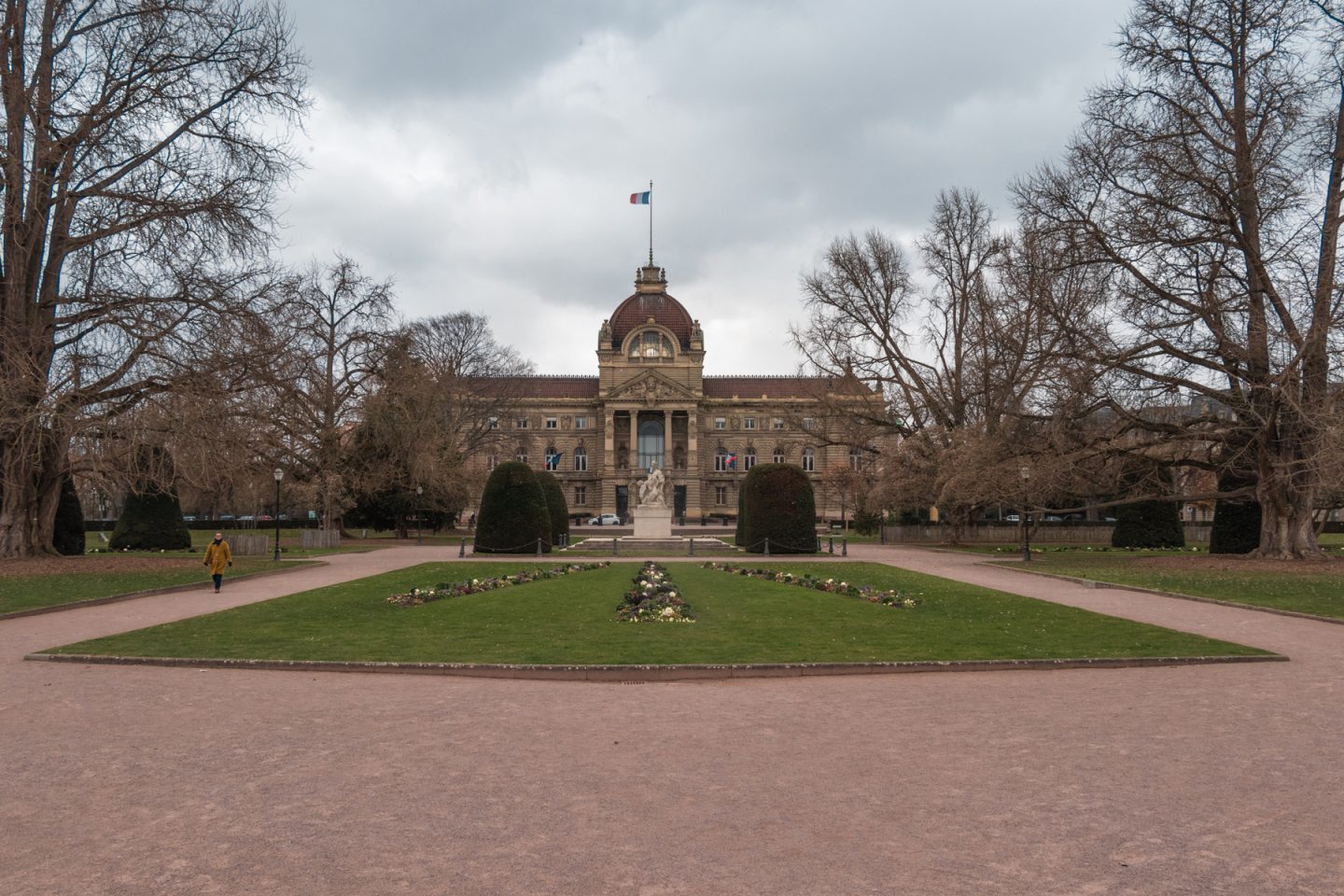 Strasbourg's German influence comes to life in the neighborhood of Neustadt. It is just north of one of Strasbourg's main squares, Place Broglie (where a huge city market takes place on Wednesdays and Fridays).
The area is completely contrasting to the city center, boasting German-style urban planning from the Prussian architecture to wide streets.
The stand-out structure is the Palais du Rhin. It is the historical residence of the Emperor, but has served multiple purposes since its construction. Then there is the Place de la République, the circular square that ties the historic city center to Neustadt.
Other impressive buildings in this area are the National Library, the second largest in France for number of books, and the university.
Enjoy French-German Sweets and Snacks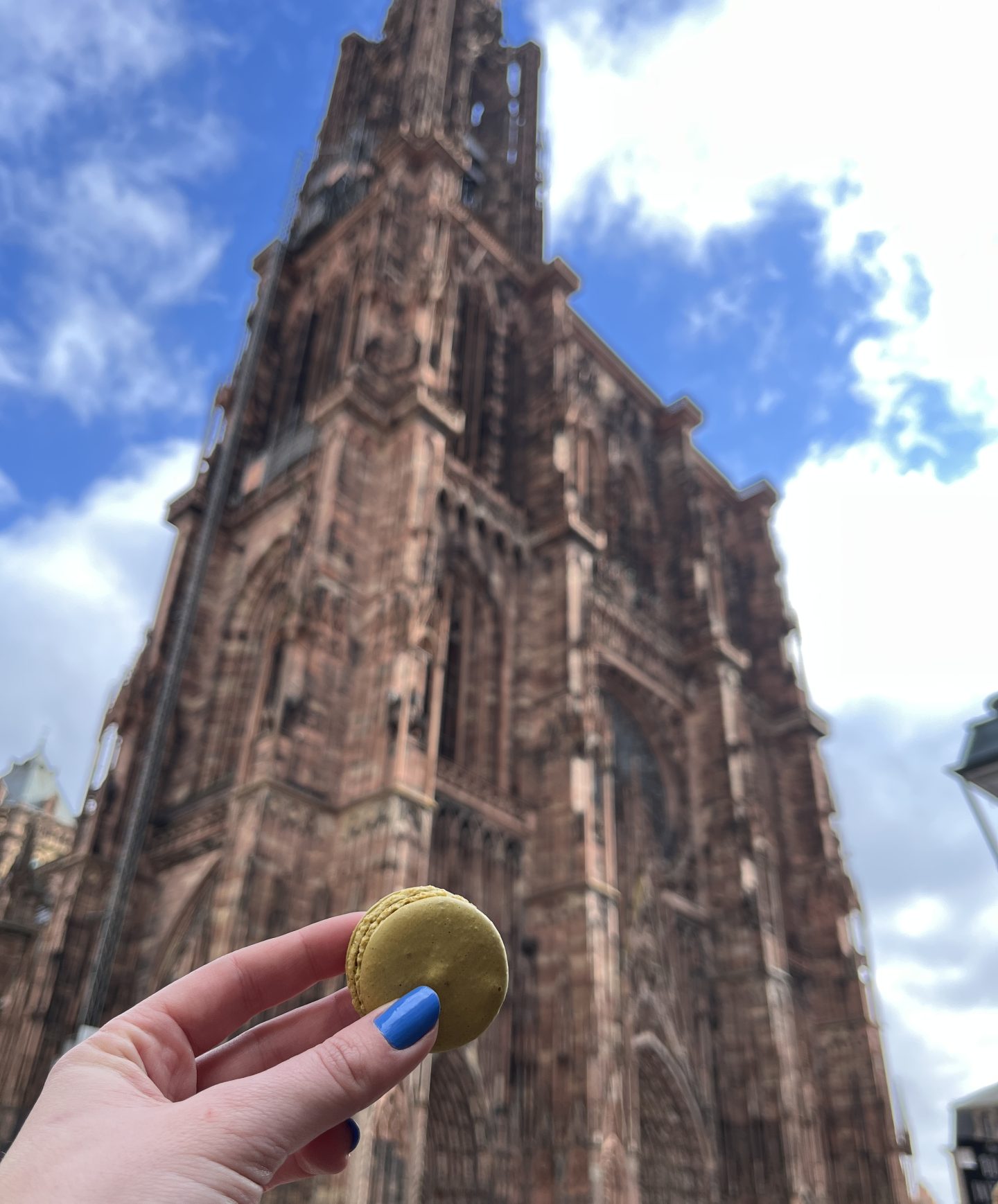 Strasbourg's mixed German and French heritage means the culinary creations are twice delicious! I had to add this as a Strasbourg day trip activity because while you will find all the classic French pastry here, you will also find more German-influenced foods like gourmet pretzels and the well-known Alsatian cake Kugelhopf.
If you are interested in exploring Strasbourg's food scene deeper, you could even opt to do a traditional food walking tour.
St. Thomas Church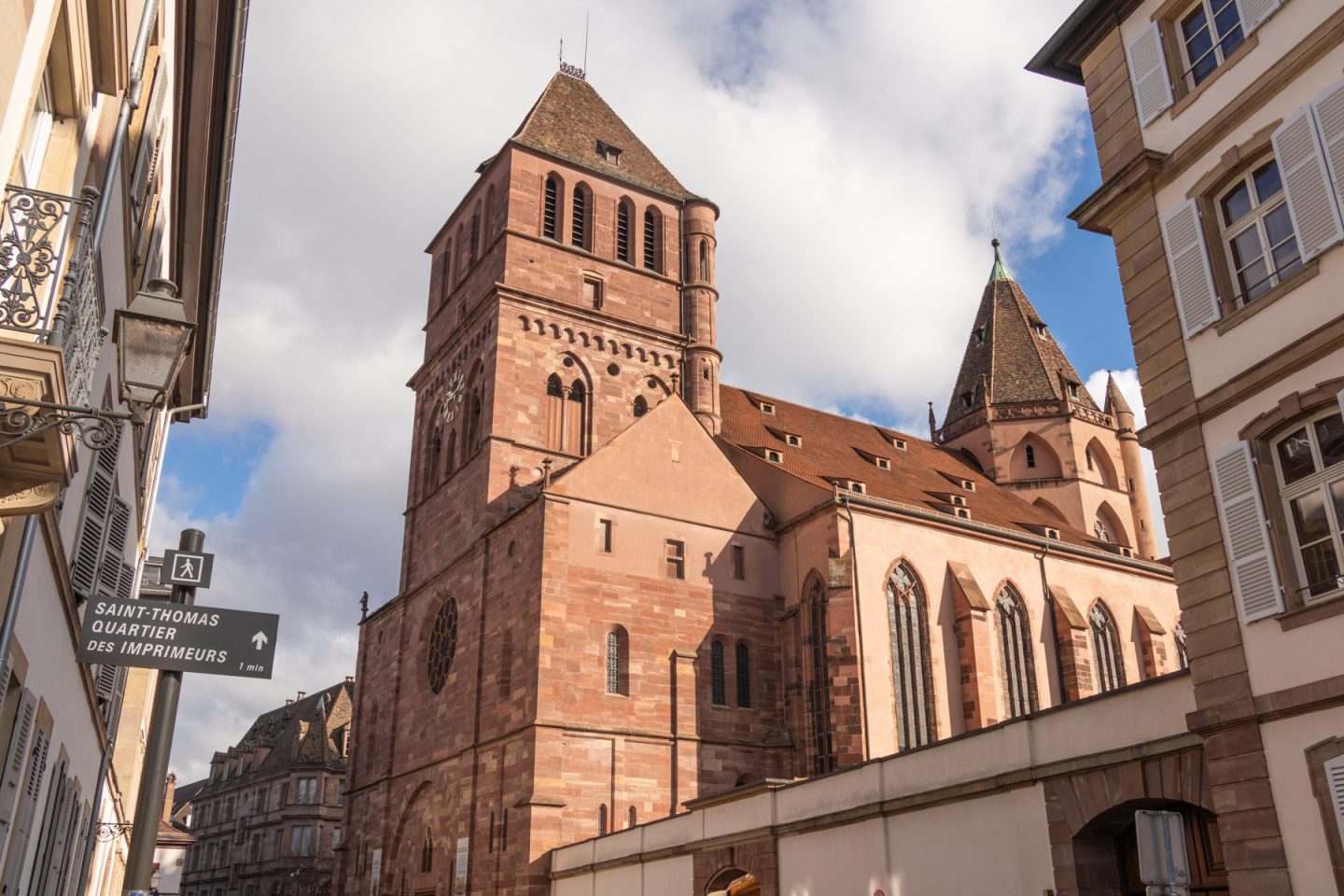 I wouldn't say you have to spend too much time at St. Thomas Church if you are only in Strasbourg for one day, but it is still a notable building and plays a key role in the city's history, being the main Protestant church.
Janus Fountain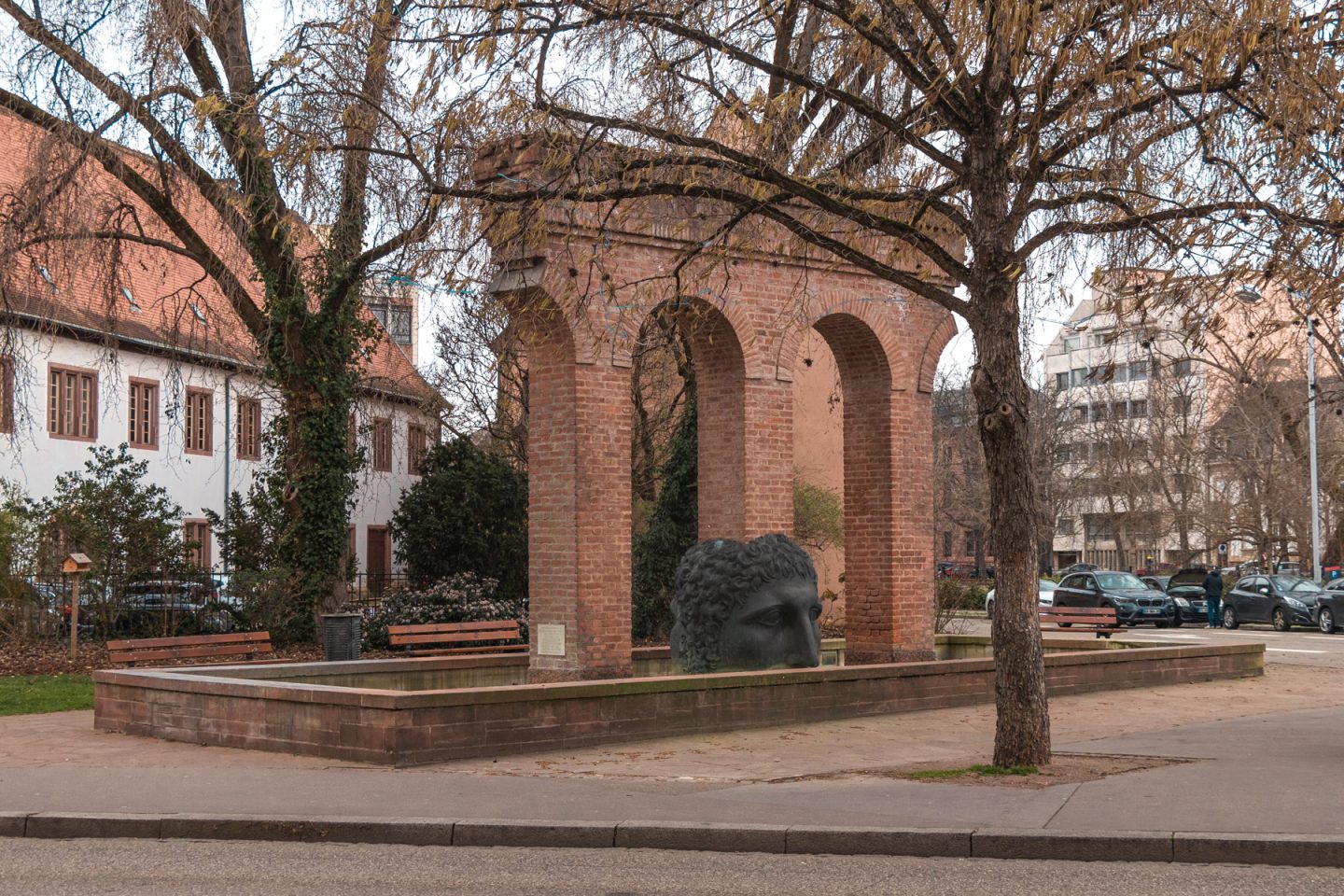 The Janus Fountain is definitely one of the more peculiarly things to see in Strasbourg. We just happened to walk by it and I was like "look at that fountain with a head in it!"
The fountain is in plain sight between the National Opera, Alsatian theater and Republic Square. Designed in 1988 in honor os Strasbourg's 2,000 year anniversary, the Janus Fountain has lots of meaning to it. Read more in this mini article if you are curious.
Kammerzell House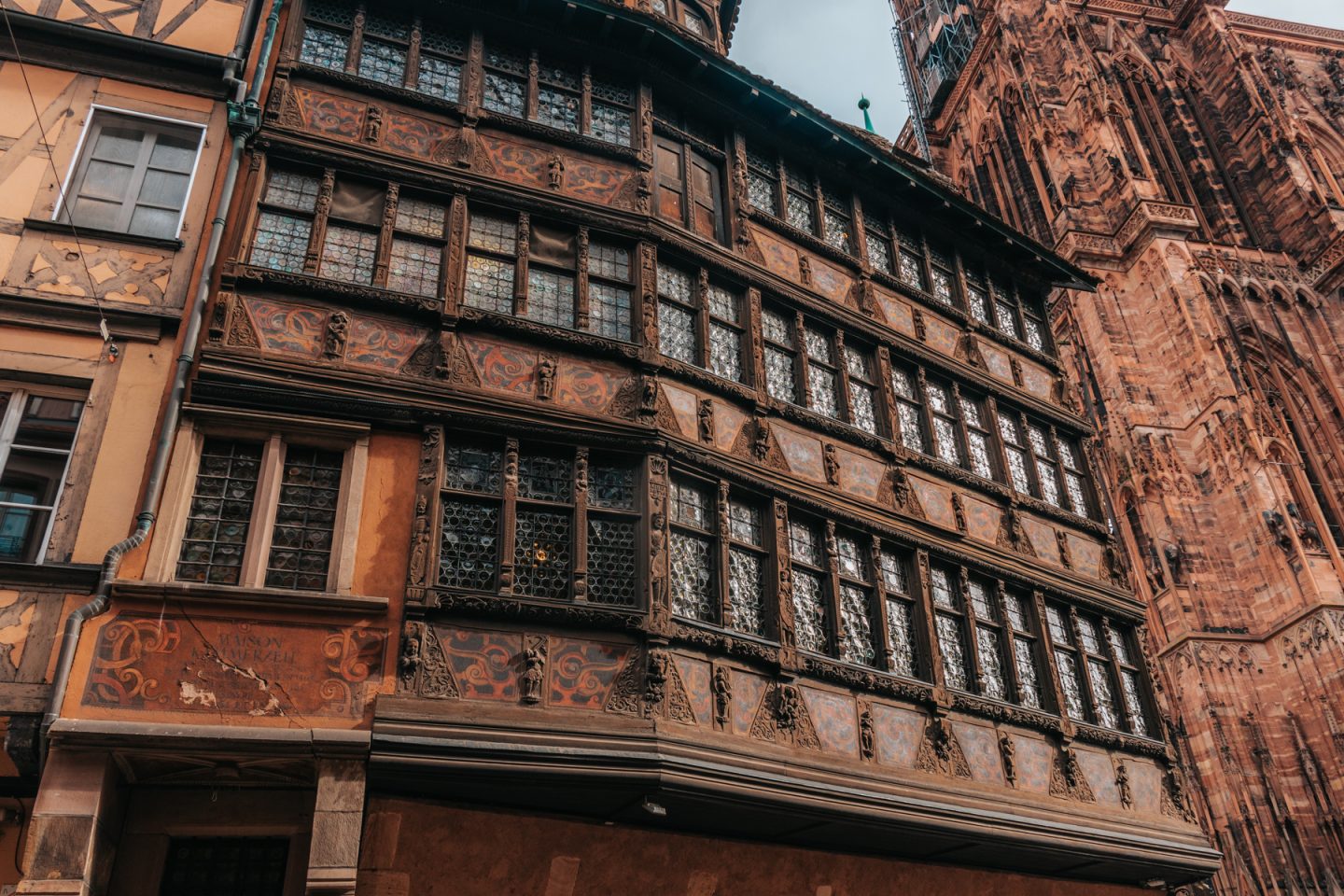 Today a hotel, the Kammerzell House is one of the prettiest and most distinct buildings in Strasbourg. The ornate woodworking, detailed stain glass windows and hand-painted frescoes make it one of the most interesting pieces of architecture to admire.
Plus, it is right on the corner of the grand Strasbourg Cathedral square, making it a stand-out location.
European District
The last thing to check out on your Strasbourg day trip is the European District. Strasbourg may not seem like a major city but it actually has a huge role in international politics. It is home to the Council of Europe and other institutions of the European Union.
The European District is just outside the city center (about a 15 to 20 minute walk). You can do a free audio-guided walking tour like this one or enter the European Parliament for a free visit.
Explore nearby Alsatian villages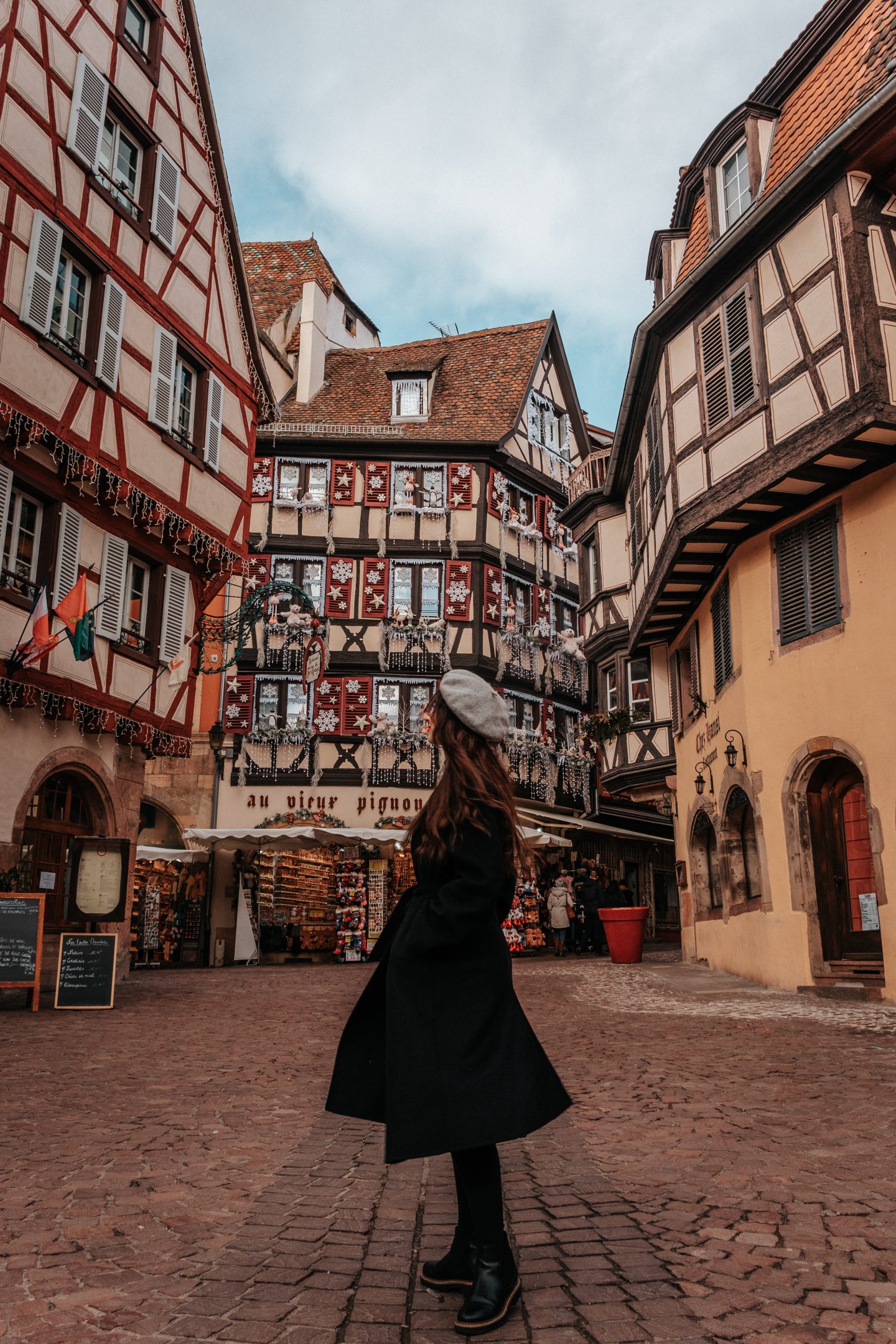 You may not have any more time to extend your Strasbourg day trip, but if you can, you should!
The extreme charm and allure of the Alsace region truly lies in the countryside villages. From spending one day in Colmar to visiting the pocket-sized medieval hamlets of Riquewihr and Ribeauvillé, the settings that inspired Beauty and the Beast, the Alsace region truly holds some special places to visit and ones that you can visit fast, just like a quick day trip to Strasbourg.
You can reach these towns with public transportation or book a day trip tour.
---
How to Reach Strasbourg
By Train
The most convenient transportation in planning a Strasbourg day trip is the train. The Strasbourg train station is well-serviced by all of France and even surrounding areas in Germany. Plus, it is right in the city center, so you can just hop off the train and go.
As an example, Strasbourg is about 2 hours from Paris by train.
Search for trains on Omio or Trainline to compare times available and prices between multiple different companies.
By Car
Renting a car is not the cheapest option for visiting Strasbourg in one day, but it is a more flexible option for those with a looser and longer France itinerary. It gives you the possibility to move when and where you want, so if you want to explore the rest of Alsace, you can do so on your own time.
Strasbourg is well connected by highway to major cities in France. But a factor to consider is parking. In the city center, parking is paid everywhere, so factor that into your road trip budget.
By Bus
Companies like Flixbus offer trips to Strasbourg by coach bus. The convenience of this option depends on which city is your starting point. You could find coach buses from all over Europe going to Strasbourg, but that would obviously take longer than a day trip.
It is likely not the quickest way to get to Strasbourg if you only have one day, so I would only bookmark this option if you are a budget traveler trying to save money and already know your dates or have flexible travel dates.
Closest airports to Strasbourg
If you are planning a quick European city break to the Strasbourg area, here's a cheap flight hack !
Instead of looking at principal airports (Paris, Strasbourg, etc.) check out cheaper airports like EuroAirport Basel-Mulhouse-Freiburg (80 miles) in Switzerland or, like I flew into, Flughafen Karlsruhe / Baden-Baden Airport (37 miles) in Germany in the black forest regions. These airports are actually all closer to Strasbourg than Paris.
Of course, you will have to calculate a rental car or train transport to the city, but these airports are often so cheap with low-cost airline carriers that it is worth looking into the options to compare trip costs.
---
Getting Around Strasbourg
Walking
Walking is very likely your most convenient mode of transportation in Strasbourg. The city center is quite compact, so you can see a lot in on a Strasbourg day trip by just walking.
Of course, that doesn't mean it isn't tiring to walk all day long in a city, so wear comfortable shoes.
Pro Tip: If you only have one day in Strasbourg, consider doing a small group bike tour to get around faster and learn about the city as you discover it. Then spend the rest of your day revisiting your favorite spots you bookmarked or heading into neighborhoods you didn't cover!
Tram or bus
Trams and buses in Strasbourg use the same tickets and are run by the same company, CTS.
The public transportation system covers not only the city center but also the outskirts of Strasbourg.
A single trip ticket costs €2, but the most convenient option for a Strasbourg day trip is to get the day pass for €4.60 per person.
Buy tickets on the tram or bus, from a kiosk at a stop, or at a CTS office. You can find more information about tickets and the bus and trams system here.
Uber or taxi
I used an Uber from the Orangerie Park back to the city center because it was freezing and we could not handle walking outside anymore!
It is certainly not the cheapest way to get around Strasbourg. I suggest using an Uber or taxi strategically, like walking to a further location and ubering back to the city center so that you save some money.
---
Travel Tips for Visiting Strasbourg
Nearly all stores are closed on Sunday. This is just a travel tip for Strasbourg but for all of France. The only shops we found open on a Sunday in Strasbourg were souvenir stores! Every other store was closed, so keep this in mind in case you have an emergency item you need to get.
If you plan on driving in or around Strasbourg, you have to have a special air quality certificate. Find more information on the official website.
---
Final Thoughts
If you are looking to go beyond Paris and beyond its internationalization to see a bit more of an authentic side to French cities, then Strasbourg is an interesting and worthwhile choice.
While you can see a lot with a full day in Strasbourg, being in the Alsace region merits at lest 1-2 days more to fully enjoy the surroundings, whether its wine country, the famous castle, Château du Haut-Kœnigsbourg, or the medieval, timber-housed towns of the countryside.
Hopefully this guide has provided you with just the right amount of practical information and inspiration for planning your day in Strasbourg.
Save this pocket guide to Pinterest!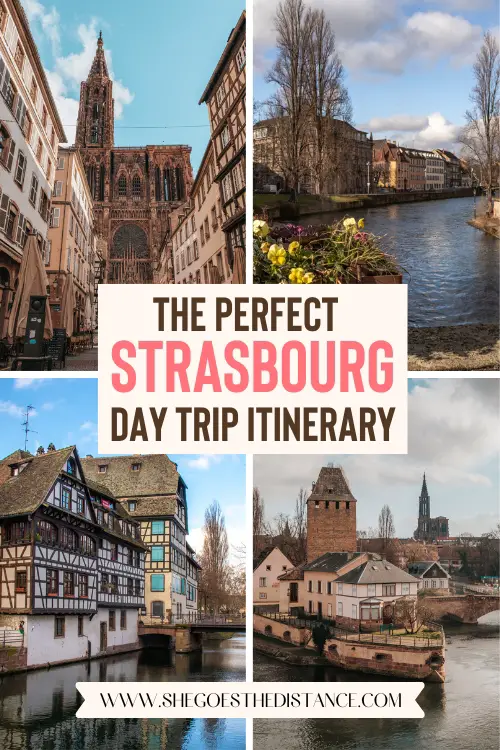 I hope this post has helped you to organize your Strasbourg day trip!
XOXO
Michela