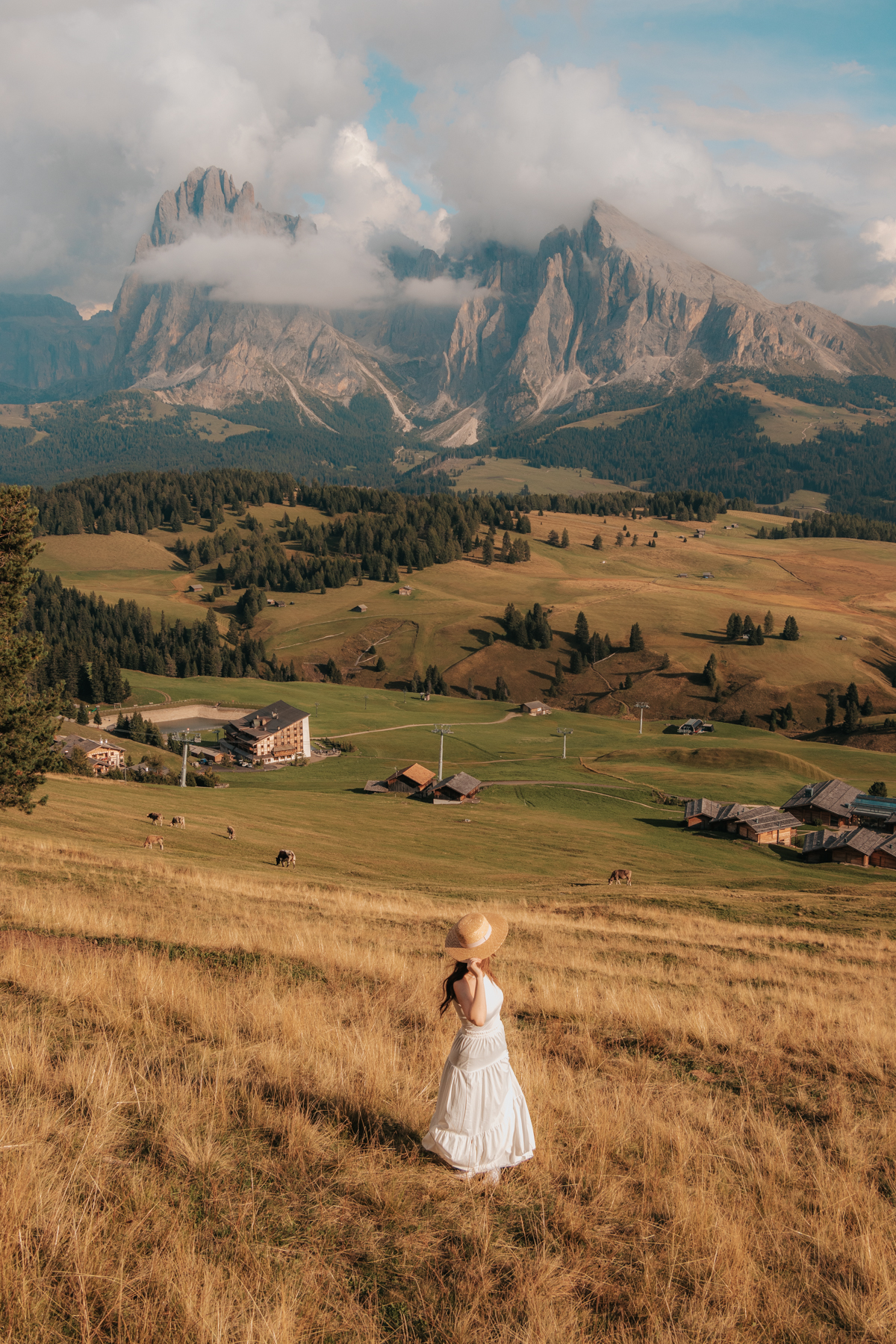 Last Updated on February 18, 2023
If you're after the most breathtaking panoramas in the world, then you must add Alpe di Siusi to your bucket list. Alpe di Siusi, or Seiser Alm by its German name, is located in the region of Trentino-Alto Adige in Italy, home to one of the most spectacular chains of the Italian Alps, the Dolomites. The Dolomites are a UNESCO World Heritage Site and a must-visit on any northern Italy itinerary.
The Alpe di Siusi is the largest high-alpine pasture in Europe, at an elevation of 1,600 to 2,958 meters (5,249 to 9,700 feet) from plain to peak.
And while its height is incredibly impressive, it is the artful jaggedness and slopes of the characteristic grey Dolomite peaks, the vibrant green and smooth plains of its pastures, and the way the sunlight illuminates and shades the pristine rolling hills that creates a setting that is too good to be true, something that truly looks like it is a painting instead of real life.
But to truly understand how beautiful it is, you must see it for yourself. And that isn't the easiest feat due to its remoteness and restrictions like no cars allowed. That's why you'll learn everything you need to have the best visit to Alpe di Siusi in this detailed guide.
Best Time to Visit Alpe di Siusi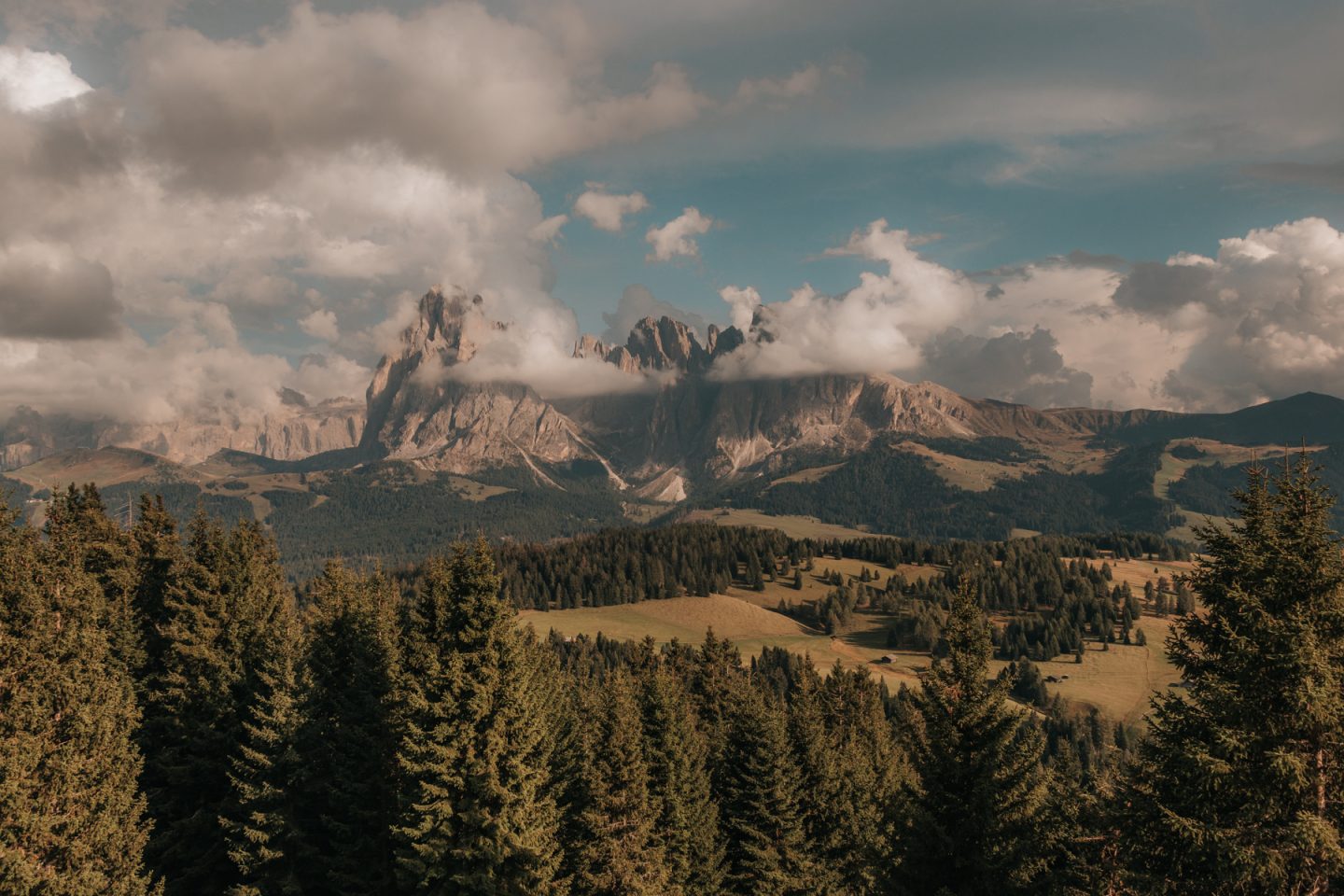 The top seasons in which to visit the Dolomites are from June to September and from December to February. The summer season is perfect for hiking and enjoying the fresh, cooler mountain air while the rest of Italy becomes hot and humid.
The winter season is also a peak season in the Dolomites for skiing and other winter sports.
I personally believe it is better to visit Alpe di Siusi without the snow because you get to experience and see the meadow in its full, lush beauty.
You will also want to consider at what time of day you would want to visit Alpe di Siusi. This goes hand in hand with what transport option you are using and how much time you plan on spending up there.
For example, the cable car has its last ride at 6:30 pm (during the summer season). Taking your own vehicle and parking at Compaccio/Compatsch is allowed up to 9 am or after 5 pm. You could spend as little as an hour, to at least see the meadow if you have a packed itinerary, up to an entire day.
The meadow is at its peak beauty at sunrise and sunset when the light is soft and creates incredible shadows and highlights on the rolling hills.
Pro Tip: Keep in mind that almost all of Italy goes on vacation in the month of August. Avoid this month for traveling as you will experience higher prices and busier crowds than if you were to visit in June or September.
---
How to Reach Alpe di Siusi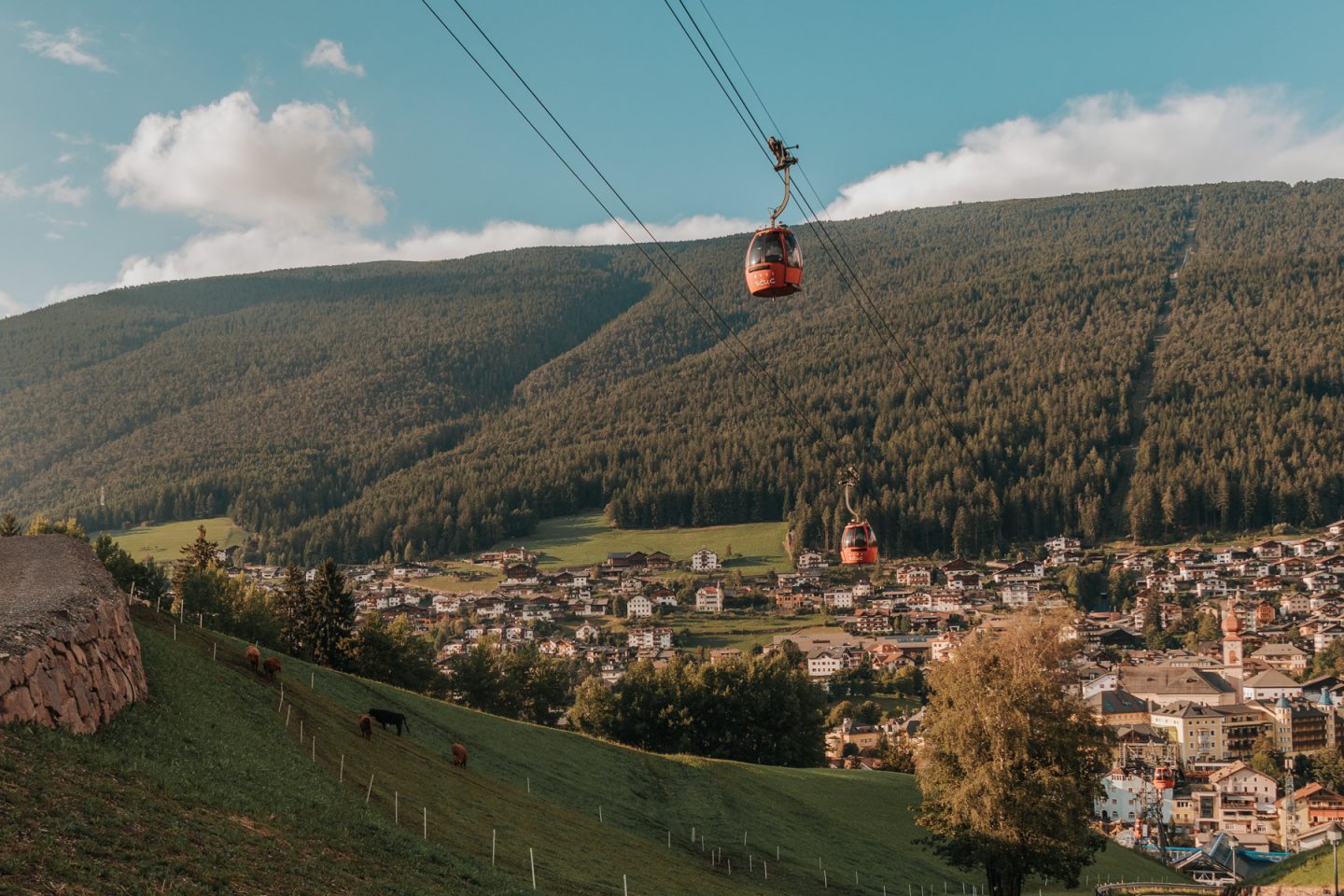 Cable Car
There are two cable cars that go to Alpe di Siusi: one in Ortisei and one in Castelrotto. I personally took the one in Ortisei but will also break down information about the cable car from Castelrotto in case it better aligns with your itinerary.
Ortisei Cable Car
Also called the Mont Seüc cable car (there's that Trentino German heritage again!), the cable car from Ortisei is a bright red, slim oval that takes up to 2000 meters. It is crazy high but you get an incredible view over the Val Gardena.
The last ride depends on the season but is extremely important to know in order to coordinate your itinerary. It can be anywhere from 5 to 7 pm. Make sure to confirm when the last ride is with the ticket office so you are not stranded at the top of the mountain!
There are no attendants to help you get on the cable car.
There is a parking garage underneath the station where it costs €1 per 20 minutes or €15 max per day.
Cost: €23.90 per adult, €16.70 per child (under 14) for roundtrip. You can also buy tickets for just uphill or just downhill.
Where to buy tickets: online or in-person at the cable car station
Travel Time: 15 minutes
Good to know: You can also pay extra to bring your bike on the cable car.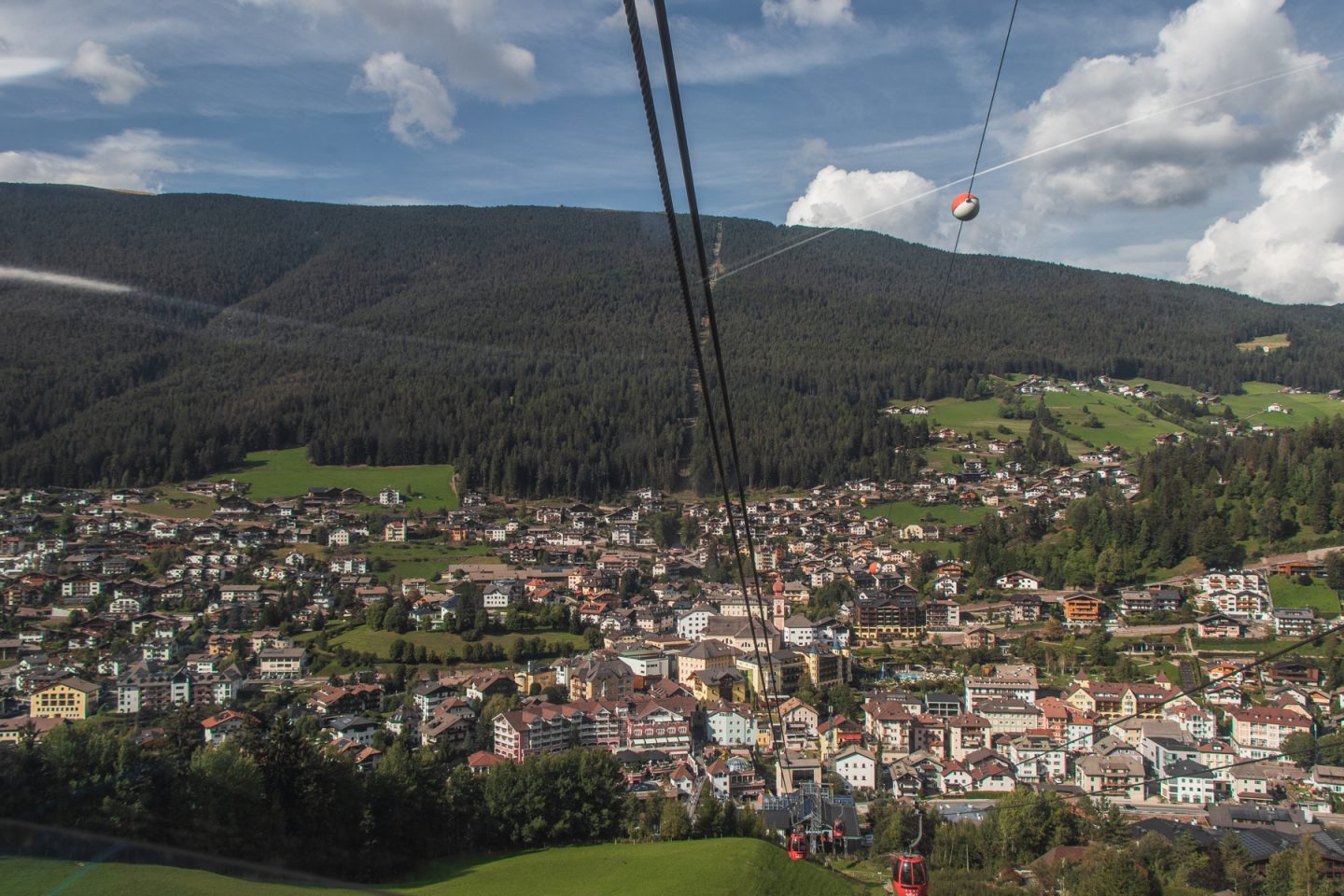 Pro Tip: The cable cars close completely from mid-April to mid-May and from the beginning of November to the beginning of December.
Siusi allo Sciliar Cable Car
Starting from Siusi allo Sciliar, this cable car brings you to the town of Compaccio up in Alpe id Siusi.
Cost: €20 per adult for roundtrip, €13.50 for one way. Check out all ticket category prices and pass options.
Where to buy tickets: In person
Travel Time: 15 minutes
You can pay extra to travel with dogs or bikes, as well as potentially be eligible for discounted tickets.
For parking near this cable car, there is either a free lot or a covered garage that costs €1 per hour.
Good to know: If you travel with a dog on the cable car, it is required to wear a muzzle.
Car
You can reach Alpe di Siusi by car but there are several regulations in place for private vehicle access in an effort to protect the environment and keep Alpe di Siusi as beautiful, healthy and natural as possibile.
The most important factor to consider if you would like to drive up to Alpe di Siusi, which is allowed up to the town of Compaccio, is that the road is closed between 9 am and 5 pm.
There are two parking areas, the P1 Spitzbühel, which is free but a little bit further, and the P2 in Compaccio, which costs €20 for daily parking.
P1 address: Seiser Alm Street 4 39040 Seiser Alm
P2 address: Compatsch 50 39040 Alpe di Siusi
As long as you are up there before 9 am, you can come down by car at any time.
If you have a hotel booked in Alpe di Siusi, you can reach it at any time by private vehicle. Bring a printed confirmation of your booking just in case you don't have access to your phone or the Internet!
Cost: up to €20 for daily parking
Travel Time: 20 minutes
Good to know: During the off-seasons, like mid-April to the end of May and early November to early December, the road to access Alpe di Siusi is open to all traffic since the cable cars are all closed during this period.
Bus
If you don't have your own vehicle, prefer to let someone else do the driving, or want to save money by avoiding the more expensive cable cars, bus travel to Alpe di Siusi may be for you. Bus travel means you will have to rely on the bus's schedule to organize your itinerary, so it is a less flexible option and also a slightly longer travel time.
There are many different bus routes, but two important distinctions to make between them: some are public transport, while the majority are special shuttle buses included in dedicated bus passes.
On public transport buses, you can buy tickets on the bus. Shuttle bus tickets are not valid on the public buses.
And the public bus tickets are not valid on shuttle buses. Get the entire bus breakdown in the region to understand which line is best for your itinerary.
Cost: from €2.50 to €20 depending on the bus
Travel Time: around 30 minutes
Pro Tip: If you are staying at accommodation in the area, you should receive a Südtirol Guest Pass which allows you free public transportation, like the use of buses. Check with your accommodation before you arrive if they provide the guest pass so you can better plan your transportation!
---
What to Do at Alpe di Siusi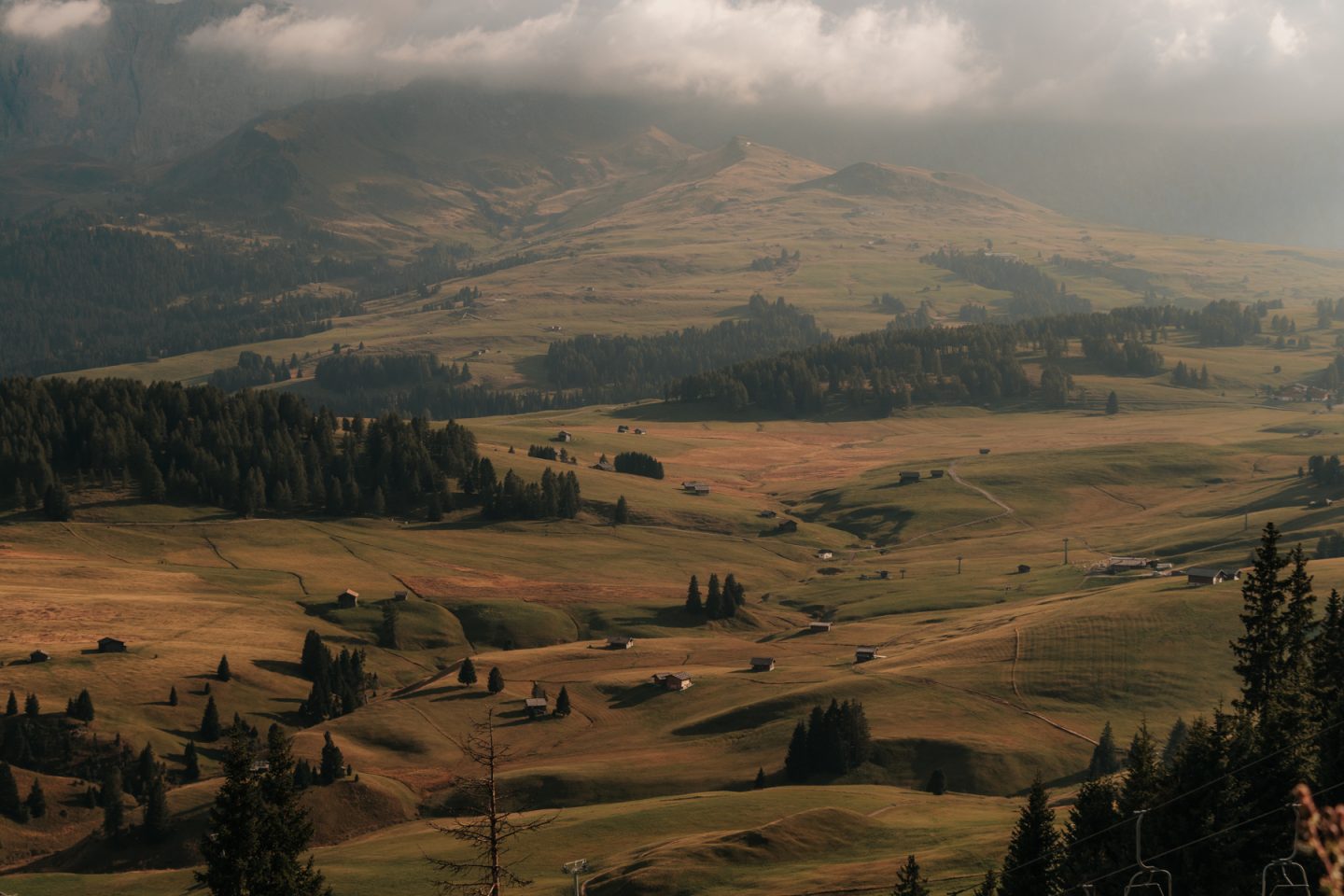 Part of the Sciliar-Catinaccio Nature Park, Alpe di Siusi is a feast for the eyes. You could spend the day simply exploring, or if you're an adventurer, you can take advantage of the challenging landscape to put your athleticism to the test.
Summer Activities
Summer and winter are the two main seasons in which to enjoy Alpe di Siusi, so the activities offered are broken down into these categories.
One of the easiest activities to do is exploring the many walking trails. There are all ranges of difficulty for hikes in Alpe di Siusi, from easier walks within the meadow to more challenging hikes around the peaks where you can stop at mountain huts, or "rifugi", on long-distance hikes. Check out this hiking trails map to get a feel for what trails would fit your travel style.
In the summer, you'll also find tons of mountain bikers. You can bring bikes on the cable cars for an extra fee, which is convenient if you don't have a car. Cycling can be a more intense sport in Alpe di Siusi because of the altitude and the varying terrain, so it is not for the weary!
You will need a sturdy bike if you want to do mountain biking in Alpe di Siusi. Check out rental bike options.
Good to know: If you take the Ortisei cable car, there is a little map at the ticket booth that shows some of the walking trails. This includes the ten-minute walk from the station to an incredible panoramic view.
Winter Sports
I personally suggest seeing Alpe di Siusi while you are spending summer in Italy and the meadow is alive, richly green, and the weather is most enjoyable. But if you are traveling to Italy in winter, then Trentino-Alto Adige is one of the most spectacular places to add to your itinerary.
Alpe di Siusi in particular is a huge skiing and cross-country skiing hub. The winter season usually starts in early December and lasts until mid-April. This year it opens December 7th, 2022 and lasts until April 11th, 2023.
If you really love skiing, you may want to try out a unique experience offered in Alpe di Siusi: the chance to record your ski run! Skimovie gets your whole run on video and also tells you your run time.
While skiing is the main attraction in winter, you can also toboggan, ice skate, and hike.
Spas & Relaxation
The landscape of Alpe di Siusi is so peaceful and beautiful, making it the perfect setting for a mountain wellness retreat. Take part in a traditional South Tyrolean hay bath or stay at a spa hotel like Romantik Hotel Turm in Fiè allo Sciliar.
In spring, the area hosts frequent wellness events through a program called Seiser Alm Balance. The best part? If you stay in a participating accommodation, the events are free!
Photography
The landscape of Alpe di Siusi is a photographer's heaven. There are so many opportunities for storytelling through photos.
There is practically no need for pointing out specific photography spots because it is one of those places where you can create magic from any angle. But, I do recommend checking out Location Scout before your trip to get your head turning about what kinds of creative photos you can produce. It may also help you plan out your itinerary timing better!
---
What to Wear & Bring to Visit Alpe di Siusi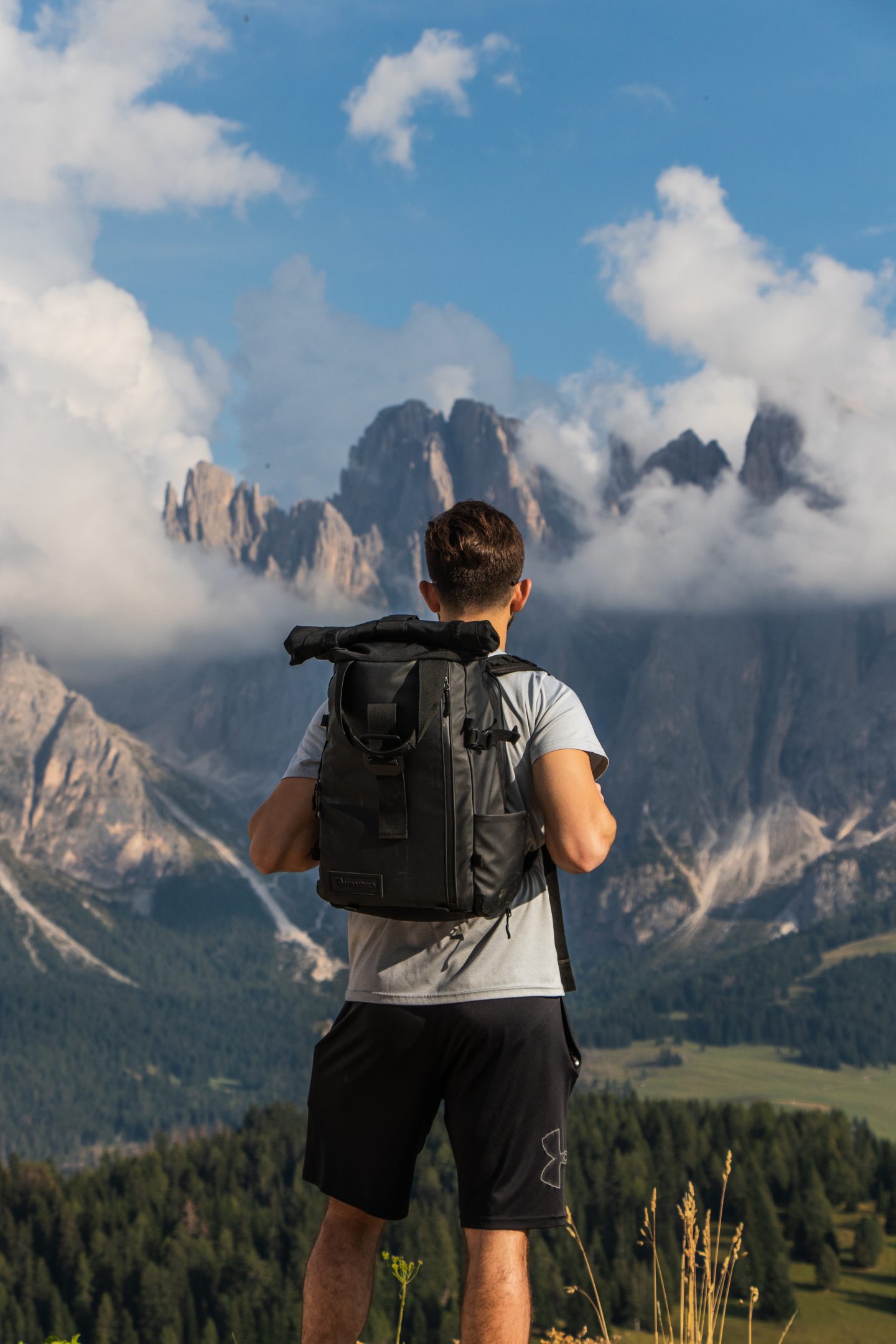 For a smooth visit, you will want to consider several factors that you wouldn't normally have to when visiting other parts of the Dolomites.
In general, the Dolomites are cooler than other areas of Italy because of the higher elevation. But when we are talking 2,000+ meters high, you bet that ups the ante. It may be summertime down in the valley at 70 or 80 degrees, but up at Alpe di Siusi, the weather will be much cooler.
Increased elevation may also impact your breathing and physical state. It's important to stay safe and listen to your body in these kinds of situations to know if you need a rest or to hydrate.
Here are some ideas for extra items you should bring on this adventure:
Water Bottle – The great thing about the Dolomites is that there are fresh drinking fountains everywhere. Bring along an empty bottle anytime you're out and about to refill and stay hydrated.
Jacket – As I said, during summertime, it will always be cooler than what you think when you're up so high in the mountains.
Cold weather gear – Obviously, if you are traveling during winter, you should be aware that temperatures will be freezing, again due to the high elevation. Stock up on all your cold weather gear!
Lightweight backpack – If you can, try to keep any extra weight you have to carry around light. This is again to help you adjust to the altitude difference and relieve your body of overworking itself.
Photography gear – Don't miss out on the chance to photograph this incredible landscape! Some of your photography musts here should be a wide angle lens, tripod for any astrophotography or timelapses, and a drone. Check out my full travel photography gear.
---
Where to Stay in the Dolomites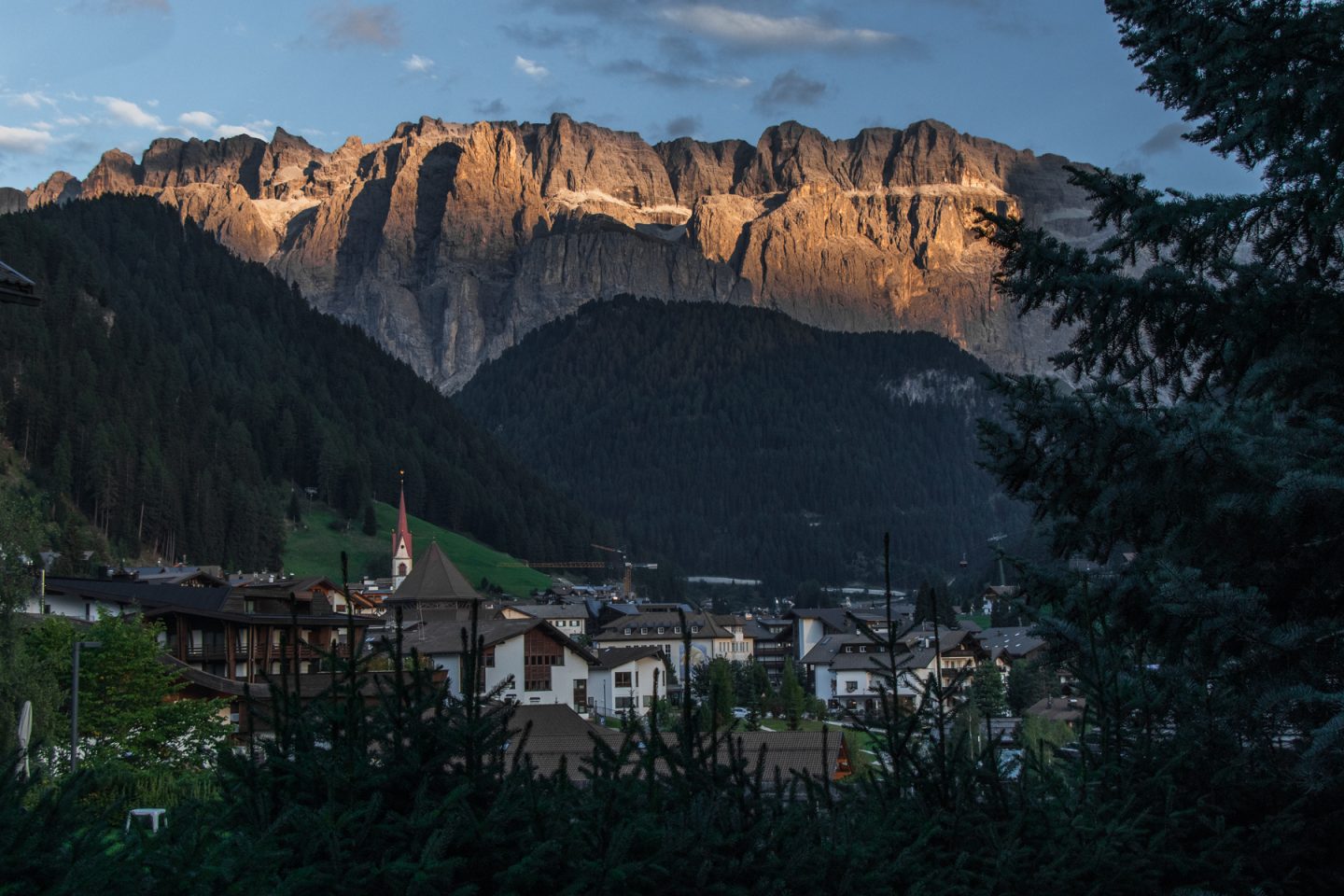 Even though Alpe di Siusi is a remote location, there are still a variety of accommodations to choose from there. If you're looking to slowly enjoy Alpe di Siusi, you should consider choosing one of these accommodations for 1-2 nights.
If, instead, your goal is to see many locations in the Dolomites, I recommend choosing a base that is more accessible to other areas and the highway. One of the best places for you to stay could be the Val Gardena, including towns like Ortisei and Selva di Val Gardena, that are near to Alpe di Siusi, but are easier to access from the highway.
For the best accommodation options in those areas, check out this post on where to stay in the Dolomites.
Here are some suggestions for hotels on and around Alpe di Siusi:
---
More Dolomites Trip Planning Tips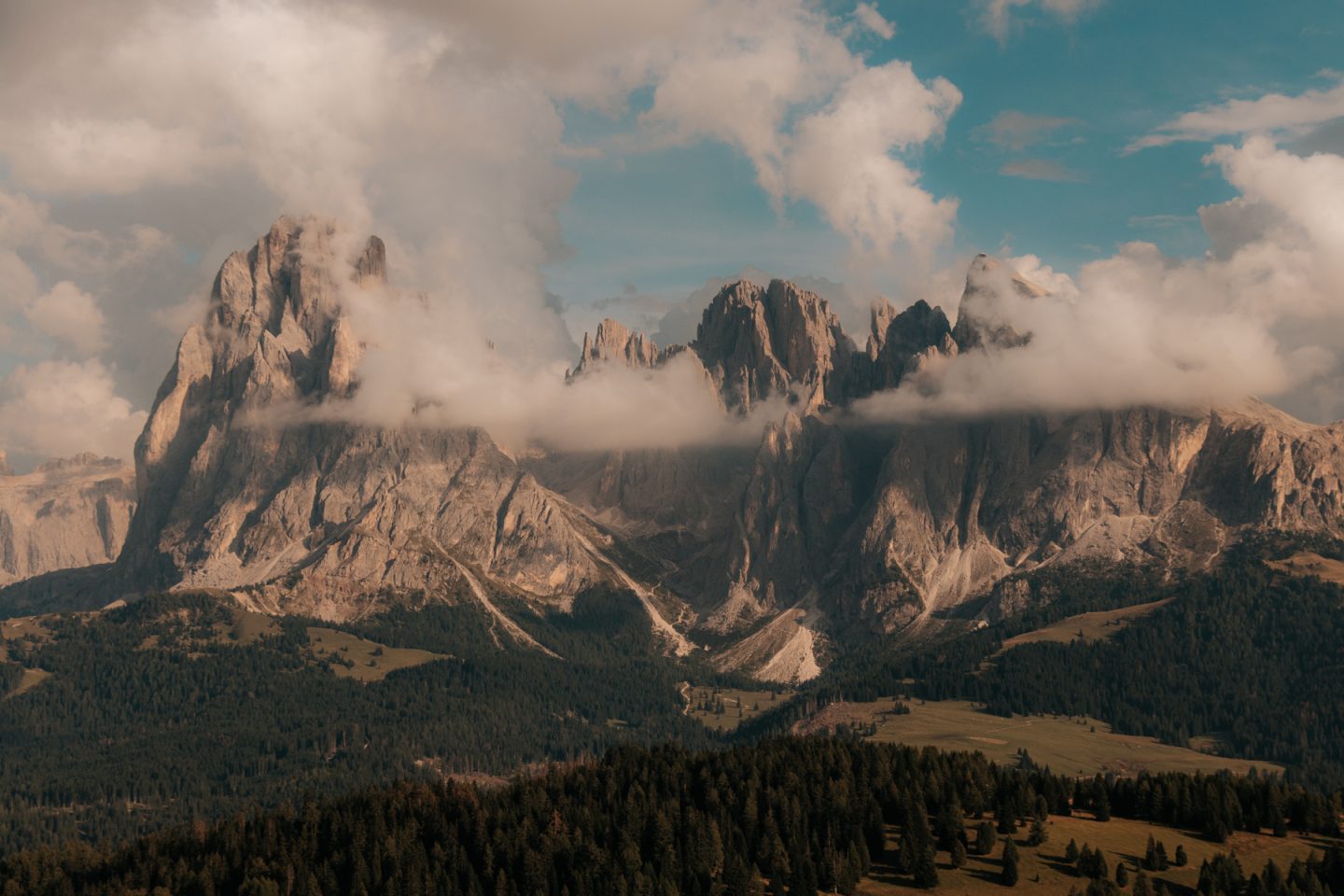 Planning a trip to the Dolomites presents its challenges, mostly because the region is difficult to navigate without a personal vehicle. Even with a personal vehicle, it is hard creating an efficient itinerary because the distance between locations is quite long!
Things may look close on a map but you must remember that there are mountains everywhere and the roads are mainly constructed on the outskirts.
Here are some of my travel guides and resources for planning your Dolomites trip:
Do you have more questions about visiting Alpe di Siusi? Let me know in a comment!
Save this guide on Pinterest for later reference while trip planning!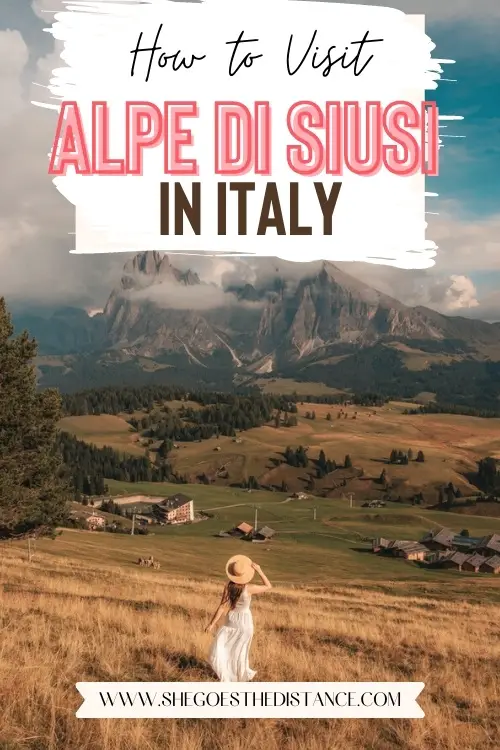 I hope you have enjoyed this guide to Alpe di Siusi and that it helps you plan your dream visit!
XOXO
Michela