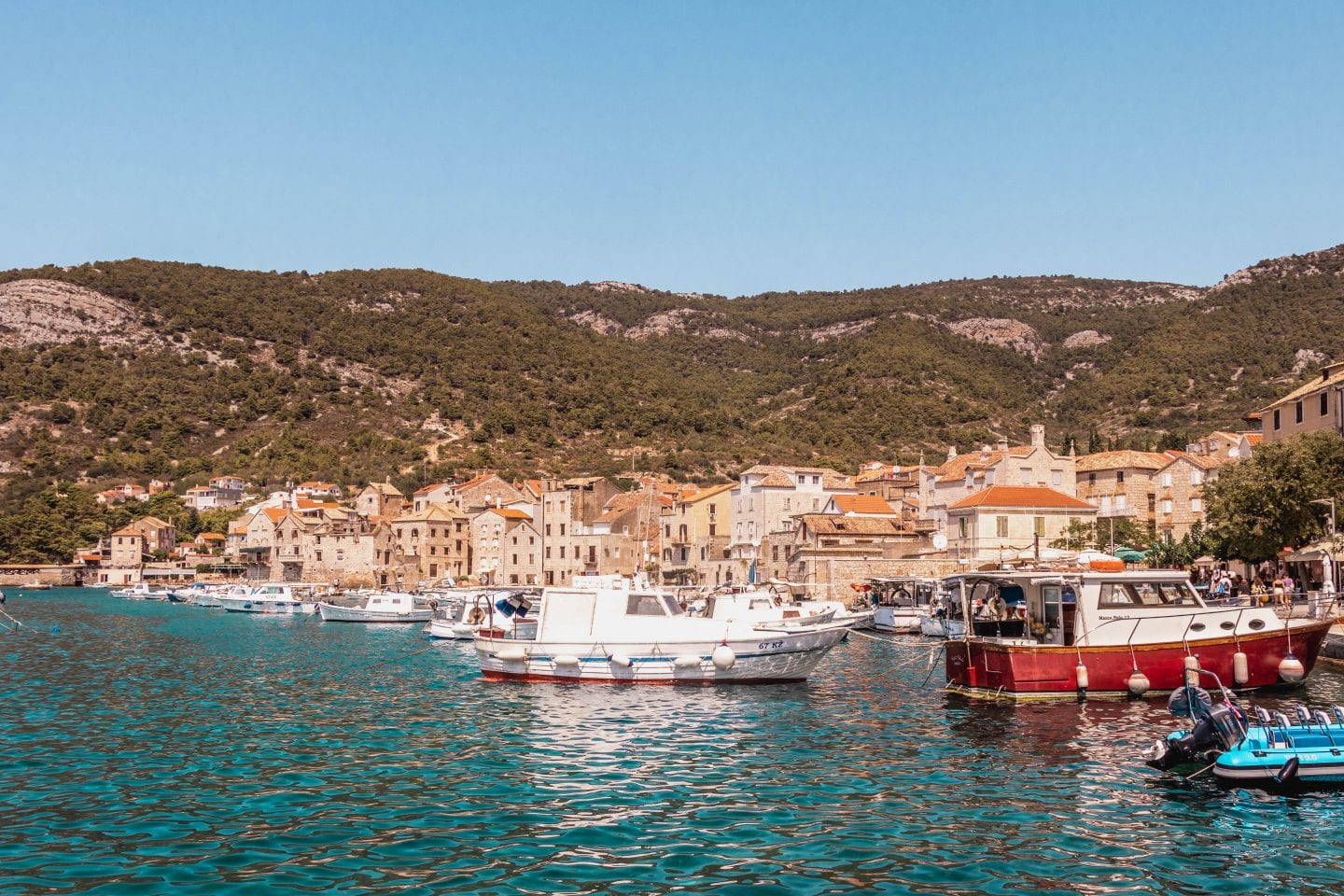 Last Updated on February 18, 2023
Island-hopping in Croatia is a must-do for those venturing to this Adriatic paradise. The crystal-clear sea and rugged natural landscape of Croatia's coast and the more than 1200 islands near to it beg to be explored. But, how can you make Croatia island hopping practical? There are more ways than you think.
While we'll dive into the practical ways to island hop in Croatia, I'll also be sure to touch on which are the most budget-friendly. Croatia in itself is a very budget-friendly destination in Europe.
Depending on your trip goals, some island-hopping strategies may be more valuable to you than others.
Throughout this guide, I'll be highlighting important budget tips and consideration so you can make putting your personal Croatia island-hopping itinerary together easy based on the budget you're working with!
Some of these links are affiliate links. This means if you make a purchase through that link, I receive a small commission at no extra cost to you. Read my full disclosure!
---
The Best Time for Island Hopping in Croatia
The best time to island hop in Croatia is no surprise – the sunny summer months. Besides the great weather, there are practical reasons why this is the best time to visit Croatia's islands.
Most importantly, ferries, tour companies, and private charters will limit their sailings in the off-season months, especially November-January. Some may not even operate at all during this time period.
So for more flexibility and options available to you, along with the chance to sunbathe below the enticing Mediterranean heat, the summer months are the best time for an island-hopping itinerary.
If you're weary of crowds, try to visit in the months of May or June. Croatia's tourist season peaks in July and August, so that's when you'll find the biggest crowds and highest prices for activities.
---
How Long Should You Make Your Croatia Island-Hopping Itinerary?
You can see several islands in Croatia in as little as a day or take your time visiting each one for several days each.
Ideally, I would recommend at least 10 days traveling in Croatia to see both islands and mainland sites that you shouldn't miss out on.
The first thing you should consider when creating your itinerary is what airport you're flying into and how you are getting around Croatia. The most popular base for island hopping is Split, as it's the closest to the most classic routes for visiting Croatia's islands. Split has its own airport.
Dubrovnik is a close second, but it's further south than the most popular islands to visit.
For a more budget-friendly trip, I actually recommend flying into Zagreb. The Croatian capital is inland, but that's why flights are cheaper. Plus, you can visit places like Plitvice Lakes National Park as you make your way down to the coast.
If you take that route and fly into Zagreb to save money, you can consider booking an open-jaw flight (fly into one destination and out of another.) This means you could save money on your flight in two ways – by flying into the cheaper airport and not having to backtrack to that airport for your flight out of Croatia!
---
Island Hopping Option #1: Ferries – AKA The DIY Way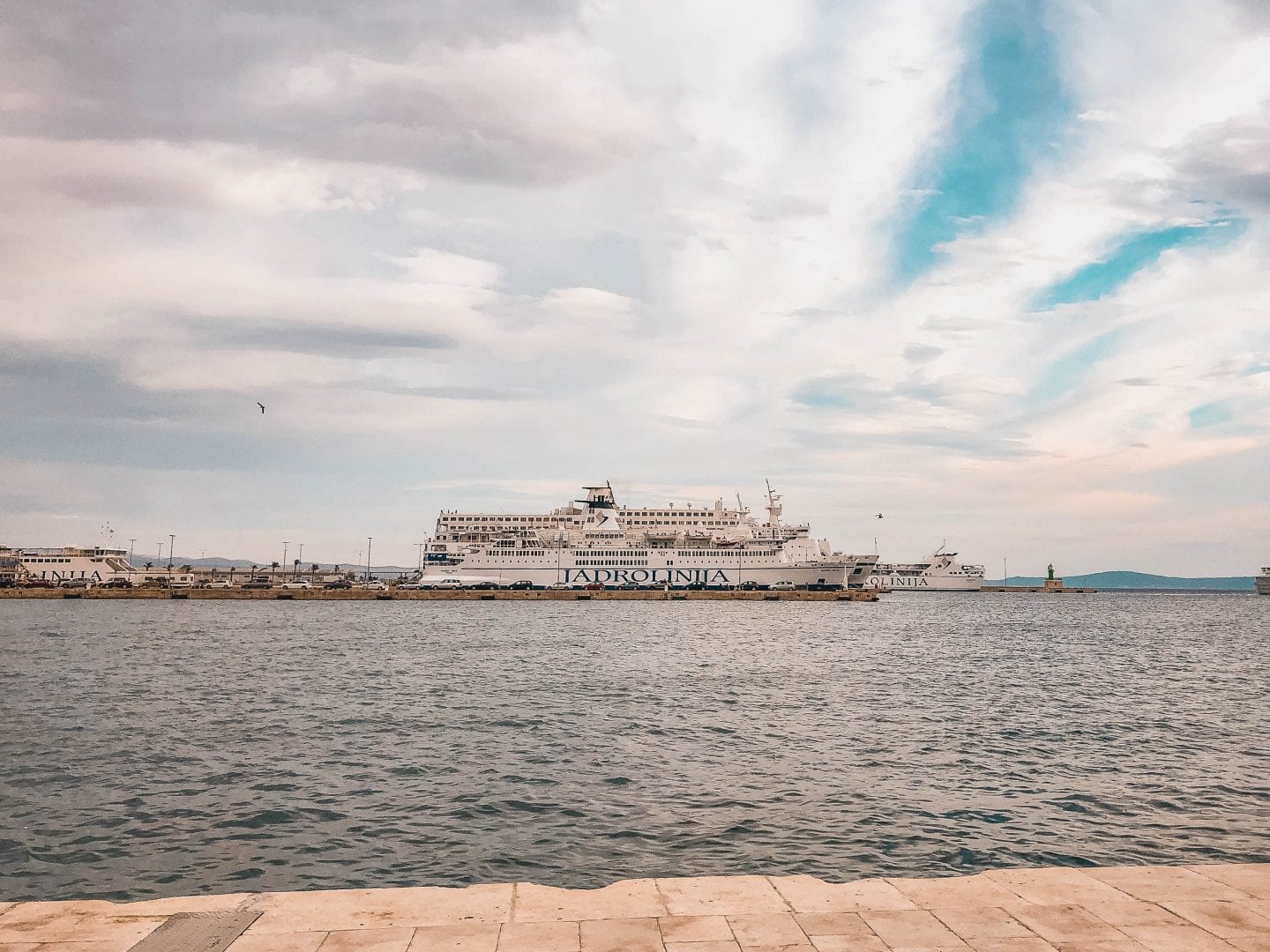 The most affordable way to island hop is to board a public ferry line. Ferries operate year-round, although some routes and timetables are limited or not offered at all in the winter months.
One thing to note about island hopping with public ferry lines is that they also run passenger-only catamarans in the summer.
Ferry Companies in Croatia
The state-run ferry service is called Jadrolinija. They have tons of routes from different cities in Croatia at reasonable prices.
You'll notice there are car ferries, which are the traditionally big ferries, but also passenger-only ships and catamarans that can get you to your destination faster, as I mentioned above.
Overall, I'd recommend not traveling with a car to the islands because most have limited car zones and parking will be difficult to find. However, it may be necessary to travel with a car in certain cases.
For example, if you're going to Brac island most ferries will arrive in Supetar, so if you wanted to reach Bol or Zlatni Rat beach, it could be more comfortable for you to have your car to explore the island on your own time.
Other ferry companies in Croatia include Kapetan Luka operating in Split, G&V Line Iadera operating in Zadar and Rijeka, and G&V/TP Line operating in Dubrovnik.
Booking Tickets for Ferries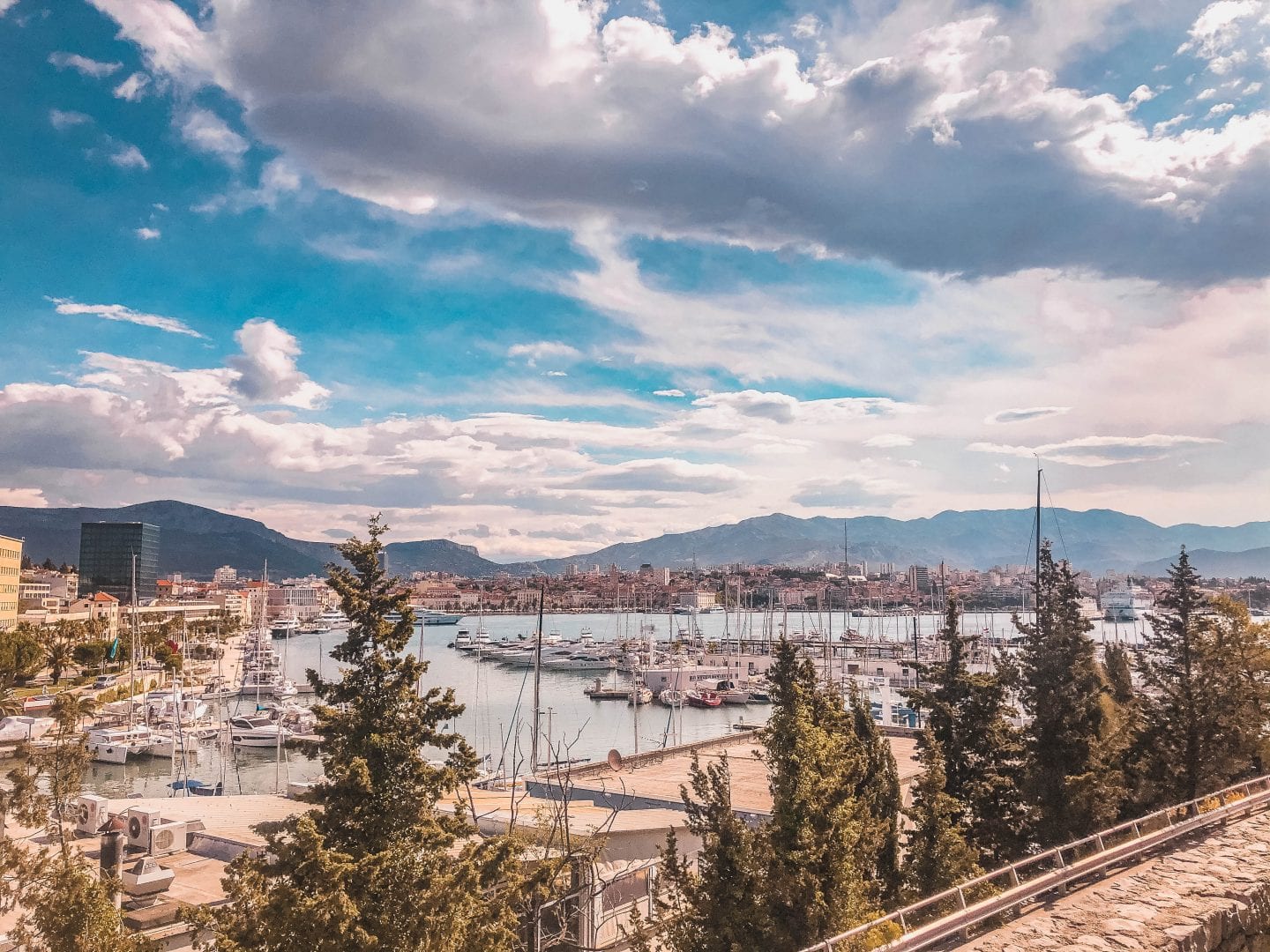 You can book your ferry tickets online at any of the companies links above, which is the most convenient way to travel.
If you buy them online, you don't need to print them out, however, I do recommend bringing a portable charger with you so you're not stuck with a dead phone after a day of island exploring and have no way to show your ticket to return to your accommodation.
You're also able to buy ferry tickets at any of the departing ports.
It's recommended to buy tickets in advance so you can reserve your spot for your desired travel time, especially if traveling with a vehicle. You should plan to arrive at least 45 minutes before the scheduled departure.
Some lines are on a first-come, first-serve basis, so you should arrive even earlier to guarantee your spot (1-2 hours before, especially in the busy summer.)
Pros & Cons of Island Hopping with Ferries
Pros:
The cheapest way to go Croatia island hopping.
You have complete control of the places you visit.
Can take a car with you to the islands for an extra fee.
Offers lots of routes and times during the summer.
Cons:
Takes extra research to coordinate timetables.
Constrained timetables may limit how many islands you can visit.
Limited routes outside of the summer months.
---
Island Hopping Option #2: Day Tours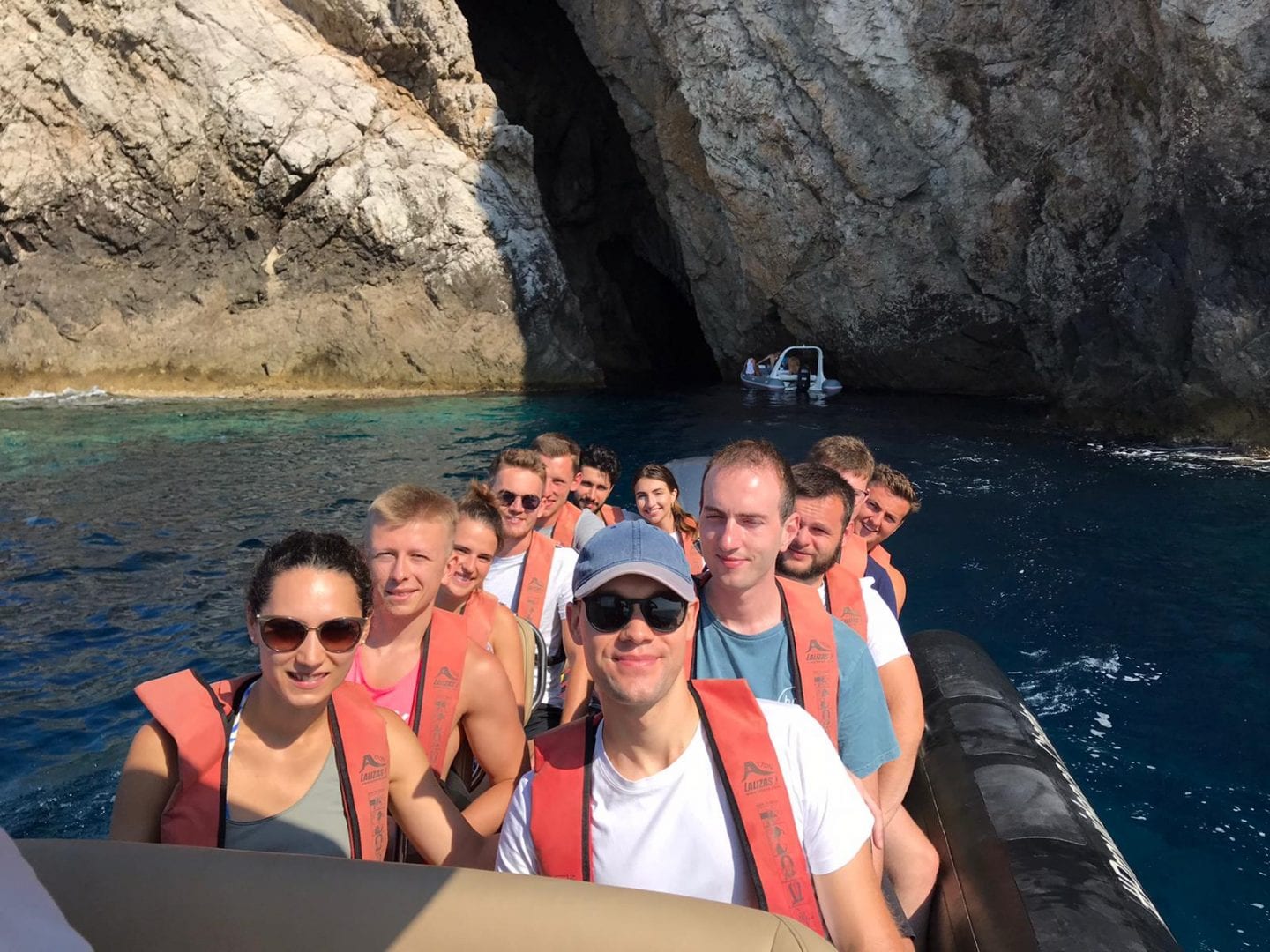 The next affordable option for an island hopping trip to Croatia is to book a day tour. A day tour, organized by a local tour company, usually includes visiting several islands in one day.
Day tours are completely organized for you, so it relieves you of the stress of planning and researching your own itinerary. It's perfect for travelers who don't have a lot of time in their trip but want to experience Croatian islands.
The Best Day Island Hopping Tours in Croatia
My favorite day tour that I truly can't recommend enough is the five islands speedboat tour by Providenca Charter. We saw some of Croatia's best sites in just one day and had a great experience snorkeling, visiting hidden gem spots like Monk Seal Cave, and even visiting the remote Blue Lagoon.
It's also a super affordable option for how much you get to see at around 100 euros per person. The only aspect that wasn't as amazing as the rest of the day was waiting for the Blue Cave, but we traveled in peak season at the beginning of August and our tour leaders, Mario and Lucija, took us around Bisevo Island to pass the time while we waited.
If you're looking for a more exclusive yet still budget-friendly day tour, think about booking a catamaran. The price is not as bad as you think, starting at 96 euros per person, but also including lunch, unlimited drinks, and snorkel gear!
These tours are all from Split, but there are also great boat tours from Zadar and from more northern islands like Krk and Pula (see dolphins or kayak to famous caves!)
Pro Tip: Note what's included in your fare. Do you have to bring lunch? Buy entrance tickets to certain attractions? Extra fees could turn a budget-friendly island-hopping option into a costly one.
Pros & Cons of Island Hopping on a Day Tour
Pros:
Lots of different day tours are available to choose from in the summer months.
Because of the variety of day tours and tour companies, you can choose the one that's right for your budget.
The itinerary is done for you. If you just want to focus on enjoying your trip instead of putting in tons of research, this is a good option for you.
You can meet new people by taking small group day tours, which are the most common.
Cons:
Limited routes, if any at all, during the off-season.
You don't have a lot of time to explore islands (a few hours at each one at maximum.)
There will likely be extra costs not included in the price like lunch on your own, for example.
You have no control over the itinerary.
---
Island Hopping Option #3: Private Boats
Chartering or renting a private boat is a more costly and involved way to see the islands of Croatia.
However, it does offer you tons of flexibility – compared to taking ferries – and control – compared to going on day tours.
Plus, if you love boating, it may be your favorite option to island hop and worth the money.
Requirements for Chartering Your Own Boat
If you're going to drive the boat yourself, you have to have few things including a valid boat driving license and a form of photo ID.
You can also charter a boat that comes with a captain/skipper so you can sit back and relax.
Companies to check out for boat rentals in Croatia include Argola Charters and Hvar Boats.
Cost of Private Boat Rentals
Boat rentals can be booked on a daily or weekly basis. The price will vary depending on the size of the boat you rent and the season you're renting in. Prices can jump drastically in the summer months.
Weekly charters will be priced in the thousands of euros, while you can rent a boat for minimum 400 euros per day for a group of 10 in the off-season.
Extra costs to keep in mind are fuel, safety deposits, and available upgrades like delivery service and bedding.
Pros & Cons of Island Hopping with Private Boats
Pros:
Complete control over your itinerary.
You have the boat all to yourself – no strangers like on a small group tour.
Flexibility to move around where and when you want.
Cons:
Expensive way to island-hop.
Have to be qualified to drive the boat if you are not paying for a captain/skipper.
Extra fees that aren't included in the charter price.
---
Island Hopping Option #4: Organized Group Trips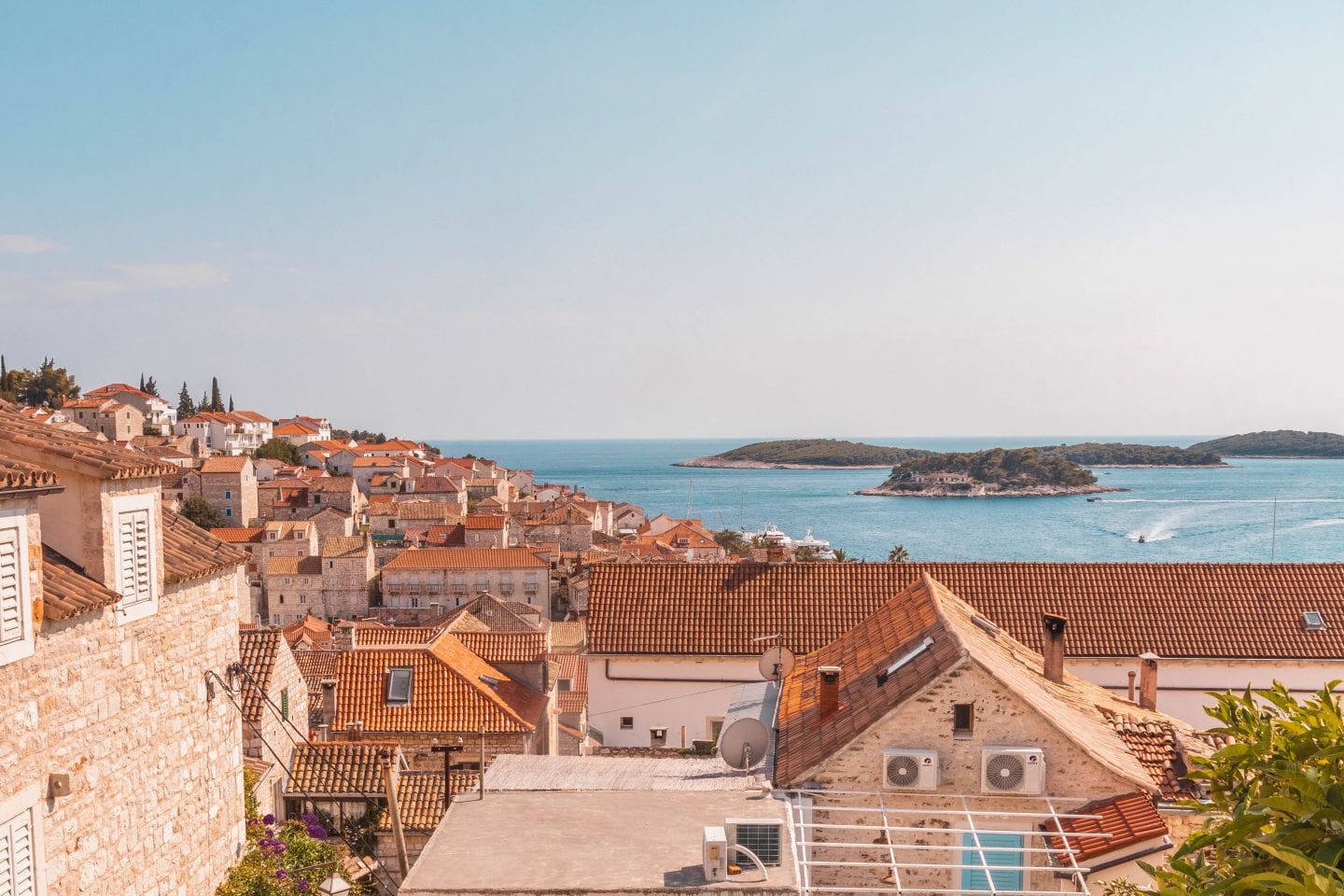 If your only goal while visiting Croatia is to island hop, then you should consider booking a trip that is oriented around that kind of itinerary.
While the upfront cost may seem high, the value of the experience is worth it.
These kinds of trips tend to be geared towards young travelers. It can be a great way to make friends while traveling, especially if you're traveling solo.
Contiki & EF Ultimate Break
Contiki and EF Ultimate Break are similar tour companies that design itineraries for travelers aged 18-29. They can also get you the most bang for your buck in this category, so that's why I want to point them out to you – especially my student travelers reading.
They both offer several island-oriented Croatia itineraries at different pricepoints.
The great thing about these companies is that they often offer sales and discounts on their trips!
The Yacht Week
The Yacht Week is an incredibly unique and fun way to have an island hopping holiday in Croatia. It is super attractive to those looking to make friends, party, and experience a bit of luxury while seeing some of the most beautiful Croatian islands.
The entire concept is a group of yachts sailing along the same itinerary and then coming together to share one big party on the sea – for 7 days straight!
You can choose a curated package or build your own.
If you book early enough, prices may not be as high as you think. Some Croatia itineraries for the year 2022 are as low as 450 euros – for 7 days on a yacht, that doesn't sound too bad to me!
Cruises
There's also the option of booking an itinerary with a traditional cruise. This is not the most budget-friendly option, but it is a way to island hop comfortably.
Companies like Sail Croatia offer a variety of packages based on the type of cruise you're looking for.
Pros & Cons of Island Hopping with Organized Group Trips
Pros:
The itinerary is created for you and usually includes extras like meals, entrance fees to attractions, accommodations, tour guides, and even flights! So while the price is high, you receive a lot in exchange.
A great option for those looking to make friends with other travelers.
Perfect for young travelers who want a more structured trip for security and comfort.
Cons:
Can be more expensive than day tours and taking ferries.
No control over the stops on your itinerary.
You're with a significantly sized group of travelers – not a great option for those who want to do their own thing and don't care about meeting other travelers.
---
Croatia Island Hopping Itinerary Ideas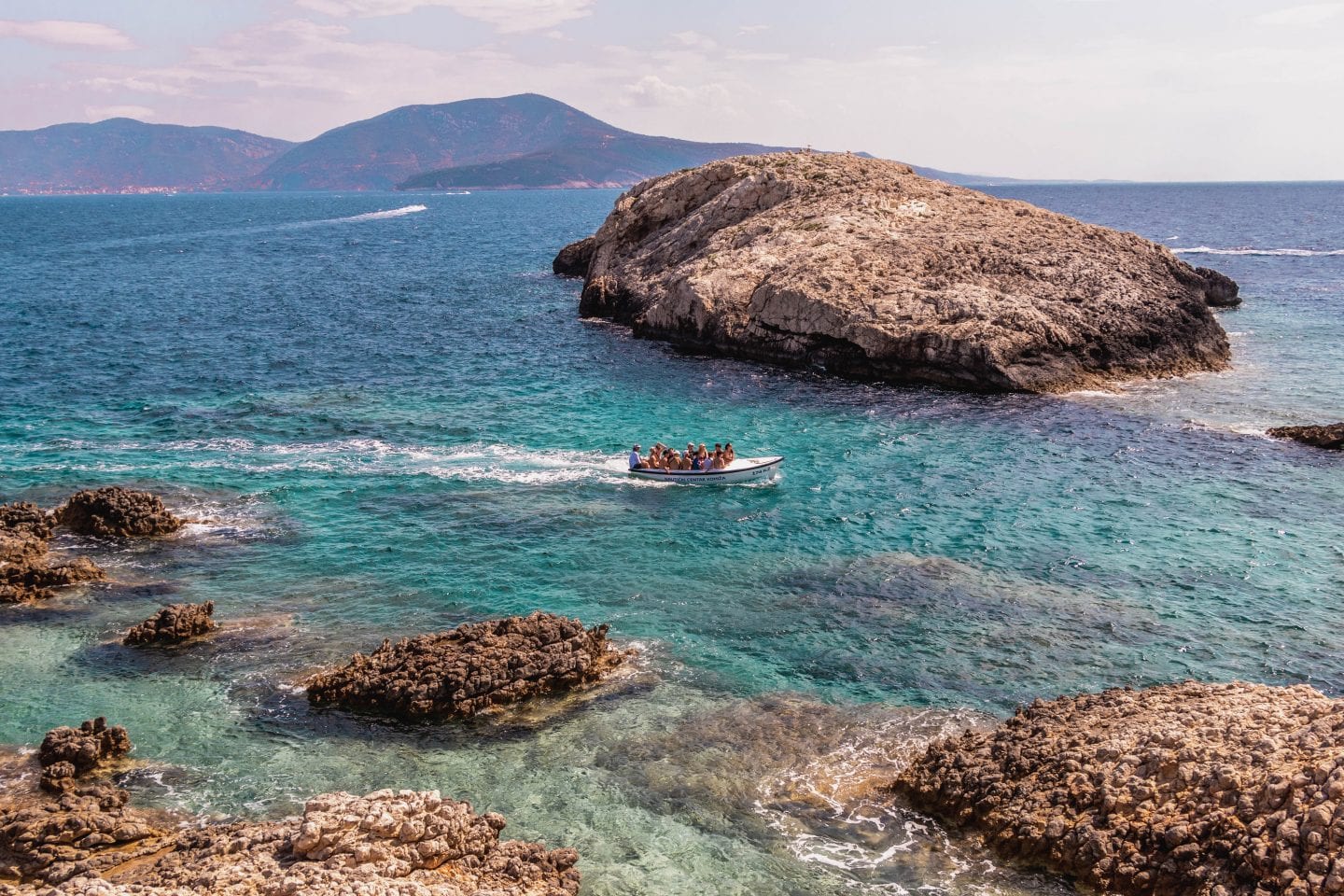 The Best Islands to Visit in Croatia
Near Split
Hvar – Famous for Hvar Town, Fortress Fortica,
Vis – More remote island with quaint fishing villages, a beautiful swimming hole called Stiniva Cove, and very close to the Blue Cave on Bisevo Island.
Brac – Known for Zlatni Rat Beach or "Golden Horn" sandy beach and small towns like Bol.
Korčula – Medieval old town with impressive fortified city walls and beautiful sandy beaches.
Šolta – One of the closest islands to Split, famous for untouched nature and beaches.
Near Dubrovnik
Lokrum – Very close to Dubrovnik, popular for swimming spots and Game of Thrones film locations.
Mljet – Home to Mljet National Park, famous for forests, saltwater lakes and Saplunara Beach.
Elafiti Islands – Tiny historic villages and crystal-clear water.
Near Zadar
Pag – Known for clubs and parties. Pag is connected to the mainland by bridge so you can island hop to this destination conveniently by car!
Molat – Small, charming villages and unspoiled nature.
Dugi Otok – Telascica Nature Park and beaches.
Near Istria
Brijuni Islands – The Brijuni Islands National Park is a must do if you are staying in Rovinj or Pula. It's known for wildlife, like dolphin sightings.
Krk – The largest island in the Adriatic, conveniently connected to mainland Croatia by bridge, famous for culturally significant monuments like monasteries and the Krk City walls that are 2,000 years old.
Classic Island-Hopping Routes from Popular Cities To Inspire You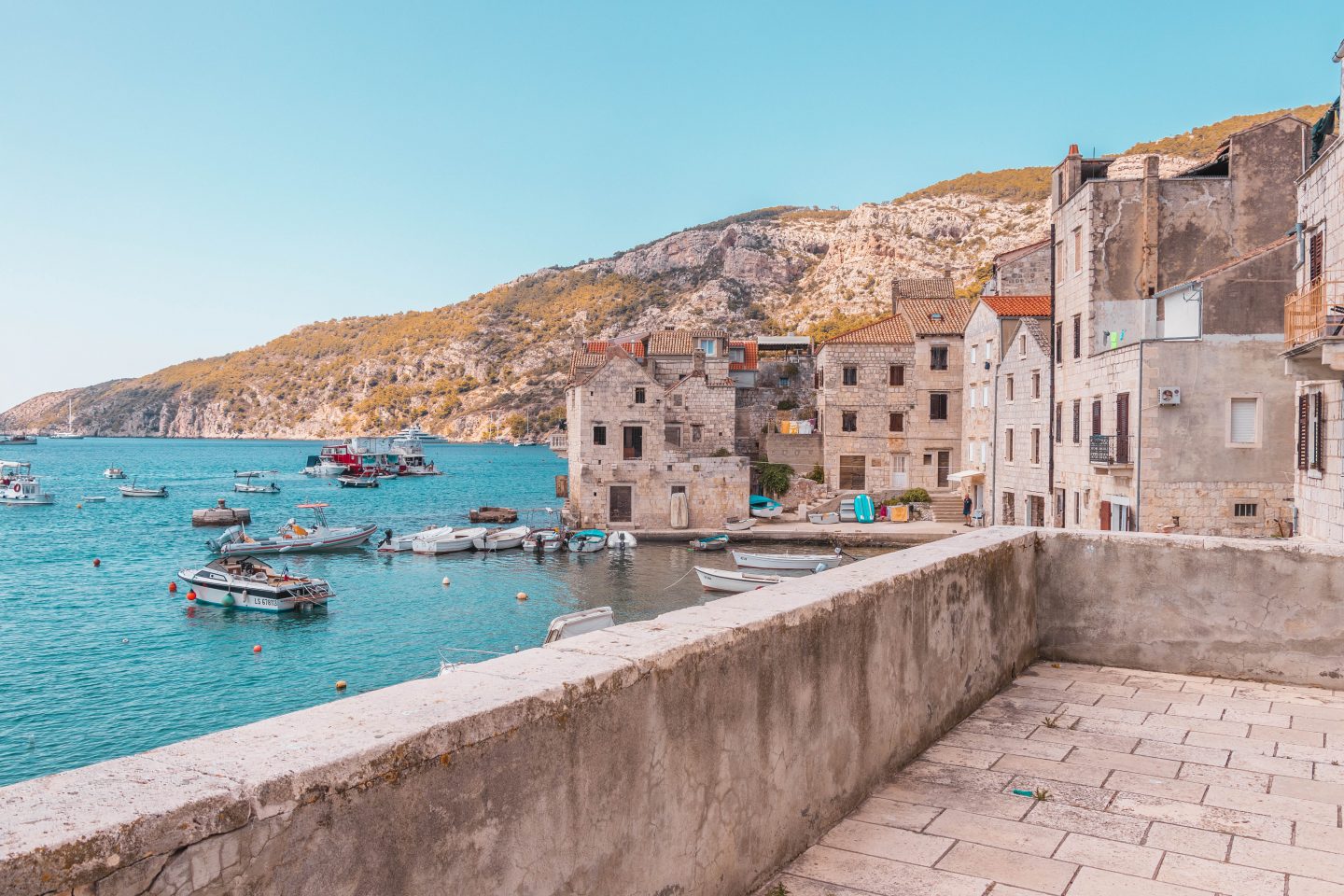 These routes are ideas and inspiration for you to put together an itinerary that excites you!
From Split
Brac-Solta-Hvar-Vis
From Dubrovnik
Mljet (Mljet National Park)-Korcula-Hvar-Brac
From Zadar
Ugljan-Dugi Otok-Molat-Pag
From Rijeka/Pula
Brijuni Islands-Cres-Krk-Rab
---
Other Ways to Get Around Croatia
By Car – If you want your Croatia itinerary to include other stops, like the UNESCO World Heritage Site of Plitvice Lakes, the Krka Waterfalls, or the northern region of Istria, then you should rent a car in Croatia. I highly recommend trying to include some of these locations on your trip to Croatia. While the islands are a highlight of what this country has to offer, there's so much more beyond the famous tourist spots to experience and explore! A perfect Croatia itinerary is part road trip, part island hopping.
Final Thoughts
I hope this guide has given you practical insight into building your perfect Croatia island hopping itinerary.
I wanted to lay out every single option there was to reach Croatia's islands and hopefully I was able to highlight how island-hopping can be affordable if you DIY it or sacrifice time on the islands for a well-valued day tour.
Let me know your thoughts on island hopping in Croatia and questions you may have about the different ways to achieve your perfect itinerary!
Save this guide on Pinterest!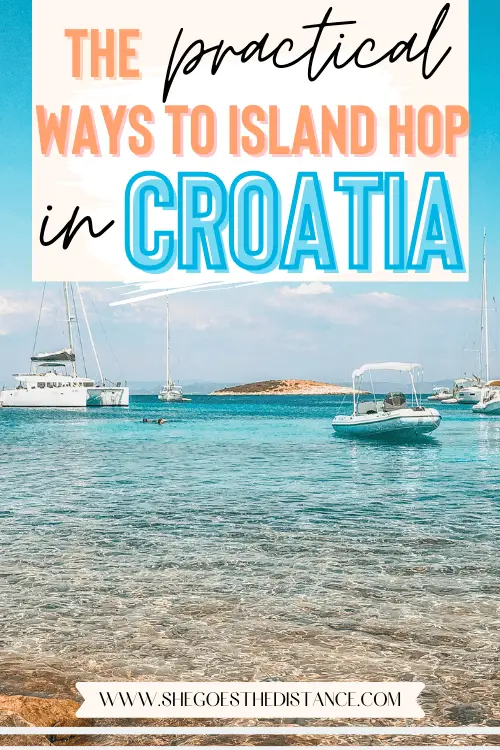 Island hopping was one of my favorite days I spent in Croatia and no matter how you choose to build your itinerary, I know it will be the favorite part of your trip too!
XOXO
Michela